The range that an acoustic guitar can bring you in terms of sound, style, and versatility is quite vast. There is no doubt that both nylon and steel strings add a different flavor to the mix.
However, is it possible to use nylon strings on an acoustic guitar? Even though it is not common, you most certainly can use nylon strings on a steel-string acoustic guitar. In reality, doing so is more of an experimental process where you're trying to find new, unconventional guitar tones.
Therefore, you must know that, if you're interested in trying this new method, there are several things you should consider before doing so.
How To Use Nylon String On A Steel-string Acoustic Guitar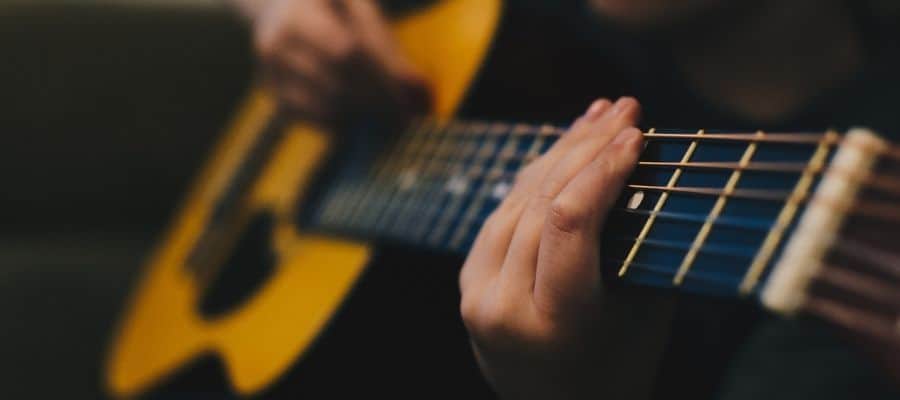 There are some differences between a classical guitar (nylon) and an acoustic guitar (steel). The most obvious is that classical guitars come with a bridge that requires tie-end strings, not ball-end strings. Fortunately, several brands became aware of this and started manufacturing nylon strings with ball-ends. So, the first thing you should do is buy these types of nylon strings.
Afterward, the most important thing you need to do is make sure your guitar is properly adjusted to support the nylon strings. Due to the difference in tension between nylon and steel strings, it is quite common that your truss rod will need to be adjusted.
Lastly, you will need a tuner. Nylon strings are known to go out of tune consistently, especially at the beginning of their lifespan. Also, since Nylon strings are now reacting to a different type of bridge and neck, they will most likely fall out of tune. So, a tuner is a good thing to have in handy.
What Are The Risks And Downsides Of Using Nylon Strings On An Acoustic Guitar?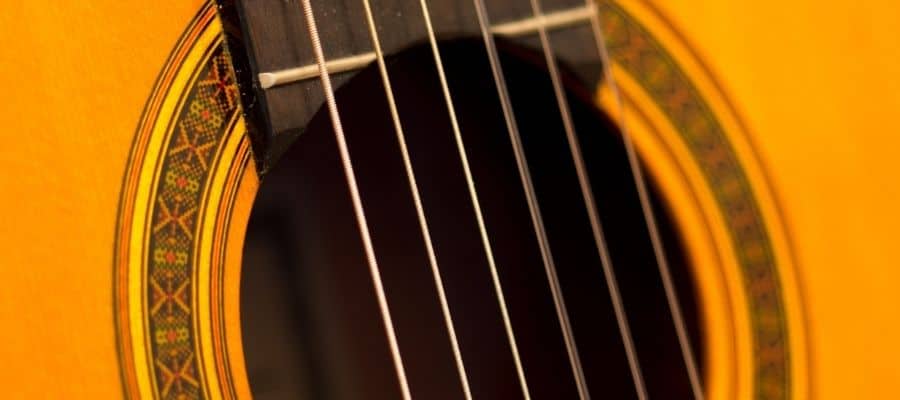 Several artists throughout music history decided to venture into the world of Nylons on acoustic guitars. Players like Willie Nelson, Earl Klugh, Jimmy Reed, and José González created some beautiful masterpieces with this extravagant combination.
However, when deciding to do this process of changing strings, there are various factors that you must not only consider but take care of to avoid any damage to your acoustic guitar. The four main issues to address are the following:
Tuning Inconsistencies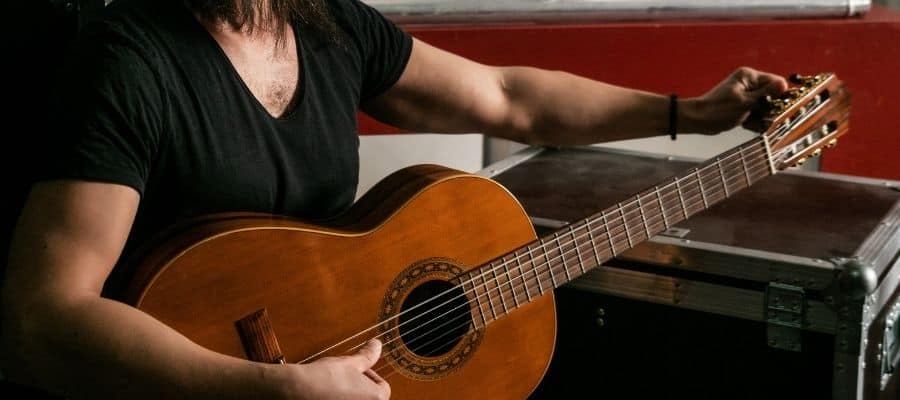 As I mentioned previously, both Nylon and Steel strings require a different amount of tension to be in tune. Steel strings need a much tighter wound to have good intonation. Now, the issue with Nylon strings is that they are naturally less stable tuning-wise. While this is a natural problem, easily fixed with consistent tuning checks, on an acoustic guitar is more problematic.
Because acoustic guitars are better suited to provide the proper tension, they can get a bit wacky with Nylon strings. Paired with the lesser stability of the Nylon strings, it can be quite a hassle to keep your guitar in tune. This is a considerable downside when it comes to playing correctly and not having creative block roads. A workaround comes from purchasing Nylon strings of thicker gauge to compensate for the lack of needed tension to make them sound good.
Neck Tension And Adjustments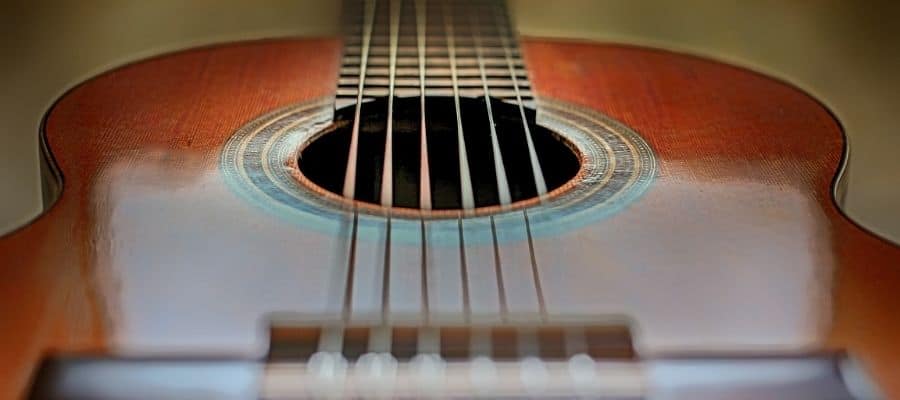 Neck tension is by far the biggest issue involving different types of guitars and strings. This is even truer when it comes to acoustic and classical guitars. In order for an acoustic guitar's neck to support the pull from the string tension, your guitar will have a truss rod. This truss rod stabilizes the curvature of the neck once the strings are at the proper tension.
It is thanks to that stabilization that your guitar's neck maintains the proper curvature it needs. This, in turn, keeps issues in check such as good string action, solid intonation, and prevents neck damage. Since you don't need as much tension on Nylon strings, the truss rod as it is set up might not be well-suited for this endeavor.
Furthermore, the lack of a proper setup will only worsen your tuning inconsistencies, which can become a real pain. While setups on electric guitars are much more thorough and allow you to do more drastic changes, you can also adjust acoustic guitars to a certain level.
Therefore, I would strongly recommend you contact a professional guitar tech to give your guitar a setup that works directly with the types of Nylon strings you purchased. I would also recommend, that is if you have the possibility, to designate one of your acoustic guitars to solely work with Nylons. That way, you can always rely on that guitar's correct setup and adjustments.
Guitar Picks Vs. Fingerpicking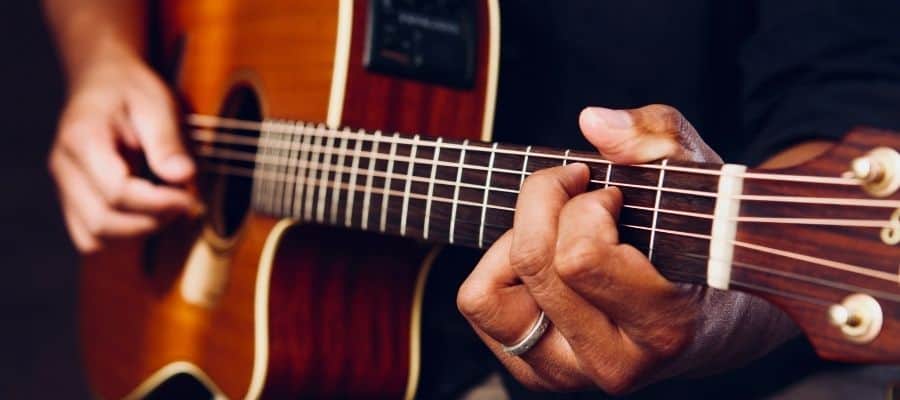 This issue is much more related to tone and string maintenance. Let's talk about the guitar's tone first. While it is not "forbidden", Nylon strings don't usually combine too well with guitar picks. This has to do with the fact that for Nylon strings to sound at their best, you must learn how to stroke with a light touch.
This does not mean you can't play a classical guitar with intensity; many guitar players would prove that theory wrong. However, in general terms, acoustic and classical guitars react better to light, controlled touch (which, in turn, can be of an intense nature).
Again, this is not an unbreakable rule, but I would not recommend you use picks on Nylon strings. I'd much rather work on developing my fingerstyle-picking if I'm using Nylon strings. If you decide to venture into the pick world regardless, I'd recommend using thin picks. The thinner, the better.
Lastly, it seems that picks don't take care of Nylon strings too well. Since the material of a Nylon string is much softer, the picks can detriment them quicker. This is not by any means a reflection of how they can sound. If you look at Yngwie Malmsteen, he can shred the Classical guitar. However, I'm sure he has to change strings constantly.
Speaking of changing strings, takes us to the restringing issues.
Restringing Issues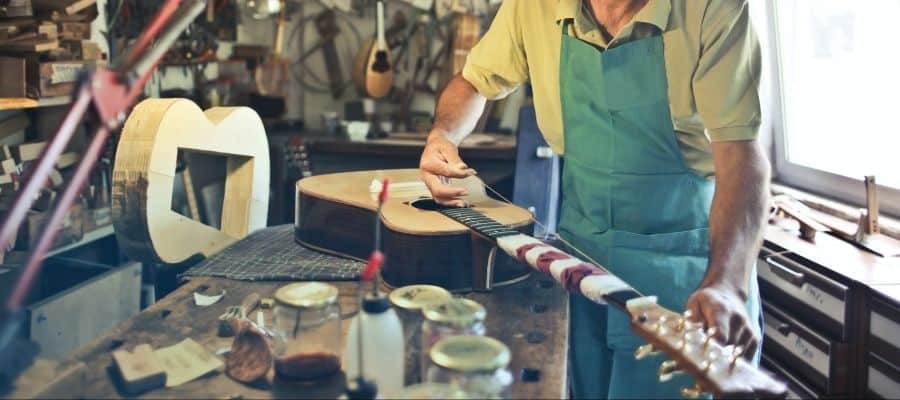 Out of all the potential issues you can face when putting Nylon strings on an acoustic guitar, this issue is the easiest to manage. In essence, most Nylon strings do not come with a string ball. This is because classical guitars are not set up that way. Instead, Nylon strings have a plain end, which you tie around the bridge. To be fair, it's a bit of a hassle at the beginning to be good at this, but with practice, you get better.
However, some manufacturers build Nylon strings with a string ball for you to use on both electric and acoustic guitars. Both D'Addario and Ernie Ball have Nylon string models with ball ends that allow you to use them on other guitars. So, not much of a problem, just an inconvenience.
Top 3 Nylon Strings For A Steel String Acoustic Guitar
D'Addario EJ32 Folk Nylon Guitar Strings
D'Addario is one of the leading companies when it comes to guitar strings. It is no wonder we would favor one of their most sought out nylon strings, the EJ32 Folk.
These strings come in a light gauge with the bass string wound with silver. They are one of the best soft-toned nylon strings, and they are great for any acoustic guitar. They do come on a corrosion-restraining packet, which makes them last longer.
Martin Guitar Classical M260 Guitar Strings
No products found.
Martin & Co. is one of the best acoustic guitar manufacturers in the world. Naturally, they'll have some of the best sets of strings you'll find. In this case, I bring forth the Martin Guitar Classical M260.
The M260 has a warm and mellow tone. This makes them ideal for Classical, Flamenco, Spanish, and Folk, along with other similar types of music. In addition, these strings have excellent tuning stability and good playability. These strings are made with normal tension, so they are a bit harder than the EJ32 Folk.
Sevilla Treated Classical Guitar Strings
Sevilla Treated Classical Guitar Strings (MEDIUM TENSION BALL END)
BALANCED TONE - across all six strings brings a great mix of highs and...
EMP TREATED - Treated with Cleartone's EMP treatment to increase lifespan,...
MADE IN THE USA - made and treated in the USA to the highest quality...
BALL END - Ball end classical strings for easy restringing.
If you're looking for the most durable nylon guitar strings, look no further than Cleartone's Sevilla Treated Classical Guitar Strings.
These strings are very well-balanced in terms of equalization. They are also treated with Cleartone's custom EMP treatment, which increases their lifespan and makes them very, very durable. They are on the high-end price of things but are definitely a worthwhile purchase if you're very interested in nylon strings.
Which Strings Are Better, Nylon Or Steel?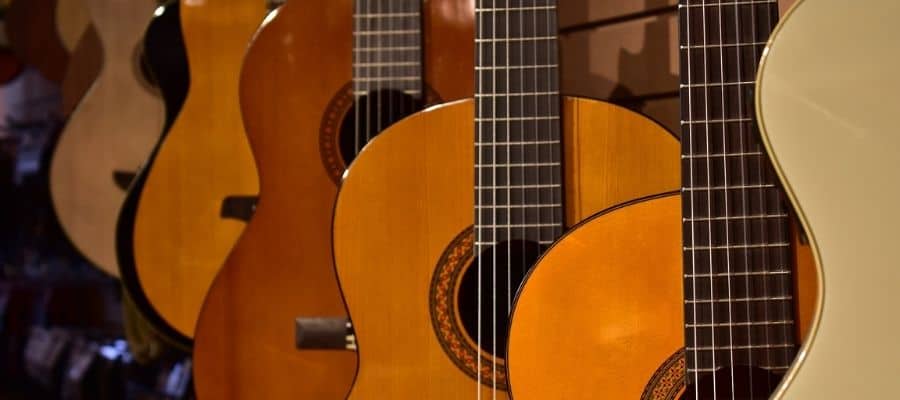 Well, it depends on a couple of factors. First, there are many genres of music that require different tones, articulations, and overall sound. Both Nylon and Steel strings have a very distinct flavor to them. This fact makes them better suited for different styles.
On one side, Steel strings are usually made of varying alloys of bronze, phosphor, and aluminum. These alloys make the strings' tone bright, airy, and crispier than nylon strings. Genres such as Country, Pop, Singer-Songwriter, and certain types of Folk are much better suited for you to use Steel strings.
On the other hand, Nylon strings are much softer, warmer, and have less clarity. The main reason for this is the composition of nylon strings, which emerged as a substitute for gut strings back in 1935. Nylon strings' qualities make them ideal for softer, warmer, and darker types of music. Some styles that predominantly use Nylon strings are Jazz, Bossa Nova (along with other Latin-based genres), Folk, and, quite obviously, Classical Music.
Keeping this in mind, both types of strings work in different ways and for different purposes, and we cannot define them as better or worse. It all depends on the styles you like best.
Is It Easier To Play Nylon Than Steel Strings?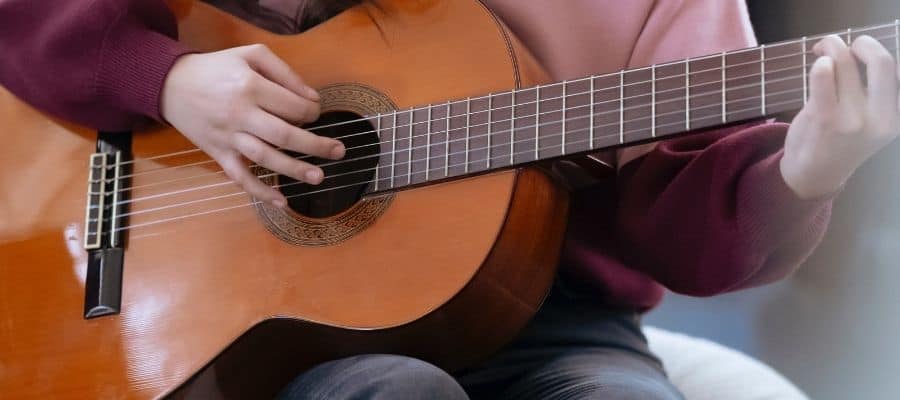 If we solely talk about the types of strings, then yes, it is easier to play with Nylon strings than Steel strings. There are two reasons why it's easier. The first is that Nylon strings require less tension to be in tune. Therefore, they are much softer to fret, especially for beginners.
On the other hand, since steel strings require more tension to be in tune, they will be much tougher to fret correctly. Of course, once you take gauge into account, things might change. However, generally speaking, Nylon strings are softer, therefore, easier to play.
Now, the second reason has to do with the material used to manufacture the strings. As I mentioned before, steel strings are made of different metal alloys. Their composition makes them thinner and a bit sharper and more cutting-edge, which, in turn, makes them a bit rougher on your fingertips. Since Nylon strings are made of (you guessed it) nylon, they are much smoother. Their softer nature will cause fewer calluses or cuts in your fingertips (once again, especially for beginners).
Now, the only downside to favoring Nylon strings over Steel strings is that it will take your fingers more time to create a natural resistance to the sharpness of an acoustic or electric guitar. Lastly, there's another big difference that affects the overall difficulty of playing guitar. The body and the neck of a classical guitar are thicker than the one of an acoustic guitar.
This, in turn, makes the classical guitar experience more difficult, which is why some consider switching their Steel strings to Nylon strings on an acoustic guitar. Once again, it depends on taste and which type of guitar makes you more comfortable.
What Do Nylon Strings Sound Like On An Acoustic Guitar?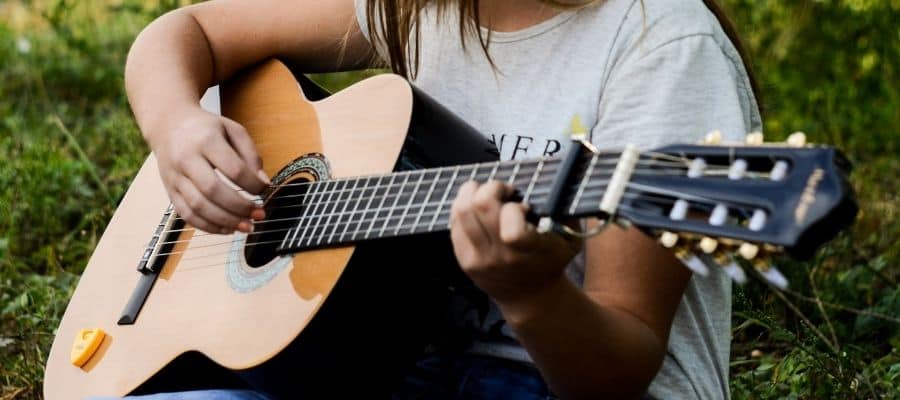 There is not a vast difference between a classical guitar and an acoustic guitar with nylon strings. The main two elements are the potential amplification of acoustic guitars and the different body and neck types of both guitars.
In terms of amplification, most acoustic guitars have built-in pickups that boost your sound and give your overall sound a specific flavor. This will also hold true if you use Nylon strings, which can help you find some cool sounds.
Tone-wise, Nylon strings on an acoustic guitar will still be of a warm and soft character. You will most likely lose a bit of natural amplification since Steel strings resonate more. However, as mentioned before, the amplification of a pickup will solve that issue.
As for body and neck types, classical guitars tend to be thicker and better suited to use in an upright position (the usual classical guitar stance). You might not be super comfortable with a classical guitar, which makes it a pro to use Nylon strings on an acoustic guitar. Another huge pro is the softness of the Nylon strings, which make it way easier for beginners.
Could You Use Steel Strings On A Classical Guitar?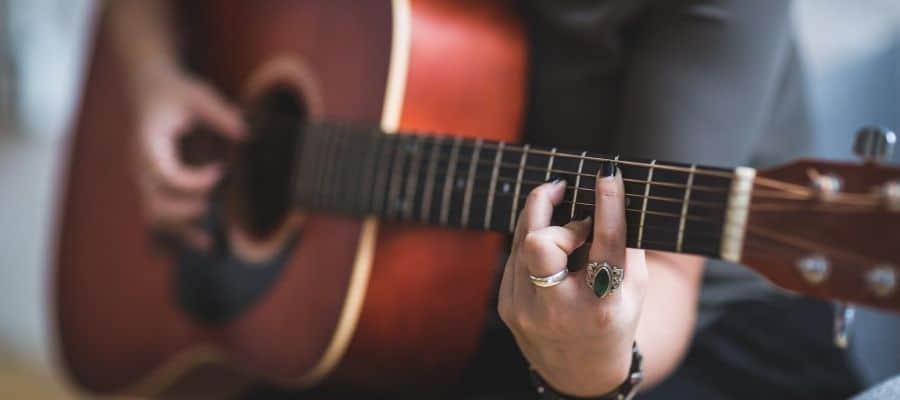 The potential issues and difficulties I explained about using Nylon strings on an acoustic guitar are far greater the other way around. Using steel strings on a classical guitar is much less forgiving to the sound, your fingers, and most importantly, your guitar.
As I mentioned before, the string tension required to tune Nylon strings is much lesser than the tension needed for Steel strings. This increased tension will most certainly impact your classical guitar's neck. Furthermore, unlike most acoustic guitars, classical guitars don't usually come with a built-in trust rod. This makes it literally impossible to alter the tension of the neck to work for the strings rather than against them.
In the best-case scenario, your classical guitar will not be able to maintain proper intonation and string action, making it very uncomfortable to play. In the worst-case scenario, your guitar's neck might get permanently damaged. So I would not recommend this at all.
Nylon String Crossover Guitar – What Is It?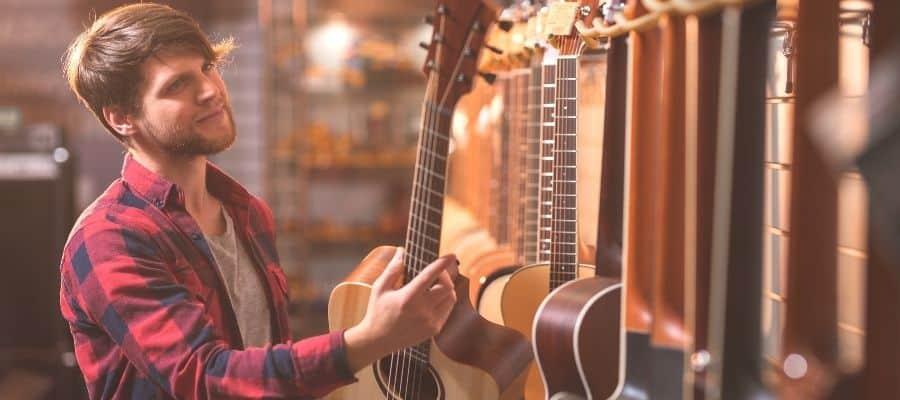 A Crossover Guitar is a Nylon string-based instrument but with the specs and lengths of an acoustic guitar. This means a slimmer neck, a body cut that allows you to play high notes comfortably, and good amplification. Essentially, it is a guitar that offers the sound and overall feel of a classical guitar, with the playability and comfort of an acoustic guitar.
Some of the best crossover guitar models out there include Daniel Zucali's Crossover Acoustic Guitar, the Litchy Crossover Guitar, the Alvarez Artist Series AC65HCE, and the Breedlove Solo Concert. They are a bit pricey, but I'd recommend you take a look at them.
Conclusion
As you can see, interchanging the Steel strings of an acoustic guitar with Nylon strings is not quite common. Furthermore, the process in itself is slightly complicated and holds some risk on your instrument (even though it's not likely to cause permanent damage if done well).
Nevertheless, if you are looking to find new sounds, uncommon tones, and different ways of playing guitar, this method is quite experimental and fun. If you have the chance and the willingness to go down this rabbit hole, I would definitely suggest you do so. You might find some interesting sounds.
If you found this article useful, you may want to save this pin below to your Guitar board.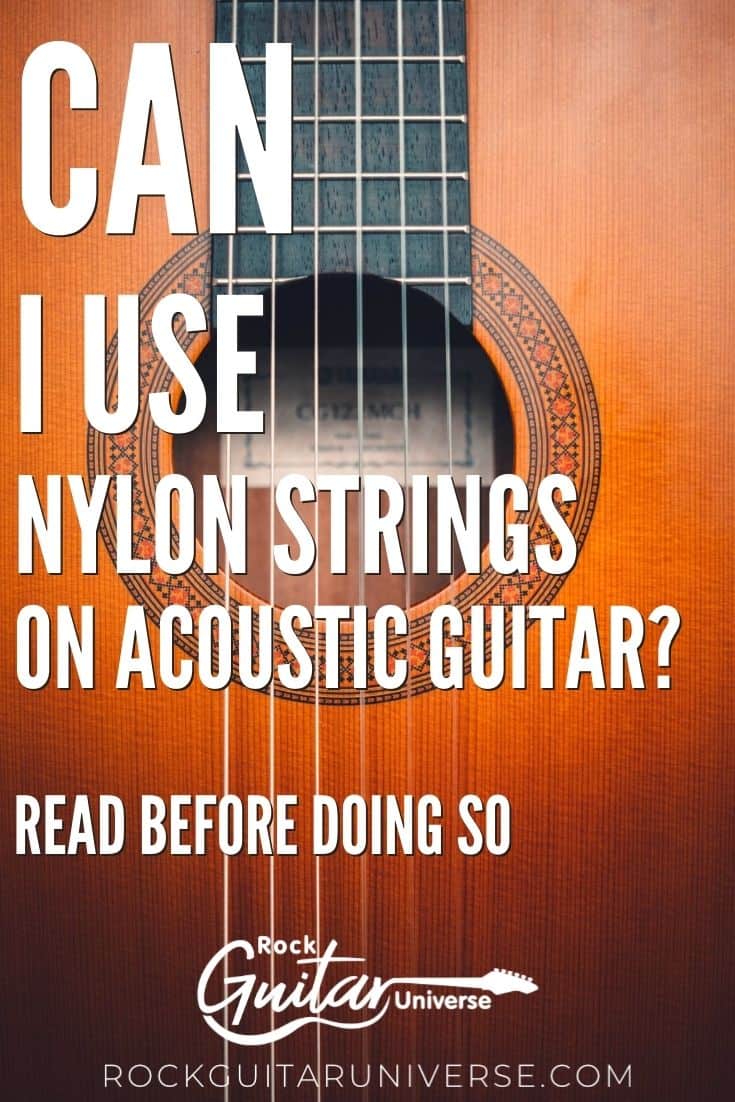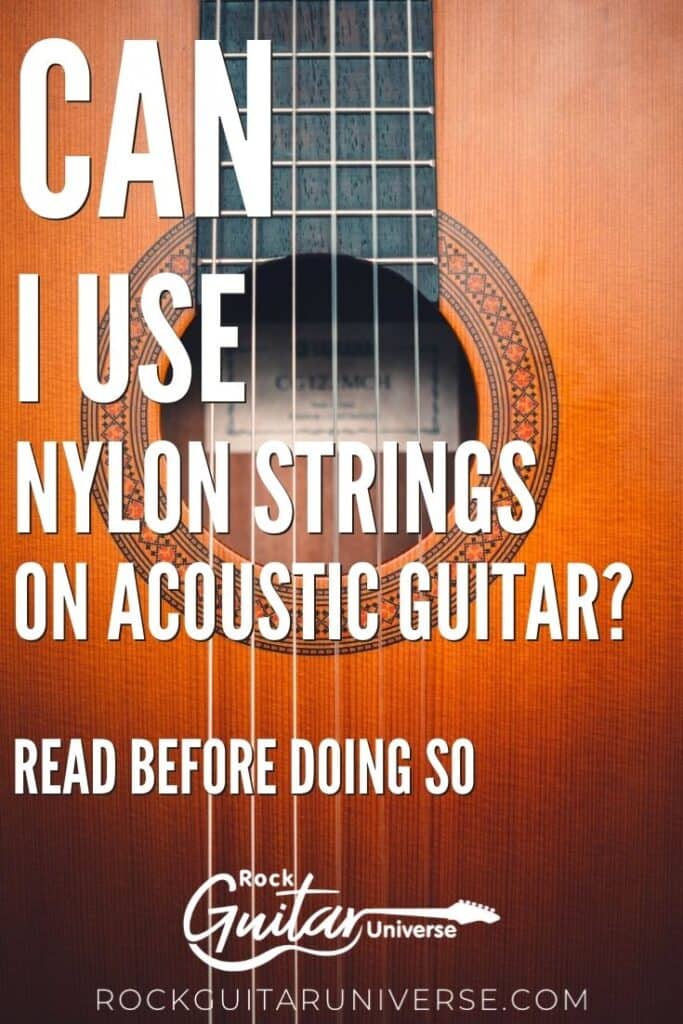 Last update on 2023-02-06 / Affiliate links / Images from Amazon Product Advertising API