Finding good MIDI equipment is not easy, and there aren't as many options as you'd hope to be. Especially if you are playing the guitar. For those unaware, MIDI stands for Musical Instrument Digital Interface. In essence, it is a digital interface that allows you to communicate with your PC using your guitar.
Now, there are numerous reasons why you might be interested in it. It simplifies the process of recording if you have a home studio, and the entire idea is nothing new. MIDI keyboards are quite common, but not every musician plays them. And this is why you might want to get yourself something guitar-related.
Here, I will go through some equipment you need to check out. It includes instruments, pedals, pickups, and anything else that may help you along the way if you are looking to transform your sound. Moreover, the focus is on good gear, so you will have an easier time finding something you will enjoy.
Jammy G
Modern design
Foldable
Easy to carry
Plastic
USB-C
Easy to use
Great quality
Lightweight
The first one on the list is Jammy G. The model was previously known as Jammy Guitar, but the name changed with the introduction of newer models. If you decide to buy this guitar, the first thing you will notice is the package. The guitar is quite small, and you will need to assemble it yourself.
Fortunately, this isn't difficult and you'll be able to do it in no time. The next thing I should mention is that Jammy G is foldable. That's right if you plan on traveling, a guitar is an excellent option since you'll be able to fit it anywhere.
As for the quality, even though it's made of plastic, the guitar is durable and sounds great. You can easily connect it with your PC using the USB-C port, and the entire connection is pretty much straightforward. The app is available for smartphones, and it's easy to use. It also offers the instruction manual and guides including how to assemble the instrument. Keep in mind that this is not an ordinary guitar, and it's a MIDI controller you can use to record music and experiment with different types of music and sounds.
Jammy E
Modern design
Foldable
Easy to carry
Plastic
USB-C
Easy to use
Great quality
Lightweight
Affordable
Since Jammy is a rather new brand, it is not surprising that there aren't many MIDI controllers you can find. But what matters is that the quality is great, and those models that are available are worth your time and money. Here, we have a Jammy E model, and it is still in the pre-order phase.
Even though it is a model by the same brand, the differences between Jammy G and Jammy E are incredible, and it is a whole new instrument. The first thing I should mention is the name. E stands for evolution, and it is the next step in the development of MIDI controllers. The guitar is even smaller when folded compared to the previous one, which makes it even easier to carry.
It has a 17-inch scale, two assignable buttons, and a potentiometer for volume. It also has an accelerometer you can use as a whammy bar. Finally, the design of the instrument allows you to play it even if you are left-handed. It's easy to use, looks futuristic, and will undoubtedly be worth your money.
Behringer FCB1010
Versatile
Great quality
Durable
Fully editable
Easy to use
Behringer is another incredible company that often offers amazing products for a ridiculously low price. Here, we can see FCB1010, which is a MIDI guitar pedal. The main advantage of the FCB1010 is that it is fully programmable, and you can easily edit each of the presets. The pedal allows you to transmit two MIDI controllers per preset simultaneously.
It also works with different instruments if you are willing to experiment even further, and it is one of the most flexible controllers you will be able to find. In addition, being designed by Behringer also means that the quality of the device and sound will be exceptional.
Roland GK-3
Easy to use
Does not require permanent modifications
Versatile
Great quality
Slim design
Now, it's time to take a look at something different. This is not a controller like Jammy, but instead, it transforms your existing instrument. Moreover, it also means that you will need to own an electric guitar if you want to use the pickup. One of the most important things about this model is that it does not require any type of permanent modifications.
If you are looking to upgrade or modify your guitar, this is probably the best choice. Firstly, you won't need to drill a hole in the guitar, and you can always remove the pickup if you get bored of it. Another important thing to mention is that GK-3 comes with a modification for Les Paul guitars with a pickguard, which will make it easier to attach.
Furthermore, you can also use the switch on the pickup to select whether you want to use the synth mode or the standard sound of your guitar. It is a nice addition and the pickup is worth testing if you are into this type of music and equipment.
Roland GR-55GK
Multi-effect
Durable
Great quality
Incredible sound
Easy to use
Versatile
Variety of sounds and options
Since we are exploring different types of gear and equipment you can use to transform your guitar, it is worth mentioning Roland GR-55GK. This is a multi-effect pedal, and it offers a variety of effects you can try out. Needless to say, the primary idea behind it is to be used as a synth, and there are many different types of synth you can find.
The pedal is easy to use, the design is similar to any other multi-effect processor, and the sound is incredible. While the price might seem too high, it is worth it for the sound and options it offers.
Roland is one of the finest brands out there, and they offer numerous pedals, amps, and other gear you might enjoy using. This also means that you will be getting excellent quality and durable products you'll be able to enjoy for a while. It is also great that it requires zero modifications to your guitar, and all you need to do is plug in the guitar and start playing.
Casio DG-20
Modern design
Easy to use
Durable
Versatile
Works with an adapter
Casio is known for offering numerous digital items, and it's no surprise that the company also has a digital guitar. This model, DG-20, is incredible. But one of the main problems you might have is that this is not a new instrument. In fact, it has been around for quite some time. As a result, the only option you will have is to find a pre-owned model.
The design of the guitar is quite futuristic even for the eighties, and there are numerous controls and buttons you can use to adjust the sound. The instrument is quite versatile, and you won't have any problems finding the sound you will adore.
Unlike the foldable controllers, this one has a full scale with twenty-two frets. If you have any experience playing the guitar, this will be a great choice since the design is fairly similar. There is an output for headphones, MIDI, and additional effects. The controller is easy to use, and you won't have any problems adjusting the tone. The only possible issue you might have is that the body is made of plastic, but the quality is still great.
Jamstik Studio MIDI Guitar
Great design
Durable
Versatile
Reliable
Easy to use
Classic design
Incredible quality
Jamstik Studio is a real-looking guitar, and the design is amazing. The body of the instrument is made of mahogany, with a maple neck and rosewood fretboard. It looks like a standard electric guitar, with a couple of differences. Firstly, the guitar is one of the models without the headstock, but the rest of the instrument looks quite normal.
There is a single knob for volume, and a switch to select between pickups. And this is the important part. The pickups in this guitar are Hex MIDI pickups, and the combination is HH. What is interesting here is that the Jamstik Studio has a couple of different inputs, which allows you to use it as a MIDI controller if you feel like it.
The majority of MIDI controllers are made of plastic, and no matter how great the quality is, it can never compare to wood. And the quality is exceptional. If you are interested in getting a real guitar that has a MIDI output, this is an excellent choice. Using Jamstik MIDI guitar is quite simple, and you will love what it has to offer.
BOSS EURUS GS-1
Incredible quality
Great design
Versatile
Comfortable
Easy to use
Great sound
Boss has been around for quite a while, and the company is often a go-to for many guitarists across the globe. At least when it comes to pedals. But this time, the company offers something unique and different from their regular repertoire. The Boss EURUS GS-1 is a guitar that offers several incredible features.
Let's start from the beginning. Boss EURUS GS-1 has four knobs and switches to choose between pickups and synth or regular mode. The guitar has an integrated synthesizer, and there are several different modes you can try out.
The integrated model uses its own power source, and you will need four AA batteries to power the device. It also works great with different apps, Bluetooth, and you can easily set everything up. This is a perfect example of how versatile Boss is and that there are other things than pedals that this company offers.
ROR Guitars Expressiv MIDI Pro 2
Incredible quality
Great design
Great sound
Comfortable
Easy to use
Versatile
Durable
ROR guitar is short for Rob O'Reilly Guitars, and the company offers numerous exciting builds and models. And one of the instruments you need to check out is Expressiv MIDI Pro 2. The most obvious feature of this guitar is the fretboard scanner, which allows you to play the synthesizer without latency. There are numerous different switches that activate once you fret the neck, sending the info to the processor in no time.
The guitar also has an XY pad, and it's easy to use. At the same time, there are other incredible features you don't often find on MIDI guitars but are quite popular on regular ones. This includes two humbuckers, a bridge, and a traditional shape. This makes the instrument quite comfortable, giving you a chance to experience both the classic shape and feel and modern features.
Probably the only downside of this guitar is the price, and it's not something everyone will be able to afford. But if you are wondering about the quality, it is worth it since you will be getting one of the best MIDI guitars in the world.
Boss SY-300
Works with any guitar
LCD
70 presets
Works with other instruments
Great quality
No latency
Boss is known for making incredible pedals, and it is one of the most popular brands. It is no surprise that the company offers a synthesizer pedal you can use with your guitar. As with any other multi-effect pedal, using it is quite simple. All you need to do is plug in everything, and you'll be ready to go.
There are 70 presets you can try out, and the pedal offers 99 slots for you to store tones you like. What is interesting here is that Boss SY-300 works with other instruments as well, so you can combine it with bass or any other electronic instrument if you feel like it.
As with other Boss pedals, this one is also sturdy and durable, and you won't need to worry about damaging it on accident. It's easy to use, and it is so much fun. While the price is a bit higher, the quality you will get is worth the price.
Fishman TriplePlay
Easy to use
Doesn't require permanent modifications
Works with the majority of software
Works on almost all guitars
Great quality
Fishman is a modification for your guitar, which means that you will need to own one to use it. It is not a stand-alone MIDI controller but an upgrade for your instrument. The idea behind it is quite simple. You will install it on your guitar, and you'll be able to connect it to your PC or any other device you plan on using.
TriplePlay is able to work with almost any software for sound editing, and this includes Cubase, Logic, Ableton Live, and many others. One of the main qualities of this upgrade is that it doesn't require permanent modifications. You don't need to drill or do any changes to your instrument, and you can easily remove the controller if you don't want to continue using it.
As for the sound, you will get an excellent sound you'll be able to edit further using your favorite software. In essence, TriplePlay is a wireless pickup for your guitar, and you will be able to mount it in a way that won't affect your playing.
Artiphon INSTRUMENT 1
Compact
Easy to use
Versatile
Lightweight
USB
Speakers
When Artiphon designed its INSTRUMENT 1, no one could have guessed how popular it would become. The design of the instrument is quite simple, and it is a MIDI controller that's quite compact. So, you won't have any problems carrying it with you when you travel. You can use it as a regular guitar, in your lap, as a bow, and so on.
The instrument allows you to choose between several different modes, and you can check out guitar, piano, violin, drums, and many others. As for the controls, using the INSTRUMENT 1 couldn't be any simpler. There is a single button to select the mode you like.
Another interesting feature is that the device designed by Artiphon has its own speakers. This isn't something you see often, and it will make everything simpler when you are testing it at your home. The fingerboard on the MIDI controller is pressure-sensitive, and the battery will last you for an entire day. Finally, INSTRUMENT 1 is a lot cheaper compared to some of the alternatives, and it is an exciting thing to check out.
Boss GP10-GK
Durable
Steel casing
Versatile
Easy to use
USB connection
Responsive
Great sound
You can't create a list of best guitar equipment without mentioning Boss a couple of times. This time, we have a GP10-GK. The first thing you will notice is how robust the device is, and the casing is made of steel. You will also get a variety of different modes you can use, and each will offer something different.
The effect also has an expression pedal, and you will be able to assign the effect you like to it. Needless to say, the pedal is easy to use, and the design is fairly simple. When it comes to the MIDI part of it, the GP10-GK has a MIDI interface, and you can easily connect it to other devices.
As with other Boss pedals, the quality of the sound is great, and you'll be able to create incredible sound with it. However, it might take you a bit of time to fully understand what this pedal has to offer.
Sonuus G2M
Easy to use
Compact
Plug-and-play
Versatile
Near-zero latency
Works with many instruments
If you dislike the idea of having to transform your guitar or to use a controller, this can be an excellent alternative. One of the main advantages of Sonuus G2M is its simplicity. In fact, the only thing you need to do is to plug in the device. This adapter works based on the plug-and-play principle, and it connects your instrument with the MIDI device.
What is also great is that G2M is quite versatile, and you can use it with nearly any electronic instrument. As long as it has a cable, you can plug it into the G2M and get a MIDI signal on the output.
The first version of G2M was released in 2009, and the device has received numerous updates and features since then. If your primary goal is to find a simple and effective solution, Sonuus G2M can be a perfect choice.
Guitar Wing
Easy to use
Versatile
Works with different apps and software
Easy to use
Bluetooth
Great sound
Guitar Wing is designed by Livid Instruments, and it is an addition to your existing guitar. This is not a stand-alone controller, and you will need to own a guitar to use it. The upgrade is not permanent and it's quite easy to install. It also works with different shapes and models of guitars, but there is a chance that it won't work with any.
But when it comes to popular shapes and models like Stratocaster and Les Paul, the Guitar Wing will work without any problems. The device has padding so it won't damage the finish on your guitar, and it doesn't require a permanent modification.
Once the Guitar Wing is in its place, you can connect it in just a few steps. There are numerous buttons on the device that will allow you to pick the mode, use the motion sensor, and other ways to shape the sound.
Conclusion
Finding a way to transform the signal of your guitar to MIDI is a great idea. Especially if you are looking to create a studio in your home. But there are several ways you can approach this problem.

You can find numerous different MIDI controllers to use. There are models designed to look like a real guitar, or as an attachment to your existing instrument. Finally, you can get guitar pedals that work as a MIDI controller, and you can use them to create the sound you like.
The primary question here is what you are trying to achieve, and which method you prefer. The majority of equipment you can find will have a decent sound, so it all comes down to your personal taste and goals.
If you found this article useful you may want to save this pin below to your Guitar board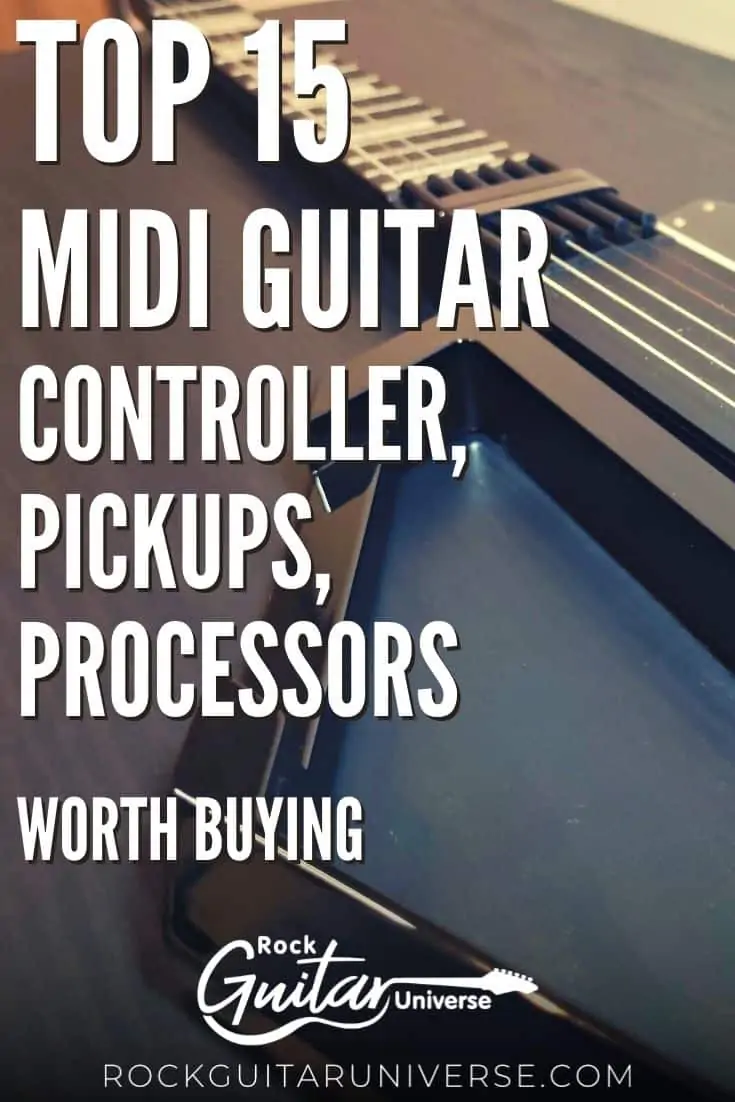 Last update on 2022-01-26 / Affiliate links / Images from Amazon Product Advertising API
Recent Posts