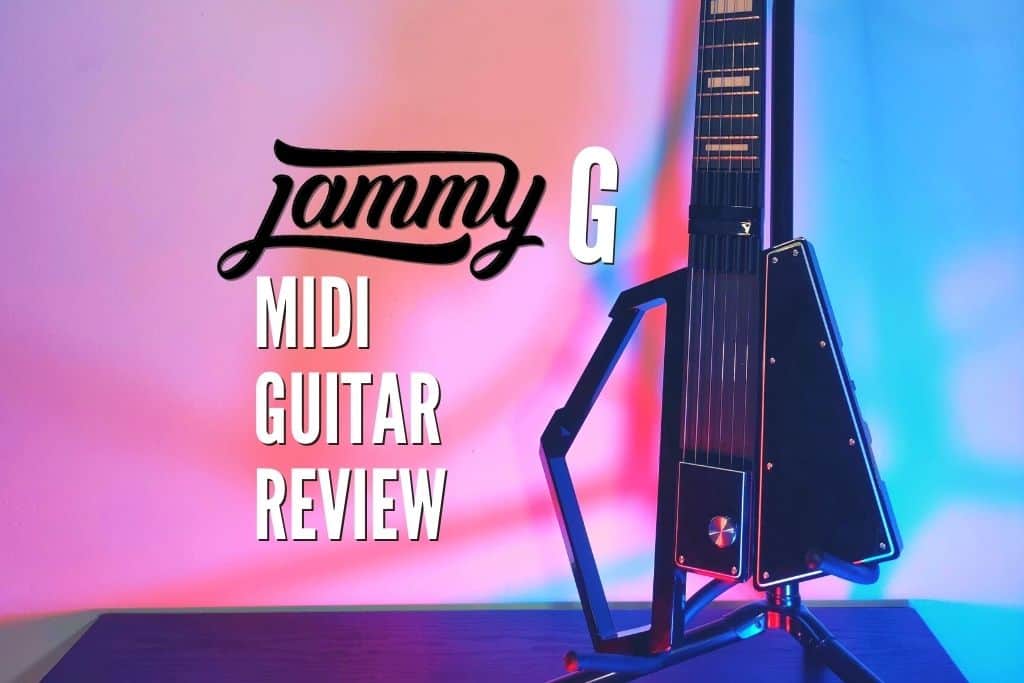 As the MIDI world expands every passing day, new innovative products keep on taking their place on markets. But, still, there are not many guitar-style MIDI controllers as they are quite hard to do properly.
It is quite hard to translate the way a guitar is played to machine language when it is compared to electronic instruments like keyboards. However, the times are changing, and companies are coming with different solutions for the issue.
JAMMY G (Jammy Guitar) App-Enabled Digital MIDI Guitar & Controller,...
PLAY ANY INSTRUMENT LIKE YOU PLAY GUITAR — Jammy G (previously known as...
PORTABILITY — At only 17" when disassembled and 27" when assembled, this...
PLUG AND PLAY — Always tuned and ready to play, Jammy G has an onboard...
ADDITIONAL EXPRESSIVENESS — Experiment with your sound using Jammy G's...
One of them is the Jammy G MIDI guitar which is actually a guitar-shaped MIDI controller with built-in sounds. It is like a mini-sized portable guitar with 15 frets and is comprised of three detachable pieces. Of course, it does not replace the real traditional guitar, but it has awesome features as a midi controller, like the option to change guitar tones, effects, and tunings easily on the fly.
| | |
| --- | --- |
| Pros | Cons |
| Lightweight and portable | Hard to get used to playing |
| Fun and easy to use | The audio mode does not have the best sound |
| Smart features | |
The plastic fretboard and the feel of the strings are hard to get used to, especially when using guitar techniques such as bends and hammer-ons, and pull-offs. It also falls a bit short on the sound quality of its standalone audio mode. Overall I would rate this Jammy G digital guitar at 4.5 stars out of 5, as it is a versatile MIDI controller with handy features.
Jammy Instruments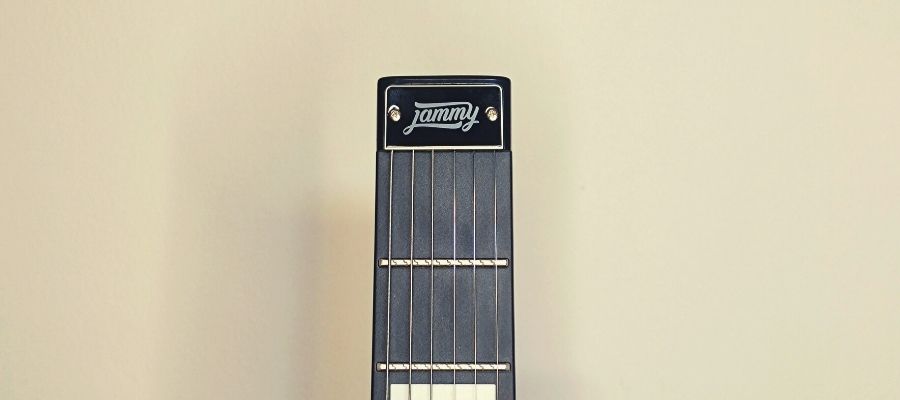 Jammy Instruments is a California-based music tech company that is trying to provide smart solutions for guitar players. In 2017, they launched a campaign in Indiegogo for their digital portable guitar project, which raised more than $250 000 from almost 700 individual backers.
The amount exceeded the company's goal of $50 000 and overreached the expectations in 2018 with its Best in Show award at the National Association of Music Merchants, which is the largest music trade event in the world.
The company started selling their Jammy G MIDI guitar controllers along with other innovative hardware and software with the aim of making music production more mobile and accessible to everyone. More than half of the company workers play guitar, which is impressive in terms of understanding the problems and needs of guitar players.
Jammy G Specs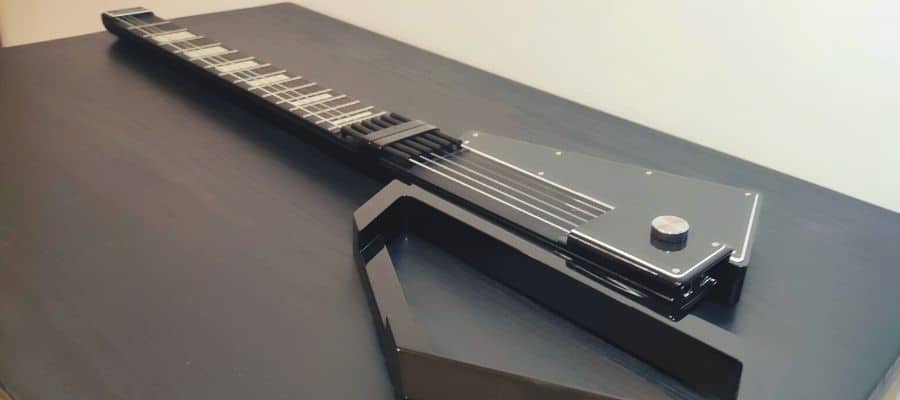 Let's look at what the Jammy G has to offer.
General
| | |
| --- | --- |
| Series | Jammy G |
| Number Of Strings | 6 |
| Hand Orientation | Right |
| Colors | Black |
| Weight | 4.74 lbs (2.15 kg) |
Body
| | |
| --- | --- |
| Amount Of Parts | 5 |
| Material | Hard Plastic |
| Finish | Glossy Black |
Neck
| | |
| --- | --- |
| Length | 17" (43 cm) |
| Number Of Frets | 15 |
| Material | Hard Plastic |
Electronics
| | |
| --- | --- |
| Modes Available | Audio – MIDI |
| Outputs | 1/4," and 1/8" Standard Jack Audio Outputs |
| Latency | 10 – 12 ms |
| Next-gen Pickup Sensors | No |
| Accelerometer | Yes |
| Mappable Controls | 1 |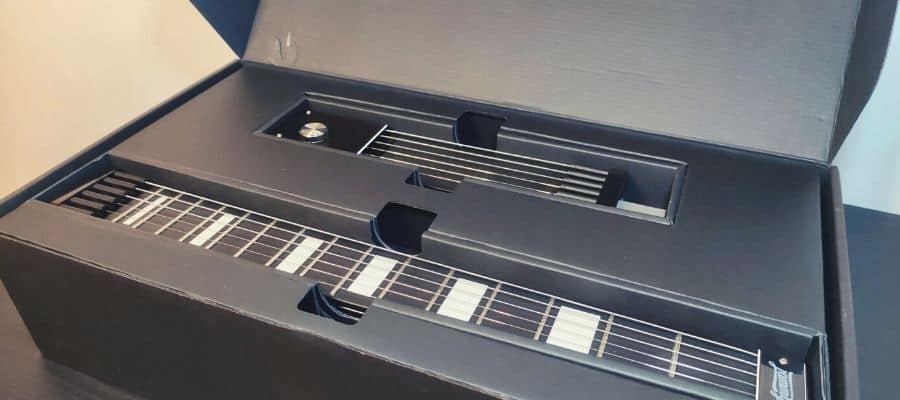 Jammy G MIDI guitar is a cool-looking 27" long mini digital guitar. It looks pretty modern in black-silver tones and unusual without the big part of the body part. The star of this MIDI controller is the steel-string set it features, making the playing experience more authentic and realistic. For now, Jammy G is only produced with the right-hand orientation.
The MIDI guitar comes in the box where you can find some handy accessories along with the guitar itself. These include a strap, strap pins, USB C cable, a soft case, picks, and user manual. The controller itself consists of 3 detachable sections; the neck section, the bridge section, the scratchplate, and the detachable frame section.
It may not look very easy in the beginning to assemble and disassemble the parts, but it is quite quick and easy when you get familiar with them. You just have to put the neckpieces together and the scratchplate, and you are good to go. You can also add the frame if you want.
The instrument is made of hard plastic, which feels quite durable and portable at the same time. There is a Youtube video that shows even after hammer beats, the controller stays solid.
The 17" long neck features a plastic fretboard with 15 standard-sized frets. Of course, it may take some time to get used to the feel and the weight of the fretboard, as it is quite different than a traditional electric guitar.
There are two different modes that you can use with this digital guitar. The first option is to use it as a MIDI controller by connecting it to music software on your computer or smart device. The second option is to use it as a standalone digital guitar with its onboard sound of acoustic, electric, and classical guitar by connecting it to a headphone or an amp.
There are two outputs on the device, 1/4" and 1/8" Standard jack audio outputs. Also, you can use the Bluetooth connection when using the unit as a MIDI controller. It has a 4400 mAh battery, enough for around 4 hours of active playing. It features 1 mappable control option along with a built-in accelerometer.
Another great aspect, and probably one of the most important ones, is the low latency the controller works with. The latency is always around 10-12 ms which is more than impressive.
The guitar is controlled via the official Jammy app where you can adjust settings as you like and add any desired effects. Otherwise, you can connect it to your favorite DAW and model it as you like from there.
The Sound, The Feel Of The Jammy G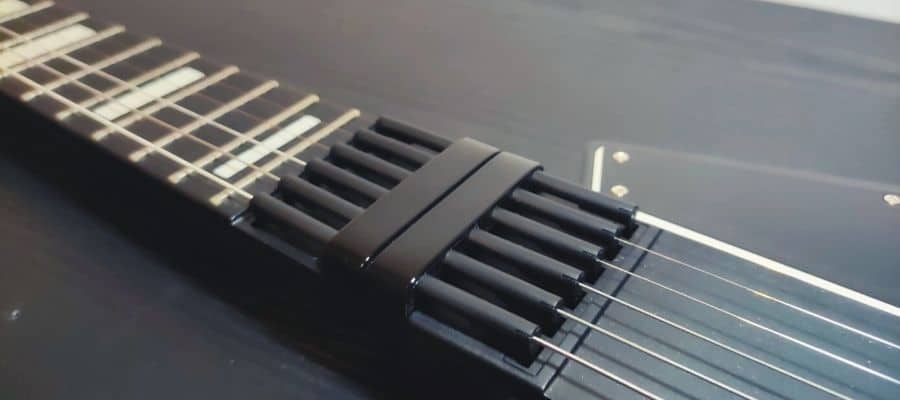 As I am used to a traditional guitar feel, with Jammy G on my lap, I felt a bit weird. It is lightweight and made of plastic which feels highly different than traditional guitars. Another different aspect is that this is a two-part guitar. That is why you do not feel the feedback on the string you strum.
Furthermore, I had some issues with bending, as they did not feel smooth enough. I think the reason behind this is that the frets are divided into 11 sections, and while bending, you feel the transition between sections is a bit stuck.
But that could simply be because I'm used to regular guitars and pressing hard on the strings. However, with Jammy G, you do not really need to be pressing hard.
In terms of sound, Jammy G is quite versatile. You can use it as a MIDI bank with different effects like synths, which is quite fun to play with. The onboard guitar simulations also provide a decent sound.
Additionally, the option to change the tuning quickly with a button is great to experiment with. The same goes for different effects, as changing between many different effect options on the fly opens up lots of possibilities.
To get deeper into the sound quality of Jammy G, we have to examine the 2 different modes that it features, Audio and MIDI modes.
Jammy G Audio Mode – Pros, Cons, Possible Applications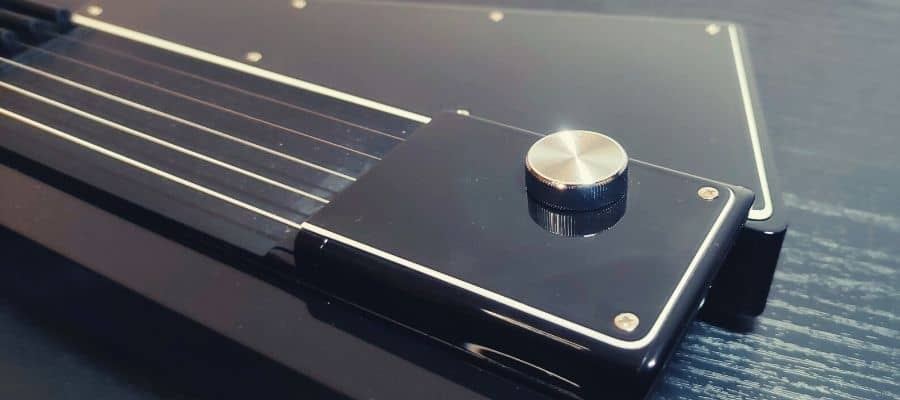 The first mode of Jammy G is the Audio Mode. With this mode, you can use Jammy G as a digital guitar by connecting it to an amp, headphones, or speakers. There are onboard electric and acoustic guitar modelings along with the option to add effects through the companion app.
Honestly, the sound is not great, but it is pretty entertaining to experiment with them. The cleans sound better than distorted tones, and maybe with some nice adjustments and combinations, you can get a decent distorted tone as well. So it is better to keep the tone clean and use the setting of the amp if you have them.
Using traditional guitar techniques is quite challenging on the hard plastic fretboard, but you get used to it after a while. The problem is they sound pretty inconsistent.
Connecting and playing straight into the headphones is an excellent feature of the audio mode. It comes pretty handily, especially for late-night practices. The backing tracks sound good, and it has the remarkable feature of showing the scale in which the track is. So, you can just follow it for your improvisations.
To get a glimpse of the Audio mode of Jammy G you can check out the attached video.
Jammy G MIDI Mode – Pros, Cons, Possible Applications
The second mode of Jammy G is the MIDI controller mode. This mode is where it shines with the great diversity of effects, extremely low latency, and comfort of a guitar-shaped controller.
When you connect the controller to a DAW and assign an instrument, you can basically play a vast amount of instruments such as drums, cellos, violins, synths, pianos, horns, and more. It is an excellent plus for guitar players who want these sounds but do not know how to play the keyboard.
An issue that the users have experienced is that the Jammy G requires the players to be pretty accurate with their hands and the synchronization between them. When you do not fret a note correctly or do not pick the string at the right time, the notes sound dead. This problem can also occur when you use the slide, hammer-on, and tapping techniques.
Vibratos also sound a little synthetic and far from realistic. But of course, with different software instruments, you can make the controller sound much better. And this is a digital guitar, so you should not expect a tone that you get when plugging a Telecaster into Vox AC30.
You can watch the attached demo if you want to hear the MIDI controller sound and examine its versatility.
Jammy Mobile App Features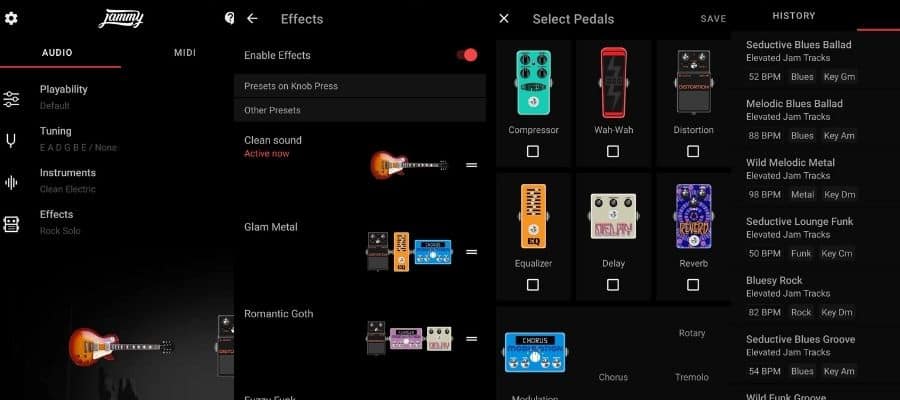 Jammy comes with a mobile app that enhances Jammy's playability. It is constantly updated, and it gives you complete control over your Jammy G MIDI guitar.
The app is divided into two sections Audio and MIDI mode. Before choosing a mode, there is the settings section where you can adjust the string sensitivity, MIDI configuration, auto-recording function, pitch bending range, accelerometer as a whammy bar, and auto power-off timer functions.
In the first section, the Audio mode, you find four different adjustments. The first one is the Playability preferences which lets you adjust the picking sensitivity, maximum note duration, bending and vibrato switch, right and left hand muting sensitivity along with Hammer-on and Pull-off switch, loudness, algorithm, sensitivity. Plus, you can also adjust open string pull-off sensitivity, slide switch, slide up and down the sensitivity.
The second adjustment is the option to change tunings. It is a great feature that you can change the tunings with a tap on the different tuning choices menu. You can also add capo on the section to any fret you like. There are already different tunings to choose from, or you can create your custom tuning.
The third adjustment is where you can switch between acoustic guitar emulation and electric guitar emulation through the app.
And the last one is the effects section. It offers a diverse effects section with many presets for different genres such as Fuzzy Funk, Glam Metal, Country, and Rock Solo. You can also create your own presets by choosing from different pedal effects available in the app.
The MIDI section also has playability and tuning adjustments along with the MIDI configuration option, which allows you to choose the MIDI preset and adjust every string as a MIDI channel.
Other great features the app has are the metronome, backing tracks in different BPMs, keys, and genres. It also shows the available notes on the keys, which you can look at and improvise easily.
Is It Possible To Upgrade The Jammy G?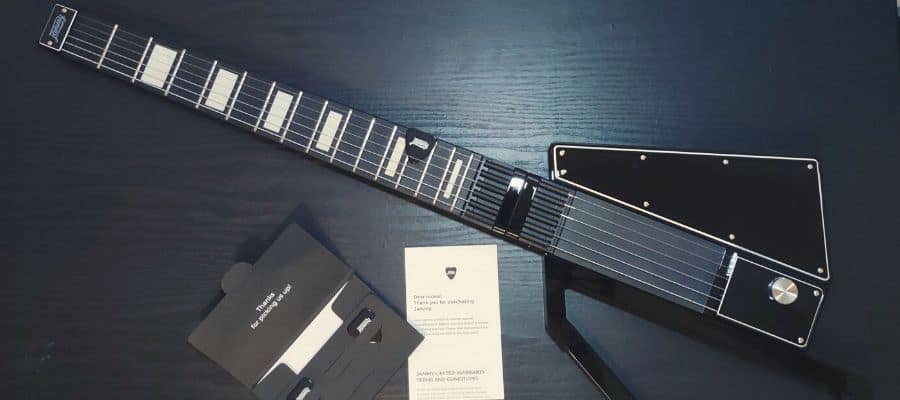 Yes, it is possible to purchase additional parts to upgrade the features Jammy G has. For now, the company offers an add-on MIDI frame.
Add-On MIDI Frame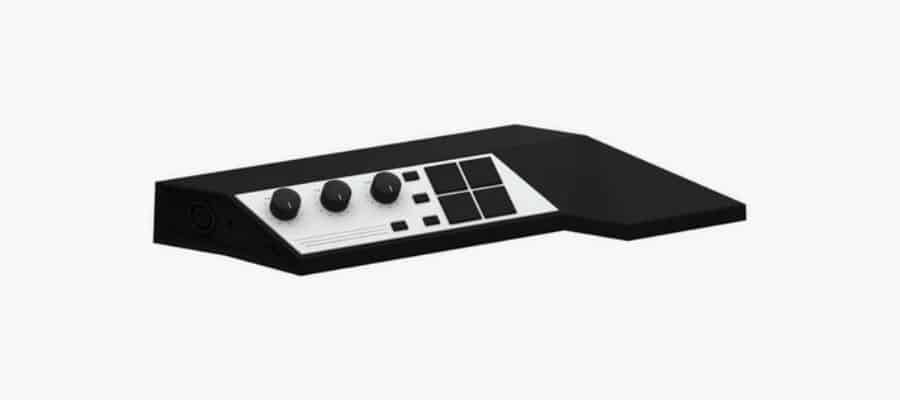 With the addition of extra outputs, pads, and control knobs, this upgrade elevates the versatility of Jammy G as a MIDI controller. The attachable frame features 5-pin DIN and TRS MIDI outputs, 4-pressure-sensitive pads for percussion and samples, 3 knobs for filter controls, 4 transport-control buttons. All of the controls are programmable.
The add-on frame can also be used with the other model the company offers, Jammy E.
WIDI Master Adapter
Another upgrade can be made with the Jammy WIDI Master. This is a virtual MIDI cable that works with Bluetooth. Jammy G already features a Bluetooth connection option, but this upgrade is for the other MIDI devices you use in your setup to make them work wirelessly with Jammy G.
So simply, it is a Bluetooth adapter that allows you to connect your Jammy G wireless to any other MIDI controller. With this upgrade, it gets highly easy to pair your Jammy G with any standalone MIDI hardware without any cables.
Jammy G Vs. Jammy E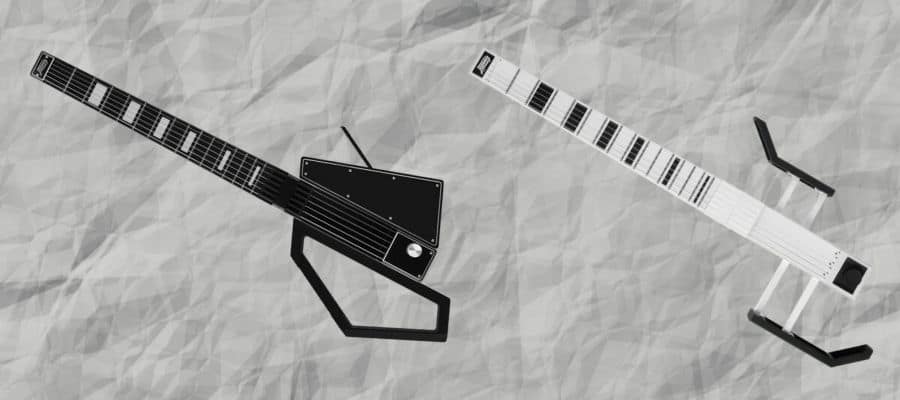 Another great product Jammy offers as a MIDI guitar-shaped controller is Jammy E. By the time this article is being written, it is in the pre-order phase, and the company will begin shipping the order by the end of 2021.
When I look at the features of Jammy E, it seems to me that this version is better compared to Jammy G. The Jammy E is a more MIDI controller-oriented device rather than the audio mode. As the audio mode in Jammy G is not the best, I think Jame E can be a good option to use in studios.
However, I do not want to dismiss Jammy G totally. I think it still has a good role to play with its audio mode that allows you to play wherever and whenever with headphones, backing tracks, and exploring ideas, and experimenting with different types of tuning and effects. It is an extremely portable device that you can play literally anywhere.
Let's look at the differences between the two models to understand the distinction better.
The Jammy G features onboard electric and acoustic guitar modelings to play it as a standalone unit, while Jammy E only works as a MIDI controller connected to the software. That is why Jammy E does not feature any jack outputs like the Jammy G.
The average latency is even lower with Jammy E, which is around 8-10 ms. That is 2 ms lower than Jammy G. While Jammy G features 1 mappable control, this amount is 3 with Jammy E, which acts better as a MIDI controller.
Another significant aspect is that Jammy E offers a version for left-handed players. Jammy G comes with many accessories in a bundle, but Jammy E can only be purchased alone, and the accessories are sold separately.
Alternatives To The Jammy G – In Terms Of Look, Feel, Sound, Specs, And Price
Jamstik Studio MIDI
Jamstik Studio MIDI Guitar (Black Matte)
The Studio MIDI Guitar is a fast and reliable MIDI-capable electric guitar...
MIDI I/O Ports: Includes USB C-A for MIDI-Out and Charging, 3.5mm TRS-MIDI...
Includes in-house built Jamstik Creator VST/Plugin software for MIDI music...
Unique 24 fret headless design with 3/4 body size and full 25.5'' scale...
Jamstik Studio MIDI guitar is a headless 24-fret electric guitar that acts as a full-featured MIDI controller. Just like using a MIDI keyboard, you can connect and create music immediately with your DAW of choice.
As a guitar, it has a 3/4 body size and full 25.5" scale length along with two humbuckers, a coil tap switch, a three-way switch, and standard 1/4" out. So, overall, it looks like an elegant headless electric guitar.
The game-changer features come on the MIDI side. The mounted hex pickup tracks the MIDI signal, processes it on board to provide an almost real-time MIDI conversion. Plus, there are USB C, 3.5mm TRS & Bluetooth as MIDI out options.
The guitar comes with the Jamstik Creator software which is the controller software for the MIDI guitar with a mix of samples and synthesis. Jamstik Studio MIDI finds the great balance between a guitar and a MIDI controller working brilliantly with almost no lag as a guitar or a MIDI controller.
Finally, the Jamstik Studio MIDI is a bit more pricey compared to Jammy G.
Artiphone Instrument 1
Artiphon INSTRUMENT 1 Black | Adaptive Multi-Instrument MIDI...
Play guitar, bass, synth, violin, drum pads, and more, on a revolutionary...
TIME Magazine "Best Invention of the Year," #1 Instrument on Kickstarter,...
The first fretted and fretless digital string instrument; low-latency,...
Ultra Portable: Lightweight and 6-Hour Battery Life; USB & Lightning Cable...
Another great MIDI guitar controller is the Artiphone Instrument 1 with its unique design and system. It was not only created to strum strings or emulate an actual guitar but to be a full MIDI controller which you can strum bow, tap, slide, or drum.
It can emulate many instruments such as guitars, pianos, violins, and drums, which you can switch between with only a button. If you are looking for an all-in-one multiple instrument MIDI controller, this is it.
The features are also quite good, with built-in speakers that sound quite loud and the pressure-sensitive fretboard providing you with an authentic experience. So, actually, you can use this MIDI controller as a standalone unit without the need for a DAW.
However, if you are looking for real guitar-playing experience, Artiphone Instrument 1 can not satisfy your needs.
Fishman Tripleplay
Fishman TriplePlay Wireless MIDI Guitar Controller, Wireless MIDI...
TriplePlay is the composing, performing and recording system that puts an...
Can be installed or removed quickly, on virtually any electric guitar, with...
Comes complete with all the software you'll need for recording, editing...
Includes full versions of: Native Instruments – KOMPLETE Elements and...
The Fishman Tripleplay is a small device that transforms your guitar into a MIDI controller. You simply attach it to the guitar's body, and it acts as a pickup for MIDI. It can be used for recording, jamming, or live performances as it provides really cool sounds.
This unit is a great option for players who do not want a MIDI controller and who can not make it without the feel of the real guitar in their hand. It is actually a wireless electric guitar pickup with low latency and accurate processing. It can be used to create different sounds such as basslines, synth lines, horn sounds.
It is controlled with the Fishman's smartphone app that comes with loopers, virtual instruments, effects, and sequencers. There is also the TriplePlay plugin that works with PC or Mac. It is a great option to turn your guitar into a MIDI controller to make it sound like any instrument you desire.
Conclusion
Overall, Jammy G is a versatile and impressive guitar-shaped MIDI controller which is quite entertaining to play and experiment with. Its portability and versatility are great features making it the ideal MIDI instrument to use on the road.
It is a simple plug-and-play device, and with the app, you can control anything making it more than just a guitar. You can use it as a MIDI controller emulating any kind of instrument. Plus, it looks pretty elegant and cool with its black and silver design.
You can use it as a standalone guitar, too, and it is excellent to use it easily plugging into a headphone or amp, but the sound quality is not the best. Still, it is a good companion to play it from time to time, and I believe it has things to offer for guitar players.
Once you get used to its lightweight and plastic feel, you can play it expressively, pushing the limits of your creativity.
If you found this article useful you may want to save this pin below to your Guitar board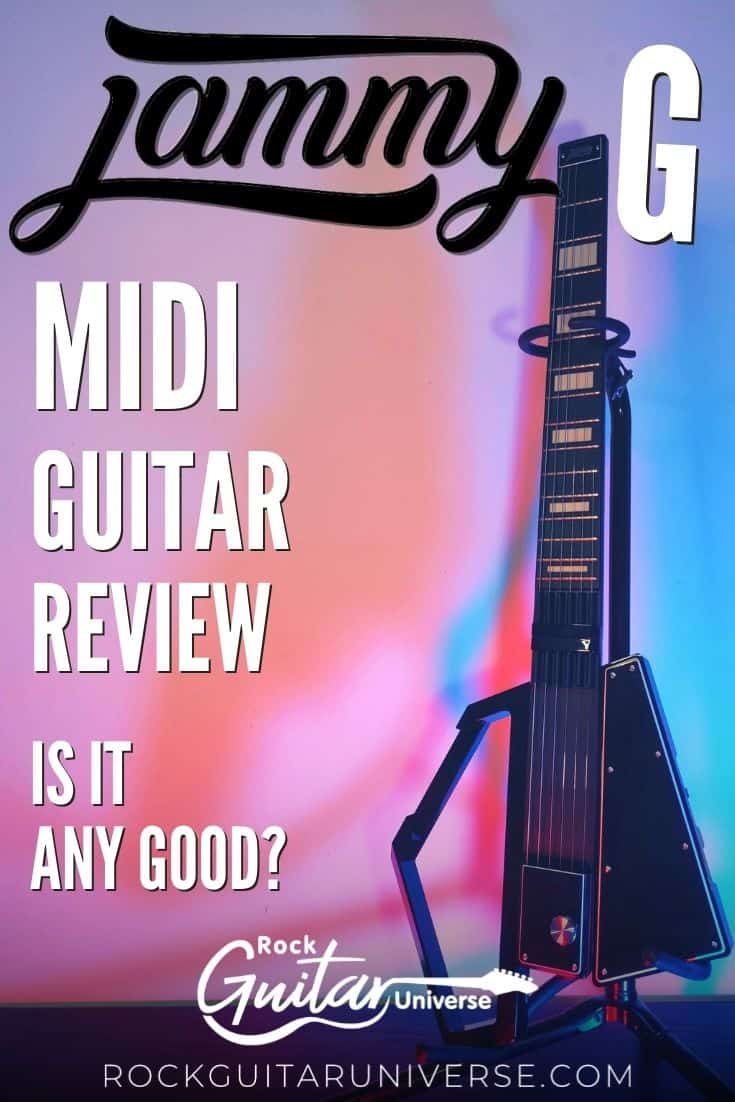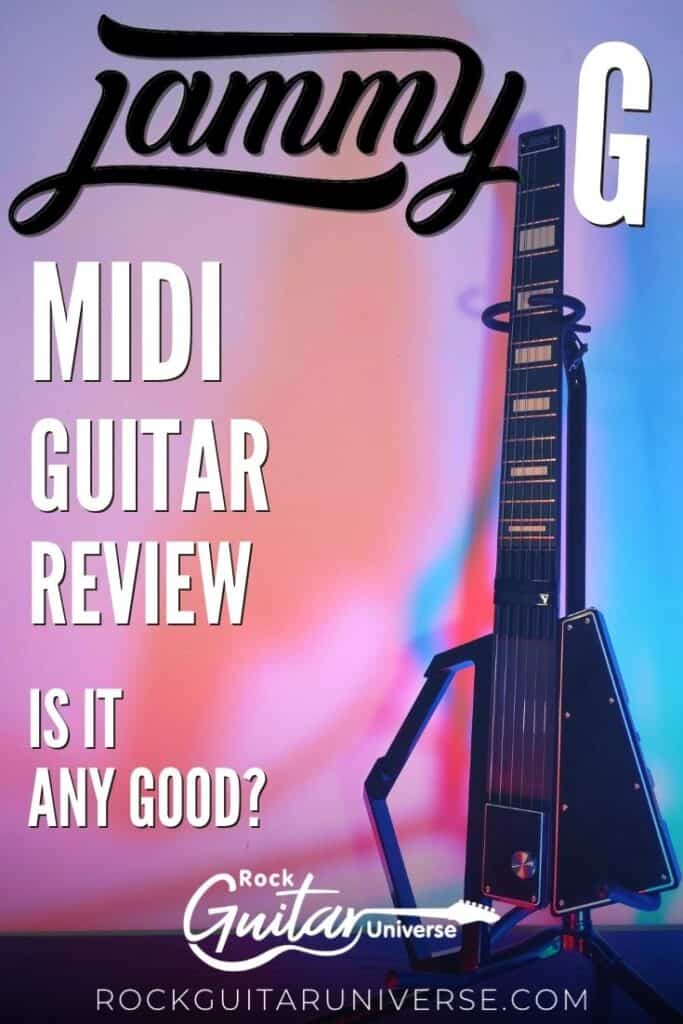 Last update on 2021-12-07 / Affiliate links / Images from Amazon Product Advertising API
Recent Content