Have you ever thought of playing guitar live? Is this something you are already doing? You are probably aware of one irritating problem that happens every time you pick up your guitar. Yes, I am talking about cables. 
You need a cable for your guitar, and each pedal you add will only increase the number of cables. If you like moving around as you play, you will need a longer cable which means a higher chance of tripping on it. Or, you can simply get a wireless guitar system.
These systems allow you to connect your guitar to an amplifier without using a cable. You will get a lot more freedom to move around, and the quality of the sound will be the same.
A perfect example of a wireless system is Flamma FW10. It is an affordable wireless system for your instrument, and you will be able to use it even on bass, violins, and other instruments. It supports up to four channels, and it is something you might want to consider getting if you don't want to be tangled up in cables. 
| Pros | Cons |
| --- | --- |
| Decent price | 5 hours of usage |
| Four channels | Up to 45 feet |
| Easy to use | Can get a bit noisy near other electronics |
Flamma FW10 is a good option for anyone looking to get a wireless system for their guitar. It's affordable, the quality of the sound is quite decent, and it's worth checking out. As you probably know, guitar equipment can get quite pricey, and it is always impressive when you are able to find a great product for a low price. Flamma FW10 is just that.
I would rate it four out of five stars since there are still a couple of details you might notice.
Flamma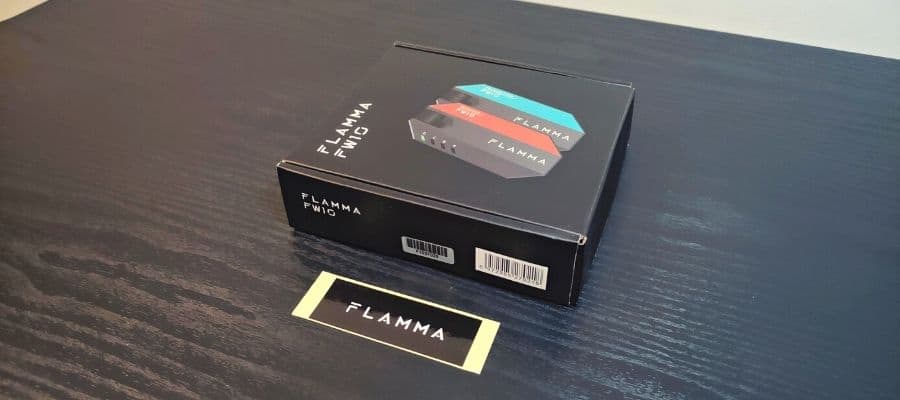 Flamma or Flamma Innovations is a Chinese company based in Shenzhen. Flamma quickly became one of the biggest names in the world of budget equipment, and while the company is still young, it is rather impressive how many great products you can find for such a low price.
Obviously, the target audience of the company is beginner players and those looking to build a pedalboard on a budget. But this doesn't mean that the products are bad. Anyone can use them.
In the past couple of years, Flamma has proven to be an excellent brand. And while they don't have every single effect you can imagine, they are slowly but surely going towards it. If you are looking for guitar equipment with an excellent price to quality ratio, Flamma is one of the best options you will be able to find.
The Specs of Flamma FW10 Wireless Guitar System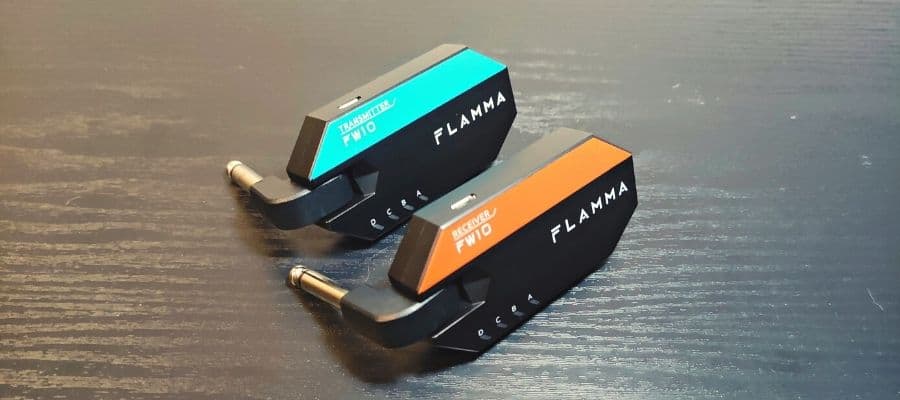 Now it's time to see what Flamma FW10 has to offer. Let us take a closer look at what's under the hood. 
General
| | |
| --- | --- |
| Series | FW |
| Type of System | Wireless |
| Color | Black and blue/black and orange |
Dimensions
| | |
| --- | --- |
| Weight | 0.22 lbs (99.7 g) |
| Width | 4.6" (11.68 cm) |
| Height | 1.58" (4.01 cm) |
| Depth | 0.985" (2.5 cm) |
Electronics
| | |
| --- | --- |
| Latency | Less than 5 ms |
| Frequency Response | 20 to 20 kHz |
| Frequency Band | 2.4GHz |
| Sample Rate | 48 kHz |
| Power Supply | Rechargeable batteries (up to 5 hours) |
| Range | Up to 45 feet |
| Number of Channels | 4 |
Controls
| | |
| --- | --- |
| Knobs | None |
| Switches | None |
| Buttons | On/Off and Channel select |
Input/Output
| | |
| --- | --- |
| Input | 1/4" Mono Audio Jack |
| Output | 1/4" Mono Audio Jack |
| Charger | Dual-ended Micro USB |
The device is pretty straightforward to use. It's as simple as it can be. You will get one receiver and one transmitter. They even have different colors so you won't mix them up. The transmitter is black and blue, while the receiver is black and orange.
All you need to do is plug the transmitter into your guitar and the receiver into the amplifier and you'll be ready to go. As for the size, the device has reasonable dimensions. It's not too big, so you won't have any problems while playing.
It is 4.6" (116.8 mm) by 1.58" (40.1 mm) by 0.985" (25 mm) and it weighs 0.22 lbs (99.7 g). Of course, it would be ideal if the device was smaller or if you could attach it to the guitar strap. The input jack can rotate, so it can work on any type of guitar. You can even put it in a position where it won't bother you while playing.
As you already know, the main goal of Flamma FW10 is convenience, and there is not much to say about it. It is designed to eliminate the need for cables, and it is doing a good job with it. One of the main advantages is the simplicity of the device, and it is basically a plug-and-play model. 
It is worth mentioning that there are four different channels, and you can use them on many different instruments. It is not a model designed for guitar only, so you will have enough space to experiment with different options.
Both the transmitter and receiver have an LED light that will show you if these two devices are paired and are ready for you to start playing. It is a perfect opportunity to get a great product for a low price.
The Sound Of The Flamma FW10 Wireless Guitar System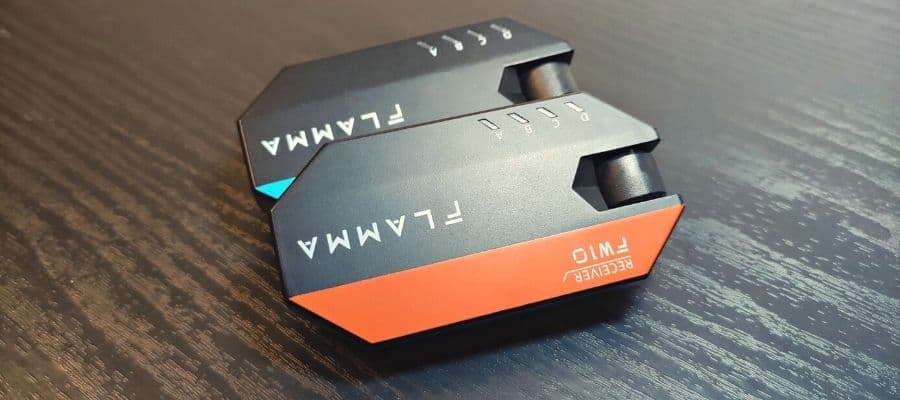 Now, the first thing I should mention is that a good wireless system should not affect your sound at all. Flamma FW10 is not designed to create or change the sound in any way, and the only goal it has is to eliminate the need for cables. 
In essence, the transmitter will send the signal to the receiver the same way a cable would do. The sound you will hear from the amplifier is shaped by your pickups, pedals, and the amplifier itself.
The most important thing about wireless systems is that the delay is not noticeable. The last thing you need is to play something and wait until you hear the notes from your speaker. Here, the delay is less than 5 milliseconds, which means that you probably won't notice it.
All things considered, it is a worthy investment. Flamma FW10 doesn't cost a fortune, it has low latency, and the quality of the sound is good. While it is possible to notice additional noise while playing, it isn't a dealbreaker. In fact, if you plan on playing with a band, you probably won't even notice the difference. 
I should also mention that Flamma FW10 can get a bit noisy when near other electronics, and you should keep it away if possible. The sound still isn't something that will create a lot of problems, but you should be aware of it.
Flamma FW10 Wireless System Is Perfect For Whom?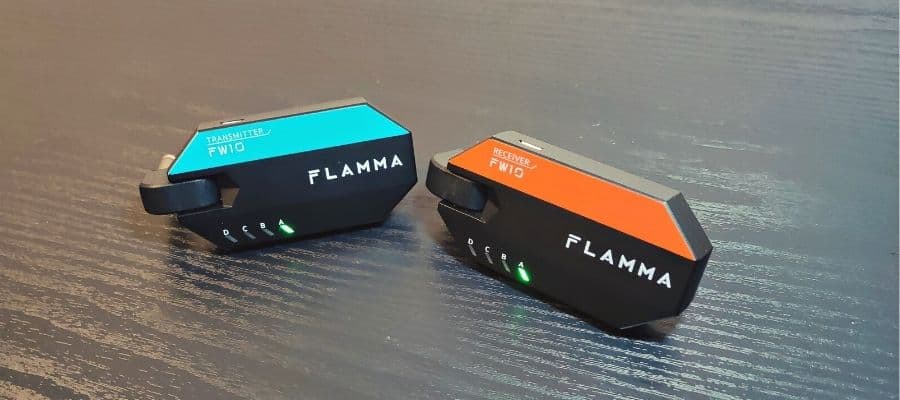 Flamma is a brand that focuses on beginners and budget equipment, and if you are in either of these categories, the FW10 is a perfect choice for you. Essentially, anyone who is looking to eliminate cables and the possibility of them tripping over should get a wireless system.
Yes, it is not as reliable as cables, but it is convenient. Moreover, if you pay attention to your batteries, you won't have any problems. Five hours is more than enough for the gig, and since the price is so low, you might want to consider getting a spare system as a backup option.
Naturally, only if you are satisfied with the product. So, if you are looking for a good wireless system, this can be a perfect option for you. One of the main differences compared to other guitar equipment, is that the wireless system is not shaping your sound.
This means that you won't need to worry about it as much. The only thing you need to worry about is whether the system is reliable and able to send the signal with minimal losses. And Flamma FW10 can do just that. 
Flamma FW10 vs. Other Wireless Systems
Fiddlerman Wireless Instrument Audio Transmitter and Receiver System FWS-10
Fiddlerman is one of the alternatives you might want to check out. The design is similar to Flamma, meaning that you will get a two-part system – a receiver and transmitter. The model is easy to use, and it works with different instruments like violins, guitars, basses, and others.
What is great here is that the device has a lithium-ion battery, which you can recharge with ease. Of course, if you are limited by your budget, this price increase won't be something you will enjoy. Flamma FW10 is still a bit cheaper. 
BOSS Wireless Guitar System
Boss has been one of the biggest names in the world of guitar equipment. The company has been around for a long time, and they make exceptional guitar equipment. At the same time, Boss products are often cheaper compared to other major brands, which is why many beginners love using pedals made by Boss.
The wireless system here is easy to use, it has fourteen channels, and the stompbox can fit your pedalboard. It also has a large LED screen that will allow you to navigate the device with ease. It is worth mentioning that this guitar system is attached to the strap, which is perfect for those that dislike the other type.
Line 6 Relay G10TII
Line 6 is another great mid-range brand that offers numerous pedals, amps, and other pieces of equipment. The Relay G10 is a wireless system, and it is as simple as it gets. All you need to do is plug it in, and you'll be ready to go.
The receiver is a lot bigger than you'd expect, but the transmitter is small. Furthermore, the relay or receiver works as a charger as well, and there are LEDs to show you whether the device is paired or charged at any point.
Other Flamma Products Worth Mentioning
Flamma FS06
Flamma FS06 is a preamp pedal that serves as an amp simulator. Using it allows you to plug the pedal directly into a speaker or a mixer, which means that you won't need to use a real amp. Keep in mind that this is a digital preamp, just to know what to expect. The pedal comes with seven different amp settings (or simulations), and they sound surprisingly good.
You can choose between well-known versions like Fender's Blues Deluxe or EVH 5150. The quality and the sound of the pedal are incredible, and the price is something that beginners will love.
Flamma FA05
If you don't own any guitar equipment, you might want to consider getting an amplifier. Flamma FA05 is an affordable amp combo that offers seven different models, drum beats, and it even supports Mp3. It is a perfect amp for practicing at home since the power is only 5 watts.
Buying anything more powerful will probably make your neighbors hate you. The amp is easy to use, and there are additional effects like delay and reverb as well. If you decide to combine it with pedals, the options will be limitless. Another thing worth mentioning is that Flamma FA05 can work on a standard 9V power source, including batteries.
Flamma FX100
FLAMMA FX100 Guitar Pedal Multi-effects Processor with Looper Amp...
9 EFFECTS BLOCKS: Fxcomp, Distortion, Overdrive, Amp, Cab, Noise Gate, EQ,...
55 classic & modern high-quality guitar AMP Models that utilize non-linear...
200 PRESETS can provide multiple sound options for beginners. Connect it to...
OTG FUNCTION supports compatible mobile phone or tablet connection. Enter...
Many beginners are not willing to buy dozens of pedals, especially since they are not aware of the effects they need. To solve this problem, you can always go for an all-in-one model. Flamma FX100 is a digital multi-effect pedal that offers over 150 guitar effects.
In addition, you can edit them as you please or even create new effects on your own. Unlike the majority of affordable processors, this one has an expression pedal allowing you to use it for wah, volume, or anything else you might need.
Alternatives To The Amp In Terms Of Look, Sound, Specs, And Price
Joyo Wireless System
JOYO 2.4GHz Wireless Guitar System 4 Channels Rechargeable Audio...
Clear Quality Signal Transmission——2.4GHz band is optimal for guitar...
High Compatibility——The plugs can be rotated for 220 degrees,...
Easy to Pair——Turn on the transmitter and the receiver, press the...
User-friendly——The double-sided USB cable can charge the transmitter...
Joyo is another excellent budget brand, and if you are a fan, you might want to check out this wireless system. The first thing you will notice is that the price is ridiculously low. The device supports 2.4 GHz with low latency.
You can use it for up to 65 feet (20 meters), and it's easy to use. There are LEDs to show you when the two parts are paired, and all you need to do is start playing. It also has a USB connection allowing you to charge it with ease. The device can last up to eight hours.
Getaria Wireless System
Getaria has a similar design to many other budget brands, but this time, it offers a 5.8 GHz transmitter. It has high quality, low interference, and it is lossless. Furthermore, if you are looking for something with a longer range, this might be it since you can use the Getaria wireless system for up to 100 feet.
The system allows you to connect up to four instruments, and it has a built-in rechargeable battery with 1100 mAh.
NUX B-1
NUX B-1 has a similar style and design as Flamma FW10. It uses a 2.4 GHz signal, four channels, and it has an anti WiFi interference system ensuring that no one will be able to mess with your connection. 
The movable jack on both devices means that you can use it on nearly any type of guitar, and you can adjust it in a way that won't interfere with your playing. The range is up to 60 feet, and the dynamic range is 108 dB. All things considered, it is a great model, especially for those that are a fan of NUX. The price is similar to Flamma FW10, so it's up to you to decide which one is a better option.
Conclusion
Getting a wireless system for your guitar can be an excellent idea. It completely eliminates the need for cables, and you won't need to worry about tripping over them while playing. Of course, you will still use patch cables to connect the pedals, but that isn't a problem.
How this system works is it allows you to connect your guitar (and equipment) to the amplifier, and it can be quite convenient. Especially if you are someone who loves moving around while playing.
A perfect example of a budget option comes from Flamma, and the model is named FW10. It is easy to use, the quality is good, and it will allow you to connect your amp and guitar via wireless. 
The model has four channels, and you can use it for up to 45 feet. With small latency (less than 5 ms), you probably won't notice the difference at all. The only thing you need to do is plug in your guitar and start playing.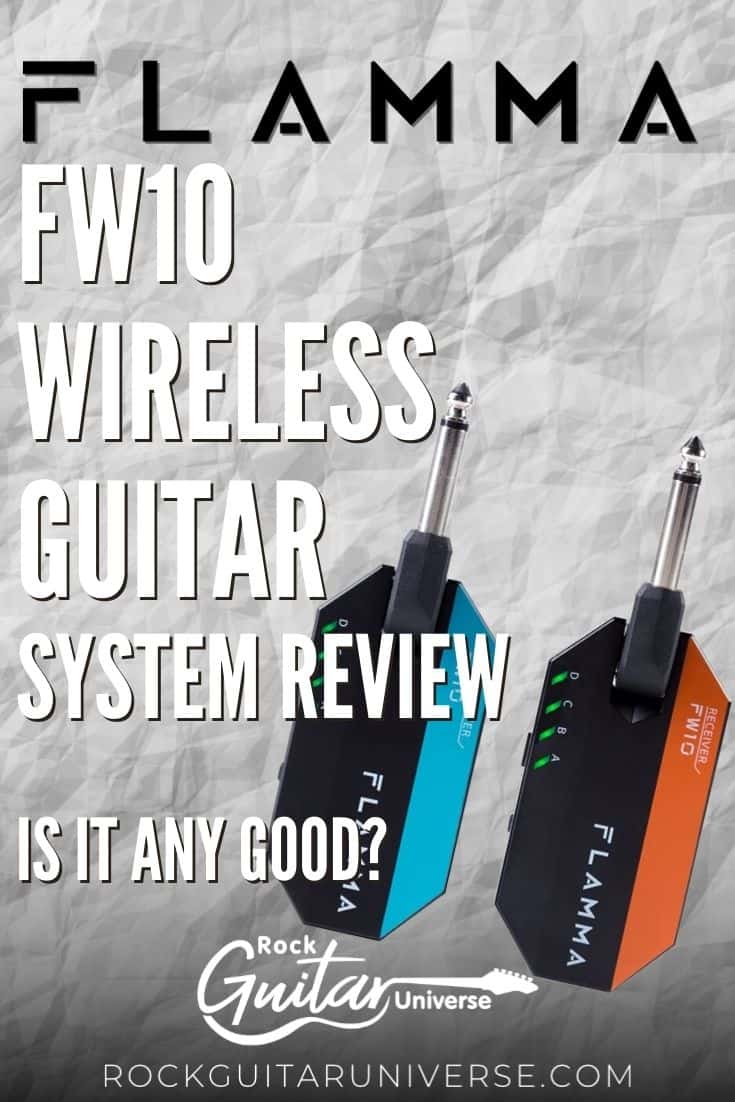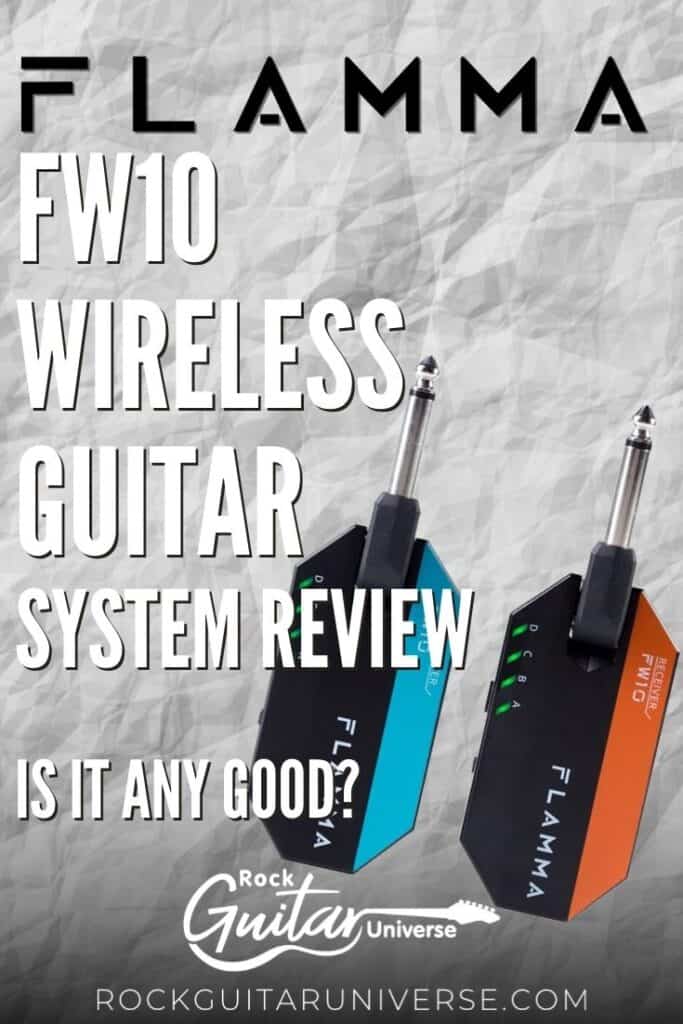 Last update on 2023-02-06 / Affiliate links / Images from Amazon Product Advertising API