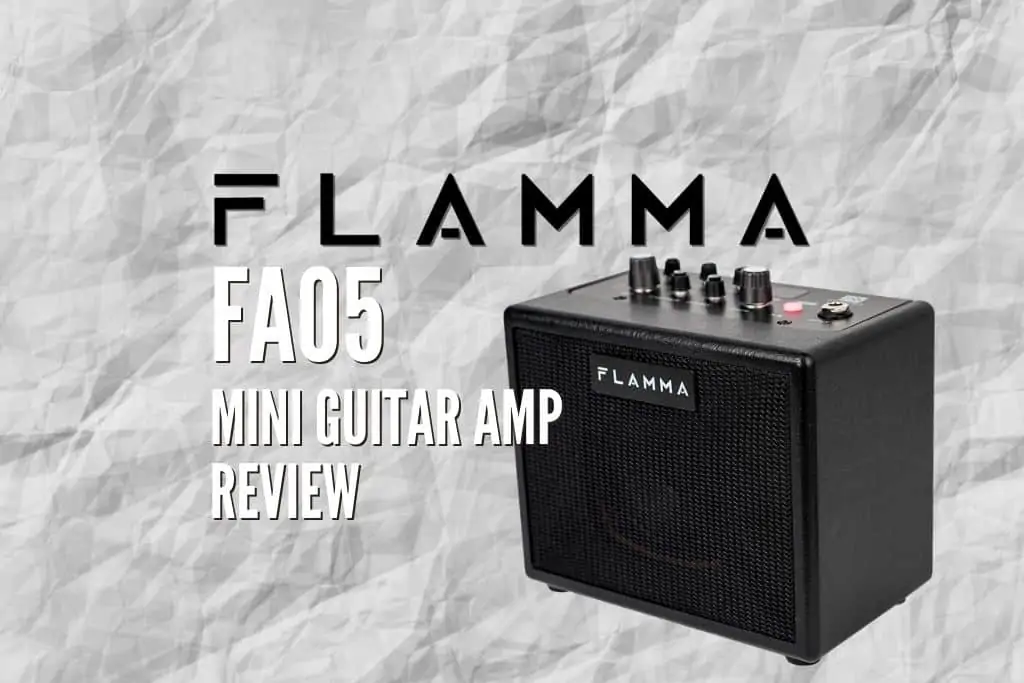 Finding an amp for your guitar is never easy. There are so many different options, and the prices can vary quite a lot. Needless to say, the amount of money you plan on spending on the amp will play a crucial role in the decision. And if you are looking for a cheaper amp, the options might be limited.
In fact, it's not often that you see a cheap amp that has good performance and sound. Companies usually offer the cheapest parts, and the quality is far from being impressive. However, there are a couple of models that are surprisingly good for the amount of money.
All of this leads us to the company called Flamma. The main advantage of this brand is that the prices are usually quite low, and you can find numerous pedals without spending too much money. It is rather similar to Donner and how it managed to take the market by storm.
Flamma FA05 is the primary focus here, and it is a small Bluetooth amp. The amp offers plenty of different settings and modes you can use to adjust the sound, and it is rather impressive. Especially if you consider the price.
| Pros | Cons |
| --- | --- |
| Incredible price | The power is not ideal and the speaker is small |
| Great sound | No footswitch |
| Different modes and Bluetooth | Not for live gigs |
Of course, the majority of issues you will have with this amp are regarding its power and size, but you can't really expect to get a 40W tube amp for under $100. If we look at the amp and what it's trying to achieve, it does a really good job with it.
It is a home amp for practice, and it sounds surprisingly good. Since the speaker is 3W, there is no way you will be able to bother your neighbors. It also has a drum machine, and I will go through all the features in-depth later on. This amp is easily four out of five stars, and maybe even higher since it is so cheap.
Flamma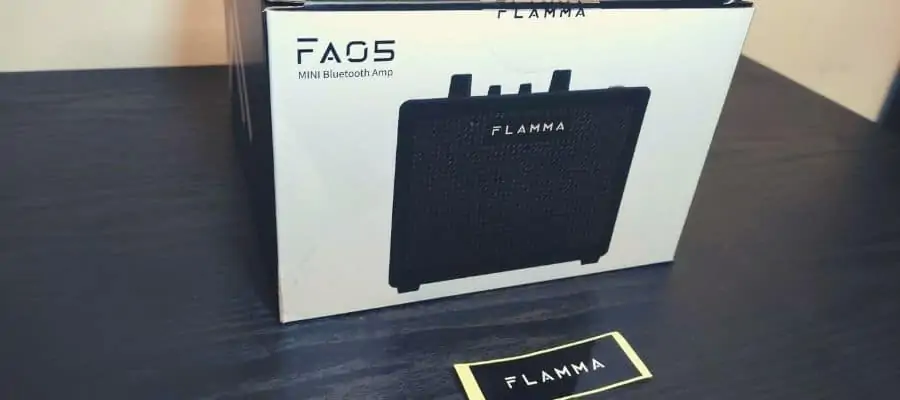 Flamma is based in China, and the full name of the company is Shenzhen Flamma Innovation Co., Ltd. Shenzhen is filled with companies from various spheres and industries, and it's not surprising that there is one designing music equipment.
The majority of models you will find online are on AliExpress, Thomann, Amazon, and other web-stores, but you can also visit the Flamma Innovation website if you are looking for more details.
But just because something is cheap and made in China, it doesn't necessarily mean that the quality is bad. And Flamma is proving just that. I already mentioned many of the pedals designed by this company, and they are often one of the best choices if you are looking for budget gear.
While we can never know what the future will hold, we can assume that Flamma will continue storming the market and offering incredible gear for such a low price.
Flamma FA05 Specs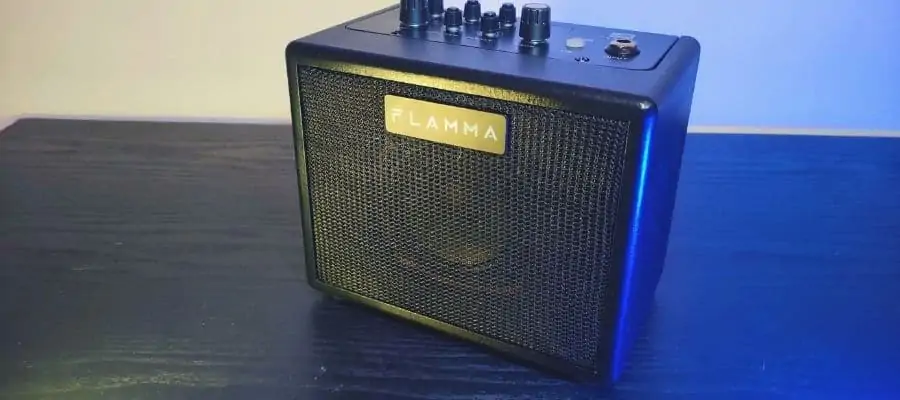 Talking about the amplifier or other piece of musical equipment is one thing. But the safest way to know what to expect from it is to check out the specifications. Here, I will go through some of the most important features and specs Flamma FA05 has to offer.
General
| | |
| --- | --- |
| Series | FA05 |
| Model Available in the Series | FA05 |
| Type of Amp | Solid-state |
Dimensions
| | |
| --- | --- |
| Weight | 2.47 lbs(1.12 kg) |
| Width | 6.93″ (17.5 cm) |
| Height | 6.3″ (16 cm) |
| Depth | 4.13″ (10.5 cm) |
Electronics
| | |
| --- | --- |
| Output Wattage | 5 Watts |
| Power Requirements | DC 9V and 1.5A Center negative |
| Control Panel Location | Top |
| Display | LED screen |
Controls
| | |
| --- | --- |
| Knobs | Gain, tone, volume, preamp modes, chorus/tremolo, delay/reverb, drums |
| Switches | Power switch, Bluetooth on/off |
| Buttons | Settings LED button |
Speaker
| | |
| --- | --- |
| Speaker configuration | 3" speaker |
| Speaker model | Unknown |
Input/Output
| | |
| --- | --- |
| Instrument Jack | 1/4 inch (6.3 mm) |
| Aux In | 1/8 inch (3.5 millimeters) |
| Headphones Out | 1/8 inch (3.5 millimeters) |
| Speaker Out | None |
| Effects Loop | None |
| Line Out | None |
| Foot Control | None |
| USB | None |
| Bluetooth | Yes; Bluetooth 4.2 |
As we can see from the start, Flamma FA05 is not a powerful speaker, and you won't be able to use it live. With a 3-inch speaker, it will be far from enough if you want to perform in front of the audience. But this is not the purpose of this amp.
The FA05 is designed for home use, and there are plenty of good features it offers. Firstly, you get delay and reverb, which is not something you often encounter on cheaper amps. While I'm talking about effects, let's take a look at all the possible options you can choose.
The amp has a noise gate, chorus, tremolo, delay, and reverb. In addition, you can also select different amp modes like clean, overdrive, crunch, lead, and rhythm, and it gives you forty different drum patterns.
All of these options are incredible for beginners, and they will do wonders for your practice sessions. The amp also has a Bluetooth option, and you can turn it on using the switch on the back. Having an opportunity to practice with drums is a perfect way to work on your tempo and rhythm skills, and the amp will act as a processor pedal.
Since you will get a tuner, multiple effects, different modes, and drives, you will be ready to start practicing as soon as your amp arrives. Unfortunately, Flamma FA05 doesn't have an effects loop, line out, footswitch, and other features, but if you are a beginner, there is a high chance you won't need them.
Now, the FA05 is not ideal, and you will need to consider getting something more powerful if you plan on playing in front of people or with a band. This isn't a stage amp, and it's more in-line with small battery amps. While we are on the subject, you can use FA05 with batteries as well.
It is a nice addition for people that are looking to travel and carry their guitar with them.
The Sound Of The Amp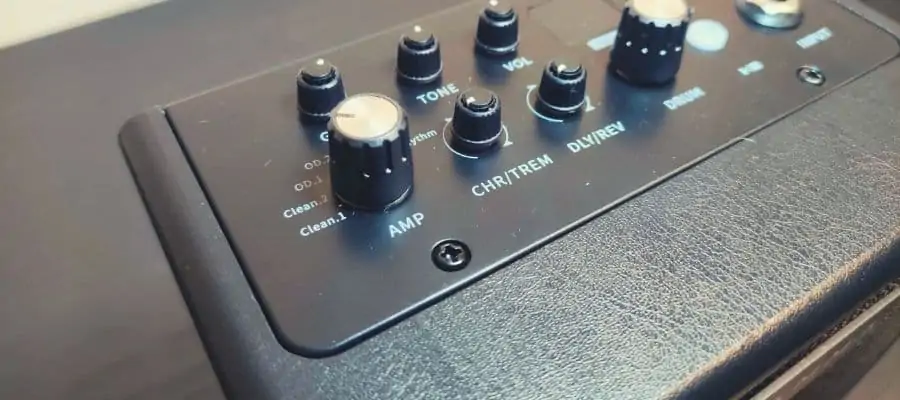 Now that we've covered the basics and specifications, it's time to talk about the sound of this amplifier. It turns out that the sound of the amp is surprisingly good. Needless to say, you won't get a perfect valve sound from this model. It is a cheap amp, and the only viable way to look at it is in its price range. And this is where the amp shines.
You will have a hard time finding something with a similar sound, effects, and quality for this price. The addition of delay and reverb really improves the sound, and the quality of effects is incredible. One of the main problems is pushing the drive too much will cause the amp to sound bad. And this is quite expected from a 3-inch speaker.
The amp is quite versatile, and it will allow you to experiment with various sounds and effects, and it is undoubtedly worth the money. As you can probably expect, it works best on the lower gain with reverb.
Whether you are looking to buy yourself a first amp or to have a cheap one when you travel, Flamma FA05 is a great option. In theory, you could use the amp with additional pedals, but the most important guitar effects are already included with the amplifier.
Furthermore, if you want to buy a good pedal, there is a chance that it will cost you more than the amp. This is one of the main reasons why people will rarely use it with pedals. The sound will be even better if you use headphones.
Flamma FA05 Is Perfect For Whom?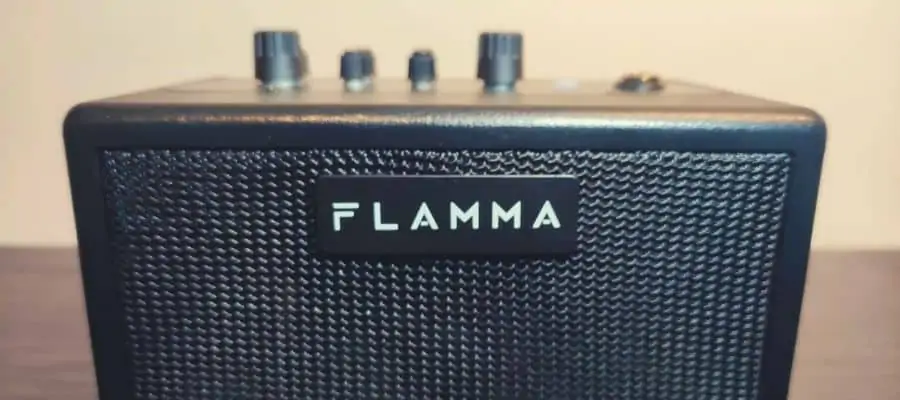 The obvious answer to this question is beginners. When people start learning how to play the guitar, the entire process can be overwhelming. But more importantly, they are not willing to spend a lot of money on something they don't know if they will enjoy. You will rarely see a beginner with a Fender Stratocaster and Twin Reverb.
Instead, they will go for something cheaper. And Flamma FA05 is an excellent option. Other amps in this price range will often have a single effect like drive, and finding a model with delay and reverb will be nearly impossible.
So, this is a perfect opportunity for a beginner to get all the essential effects in a single box for a ridiculously low price. In the majority of stores, Flamma FA05 is around $80, and you will have a hard time finding something with a better price-quality ratio.
Of course, beginners are not the only target group, but they are the primary ones. If you are an experienced guitar player, you can still have a lot of fun with this amp. The dimensions of the amp make everything significantly simpler if you plan on traveling, and you can carry it with you wherever you go.
It is also a nice thing to have when practicing at home if you are not too focused on having a perfect sound. This is one of the rare cases where less power is better. Especially if you live in a building where playing loud guitar is not possible.
Alternatives To The Amp In Terms Of Look, Sound, Specs, And Price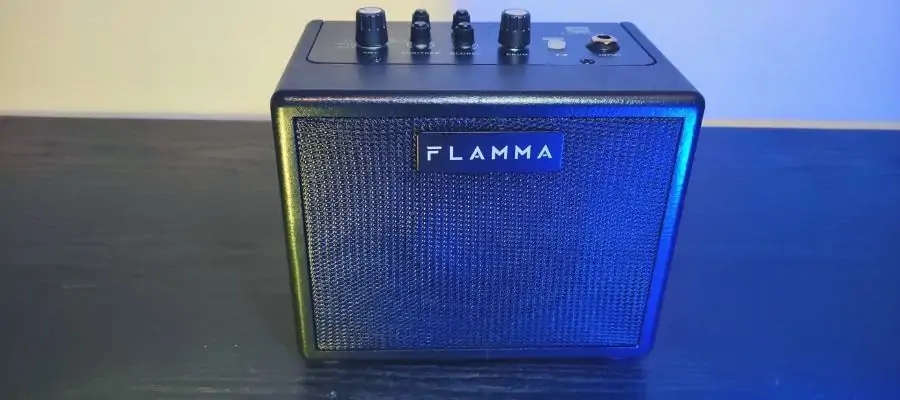 There are those that will like the idea behind this amp but will still want something a bit different. Fortunately, there are a couple of alternatives you can find on the market, and they will allow you to get a similar product in this price range.
Boss Katana Compact Mini
Boss is one of the most popular brands on the market, and Katana is a series of iconic amps by this company. Boss Katana Compact is a smaller version of the standard Katana amp, and the idea behind it is similar to the FA05.
Compared to the Flamma amp, this one offers a bit more power. It has 7 Watt on the output, it's easy to use, and you can carry it with you anywhere. One of the main differences is that Boss Katana Mini doesn't offer nearly as many effects as the Flamma amplifier. You will get potentiometers to control gain, volume, full EQ, and delay. You can also connect the amp to your smartphone and use it for jamming.
Blackstar Mini Fly 3
Blackstar has been a go-to amp for many players, especially those that enjoy heavier genres. Both amps and pedals designed by Blackstar are incredible, and they tend to be affordable. This one here is a mini version of the Blackstar amp, and it offers 3 Watts.
The amp has a simple design, and there are four knobs you can use to adjust the sound. There are gain, volume, EQ, and delay knobs. If you are looking for a battery-powered amp, Blackstar mini can be a great option. It's lightweight, easy to use, and the sound can be quite good. The only downside is that there aren't as many effects as you can find on Flamma FA05.
Nux Mighty Lite
Nux is another great company focusing on budget equipment, and you can check out Nux Mighty Lite. It is a smaller version of the Nux amp, and the design is similar to Blackstar Mini. The amp works on batteries, there is a drum machine, four knobs to control gain, volume, tone, and delay/reverb, and the power is 3 Watts.
While it is not the best amp you can find on the market, it is a decent alternative to Flamma FA05 if you are looking for an affordable practice amp. Nux Mighty Lite also has Bluetooth, metronome, and tap tempo.
Conclusion
If you are looking for an affordable amp you can use to play at home, Flamma FA05 is an excellent option. The amp can work on batteries or using a power supply, and it is filled with various effects you can use.
It is not often that you see a cheap amp that has a delay, reverb, chorus, tremolo, tuner, and a drum machine. And the sound is quite good. The amp is a perfect choice for beginners since they will get to experiment with the different tones and functionalities this amp has to offer.
At the same time, those that travel or are unable to turn the volume up at home will also find this amp useful. And considering the price, it is without a doubt one of the best models you can find. Yes, there are better amps on the market, but they usually cost a lot more money.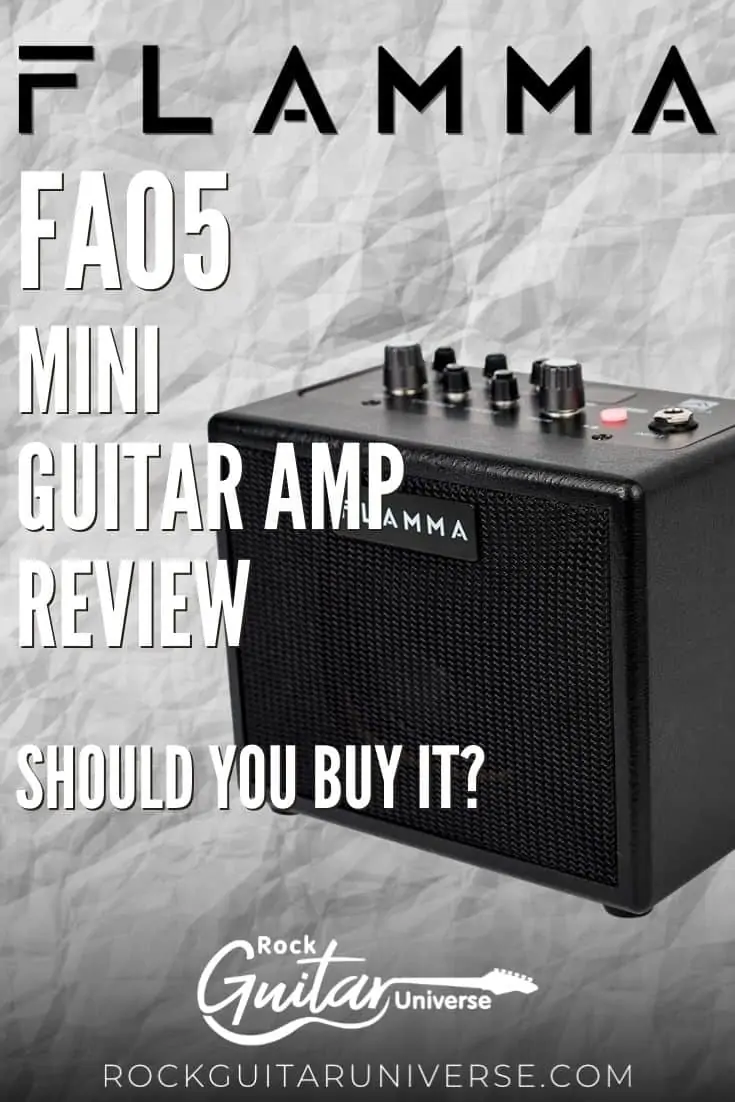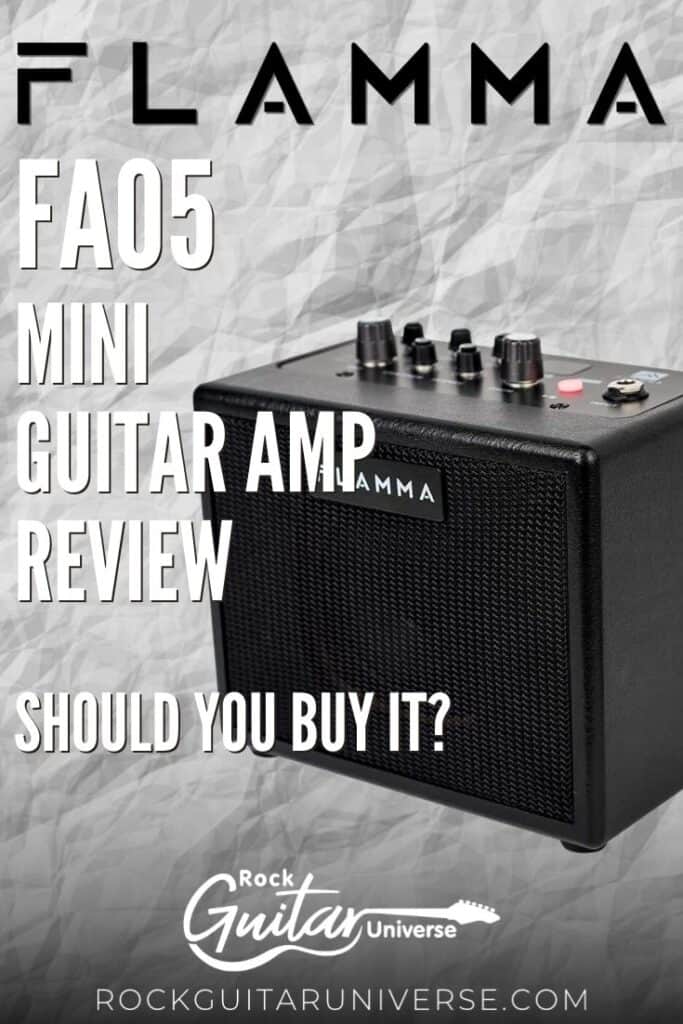 Last update on 2022-01-26 / Affiliate links / Images from Amazon Product Advertising API
Recent Content