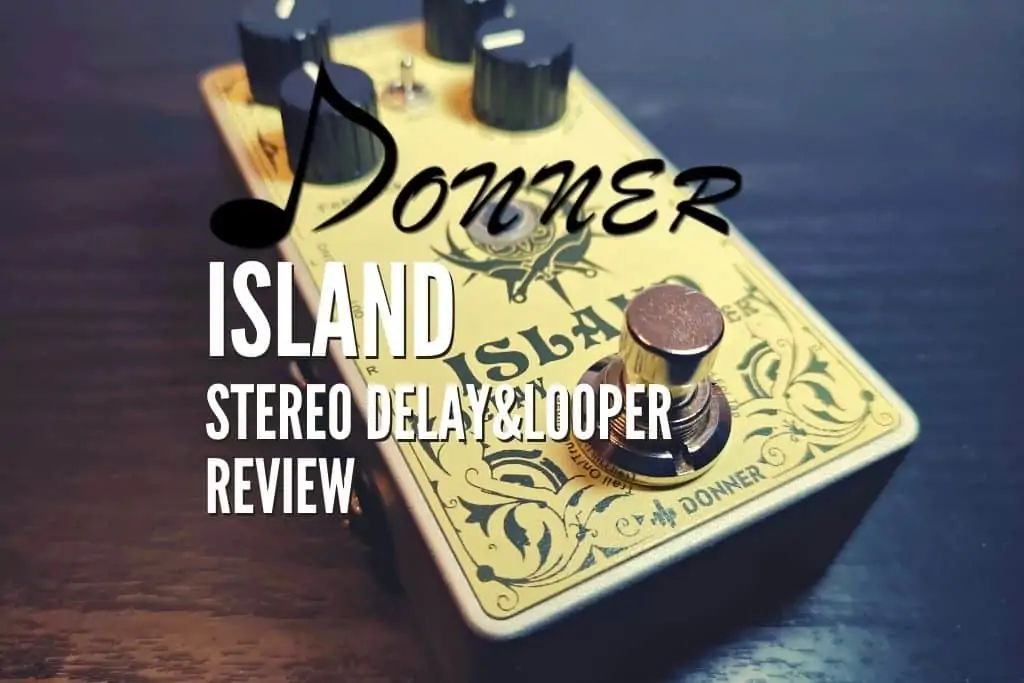 Delay pedals are some of the coolest effects for guitarists that can be used almost with any genre to create great atmospheric landscapes. Either for thickening the rhythm playing or for a solid lead guitar tone, delay pedals make your tone more interesting.
As a well-known brand with its high-value-for-price ratio products, Donner offers Island Stereo Delay&Looper pedal for guitarists looking for an affordable yet great-sounding and versatile delay pedal. Donner Island Stereo shines with its 10 kinds of world-class delay effects, 20 kinds of amazing delay tones, built-in 17-second looper, and stereo input-output options.
| | |
| --- | --- |
| Pros | Cons |
| Great value for the price | No adapter comes in the box |
| Versatile pedal with many different modes | |
| Solid and good-looking stompbox | |
| Looper feature | |
| Stereo inputs-outputs | |
The only thing against this pedal is the lack of an adapter in the package, but it can easily be purchased for a reasonable price individually. Besides that, I think Donner Island Stereo is an excellent purchase for the price, which can deliver you excellent delay effects in a broad sonic palette.
Without any doubt, I would rate this pedal 4.5 out of 5, as it shines with its versatility and sound quality, especially in its price range.
Donner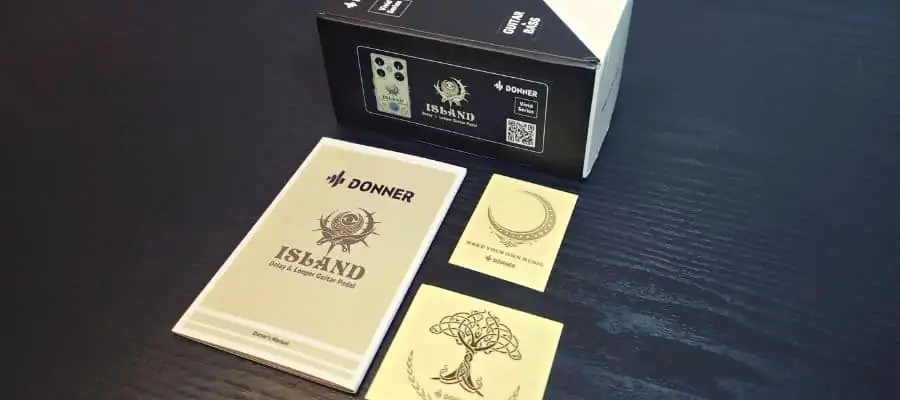 As one of the youngest brands in the music sector, Donner is a company founded in 2012. Since that day, Donner has produced high-quality gear for affordable prices, which is why the company could make such an impact on musicians worldwide. Especially, the pedal series of the brand is highly appreciated with their high performances and low price tags.
Donner offers mini pedals as well as regular-sized pedals, which are both great products for their prices. The warehouses are located in the U.S.A. and Canada, but the company ships overseas safely and quickly.
Another appreciation comes to the R&D team and fantastic customer service of the company as Donner is a well-known and reliable brand today with their attentive solutions and innovative products.
Donner Island Stereo Delay Pedal Specs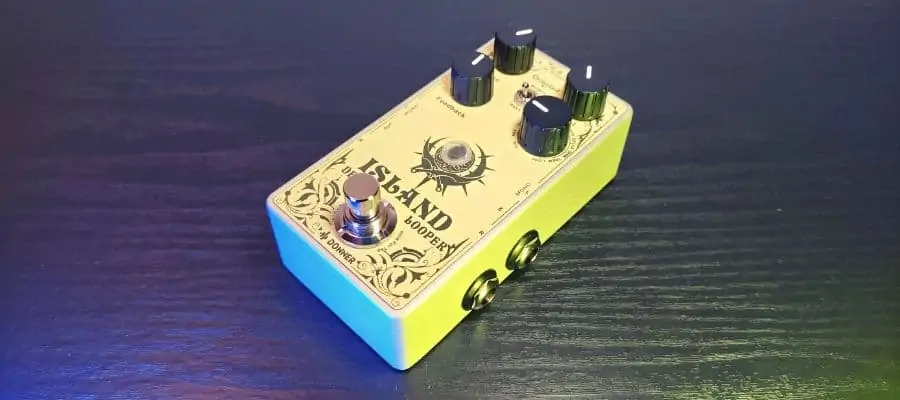 Let's see what Donner Island Stereo Delay&Looper offers to see if it is worth giving a shot.
General
| | |
| --- | --- |
| Model | Donner Island Stereo Delay |
| Casing | Aluminum |
| Color | Cream-Mustard |
Dimensions
| | |
| --- | --- |
| Weight | 9.17 oz (260 g) |
| Width | 2.52" (64 mm) |
| Height | 2.07" (52.6 mm) |
| Depth | 4.47" (113.5 mm) |
Electronics
| | |
| --- | --- |
| Input Impedance | 1 M Ohms |
| Output Impedance | 100 Ohms |
| Current Draw | 150 mA |
| Led Indication | Yes |
Controls
| | |
| --- | --- |
| Knobs | Time, Level, Feedback, Mode |
| Switches | Oriented Modern-Retro |
| Buttons | True Bypass-Trail On |
Input/Output
| | |
| --- | --- |
| Input | 2 x 1/4" Mono Audio Jack |
| Output | 2 x 1/4" Mono Audio Jack |
| Power Jack | 9V DC adapter, 200mA |
Donner Island comes in a whole aluminum stompbox in a creamy-mustard color. With the brown letters and embellishments along with black knobs and chrome hardware, the pedal looks quite elegant while it feels quite sturdy yet lightweight.
It weighs around 9.17 oz (260 g) which is quite light, while its dimensions are 2.52" (64 mm), 2.07" (52.6 mm), 4.47" (113.5 mm). It is a relatively tiny pedal that would not take much space on your pedalboard.
On the control panel of the pedal, there are four adjustment knobs to control Time, Level, Feedback, and Mode. There are 10 modes which you can choose with the knob: Digital, Analog, Tape, Lofi delay, Mod Delay, Ping Pong, Reverse delay, Deluxe delay, Shimmer delay, and Tremolo delay. You can also choose and switch to the looper mode with this knob.
Furthermore, there is a switch to choose between modern and retro styles, which double the delay effect types in combination with the mentioned modes. Plus, there is a footswitch button to turn the True Bypass on or off or to use as a Tap Tempo for the looper. An attached LED indicator shows if the button is set on or off.
Another great feature of the pedal is that it supports stereo sound with its 2 x 1/4" Mono Audio Jack input and outputs. It works with a 9V DC adapter, but it must be noted that the adapter is not included in the package.
Donner Island Stereo Delay Pedal Manual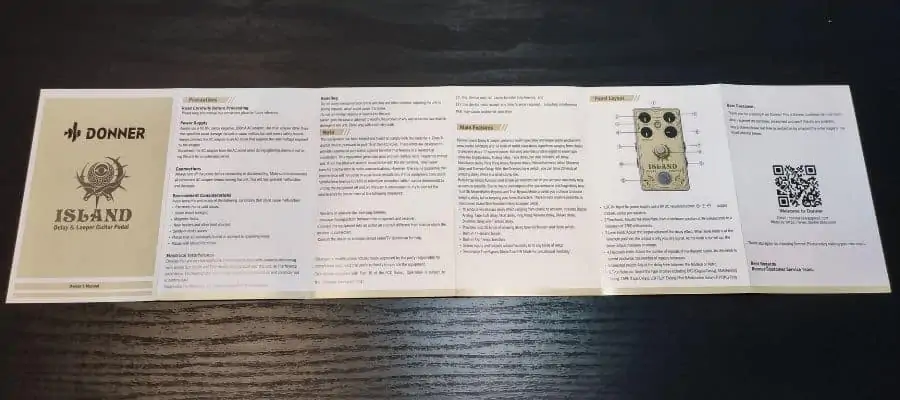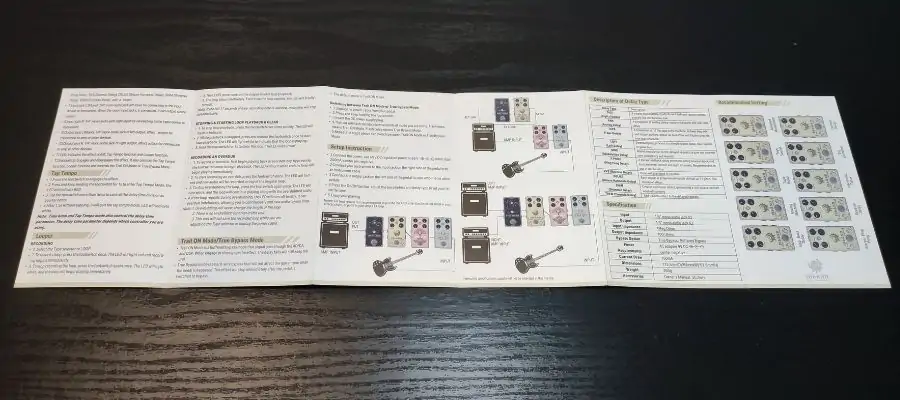 What Power Does Donner Island Stereo Delay Require?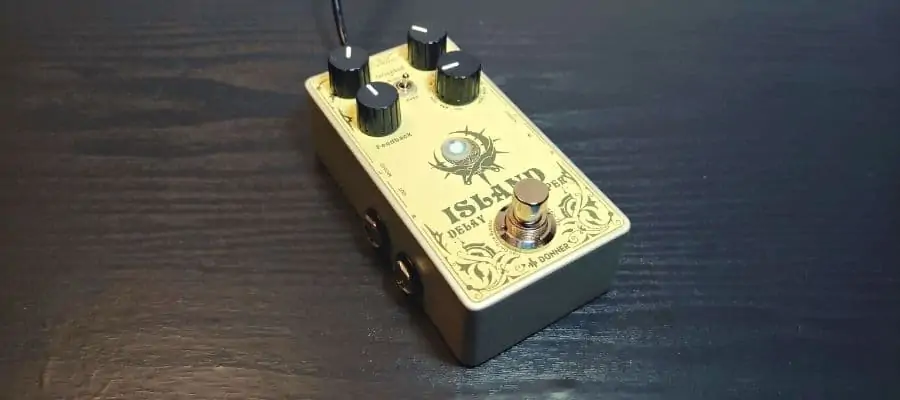 Donner Island Delay&Looper works with a 9V DC adapter with at least 200mA. Unfortunately, there is no adapter included in the package which means you will have to buy the adapter separately. Usually, you can find 300mA adapters so you better get one of those.
If you have a crowded pedal setup and do not want to struggle with many adapters and cables, Donner offers Donner DP-1, which is a multi-pedal supply for up to 10 different pedals. It supports 9V, 12V, and 18V pedals and is a straightforward plug-and-use style power supply. It is a great solution for big pedal setups.
Of course, the power supply without a pedalboard does not make much sense. That is why you can also check out Donner Guitar Case DB-3 Aluminium Pedalboard, which is a lightweight aluminum pedalboard to keep your setup organized and portable at any time. The pedalboard has the dimensions 20" (50 cm) x 11.4" (29 cm) x 4" (10 cm) and is more than enough for 10 pedals.
The Donner Island Stereo Delay Pedal Sound Quality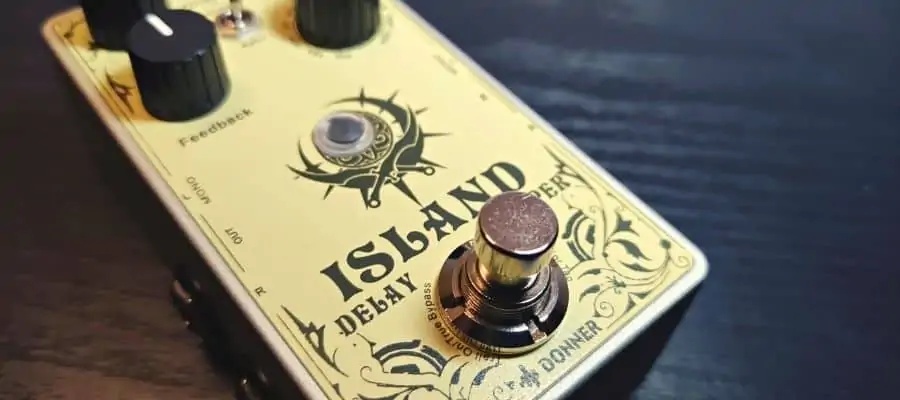 The Donner Island provides a high sound quality along with some unique and weird modes that add to the tonal versatility of the pedal. It has 10 modes with an orientation switch which creates 20 different delay effects in total.
The option of stereo sound, which is often found in higher-end delay pedals, is a great feature. Not all of the modes are for everyone's taste, but all of them have their appeal, and I am sure everyone can find a delay effect that they would like from this pedal.
A stereo delay pedal with tap tempo and multi-delay effect options which match the sound quality of higher-end delay pedals' is hard to beat, in my opinion. Let's look at each mode and its sound characteristics to get to know Donner Island Stereo Dealy better.
Digital
The first mode is the nice and simple Digital delay. It features clean repeats from slapback to long-lasting delays. The delay time ranges from 36 ms to 1200 ms. It is one of the best-sounding delay effects of the pedal, in my opinion.
Analog
The second mode is the analog mode which sounds pretty warm and smooth. It is a great delay effect if you are looking for retro sounds. It sounds quite relaxing and makes you wanna take a nap. It has the high-end roll-off along with a fat sound that you would expect from a true analog pedal.
Tape
Another retro-sounding delay effect of the pedal is the Tape mode. It replicates the 70's tape echo tones. This mode is also among my favorites.
Lofi Delay
The Lofi delay mode provides a buzzy and chimney-sounding delay effect. It is rich in mids and has a kind of bell-sound effect. This mode sounds pretty good with a bit of overdrive added, too. The delay handles the chords really well.
Mod Delay
The best effect of the pedal is the Mod delay mode, according to my taste. It has elements like chorus and reverb, along with a slight vibrato effect. It is a great tone if you like kind of Radiohead or modern alternative rock sounds. It also creates wonders with a bit of overdrive, sounding warm and smooth.
Ping Pong
As the name suggests, the Ping Pong mode provides a bouncy effect that sounds amazing with the stereo sound option. The delay effect bounces back and forth between the sides, creating a hypnotic delay effect. You can also use this mode with overdrive, and it sounds pretty interesting.
Reverse Delay
The Reverse delay mode offers a wide range of possibilities from subtle to pretty, which creates a kind of reverse playing effect. It is controlled with feedback, time, and level knobs to reach different sounding tones. Just like the Ping Pong mode, this mode with a little overdrive can be very fun to play with.
Deluxe Delay
One of the weirdest but best sounding modes of the pedal is the Deluxe delay mode. It works slightly like a pitch shifter, making every delay repeat progressively going up.
Shimmer Delay
The Shimmer delay mode works like the Deluxe mode; however, it is slightly different. This mode gives an octave shifting effect with lots of harmonies created on every repeat. It is another one of this pedal's gems, in my opinion.
Tremolo Delay
The Tremolo delay mode is a pretty straightforward delay effect with a clean tremolo effect delay sound.
Looper
The looper mode has 17 seconds limit, and you can not combine it with any other delay modes, which is a shame. Still, it is a fun mode to experiment and play with.
Modern – Retro Orientation Switch
The modern – retro orientation switch gives you two different sounding versions of each mode. When switched to the modern, you get a smooth modern sound, while with retro, you get a bit more tweakability. But, the difference is not that big, and the voicing does not change as much as I'd like. It is very subtle to notice.
You can check the attached video for the sound demonstrations of each mode to hear them with your own ears.
Donner Island Stereo Delay Pedal Compared To Other Pedals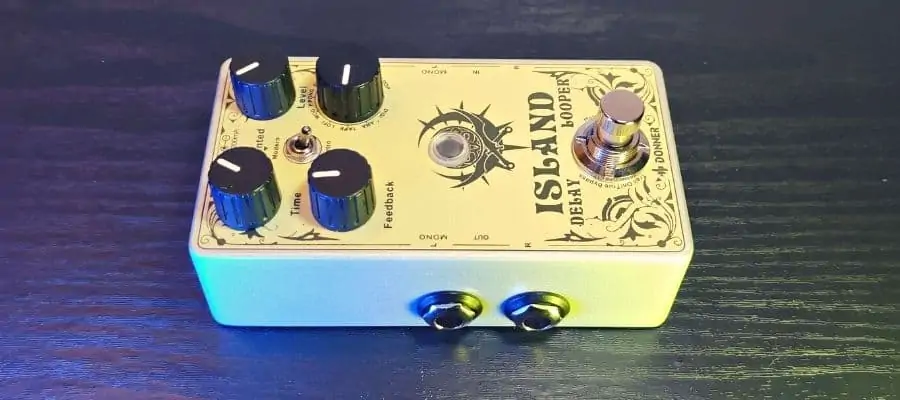 Donner Island Stereo vs. Boss DD-500
Of course, comparing any delay pedal to Boss DD-500 is not actually fair as Boss DD-500 is the best high-end stereo multi-mode delay pedal on the market today.
It is a highly versatile unit with 297 patches to save your carefully crafted tones with the option to run 2 of them at the same time. Plus, it can freeze notes or manipulate delay rates into sonic infinity, and it also features a 120-second looper. Donner Island Stereo's looper has a 17-second looper and is without any of the other features Boss has.
DD-500 has Mode, Time/Value, Feedback, E. Level, Tone, Mod Depth, A/B Bank, Tap Tempo adjustment knobs along with an LCD screen for ease of use while Donner goes with only Time, Level, Feedback, Mode knobs. Compared to Boss's 12 fully adjustable modes giving you more than enough different delay types, Island Stereo has 10 customizable modes.
Boss DD-500 exceeds Donner Island Stereo in terms of versatility, quality, and ease of use. But of course, Donner Island Stereo is much more affordable as it costs 6 times cheaper than DD-500.
Donner Island Stereo vs. TC Electronic Flashback 2
TC Electronic Guitar Delay Pedal (960823001)
Flashback 2 delay effects pedal.
The tc electronic flashback 2 delay packs the company's entire delay legacy...
TC Electronic groundbreaking MASH technology adds an expression pedal to a...
Package Weight: 0.431 kilograms
TC Electronic Flashback is one of the most popular compact delay pedals around today with its wide variety of delay effects, unique Mash function, which turns the footswitch button to an expression pedal, and its option to connect to the phones via USB for updates and better control over effects.
Flashback 2 features 11 different delay modes and Delay, Feedback, Level, Subdivision knobs for further adjustments. Island Stereo has 10 modes but reaches 20 different effect styles with the switch combination.
Equipped with stereo input-outputs, the effect qualities are quite high, and the tap tempo function is present on both pedals. Island Stereo has the looper function as a plus, while Flashback 2 has a phone connection feature for further customization and a MASH system that changes the footswitch to an expression pedal.
Flashback 2 costs double the price of Island Stereo.
Donner Island Stereo Electro-Harmonix Canyon
Electro-Harmonix Canyon is another great delay pedal with 11 delay types, a 62-second looper and the pitch-shifting Octave mode, and an affordable price. It is a tiny pedal, just like Donner Island Stereo.
The control knobs are Mode, FX level, Delay, Feedback, Tap/Divide on the stompbox, and there are the features buffered bypass or true bypass with tails. Compared to Donner Island, the pedal is less versatile, in my opinion, but the delay effect qualities are more remarkable, especially with some particular modes like pad-like shimmer, glitchy sample and hold, and octave, where the pitch of each repeat rises by an octave.
However, Canyon does not have the stereo input-output option, which is a big letdown, and the delay modes are more limited. Also, Canyon's price is much more than Island Stereo's, which costs 4 times less than the Canyon.
Donner Island Stereo Delay Pedal Is Perfect For Whom?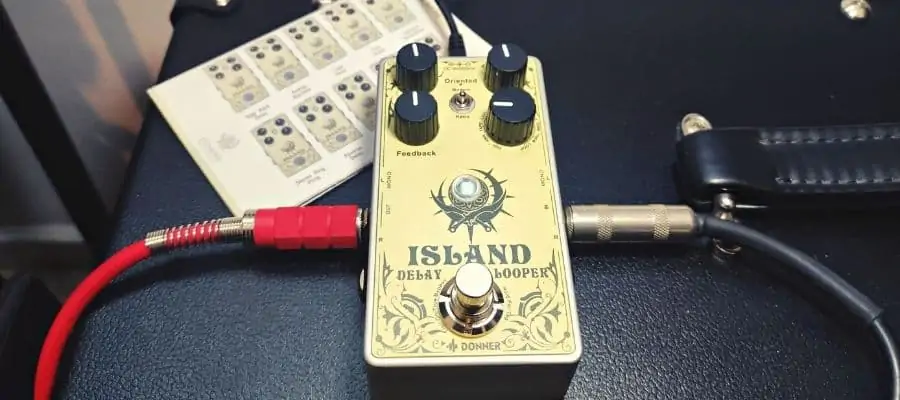 I would recommend this pedal to any guitar player who is looking for an affordable multi-delay pedal with conventional and unconventional delay effects. It has many different modes for everyone's liking, including some truly unique and weird-sounding ones to experiment with.
The stereo option and tap tempo function for the price makes this pedal a great value for the price. The wide tonal palette and the looper function elevate the pedal's versatility, making it a great addition to any pedalboard setup.
You can also use the pedal connecting it to other instruments such as keyboards or synthesizers to create different effects. So it is not a pedal exclusive for electric guitars.
However, if you are looking for a particular delay tone like 100% analog circuit vintage delay effects or truly genuine 70's tape echo effects for professional recordings, you can go with another pedal. These effects are present and pretty good-sounding on Donner Island, but I would not say they replicate the real ones with absolute succession. But, they are as good as they can be on a multi-delay effect pedal for less than $70.
In short, you can not go wrong with this pedal, and I do not think any other delay pedal, even close to this price, can beat the versatility and quality of this one.
Where To Place Island Stereo Delay Pedal On The Pedal Board?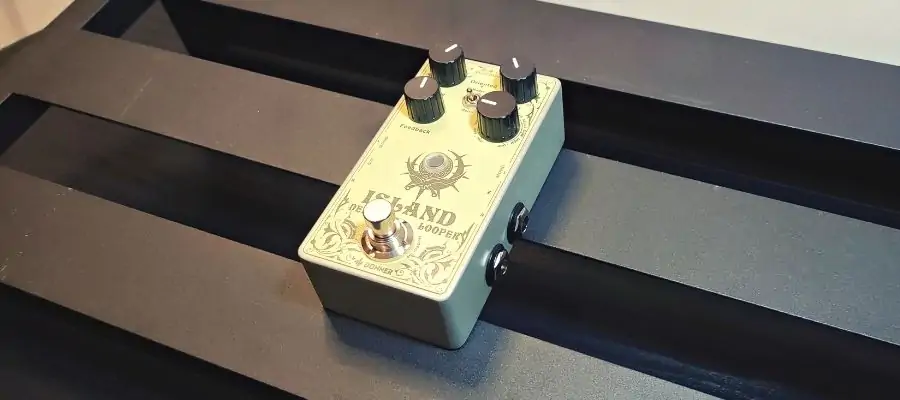 There is a standard signal chain order you should follow when building up a pedalboard. To get the best tone and performance possible from your gear, you should respect this order and organize your pedalboard according to that.
The first pedals the signal should travel to from your instrument are the dynamics pedals like compressors, filters wah, pitch shifters, and volume pedals. Later comes the distortion and overdrive effect pedals which are followed by the modulation effects like flangers, chorus, and phaser pedals. The last step is where Island Delay&Looper will go as time-based effect pedals like delay, and reverb pedals belong there.
Time-based effects should always be the last step as they may mess with the signal chain otherwise.
Other Donner Pedals Worth Mentioning
Donner Tap Delay
Donner Tap Delay Guitar Effect Pedal, 3 Delay Modes Digital Reverse...
[3 Delay Modes] Including analog, digital, and reverse delay, Tap Delay...
[Adjustable Delay Pedal] Use the standard LEVEL, FEEDBACK, and DELAY knobs...
[Tap Tempo Delay Pedal] Tap Tempo function for instant delay time control.
[Buffer Bypass] Buffer bypass provide transparent tone, LED indicator shows...
Donner Tap Delay is a compact and portable twin delay pedal featuring 3 different delay effects in one stompbox. It has analog, digital, and reverse delay modes along with tap tempo control to make things more comfortable when playing with other instruments.
Donner Wave Delay
Donner Delay Pedal, Wave Delay Digital and Analog Warm Delay 2 Modes...
[2 Delay Effect Modes] Donner Wave delay pedal has warm, pure sound with...
[Wide delay range] Wide delay time controls suitable for both warm and pure...
[Inspired by Classics and More] Donner Wave delay pedal is inspired by the...
[Enduring Delay Guitar Pedal] Enduring, light-weighted Aluminum-alloy...
Donner Wave is a 100% analog circuit small delay pedal with a classic warm delay effect tone. It has two modes; Warm, the analog effect, and Digital, which deliver pure delay sound. Wave Delay can be used for any type of music and is quite a purchase for its price.
Donner White Tape Delay
Donner Tape Delay Pedal, White Tape Stereo Delay Guitar Pedal Tape...
[Stereo Guitar Pedal] Independent Time, Feedback, Level controls for stereo...
[Tape Delay Pedal] Stereo tape delay pedal emulates the sound of legendary...
[Analog Delay Pedal] Donner White Tape keeps the characteristics of the...
[Versatility Delay Pedal] Suits for synthesizers, guitars, drum machines,...
Donner White Tape is another analog circuit delay pedal that replicates the iconic tape echo machine effects. It provides warm and organic delay sound with a maximum delay length of 1000ms. It provides stereo sound with dual input-output options and can be used with synthesizers, guitars, drum machines, and more.
Alternatives To The Island Stereo Delay Pedal In Terms Of Look, Sound, Specs, And Price
Joyo Aquarius R-07
JOYO Aquarius R-07 R Series Digital Delay Effect Pedal 8 Digital Delay...
JOYO Aquarius Effect Pedal is a multi-mode digital delay pedal with 8...
Whole new appearance and the iconic R series ambience LED light bring out...
Before you test the pedal or before playing, make sure the guitar is fully...
R series effect pedals deliver way more comprehensive tones and functions...
Just like Donner, Joyo is another brand well-known for its products with a high value-for-price ratio. Aquarius R-07 is one of the most famous pedals by the brand, as it shines with its tonal versatility, reliability, and sound quality for the offered price.
The multi-mode delay pedal has eight different delay modes with options to customize them with level, time, and feedback adjustment knobs. Besides the iconic digital-analog delay effects, there are well-designed styles such as Low bit, Galaxy, and more.
There is the tap tempo and looper function on the pedal, and here you can use the looper combined with other effects. The pedal also provides 5 minutes of recording time for the looper.
It is a sturdy and durable stompbox with a tiny size which makes it great for crowded pedalboards. It works with adapters and does not have a battery power option. Also, it does not have a stereo sound option like the Island Stereo.
Joyo Aquarius R-07 costs slightly higher than the Donner Island pedal.
Mooer D7
MOOER D7 Delay Mini Multi Delay Pedal with 6 Different Delay Tape,...
Using the 7 signature LED lights as a guide, this pedal houses 6...
Storable presets: All the effects are customizable and storable for your...
Tap Tempo functionality allows you to easily set the desired delay timing...
6 different types of MOOER's customizable delay effects, like Tape, Liquid,...
Mooer D7 is another affordable multi-delay pedal with many great functions and an affordable price tag. Besides the 7 customizable delay modes, you can use the pedal as a looper for tap tempo, while you can customize everything with five adjustment knobs.
You can also save the modifications you make as presets. Plus, the Trail On feature allows the delay effects to fade out naturally and organically.
Mooer D7 has a slightly higher price compared to Island pedal.
Flamma FS03
Flamma FS03 is another affordable multi-dealy pedal that blends traditional and modern types of delay amazingly. It features six different types of delay with the looper function that allows you to record up to 80 seconds.
It allows you to save your customized delay effect tones as presets to reach them later when you like. There are five knobs to customize the modes; mix, time, feedback, tweak 1 and tweak 2.
The pedal also has the tap tempo and trail on function, while LED lights make it easier to navigate through the control panel.
Flamma FS03 costs almost around the same as Donner Island.
Conclusion
Overall, Donner Island Stereo Delay&Looper is an excellent multi-delay pedal that offers much more features and high quality for its price. It is hard to beat pedal in its price range as it features 20 different delay effect types in combination, looper function, stereo sound option, and tap tempo function.
The sound quality and the tonal versatility are truly amazing, while the portable and tiny stompbox is easy to use and carry around. In short, I recommend this pedal to any guitarist as it is an amazing purchase, fun to play with, and the price is quite crazy for the quality.
If you found this article useful you may want to save this pin below to your Guitar board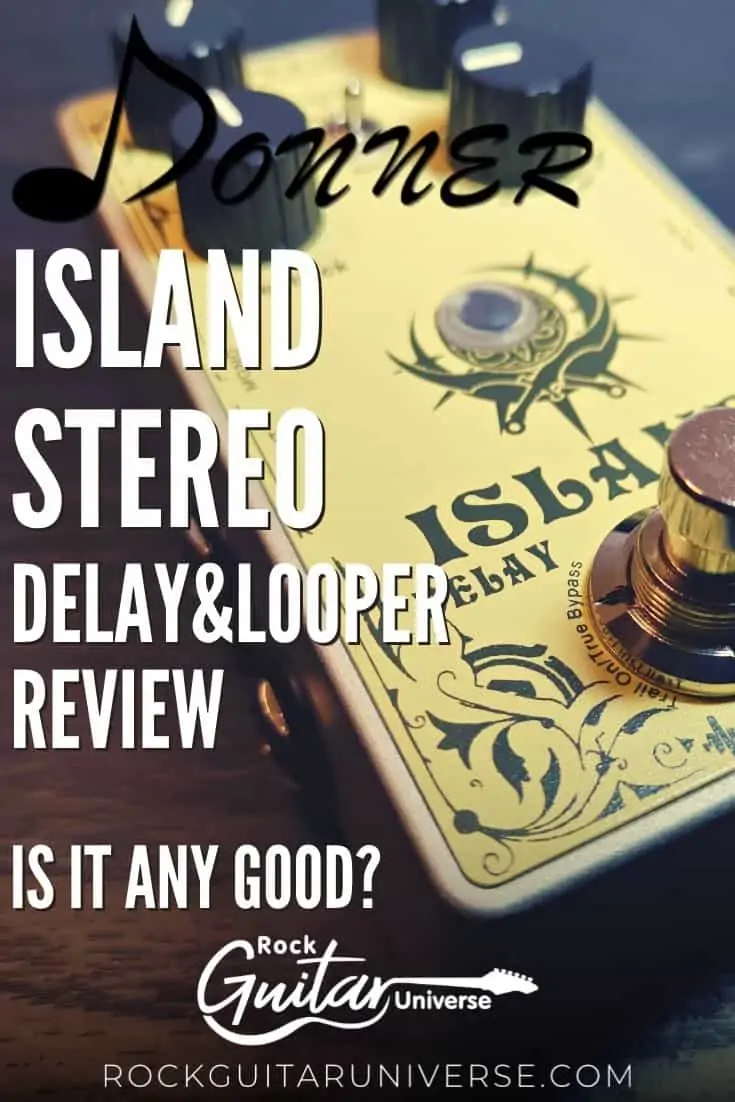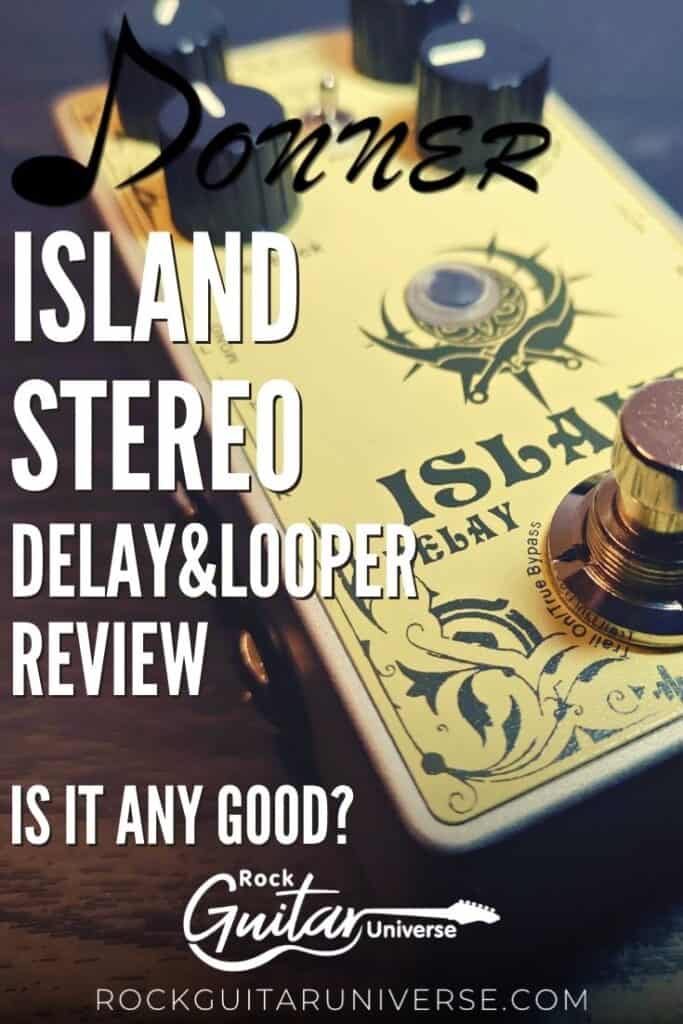 Last update on 2022-01-26 / Affiliate links / Images from Amazon Product Advertising API
Recent Content