MTV Unplugged is arguably MTV's most successful show and their most important contribution to culture in music. Having such an impact in the 90's and bringing huge acts such as Pearl Jam, Oasis, Paul McCartney, Nirvana, and many many others.
MTV marked music history by popularizing the concept of unplugged performances, which showcased artists' abilities to take their iconic songs and reimagine them in a most creative, powerful and intimate way.
Nirvana (November 18th, 1993)
It is no surprise that MTV Unplugged in New York is the most emblematic performance not only in MTV Unplugged history but also probably in the whole decade. Filled with black candles, stargazer lilies and a crystal chandelier, the funeral-type of setting continues to haunt our thoughts on whether was this a way of lead singer Kurt Cobain's preparing us for what would come next.
His performance of the traditional song "Where Did You Sleep Last Night", which was also accompanied by Cris and Curt Kirkwood of the Meat Puppets is one of the most evocative vocal performances that one could see. His untimely death a few months later gave this performance an even more powerful impact on the music culture of the 90s.
Alice In Chains (April 10th, 1996)
It is exceptional how a band like Alice In Chains, which does hold a high reputation in the music world but would not be considered by historians in the level of other acts, took such an opportunity like this to create something so memorable that many people consider it not only the best MTV Unplugged performance but also the absolute best performance of all time!
What are some of the factors? The fact that this ended up being one of singer Layne Staley's final performances due to heroin struggles makes this a chilling look at the downfall of one of rock's best performers. This, paired with the level of complexity in each arrangement and with the way the staged was filled with candles creating such an atmosphere that it feels so intimate makes this one of the best performances.
Eric Clapton (January 16th, 1992)
Considered by many the best performance in MTV Unplugged, Eric Clapton's Unplugged album did not only become the first album to win multiple Grammy awards but also become the best selling live album in music history. On top of all of this, his rendition of classic songs such as "Tears In Heaven" and "Layla" achieved him such positive reviews that it renewed the public's interest in his career, thus greatly increasing his popularity.
His rendition of Hambone Willie Newbern's "Rollin' and Tumblin'" was actually not supposed to be part of his repertoire, but as they took a break from recording, Clapton got into it and everybody followed, audience claps included, making it a truly unique moment.
Pearl Jam (March 16th, 1992)
Having just wrapped up a fantastic European Tour and spending most of the last years building their national, Pearl Jam quickly jumped on the opportunity to be part of the rising force that MTV Unplugged was becoming.
Interestingly enough, the group later said they had wished they had more time to put together a whole new set of arrangements, which became impossible due to the promptness of the scheduled performance. Nevertheless, this did not stop them from being one of the top acts we have ever seen, truly showing how the 90s belonged to Grunge Rock bands such as them. An absolutely magnificent performance.
Eagles (November 8th, 1994)
The Eagles could easily be considered the greatest American rock band in music history. And rightfully so when in their path they left six number-one albums, five number-one singles, six Grammy awards and over a million records sold.
Fourteen years after their break up, their unplugged Hell Freezes Over is the first album to be released, where they perform massive hits such as "Take It Easy", "Tequila Sunrise" and the legendary "Hotel California". The absolute mastery from every single member of the band.
Elton John (May 17th, 1990)
British singer-songwriter sensation Elton John had already been rocking the stage for over two decades, consolidating him as one of the most looked-for acts in music history.
At MTV Unplugged proved why that is a fact. His incredible skills in the piano, along with his magical voice and his cheeky demeanor made him one of the best, if not the best performance of MTV Unplugged first season.
From playing upbeat, funky hits such as "Bennie and The Jets" to powerful, heartfelt ballads such as "Tiny Dancer" or "Sacrifice", Elton John restates the powerhouse of a songwriter and performer he truly is.
Paul McCartney (May 13th, 1991)
After just having released his first official solo live album Tripping the Live Fantastic, McCartney relished the opportunity to take his songs and strip them back down into simple, yet powerful acoustic arrangements.
Needless to say, when MTV approached him to do his Unplugged (The Official Bootleg) he took it as the perfect opportunity to dust off some of his rarer tracks and of course Beatles classics such as "We Can Work It Out" and "And I Love Her".
Unlike previous acts, McCartney's instrumentations were 100% unplugged, making this a truly magnificent performance and helping MTV Unplugged establish themselves as a force to be reckoned with that would stand the test of time.
Café Tacuba (March 5th, 2019)
Celebrating 30 long years of being a pentacle of both the Mexican and Latin American music scene, Café Tacuba took the opportunity to do their second MTV Unplugged, thus becoming the first Latin band to do so in MTV history.
Recorded at the beautiful Sala Nezahualcóyotl in Mexico City, Café Tacuba brings the best out of every song they have performed and delighted us for so many years. With both a string section and a horn supporting the legendary band, Café Tacuba's 2019 MTV Unplugged can easily be considered the best performance of a Hispanic band and is a must.
Stone Temple Pilots (November 17th, 1993)
If we are talking about magnetic performances from iconic rock bands, Stone Temple Pilots have to be included in that conversation. The San Diego-based rock band had just released their debut album Core, which was a big success and was starting to earn them a noticeable fan base nationally.
It was the next year that they were invited to perform on MTV Unplugged. They took the opportunity to debut one of the most important songs in their history "Big Empty", which went on to be their leading single in their second album Purple.
The majestic way they stripped down their heavy performance into a soulful, calm atmosphere for their Unplugged makes this performance one of the top ones MTV hosted.
Bob Dylan (November 17th, 1994)
After being active for over 30 years within the music industry American singer-songwriter Bob Dylan did his MTV Unplugged, which was recorded at Sony Music Studios in New York City.
Intriguingly enough, Bob Dylan had expressed his wish to perform traditional songs, which was overruled by Sony, who insisted he played his greatest hits, such as "All Along The Watch Tower", "Knockin' on Heaven's Door" and "Like A Rolling Stone".
Fortunately for him, the show was a huge success; giving him his best sales in years and having the album go Gold in the US. Bob Dylan is an amazing performer and songwriter, so it is not a surprise he featured on our list.
Liam Gallagher (August 3rd, 2019)
It took 23 years to see iconic singer-songwriter, Liam Gallagher, rock the stage and it took him those same 23 years to get his revenge for not being able to perform with Oasis back in 1996.
Liam does not disappoint. With his usual cheeky, confident character he performs incredibly, delighting us with songs such as "Wall Of Glass", "Greedy Soul" and "Gone" Not only this but the amazing arrangements and the top-notch quality of the performance makes this MTV Unplugged such an amazing experience, you'll want to watch it over and over again.
Soda Estereo With Andrea Echeverri (March 12th, 1996)
Many consider iconic Argentinian band Soda Stereo the leading Hispanic Rock band in the history of Latin American music. In fact, MTV had invited them multiple times in the past to be part of the MTV Unplugged series.
It was until 1996 that the band finally accepted, convincing MTV to let them do hybrid instrumentation of electric and orchestral arrangements, changing their songs to make them more complex and smoother.
Their acoustic version of "Un Misil En Placard" is actually considered a far more popular version than the original. The same thing can be said of their hit "En La Ciudad De La Furia" which was accompanied by friend and lead singer of Colombian band Aterciopelados.
Fiona Apple (July 29th, 1997)
1996 was the year the world saw a 17-year-old singer-songwriter and pianist Fiona Apple released her debut album, Tidal. With incredibly mature lyrics and a very intense yet controlled demeanor quickly established her as a rising star thus becoming a huge component of the 90s.
It was only a year later she was featured on her own MTV Unplugged. Playing three of her songs from that album, along with a striking rendition of Jimi Hendrix's "Angel", Fiona Apple proves to be an intelligent songwriter and a powerful performer. A definite must-watch for songwriting aficionados.
Incubus (November 6th, 1999)
Having just released their critically acclaimed third album Make Yourself, Incubus took the opportunity to make history by being the last MTV Unplugged in the 90s. In a little bit less than an hour, Incubus performs brilliantly all of their hits up till that point.
Starting off with "Pardon Me", they quickly establish a mesmerizing performance to their Los Angeles audience. Lead singer Brandon Boyd delivers amazing performances in "Stellar", "Drive", and "Wish You Were Here", which are only a few examples from this incredible unplugged that will definitely satisfy your inner music lover.
Florence And The Machine (April 2nd, 2012)
Recorded in New York's oldest synagogue, Angel Orensanz Center and backed up by a 3-piece band and a ten-person gospel choir, Florence and The Machine's Unplugged is probably the softest, most beautiful performance in our list.
Florence Welch's vocals are gently supported angelic choir voices and a tender piano, which are also supported by the incredible acoustics of the synagogue. And boy does she deliver emotion and vulnerability in her voice. "I had to stop myself after every song.
I would be like, 'Wow.' … It was so amazing performing the songs stripped back and just really being able to concentrate on the songs and the emotions". A truly magnificent performance from Florence and The Machine.
Oasis (August 23rd, 1996)
Oasis MTV Unplugged performance is considered a crucial moment in the band's history. Yes, of course, it can be thought that this is due to an incredible performance delivered at Royal Festival Hall in London, but in reality, it was due to very strange circumstances.
An hour before the show it was decided that lead singer Liam Gallagher would not sing due to a "sore throat". Noel Gallagher later restated by saying: "About an hour before we were due to go on, he turned up absolutely shitfaced". This made more sense since during the show you could see Liam in the audience smoking and drinking.
It was at this point that it became very noticeable that the band had a lot of friction. Nevertheless, this did not diminish an incredible performance led by brother Noel, whose voice proves to be worthy of stardom.
Aerosmith (August 11th, 1990)
American Rock Band Aerosmith had already become a phenomenon, pretty much since their beginnings back in 1973 when they released their self-titled, debut album Aerosmith. Interestingly enough, they did not feature some of their biggest hits such as "Sweet Emotion", "Walk This Way" or "Angel".
Instead, they did a mixture of blues standards, an incredible The Doors' cover of "Love Me Two Times", and some of their bluesier repertoires, helping them capture the essence that made them the music titans they became.
Needless to say, Aerosmith's performance is a must-see for any and all blues-rock lovers and for anyone who wishes to see an amazing energy and stage prescience this band gives to their audience.
Neil Young (February 7th, 1993)
Neil Young's MTV Unplugged is an interesting one. Initially, his performance was set to be recorded and released at New York's Ed Sullivan Theater in December of 1992.
Unfortunately for everyone, Neil Young deeply hated their performance, ultimately edging him to walk off the show, leaving the producers and audience perplexed.
He did return to treat the audience to his first performance of "Last Trip To Tulsa" in many years but ended up deciding to try again a couple of months later at Universal Studios in Los Angeles. The result? A hypnotic performance from one of the world's greatest songwriters. Thank MTV for letting him try again!
KISS (August 8th, 1995)
The mid to late 70s are considered a pentacle in rock music, and when we talk about that time in history, we have to mention American rock titans KISS. Having become a worldwide success for many years, KISS was not exempt from many circumstances that hindered their career.
Ranging from lineup changes, lack of fan identity, and gradual loss of interest from members of the band, by the beginning of the 90s KISS had become a bit irrelevant in the music scene.
Nevertheless, their timely reunion to perform at MTV Unplugged became the driving force for a fruitful original-lineup reunion, a reunion that rewarded them with the most profitable Tour of in their career, the Alive/Worldwide Tour. The resurgence of such a mythical band is a definite must for us.
Page And Plant (August 26th, 1994)
Even though this performance is not exactly part of MTV's Unplugged series, No Quarter: Jimmy Page and Robert Plant Unledded is still an MTV production and it became impossible for us not to make it part of this list.
The long-awaited reunion (or at least partly reunion, since bassist John Paul Jones was not present) had finally happened, delivering us a magnificent performance from guitar legend Jimmy Page and unearthly vocals from singer Robert Plant. Mixing acoustic arrangements with full electric performances, No Quarter: Jimmy Page and Robert Plant Unledded will not disappoint you.
Thirty Seconds To Mars (May 13th, 2011)
Los Angeles based American Rock band Thirty Seconds To Mars is considered one of the top rock acts in the 21st century. And rightfully so since all of their previous albums had earned them multiple awards and worldwide fame.
In fact, in 2011 they broke the Guinness World Record for most live shows during a single album cycle. There is a reason why they sound so good on this MTV Unplugged, especially since they are accompanied by the masterful musicians from the Vitamin String Quartet, making this an exquisite.
The Allman Brothers Band (November 19th, 1990)
Featured on the penultimate episode of MTV Unplugged first season, blues band The Allman Brothers Band became a precise illustration of what producers Robert Small, Jim Burns and Jules Shear wanted for the show.
Featuring a full band that included bass, percussions, acoustic guitars, slide guitars, and harmonicas, The Allman Brothers Band proved why they are considered one of the top acts in the blues genre and how acoustic unplugged arrangements could have the same impact on an audience as a full-on electric, rocking band.
Lenny Kravitz (April 14th, 1994)
American singer-songwriter and multi-instrumentalist Lenny Kravitz had already released 3 albums, produced various hits with other artists and had made a name for himself, especially with the release of what is now known as his biggest hit, "Are You Gonna Go My Way".
In his MTV Unplugged, he makes a bluesy rendition of this song, showcasing his amazing vocals and his soulfulness. With a mix of funk, rock, blues, and soul, all honed in on an acoustic setting, Lenny Kravitz's Unplugged is a must-listen for rock lovers.
Stevie Ray Vaughan And Joe Satriani (January 30th, 1990)
For blues lovers and guitar aficionados, it would be considered an absolute pleasure to get to see guitar legend Stevie Ray Vaughan in action. In this case, not only did we get that pleasure, but we also were doubly honored by also seeing Joe Satriani do his thing, this time on both guitar and banjo!
And yes, I know what you are thinking, a banjo? Nevertheless, the mastery of performance they both deliver makes up for the lack of complex arrangements and guitar distortion, making this one of the best early performances at MTV Unplugged.
R.E.M (April 10th, 1991 – May 21st, 2001)
Alternative rock pioneer band R.E.M became the first band to release an MTV Unplugged album that compiled two different sessions, one recorded in 1991 at Chelsea Studios in New York, and the other recorded ten years later in 2001 at TRL Studio at MTV Studios in New York as well. The result?
A masterful contrast of the material they spent writing and perfecting for over a decade. Michael Stipe's vocal performance is greatly showcased by this beautiful acoustic performance in which emotion can be felt in songs such as "Losing My Religion".
Alanis Morissette (September 18th, 1999)
Dubbed the "Queen of Alt-Rock Angst" by Rolling Stone Magazine, Canadian American singer-songwriter Alanis Morissette was invited to do her MTV Unplugged in 1999. Featuring songs like "You Learn", "You Oughta Know" and "Ironic" from her critically acclaimed album Jagged Little Pill, Alanis delivers a very raw yet beautiful performance.
Transforming her frantic songs to slower arrangements and soft instrumentation that included flutes, strings, and percussion, this MTV Unplugged is a brilliant exposition of rock is transformed into smooth, heartfelt music. Featuring that powerful voice she holds, Alanis: Unplugged is a definite must-see.
Bruce Springsteen (September 22nd, 1992)
In reality, American Rock hero Bruce Springsteen only did perform his yet to be released song "Red Headed Woman", which by the way instantly became a classic. His performance, properly titled In Concert/MTV Plugged became a fully electric rocking performance.
It is reportedly said that this was due to Springsteen's unhappiness with the acoustic rehearsals, thus pushing him on the direction of doing a plugged performance. Don't let this take away the fact that Bruce's incredible stage performance, along with a fantastic band, makes his one performance to consider enjoying.
Queens Of The Stone Age (June 10th, 2005)
"We have never done this before, ever." says lead singer and band founder Josh Homme right as they go into their song "Broken Box". The eccentricity in the performance of their hard rock hits such as "No One Knows" makes this experience unique.
The swing, old school vibe of arrangements, paired with the exquisite vocal performance from Josh was nothing more than an absolute treat for his Berlin audience. Songs such as "Leg Of Lamb" and "Little Sister" make this a worthwhile performance.
Duran Duran (November 17th, 1993)
Recorded at the legendary Sony Music Studios in New York City, British band Duran Duran featured a 60-minute show where they showcased all of the hits that once consolidated them as one of the leading acts in the MTV-driven Second British Invasion in the 1980s.
Songs such as "Ordinary World', "Hungry Like The Wolf" and "Notorious" were key moments in their performance, which was enhanced by the brilliant combination of acoustic rock and string arrangements.
Duran Duran was successful in letting us know the wonders of both their songwriting skills and their abilities to rearrange their dance-rock songs into beautiful, folky vibes.
The Cure (January 21st, 1991)
Having already achieved worldwide stardom and with no less than eight albums under their belts, British Gothic Rock band The Cure made their appearance on MTV Unplugged.
Playing hits of theirs such as "The Walk" and "Boys Don't Cry" and having full instrumentation that included percussions, marimbas, violins, and the very peculiar kazoo, The Cure delivers a quiet, relaxing yet powerful performance.
Conclusion
So many grand moments we have seen over the last 20+ years that were brought to us by MTV's iconic show. Naturally, it is quite difficult for everyone to agree on which artist deserves which place in any and all lists.
However, we had the absolute pleasure of taking our time to try to make a list that honored each and every performer that was part of the MTV Unplugged series and hope you take the time to check out these performances, performances which have shaped our history and our culture.
If you found this article useful you may want to save this pin below to your Guitar board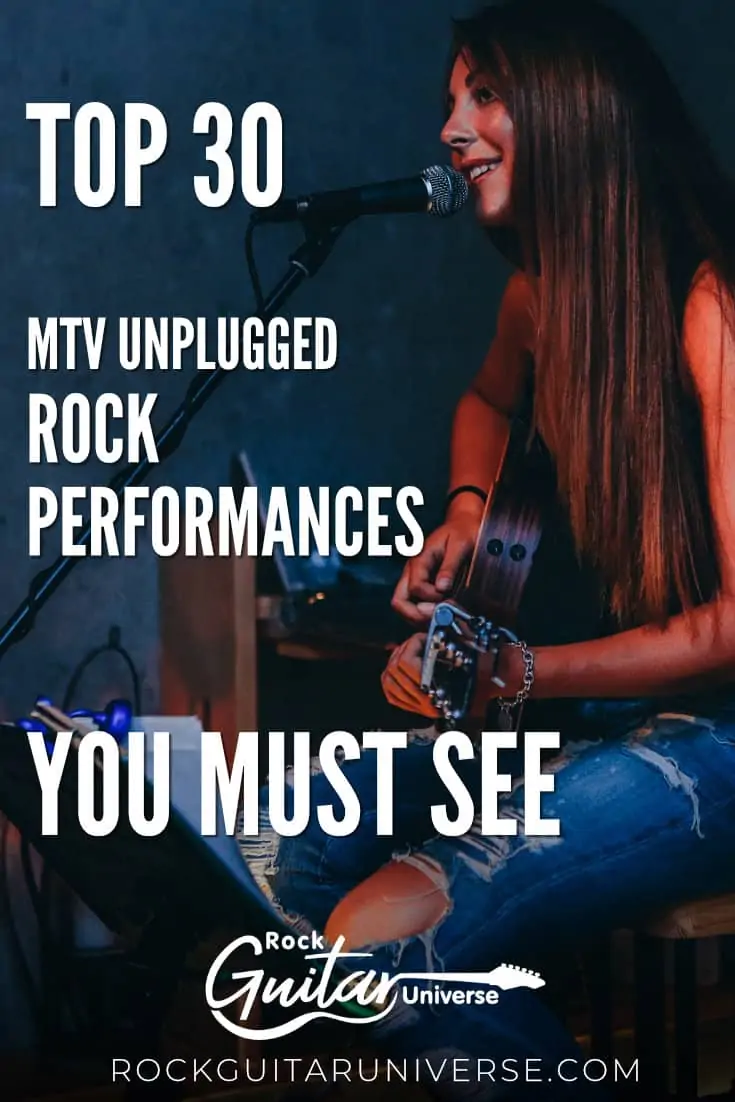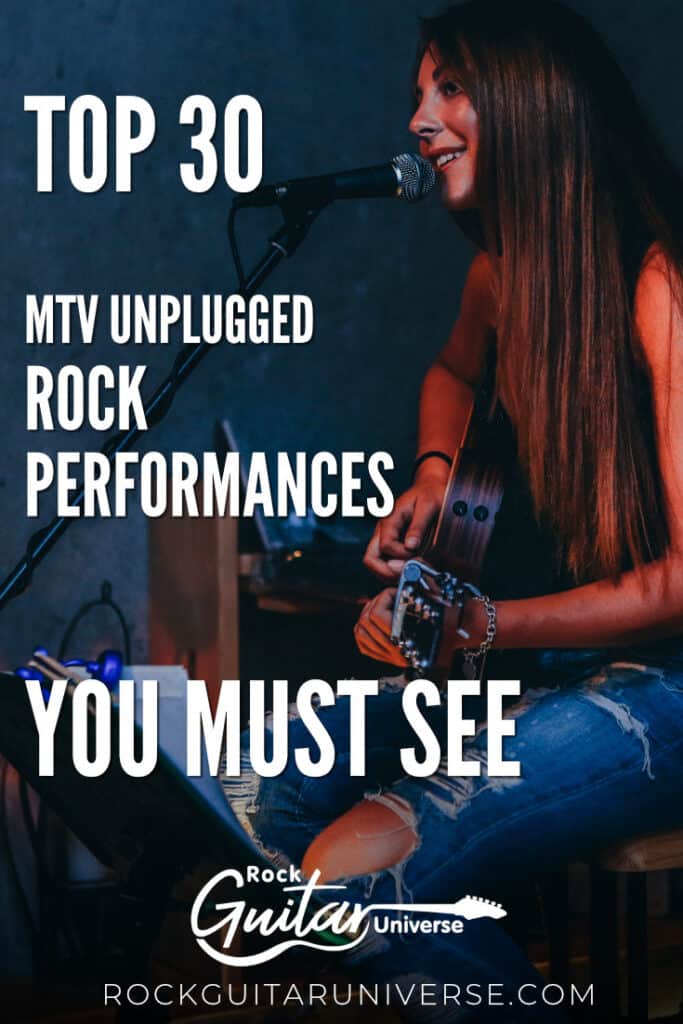 Recent Posts