Bob Dylan is one of the greatest and well-known musicians of all time. He has been a huge influencer in the music industry and popular culture for over fifty years now. Over the years he has accomplished many astonishing achievements and not just as a musician.
Some of his music achievements include being the best-selling music artist of all time by selling over 100 million records. In addition to being inducted into the Rock and Roll and Songwriters Halls of Fames, he also received a Nobel prize for literature.
Knockin' On Heaven's Door was written as a soundtrack for the movie Pat Garrett and Billy the Kid in 1973. The song was released as a single few months after the movie screened and became a success. It appeared on several music charts around the world including reaching the US Hot 100 billboard at number 12.
The song didn't peak the US music charts. However, many musicians like Eric Clapton loved it and did their own covers of this song. But, none of them was successful as the Guns N' Roses version. In fact, this cover was so successful it managed to surpass the original version. Their version appeared on 20 music charts, including peaking them in 3 countries and reaching number 2 in the UK singles.
This song is super beginner-friendly. It has just four basic chords and an easy strumming pattern.
Guitar Chords
As I mentioned before you need to know only these 4 chords to play the entire song.
Strumming Pattern
once you mastered the chords or already know them by heart now you should learn the strumming pattern. the strumming pattern is played on each of the chords of the entire song. The song has just one strumming pattern, that's why this song is well recommended for beginners.
To ease the learning curve for the beginners of you, you can first learn the strumming pattern on just the open strings. Once you mastered it you can try it with one of the chords mentioned above.

Related Post
If you don't know what are measurements and don't know how to count beats or read tabs or music notations you can check out my lesson
Guitar Music Theory In-Depth Basics
Chord Progression & Strumming Pattern
Now it is time to combine both the chords and the strumming patterns into the songs. The song is a 4 measurements song. it has only two main chord progressions which are repeated over and over.


Knockin' On Heaven's Door Tabs
once you mastered the 2 chord progressions it is time to play the entire song. here are the song lyrics and the chords you should play. Have fun!
Intro
G  D  (C)x2

G    D        (Am)x2
Oo - oo - oo  oo
G    D        (C)x2
Oo - oo - oo  oo
G    D        (Am)x2
Oo - oo - oo  oo
G    D        (C)x2
Oo - oo - oo  oo
Verse
G              D            (Am)x2
Mama take this badge off of me
G       D         (C)x2
I can't use it anymore
G            D                (Am)x2
It's getting dark, too dark to see
G          D                   (C)x2
I feel I'm knockin on heaven's door
Chorus
G             D                    (Am)x2
Knock, knock, knockin' on heaven's door
G             D                    (C)x2
Knock, knock, knockin' on heaven's door
G             D                    (Am)x2
Knock, knock, knockin' on heaven's door
G             D                    (C)x2
Knock, knock, knockin' on heaven's door
Verse
G           D           (Am)x2
Mama put my guns in the ground
G       D             (C)x2
I can't shoot them anymore
G               D               (Am)x2
That long black cloud is comin' down
G          D                    (C)x2
I feel I'm knockin' on heaven's door
Chorus
G             D                    (Am)x2
Knock, knock, knockin' on heaven's door
G             D                    (C)x2
Knock, knock, knockin' on heaven's door
G             D                    (Am)x2
Knock, knock, knockin' on heaven's door
G             D                    (C)x2
Knock, knock, knockin' on heaven's door
Outro
repeat until the fades
G    D    (Am)x2
Oo - oo - oo - oo
G    D        (C)x2
Oo - oo - oo  oo
If you found this article useful you may want to save this pin below to your Guitar board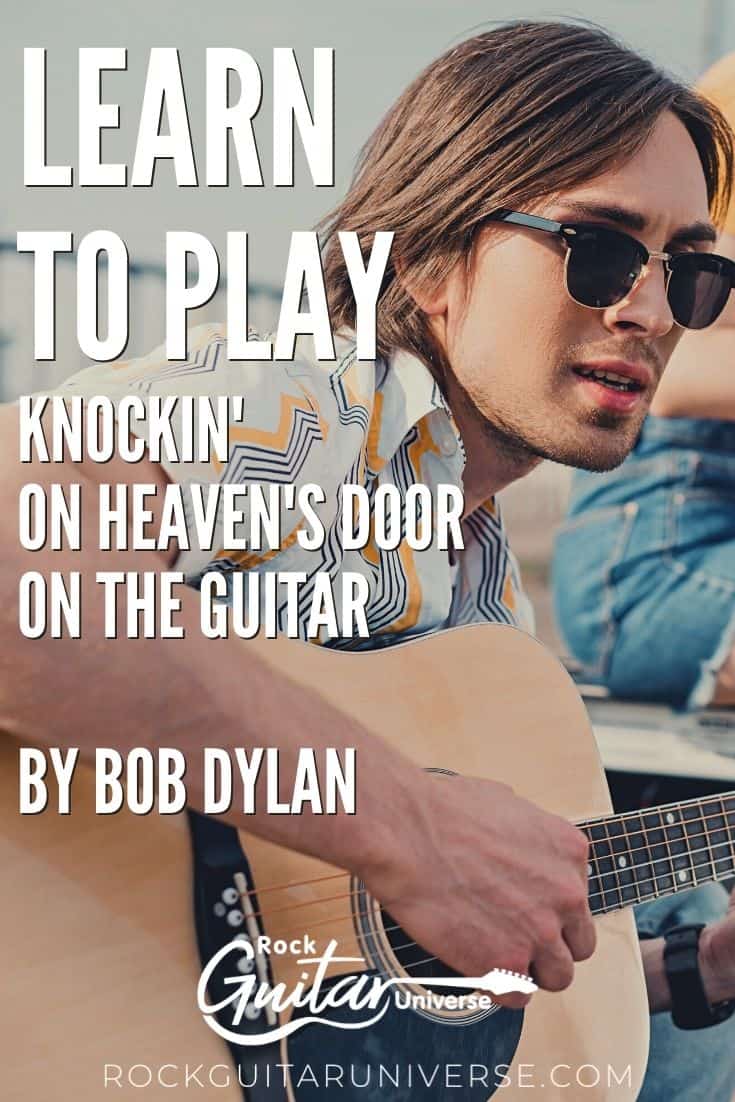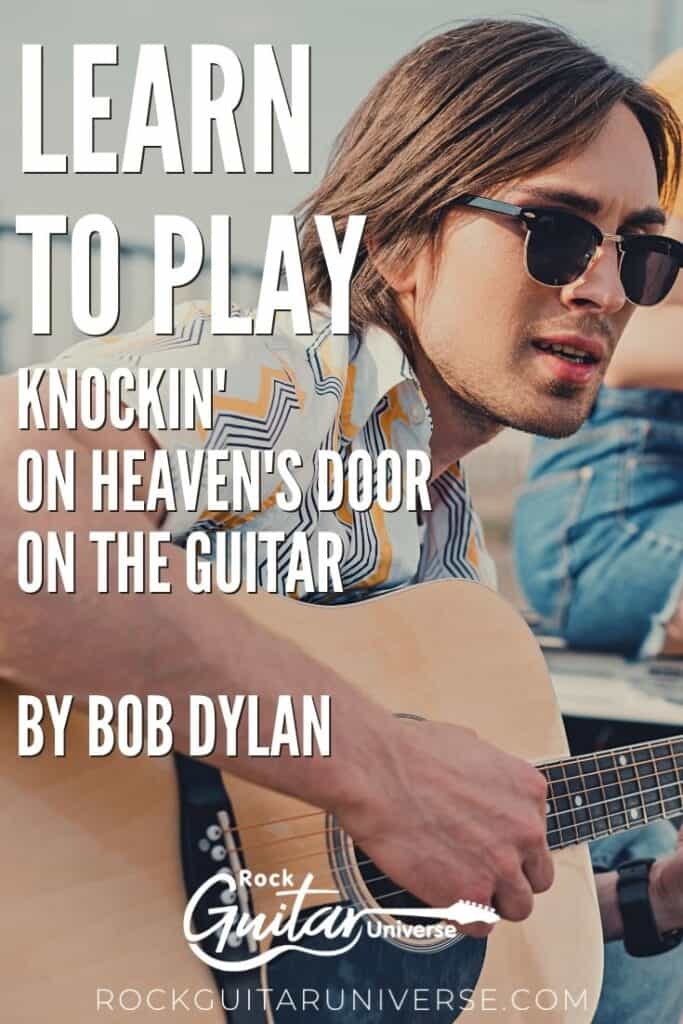 Recent Posts