Guitar cables have a significant effect when making or breaking the sound of your guitar. Choosing a suitable guitar cable is highly important for an excellent flawless tone. When buying a guitar cable, there are a few things to consider.
For example, if you're a gigging musician, you'll probably need to spend more on a long and durable cable. If you occasionally play at home, you'll get away with something shorter and cheaper. But if you record at home, again, it's a must to have a great quality instrument cable to achieve the ultimate tone that's coming from your guitar pickups.
Mogami Gold Instrument Cable
Oxygen-free copper core for the highest level of transparency
Carbon-impregnated PVC eliminates handling noise
Ultra-high density spiral shield
Conductive polymer sub-shield
Made with Mogami 2524 instrument cable
Lifetime warranty
Professional engineers and musicians worldwide have turned to Mogami for a high-quality audio cable solution that is built to last. Mogami is a famous name in the guitar cables market that has developed some of the most lossless and transparent cables.
With its top-quality construction and transparent performance, Mogami cables serve musicians greatly, whether on the stage or in the studio, for guitars, basses, keyboards, microphones, etc. Mogami Gold instrument cable shines with its ultra-low noise and maximum durability.
D'Addario PW-CGTPRO-10 Classic Pro Cable
Innovative in-out technology for pure signal transparency
Geo-Tio Neutrik connectors for reliable connection
Oxygen-free copper conductors
Reduced noise with spiral shielding
D'Addario cables are highly popular among guitarists thanks to their signals leaving minimal sonic fingerprints. The innovative in-out technology features oxygen-free copper for keeping the wires conductive and low capacitance for higher transparency.
The Classic Pro Cable series come equipped with Geo-Tip Neutrik connectors for imperfect jack tolerances. This way, the cable gets much more reliable, and the connection gets cleaner each time. In short, D'Addario PW-CGTPRO-10 Classic Pro Cables are great cables with great performances.
Ernie Ball P06081 Braided Cable
Braided guitar cable with unbalanced output
Angled and straight connectors
Dual-conductor and dual-shielded form for low noise and optimum performance
Rugged construction with a durable exterior
Oxygen-free copper to prevent corrosion
Ernie Ball P06081 Braided Cable is another top-quality guitar cable made from high-quality parts and an ultra-rugged braided exterior. The cable is long-lasting and can be used for years without a problem.
The dual-shielded, dual-conductor design provides low noise and enhanced durability. Many guitarists use Ernie Ball cables on the stage and in the studio without hesitation.
Lava Cable Ultramafic Cable
Maxes out your tone, letting your signal flow unimpeded
Specially designed purple outer jacket and dielectric
18 AWG CDA102 silver-plated low-strand-count copper conductor
97% silver-plated copper shielding
Low capacitance of 23 picofarads per foot
Minimized high-frequency roll-off and excellent note articulation
Lava Cable Ultramafic Cable is a unique design by Mark Stoddard, which withstands high temperatures and performs exceptionally well. They are used by many famous guitarists and professional musicians. Furthermore, it provides a top-quality sound for gigging and recording situations.
On the other hand, the cable has innovative tech such as Tightrope DC plug, DIY solder-free plug as well as Lava mini soldered plugs. Lava Cable Ultramafic Cable is the potential favorite guitar cable of most guitarists.
Fender Deluxe Series Cable
Equipped with 20 AWG wire
Great guitar cable with stellar signal quality
24K gold-plated connectors with 95% OFC braided shielding
Soft-woven tweed jacked along with custom-molded ends
The Fender Deluxe Series Instrument Cable shines with its high-quality workmanship, classic design, and top-quality materials used in the process. The cables perform amazingly with no-nonsense stellar signal reproduction. The cable has 95% OFC braided shielding, 24K gold-plated connectors, 20 AWG wire, and custom-molded ends.
With the Fender quality and reliability, Fender Deluxe Series Cables deliver flawless sound on the stage or in the studio. It has a long life and features a soft-woven tweed jacket for classic looks.
D'Addario PW American Stage Cable
Made in the U.S.A.
Audiophile sound quality with natural tones and zero interference
High-quality parts
In-line solder process for a permanent bond between plug and wire
GeoTip Neutrik connectors
D'Addario American Stage Guitar Cables provides audiophile quality sound with its custom-designed Neutrik plugs that offer a robust connection for pristine clarity. Sound quality and reliability are the most crucial features of a guitar cable, and D'Addario PW American Stage Cable thrives on both aspects.
The cable does not compromise performance like inferior cables. It is a great performing cable for the stage and the studio.
Asterope Pro Studio Series Cable
Gold conductors with 1/4″ angled to 1/4″ straight plugs
10' cable with 95% cross-braided tin copper shielding
Twin-axial 99.9% ultra-pure oxygen-free copper
Barbed collar bracket for reliable long term performance
PVC jackets for superior conductor stabilization
Asterope Pro Studio Series Cable is designed and produced in the U.S.A. with high-level engineering and top-quality parts. It has corrosion-resistant gold connectors for reliable connection and an innovative design for enhanced harmonic and frequency response thanks to its patented solid core and gold connectors.
The cable has an extra durable full flex pressurized PVC jacket for extra durability, and it delivers superior conductor stabilization and abrasion resistance. Sterope Studio Series Instrument Cables are excellent products for professionals and beginners for long-lasting, reliable performance.
Vovox Sonorus Protect Cable
Top-quality cable made of purest available copper
It comes with solid core conductors
Natural fiber and high purity polymer jacketing
75 pF/m capacitance
Classic VOVOX style construction with isolated conductor for ground
The Vovox Sonorus Protect A350 Jack To Jack Instrument Cable comes equipped with a robust polymer fiber jacket. The cable is 3.5 meters long and provides an outstanding sound quality with almost no noise and a pristine clear signal. This is due to the high quality of the raw materials and experienced workmanship.
Another quantum leap on the way to the perfect transmission of sound signals. This may be one of the most expensive cables on this list, and while it's not for everyone, studios around the world swear by their Vovox cables for recording instruments.
Klotz Titanium Cable
Great attention to detail, ultra-dynamic system, quick authentic transient response
Greatly balanced sound without noise or distortion
Ultra-low signal compression
Extra insulation layer
Unique design
Optimized capacitance of 75 pF/m
Klotz Titanium Cable is a revolution in the guitar cable world with its outstanding signal quality and tone combined with its rugged and tough yet detailed design that eliminates noises like subsonic noise, motion, static noise, and interference noises.
It also has Neutrik connectors for reliable connection, and every part is built with great attention to detail. Produced in Germany, the cables are top quality and are made with the experience of the long-standing technology of Klotz, and are unique high-end guitar cables.
Evidence Audio Lyric Cable
High-quality copper conductor for great mids and highs
Symmetrical design
Solid Core conductors for focused and clear sound with harmonic richness
Conductive skins on the negative and positive runs for microphonic reduction
High-Density Copper Braid Shield
Evidence Audio Lyric Cable is designed and manufactured for audiophile-level sounds. Evidence had the sound quality priority when building these cables. The "less is more" motto is realized with top-quality materials. The end product is a great cable that disappears in the signal chain.
The cable is ideally used in the studio for recordings, thanks to its high sonic performance. The cable provides a highly transparent sound which is perfect for recordings.
Monster Prolink Rock Instrument Cable
Collet Strain Relief design for durable connectors
Duraflex protective jacket
Copper braided shield
24k gold connectors
Monster Prolink Rock Instrument Cable is created with almost four decades of experience from Monster. The brand is one of the industry leaders, and these cables deliver top-quality sound and durability you can find in the market.
The cables provide a great sound with clean highs, vivid harmonics, and fast transients, which maximizes the performance you get from your instrument and gear. The materials are fantastic with a braided copper shield, 24k gold connectors, a duraflex protective jacket, and collet strain relief.
Hosa GTR-210R Cable
Durable, high-quality guitar cable delivers superior signal transfer gig after gig
Oxygen-free copper (OFC) conductors for improved signal clarity
Hi-density OFC braided shielding eliminates the annoying EMI and RFI interference
All-metal plugs built to withstand the rigors of the gigging musician
Get reliable, superior signal translation night after night with the Hosa GTR-210R Guitar Cable. This durable cable features oxygen-free copper (OFC) conductors for improved signal clarity, giving you the best connection between your guitar and amp possible.
Hi-density OFC braided shielding eliminates annoying EMI and RFI interference, which feature guitarists really appreciate. The all-metal plugs on the GTR-210R are built to withstand the rigors of the gigging musician and are easily maintained. These cables are a really solid and cheap solution for a beginner.
Roland RIC-G Gold Series Cable
24K gold-plated 1/4-inch connectors
1 angled and 1 straight 1/4-inch ends
High-density spiral copper shielding
Low-capacitance design for maximum dynamic response
Woven outer jacket for durability and flexibility
Roland RIC-G Gold Series Cable is created to transfer pure signal from the instrument to the amp or pedal without interference issues. They have 24K gold-plated connectors for accurate audio reproduction.
Furthermore, it has high-quality oxygen-free copper core wire for detailed sound. It is mainly preferred for stage use as it provides top-quality signal transmission at a reasonable price.
Vox VCC Vintage Cable
29.5′ coiled cable
Multi-gauge conductors for maximum performance
Created with 99.99% purity, oxygen-free copper cable conductors,
Fantastic noise isolation with 2 separate shields
High-temperature PVC jacket for anti-rust prevention and durability
Vox VCC Vintage Cable provides incredible sound quality with its great looks that come in different color choices. It features a multi-gauge design with 99.99% pure, oxygen-free copper, which delivers great sonic performance and aesthetic pleasure with its Vintage Coiled Cable design.
The cable is precision-machined, single-piece, and comes equipped with gold-plated connectors for extra durability and maximum conductivity. With high-density shields, the cable never lets you have issues with interference.
Pro Co Evolution Series Cable
Oxygen-free cable
Noiseless dual-shield design
Neutrik gold and black connectors
Soft jacket
Pro Co Evolution Series Cable is the upgrade of the standard Pro Co series cables, which were famous for their great value for price ratio. The cables are engineered for top performance with Neutrik connectors, 100% oxygen-free wire, and a dual shield design .
The cable sounds great and is quite durable for long-lasting use. The soft-touch jacket makes the cable look great and expensive. Overall, they are fantastic cost-effective guitar cables.
Ernie Ball Classic Cables
10' instrument cable with top-quality materials
Dual conductor design for a pristine clean tone
Multiple shielding components for signal cover
PVC jacket for extra durability
Ernie Ball is one of the most famous names when it comes to guitar accessories. Their classic model is one of the most popular guitar cables on the market. They are highly durable, thanks to their quality workmanship and reliable materials such as dual conductors for ultra-clear tones, crisp highs, tight mids, and rich harmonics.
The cables deliver low handling noise with the multiple shield design. Besides that, the PVC jacket makes it more durable and long-lasting.
Boss BIC Cables
24K gold-plated custom 1/4" connectors
Heavy-duty braid shields for durability and reduced noise
An angled and a straight connector provides versatile connectivity
The oxygen-free copper core wire for detailed sound
Boss BIC Cables come with 24K gold-plated connectors for top-quality sound reproduction. Additionally, oxygen-free copper core wire delivers detailed sound translation for professional uses. They are mainly used for live performances and provide top-notch performance.
Boss cables offer superb performance for guitars, bass, and other musical applications as they are considered studio-grade cables with oxygen-free copper core wire to keep your tone clean and free from noise and contamination.
MXR Pro Series Cable
No products found.
Great durability with PVC-jacketed 10' instrument cable
OFC conductors to prevent oxidation and signal interference
OFC spiral shields against radio frequency interference
Single straight and single angled connector ends
MXR Pro Series instrument cables are designed for musicians by musicians. Designed with high-quality oxygen-free copper conductors to prevent any interference on the signal chain, the cables provide excellent sound quality.
They are durable, flexible PVC other jackets and rugged TS connectors for the cables to last long. The MXR Pro Series DCIX10R 10′ TS-TS instrument cable is an excellent choice for live and studio use thanks to its clear signal transmission, durable construction, and reliable quality.
Fender Jimi Hendrix Voodoo Child Cable
30′ Coiled cable
Vintage Fender Pancake right-angle and jumbo plug straight end connectors
6.5mm PVC jacket for low noise
95% copper coverage shield for less noise interference
Fender Jimi Hendrix Voodoo Child Cable is one of the most innovative guitar cables out there thanks to its vintage-style coiled design, one angled and one straight 1/4″ connector, and 6.5mm PVC jacket along with a 95% copper coverage shield. The cables shine with their vintage design and look, providing you with that fantastic 60s magic.
Vertex Effects VPC Cable
Handmade cable
Transparent tone
Can be used with modern as well as traditional rigs
Low-profile, low-cap SquarePlug connectors go places other plugs can't
33.5 pF/ft capacitance
Vertex Effects VPC Cable is a handmade, top-quality guitar cable made with the finest components on the market. The cable provides a highly transparent tone with Squareplug connectors, some of the tiniest and most natural-sounding plugs. Vertex Effects patch cables deliver transparent sound and a tremendous eye-catching look.
The low cable capacitance of 33.5 pF/ft. Is the key reason behind the sweet sound of the cable. For single-coils as well as the humbucker, the cable guides the optimal sound.
Spectraflex FatsoFlex Instrument Cable
Sturdy and high-engineered nylon braid
Many different colors and designs
16 AWG ultra-pure copper conductors
High-performance nickel-plated 1/4″ right angle and straight connectors
Spectraflex FatsoFlex Instrument Cable is equipped with the exclusive Spectraflex Multi-Layer Braid technology, which gives the extra cable flexibility and handling noise reduction. The extra layers eliminate high-volume microphonics and squealing as it provides the necessary insulation required.
They are great cables for live uses, especially for guitarists who like to play very loud. The cables are also extra strong and have increased strain relief, 100% copper, and a conductive polymer shield cover.
PRS Signature Series Cable
Low capacitance
18' length with a straight and an angled connector
Silent switch for noise-free plug-unplug processes
Gold Neutrik connectors
PRS Signature Series Cable offers top-notch sonic performance with extra durability and ruggedness you would need for long-term use. The cable was created with the help of Van Damme Cabling with low capacitance, excellent noise reduction, and high-quality components to equip you with the most natural and powerful sound possible.
The Silent Switch feature is also great as it allows you to plug and unplug your cable without pops or hums. PRS gave great attention to detail to protect your instruments, gears, and cables as much as you can.
George Ls GL225 Cable
Low-capacitance co-ax cable
High-end plugs with a lifetime warranty
Solderless plugs
Reduce unwanted hum and noise in your signal chain
Guitar cables can affect your sound significantly, as you may have guessed at this point in the article. However, if you want the most natural tone possible, you should check out George L's guitar cables. They are considered best in the sound clarity by many authorities, such as Guitar Player Magazine. Some of the most famous guitarists, such as Eric Johnson, Johny A., Neil Zaza, and Rob Balducci, always go with Geroge L's cables.
These cables thrive when they eliminate unwanted noise and hum in the signal flow. They are one of the best sounding cables around.
Check out George L's guitar cables and give your rig one of the best sounding cables around. Thousands of players have heard the George L's difference and switched cables. Some of those players include Eric Johnson, Johnny A., Neil Zaza, Rob Balducci, and many others.
Warm Audio Pro Silver Cable
Great quality cables for reasonable prices
Made in Switzerland
Flexible PVC jacketing
Durable bulletproof construction
Warm Audio is a well-known brand for its great quality yet affordable gear. From preamps to guitar cables, the brand offers great guitar accessories. Warm Audio Pro Silver Cable reflects this motto amazingly, thanks to its affordable price tag as well as great quality construction and components.
Warm Audio Pro Silver Cable is created with the help of Gotham AG, Europe's top-notch premium quality guitar cable producer, for spectacular sound quality. The cable is also highly durable and comes with a lifetime warranty.
Lava Cable Van den Hul
Fantastic sound quality with deluxe workmanship
Star Quad layout to avoid EMI and reduce noise
Low capacitance
Highly durable Fusion Technology conductors
Rugged gold-colored HULLIFLEX jacketing
Lava Cable Van den Hul is a high-end guitar cable made for premium sound quality and maximum performance. The cable has a Star Quad layout, a four-conductor wire design with two positive and two negative wires twisted in a spiral pattern to reduce electromagnetic interference for a noise-free sound.
The cable also has low capacitance to protect the pure sound and retains the clarity and presence in the tone. The Fusion Technology conductors are also great for increased durability and make the cables less prone to damage and breakage compared to average conductors.
Conclusion
It's pretty interesting that something so basic and more or less inexpensive can significantly impact your overall tone. Yes, it is a guitar player accessory, but it's of greater importance than others like a stand or a strap.
So never underestimate the power of a great guitar cable. Look at it this way, and if you spend 4000$ on a guitar and amp, there should not be a problem to spend 70$ – 150$ on a great durable guitar cable. A suitable cable will sound better and last longer, and buying a great one, will eliminate pain from the failure of cable during your performance or in the studio.
If you found this article useful, you may want to save this pin below to your Guitar board.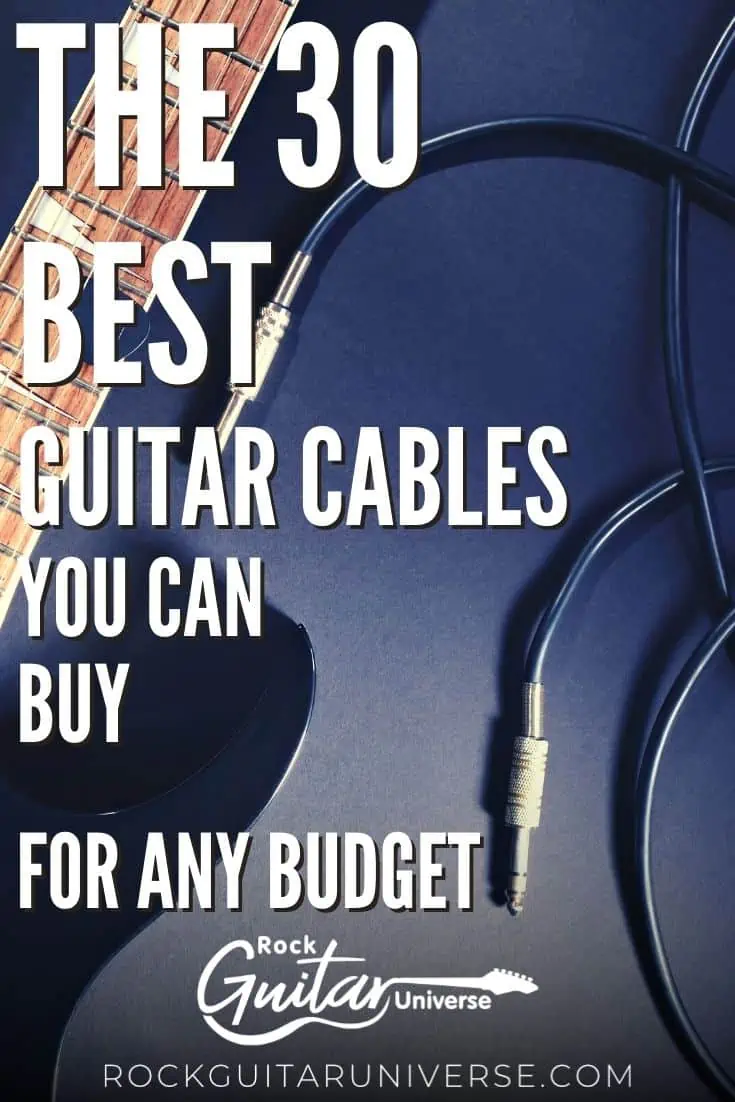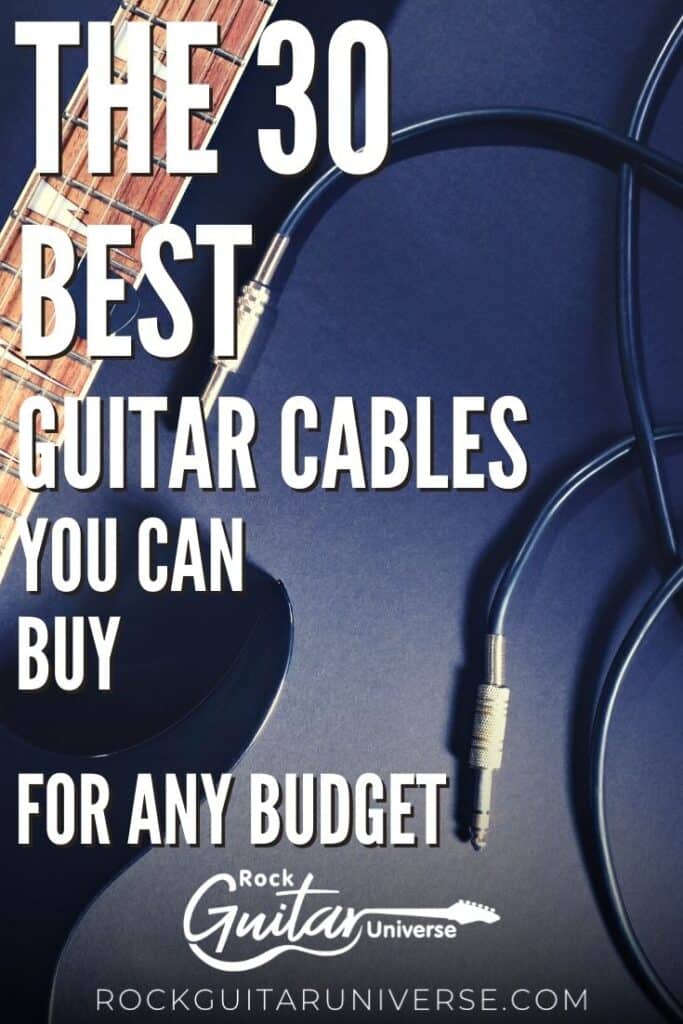 Last update on 2023-10-04 / Affiliate links / Images from Amazon Product Advertising API