Gibson Les Paul and Fender Telecaster are among the most famous guitar models ever built. Ever since their first model, both have been in constant production. Both of these guitars share a similar genre of music, but their tonal possibilities are completely different. You can say that each of these guitars is an animal in itself.
During the electric guitar gold rush, Gibson and Fender introduced both of these guitars in the 1950s. These guitars will eventually grow to be the representatives of electric guitar in general. When someone thinks about electric guitars, the picture in their head will most likely be Tele or Les Paul.
At first sight, they look completely apart from each other. In this case, the looks correspond to the sound.
Compared to Les Pauls, Telecasters are tonally brighter and are a great choice for genres such as country or blues; on the other hand, Les Pauls are much fuller in their tone, and you can see them used in metal and rock music.
The looks and feel of these guitars compared is completely different. Les Pauls have a thicker body and are heavier, while the Telecasters are lighter and have better access to higher frets due to their Deep C neck shape.
The Les Paul typically has a mahogany body, whereas the Telecaster has an ash or alder body.
In contrast to the brighter sounds produced by the Tele, this tends to give Les Paul a darker and warmer tone which many people love.
Both guitars have a special place in every guitarist's heart and guitar history in general. Both have been part of the most famous and iconic songs written by some famous guitarists, which were crucial milestones in music history.
In this article, we will examine the similarities and differences between the two iconic guitar models to find which is a better choice for you.
| | | |
| --- | --- | --- |
| | Fender Telecaster | Gibson Les Paul |
| Body Shape | Tele-style | Les Paul Standard |
| Body Wood | Alder | Mahagony |
| Neck Shape | Deep C | Rounded |
| Neck Wood | Maple | Mahagony |
| Neck Construction | Bolt-on | Set Neck |
| Fretboard Material | Maple | Rosewood, Ebony |
| Scale Length | 25.5″ | 24.75-inch |
| Number Of Frets | 22, Narrow Tall | 22, Medium Jumbo |
| Frets Material | Nickel Silver | Nickel Silver |
| Type of Bridge | 2-Point Synchronized Tremolo with Cold-rolled Steel Block | ABR-1 Tune-O-Matic |
| Tuning Machines | Fender Standard Die-cast | Grover Rotomatics |
| Pickups | 3 x Fender V-Mod II Single-coil | BurstBucker™ 61R & 61T zebra, open-coil pickups |
| Pickup Selector | 5-way blade pickup switch | 3-way toggle switch |
| Controls | 1 x master volume, 2 x tone (push/push add neck) | 2 x volume, 2 x tone |
| Weight | 8.5 lbs (3.85 kg) | 9lbs(4.08 kg) |
Gibson Les Paul History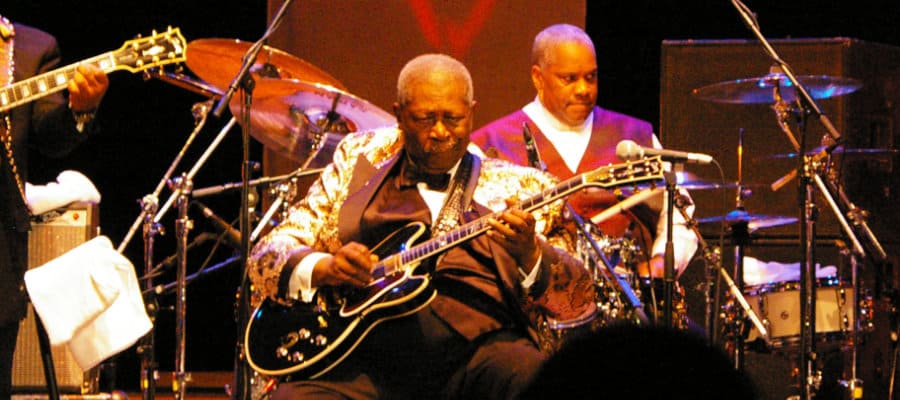 When it comes to electric guitars, one of the most famous models is the Les Paul, made by Gibson. Beloved by many guitarists, this model will be part of one of the most influential songs ever recorded.
The first appearance of Les Paul models was in 1952. The people responsible for the design of the Les Paul model are Ted McCarty, John Huis, and the man by whom this model was named, Les Paul. In the first instance, the Les Paul we know today resulted from many prototypes until Gibson launched its first Les Paul model.
The reason behind the model being named Les Paul is that at the time, Gibson was not popular as it is today, so they added the famous guitarist's name to the headstock, which increased the sales significantly and was part of the reason why the Les Paul model is one of the most influential guitars ever made.
Fender Telecaster History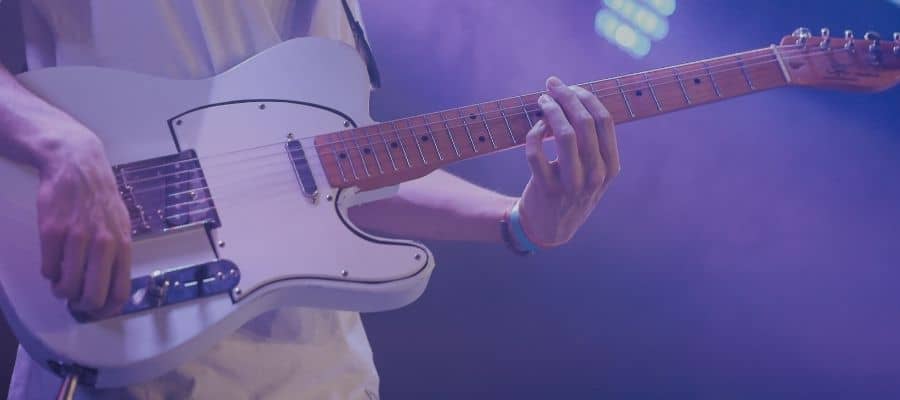 Not many people know that the original name of Telecaster was Broadcaster, but eventually, due to some legal reasons with Gretsch, Fender will change its name to the one we know today. It was firstly introduced in the fall of 1950 as the version of Esquire. What was new with the Telecaster was that it was packed with two pickups. The reason why it was named Telecaster is that at the time of its introduction, television was really popular hence its name "Tele"-caster.
The look of the Telecaster will keep the same with variations in the hardware here and there, but the instrument's soul will remain the same. Ever since it was introduced, it will remain to be a major part of many music genres. History will find the Telecaster being used in genres such as rock, country, reggae, folk, pop, punk, and almost every genre.
Bodies Compared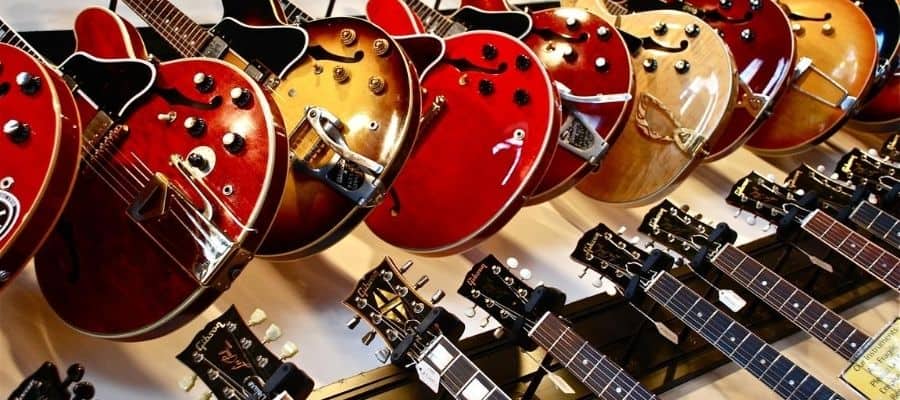 These guitars have a single cutaway design, but their bodies do not resemble each other. Les Pauls models have more rounded edges resembling the acoustic guitar shape, and the Telecaster has more of an edgier design resulting in a distinctive and different look.
The wood these guitar bodies are built is also different. Most Les Paul models have a body made of mahogany, and the Telecasters have an Ash or Alder body. Another key difference with these guitars is that the Les Paul models have a maple cap on top of the body, while the Telecaster models only have a finish in a solid color without a cap.
Neck & Scale Length Compared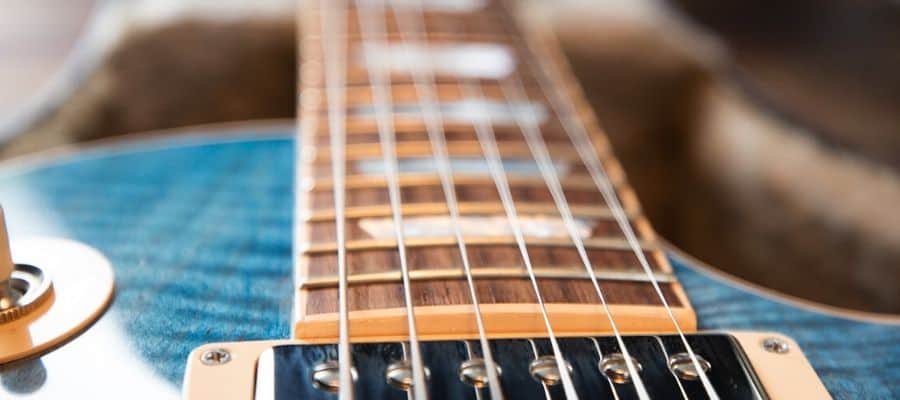 The neck of each of these guitars is fairly different from one another. This is the main reason why they feel differently. The Les Paul models have more of a rounded C neck shape, while on the other hand, Telecasters have a shape known as the U shape, which is deeper than the first one.
The wood of each neck is different. You will find Les Pauls usually with mahogany necks and Telecasters with maple necks. These factors also play a major part in the sound and resonance of these guitars. The only thing they may have in common is the Rosewood fretboard, but some of the Telecaster models come with a Maple fretboard.
The Telecasters have a longer scale neck with 25.5" than Les Pauls which have 24.75". The way their necks are connected to the body is also different. Les Paul models usually have set neck constructions, and the Telecaster models have bolt-on construction. This also plays a big part in the resonance and sustain of the sound.
Hardware Compared
We have the hardware, among many other things that these guitars are different. One of the obvious things you will notice is the number of volume and tone controls. You will have four knobs for volume and tone control with Les Paul models. The Telecasters are much simpler with two knobs, one for the volume and one for the tone.
The position of the pickup selector is also different. The Les Paul models usually have the 3-way pickup selector on the top horn of the guitar. The Telecaster models, on the other hand, have the selector right next to the knobs on the bottom part of the guitar. Which one is better completely depends on the guitarist and his playing style.
Pickup Configuration Compared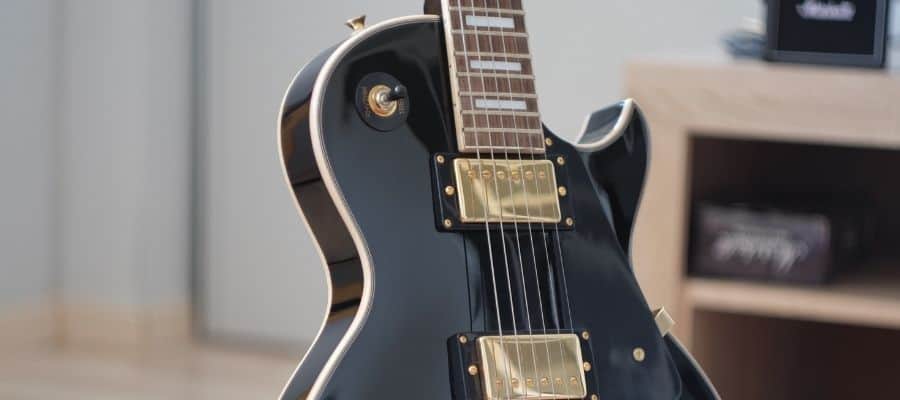 The first thing every guitarist will notice when comparing these models is the pickups. The Les Paul models have two humbuckers, and the Telecaster models have two single coil pickups. The difference in pickups is the number one reason for the distinctive sound of each of these models.
Each of these pickups comes with its pros and cons. With single coil pickups, you will get great high-end, but you will have a humming issue on high gain. The humbuckers have solved that problem, but the high end is the collateral in the equation. One thing to keep in mind is that you will find Telecaster models with humbuckers instead of single coils.
Fender Telecaster Tone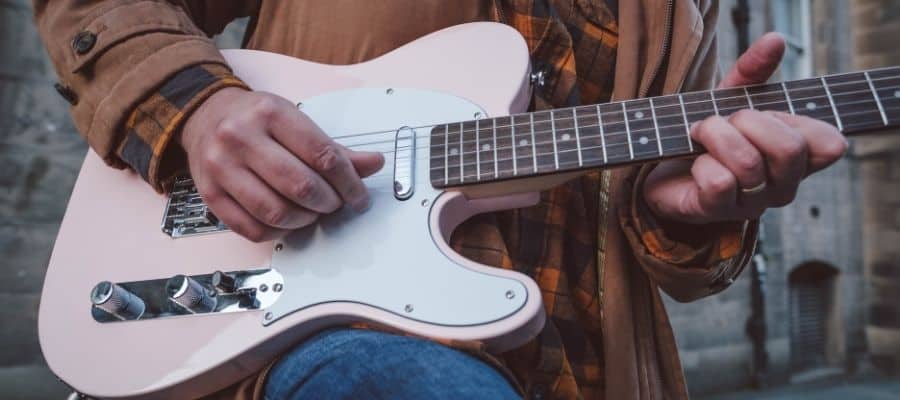 The tone of the Fender Telecaster is bright, twangy, and punchy, with a great presence in the high range. All of this will result in Telecaster being used in the country, rock, jazz, and almost every genre there is.
It is considered to be one of the most tonally versatile guitars out there, which is why so many guitarists gravitate toward it. You can find it being used in many legendary songs from many different genres. It has much more diversity in tone than Gibson Les Paul.
Gibson Les Paul Tone
Les Paul models have a thick, fat, and punchy tone, which is mostly credited to the size and weight of their bodies. Most guitarists will be able to recognize Les Paul's tone within a couple of seconds after hearing it.
These models come in very different variations, and all of them will have a different tone. The reason for this is the fact that all of the parts of the guitar will have a direct impact on the tone. It is important to make sure you do your research before choosing the model for yourself.
With the right amplifier settings, you can achieve great results in terms of sound and a wide range of usage of this guitar. You can use Gibson Les Paul in almost every genre with just a few adjustments to the amp settings.
Fender Telecaster Feel & Playability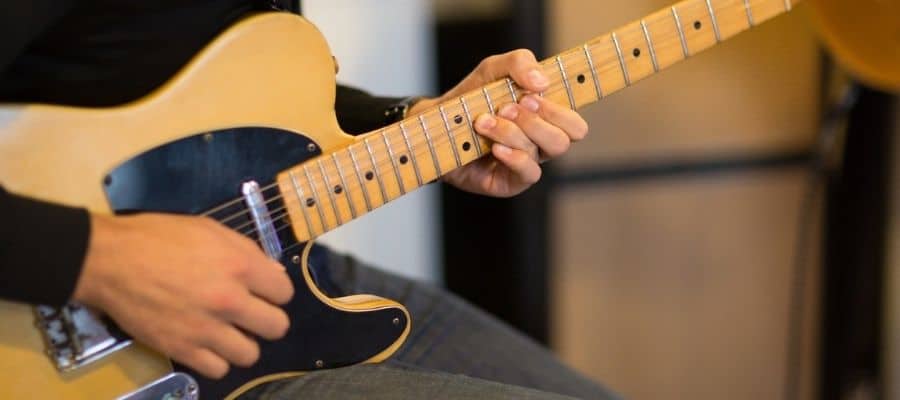 The Fender Telecaster is a great guitar to play and hold in your hands. Some people may refer to it as a bit chunky, but in hand, it feels great. It has a single-cutaway design with a neck that leans toward the chunkier side.
There is a mythology around Telecaster that you cannot fake your playing on it. This means it will show your every flaw and your virtues. Compared to Gibson, Telecaster falls short regarding feeling and playability. But this does not necessarily mean it is not comfortable to play. Telecaster is a great guitar that can fit almost every guitarist's needs.
Gibson Les Paul Feel & Playability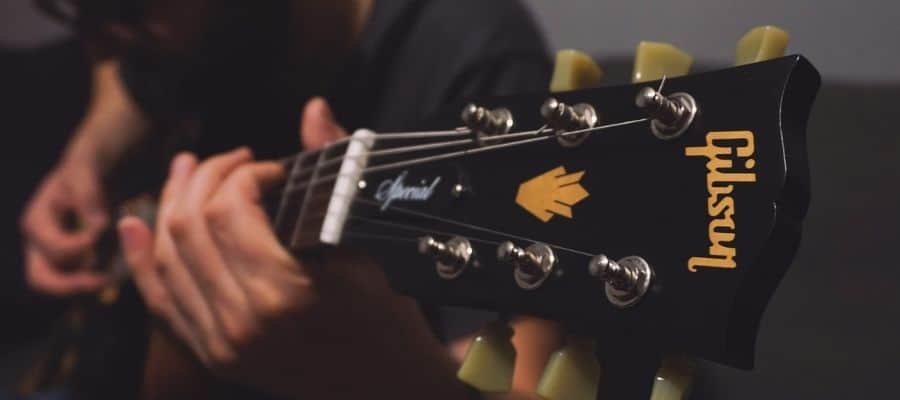 Gibson Les Paul packs more than its beautiful looks. This guitar is considered one of the more comfortable guitars to play. One of the reasons why so many people gravitate towards Les Paul is the wide range of variations and types of models. Everyone can find a Les Paul model that will suit their guitar playing style.
Their necks tend to tilt upwards, which is great when standing up and gives you a better look at what you are playing. Although they look great and have a great sound, this model is considered to be on the heavy side. You can say that with great weight comes great sounding guitar.
Fender Telecaster Look

Fender Telecaster is one of the most famous guitars in the world, and many people will immediately recognize its shape. This guitar was the first guitar ever to be put into mass production, and it had a revolutionary shape design that turned the industry upside down.
Today, there are many different models of the Tele. The main reason for that is its customizability. Its simple and effective design is the perfect base to start getting your hands dirty. It has the iconic single cutaway design with a bolt-on neck.
Gibson Les Paul Look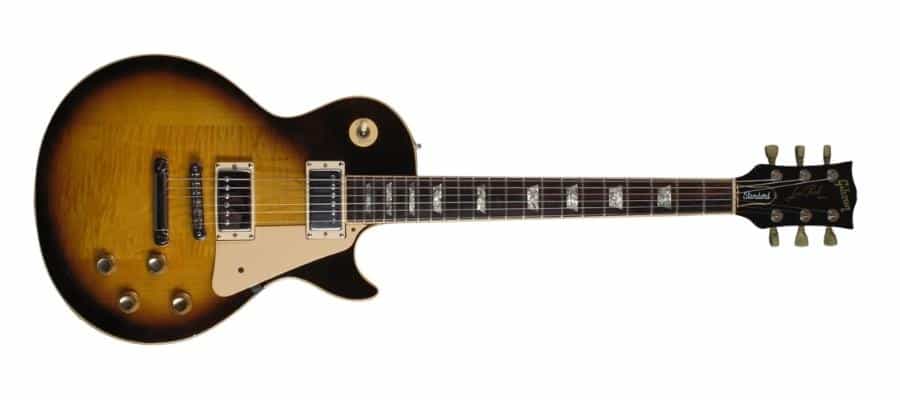 Considering this model is one of the most famous guitar models ever made, it would not be a lie to say that its looks are part of the reason for that. There are many models with different finishes and hardware, but the body's soul is always the same.
The Gibson Les Paul is considered among the guitars that are soothing for almost every guitarist. With Les Paul, everyone can find a model with a finish that sits best for its eyes.
Famous Fender Telecaster Players
Jimmy Page
Jimmy Page played many different guitars during his career. He had managed to give Telecaster the status of being one of his most iconic guitars. He had nicknamed his Telecaster "Dragon," made in 1958. He had received this guitar as a gift from fellow guitarist Jeff Beck, and with it, he will create some of the most iconic songs, including Led Zeppelin's "Stairway to Heaven."
Page will strip the guitar's body paint in 1967 and, inspired by psychedelic art, give the guitar paint job himself. Eventually, one of his friends will repaint the guitar to a more "normal" state which Jimmy Page did not really like, but agreed to.
Recently, Jimmy Page was working on a project of re-creating the Tele model with the same psychedelic art he did himself.
Keith Richards
Keith Richards is one of the persons responsible for making the Telecaster worldwide recognized guitar. The lead guitarist of the Rolling Stones used many different models throughout his career, but one model caught the public eye.
His Micawber, the 1950s Telecaster model, is packing a great punch. It was gifted to Keith by Eric Clapton for his birthday. What is interesting about his guitar is his decision to put the humbuckers backward. The stock version didn't have humbuckers but Single coils, which he replaced to get a more gritty sound out of it. You can hear this guitar play in iconic songs such as "Brown Sugar."
Bruce Springsteen
Keith Richards is not the only person who had nicknamed his Telecaster. You can say that these two artists are one of the more Telecaster-associated guitarists. He will eventually nickname his 1952 Telecaster "The Mutt."
He had bought it in 1973 from a record company. The original model was heavily modified with electronics underneath the pickguard. All of this added to the weight, which Bruce did not like. He will eventually take it all out and let himself loose on the stage with this super lightweight guitar.
Andy Summers
In the early 70s, and was at the end of his college when he was offered to buy an old 1961 Telecaster, which would be his first electric guitar after many years. At the time, he was mainly focused on classical guitar and paid almost no interest to electric guitars. He bought the Telecaster for $200 from his friend, and since then, he will keep playing mostly Telecaster guitars.
He says that the guitar had woken up something new in his playing, and he could not leave it alone. Eventually, he will join The Police and create some of the greatest songs ever recorded. Stewart Copeland's drumming and Andy Summers and his Telecaster are the backbones of The Police sound.
George Harrison
Beatles had always leaned towards Epiphone and Rickenbacker instruments, and it was difficult to find them live playing Fender guitars. Although they had recorded many tracks with Fender instruments, Fender was not happy with just this.
After meeting with the company's CEO, FFender had succeeded in convincing the Beatles to be their endorsers. Fender will give them many different instruments to try and play in their live performances.
George Harrison being the Beatles' guitar player, had opted for Fender Rosewood Telecaster, which he would use for many years and record many great songs with it. It gave a new and refreshing sound to the Beatles in general.
Famous Gibson Les Paul Players
Les Paul
One of the most iconic Les Paul guitar players is the man himself, Les Paul. He is credited for being behind the design of this beloved instrument, but apart from that, he was a rather great guitar player for his time.
He nicknamed the original Les Paul "The Log" since it was nothing like today's version of the Les Paul model. The reason for his name on the headstock is not because he was one of the people behind the design, and it is believed that it was put to better sell the guitar due to his popularity.
Slash
In the mayhem of the 1980s, humanity will live to see Gibson Les Paul legend be born. Nothing says rockstar than Slash with his Les Paul. Using this model, Slash will mark an era of rock music with Guns'n'Roses, and a big part of their sound is the Les Paul in Slash's hands.
There are no guitarists who had not heard about Slash. For many, he was the reason why they started playing guitar. Gibson can also credit Slash for bringing back the Les Paul amid single-pickup mayhem.
He still plays his trusty Gibson Les Paul, which is stock mostly and still touring the world to this day.
Ace Frehley
Taking into the fact that Ace Frehley is the lead guitarist of Kiss, you may expect him to play Flying V or some other guitar with crazy shape, but no. Ace kept it simple and went with a sunburst Gibson Les Paul with three pickups to add to the crazy sound of the Kiss.
Ace, also known as the Spaceman, can get lost in the crazy world of Kiss nowadays, but the 70s marked him playing the Gibson Les Paul. The company will eventually have Ace Frehley's signature Les Paul introduced in the production.
Bob Marley
Now, Bob Marley is probably not the first name that pops up in your head when you hear Les Paul artists, but the model had a major part in his music. He reinvented reggae music, and his work is appreciated worldwide to his day.
Along with many other guitars, mostly acoustic, his main electric guitar for recording and live performance would be his Les Paul Junior with P90 pickups. This guitar will be modified to fit reggae needs.
Gary Moore
Gary Moore is the man behind some of the most beautiful rock ballads of all time. In his beginnings, in his teens, he was made part of an Irish blues-rock band called Skid Row. After that, his career started going the correct way.
Eventually, he will grow to be a solo artist and create some of the most beautiful rock guitar solos, most of them with the help of Gibson Les Paul. Even though he will pass at the age of 58 of a heart attack, he will remain respected and admired by people worldwide.
Conclusion
Considering Les Paul and Telecaster are one of the most famous models, that is not without reason. Both of these guitars are at the top of the line regarding design and sound. Being in the same league, these guitars are different in their sound, feel, and looks, and every guitarist should decide for himself which one is the correct guitar for his playing style.
There are many things to note regarding Les Paul and Telecaster. Most metal and hard rock guitarists will lean toward Les Paul models, in some cases Jazz musicians. Telecaster models seem more appealing to guitarists playing softer genres such as country, blues, pop, and rock.
This does not necessarily mean you will use models for these genres only. On the contrary, both of these models are versatile, and with correct adjustments, you can use them in every genre.
If you found this article useful, you may want to save this pin below to your Guitar board.