There are plenty of reasons why someone might want to replace the neck plate on their guitar. But firstly, let's talk about neck plates. You can find them on guitars that use screws to connect the neck to the body, and it is exclusive for these models.
Usually, Stratocasters will have them (and guitars that are inspired by Strats) and probably everything that comes from Fender including Telecasters, Jaguars, Jazzmasters, and so on. The neck plate will hold the screws in one place, and it will prevent the screw from damaging the neck.
You can find many different types of plates on the market, and some can be quite incredible. Naturally, the only thing you need to worry about is the dimensions, materials used, and the number of screws. You should get the same size as it's on your guitar, and you can experiment with the design as much as you like. It is a nice way to "upgrade" your guitar or replace the damaged neck plate.
Fender F Neck Plate Chrome
Chrome
Steel
Ambidextrous
Engraved
Four screws
"F" design
Screws included
The first one on the list is for those who enjoy older models of Strat. The design of the plate is quite simple, and there is a well-known F from Fender logo engraved on it. Of course, the plate is simple, the color is chrome, and it's made of steel. You can use it on older Stratocasters, and it works for both right-handed and left-handed guitars.
Keep in mind that newer Stratocasters have different plates since they are curved, and if you own a newer model, this one might not fit. Other than that, the plate should be perfect for any model of Fender, and it is 2" front to back and 1.5" side to side. Naturally, this is the distance between the holes (or centers of it). The entire size of the plate is 2 x 2.5 inches. It is an excellent option for anyone who wants to keep it simple and stick to the vintage design.
Custom Engraved or Printed Guitar Neck Plate
Four designs
Engraved or printed
Four screws
Chrome, gold, or black
Four screws
Plastic mounting plate
This one is a bit different, and you won't find it on stock Fenders. Keep in mind that companies that followed in Fender's footsteps will also use neck plates like Schecter, Ibanez, Charvel, Jackson, and others. Each of these plates is inspired by Fender's Custom Shop, and you will be able to choose between four designs.
They either have the vintage Fender logo or the "F" as with the previous model. If you enjoy customizing your guitars, getting a "custom-built" plate might be just the right thing for you. It is a bit different than what you would expect from a Strat, but it gives you an option to create something unique and beautiful.
Greenten Neck Plate
Black
Jack included
Screws included
String tree guide included
Simplistic design
Standard dimensions
If you are looking to replace more than just your neck plate, this might be a perfect deal for you. In this package, you will receive a jack socket plate, string tree guides (two), and a neck plate. Everything comes in black color, and all screws are included in the package, including those for string guides.
While the overall design is quite simple, you still get a chance to replace your hardware. Of course, you can always engrave it if you feel like it, but even if you didn't it will still look great. The plate has a standard design, which means that it will be able to fit the majority of Fender guitars.
IANZHENKEJI Neck Plate
Chrome, black, or gold
Standard size
Screws included
Plastic plate
No engraving
While this might seem like a less exciting version of the standard plate, it can still be an excellent choice for many players. Firstly, those that don't care about neck plates will get a quick replacement, and that's it. But the primary advantage of this model is that you can engrave it yourself and make something unique.
The design of the plate is fairly simple, and it also comes with a plastic protective plate. This way, the metal won't get in touch with the neck since the plastic will serve as protection. All things considered, this is a great option for anyone who is looking to get a cheap plate and engrave it themselves.
Fender Standard Neck Plate
Standard
Four screws
Chrome
Engraved
Tilt adjustment hole
Original Fender plate
This one is standard for many Stratocasters out there. The design is simple, there is a modern Fender logo, and that famous "Corona, California" engraving. If you are looking to replace the neck plate on your guitar, this is an excellent choice. Of course, it still works great if you are looking for an upgrade.
One of the additions you can find here is the tilt adjustment hole. It is the fifth hole on the plate, and it remains uncovered so you can see the thread for the Allen wrench underneath it. The idea behind it is to adjust the angle of the neck with ease without removing the strings. All you need is a couple of hex keys, and you can tilt the neck in a few simple steps. If you own a guitar that allows you to do this, you'll need to buy a plate with the exposed thread to avoid removing the plate if you need to adjust the guitar.
Axlizer Curved Neck Plate
Black
Four screws
Curved
Works with bass guitars
Durable
Now, this model is a bit different compared to the previous ones, and it is designed for guitars with curved neck plates. Some of the newer series of Fender have a curvature to allow easier playing (especially on higher frets), and this is a plate you need to check out if you have a similar guitar.
Other than that, the model is fairly simple, and it has four screws which are included in the package. The color of the plate is black, and you can even install it in some bass guitars. Needless to say, if you own a guitar that uses the standard rectangular plate, this one won't fit.
LazrArt Engraved Neck Plate
Various colors
Customizable
Engraved
With plastic protection
Standard size
Four screws
Unique
Players who enjoy customizing instruments will adore this version. You can contact LazrArt and choose nearly anything regarding the neck plate. There is an option to pick a color, engraving, and even add a serial number. It is also great for those who make the entire guitar by themselves since they can add a number to it.
You can also pick a brand if you want to have a unique Fender neck plate, and these plates come in standard size which is 2×2.5 inches with screw holes at 1.5 and 2 inches on center. It is not often that you find a company that offers this level of customization, and you might want to check it out.
Jackson Tribute Neck Plate
Custom
Engraved
Four screws
Different colors
Standard size
Plastic mounting plate
Screws based on the color of the plate
Since I talked a lot about Stratocasters and Telecasters, some players want something else. And this includes other models with bolt-on necks. I already mentioned that Ibanez, Schecter, Charvel, Jackson, and others use the same type of neck plate, and this might be exciting for you if you own a Jackson.
This is another type of neck plate that is designed by LazrArt, and it follows the same idea as the previous model. You can choose a color, design, serial number, material, and so on. The neck plates are durable, look great, and you will be satisfied if you decide to buy this model. It is worth mentioning that each version comes with its own set of screws, which means that if you go for a gold model, you will get gold screws.
Custom Built Neck Plate
Chrome
Different colors
Custom built engraving
Standard size
Four screws
Plastic mounting plate
If you are looking for a simplistic approach, Custom Built neck plates might be the right choice for you. This model comes in three different colors, and you can pick between black, silver, and gold. Each version has "Custom Built" engraved on it, and it comes with a set of screws.
As with other models designed by LazrArt, you can select the serial number if you want, and the plates are great. The main difference here is that there aren't as many options for customization except for the color and serial number on the back. This is an excellent option for players that are looking to get a unique plate without customizing it too much.
Celtic Cross Neck Plate
American 13 gauge steel
Black
Industrial strength
Four screws design
Standard size
Screws are not included
Now, let's see something a bit different. While the size and style of the neck plate are standardized, the plate is unique. It offers a unique 3D design that will give your guitar a whole new look. The reason for this is that the Celtic Cross on the plate is not engraved, but cut instead. Naturally, to allow the plate to serve the same purpose, the designer used industrial-strength steel, and it's more than durable.
The plate can fit any guitar with a standard plate size, and it even supports models with a hole for tilt neck adjustments. All things considered, this is a perfect model for those who are looking for something different from standard neck plates.
Mxfans Gold And Black Neck Plate
Gold and black
Standard size
Engraved
Four screws
High-quality zinc alloy
Unique animal pattern
Plastic mounting plate
The next model on the list comes from Mxfans, and it offers a different approach. Instead of engravings, you will get an animal head pattern, and the entire plate is a combination of black and gold. Naturally, the size of the plate is standard 2×2.5 inches, and it also comes with a plastic mounting plate and screws.
Mxfans used high-quality zinc alloy for this plate, and it comes with a manufacturing part number to confirm authenticity. If you like animals and you want to get yourself a different neck plate, this might be something you should check.
Engraved Dimebag Neck Plate
Black
Etched engraved
Custom
Dimebag Darrell
Four screws
Standard size
If you are a fan of Pantera, this might be a perfect plate for your guitar. The size of the neck plate is standard, there are four holes, and it's black. What makes it different is that it has a Dimebag etching, which will transform your guitar in no time.
Obviously, the neck plate is designed for Pantera fans, and those who are unfamiliar with the band might want to skip this one. Dimebag was an influence for many guitarists out there, and it is a nice way to pay your respects to this legendary musician.
Xtreme Radiation Danger Neck Plate
13 gauge American steel
Industrial strength
Unique design
Four screws
Standard size
Screws aren't included
The next one on this list is another treat, and an excellent opportunity to try out something different. This plate doesn't have the standard rectangular shape, and it is circular instead. Each of the screws is attached to the circle in the middle which represents the radiation danger sign. As with the Celtic Cross model, this design offers a different unique take to the standard neck plates, and it might be perfect for your new project.
Even if you don't create a guitar from scratch, you can still use this plate to change the design of your instrument and try out something new and exciting. The distance between holes is the same as with standard plates, which means that they can fit the majority of guitars with bolt-on necks.
Retro Bolt Neck Plate
13 gauge American steel
Industrial strength
Unique design
Four screws
Standard size
Screws aren't included
Another model with a unique design has the same characteristics as the radiation sign and Celtic Cross model. It's made of industrial-strength steel, and there is a bolt-on on the backside. You might be a fan of the Flash from DC Comics, or you just enjoy how the plate looks. Regardless of your answer, there is no denying that the plate looks great and that it will transform your guitar.
One of the issues with this model is that it will cover the tilt adjustment hole, and if you have a model with one, this might not be the best option. Needless to say, instruments without the hole will work great with this Retro Bolt plate.
Custom Engraved Randy Rhoads
Chrome
Engraved
Randy Rhoads
Standard size
Four screws
Durable
Similar to the Dimebag model, this one features Randy Rhoads. Another legendary guitarist that left us too early. Randy served as an inspiration to countless guitarists out there, and no one could forget incredible solos in Mr. Crowley. The design of the plate is quite simple, and it has standard dimensions with four screws.
On the top of it, there is a beautiful engraving of Randy Rhoads, and it will be a perfect fit if you own his signature model. But even if you didn't, it is still a nice way to pay respects and upgrade your guitar. The plate can fit nearly every guitar with a bolt-on neck.
Ouija Board Engraved Neck Plate
Beautiful design
Standard size
Durable
Four screws
Unique
You might have played with an Ouija board when you were young, and this will bring back some memories. But even if you didn't it can still be a nice addition to your instrument. The plate itself is fairly standard, with 2 x 2.5 inches dimensions and four screws. The model can fit nearly any guitar, and it looks quite good.
The entire plate is designed as an Ouija board, and there are all letters and numbers as with the real one. While it might not help you talk to ghosts, it will undoubtedly look good on your instrument.
Anarchy Neck Plate
13 gauge American steel
Industrial strength
Unique design
Four screws
Standard size
Screws aren't included
Black
Another unique model by Icon Plates, but this time we have the anarchy sign. What is different here is that the dimensions of the plate are identical to standard models. However, instead of engraving, the holes are cut in the plate to create the anarchy sign.
It is a different approach, but the plate will fit any standard guitar. Keep in mind that it might also cause problems if your guitar has a tilt adjustment hole since the plate might cover it based on the location. The plate looks amazing, it's well-made, and it's durable. It will undoubtedly change the way your instrument looks, and add something exciting to it.
Custom Shop Guitar Neck Plate Christian Dove
Unique graphics
Four screws
Standard size
Full color
Screws included
Chrome plated
This neck plate is designed by AxetremeCreations, and it offers a bit more artistic approach to the neck plates. Instead of etching or engraving, the plate is painted, and it represents a Christian dove. The design of the plate is beautiful, and it would work incredibly well with colorful guitars.
It is a nice way to enrich the design of the instrument, and the plate has a standard 2 x 2.5 inches size. This means that it will fit Stratocasters, Telecasters, Jazzmasters, Jaguars, and even bass guitars. Of course, I would still recommend you to measure your current neck plate before you go on and buy a new one.
Rose Neck Plate
Black
13 gauge American steel
Industrial strength
Unique design
Four screws
Standard size
Screws aren't included
3D design
If you are not interested in anarchy, radiation, bolts, and skulls, this doesn't mean that you are out of options. Here, we have a neck plate with a beautiful rose on it, and it looks amazing. The level of detail on this one is incredible, and it can fit almost any instrument. Needless to say, this is another model by Icon Plates, and there are many other 3D patterns you can find.
The plate is perfect for people looking for a unique neck plate, and something that will make the guitar look even better. Keep in mind that this one doesn't come with screws, nor does it support neck tilt adjustment.
Custom Engraved Neck Plates
Custom
Different colors
Various options
Standard size
Different materials
Four screws
Finally, we have an option for people who don't like any of the plates I mentioned so far. The answer is fully customizable neck plates. You decide what you want. LazrArt gives you an option to choose different colors, materials, brands, and so on. You can create whatever you like, and the company will design it specifically for you.
Of course, the plates here have a standard size, but you can probably order something different. Some options also include screws with matching colors, so you won't need to buy them separately if you want everything to look in a certain way.
Conclusion
Getting a new neck plate is a nice way to change the appearance of your instrument, even though it won't be as drastic as some other replacements and upgrades. One of the first things you need to worry about is the size and design of the plate. The majority of guitars with bolt-on necks have four screws, and the distance between them is standardized.
Of course, if you own a guitar with a curved plate or three screws, you will have significantly fewer options. Based on your taste, you can find models with beautiful designs, colors, and engravings, but you don't need to stop there.
Some companies will allow you to order a custom engraving and create something unique and different. Finally, you can always get the original model by Fender that will perfectly fit your guitar.
If you found this article useful you may want to save this pin below to your Guitar board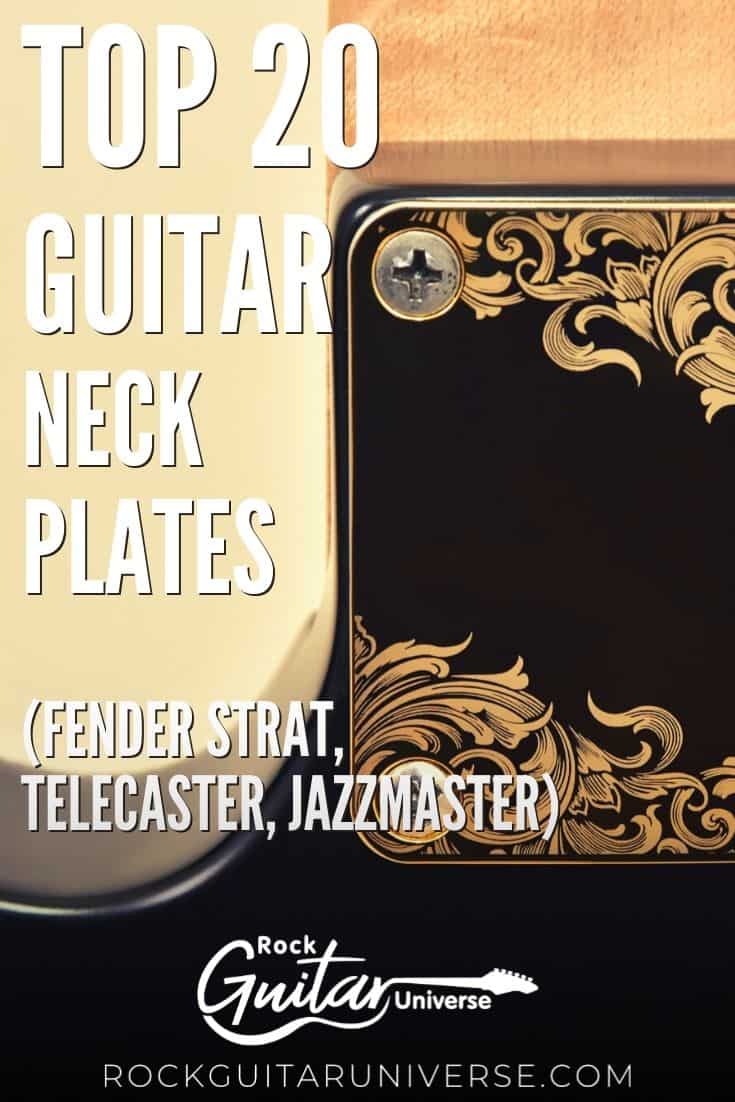 Last update on 2021-10-19 / Affiliate links / Images from Amazon Product Advertising API
Recent Posts