When it comes to accessories for guitar, there are some that every guitar player must-have. Assuming that you already own basic equipment like guitar and an amplifier, there are still some that will make your life easier and more enjoyable. Here is the list of unavoidable items that will certainly help you in your musical journey.
Cleaning Cloth
We should also mention cleaning cloths while we are still one the cleaning subject. These cloths are made for guitar cleaning and polishing so you won't find anything better. The materials used for cloth is either microfiber, cotton, or some other guitar-friendly material. Furthermore, you can even find ones that are pre-treated. This means that they already have some kind of polisher or conditioner inside, and all you'll have to do is polish your guitar.
Of course, different materials are made for a reason. Be sure to know which type of wood your guitar has, and which type of polishing cloth will work best on it.
Polishing cloths are incredible and will last you for a long time. Most of them can be washed simply in a washing machine. If you don't already have one, now is the time.
Of course, you can always opt for a very old cotton shirt. They are great for guitar polishing too. Just be careful if they have some print on it or anything else that might damage the finish of the guitar.
I recommend Fender Plush Cloth made from microfiber it will make sure that your guitar stays clean and without scratches. Also, it can be washed in a machine.
Adjustable Foot Rest
If you play acoustic guitar or even Flying V models, you know how hard it is to play them while sitting. You won't need to look for boxes or small chairs or anything else anymore.
The adjustable footrest will allow you to play properly and with ease. They are excellent for the right posture and will make those long sessions a lot easier. Besides, the footrest offers you four different height settings and it can even fold. You will be able to carry it with you anywhere.
I recommend the Tetra-Teknica Adjustable Guitar Foot Rest. It has a non-slip rubber surface on top and 6 height position from 4.5″ to 9.5″.
String Cleaners
Regardless of how long you play the guitar, you already know how frustrating it is when a string breaks. Furthermore, we always wonder why strings cannot be as shiny and slinky as they were before – when they were new.
Luckily, we have string cleaners. Their only purpose is to make our strings feel good. Imagine this little accessory as a string spa. They will regain their shine, silkiness, and quality. While this won't really resurrect some old rusty strings, it will certainly prolong the life of new ones if used properly.
They come either as in a tube or in whatever shape with an applicator that will make it easy for you to just swipe over the strings. After that, use a piece of cloth to remove any extra residue.
The best thing about string cleaners is that all of them do the same thing. You won't have to wonder which one will work on your strings and which one will damage them.
I personally use the Music Nomad MN109. I like it because of its large applicator which allows you to apply the oil to all strings at once.
Guitar Maintenance Kit
One of the most important things is taking care of your instrument. To ensure that your guitar is in perfect condition, you might need to take extra care. You can get incredible guitar maintenance kits that will help you to both clean and protect your guitar.
Each of the kits offers conditioner for wood and polishers for metal. Naturally, you will have to choose between lemon oils, petroleum, seed oils, and many others. Depending on the type of wood you will opt for one of these that is the best suiting for your guitar. These kits can be used for both acoustic and electric guitars.
Not only that you'll be able to keep your guitar spotless, but they will put a protective layer that will keep your wood hydrated and maintained.
This is one of the best options when it comes to cleaning and maintaining the instrument. Besides, getting one of these will keep all the important products in one place.
I recommend the Music Nomad Premium Guitar Care 5-Piece Kit. It has everything you need.
Gig Bag Or A Case
This is one of the items that are for every guitar player in the world. You need to own a gig bag or a case. If you are traveling, it will be quite difficult to carry your guitar without one. There are players who prefer getting a gig bag because it is less robust and you have extra pockets. Furthermore, you can carry it on your back like a backpack.
But getting a guitar case, on the other hand, will keep your guitar more protected at all times. The guitar case is harder and it will be nearly impossible for any damage to transfer on the guitar. The downside is that it is much harder to carry and you will need to consider the weight of both the guitar and the case.
Both of the options come with pockets of some kind. So you will always be able to carry extra strings, picks, tuners, capos, or any other accessories.
Guitar cases are perfect if you plan on traveling with your guitar, they can easily be put with the rest of the baggage even when traveling on a plane.
Guitar Cables
If you play the guitar that has a pickup, you need cables. Simple as that. If you play an acoustic guitar without any pickups than you don't have to worry about cables.
While you probably own a cable, you need to know that they are expendable. They work almost the same as guitar picks. You will either lose them or they will break and stop working. It would be a good idea to own an extra cable and maybe more than one. This way, whatever happens, you will be able to continue playing without worrying about what can happen.
Fender offers an amazing reliable cable I always prefer to use the right angle type, that way you can safely rest the guitar on the cable if your jack located at the bottom of the guitar.
Tuner + Metronome
There are several things that you'll always need as a guitar player. For example, you should undoubtedly own a tuner. When it comes to guitar gadgets and accessories, the tuner is always on the top of the list. Furthermore, for beginner players, it would be nearly impossible to tune a guitar without one.
If you don't have a metronome and tuner, this might be a perfect combo. The device is easy to use, you just plug in your guitar and voilà, your instrument is perfectly tuned. The range of the tuner is quite good and it is between A0 to C8, and it can offer several tuning modes.
When it comes to the metronome, you can choose between 30 to 250 beats per minute which is great for practicing any type of music. Furthermore, it offers tap tempo, and several different beats and rhythms.
Finally, it's easy to use, and it works on batteries. There is also a dial that will allow you to easily switch between desired tempo and swift pitch selection. The display will also allow you to tune your guitar even in darker rooms.
Guitar Strings
You might think that this is not really an accessory, but you can never have enough strings. We all know how frustrating it can be whenever your string breaks. By always having an extra string in your pocket, you will surely avoid all the frustration that comes with string breaking.
There are so many options that you can choose from. Materials, string gauge, and almost anything else. So be sure to find the one that is perfect for you. It is normal to experiment with strings, so look for the one you'll like the most.
There are players who enjoy playing heavy strings and there are others who love light strings. Whichever you are, you can be sure that there is a perfect one for you. You just need to find it.
I personally use and recommend and Elixir Electric Guitar Strings with the same amazing Nanoweb Coating technology for a long string life. For acoustic players, they offer the Elixir Acoustic Guitar Strings.
Guitar Picks
If you are a guitar player, you need to own a few guitar picks. Even if you play with your fingers like Mark Knopfler, you should still have at least several guitar picks. They are extremely useful, and they are basically the world's tiniest amplifier.
Furthermore, they come in all shapes and sizes, so you will undoubtedly find the one that suits you the best. You can choose from extremely thin, too big stubby that is 3 mm thick. Of course, each of them has a unique design and the best thing is that they are cheap.
I recommend the Dunlop Max-Grip with an anti-slip surface to prevent your pick from slipping away.
Guitar Strap
It is very difficult to play an electric guitar while sitting. While it is perfectly easy for some models, other ones are simply made to be played while standing. Of course, it will be impossible for you to play properly without a guitar strap.
There are so many options and brands you could choose. Every one of them is different, but they still serve the same purpose. So whether you like flames, flags, leather, or cloth, you can undoubtedly find a guitar strap like that.
I recommend the Ernie Ball Polypro Guitar Strap. It is available in different colors for your choice, suited for electric and acoustic. For a first strap, you can't go wrong with this one, especially that cheap.
Strap Lock
While we're talking about straps, there is a handy little device that will help your guitar stay in place no matter what. There is nothing worse than your guitar falling, and all you could do is try to catch it before it hits the ground. Believe me, I know this feeling I dropped 2 of my guitar because of it.
Strap locks are cheap and easy to use. You will place them at the end of the strap, and they will prevent the strap from falling by accident. This way, you'll be able to jump with the guitar without fear of something happening to your beloved instrument.
Guitar Stand
Finding a place for your guitar can be rather difficult. But getting a simple stand will make your life easier. Furthermore, not only will you save up space, but you will have your precious guitar placed like it's in an exhibition. They are safe and they will keep your guitar from accidentally falling. And of course, one of the best things is the price. You won't have to spend a fortune on one of these.
Naturally, if you have your own place, you should consider buying one of the stands that can be mounted on the wall. This will keep the neck in perfect position when you're not playing.
Capodaster (Capo)
This might be one of the must-have items for every guitar player. No matter what music genre you play, you need to own a capo. They are small and you'll be able to carry them even in your pocket. Furthermore, you might need to change the tuning, for example in F. Why change the entire tuning of the guitar when you can simply put on a capo and continue playing. They are cheap and easy to use.
I recommend the Donner DC-2 which is available on Amazon under $10. The capo has a lifetime warranty, lightweight and suited for electric, acoustic or even a ukulele.
Guitar Pick Holder
While keeping your pick in your pocket might seem like a good idea, you won't always have time to simply grab one from your pocket. It might happen that pick breaks during the show, or that it slips from your fingers while playing.
There are great accessories that will allow all of your picks to be in one place in the reach of your hand. Whether you get one that is mounted on the microphone stand or the one that can be placed on the guitar, you will surely be able to simply take another pick if the first goes out of reach.
You can choose the ones that are placed on the body of the guitar where it will be easy for you to take one with your right hand, or you can get ones that are placed on the headstock. Find the one that is the most comfortable for you and your guitar style.
I recommend the Dunlop Pickholder that is designed to pull a pick when you most need it with ease.
Slide
Guitar slides are great for almost any music genre. But if you are a blues guitarist, you will absolutely love them. You can get them in all shapes and sizes. You can get them made from glass, metal, and even plastic.
Slides are used to create an almost infinite number of notes. You won't be restricted by the number of frets anymore. Furthermore, you will be able to create that lovely singing-lady tone that you heard so many times before.
Be sure to find the one that will perfectly fit for your fingers. They come in all sizes, so you don't want to get one that's either too big or too small. Finally, be prepared to practice a lot. While playing with slide is basically the same as playing without it, there are still some tricks you'll need to learn.
I recommend the Ernie Ball Glass slide which is made out of durable borosilicate glass. It has a smooth surface that provides gliding easily and a smooth tone.
Hand Exerciser
One of the things guitar players love to do in the spare time is using some kind of pocket gadget. You can use the D'Addario Hand Exerciser to strengthen your fingers.
We all know how it feels when we are unable to play and practice and this might be an interesting alternative. This way you will be able to do a little practice even when you are out and when you are unable to play the real guitar. Since it is obvious that you'll need to develop the strength to play the guitar (especially bass), most beginners struggle when they start because they are unable to fret everything properly and they can't do it for long.
While this won't help you train overnight like Rocky in the movie, it will certainly make some progress. In the end, just be careful not to overdo it. You might cause some serious injuries to your hand and wrist that will prevent you from playing.
Guitar Humidifier
Whether you play acoustic or electric guitar, getting a mini humidifier can keep your instrument top notch. In dry conditions, the wood of the guitar can warp and deform. This can further cause cracking and serious damage to the finish and even wood itself. To avoid having to pay to get your instrument fixed and repaired, you can simply get a humidifier that will prevent cracks and damage to your instrument.
A humidifier is easy to use. You will basically get a little sponge that you'll dampen with water, and when that water evaporates it will help with dry conditions and will help the wood from cracking and getting too dry.
I recommend D'Addario Guitar Humidifier which is available on Amazon around $5.
Tool Kit
If you are a guitar player, you already know that you need to have tools. When the time comes for you to change your strings, you can make the whole process enjoyable and fun. Instead of struggling with strings and spending hours on string changing. The kit comes with string cutter, winder, set of Allen's wrenches, polishing cloth, and even string screwdriver. There is everything you need to perfectly set-up your instrument.
While you can opt to get one of these items only as a separate tool, it is much better to get the entire kit to have everything in one place.
I recommend the GIGmate Guitar Tool Kit. It has all the tools you need for your guitar maintenance in a nice organizer.
Cradle Cube
You probably never realized that you need Cradle Cube until you saw one. They are incredible for those maintenance moments. Whether you are changing strings or doing full polishing, this will help you more than you can imagine.
Cradle cube is made to serve as a pillow for your guitar. You can be sure that it won't leave any dents or marks on the neck of your guitar since it is made from soft gel. Furthermore, it offers five different angles and heights for the guitar.
When you place your guitar on the table, simply use cradle cube as neck support and you'll see how easier everything becomes.
The best thing is that you can use it on any type of finish, bass, mandolin, guitar, and so much more. The time has come to stop using regular pillows, lap, or something that might damage the finish, and start doing it properly.
USB Audio Interface
If you are looking for a device that will allow you to record music at home, or simply to play the guitar without an amplifier, search no more. USB audio interface will allow you to plug your guitar in your computer and simply use an amp simulator.
Not only that you'll get an authentic tone, but you will have the option of picking your favorite amp and pedals. There are even ones that will allow you to record both vocals and guitar.
I recommend Focusrite Scarlett Solo USB Audio Interface which includes also Pro Tools. Everything you need to play and record with your guitar on your Mac or PC in one package.
Rocksmith + Real Tone Cable
Rocksmith will help you a lot with your practicing through your PC, PS3, or Xbox. Now, while Rocksmith is an alternative to a USB audio interface, what is different is that it is a video game.
If you ever played Guitar Hero, you will see some similarities. But the main difference is that you will use a real guitar. The software uses a special Real Tone cable that has a standard 6.35 guitar jack on one side, and USB on the other, so it's rather easy to use. Furthermore, you can simply get them together since they are usually cheaper than buying software and cable separately.
It is quite a good learning tool and if you are looking to learn how to play guitar through gaming and fun, this might be the right choice. You can plug any guitar since the only thing you'll need is a standard guitar jack. Of course, this works even with acoustic guitars if you have one with a pickup.
Finally, if you don't even own a guitar, you can get one along with the game. Creator of Rocksmith, Ubisoft, offers a guitar + video game package as well. You will get an Epiphone Les Paul Junior, adapter, game, along with 2 picks and a strap.
Pedals
Guitar players love pedals. There is nothing like changing the tone to some incredible sounds. We all know that famous wah pedal, and the best thing is that options are limitless. You can get delay, chorus, drive, overdrive, wah, and so many other pedals that it is so easy to get lost in all the possibilities.
They are easy to use, easy to carry, work on batteries, and they can transform the sound of your guitar as nothing else can. All the guitarists use them. So take your time, and find one you like.
What is best about them is that you don't need to stop at one. You can use as many pedals as you like.
Drive Pedal
you should get a decent drive pedal. Almost every type of music requires some sort of distortion you just have to pick the right one depending on the music genre you play. You will always have several options to choose from. Try to find the one that suits your needs and style.
The Boss DS-1 Super OverDrive pedal is THE pedal of all pedal. It has a warm natural distortion of a tube amp even if you don't have a tube amp with an excellent sustain.
Loop Pedal
One of the best pedals for both beginners and intermediate players is a loop pedal. Some delay pedals come with looper which is a great tool for practice. All you have to do is play whatever chord progression you like and hit the loop button. You will be able to create your own backing track and then play a solo over it as much as you like.
I recommend the BOSS RC-1 Loop Station. Boss is a well-known manufacturer for creating great quality pedals, and the loop station isn't an exception. It has an easy to operate functionality that is written on the pedal and a display to check the current loop mode.
Wah Pedal
you should probably get is wah pedal. Wah has been the most popular pedal for over 60 years. While there are a lot of signature pedals, they are all usually based on Dunlop's Cry Baby.
There is nothing like the original Dunlop Cry Baby. It has been the standard in the music industry for a long time and will stay this way for years to come.
Pedalboard
Naturally, it is good to have a pedalboard if you have several pedals. Carrying a backpack filled with pedals will create a mess. You will need lots of batteries, cables, and you will spend hours setting everything up before your gig.
Pedalboard will allow you to place all the pedals in a case, where all you'll need to do is plug the guitar. They usually come with a voltage source that will replace the need for extra batteries. Imagine having ten pedals and having to keep track of every battery inside every pedal.
This way, you will avoid using millions of cables and even more batteries. And the best thing is that pedalboards aren't messy.
I recommend the Ghost Fire Pedal Board. It is lightweight made of aluminum that can fit up to 10 pedals. In addition, you will get a nice waterproof bag to carry it with your pedals around.
Guitar Headphone Amplifier
If you live in an apartment with roommates or family, you know how hard it is to rock and enjoy playing guitar. It is no secret that we love turning that volume all the way up. Guitar Headphone amp will allow you to do just that without getting complaints from your roommates or neighbors.
This mini amplifier is rather easy to use. All you'll have to do is plug your guitar in it, and plug your headphones. This way you won't disturb anyone and you will be able to play as loud as you want. It is perfect for practice for both beginners and expert guitar players.
Vox has been the lead on headphone amplifiers for a long time. They offer 7 types of amps such as classic rock, clean tone, metal, etc'. Each with an amazing unique tone.
Headphones
While you probably already own some kind of headphones, it might be a good idea to get a decent pair if you are planning to play with a guitar headphone amp. Most of the guitar headphone amplifiers use a standard 3.5-millimeter jack, so you won't have much trouble finding the right headphones.
What you want to be careful about is quality. You don't want to go cheap here. There is nothing like hearing yourself play with the correct tones and being worried if they stop working next month or start buzzing.
I recommend Audio-Technica ATH-M50x. These are just THE best that you can get. sure there are quite pricy but their sound quality and the build is top-notch.
Earplugs
Wearing earplugs when playing is always a good idea. Whether you are at a rehearsal or play live on stage you should wear earplugs. The sound that comes from the amplifier is loud. And it is usually a lot louder than we can imagine. Playing without earplugs can cause permanent damage to your hearing and that is not something you should take lightly.
They are cheap and easy to use and you will benefit from using them. You should always think about safety and your health. By taking these, you will be able to rock as hard and as loud as you want without damaging your health.
I recommend Mack's Safe Sound Ear Plugs. They are made of super-soft foam and have a huge noise reduction of 32 decibels.
In-Ear Monitor
One of the best things that came with modern technology is the in-ear monitor. They work wireless, use batteries, and are amazing. If you ever played without monitors (or with bad ones), you know how hard it is to play. You can feel quite lost when you can hear properly what the rest of the band is doing.
This might be the best way to put an end to that. By getting an in-ear monitor you will be able to hear everything and never miss a beat. There are even headphones that are created custom for your ear so you won't even have to worry about whether they'll fit.
I recommend the MEE audio M6 PRO Musician's In-Ear Monitors. It is specially designed for the stage so you will be able to wear them for a long time. They are equipped with noise isolation and superior sound so you can hear what you play.
Conclusion
There are so many great and incredible accessories available in almost every music store. Naturally, it is quite hard to only name a few of them. Each and every one of them has a unique purpose and role to play.
Try to find the ones that suit your needs and your guitar playing the best. It is perfectly normal to experiment and try something new. All of the accessories are created to make your guitar playing a little bit easier and more comfortable.
And of course, some of them are simply a must-have for any guitar player out there.
If you found this article useful, you may want to save this pin below to your Guitar board.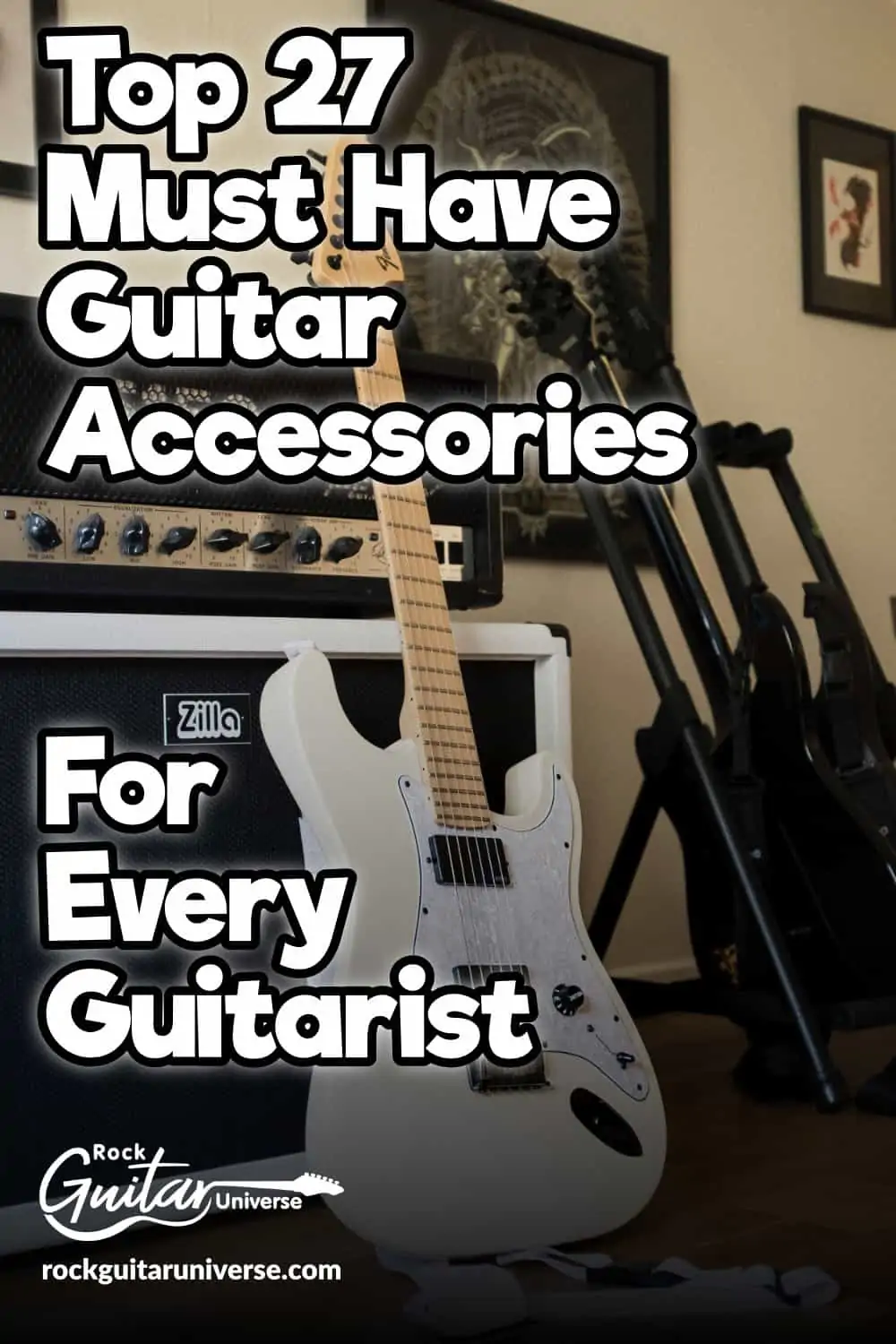 Last update on 2023-11-30 / Affiliate links / Images from Amazon Product Advertising API