Godin is a company that many see as one of the best on the market. There are so many different models, and the quality of these guitars can be quite impressive. At the same time, Godin managed to add something new to the world of guitars, and there are both acoustic and electric models available.
But where are Godin guitars made? All Godin guitars are made in North America. And this is one of many things that make the company so unique. All necks and bodies are made in La Patrie, Quebec. And after that, they are assembled in one of the six factories. Five of these factories are still located in Quebec, and one is in New Hampshire. 
And this is one of many reasons why Godin guitars are so popular. The quality of these models is exceptional, and you won't find a cheap model made in China with the name Godin on it.
Godin Guitars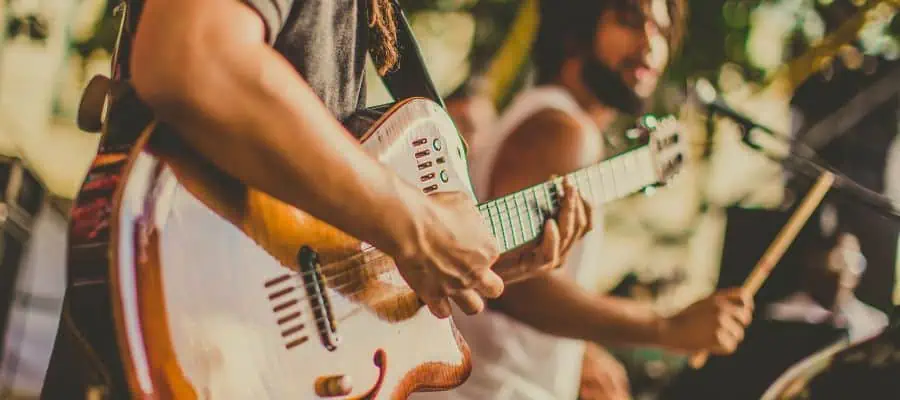 Godin Guitars was founded in 1972 by Robert Godin. It is a family-lead company, and the current CEO is Simon Godin. The company started offering both acoustic and electric guitars, but also basses, ukuleles, mandolins, and ouds.
However, that changed after a couple of years, and today, you can only find guitars and basses. One of the many interesting things about Godin is that the company itself doesn't offer affordable models.
But there are a couple of subsidiaries that aim to do just that. The first one is Art & Lutherie which offers budget models of acoustic guitars. For the next price range, there is Simon and Patrick, and if you are interested in classical guitars, you can check out La Patrie.
A wide price range is also covered by Seagull, and there are models ranging from entry-level to professional. And each of these companies is a part of Godin. As for Godin itself, the models are between mid-range and high-end.
Which means that you will have plenty of choices.
Where Are Godin Guitars Made?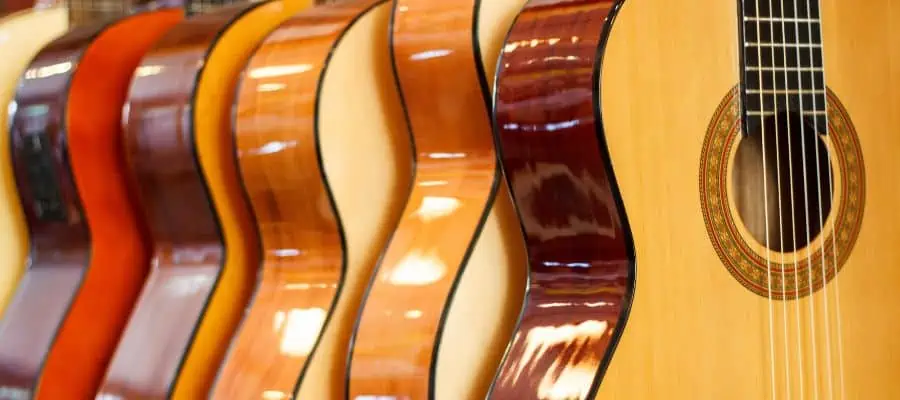 As mentioned earlier, all Godin guitars are made in North America. Bodies and necks are all made in La Patrie, Quebec regardless of the model of the instrument. After that, the parts are sent to one of six possible locations.
But even though Godin has six different locations, all are still located in Canada. Five factories are located in Quebec, while the last one is in New Hampshire. And this is a bit different from what other companies do.
These factories are only for assembling the instruments, and necks and bodies are made in the mentioned location. Furthermore, Robert Godin started his business in rural Quebec, and that's where the company remains to this day.
The headquarters or the main office of Godin is in Montreal.
Does It Matter Where Godin Guitars Are Made?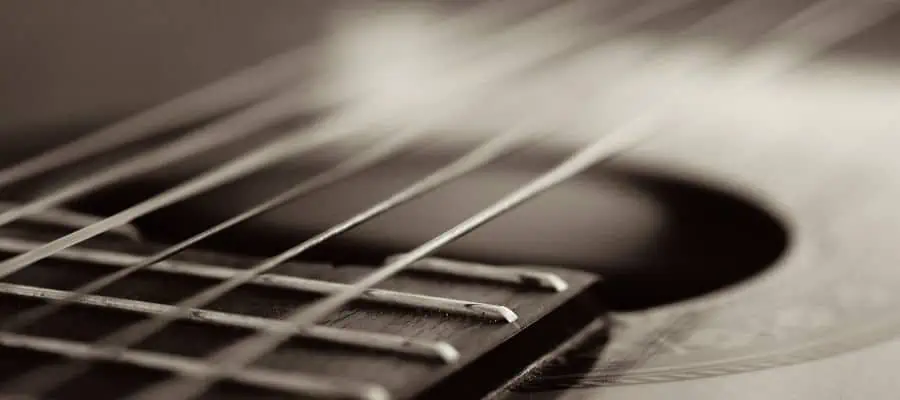 An interesting fact is that Godin is the largest manufacturer of guitars in North America. And every step of the process goes through one of the factories in Quebec or New Hampshire. This is one of many reasons why this is such a unique brand.
The company makes over 4,000 guitars each week! Naturally, this covers other brands such as Art & Lutherie, Seagull, Godin, and others. And since all of these guitars are made in Canada, the exact location of the factory won't play a role in the price or quality.
This is one of the rare moments where location is irrelevant. When guitars are made in different countries, you can expect a difference in quality and design. But with Godin, it is just another fun fact you can learn.
Unfortunately, this also means that you won't be able to find a super cheap version of Godin, and the only option is to go for other brands that are a part of this company. This includes Seagull, Simon & Patrick, Norman, Art & Lutherie, La Partie, and TRIC.
How Good Are Godin Guitars?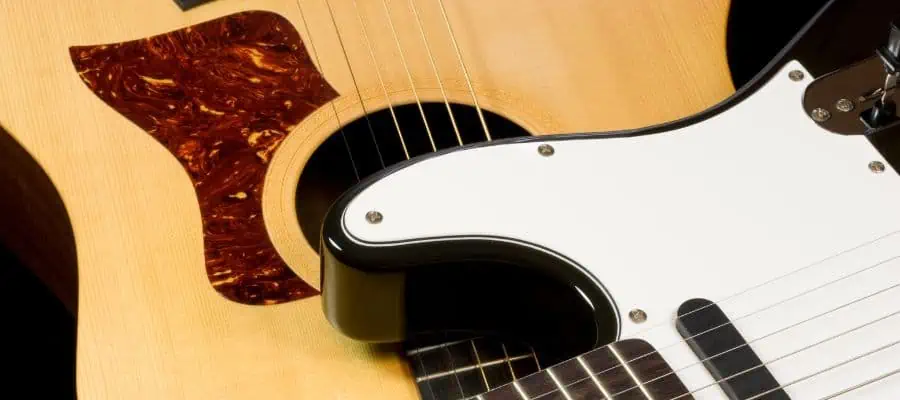 Godin guitars are one of the best ones you can find, regardless of the price range you pick. Even if you decide to go for a cheaper model, the quality of the woodwork will be more than impressive.
It is also worth mentioning that cheap Godin guitars are not cheap by all standards. They are still not entry-level instruments, and they are designed for more experienced players. As for the expensive ones, these are professional instruments that are top-of-the-line.
So, the answer to the question is – Godin guitars are incredible. And if you are looking for something a bit different than standard dreadnought guitars, Godin can be an excellent choice. A brand that is worth checking out.
Key Elements Of Godin Guitars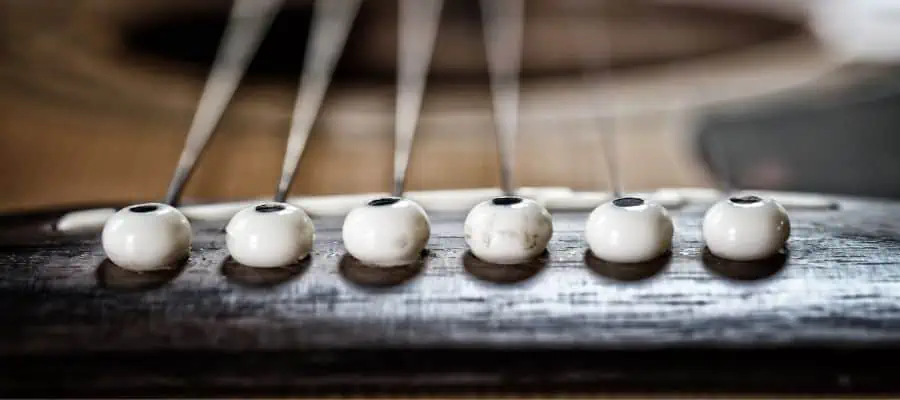 There are a couple of things that make Godin different from other brands. And in the majority of cases, you can spot a Godin guitar from miles away.
The Pickup System
One of the most recognizable things about Godin guitars is the pickup system and controls. Guitars that have an EQ system on them usually have them located on the side of the instrument. But Godin took a different approach.
The majority of models have all controls on the body above the neck. And this is one of many things that give these guitars a unique look. As for the pickups, models include popular brands such as LR Baggs, so the quality will be incredible.
Bodies
While bodies might look similar to what other brands offer, especially with electric guitars, there are enough nuances to make Godin unique. Acoustic guitars often have thinner bodies, cutaways, and curves.
And this includes classical guitars as well. It is not often that you encounter a classical guitar with a cutaway, and Godin offers just that. If you are someone who loves nylon strings, but just needs better accessibility, Godin is the way to go.
Of course, if you want something a bit more traditional, Godin offers those types of models as well. And this includes the ever-popular dreadnought guitar.
Materials
Every single part of Godin guitars is made in North America. All materials are from North America, and the quality is more than impressive. The workmanship is among the best ones you will encounter, which is why these instruments tend to be a bit pricey.
Among the materials, you will find mahogany, rosewood, maple, wild cherry, richlite, and many others.
Headstocks
The vast majority of Godin guitars have traditional headstocks. Needless to say, the classical models will differ from acoustic ones or electric guitars, but almost all of them have the three-three tuning machines configuration.
There is a series of electric guitars inspired by the Fender Mustang (or Stratocaster) that has all six tuning machines on one side. But these aren't as popular.
Versatility
Godin offers versatility. There are so many different models you can find, and there is a guitar for everyone's taste. As mentioned earlier, Godin has acoustic guitars, classical models, and electric ones.
And each of these categories has plenty of different versions. Whether you want a unique-looking guitar or something traditional, Godin will have a model just for you. Of course, the main selling point is still the quality of these models which is why so many professionals use Godin guitars.
Godin Guitars Models
It is time to take a closer look at some of the models Godin has to offer. The focus will be only on guitars that are released under this name, which means you won't find Seagull or other brands that are a part of Godin.
Metropolis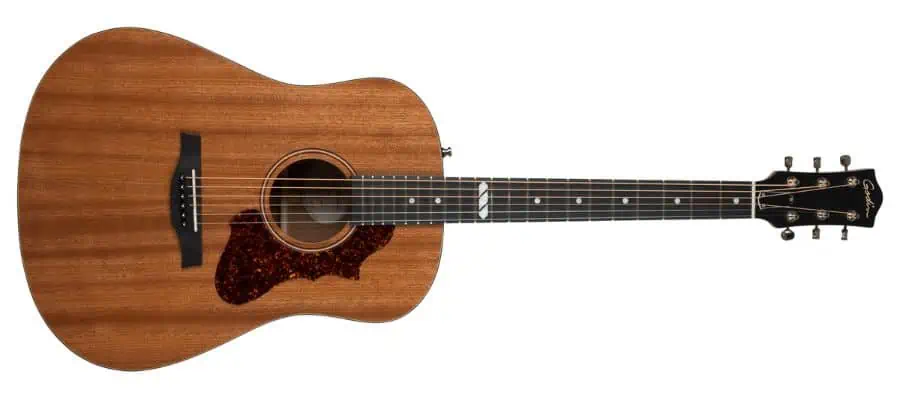 Metropolis is a series of acoustic guitars, and it is similar to standard dreadnought models. The model is available with a pickup, and the most common option is LR Baggs. As you can probably expect, there are different types available with their own wood combinations.
It is a great option if you are a fan of larger guitars such as dreadnought models.
Multiac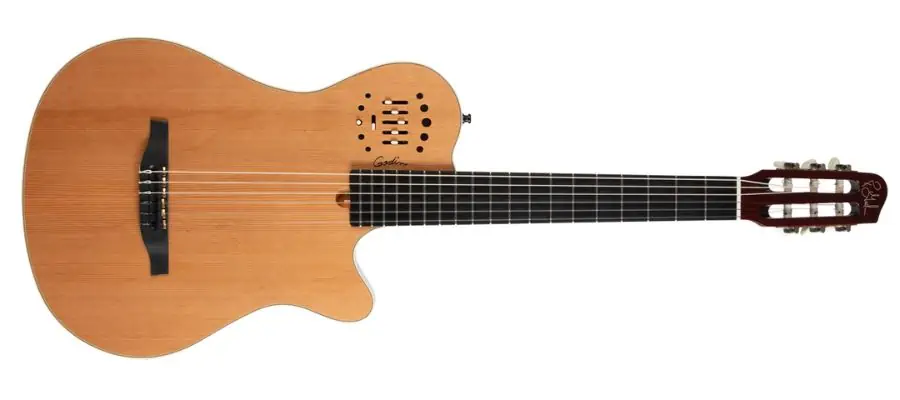 Multiac is a guitar with nylon strings, and it is one of many unique models Godin offers. This model is something you'd expect to see only in the Godin catalog. There is a set of controls on the top of the instrument, it has a pickup, and it is one of the most recognizable models.
These guitars are quite comfortable, and they are great regardless of your skill level.
Fairmount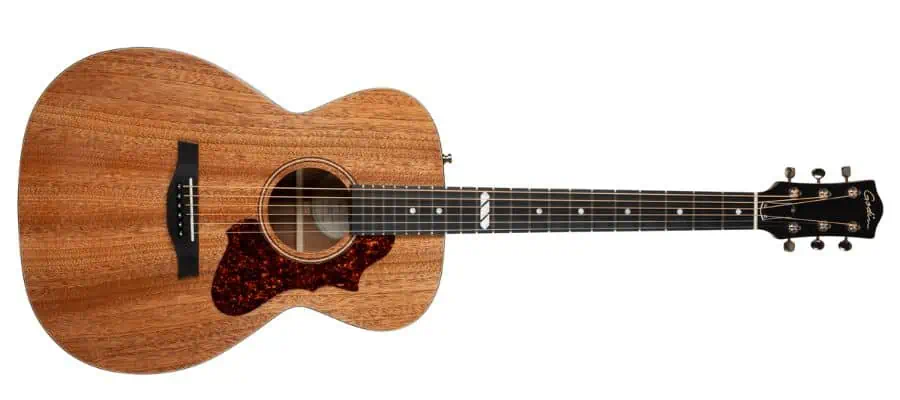 Fairmount is a standard-looking guitar, with more curves than the standard dreadnought. It is more similar to grand concert guitars, and there are several different versions available. Naturally, they are equipped with a piezo pickup, making it perfect for those performing live.
The models are more comfortable than dreadnought guitars, but they are still full-size models.
Rialto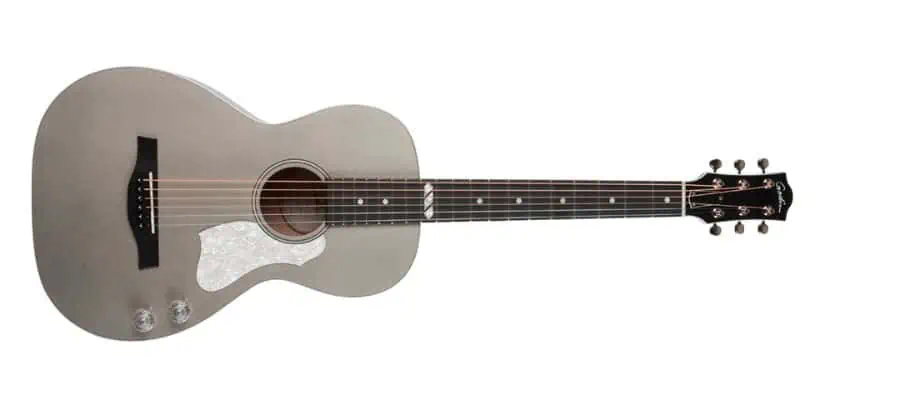 Rialto is a model similar to parlor guitars, and there are a few options available. However, this is not the most common option for Godin, and the series is not as versatile as others on the list. But if you are interested in smaller guitars, this can be a great choice.
If you like this model, you should know that it is also available in different sizes.
Arena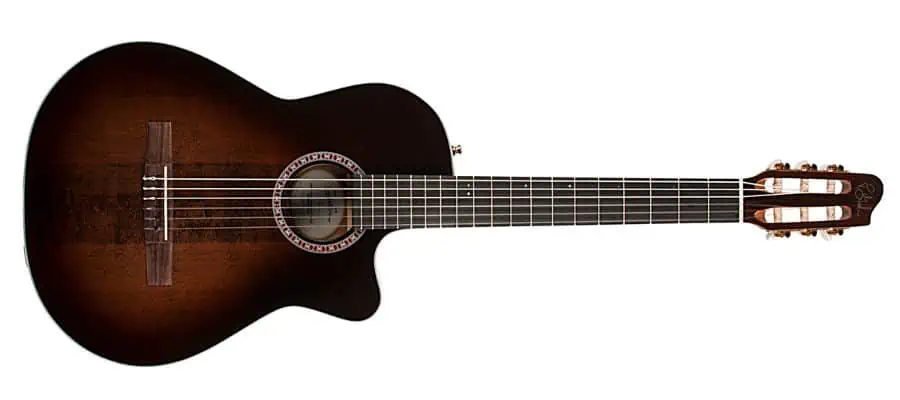 Godin Arena is a classical guitar with a cutaway, but it also has a soundhole, unlike some of the other series. It is a nice mixture of standard acoustic guitars and models with nylon strings. It is also equipped with a pickup system, improving the versatility of the instrument.
Arena models are a nice spin on the classical instruments, and they feel like a breath of fresh air.
Radium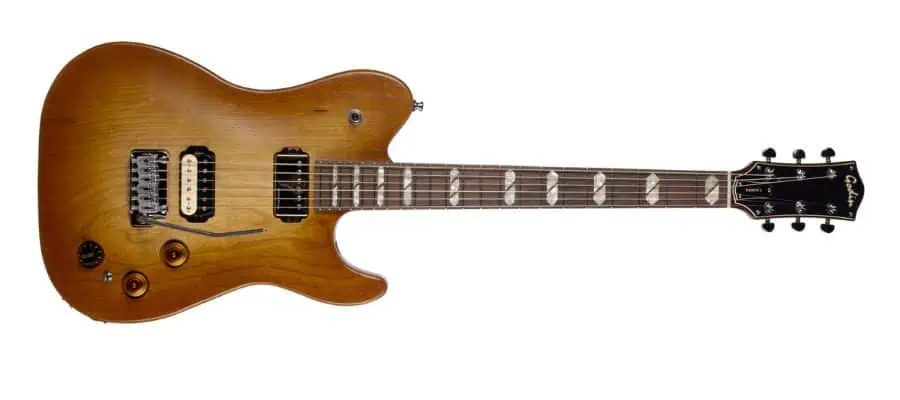 Radium is a solid-body guitar, and it looks like a combination of Stratocaster and Telecaster. There are several pickup configurations available, and you can get one with HH or HSH. It is up to you to pick which one suits your style more.
It is also possible to choose between a fixed bridge or a standard tremolo system.
Session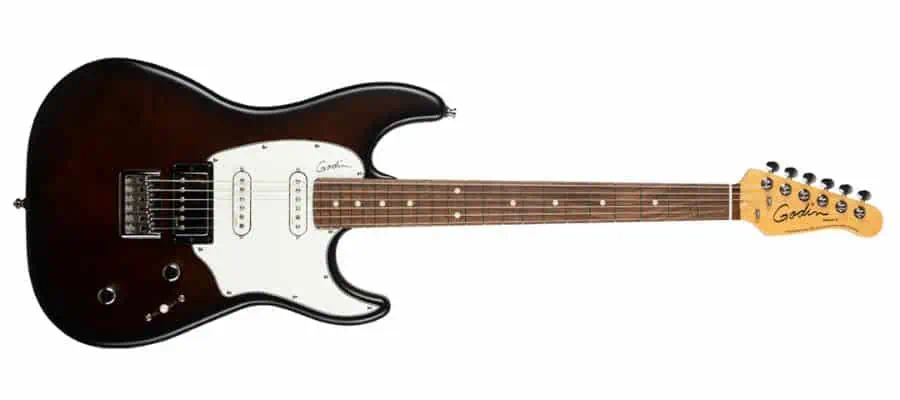 Godin Session is another solid-body instrument that is rather similar to the Fender Mustang. All Session comes with an HSS pickup configuration, and you can choose between Seymour Duncan or Godin-made pickups.
Whether you like hardtail bridges or tremolo systems, the Godin Session series offers both options.
Stadium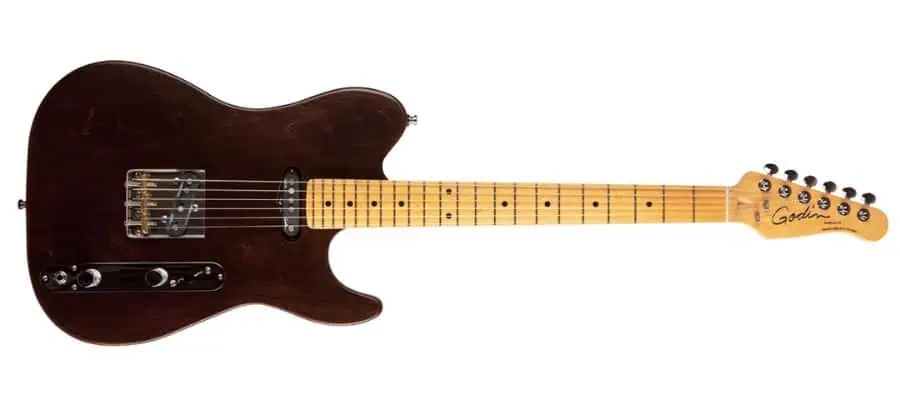 Stadium and Radium models are rather similar when it comes to the shape of the body, but the former comes with a pickguard and different pickup combinations. All of the models will have two single-coil pickups, making the guitar perfect for country or jazz.
The Stadium and Radium series offer interesting finishes, and they look quite good.
Summit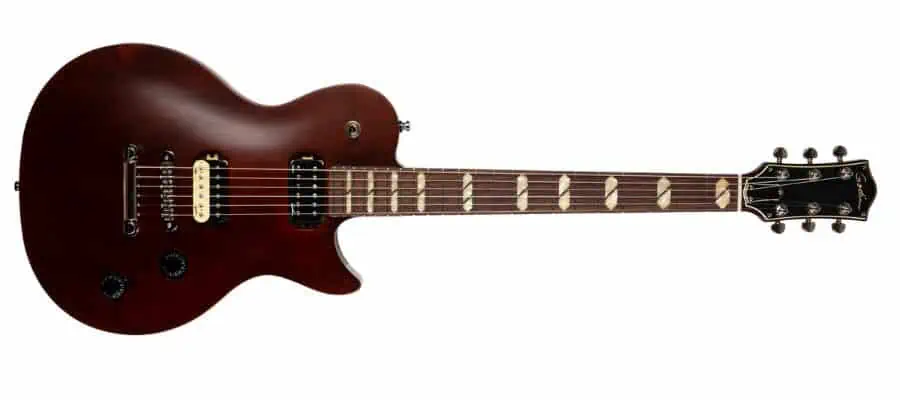 Godin Summit is similar to Gibson Les Paul, which means it is a solid-body instrument with an HH pickup configuration. There are a few different versions and models available, and they are equipped with Seymour Duncan pickups.
The simplicity of the design is what makes this series so great. Additionally, you can get a model with or without the pickguard.
Montreal
If you are interested in semi-hollow guitars similar to those Gretsch offers, Godin Montreal can be an excellent choice. These guitars have two humbuckers, and you can choose a hardtail version or one with Bigsby.
Montreal is also available as a part of the Premiere series, but these guitars can be quite pricey.
5th Ave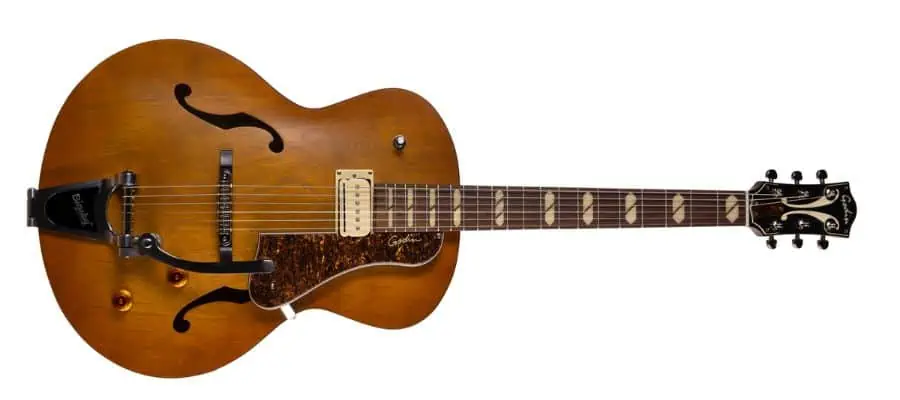 The 5th Avenue series is one of the most popular series by Godin. At least when it comes to semi-hollow electric guitars. The model has a traditional f-shaped hole, and it is available with either an HH combination or with a single humbucker.
These models are a great combination of traditional and modern. And they can be highly versatile.
XTSA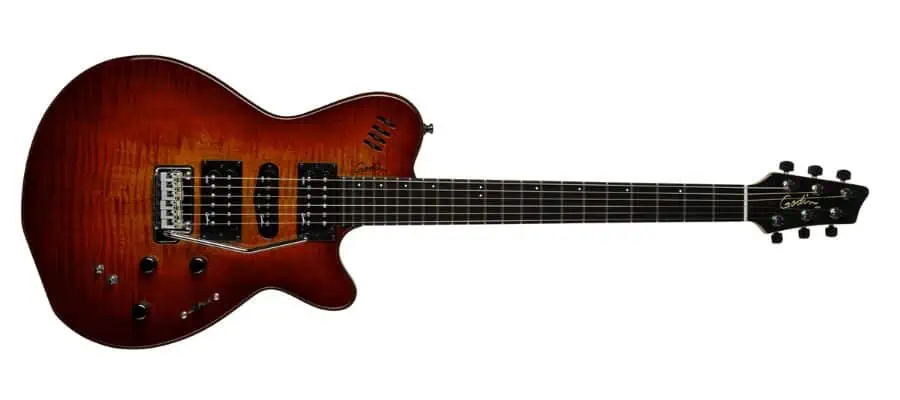 XTSA looks like a mixture of Godin acoustic models and solid-body guitars. It has additional controls on the body next to the neck, but also standard pickup selectors and potentiometers. The guitar is also equipped with a tremolo system.
One unique thing about the xtSA models is that they are a combination of synthesizer, acoustic, and electric guitar. And this will give you plenty of options to shape the sound.
The Price Of Godin Guitars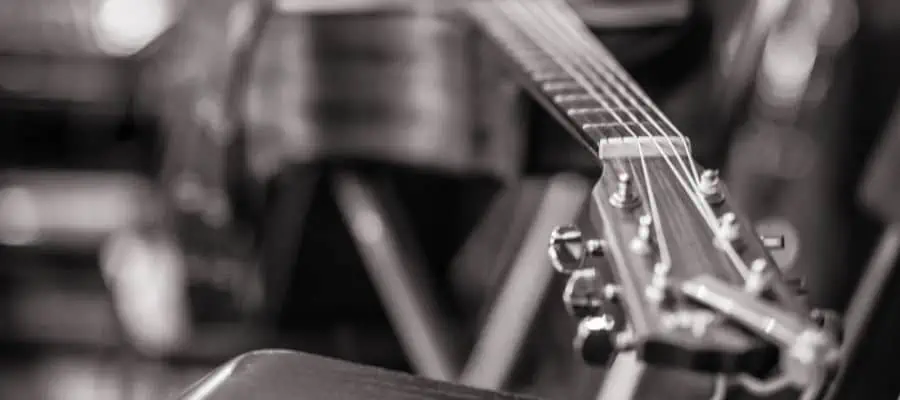 When it comes to the prices of Godin guitars, there are a few different price ranges. It's based on the model you pick, but even the cheaper ones are not affordable. These are not guitars for beginners or those looking for a budget option.
One of the cheapest options is the Fairmount series, but even these guitars are over $700. Arena models with a cutaway are over $800, and the prices of the 5th Avenue models start at around $900.
When it comes to electric guitars, series like Stadium and Session are around $1,300, and the prices can only go higher. There are models that are over $3,500, which only shows how expensive Godin guitars can be.
But if you can afford to get one of these models, you won't regret it. The quality is exceptional, and they are often quite unique.
Who Uses Godin Guitars?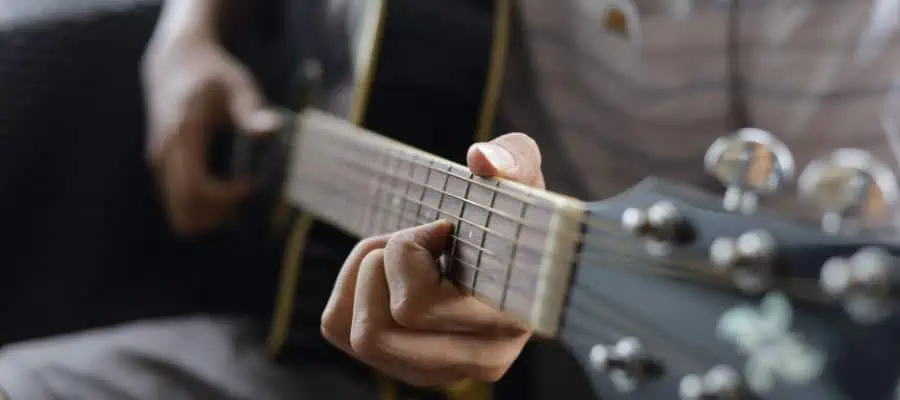 Over the years, many professional players have used Godin guitars. And this includes the following.
Godin also offers a few signature models, but they aren't as common as with other brands.
Does Godin Make Other Products Besides Guitars?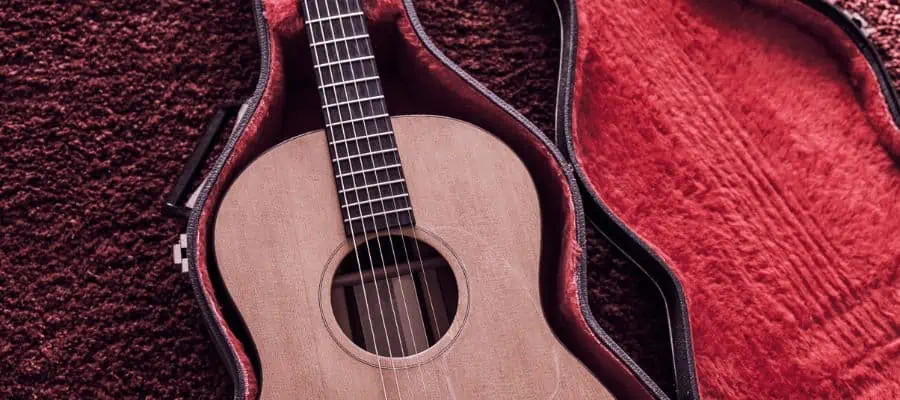 Godin offers a number of products besides acoustic, electric guitars, and basses. You can also find a couple of amplifiers that are designed for acoustic guitars, and accessories. These accessories include straps, cables, apparel, picks, stands, tuners, strings, guitar care packages, and so on.
You can also get parts for both acoustic and electric guitars, which can help if you want to upgrade your instrument. For example, you can get preamp systems, piezo pickups, or standard pickups for electric guitars.
And these are all the options Godin offers. Essentially, you can get amplifiers, accessories, and spare parts.
Conclusion
While Godin is significantly younger compared to other famous brands, it quickly became one of the biggest names in the world of guitars. The primary focus is on acoustic models, but you can find electric guitars as well.
Regardless of the model you choose, every guitar is made in North America. And every step of the process happens there. Godin has six factories, out of which five are in Quebec while one is in New Hampshire.
This is one of many reasons why Godin is so unique. But it is also the primary reason for the price. Godin guitars are far from cheap. And the most affordable models might be too expensive for some people. But if you can afford to buy one of these guitars, they are worth the price.
If you found this article useful, you may want to save this pin below to your Guitar board.