Keeping your guitar in tune is one of the most important things regardless of the type of instrument you have. If you want to have a good tone, you will need each note to sound perfectly right.
The main problem is that many guitars have issues with tuning stability. Sometimes, it is due to the lower quality parts (or instrument) or damage to the tuning machines.
Fortunately, fixing the problem can be quite easy. If you have a guitar that can't stay in tune, you might need new tuners. Naturally, there is a chance that other parts of the guitar are causing the problem, but if the issue is with tuners, it is something you can fix in no time.
Many guitarists are fond of locking tuners, and the stability that comes with it. If you want your instrument to have a consistent tuning, you might want to consider upgrading the tuning machines.
Fender Locking Tuners
Made of chrome
All in one row
Brushed or polished
Fender logo on each tuning machine
Comes in silver, gold, and black
High-quality
10.4 ounces (294.84 grams)
10.98 x 2.01 x 4.76 inches (27.89 x 5.11 x 12.09 centimeters)
If you are looking for great tuners for your electric guitar, Fender might be a perfect choice. Deluxe locking tuners are great for any Fender player, and it also means that you won't need to drill anything. Fender tuners perfectly fit any Fender guitar, and you can replace them in a couple of minutes.
The second important thing is that these tuners are for guitars with six tuning machines in a row. This means that it might not work as intended for guitars like Les Paul. Furthermore, there is a slight chance that you'll have to do some drilling to fit the new tuners if you don't have a Fender.
Using Fender's locking tuners is quite easy. All you need to do is pull the string through the hole, tighten the screw on the back, and lock the string in the place. Once you've done that, you can proceed to tune as with regular tuners.
The quality of these tuning machines is incredible, and they will ensure that your guitar stays in tune no matter what.
Grover 406C6 Rotomatic Locking Tuners
Locking tuners with mini buttons
Enclosed, without need for lubrication
Gear ratio 18:1
Silver or gold color
7 ounces (198.45 grams)
9 x 4.8 x 1.8 inches (22.86 x 12.19 x 4.57 centimeters)
Available in one row or three per side
Polished
Grover tuners are among the best ones you can find on the market. The company has been around for quite a while, and tuning machines are their specialty. It is more than obvious why many players opt for this very brand.
The best thing about Grover tuners is that you can find a model that's perfect for your guitar. This means that they design two of the most common types of tuning machines. Firstly, you can find tuners for headstocks that have a single row of tuning machines, and secondly the three per side combination that's similar to acoustic guitars.
For years now Grover has been one of the most popular brands for guitar tuners, and they can fit in almost any type of guitar. Of course, there is still a chance that you will have to do some drilling to ensure that the tuners stay in place.
When it comes to using them, the process is quite simple and it's similar to other tuning machines. Just pull the string through the hole, fix it, and tune it normally.
Schaller M6 Locking Tuners
Chrome locking system
Polished
6 left wings (on the same side), or three per side
Gear ratio 18:1
Silver color
12 ounces (340.19 grams)
6.3 x 4.8 x 2.76 inches (16 x 12.19 x 7.01 centimeter)
Another big name in the world of tuners is Schaller. If you are looking for incredible tuners, Schaller is the way to go. Since they aren't tied to a single guitar brand, you can find Schaller tuners for any type of guitar.
So, whether you have a Stratocaster or PRS, you can fit these tuning machines with ease. The company is from Germany, which means that these tuners offer incredible quality for the price. We all know how incredible German engineering is, and they ensured that each customer is satisfied with the product.
As I already mentioned, Schaller tuners are available in six in a row and three per side options. You can also find models with different buttons, so you can easily find something that suits your style and guitar.
Schaller is the company that is among the best choices if you are looking for locking tuners, and there are so many different models to choose from that you will undoubtedly find something that suits your needs.
Wilkinson E-Z-LOK Tuners
Single-row tuners
1:19 gear ratio
Silver color
Chrome plated
High-quality
8.8 ounces (249.48 grams)
4.33 x 3.15 x 1.18 inches (11 x 8 x 3 centimeters)
The main advantage of Wilkinson locking tuners is its price. You won't need to spend a fortune on them, and they can be a nice upgrade for your guitar. Naturally, if you have an expensive guitar, you might want to seek something better and more expensive.
But for entry and mid-range guitars, Wilkinson tuners are an excellent choice. Not to say that these tuners are bad, but the quality is not something that you can expect from Fender. Needless to say, the price is significantly lower and you'll be satisfied if you choose to get this model.
Tuners are suitable for any guitar that has one row of tuning machines, but you can also find other models that offer three tuners per row.
Furthermore, if your guitar has a modern 10 mm hole (25/64 inches), you won't need to do any additional work on your guitar. Otherwise, you can either expand the hole or find a model that suits your guitar.
Hipshot 6GLO Locking Tuners
Three per side configuration
18:1 gear ratio
Exposed mechanism
8.4 ounces (238.14 grams)
7.9 x 3.6 x 2.5 inches (20.01 x 9.14 x 6.35 centimeters)
Silver or black color
Chrome
Polished or matte
Hipshot is among the leaders in the field, and they make incredible locking machines. Here, I will mention the three per side configuration, but you can also find Hipshot tuners for Strat and Tele as well.
Each model is perfectly built, easy to use, and will keep your instrument in tune. Moreover, it is easy to install, and you might not even need a technician to help you. If you dislike the option with the exposed mechanism, you can also find models that are enclosed.
This configuration is, obviously, the best choice for people with Gibson guitars, or anything else that has a similar configuration. Tuning machines look great, modern, and are quite affordable. You can get yourself a set of tuners for a bit over $50.
As with other models, you should check the size of your existing tuners to see whether you'll need to drill the holes so new tuners can fit properly. Hipshot tuners are approximately 10 mm wide, which might be a problem for guitars with smaller holes.
Planet Waves Auto-Trim Tuning Machines
D'Addario Auto-Trim Tuning Machines - Locking Tuners for Guitars - 6...
AUTOMATICALLY CUTS EXCESS STRING WHILE TUNING: Trims excess string while...
EASY STRING CHANGES: The locking tuners make changing strings fast and easy
SMOOTH AND PRECISE TUNING: The sealed gear box with lubricated gears...
UNIVERSAL FIT: Fits most 6-in-line electric and acoustic guitars without...
In-Line format
Chrome
Silver, black, or gold color
18:1 gear ratio
Modern design
7 ounces (198.45 grams)
4.02 x 2.01 x 5.98 inches (10.21 x 5.11 x 15.19 centimeters)
Planet Waves has been among the most popular brands when it comes to accessories. They make great cables, straps, and nearly anything else. It doesn't seem strange that their product is on this list.
D'Addario, which is the parent company of Planet Waves, has been a go-to brand for many guitar players across the globe. And now, you can get tuning machines as well.
The model I will talk about here is for the Strat and Tele type of guitars, but as always, you can find tuning machines for Les Paul type of headstock as well. Furthermore, you can pick between black, gold, or silver depending on your style and color of your guitar.
These are excellent tuners, and they are in the medium price range. While there are tuning machines that are more expensive, this is a middle ground that will bring new life to your guitar. As with any other entry on the list, you can lock the strings when you change it, and it will help you stay in tune for a significantly longer period of time.
Finally, there is a chance that you might need to expand the holes on your headstock, based on the type and model of the guitar. If this is the case, you might want to leave it to professionals to avoid damaging your guitar.
Gotoh Locking Tuners SD90 – 3 Per Side
Vintage design
Three per side configuration
Nickel
1:15 gear ratio
Pearloid buttons
Made in Japan
Vintage 11/32 inch (8.8 mm)
15.2 ounces (431 grams)
6.1 x 2.5 x 1.7 inches (15.5 x 6.35 x 4.32 centimeters)
Gotoh offers a vintage design that looks incredible and will improve the looks of your guitar. There are three left and three right-side tuning machines, and they will fit nearly any Gibson and Epiphone guitar.
However, due to the size of the shaft, the tuners won't fit modern designs with 10 mm holes. So, if you are a proud owner of Les Paul, you might want to do some measuring before you buy this model.
Since these tuning machines are made in Japan, you can be sure that the quality is incredible. Furthermore, SD90s offer vintage design, using more traditional materials that you might have seen on older guitars.
This means that they are nickel-plated and buttons are pearloid instead of regular metal ones. As a result, you will get vintage looking tuning machines, without the need to sacrifice your tuning stability.
As all entries on the list, these tuners are easy to use, but you might want to be careful while installing them to avoid damaging your instrument. Naturally, Gotoh also makes tuners for In-Line configuration, so if you are interested in their models, but need something different, you're in luck.
Sperzel 3 Per Side Locking Tuners
High-quality tuners
Well-known brand
Chrome plated
Modern design
Black or silver color
8.8 ounces (249.48 grams)
7 x 5 x 2 inches (17.78 x 12.7 x 5.08 centimeters)
Sperzel is another great company that specializes in designing tuning machines. But that's not all. It is the first company ever to design locking tuners, so you can be sure that they know what they're doing.
These are among the best tuning machines you can find on the market, and they are suitable for any guitar that has three per side configuration. However, the main problem is that you might need to drill additional holes or expand the pre-existing ones.
If you are looking for a great product, you need not look farther than Sperzel. This model is, of course, great for any guitar that has a configuration similar to Gibson, but if you are a fan of the brand, you can easily find Sperzel tuning machines with in-line configuration.
Tuning machines are easy to use, and all you need to do is put the string in the hole, and turn the knob (or a screw) to tighten it. Once the string is secured, you can tune it and you'll be ready to go.
Graph Tech PRL-8341-B0 Locking Tuners
Graph Tech Electric Locking 3+3 Vintage 2 Pin Chrome
Electric Locking 3+3 Vintage 2 Pin Chrome
"The PRL-8341-B0 is a set of Ratio Locking Tuned Machine Heads for an...
It has a vintage shaped button, has a two pin casing and is finished in...
Now includes InvisoMatch Standard Mounting Plates for easy installation
Vintage design
Three per row configuration
Chrome
Silver color
Unique gear ratio
Two-pin casing
14.6 ounces (413.9 grams)
4.25 x 4 x 2.1 inches (10.8 x 10.16 x 5.33 centimeters)
Graph Tech managed to create something different and unique that many players adore. The idea behind their models is to provide more precise tuning, and it is achieved through a custom gear ratio.
Each tuning machine has its own ratio, and it is approximately one turn per full tone. Needless to say, the accuracy of these tuning machines is out of this world, and if you are interested in new tech, you will love the Graph Tech model.
The main downside of these tuning machines is the price. It is, undoubtedly, in the higher price range since these models can cost over $100.
Ratio tuners work incredibly on Les Paul and other guitars that have the same tuner configuration. They are easy to install, and they work like a charm. Moreover, the Ratio tuners add that special vintage look to your instrument, and that's something that many players will enjoy.
If you are looking for a new tech wonder, and are willing to spend a bit more Graph Tech tuners are an excellent option. Even though they are a bit pricey, they certainly prove their worth and will keep your instrument in tune.
PRS Locking Tuners
Modern design
Three per side configuration
Chrome
12.8 ounces (362.87 grams)
4 x 4 x 6 inches (10.16 x 10.16 x 15.24 centimeters)
Even though Paul Reed Smith guitars are still among the newest additions on the market, there is no doubt that they are incredible. If you own one of the incredible PRS models, you might want to consider upgrading the tuning machines.
This doesn't mean that the original turners are bad and won't keep your instrument in tune, but some players simply prefer having locking tuners on their guitars. If you are one of many players that own a PRS and are looking for an upgrade the choice is more than obvious.
Why bother with other brands when you can find a set of turners designed specifically for your guitar. This means that you will be able to replace the tuning machines in no time, and there will be no need for drilling or any additional woodworking.
Of course, if you have any other guitar with a three per side combination, you might need to adjust the headstock before you can install the tuners. While I don't recommend doing it, it is still something you can try out if you like PRS models.
Finally, locking tuners are easy to use, and they will do wonders for your guitar. You won't need to worry about tuning instability, and they look quite good.
Things To Know Before Buying Locking Tuners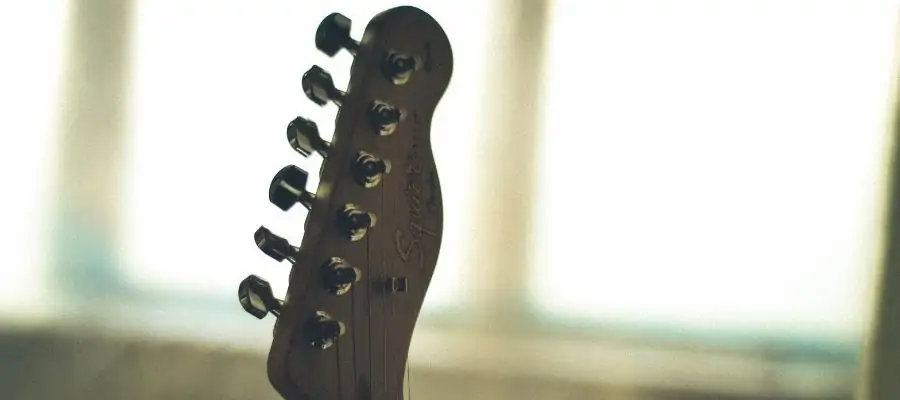 If the only reason why you're looking for new tuners is tuning instability, you should know that tuning machines aren't the only source of problems. Every part of the guitar that touches the string can cause problems with tuning.
This includes the nut, bridge, frets, and, of course, tuning machines. So before you start replacing your tuners, you should ensure that the problem is actually in them, and not in any other part of the guitar.
The second important thing you should consider is the type of guitar you have. More precisely, the configuration of the tuners. If you have an in-line configuration, where all six tuners are on one side, then you should get appropriate tuning machines.
If you buy three per side tuners, you might have problems with installation, and there is a chance that they won't work properly.
Furthermore, I already mentioned that tuners have different dimensions. This means that there is a chance that your new set of tuners won't be able to fit the existing holes on the headstock. If this is the case, you will have to make a decision.
Whether you want to drill the holes in your guitar so new tuners can fit, or you want to try and return the new tuners and buy ones that are fitting for your instrument. To avoid having these problems, the best possible thing you can do is measure everything before you start searching for the tuners you like.
This way, you will avoid unnecessary woodworking, additional costs, or damage to your instrument.
Alternative Designs
While most guitars have either six in-line or three on the side configuration, it is worth mentioning other possibilities. For example, there are differences between in-line configurations as well.
If you have a left-handed guitar, you will need to search left-sided tuning machines. While it might not seem like a big deal, you won't be able to properly mount right-sided tuners without drilling additional holes.
Moreover, guitars like Music Man often have a 4 plus 2 combination that requires a unique set of tuners. Here, you will need four regular tuners and two left-sided ones. One of the possibilities is to buy each tuner separately or to find a manufacturer that designs these unique combinations.
Locking Vs Non-Locking Tuners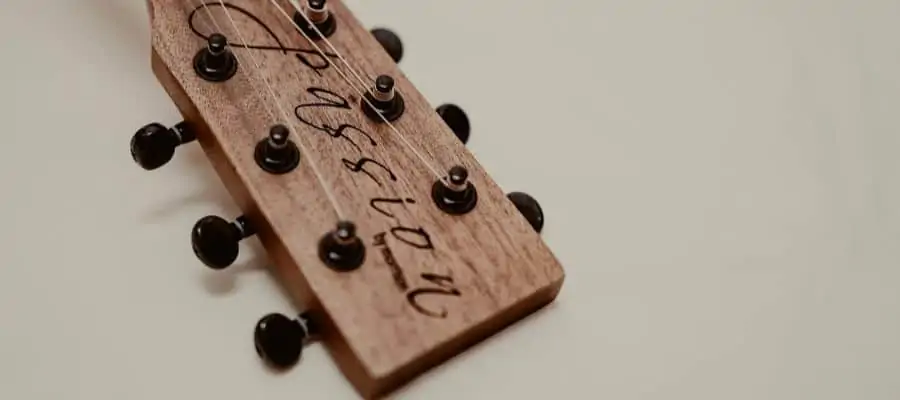 Since tuners won't really affect the tone of your guitar, the main question many players have is whether they need locking tuners. Some people enjoy having locking tuners. They love the fact that they can easily replace strings, and everyone loves improved tuning stability.
So, the choice is yours. On one hand, you will get new tuners that will keep your instrument in tune, and you will spend a lot less time restringing your instrument. There are actually no downsides at all.
The prices of both tuners are nearly identical, and you won't need to spend more to get ones that can improve your tuning. So, the answer is obvious. If you are looking to replace your tuning machines, and if you enjoy having the locking ones, then you should get them.
Today, you can find locking tuners that have a vintage design, and you won't need to sacrifice the looks of your guitar. Since the price is almost the same, getting the model with more options seems like an obvious choice.
Of course, if you have regular tuners that keep your guitar in tune, there is no reason to upgrade anything or replace them with the locking version.
Summary
Locking tuners can be so much fun. They look great, and they will ensure your guitar is always in tune. There are many different models available on the market, and you should consider a couple of things before you buy one for yourself.
Firstly, the most important thing is the configuration of your locking tuners. There are two most common options when it comes to tuners. The first one has all six tuners in line as on Fender Stratocaster, and the second one is similar to acoustic guitars where three tuners are on each side.
Based on the type of guitar you have, you will buy one of the two options. Naturally, you will need to determine your budget as well since tuners can cost between $25 and $120.
Finally, you should find something that suits your instrument. This can be related to design, color, or style. When it comes to brands, there are a couple of them who are proven to be the best in the business.
If you are looking for the best possible locking tuners, you should check out Schaller, Fender, Gotoh, Grover, Wilkinson, and Sperzel.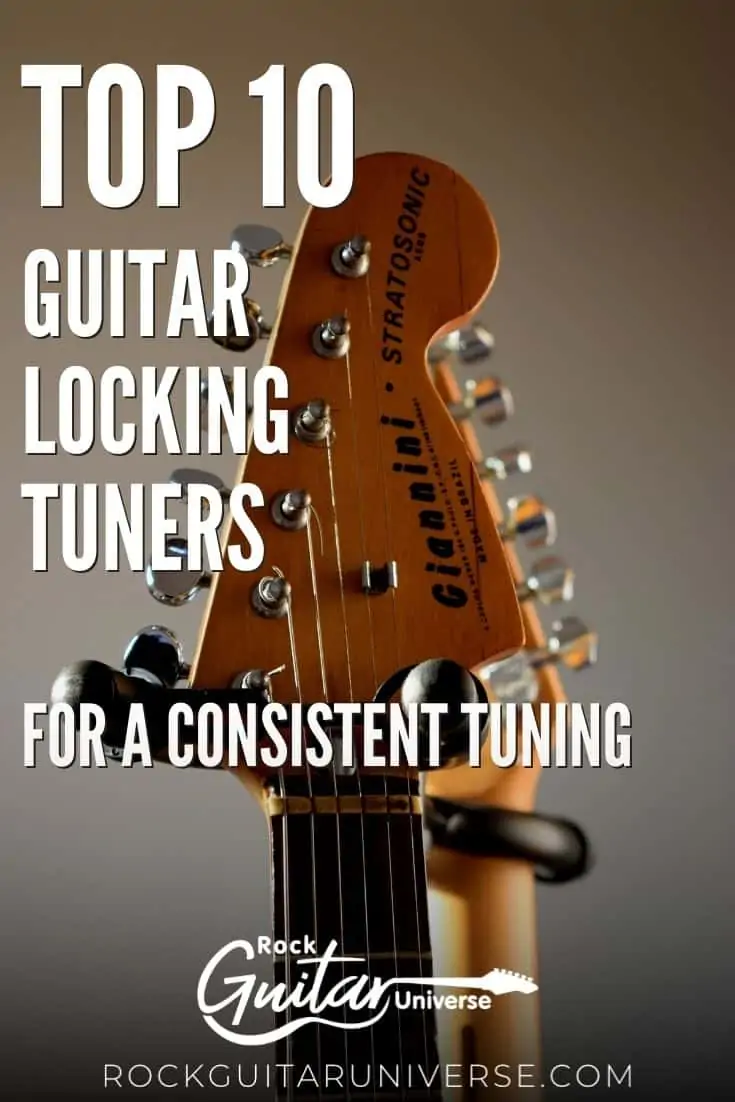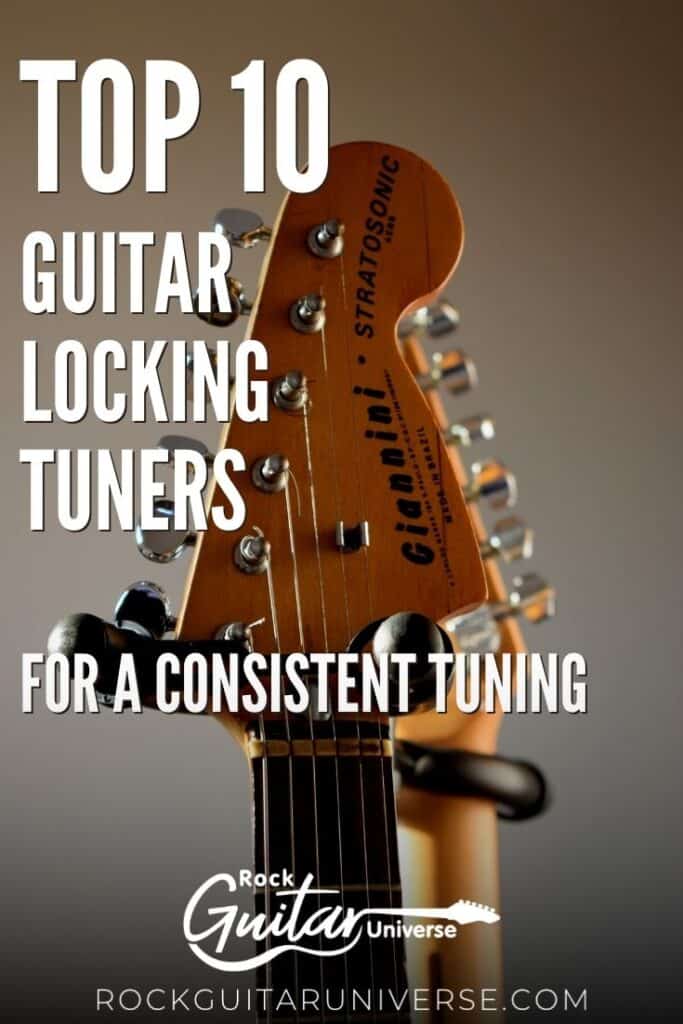 Last update on 2023-05-29 / Affiliate links / Images from Amazon Product Advertising API