As the internet has become a crucial part of our lives, you might wonder why you would use books instead of videos or websites to learn how to play guitar. Books are the old-school way that gives you the space and time to focus on playing and learning without constant ads, pop-ups, and any kind of distraction that can break your concentration.
Also, you can use books anywhere you want, unlike guitar websites. With or without signal, you can learn from a book without worrying about charge, electricity, signal, or whatever. There are many books for every player, from beginner to advanced players, that can widen your perspective and teach you crucial stuff. Remember, there is never an end to learning.
Top 10 Guitar Books For Beginners
"JustinGuitar Beginner's Course" – Justin Sandercoe
JustinGuitar Beginner's Course by Justin Sandercoe is a great source for acoustic and electric guitar students. With its website and Youtube channel, Justin has been one of the most famous and successful guitar learning sources throughout the years, and now all the information there is summarized in a physical book.
Justin is a great teacher who created a method by analyzing the problems most beginner guitarists struggle with. He found out the issues were all similar, and he made the correction and prevention of these issues the main focus of his method.
There are nine stages in each course, and each course contains a practice routine and ear-training exercises. The book also has a CD to demonstrate each technique, chords, and exercise. You will learn all the necessary data to get you going on your guitar journey, from reading tabs to choosing the right amps, accessories, guitar, and any kind of gear, as well as all the necessary techniques and tricks to play guitar.
"Teach Yourself to Play Guitar: A Quick and Easy Introduction for Beginners" – David Brewster
Teach Yourself to Play Guitar: A Quick and Easy Introduction for Beginners by David Brewster is another great book on guitar playing methods written by the touring guitarist David Brewster, who has written for Guitar Player and Premier Guitar releases. The book consists of graphics and photos with explanations of each technique, chords, and exercise.
The book is ideal for absolute beginners who know basically nothing about guitars. The book introduces you to the guitar world amazingly with basic explanations and minimum information to avoid confusing you. It is a great starting point for newcomers to grab the guitar and start playing with the basic information.
Of course, it is not a book for experienced guitarists, and beginners will have to change to another book or resource to progress with their technique. But if you want to step into the world of learning guitar and looking for a place to start, this book is a perfect choice.
"Guitar for Absolute Beginners" – Daniel Emery
Daniel Emery's Guitar for Absolute Beginners is a comprehensive guitar learning guide created for total beginners as well as experienced guitarists. So, the book takes you from scratch and guides you on the way to becoming a proficient guitarist. As the founder of the New York School of Guitar, the author, Daniel Emery, is a great teacher that teaches you everything from "What is a guitar?" to playing impressive solos.
The book takes you on a 10-week journey with guitar class exercises, explanations, and theoric knowledge. There is also a dedicated YouTube channel that the book refers to for the students to watch the videos of written explanations in the book. So everything gets easier, faster, and more basic thanks to the help of videos.
Another significant aspect of the guitar is the funny approach of the author. So you never get bored and get motivated to play more and more.
"Idiot's Guides: Playing Guitar" – David Hodge
The Idiot's Guides: Playing Guitar by David Hodge is an educative book with plenty of information on guitars and how to play it. David Hodge is an authoritative teacher who wrote for Acoustic Guitar magazine and is a well-known guitar and ukulele teacher in Massachusetts.
The book comes with an accompanying online audio source to make the exercises and explanations easier to understand for students. The book's approach is friendly and is more suited for complete beginners. It explains the complicated theories and techniques in a simple way to make them easier to understand and apply for students. The book focuses strongly on rhythm as it is the most important aspect of music.
"Guitar Book for Adult Beginners" – Damon Ferrante
Guitar Book for Adult Beginners by Damon Ferrante is a great study book with systematic lessons accompanied by videos for a complete learning process. Damon Ferrante is a popular guitar teacher with years of experience in explaining complex music theory and concepts in a basic and simplified way.
The book keeps all the instructions and explanations simple and engaging for students to not get overwhelmed. It is suited for novice players, and it takes guitar students to the point of having a solid foundation with a basic understanding of chords, elementary music theory, basic guitar techniques as well as common scales.
There are also lessons for some famous songs such as Scarborough Fair and House of the Rising Sun. So, it is a great source for hobbyists and novice players.
"Guitar Chord Bible" – Phil Capone
Phil Capone's Guitar Chord Bible focuses more on the chord shapes and is considered a chord encyclopedia. It is a great source for students to enrich their chord vocabulary and is an essential book for all guitarists. The author, Phil Capone, is a regular writer for the famous Guitar Player magazine and saw the need for a chord encyclopedia and decided to create one.
The book serves for slightly experienced guitarists as well as beginners to learn new chords and apply them when they play songs. For example, when you are trying to play a song, and you encounter a chord that you are not familiar with, you can find that chord in the book to learn about it and play it. You can also look at alternative shapes of that chord to play it in an easier position.
With great diagrams of any chord and handy information, Guitar Chord Bible is a great source that needs to be on the shelves of every guitarist.
"The Best Guitar Book for Beginners: How to Read Music 1" – Dan Spencer
The Best Guitar Book for Beginners: How to Read Music 1 by Dan Spencer shows the students everything they need from scratch to build a solid foundation. The book has everything a beginner guitarist needs, from the reading tabs to names of the strings, from rhythm patterns to chord shapes to basic melodies.
With great diagrams, drawings, more than 115 videos, audio examples, and songs to play along with, this source is much more than just a book. After you complete the book, you will be in a place where you can read and play songs in sever keys with accidentals, ties, dotted notes, chords, rests, and everything you need to know.
There are also extra features for students, such as the speed checklists to track your progress. The book enhances your music reading skills, techniques, chord repertoire, musical theory knowledge, and advanced technical skills such as mute strings and finger rolls.
"Acoustic Guitar Primer Book for Beginners" – Bert Casey
Acoustic Guitar Primer Book for Beginners by Bert Casey is a great book for acoustic guitar students as it teaches you everything through online video and audio accompaniment. The step-by-step method is great for beginners as it simply shows how to play the guitar with solid lessons in each step.
The book teaches you guitar parts, proper playing positions, and how to read tabs, chords, as well as strumming patterns which are all crucial for the acoustic guitar playing journey. Later it also teaches you advanced skills and some songs to play. There are 18 songs in total that are shown at 3 different speeds and play-along versions.
The songs include famous names such as Tom Dooley, Worried Man Blues, Roll In My Sweet Baby's Arms, Dark Hollow, Amazing Grace, Pallet On Your Floor, Way Downtown, Wabash Cannonball, and others.
"Teach Yourself Visually Guitar" – Charles Kim
Teach Yourself Visually Guitar is one of the most recommended books for novice guitarists as it puts satisfying playing experience as the primary goal. Charles Kim is the author who is a member of Chicago's Old Town School of Folk Music, the most famous and largest community music school in the U.S.A.
The book features diagrams, photos, graphics, and everything the students need to learn the necessary info. It starts with basic tuning, posture, and three essential chords to play basic songs. So, with this book, you learn while you play some songs, melodies, and fun parts in each step, which makes guitar learning more fun and simpler.
"Guitar All-In-One for Dummies" – Jon Chappell
Jon Chappell's Guitar All-In-One For Dummies is one of those great books that simplify the complex theory and techniques for everyone to understand and play guitar easily, even without any musical knowledge or experience. Jon Chappel is a touring guitarist and is the former editor of the renowned Guitar Magazine, so your teacher is a 100% trustable guitarist that can teach you the basics properly.
The book has a massive amount of info, but they are all converted in a way that is easier to digest for readers. Plus, the audio and video accompaniment that can be accessed online makes everything easier and faster for the students.
Although the book starts explaining things from scratch, it also has some advanced lessons for experienced guitarists. It is a great guitar guide that summarizes and explains everything easier without getting into the deep, complex theory to confuse and bore the newcomers.
Top 10 Guitar Books For Intermediate
"The Guitar Handbook: A Unique Source Book for the Guitar Player" – Ralph Denyer
The Guitar Handbook: A Unique Source Book for the Guitar Player by Ralph Denyer is a comprehensive book considered a guitar bible. It has 256 pages full of classic text with diagrams, graphics, images, and different materials to help the students.
The Guitar Handbook features materials for electric as well as acoustic guitars. As an old-school book, it was highly popular in the 90s, and most teachers were following this book as a guide in their lessons. Today it is still there with updated content. With information about guitarists, styles, equipment, and a chord library, it is a must-have guitar book for students.
From the detailed instructions and information on construction, electronics, and how to set up a guitar to twenty innovative techniques of legendary guitarists, the book covers more than everything you need to know to become a proficient guitarist.
"Hal Leonard Guitar Method" – Will Schmid and Greg Koch
Written by Will Schmid and Greg Koch, Hal Leonard's Guitar Method is another significant resource introducing basic anatomy to students. It starts by introducing the students to two different chords, which can be used to play many songs, as the book shows. So you learn to play songs in each step which motivates the students by showing them the results of their practices.
The book also focuses on the rhythm sections in greater detail compared to other books. As rhythm is crucial for music, the book focuses on building a solid rhythm foundation in students. Another interesting fact is that the book does not use tabs but classical music notation. It makes thighs slightly harder for most guitarists, but if you are interested in classical pieces, this can be a huge help.
"The Guitar Grimoire: The Exercise Book" – Adam Kadmon
The Guitar Grimoire: The Exercise Book by Adam Kadmon is a densely-packed guide of exercises for guitarists with a bit of experience to take their playing skills to another level. It is not a complete guide to playing guitar and is not really suited for absolute beginners. The author, Adam Kadmon, also has the book called Guitar Grimoire for students who finish this book and want to advance more with their skills.
The exercises in the book help you increase your dexterity, technique, and stamina significantly. It may be boring for some guitarists to play exercises, but they play a key role in progression. The exercises are written in the tablature method.
The book also features a DVD if you are more of a visual learner. In short, it is a great book to follow and practice with to increase your guitar playing skills.
There is also an available DVD.'The Guitar Grimoire exercise book is exhaustive. It will be the last guitar exercise book you will need for a long, long time. The entire Grimoire series is for the beginner interested in playing lead guitar.
"Complete Technique for Modern Guitar" – Joseph Alexander and Tim Pettingale
Complete Technique for Modern Guitar by the authors Joseph Alexander and Tim Pettingale is not a complete method book but a great supplement that you can combine with any method. The method books teach you what and when to play, while these kinds of supplement books show you how to play. The authors are amazing teachers as Joseph Alexander is a renowned instructor while Tim Pettingale is an impressive jazz guitarist and jazz guitar book writer.
The book features 200 exercises that focus on improving precise timing and dexterity. The book also has audio available for download to demonstrate the exercises. The book is a great source of exercises that you can practice to become a better guitarist.
"Fretboard Logic SE" – Bill Edwards
"Fretboard Logic SE" by Bill Edwards is the best overall guitar book, which helps the students to understand the "how's" of guitar playing. It focuses on how guitar playing actually works and how notes on the fretboard and notes in unique tunings work together to teach the students how to fish instead of giving them fish.
That is why the book can be confusing for some guitarists, but with the help of diagrams, images, and great explanations as well as instructions, you can learn to be a complete guitarist with tremendous knowledge thanks to this book.
First, the book focuses on pattern organization of the fingerboard; then, it teaches the tone groups of music such as chords, scales, arpeggios, etc. These two parts take even years to master fully, but the book shows you the most important ones you need to know and how you can navigate when in different scales, keys, and tunings.
"Guitar Aerobics" – Troy Nelson
Guitar Aerobics by Troy Nelson is another great supplement book that is an amazing practice companion. The Guitar One magazine chief editor Troy Nelson created a great practice book that gives you one exercise at a time for you to master different techniques each day.
It is not a method book that covers all aspects of guitar playing but rather just a simple exercise book. However, the audio accompaniment helps you develop your technique as well as your rhythm with amazing exercises.
The book serves guitarists with the basics of guitar playing and music theory. So you need to be familiar with chords, scales, modes, and basic techniques to use this book as a practice guide.
"Complete Acoustic Guitar Method: Intermediate Guitar" – Greg Horne
Complete Acoustic Guitar Method does a really good job of introducing different acoustic guitar playing styles. From Bluegrass to Delta blues. This helps you widen your repertoire and sink new picking patterns and techniques into your playing. The exercises presented in this book are easy to grasp with the audio material but could be more of them in the book. Still, there are enough exercises to help you get familiar with different styles.
Book also teaches you some acoustic soloing basics. After mostly playing rhythm and fingerpicking parts, this can become very valuable. Also teaches playing with different tunings and fretboard mapping.
"Guitar Theory FD" – Desi Serna
Guitar Theory For Dummies by Desi Serna shines with its engaging, friendly, and easily approachable style. The book covers a wide range of levels as it starts with guitar basics and goes through necessary info for intermediate and advanced players to enhance their compositional and improvisational skills.
The book also features audio and video materials that can be reached online for students to master the techniques and concepts easier. The book tells the concepts of pentatonic and major scales, the CAGED system, chord progressions, keys, roots, and everything that is related to composition and improvisation. It also applies popular song references and some theory applications to keep things engaging.
"Guitar Method, Volume 1" – Duke Robillard
In the book Guitar Method, Volume 1, Duke Robillard shows his favorite chord progressions and rhythm guitar sections for experienced guitarists to enrich their music library and compositional and improvisational skills. The book focuses on Chicago Blues turnarounds, chords to be used in blues progressions, mixing double stops with chords, sliding 6th chords, different pick techniques, and guitar boogie rhythm patterns…
The book comes with a DVD of a live concert of the Duke Robillard Band for students to analyze the techniques and progressions they learned in the book. As Duke Robillard is considered one of the great players, this book is a great source for learning the perspective of the best.
"Ultimate Guitar Chords, Scales & Arpeggios Handbook" – Damon Ferrante
No products found.
Ultimate Guitar Chords, Scales & Arpeggios Handbook by Damon Ferrante features over 400 lessons, exercises, theory information, musical concepts, licks, chords, and more in a simple format for students. It is a great guitar encyclopedia that you can use whenever you are confused or want to revisit something or basically learn new skills.
The book is not a cold encyclopedia, as it also shows how you can use the things you have learned in your compositions, solos, and improvisations. Thanks to Damon Ferrante, the author and a great guitar instructor, the book and the videos that come with the book cover everything you need to know to improve your guitar technique, musicality, and understanding of music theory. With this book, it is sure that your guitar playing skills will improve, and you will have more color, experience, and power when you play your instrument.
I must also add that this is one of the most used guitar books ever as it covers much more than most guitar lesson and practice books.
Top 10 Guitar Books For Advanced
"Advancing Guitarist" – Mick Goodrick
Mike Goodrick's The Advancing Guitarist is one of the classics when it comes to advanced guitar books. It focuses on jazz guitar and widening the perspectives of guitarists instead of the "play this try that" method of most guitar books. That is why it became a classic and is considered one of the most enlightening books written on guitar.
The book offers various different perspectives and big changes in the habits of guitarists. It gives you interesting angles and takes you to the next level. Do not let the fact that this is a jazz guitar book fool you. As jazz guitar has amazing techniques and approaches, you can take those and apply the things you have learned to different genres.
"Chord Chemistry" – Ted Greene
Chord Chemistry by Ted Greene focuses on different chords and chord progressions with advanced variations. It is an intense book with its first two pages of around 100 chords. As you learn more and more about chords, you will realize that your melodic approaches, movements on the fretboard, and your general understanding of the instrument will improve significantly.
It focuses on voicing chords instead of just playing them. The topics in the book are crucial for compositional skills as it focuses on Chord Melodies, II-V-I progressions, circles of 5th and 4ths, substitutions, polychords, and many more. You can get this book if you want to advance on musical theory and compositional skills.
"Jazz Guitar Single Note Soloing" – Ted Greene
Jazz Guitar Single Note Soloing, again by Ted Greene, is another important guitar book that teaches the principles of jazz lead guitar. It focuses on soloing, and the book is really well-organized, with many examples for each subject. The method book is based on the lifelong research and experiences of Ted Greene, like the way it is in the book Chord Chemistry.
Even if you do not like jazz, you can still get this book and study it to improve your general approach to the instrument. The techniques in the book can be easily adapted to other genres as jazz music almost has everything that different genres use. This book is one of the reasons why Ted Greene is considered one of the best guitar teachers in the world.
"Zen Guitar" – Philip Toshio Sudo
Zen Guitar is a unique guitar book that combines ancient Easter philosophy and wisdom with modern music. It takes the fundamentals of eastern wisdom and uses them in a special musical approach. The summary is that each person has a song inside them, and that song makes them human. Zen Guitar teaches the ways to explore that song, mixing life lessons with musical approaches.
This is not exactly a guitar book but a book that touches the lives of people with the metaphor of the guitar. But, the mindset the book is talking about can easily be used to unlock the chains to become a better musician. The book talks about many great guitarists and how they got rid of the chains with Zen awareness, such as Eric Clapton, Jimi Hendrix, as well as different musicians like Miles Davis.
"Connecting Pentatonic Patterns" – Tom Kolb
This book is a great resource if you feel like being stuck. It helps you to unlock the full potential of the guitar's fretboard. Note that the book's author recommends gaining a basic understanding of the minor pentatonic scale before going through this book. This book teaches you thought actually playing. You get nice licks to learn, plus online audio access for backing tracks, etc. This levels up the practicality of this book a lot.
Pentatonic Patterns is worth studying for players who want to start improvising effortlessly and understand the pentatonic scale better. If you've been finding yourself trapped in the pentatonic box, then Connecting Pentatonic Patterns is for you. The only prerequisites are a basic understanding of the minor pentatonic scale and a desire to expand your fretboard horizons. Study this book faithfully, and soon you'll be soloing all over the neck with the greatest of ease.
"The Real Book: Sixth Edition" – Hal Leonard Corporation
The Real Book: Sixth Edition by Hal Leonard Corporation is one of the most famous and most-sold jazz books ever. Since the '70s, these books have been purchased by guitarists to discover new techniques and approaches. These books were illegally mass-produced and sold, which was a problem. But, Hal Leonard presented the first legitimate and legal version of these books for modern students.
The book features more than 400 songs from different artists such as Don't Get Around Much Anymore, Con Alma, Dolphin Dance, Bright Size Life, Black Orpheus, Bluesette, Body and Soul, and many more, along with the exercises, theoretical knowledge, and new perspectives.
"Advanced Rhythmic Concepts for Guitar" – Jan Rivera
Advanced Rhythmic Concepts for Guitar by Jan Rivera follows a mathematical way to guide students through their guitar journey with the process of identifying, dissecting, constructing, practicing, and applying many techniques and approaches such as polyrhythms, polyrhythm divisions and polyrhythms within polyrhythms, metric modulations, intrinsic polymers, polymetric improvisation, and many more advanced-level techniques.
The book comes with audio examples and has both tabs and classic music notes to show the exercises. It is a highly logical and conceptional perspective on rhythm and polyrhythm topics. With this approach, you can expand your limits when it comes to composing, improvising, and overall playing. The book takes the students to a rocket level in terms of rhythmic approaches.
" The Frank Gambale Technique Book II" – Frank Gambale
Frank Gambale is one of the most distinctive guitar players on the scene. He sounds like a happy hybrid of a jazz player's love of harmonic lines, a metal player's love of arpeggios, and a full singing legato tone, as if George Benson, Malmsteen, and Holdsworth collaborated on a single solo. His speed/sweep-picking technique is already legendary, so this new book is a welcome instructional publication.
The Technique Book looks at the way Gambale solos over chordal harmonies. The method is structured around six basic chordal types (minor 7, Maj 7, dom 7, altered dom 7, min 7, flat 5, and diminished) approached five ways: by diatonic scales (selected based on the tonality required), pentatonic/blues scales, four-note arpeggios, triads (both as notes and chordal fragments) and two-note intervals.
This book is the first of two and covers the first four chordal types. The Technique Book is a method for examining what all these possibilities sound like over a given chord. Gambale provides all the options and then tells you what his preferred sounds are in context.
"Speed Mechanics for Lead Guitar" – Troy Stetina
Speed Mechanics for Lead Guitar by Troy Stetina is one of the most advanced lead books on the list by a prolific and strong heavy metal author. It is the ultimate guitar technique book if you want to develop your speed and precision to play amazing solos and complex partitions. The book also shows one of the fastest ways to create that technique for high speed and precision. It grows the musician as a whole by training their ears and shaping their minds to have solid and tangible musical ideas.
It has over 200 intense exercises, including great versions of classical pieces like Flight of the Bumblebee. There is an online audio source to listen to the proper versions of these exercises, and you can use the player there to slow down audio without changing pitch, set loop points, change keys, and pan left or right.
"Advanced Guitar Theory and Technique Applied to the Metal and Shred Genres" – L. Herman
Advanced Guitar Theory and Technique Applied to the Metal and Shred Genres by L. Herman is another excellent book for advanced guitar players to improve their techniques and overall knowledge to very high levels. It is suited for more metal and shred-style players, but the techniques and knowledge in the book can easily be adapted to other genres as well.
The book has three main sections, including Theory, Arpeggios, and Speed Picking. The theory section focuses more on musical theory and teaches you different perspectives and approaches to necessary musical theory for the students to understand and visualize the fingerboard.
The arpeggio section focuses on main arpeggios and teaches how to use them in your songs and solos with techniques such as sweep picking, slides, and taps. The speed picking part is more focused on solos and melodies that are played at high speeds to unlock the hands of the students to have ultimate speed on the fretboard.
Overall, it is an amazing guitar book if you want to step into the world of shredding.
Conclusion
Whether a professional player or just a beginner, a good guitar book is always great. I hope this list helps you to choose the best one that will suit you and your preferred style. Remember, don't be afraid to think outside the box; if you are leaning toward rock and metal music, a great jazz book can be a big attribute to your playing.
And if you're just starting playing, try to teach yourself as much versatile music as possible. Later on, you can always pursue the style that will you like the best, with the benefit of knowing other styles of music.
If you found this article useful, you may want to save this pin below to your Guitar board.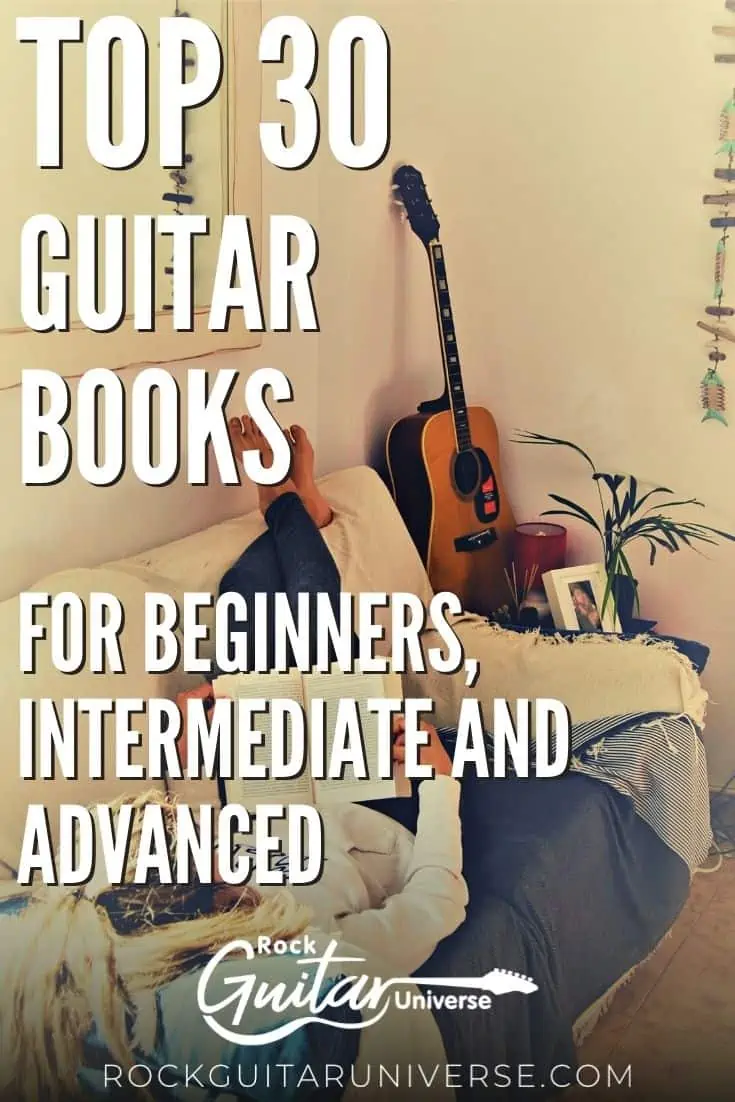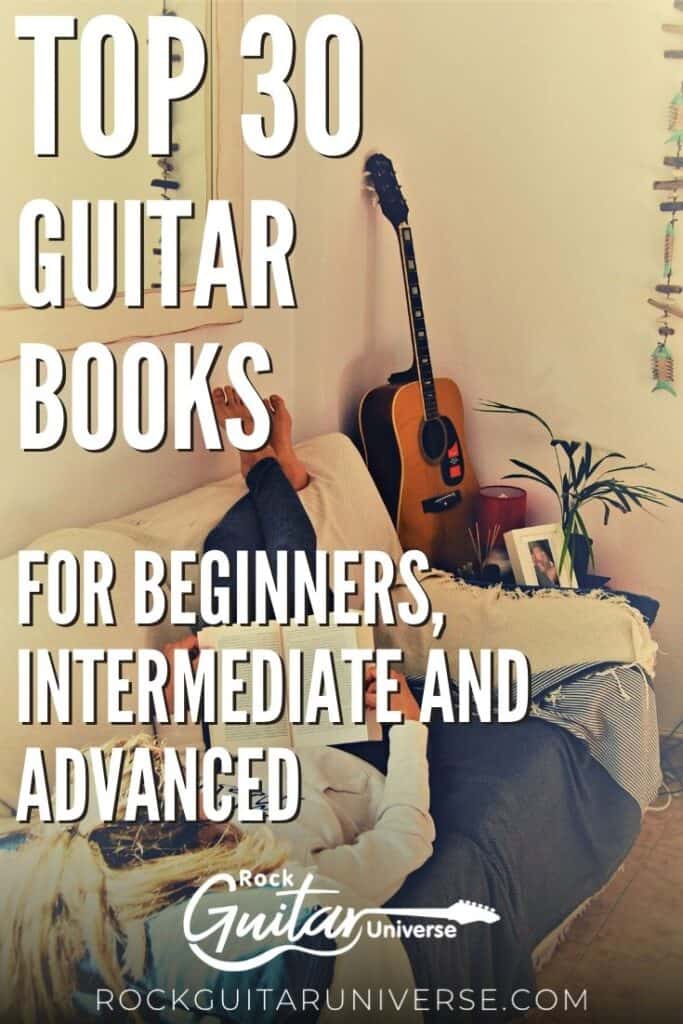 Last update on 2023-11-30 / Affiliate links / Images from Amazon Product Advertising API