Musicians need the best guitar recording software to help create a great guitar tone when they make a hit.
Recording your guitar can also be a great way to get others to hear how you drop a melodic solo, as well as help spot weaknesses in your skills.
Also known as DAWs (digital audio workstations), the audio interface software are great tools that can be your secret weapon in your quest to become the next Jimi Hendrix.
There are numerous options, most straightforward, meaning that users can use them without having to go through tedious tutorials. Of course, to fully use all the functions in DAW's requires some skills and experience.
Developers have constantly been improving these programs, so nowadays, this software has become a must-have both at home and in business studios. There are various options, from beginner ones to more complex professional ones with different advantages and disadvantages on each software.
Top 15 Free Daws For Guitar Playing/Recording
Cakewalk
Platforms: Windows
| | |
| --- | --- |
| Pros | Cons |
| Completely Free | Not available for Mac |
| ProChannel system and Skylight interface | |
| 64-bit audio engine | |
Bandlab's Cakewalk comes with a massive library of loops, riffs, and more, so it's the way to go if you want to impress with killer guitar tracks.
Precision audio technology, effective resampling, workflow-enhancing efficiency, monitoring options, and best-in-class mix editor ensure loud melodies every time.
And it's a great software even for beginners, considering that setup, configuration, and use of the program are all straightforward.
On the other hand, seasoned artists have mentioned that the latest release is super powerful and preferable even for live recording situations.
The other highlight is the program's premium guitar effects and real-time automatic pitch correction, which are sure to help create a masterpiece.
Whether you have a rock star electric or acoustic guitar, Cakewalk by Bandlab's award-winning features are simply irresistible.
Even more incredible, the award-winning recording software is 100% free.
Pro Tools First
Platforms: Windows, Mac
| | |
| --- | --- |
| Pros | Cons |
| Years of experience | Only saves to cloud, not locally |
| Considered one of the best DAWs | Limited number of projects, sample rates, tracks, virtual instruments, and inputs |
| Beginner and pro friendly at the same time | |
As one of the most used DAWs, Pro Tools is a great software perfectly suitable for beginners and professionals. The free version Pro Tools First includes the Xpand virtual instruments the UVI Workstation 3 sample player gives you access to various sounds, from rhythms and loops to power chords and more.
This one only allows four simultaneous tracks to be recorded simultaneously, and 16 tracks can be played at the same time; this doesn't seem like much but remembers it's the free version, and you can always upgrade to the pro version.
Pro Tools First also comes with 23 utility plug-ins and effects that are great for basic mixing procedures.
It's free to download and use, but you have to register with them and iLoki as well, which takes a bit of time.
Every time you want to try free software, jumping a couple of hoops isn't the worst thing, but it would be so much better if you weren't forced to do any of this.
Cubase LE
Platforms: Windows, Mac
| | |
| --- | --- |
| Pros | Cons |
| Good for starting music production | Limited effects, virtual instruments, processing options |
| Years of experience | |
| Easy to use interface | |
As one of the most famous DAWs, Cubase has been around for several years used by many studios and well-known artists in the world of digital and music engineering. As a result, it has the standard familiar flow as traditional analog recording studio consoles.
Cubase offers a free version called Cubase LE which stands as a great introduction to the Cubase world. But, of course, the free version comes with limitations. You can only have 16 audio tracks, and you can record 8 tracks at the same time. It includes 25 MIDI and 8 instrument tracks in only one session, which is more than enough for a beginner recorder.
The free DAW also offers 23 different VST plugins and some loops and samples, making the software a solid start point for creating music. It also comes with virtual instruments, synthesizers, and guitar amp simulations.
With great MIDI and audio integrations, Cubase LE is an amazing DAW for producing any style of music.
Ableton Live
Platforms: Windows, Mac
| | |
| --- | --- |
| Pros | Cons |
| Easy to learn the workflow | You have to buy an audio interface to obtain the serial key |
| Tremendous virtual instruments and samples | Limited effects, plugins, |
| Beginner friendly | |
Just like Cubase LE, Ableton Live can be obtained by purchasing some kind of equipment that includes a serial key. Many well-known audio interfaces and recording devices include Ableton Live Lite.
Ableton Live is one of the most popular DAW for MIDI sequencing, sampling, electronic music production, as well as instrument recording and mixing sessions.
Just like all the other lite editions, the free version is a limited format of the full version.
The software includes some tremendous virtual instruments and samples like Drum Rack, Impulse, and Simpler, as well as good sounding effects like reverb, delay, EQ, compression, and many more.
There is a reason Ableton is one of the most used free DAWS with its straightforward interface that can be beginner-friendly and professional at the same time.
Garage Band
Platforms: Mac
| | |
| --- | --- |
| Pros | Cons |
| Great DAW to start music production, beginner-friendly | Mac only |
| Cross-platform | |
| Excellent mixin opitons | |
Garageband is an outstanding DAW, one of the most used, which comes free with any iOS device. That means if you have an iPhone or a Mac, you will have the software.
The software is like a basic version of Logic Pro X, making it an outstanding DAW to learn about music production. Multitrack recording, using MIDI instruments, great mixing options all comes included in the software. 
Garageband only works in Apple devices which is a letdown for the software. But the same features can be accessed in cell phones and computers, making it an excellent portable software if you have an Apple device. Creating an entire professional song on a mobile device is more than useful for many guitarists who travel often.
Audacity
Platforms: Windows, Mac, Linux
| | |
| --- | --- |
| Pros | Cons |
| Fully free | Destructive editing only |
| Great for editing music | Multitrack audio support is exceedingly basic |
| Supports multitrack audio and batch processing | Lacks musical features |
Audacity is the oldest entirely free DAW. It also got the rating primarily for its incredible live recording and easy-to-invoke effects.
As such, you can record the best guitar live after setting the optimal recording speed or pitch of your recording. Not one to be left behind, the software comes with its vast collection of top-notch features.
For example, it allows you to export your inspiration recordings in many file formats, including sending multiple files simultaneously. In the same way, the program has one of the best sound qualities due to its exceptional resampling and dithering.
The program's roll and dial registration feature has also been highly praised. You see, this feature allows recorders to easily correct mistakes made during recording.
You can pause, back up an error, and continue recording. The final product is a track with zero errors and at the right time. Simply put, considering it's free, the quality of the audacity is beautiful music to the ears of the enthusiast.
But of course, these features are included in many modern DAWs with more effects, samples, virtual instruments added. So, Audacity is a great free DAW to start, but it may not satisfy an experienced recorder's needs.
Studio One Prime
Platforms: Windows, Mac
| | |
| --- | --- |
| Pros | Cons |
| Highly beginner friendly | Can not load VST or AU plugins |
| Great sounding effects | |
Studio One Prime is a perfect DAW for beginners. The interface is exceptionally intuitive and easy to use and offers a hassle-free working mode. Thus, guitarists without prior experience with recording and mixing won't have a headache.
Although the built-in nine effect plugins such as delay, distortion, chorus sound surprisingly good, the biggest let-down of the DAW is that it can not load VST or AU plugins, they come with the upgraded Studio One Artist, which is the full paid version of the software.
Ohm Studio
Platforms: Windows, Mac
| | |
| --- | --- |
| Pros | Cons |
| The collaboration system | Very basic DAW features |
| Good modular mixing/routing approach | Laggy |
| Efficient cloud-based setup | No offline mode |
The one feature that sets Ohm Studio apart from almost every other DAW is its collaboration feature.
This feature allows you to collaborate with anyone in real-time, anywhere, with the ability to even chat in the DAW.
It comes with many effects and instruments that can be used entirely free, and it also supports VST plugins, but only 32-bit for now.
With traditional effects and VST plugins, it is an excellent choice for different guitarists and musicians who want to record together connected from their home studios.
Soundtrap
Platforms: Windows, Mac, Android, iOS
| | |
| --- | --- |
| Pros | Cons |
| Collaborative creation and cross-platform access | Some bugs in the system |
| The ease of access and versatility of use | |
| 4000 loops and presets | |
Soundtrap is a fantastic online DAW for recording, mixing, and editing on the go. If your idea is to record some quick tracks anywhere not to be forgotten later, this is a great alternative to use.
The software has more than 4000 loops and presets as well as beatmaker patterns. So it is a great tool to create some electronic background for your recordings. For guitarists, there are many amplifier options to spice up the tone as well.
Stagelight
Platforms: Windows, Mac, Android, iOS
| | |
| --- | --- |
| Pros | Cons |
| Cross platform | Can handle only 2 effect plugins |
| Good amateur style of DAW | No limiter or reverb |
| | Not very user friendly interface |
The first thing that struck musicians about Stagelight is that it is cross-platform. This means that it is compatible with all operating systems and all devices; you can use it on PC, Mac, Apple phone/tablet, and even Chromebooks.
This means, even if you usually use Stagelight on your PC, you can use it on your phone or tablet to produce a song on the go and then return to your PC at home. Basically, it is a much more portable DAW than any of the others.
It comes with a fantastic Drum Sequencer, which makes it ideal for musicians who want to use electronic music in their recordings. It also comes with a Loop Builder, 9 instruments with over 50 presets, and 4 effects.
If you sign up, which is free, you also get a $6 bonus in-store credit for additional content. So although you can get a cool version of Stagelight for free if you want, you can also upgrade it and get many more features that are definitely worth your time.
I must say that the free version is kind of limited, but it is great for beginners to learn how to record and mix, especially for guitarists who want to use some electronic foundations, loops, and samples.
Qtractor
Platforms: Linux
| | |
| --- | --- |
| Pros | Cons |
| Supports many different plugin formats | Not for Windows or Mac |
| Regular updates and innovations | |
| Non-destructive editing | |
Qtractor is an audio/MIDI multitrack sequencer application designed to run on Linux.
It supports the following plugin formats; LADSPA, DSSI; NativeVSTi, and LV2, and Qtractor is updated very regularly, which is always good to hear.
It offers non-destructive editing, which means you can completely cut the track, edit it as much as you like without affecting the original audio sample.
SoundBridge
Platforms: Windows, Mac
| | |
| --- | --- |
| Pros | Cons |
| Simple DAW, great for beginners | Limited effects and plugins |
| Supports any VST | |
| | |
If you're looking for a simple, clean-looking DAW, then SoundBridge might be for you. It has a straightforward interface and comes with all the typical things that come with a standard DAW.
You can record audio and MIDI while you can edit the tracks and mix them. Unfortunately, the plugins that come with it are not that many; however, it allows you to load any VST.
Pyramix
Platforms: Windows, Mac
| | |
| --- | --- |
| Pros | Cons |
| Unique features like 3d modeling | Too much control can be overwhelming |
| Professional features for experienced producers | Not very beginner friendly |
| | |
Pyramix 11 by Merger is a professional-grade DAW that you can grab for free with some selected audio interfaces. When you start it up, you'll know that it's not just another gimmicky DAW but rather a proper music production tool.
Pyramix comes with some unique features, such as 3D modeling for speaker output. This allows you to optimize your tracks for various surround systems, including ones with more than a dozen of satellites. But, overall, the amount of control you get over your mix is so impressive that it can be overwhelming for most.
That brings us to our next point. Pyramix requires a lot of learning. However, it's a complex piece of software that can give even most pros a run for their money.
Tracktion Waveform
Platforms: Windows, Mac, iOS and Android
| | |
| --- | --- |
| Pros | Cons |
| Amazing feature set | A little stark in places |
| Customizable workspace | |
| Advanced tools and editing abilities | |
Tracktion Waveform is an excellent DAW that comes completely free. Unlike most other free DAWs, Waveform does not have any limitations on track count or simultaneous recording.
Waveform is one of the best music-making software that allows adding effects to individual audio clips. It includes VST and AU plugins and is compatible with Mac and PC both. The software has a Pro paid version which is not really necessary for essential features for music creation.
The waveform has a straightforward interface that is suitable for beginner producers. But it must be said the design concept is a bit different than standard DAWs.
MuLab
Platforms: Windows, Mac
| | |
| --- | --- |
| Pros | Cons |
| Easy to use, yet powerful | Windows only |
| Beginner-friendly and good features for pros | High hardware requirements |
| Highly customizable effects and production tools | |
MuLab is an application inheriting years of development that began with an authentic relic of musical computing: the Muzys sequencer, which led the developer to a fruitful collaboration with M-Audio. Unfortunately, this agreement was terminated once the mentioned company was acquired by Avid.
It is not one of the most popular DAWs, but it certainly carries a rather original concept.
Since then, MuLab has been developed independently as a DAW. The creators have been adding some features that make the MuLab a unique DAW.
First of all, the most important thing: the audio engine has been optimized in general, offering the possibility of recording directly from the DAW without always having to resort to the recording module. In addition, a sampling system with better performance is offered, and the so-called audio parts have been improved in operation, now with a new system of markers located in specific parts of the waveform.
It has pretty easy-to-use software, which is suitable for beginners, but it also has complex features making the software interesting for experienced producers as well.
Top 15 Paid Daws For Guitar playing/Recording
Cubase Pro
Price: $121 – $706
Platforms: Windows, Mac
| | |
| --- | --- |
| Pros | Cons |
| Powerful mixer | Its strong in MIDI composition |
| Years of experience | High price |
| Full editing and automation support | |
Cubase is considered one of the most robust guitar recording software packages in the world, and for a good reason: It offers a tremendous collection of flexible tools that allow you to quickly and intuitively record or edit, mix your previous recordings.
The app complements this with a host of powerful effects and tons of dynamic sounds, all of which are easy to apply. To top off what a well-thought-out recording tool is, Cubase's amp simulations and vocal alignment panels cleverly determine the best guitar sound.
Whether you are a seasoned professional or a beginner, Cubase has everything you need to turn your fledgling hobby into successful music.
Cubase is available in three versions: Elements, the Artist, and the almighty Pro, with all sharing the same pristine quality and, most importantly, ease of use. However, they have different prices.
Ableton Live Suite
Price: $99 – $749
Platforms: Windows, Mac
| | |
| --- | --- |
| Pros | Cons |
| Music creation flexibility | Doesn't offer proper MIDI support |
| Great performance and very easy to learn | Designed for live playing not the best for recording |
| Brutal tech support | |
Ableton Live is specially designed and optimized for electronic music production. Its workflow is a timeline and launch clips with samples, instruments, and effects on the fly.
Live or in the studio, it's used by an impressive roster of diverse artists, from Daft Punk and Deadmau5 to Jan Jelinek, Jamie Lidell, and Vijay Iyer.
Thanks to its interface, Ableton is perfect for learning how to produce electronic music and create professional electronic music.
They have created the Launch line of controllers to be the best Ableton controllers for electronic music, taking full advantage of Ableton's clip launch, instrument control, effects, and advanced MIDI mapping in Ableton in an easy way.
By manipulating audio with the Warp engine, the audio files can be achieved with the same speed and rhythm as the rest of the project regardless of the actual speed, allowing to launch clips that constantly play on time.
Apart from its ridiculous price, one of its strengths is the ease of use and integration for unprecedented control of your Ableton DAW, allowing you to do things like the switch from clip launch to drum racks while controlling the Ableton mixer and scenes are launched on the fly.
It also includes a fun enhancement, the exclusive Session View for non-linear composition, flexible performance, and improvisation.
Although the DAW comes forward with its features for electronic music, it has a quality and easy-to-use recording process for any instrument. The built-in effects are tremendous, and it is excellent software to mix your recordings with some electronic sounds and patterns.
Fl Studio
Price: $99 – $299
Platforms: Windows, Mac
| | |
| --- | --- |
| Pros | Cons |
| Very easy to learn to use | Does not satisfy professional needs |
| Redesigned interface | |
| | |
I would dare to say that it is one of the easiest DAWs to learn to use; that's why it is one of the first DAWs that most musicians used, and I know that the same thing has happened to many of you.
It is one of the classics in electronic music and hip hop production, and it has many sound libraries and free drum roll updates. Classic features are recovered like Graph Editor, Precomputed FX, or Channel Sampler.
As I have pointed out before, it is effortless to learn, but what if I am an experienced DAW user? Well, friend, you can fall short. It's not the best performing DAW on the market, and many professional producers don't use it for that.
It is a DAW that is available for PC and Mac, and you can use the same project on both platforms since the plugins will be compatible with both versions.
It presents a friendly interface with the amateur user, and everything is very easy to handle. Still, if you are looking for a more professional sound, I recommend that you continue reading this article.
Logic Pro
Price: $200
Platforms: Mac
| | |
| --- | --- |
| Pros | Cons |
| Great value for the price | Only for Mac OS X |
| Impressive library of instruments and effects | The mixer could use bigger meters and more flexibility |
| Excellent interface suitable for beginners and pros | |
The cake of music production is shared between Logic Pro X and Pro Tools, that is clear.
It really comes down to whether you have an Apple computer or not. It may seem like an expensive program, but Mac users will find the best library of virtual instruments available on the market in this music production software. But, again, it is only for Mac users.
Its virtual library is incredibly authentic and includes all the instruments needed to create complex and comprehensive compositions.
If you have a Mac and want to record, write, and edit audio, you will find this the best value for money program.
It has an unbeatable visual interface, and despite its immense creative power, it is an easy-to-use music creation program. The main screen includes everything you need to produce from start to finish.
It is the most famous and most used music production software, and in my opinion, the DAW deserves its reputation.
Pro Tools
Price: $225-$500/year
Platforms: Windows, Mac
| | |
| --- | --- |
| Pros | Cons |
| Considered as the best music production DAW | A monthly fee is required for new software patches from the last 12 months |
| The best workflow on the market | High price |
| Unsurpassed sound quality | |
Avid Pro Tools is one of the best guitar recording software. Created to make guitar recording fun, the program is known for its extensive enhancements. From fast and convenient recording to high-quality guitar amp emulators, you have all the enhancements you need to create exciting tracks.
It is also very reliable, and whether you prefer to record directly to your PC or through an audio interface, the program always does a flawless job. Plus, Pro Tools lets you easily share your hot beats and mixes with your fans and masses thanks to its built-in sharing tools.
Also helpful is that it works with multiple MIDI controllers, as you can always access any track you've recorded. Most importantly, the software records clean guitar signals, which can be re-amplified later if it is concluded that the raw sound is not exactly what was intended.
There are three versions available, with ProTools First being free. ProTools Ultimate is the most advanced but most expensive.
Reaper
Price:$60-$225
Platforms: Windows, Mac, Linux
| | |
| --- | --- |
| Pros | Cons |
| Good value for money | No built-in loops or instruments |
| Customizable and fast | Unattractive and complex interface |
| Light memory consumption | |
The DAW Reaper is one of the digital audio workstations that offers almost all the features and flexibility of a good DAW. Now comes the but: Its interface is not very attractive and intuitive, so many who try it end up with another one.
Of course, if you are an amateur producer, this is a good and cheap option for you. Reaper lets you create menus, change interface colors, and create toolbars. But it is not easy. It takes time and study to get a good workflow with this DAW.
But if you get to the point of becoming one with this music creation program, you will find that it is suitable for recording multiple channels of live instrument audio simultaneously and from multiple interface inputs.
Recording a five-piece band is not a problem with Reaper if you have the microphones and enough preamps in your audio interface. There are no built-in loops or virtual instruments making the DAW directly aimed for real instrument recordings.
Reaper is available in PC and Mac versions, and a Linux version is currently in beta.
Reason
Price: $399
Platforms: Windows, Mac
| | |
| --- | --- |
| Pros | Cons |
| Reason Rack Plugin | High price |
| Extremely powerful | You need prior knowledge |
| | Not beginner-friendly |
Reason Studio, formerly known as Propellerhead Reason, is a unique DAW with its own peculiar design and features along with excellent sound quality.
I've always thought that in order to use this DAW, you had to be a sound technician or familiar with real devices; since it has the peculiarity of charging different devices that need to be connected "virtually" by means of cables to each other.
But the latest addition to this powerful DAW is the Reason Rack Plugin that allows your favorite Reason instruments to now to be used in your favorite DAW, complete with the free routing and great sounds you expect from Reason.
So you can use this program both in its full version as a DAW or as one more plugin within your favorite DAW. For example, the Reason Rack Plugin allows simple instruments and effects to be used and integrated as a VST3 plug-in with compatible DAWs.
Easy to learn and as complex as you want. It covers from the first steps in creating music to complete productions.
Easy and comprehensive sequencing, easy audio recording, and studio-quality mixing console… It has everything you need to make music and expands with more sounds and plugins.
Bitwig Studio
Price: $79-$299
Platforms: Windows, Mac, Linux
| | |
| --- | --- |
| Pros | Cons |
| More than 140 modules available | They are still debugging the modular flow |
| Modular sound design | |
| Well-designed interface and workflow | |
Bitwig Studio is a relatively new DAW that brings substantial improvements with their later versions that make the recording and mixing process more fluid, versatile, and fun.
It has included a grid system that expands the DAW, making it practically a game. It consists of 154 modules to tinker and create amazing new sounds that you can control through an interface made up of two workspaces: Poly Grid and FX Grid.
But it does not end here; they have thought about improving the workflow and interface. They have created an automatic session backup and improved their audio engine. They have included a complete package of instruments, including more than 80 instruments, and effects for each of them.
It has out-of-the-box compatibility with standard audio interfaces and drivers, a unique and flexible modulation system, and complete hardware integration.
Bitwig Studio has put the batteries together and has improved considerably. It has a version for Windows, Mac, and Linux, making it a great option if you dedicate yourself to music production.
Acoustica Mixcraft
Price: $75-$149
Platforms: Windows
| | |
| --- | --- |
| Pros | Cons |
| Massive plugin effects library | Some instruments look quite old |
| Very easy to use, nice workflow | Just for Windows |
| Beginner friendly | |
If you are looking for a PC version of GarageBand, Mixcraft is the closest thing you can get. It allows you to record an unlimited number of audio and MIDI tracks, and it does so through a user-friendly and intuitive interface.
A good selection of instruments and effects is provided, and you can get more by paying for Mixcraft 6 Pro Studio, and you can even use the software to add scores to your videos.
Although it is often compared to GarageBand, Mixcraft is actually a more capable DAW in certain respects, particularly when mixing.
Acid Pro
Price: $99
Platforms: Windows
| | |
| --- | --- |
| Pros | Cons |
| 64-bit audio engine | Not beginner-friendly |
| Rich virtual instrument library with effects and plugins | Complex interface |
| Many samples and loops | Windows only |
Acid Pro has been on the market for 20 years, and half of them in an almost vegetative state. But things are changing now thanks to its current owner, Magix, who updates the version by renewing aesthetics, audio engine, instruments, effects, and library.
Acid Pro 8 continues to offer a multitrack DAW environment with audio and MIDI, with particular and distinctive attention to working with audio loops. Loops that can be chopped and altered through the tools it offers to rearrange the groove of pre-recorded audio by playing with the time slip or reconstructing new versions by rearranging the order of the fragments.
On the effects side, in addition to the essential fx suite with 13 different effects, there is the vintage suite made up of delay, filtering, chorus/modulation, reverb, and vandal as a simulation environment for guitar and bass amps along with their corresponding effect pedals.
The monthly paid version adds the analog modeling suite. It is very versatile on the effects side and is a perfect choice for guitarists who want to experiment with looping.
Harrison Mixbus
Price: $105
Platforms: Mac
| | |
| --- | --- |
| Pros | Cons |
| True recreation of a top console | No MIDI |
| Extremely flexible DAW. | Mac only |
| Great price | |
Mixbus is the perfect DAW for analog lovers who want a more affordable, digital alternative to bulky consoles.
Harrison has been making inline mixing consoles since the early 1970s, and they've got it down to a science. From Herbie Hancock to Smashing Pumpkins, countless hits have been created using Harrison's hardware.
Created by the same people in charge of Harrison mixing consoles, Mixbus is the DAW that transcends the saturated market with analog console emulation built into its mixer.
There is also a fully supported Linux version for that rare breed of kernel-loving audio engineers. Mixbus is still a respectable DAW in its own right, with or without the virtual transistors and other conveniences.
The DAW comes with the latest enhancements to the developer's audio engine: latency-compensated buses alongside tracks, track monitoring for MIDI and audio tracks, and unlimited aux buses assignable to each track.
Also available are foldback buses for creating headphone mixes for artists, syncing with variable speed external timecode sources, and a new cutter/scissor tool. The Regions List has been revised to show only the regions currently in use, with the ability to select and label regions.
Studio One Pro
Price: $420
Platforms: Windows, Mac
| | |
| --- | --- |
| Pros | Cons |
| Lightning-fast workflow for composition and recording | Complex interface and mixed console |
| New tools based on chords and patterns | Saving track templates can be tedious |
| Powerful free version | |
All the people who try PreSonus Studio One Pro compare it to Pro Tools, which tells a lot. Perhaps its best feature, because we already know that it is a great music production program, is its workflow. It is one of the best DAWs in terms of an easy-to-use, user-friendly interface.
Indeed, it has not adapted to the larger studios yet, but it is a very valid option for those looking for a serious DAW but do not want to die on Avid's prices.
Suppose we don't need Avid's support for broadcast standards and massive control surfaces or have maximum compatibility with other DAWs, going with Studio. In that case, One could be a smart alternative choice for a professional-level DAW.
The DAW offers a fast workflow for music composition and audio recording, as well as
Mastering facilities include DDP import/export.
The Pro version comes with many more effects, including a multi-band compressor and convolution reverb and traditional effects, built-in Melodyne pitch correction for vocals, and more virtual instruments. In addition, it switches from 32-bit to a 64-bit summing engine.
Digital Performer
Price: $195
Platforms: Windows, Mac
| | |
| --- | --- |
| Pros | Cons |
| Great loop-based production and live performance applications | The virtual instrument collection is a little limited |
| Good plugins – especially for guitarists | Instruments need MIDI and audio tracks |
| Relatively easy to use, customizable interface | |
Although MOTU is one of the oldest DAWs in the music production scene, Digital Performer has recently made its way from Mac to Windows. It is a unique DAW that is mainly preferred for composers for films and TV.
It has a similar workflow to Cubase and has the electronic music features ideas from Ableton, highly rated by users. It supports video as well, which is one reason it is mainly used for movie and TV productions.
Digital Performer users can also benefit from V-Racks to create a central set of instruments and effects plugins to be tapped by the various other sequences in play with its flexible and versatile system. This is all primarily aimed at film and game composers.
With Digital Performer, you can use multiple sequences in the same project, and any number of sequences and songs can be arranged in the song window. Thus, you can work on different versions of the same project simultaneously, swapping, reordering, rearranging them, or arranging songs into an album.
MainStage
Price: $29
Platforms: Mac
| | |
| --- | --- |
| Pros | Cons |
| Great features for live performances | Not for production |
| Simple interface | Mac only |
MainStage is ideal for creating music on the stage. The DAW offshoot is aimed especially at the guitar players and their on-stage performances.
MainStage works only on iOS devices. But the good news is that it has a cross-platform feature, meaning it works on iPhone and iPad, and Mac laptops.
It features Arpeggiator, chord trigger, retro synth, and many more great tools for guitarists to benefit in recording and on live performances. It has many significant effects, loop options, backing tracks… In short, it is a very versatile DAW offshoot for guitarists.
It has an easy to control, smart interface, making it suitable for beginners. More experienced players can experiment with multi-mapping options to manipulate the sound as they like.
Audition
Price: $20.99 / month
Platforms: Windows, Mac
| | |
| --- | --- |
| Pros | Cons |
| Excellent restoration and repair options | Lacking music-specific tools |
| Easy to use | No MIDI |
| Great as a part of a larger system | Monthly price |
Adobe Audition is one of the best DAW software that includes waveform and multi-track displays to create, mix, edit, and restoring audio content. This workstation is designed to accelerate video and audio production workflows.
Although Audition is not primarily for musicians, it can be used as it. The audio breaks can be repaired with perfection. It allows you to mix and record with ease. It supports multiple audio formats and also compatible with Mac and Windows.
The software is mainly used for podcast recordings as well as movie and TV video productions. Adobe accepted there is a difference between music and audio and opted to focus on audio. As a result, it simply can't do certain things that even basic DAWs like Garageband can do. But, conversely, it is capable of a whole host of things that even high-end music DAWs wouldn't be able to entertain.
However, its easy-to-use interface makes complex processes look easy, and its peerless restoration and repair capability is incredible. It is an ideal DAW to keep in your collection as a part of a broader range of tools. It may come in handy for special occasions where you record and repair-edit a live performance.
Which Daw Should You Pick?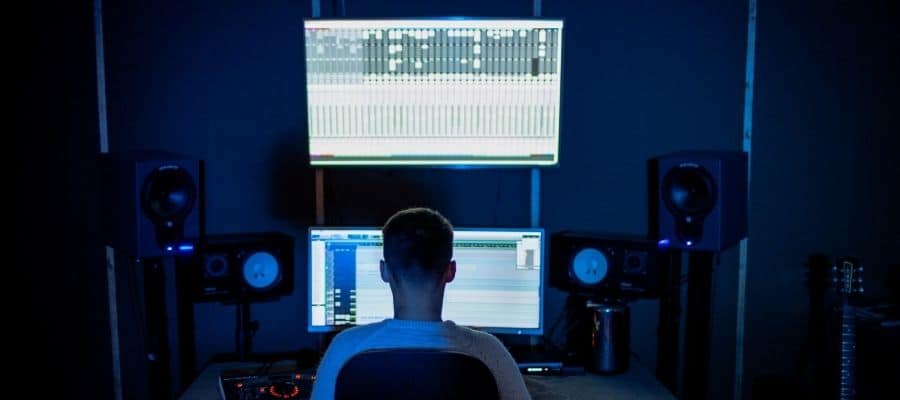 As if it were the norm when it comes to digital music tools, there is no right or wrong answer. Instead, guitarists should focus on getting the recording software that best suits their needs.
That's because what works for a musician doesn't necessarily work for their peers. Above all, you must select intuitive and rich software to help you achieve your goals.
It is clear that in almost all music production programs, there is a free version to know if it is the DAW that best suits us.
My special pick for beginners would be Cakewalk, as it has all the tools to start producing your first songs, instrumentals, or arrangements, as it retains all the functions of the previous paid version of this music creation software. The only downside to it is that at the moment, it only works on one operating system, Windows.
Because of its interface, it makes it one of the easiest DAWs to learn to use. And if you learn to use a DAW well, almost all the others are relatively similar. You can easily produce quality songs quickly and satisfactorily for free with Cakewalk.
In short, if you want to learn how to use a DAW, be satisfied with the results, and have the budget to spend a little, yous should go with Logic or Protools. Knowing all the studios that have used it in the past and present is more than enough positive reviews.
As I told you before, these have the best workflow on the market; they offer the best sound quality that exists, they are easy-to-use, to top it off, they offer the best support on the entire planet.
Obviously, all that is paid. But if you are a professional producer, you will know that in the end, cheap is expensive and that you will not be able to get a better sound with another music production program.
It is also worth mentioning that some DAWs are better suited to one producer profile than another. However, professionals are primarily aimed at all types of genres, but here are some final recommendations.
Mostly used for electronic music production Ableton, Fl Studio, Bitwig, Reason, and Harrison Mixbus can be good choices for guitarists who like electronic touches.
For real instrument recording specialized software, you can go with MOTU Digital Performer, Reaper, or Studio One.
If you want a more comprehensive DAW with a bit of everything: Acoustica Mixcraft, Logic Pro, Pro Tools, Cubase, stand out.
For video-based productions, you can go with Audition or MOTU Digital Performer.
The DAWS specialized for guitarists' live performances are absolutely MainStage, Stagelight, or Ableton Live. So if you want to experiment with loops, samples, and MIDI instruments with your guitar playing, these are the DAWs to use.
What To Look For in a DAW For Guitar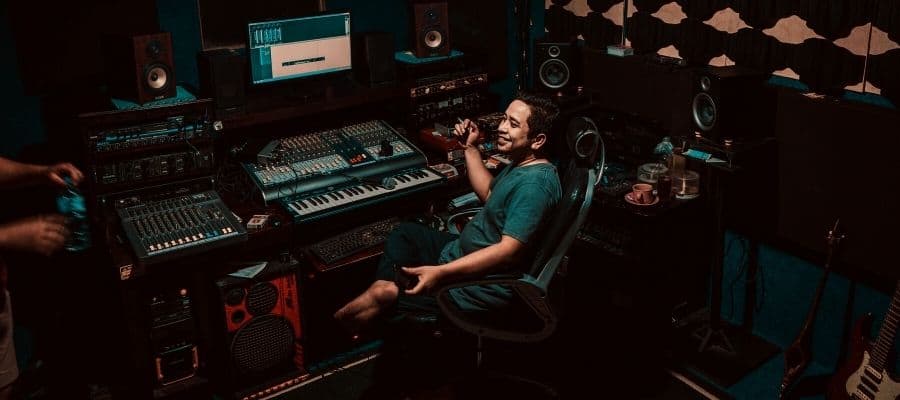 As you've seen in the list, each DAW has its strengths and specialties, and some are more comprehensive than others.
For me, the best are Logic and Pro Tools; however, the truth is, at the end of the day, the best DAW will be the one you understand best and the one that allows you to work at the pace you want.
So you should look for the DAW that best suits your situation in short to medium term.
The most important points would be:
Operating system and hardware requirements
Your goals
Your budget
In case you haven't noticed, some programs are exclusive to Mac and others to Windows.
For example, Apple Logic and MainStage are only available for Mac OSX. So your operating system should play the first role in your choice.
Secondly, you have to define your goals. It is necessary to answer with crystalline clarity if you will dedicate yourself to music production or simply want to create hobby-rolls on weekends.
And finally, there is the topic of the budget. Of course, everyone has their preferences on how much to spend on a DAW, but luckily, there are many options for every budget.
When it comes to the tools of the DAWs, there are some essential features that you should check.
The first aspect is the virtual instruments. Virtual instruments are software that reproduces the sounds of a synthesizer, a piano, violin strings, a saxophone, guitars, basses, drums, and whatever you can imagine. Most DAWs come with a bundle of virtual instruments, from a couple to billions, depending on the program and the version.
The second aspect is the plugin effects. The virtual plugin effects are software that allows you to alter and modify the sound; they are your effects such as delay, reverb, equalization, and compression but on your computer.
Some are directly emulating mythical equipment, such as the Waves SSL G Bus Compressor plugin that comes from SSL consoles. Thanks to today's technology, these plug-in effects are pretty much like the effects they're emulating, with no collateral damage to your wallet. If you are paying for a DAW, you should check the quantity and the quality of these plugins.
There are two types of plug-ins VST, Virtual Studio Technology (primarily for Mac) and Au, Audio Units (mainly for Windows).
You should also check how easy it is to control the interface. Some interfaces are extremely beginner-friendly, while the others are more professional and complex or specialized for peculiar tasks.
Conclusion
Buying a DAW is one of the most important decisions you can make whether you own a studio or are a composer, singer-songwriter, producer, or musician.
Take your time, watch YouTube videos, and don't be afraid to sign up for a paid course to get the most out of your music production program.
If you found this article useful, you may want to save this pin below to your Guitar board.