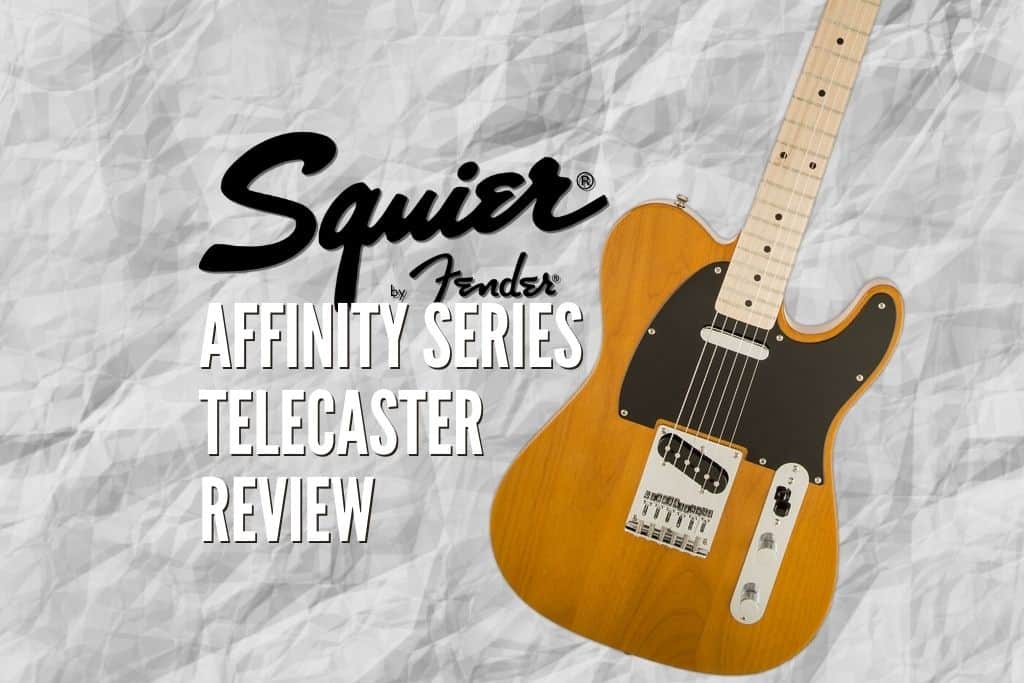 The Fender Musical Instruments Corporation is the most prominent guitar producer in the whole world. The historic guitar company manufactures countless instruments, from top quality Custom Shop guitars to its made in the USA, Mexico, Japan lines, and, lastly, to its beginner level brand, Squier.
Squiers are widely considered as great starter guitars for any novice player. There are many guitarists globally that started their guitar journey with a Fender Squier, often with a Squier starter pack that comes with a matching amp. Squier series offers a dependable decent quality product for low prices, making them a perfect choice for a first guitar.
For a long time, Squier's offerings widely included basic, low-priced alternatives of genuine Fender models. But in recent years, the product catalog has been enriched with dozens of unique models, including some that were only available from the Custom Shop. The real line between Fender's core lines and the Squier spin-offs' new and exciting designs got more blurry in the last decade.
Fender Squier Affinity series offers one of the best Telecasters on the market in terms of price-quality ratio. In addition, as the owner of the Telecaster patent, Fender provides a solid, affordable Telecaster spinoff that is built very similarly to the original model. 
The reason behind the quality and the low price of Squier Telecasters is that Squire can use all the guitar-making techniques and experience of its parent company Fender. Still, at the same time, they use cheaper manufacturing methods to ensure that costs are kept low, creating one of the best guitars in the price range.
| | |
| --- | --- |
| Pros | Cons |
| Great price | Cheap, low-quality parts such as nut, controls, jack input |
| Convincing Telecaster tone | Mediocre pickups |
| Lovely satin-finished smooth-playing neck | May have rough frets (reported on some guitars) |
| Well finished good looking body with many color choices | May have minor blemishes on the body and the neck |
Looking at the pros and cons, I would rate this guitar 4 out of 5. It is a highly dependable quality that provides you precisely what it offers: Decent quality for a low price tag.
Fender Squier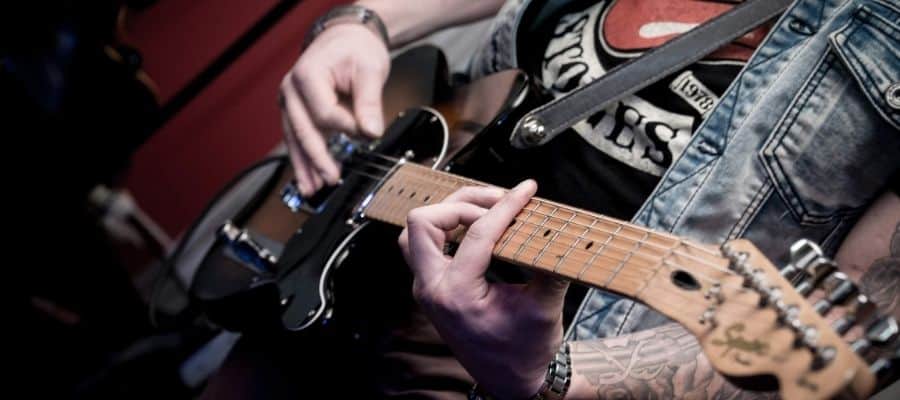 World-famous guitar brand Fender started producing guitars with the brand name Squier back in 1982. Initially, they bought the company in 1965 when Squier was manufacturing guitars and other string instruments, but they preferred the name Fender until they started the Squire series.
In 1982 Fender introduced a range of guitars for players with a low budget, and they decided on the name Squier for these instruments that carried the Fender style. Before that time, Fender was already producing some cheaper models, but it was on a minimal basis.
Before the CBS buy-out in the '60s, Fender was considered the big player on the market. Even these days, Fender guitars that were produced before 1964 are sold for extremely high prices and regarded as treasures.
In the next twenty years, Fender experienced fluctuations in the quality of its instruments, and its position in the market changed with other high-quality brands coming to the scene.
In the '80s, the market was exploding with the replica versions of Fender Stratocasters and telecasters from different brands produced in Japan. Unfortunately, these guitars with countless versions had extremely low-quality and were barely playable.
Even though the instruments' looks were identical and had much lower prices, their sound and playability were not even comparable with the original ones. But still, many people were buying them because they did not have the access and budget to an authentic Fender.
Fender took this opportunity and came with the Squier series. Based initially in Japan, Squier started producing decent Fender style guitars with cheaper manufacturing techniques and material synthesized with Fender experience and quality.
Nowadays, Squier is considered one of the best guitars to start playing the instrument. With their dependable quality, nice classic looks, and decent sound. They are primarily produced in China and Indonesia and can be found easily almost everywhere globally.
Although many brands started producing very high-quality guitars for meager prices in the last decade, Squier is still probably the most dependable choice for a first guitar for players who do not want to take risks.
The Specs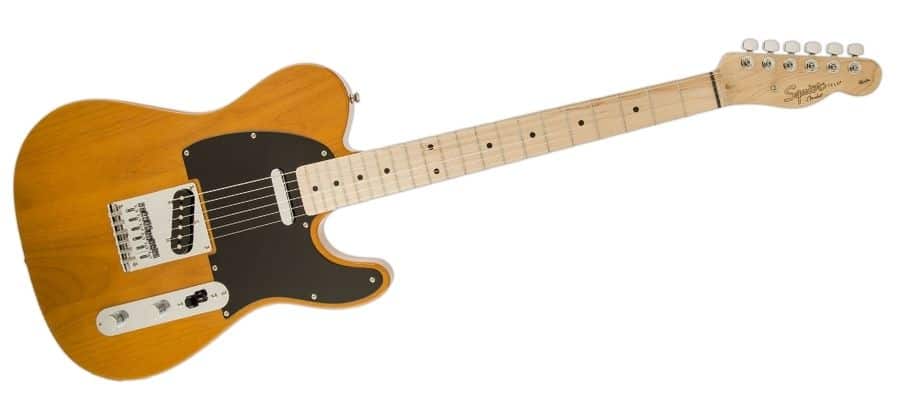 Let's take a look at what the Squire Affinity Telecaster has to offer.
General
| | |
| --- | --- |
| Series | Squier Affinity Telecaster |
| Number of Strings | 6 |
| Hand Orientation | Right / Left |
| Colors | Butterscotch Blonde, Arctic White, Race Red, Black, Sunburst, Competition Orange, Race Green, Slick Silver |
| Weight | 7.5 Ibs (3.4 kg), |
Body
| | |
| --- | --- |
| Body Shape | Tele |
| Body Construction | 3-Piece Body |
| Body Type | Solid |
| Body Material | Poplar |
| Top Material | Poplar |
| Top Type | Flat |
| Back Material | Poplar |
| Finish | Gloss Polyurethane |
Neck
| | |
| --- | --- |
| Scale Length | 25.5" (648 mm) |
| Neck Shape | C shaped |
| Neck Construction | Bolt-on |
| Neck Material | 1 piece, Maple |
| Truss Rod | Adjustment at the head |
| Truss Rod Type | Wrench |
| Fretboard Material | Indian Laurel |
| Fingerboard Radius | 9.5″ (241 mm) |
| Position Inlays | Pearloid Dot |
| Number of Frets | 21 |
| Fret Size | Medium-jumbo |
| Nut | Synthetic Bone |
| Nut Width | 1.6" (40.6 mm) |
Electronics
| | |
| --- | --- |
| Pickup Configuration | SS |
| Neck Pickup | Vintage-Style Single-Coil Tele |
| Bridge Pickup | Vintage-Style Single-Coil Tele |
| Controls | Volume and Tone |
| Switch | 3 Positions: Bridge only, Bridge and Neck, Neck Only |
Hardware
| | |
| --- | --- |
| Tailpiece | None |
| Bridge Type | 6-Saddle Hardtail with Cast Saddles |
| Tuners | Standard Die-Cast |
| Finish | Chrome |
| Pickguard | 3-Ply White, 3-Ply Black |
With the poplar body, maple neck, and Indian Laurel fretboard, the Squire Affinity series Telecaster has the classic vintage look and feel of a Telecaster. The instrument is designed to look and feel almost the same as its original version.
The 25,5-inch classic "C" shaped neck with very fine matt polyurethane finish feels very comfortable and looks nice.
21 frets and 9.5″ (241 mm) radius fretboard make playing the guitar pretty easy. The longer radius fretboard allows bends and vibratos to be much smoother than a classic 7.25-inch radius fretboard.
Two Vintage-Style Single-Coil Tele pickups are not the best quality, but they do their job reasonably well. The bridge pickup is open like most telecasters. Together with the maple neck, its sharp sound makes this guitar sound like an original telecaster; Great for traditional blues and rock tones.
The output level of the pickups is pretty low, as can be expected from a cheap-end instrument. While the pickups are more than decent for beginners, experienced players might need an upgrade on this aspect.
The classic Tele style pickguard, pearloid dot inlays on the fingerboard, and the traditional headstock complete the classic Tele look perfectly in an aesthetic way.
The Butterscotch body, my personal favorite color for this guitar, looks quite striking with a thick gloss polyurethane finish. The body with the grain of the wood showing through and maple neck adds to this great guitar's feel.
The guitar weighs around 7.5 Ibs (3.4 kg), making it easy to control and play; Not too heavy to hurt your back but not so light that it feels cheap.
The hardware includes a single volume and single tone control to switch between the two pickup systems with its three-way pickup selector control.
There is a fixed bridge with six saddles that can be adjusted as required. The strings do not pass through the guitar's body as is the norm with a Telecaster but are loaded on top through the bridge.
A decent set of chrome tuners are fitted to ensure that it will maintain its tuning. Although they look and feel cheap, they seem to hold the tuning ok.
The Sound, The Feel Of The Instrument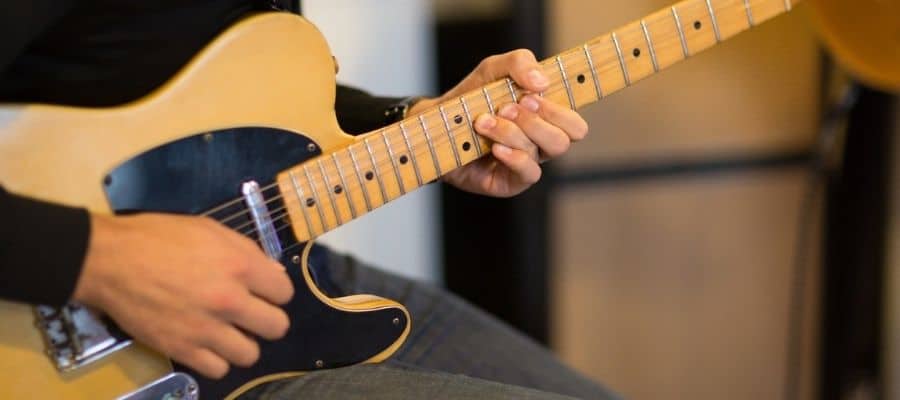 Guitars can have good, high-quality materials and looks, but it is the sound and the feel what we all are interested in.
The guitar feels great when you sit down with it on your lap and get ready to play. It has a nice balance; great weight with a comfortable neck elevates the feel of the instrument. Like classic Telecasters, the guitar makes you feel relaxed with it.
When playing some guitars, you have to fight with them to get a decent sound, but with this Telecaster, the instrument feels like it is almost going to play itself.
You can check the video review to have a better understanding of the guitar's sound in different styles.
The single-coil pickups, as mentioned before, are close to the desired Telecaster sound. They are simple pickups but get the job done.
The bridge pickup has a clean and warm sound similar to the early uses of the guitar with a country-style tone, while the neck pickup is a bit loose with its sound lacking some sharpness. It is also a bit on the quieter end and needs a more crystalline character.
Playing bridge and neck together creates the classic Tele tone that drives quite hard and sounds lovely. Indeed, the best performance of the guitar comes out with this pickup setup.
Lastly, the neck pickup provides nice and mellow jazzy sounds. It is a pretty contrast to the other settings of the guitar, with the bridge pickup being really twangy.
Squier Affinity Telecaster Is Perfect For Whom?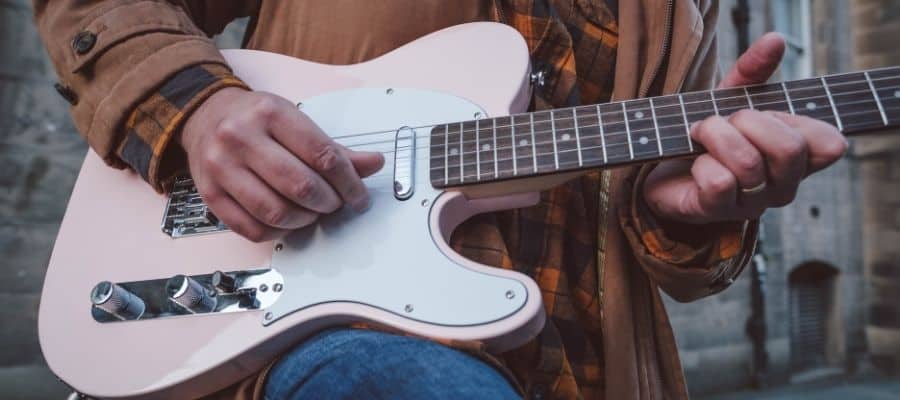 The Squire series are often considered entry-level guitars with low price tags and basic structures. And the Affinity series is no different.
Fender Squire Affinity Telecaster is an excellent choice for a first guitar with dependable quality, a comfortable neck, and a decent sound. As a beginner, you might not want to take risks with your first guitar; then, this is the perfect guitar for you.
The guitar's comfortable neck will help you learn faster, while its looks will fascinate you, and the tones will motivate you to play more.
As this is a Telecaster, you have to keep in mind that the soul of these types of guitars craves soft to moderate amounts of distortion. The guitar is great for playing jazz, country, blues, and soft rock, but if you want to be able to play more aggressive tones with heavier distortion, this is not the guitar you are looking for.
With some adjustments and upgrades, this guitar also can turn into a custom guitar for special occasions for more experienced players. If you want to have a budget telecaster for a show, recording, or just to experiment around, you can get an Affinity Tele, upgrade the pickups, maybe change the tuners and the nut, and there you go. Finally, you have a great Telecaster with a comfortable neck.
Is It Possible To Upgrade It?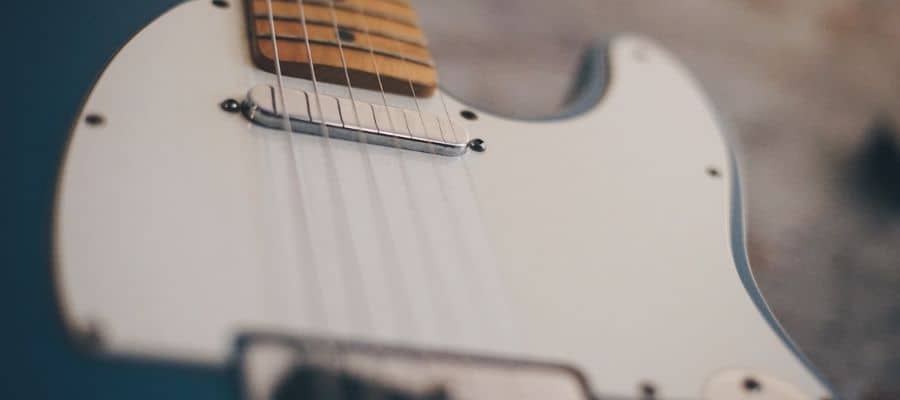 As most of the guitars out there, Squire Affinity Telecasters are upgradable. You might want to change the synthetic bone nut, the tuners, and the pickups to have a more solid instrument.
Pickups
While the Vintage-Style Single-Coil Tele pickups get the job done to a point, especially for beginner guitarists, they are not the best pickups to get the most from this guitar. The guitar does not have the Fender signature AlNiCo pickups but some ceramics ones.
Upgrading pickups are more of a personal choice; you have to play the guitar, see what you like and dislike about the sound, and find the perfect one that will satisfy your needs. For example, you might want a higher output pickup, so I recommend you to check the Tele style pickups from Fender to get closer to the original Tele sound, or you can check what Seymour Duncan or DiMarzio offers.
Nut
This guitar's nut is made of synthetic bone. Changing it to a graph tech nut can enhance the sound quality significantly.
Tuners
Although the tuners of the Affinity Telecaster do the job relatively ok, they are not the best quality. And since the tuning is the foundation of everything, it is better not to risk it with low-quality tuners. So the most common choice here is to go for the locking tuners since they are the most reliable ones.
It is an excellent way to improve tuning stability and get more comfortable with tuning.
Alternatives To The Instrument In Terms Of Look, Feel, Sound, Specs, And Price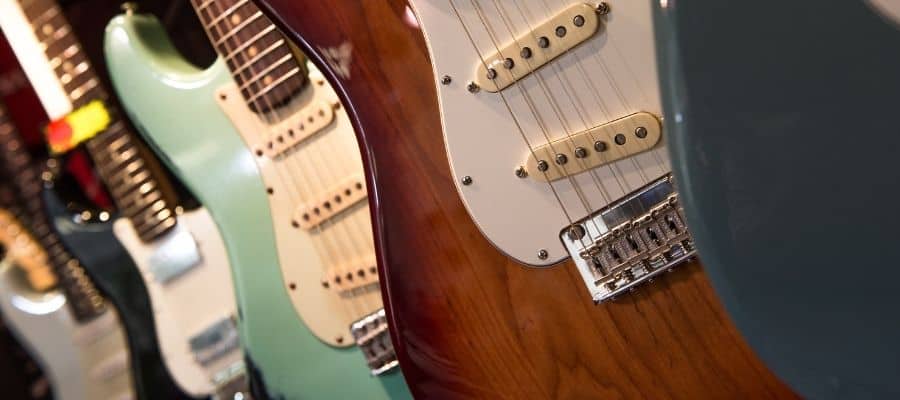 Eart NK C-1
EART Classic Telecaster Electric Guitar Maple Fingerboard,Stainless...
Mahogany Body with Flame Maple Veneer:Mahogany is known for superb...
Contoured Body:Traditional T-type guitars are known to have a "slab"...
Hand Polished Stainless Steel Frets:Stainless steel frets provide...
U to C Compound Neck Profile and Compound Radius: NK-C1 has an unique U...
Eart NK C1 is an exceptional Tele-style guitar from the relatively new brand Eart from China. Eart produces outstanding quality instruments for very low prices, and their Teles are not different.
The impressive fretwork with stainless steel frets, well-made finishes that are jaw-dropping aesthetically, a solid body, exceptionally comfortable neck, and decent hardware make this guitar a perfect alternative for the original Telecaster.
You can check my Eart NK C1 review to learn more about this fantastic guitar.
This Telecaster has a price tag of $280, slightly higher than the Affinity Telecaster. But just the neck of this guitar worths more than the price tag.
Harley Benton TE-52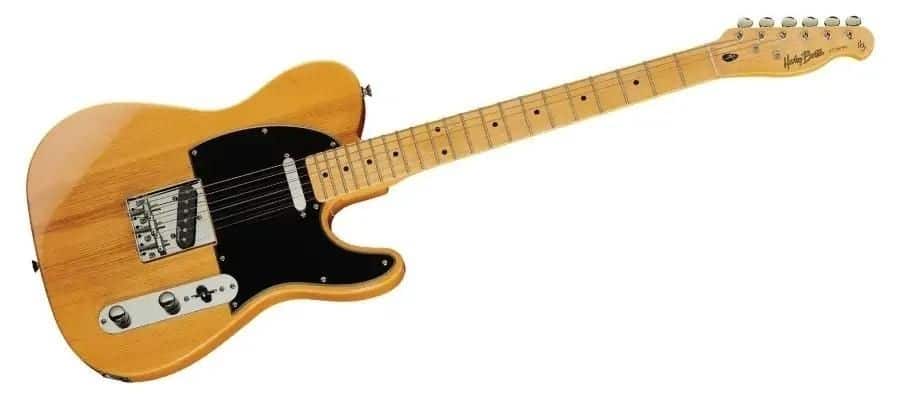 With its price tag of $150, Harley Benton TE-52 is the best Telecaster style guitar for the budget price range you can find on the market. With excellent Tele sounding pickups, well-made, fabulous finishes, solid bodies, and amazingly comfortable necks, TE-52 guitars are impressive instruments for their price.
You can check my Harley Benton TE-52 review to get more information about this fantastic Telecaster.
If you are looking for a budget Telecaster under the $200 mark, this guitar is the way to go.
G&L Tribute ASAT Classic Telecaster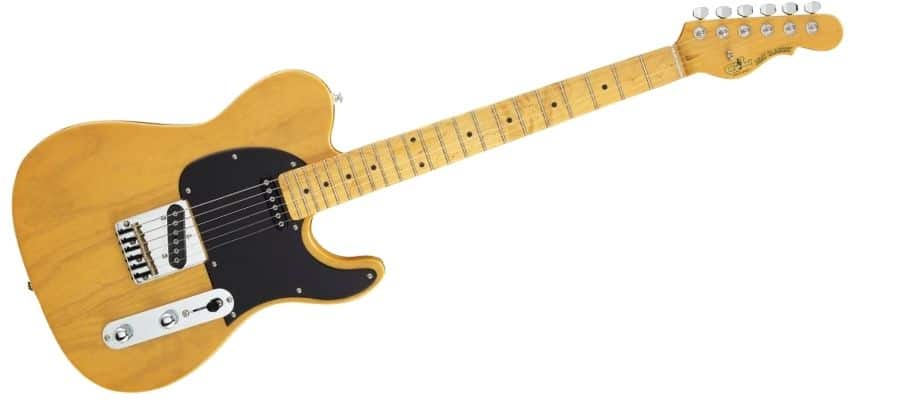 For players looking for a more modern version of a budget telecaster, G&L Tribute ASAT Classic is a perfect choice.
G&L was founded back in 1980 by Leo Fender, who knows Teles better than anyone. This Telecaster offers a semi-hollow body, which gives its unique color on lower frequencies.
The guitar has one of the latest designs of Leo Fender, G&L MFD, that uses ceramic for the magneto and allows individual adjustments in each of its receivers. This creates a more modern, bright, and versatile sound that makes the guitar suitable for a broader range of genres.
G&L Tribute ASAT Classic is an excellent guitar, in Fender, an instrument with these characteristics is worth three times or more of the value of this instrument in G&L, remember that the designer is the same and the construction and woods are very similar, a great guitar to an excellent price.
G&L Tribute ASAT Classic is more expensive than an Affinity Telecaster and costs around $400.
Summary
Squire has the honor of providing thousands of guitarists with their first guitar throughout the years with their dependable quality, easy to access guitars and parts, reasonable quality control, and most important of them all, highly affordable prices.
If not the best budget guitar on the market, Affinity Telecaster is undoubtedly one of the best. It is the most risk-free option to buy, as it has been bought, played, and reviewed many times, more than any other budget guitar. It gives you what it offers, and you get what you pay for, no more or no less.
Overall, Affinity Telecaster is a good guitar. It is perfect for entry-level guitarists. It has a comfortable neck, a cool-looking body, a good Tele-style sound, and the brand Fender Squire mark on it. It has everything to get you started.
If you found this article useful you may want to save this pin below to your Guitar board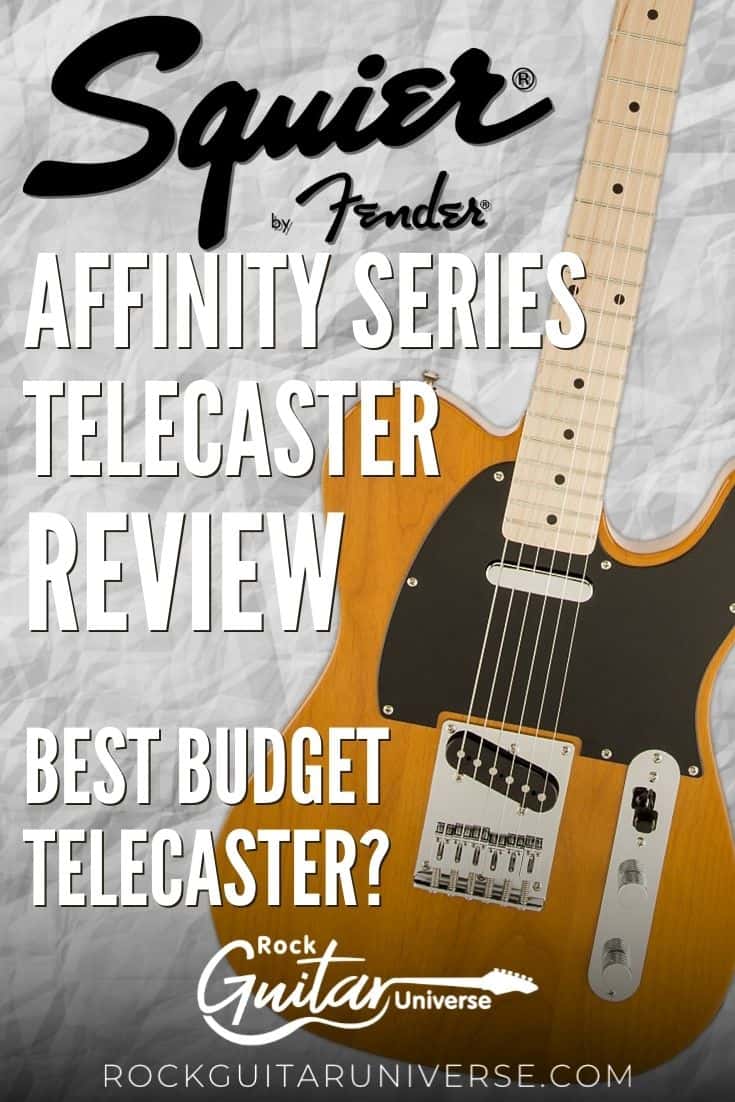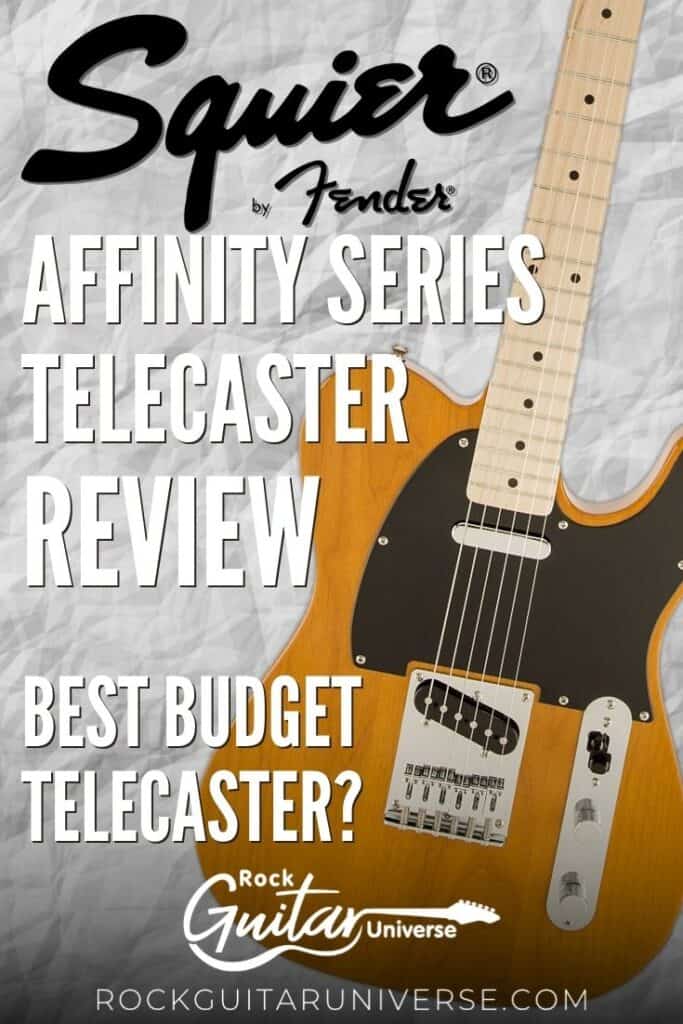 Last update on 2021-10-19 / Affiliate links / Images from Amazon Product Advertising API
Recent Content