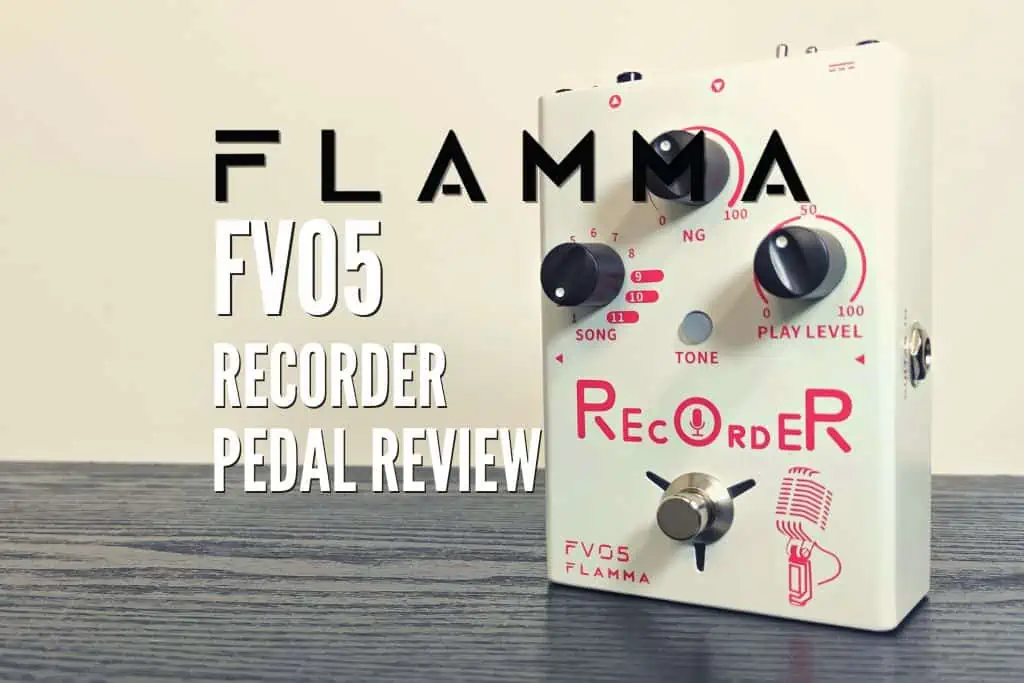 For years now, Flamma has been working on impressive pedals and gears that offer great quality, but come at a fraction of the price compared to major brands. The company keeps improving and experimenting with new designs, and it is quite impressive seeing all the new models.
If you are a guitar player who wants to record music in a whole new way, Flamma FV05 might be a perfect choice for you. The design of the pedal is simplistic, but it is more than meets the eye. 
Flamma FV05 is a vocal and guitar recorder pedal, and you can easily plug in your guitar and microphone. And as with every other piece of equipment Flamma offers, it's quite affordable. You won't need to spend a fortune on it, but you will get the quality you need.
One of the first things you will notice is the design. While Flamma FV05 looks like a simple pedal, there are so many features it offers. The three main knobs will allow you to choose slots, select microphone settings, and effects you want to use.
The pedal also allows you to plug it into an amplifier, or a mixer, and it supports phantom power microphones via the XLR cable.
| Pros | Cons |
| --- | --- |
| Great design | No USB – Can't Export the recording |
| Versatility | There are multiple features (hidden features) for the same button/switches/knobs  |
| Additional effects | |
All things considered, Flamma FV05 does a great job. It is a well-made pedal, with many unique and interesting features. Naturally, it is not for everyone, but it is one of the best options if you are looking for a way to record your songs with ease without using any external tools.
The pedal is 4 out of 5 stars, and it is undoubtedly worth checking out.
Flamma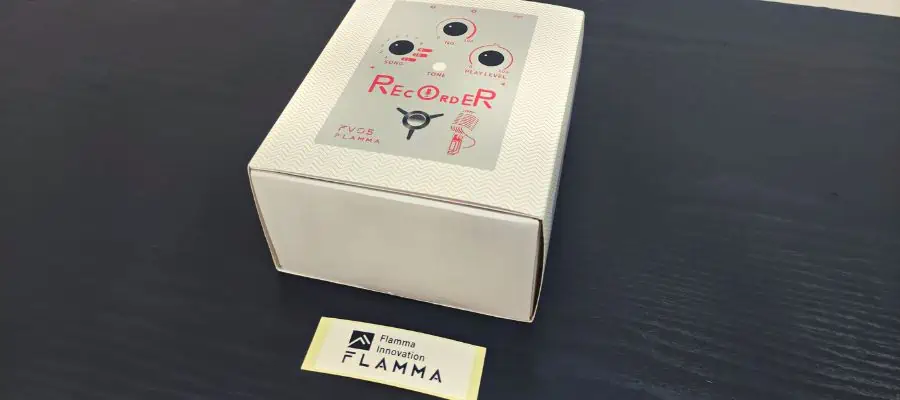 Flamma doesn't have a long history like Marshall, Fender, MXR, and other big names in the industry. But at the same time, the popularity of the brand went through the roof in the past couple of years.
The company offers affordable pedals that sound amazing. And there are so many different products you can find. The full name of the company is Flamma Innovations, and it is based in China.
Currently, you can get guitar pedals, amplifiers, audio mixers, voice effect pedals, and various other accessories. Flamma continues adding new items to the list, and we can expect further innovations in the future as well.
So, if you are looking for a great budget option, Flamma probably has a pedal perfect for you.
The Specs Of Flamma FV05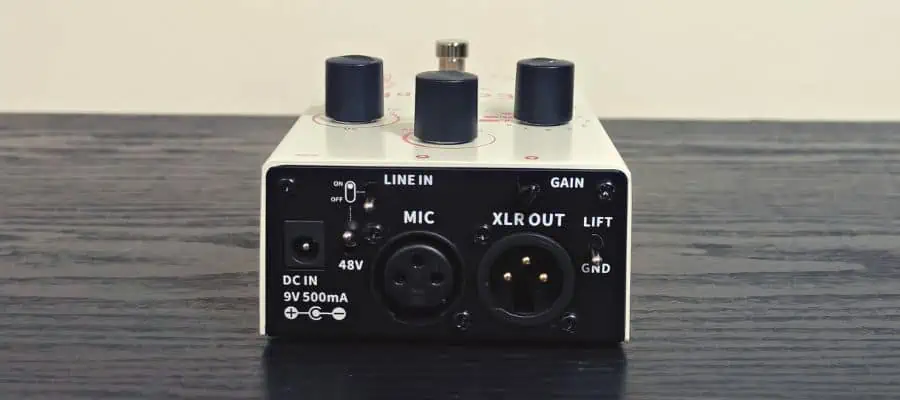 Since many people are interested in learning what's under the hood, here is a detailed list of specifications of Flamma FV05. 
General
| | |
| --- | --- |
| Model | FV05 |
| Casing | Metal |
| Color | Light Gray |
Dimensions
| | |
| --- | --- |
| Weight | 0.88 lbs (0.4 kg) |
| Width | 3.4" (8.6 cm) |
| Height | 4.9" (12.5 cm) |
| Depth | 2.4" (6 cm) |
Electronics
| | |
| --- | --- |
| Working Frequencies | 20Hz-20KHz |
| Input Impedance | Mic: 2.14k ohms; Guitar: 1M ohms |
| Output Impedance | Mic: 300 ohms; Guitar: 100 ohms |
| Current Draw | 500 mA |
| LED Indication | Yes |
Controls
| | |
| --- | --- |
| Knobs | Song, Noise Gate, Play Level |
| Buttons/Switches | Tone, output mode switch, gain |
Input/Output
| | |
| --- | --- |
| Input | 1/4″ mono audio jack, XLR balanced input jack |
| Output | 1/4″ mono audio jack, XLR balanced output jack |
| Power | AC adapter 9V DC (500 mA) |
Flamma FV05 is a live recorder pedal pedal designed for vocal and additional instruments such as a guitar. The casing is made of metal, and it's quite durable. The design follows the same idea as other Flamma pedals, and if you already tried gear by this brand, there won't be any surprises. 
The size is similar to larger pedals. The dimensions are 3.4" (8.6 cm), 4.9" (12.5 cm), and 2.4" (6 cm) which means you won't have any problems fitting it on your pedalboard. When it comes to features and effects, Flamma FV05 has plenty to offer.
Of course, the main selling point is the versatility and the ability to record an unlimited number of dub tracks for vocals and instruments. The first thing you will notice on the pedal is that it has a "song" knob, which offers eleven different slots you can use for recording.
The pedal has up to seventy minutes of recording, which is spread across multiple recording slots. What is great about the FV05 is that it gives you an option to auto-record with ease. The pedal will detect the input signal, and the recording can start automatically.
Furthermore, there are additional effects for both vocals and instruments. You can choose between Flat, Warm, and Bright EQ for vocals, add noise gate and reverb, and so much more. Based on the type of microphone you own, you should know that Flamma FV05 supports phantom powering.
It is worth mentioning that reverb is available for both vocals and instruments. The pedal is easy to use, but you should know that there are a few additional features that are a bit hidden and not as straightforward.
For example, you can select the type of EQ by pressing the Tone button, and the color of the LED will show you which mode is on. But if you hold the button, you will be able to choose the type of reverb you want to use.
Fortunately, the package comes with an instruction manual, so everything will be explained in detail. 
Flamma FV05 Manual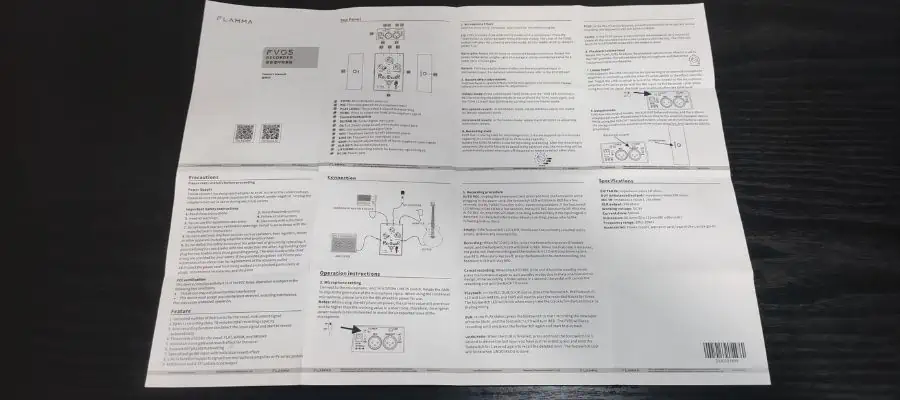 FLAMMA FV05 Sound Quality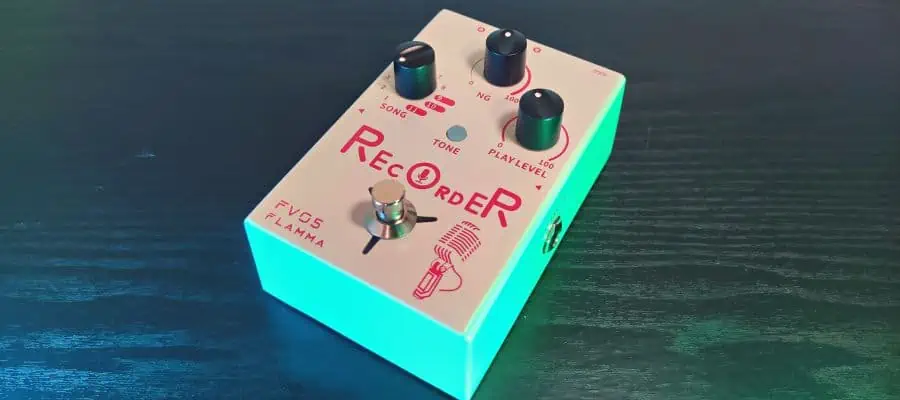 Flamma FV05 offers an impressive quality for this price range. And recording your vocals has never been easier. One of the main advantages is having to choose between three different EQ modes. 
You can also adjust the gain for the microphone signal by using the potentiometer on the back of the pedal. If you own (and plan on using) a condenser microphone, there is a switch on the back of the pedal that will enable you to turn on the phantom power.
Adjusting the tone while using the microphone is quite simple. Firstly, the EQ is chosen by pressing the tone button in the middle of the pedal. The red color of the LED means that the Warm channel is on, blue stands for Bright, and when the LED is off, the mode is Flat.
Besides being able to choose between Flat, Bright, and Warm, you can also use the noise gate and reverb. All of this adds plenty of versatility to the pedal. Keep in mind that when holding the tone, you will turn on the settings for reverb. Using the NG tone will allow you to adjust the reverb for vocals, while Play Level is for your instrument.
It is worth noting that Flamma FV05 shares some elements with the looper pedal, but it's so much more. As for the quality of the recording, you will be surprised by how good it sounds. And there are so many features to explore.
You can easily record multiple tracks, and play vocals and your guitar at the same time. This is one of the main reasons why Flamma FV05 is marketed as an audio interface instead of just a simple looper pedal.
FLAMMA FV05 Compared To Other Pedals
TC Helicon Mic Mechanic 2
TC Helicon Mic Mechanic 2 (996014001)
Ultra-simple vocal effects stomp box with reverb, echo and pitch correction
Vocally tuned reverb places your voice in the perfect musical space
Timed repeats of your vocal add interest at just the right moment
Effortless auto-chromatic pitch correction helps you sing in tune
TC Helicon Mic Mechanic 2 is an interesting option. The pedal is durable, small, and easy to use. You will be able to plug in a microphone using an XLR cable, and there are several different effects you can use.
This includes echo, reverb, and correction, which are also the main three knobs on it. Each of these effects has different settings, and the pedal is quite nice. However, the main downside is that it won't allow you to record both your guitar and vocals at the same time.
Furthermore, recording your instrument is not possible at all. And while this pedal is in the similar price range as Flamma FV05, it only shows how good of a deal the latter pedal is. 
BOSS VE-8 Acoustic Singer
Boss VE-8 Acoustic Singer
Guitar/Vocal Processor Stompbox with Mic Preamp and Phantom Power
Stereo 1/4" and XLR Outputs
Chromatic Pitch Correction
Acoustic Guitar FX
Boss has a pedal for every single situation, and it is no surprise that there is an entire series dedicated to vocal pedals and interfaces. The VE stands for vocal effects, and there are numerous different models you can find.
The VE-8 Acoustic Singer is great. It has input for your guitar, microphone, various different effects, a preamp, and so much more. You can also use it as a looper, which makes it one of the closest things to Flamma FV05.
However, the difference in price will be more than noticeable. And if you are trying to find something on a budget, Flamma is an obvious choice here. 
Zoom V6-SP
Zoom V6-SP Vocal Processor, Vocal Effects Pedal, Formant Pedal,...
Simultaneously use up to three vocal processors from the voice, harmony and...
100 memory locations for storing user-created patches
Formant shift pedal for adjusting your vocal character in real time
V6-SP offers 12 voice effects; 10+ studio effects (distortion, chorus,...
Zoom is one of the most popular options when it comes to affordable processors, but the V6-SP is something a bit different. This is a vocal processor that offers plenty of different effects, mods, and ways to experiment with the sound.
The quality of the V6-SP is incredible, it has a USB connection, and it is a great option for both live performances and studio recordings. The main downside compared to Flamma FV05 is the price and the fact that it doesn't support guitars. 
You will only be able to use this for recording vocals, which only shows how innovative Flamma can be. It is not often that you will find such a two-in-one device that is so unique. 
FLAMMA FV05 Is Perfect For Whom?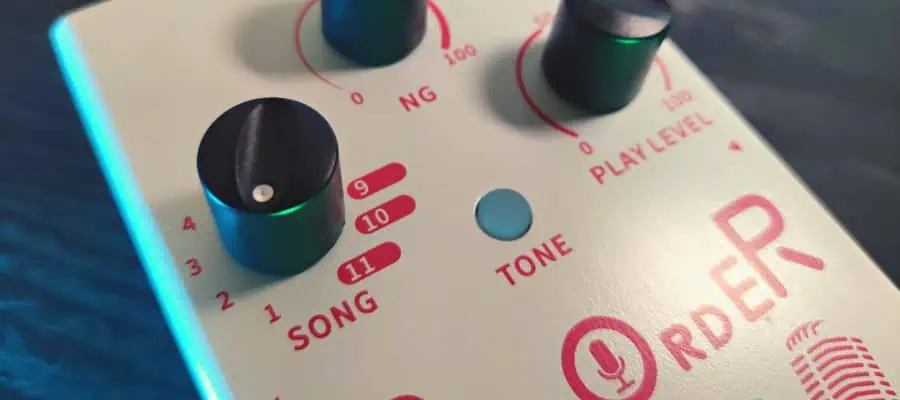 Flamma FV05 is perfect for songwriters. If you are someone who plays the guitar and sings, this can be an excellent option for you. Generally speaking, Flamma usually targets beginner players and those with a tighter budget. 
But this time, there aren't many alternatives you can find. Having a device that allows you to play and record at the same time is usually a lot more expensive. And yes, you can always buy an audio interface, but the price-to-quality ratio will be significantly different.
If you are interested in a simple pedal you can carry with you and put on your pedalboard, Flamma FV05 is one of the best available options. Moreover, you won't need to use additional software and connect everything to your PC because this pedal works great on its own.
Needless to say, you can use this pedal regardless of your skill level. But if you don't have a studio already, this can be an excellent opportunity for you to get a simple way to record new songs and beautiful ideas.
Other FLAMMA Products Worth Checking Out
FLAMMA FV04
FLAMMA FV04 Vocal Harmony Pedal Vocal Effects Processor Stompbox Voice...
The Harmony provides 11 different harmony modes to choose from and can...
The FV04 Harmony is the first effects pedal from Flamma aimed at vocalists...
The FV04 acts as an all-in-one effects solution with the ability to choose...
Support for 48V phantom power is also included as is the option to use the...
Flamma FV04 is another pedal from the FV series, and it is a vocal harmony pedal. The design is similar to other Flamma pedals. This includes metal casing, plenty of features, and affordable price.
The model here is designed for vocals, and you can choose between several different effects. The pedal also has a reverb, and you can pick one of eleven different harmony modes. Similar to FV05, you can use a condenser microphone since it has phantom power.
It is worth mentioning that Flamma FV04 is designed for vocals only, and it might not be the best option for recording your instruments.
FLAMMA FS21
If your primary focus is on recording guitars and playing along the track, and you don't plan on using the pedal for recording vocals, Flamma FS21 might be a decent alternative. The first thing you should know is that this is a looper pedal, so you won't be able to record vocals.
But at the same time, the FS21 is equipped with over 100 drum grooves, making it easy to jam along and practice. It also allows you to record up to 160 minutes of guitar, and you can use it with various programs.
This is one of the best options for players looking for a looper that supports various apps and drum machines to make practice even more fun.
FLAMMA FV01
FLAMMA FV01 Vocal Effects Processor Pitch Correction Voice Pedal Vocal...
The FV01 vocal effects Corrector is primarily a pitch-correction pedal that...
The FV01 features three separate vocal effects as indicated by the TONE LED...
Singers can switch between WARM, BRIGHT, and NORMAL modes, with each mode...
It can be used as a microphone amplifier or a traditional stompbox....
Another model from the FV series is Flamma FV01, which is a vocal effects processor with a pitch shift correction. The pedal also comes with different effects such as reverb and delay, and it's easy to use.
It also supports instruments, which means that you can plug in both your guitar and microphone. The pedal is nicknamed Corrector, and it is a variation of the FV05. You can also choose three different tone mods using the tone button in the middle, and there is a knob for correction.
The pedal also comes with a tap tempo function, you can use it as a microphone amplifier, and it supports phantom power. It is also possible to choose whether you will have a mixed signal at the output, or if you want to separate your guitar and microphone.
Alternatives To FLAMMA FV05 In Terms Of Look, Feel, Sound, Specs, And Price
BOSS VE-20
The VE-20 is a vocal performer effects processor, and it's highly versatile. You can explore many different effects, such as reverb, and it also allows you to plug in your guitar. The pedal also supports recording, and it is among the best ones in this category.
Of course, since we are talking about Boss, you can expect a certain level of quality. And Boss VE-20 won't disappoint you. It is different from Flamma FV05, but it will give you similar features and options. 
The only downside for some players will be the price since it's almost twice as much as Flamma FV05.
TC Helicon Play Acoustic
TC Helicon PLAY ACOUSTIC 3-Button Vocal and Acoustic Guitar Effects...
Professional vocal effects and tone with natural sounding vocal harmonies...
Guitar FX styles from TC Electronic Hall of Fame reverb, flashback delay,...
Bodyrez filtering and onboard EQ and di for impeccable acoustic Guitar...
Guitar feedback-proofing with notch filter and phase controls
TC Helicon offers many different vocal processors, and some of them are incredible. The Play Acoustic is a 3-button model with a stompbox, and it has a nice little display that will help you see everything even if you are on stage.
The pedal has different effects for your guitar and microphone, it supports looping, and it is incredible. Once again, the price is significantly higher compared to Flamma FV05. But at the same time, you won't have too many options in the budget price range. 
All things considered, TC Helicon Play Acoustic is worth checking out if you don't mind spending a bit more.
TC Helicon Duplicator
The Duplicator pedal is designed by TC Helicon, and it is in the same price range as Flamma FV05. Naturally, there are a few differences between these two pedals. Most notably, the TC Helicon Duplicator doesn't support guitars.
It is just a vocal processor, but it is a good pedal. The model comes with doubling, correction, and reverb, and it is easy to use. The Duplicator is well-built and simple, and the quality is incredible.
But if you are looking for a cheap pedal for both your microphone and guitar, Flamma might be your only option.
Summary
Flamma FV05 is another pedal designed for vocals, but this time, you can use it along with your guitar. And it is one of the most unique effects you can find in this price range. The pedal is easy to use, it's durable, and it sounds amazing. 
There is an option to store up to 11 tracks, you can overdub both guitars and vocals, and it supports up to 70 minutes of recording across multiple channels. The pedal also has a reverb you can use on both microphone and guitar, as well as a noise gate.
All things considered, it is one of the best options you can find in the budget price range, and it is a perfect option for guitars that sing.
If you found this article useful, you may want to save this pin below to your Guitar board.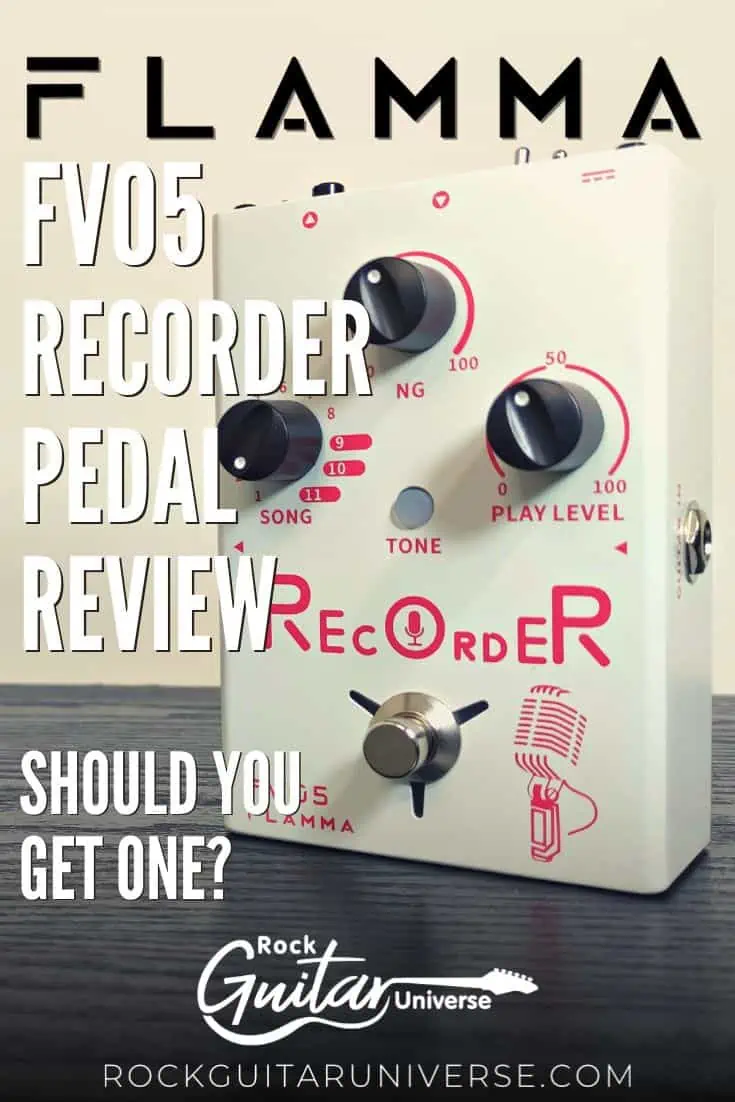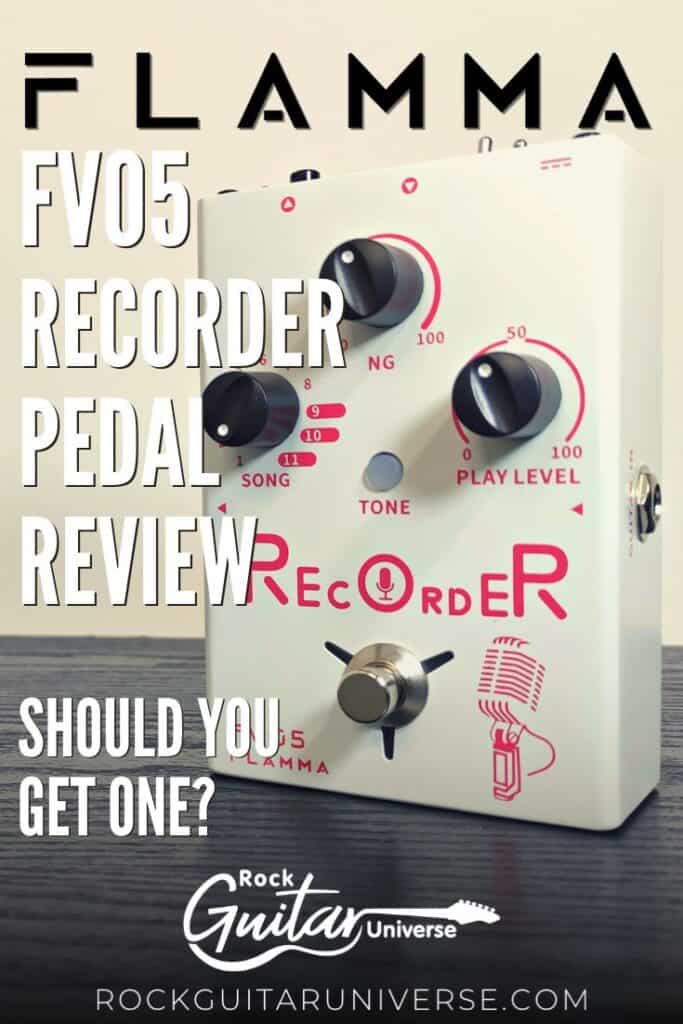 Last update on 2023-10-04 / Affiliate links / Images from Amazon Product Advertising API