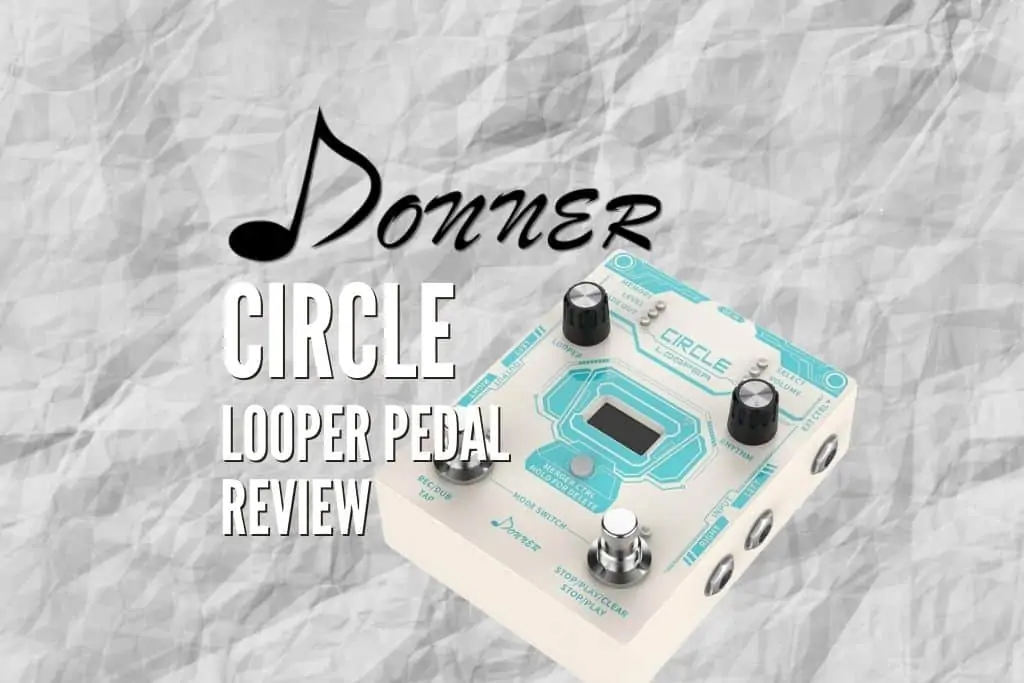 Thanks to their multifunctional use options, looper pedals are powerful creative tools for any guitarist. Whether you use them to create unique pieces by layering guitar parts live or just to practice by yourself more easily, having a looper pedal on your pedalboard setup opens up a world of possibilities of creativity that you would not want to miss.
Many artists use looper pedals to build up their riffs on the fly, such as Tash Sultana, Ed Sheeran, and David Torn, while other artists use them to play pre-recorded samples to add spices to their pieces. As technology advanced, looper pedals now often support importing and exporting sound clips or external memory cards, making things much easier and more versatile in terms of usage and creativity.
But choosing the best looper pedal can be a complicated task, as looper pedal models are increasing in numbers every day. From the new breed of highly exotic models such as the Chase Bliss Mood to the ever-reliable Boss RC-5 Loop Station, there are loads to choose from. Some are better suited for beginner acoustic and electric guitar players who are not familiar with the looping world, while the others are designed for more professional usage.
Donner Circle Looper Pedal, Stereo Guitar Looper Pedal, 40 Slots 160...
[2 in 1 Looper Drum Machine] 44.1kHz, 24bit high-quality stereo looper with...
[Large Capacity Loop Pedal] 40 memory slots and each can store 4 minutes...
[Looper with Screen] The bright screen shows the current loop mode, time...
[Import/Export Function] Donner Circle Looper supports import/export...
The Donner circle looper shines between the budget looper pedal options with 40 memory slots and a synchronized drum machine in one pedal. There are 100 different beats in 10 different styles, plus 10 metronomes, bpm control, and an independent volume for rhythm and loops along with the tap tempo feature.
It has everything you expect from a looper pedal, along with an easy-to-use structure and decent sound quality. The best part is that all these features cost under the $100 mark. I don't think there are any better looper pedals with a built-in drummer in this price range. Donner Circle Looper is totally a hidden gem.
| | |
| --- | --- |
| Pros | Cons |
| Great value for the price | Comes without the adapter |
| Memory for 40 loops and plenty of recording time | |
| Drum machine with great patterns | |
As this looper pedal is a great value for its price with memory for 40 loops and more than 2.5 hours of recording time as well as realistic drum machine sound and grooves this pedal deserves a 4.5 star out of 5. Of course, there are negative points like the lack of the adapter and overall volume knob, for the price these are more than acceptable.
Donner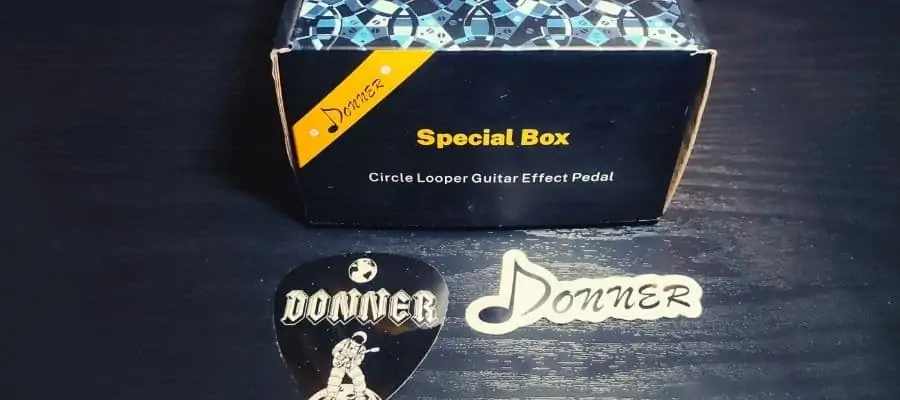 As a reasonably new musical instrument and accessories brand founded in 2012, Donner offers highly affordable and high-quality products to musicians of all levels. The brand specializes in pedals, yet they also offer various musical instruments and accessories for music lovers with a low budget. Donner is closely related to the other 3 brands, Eastar, Moukey, and Reditmo, which actually specialize in different instrument lines. The warehouses are located in the U.S.A. and Canada, meaning that these locations are where your products will be shipped from.
Donner is well-known, especially in recent years, for its low-priced yet innovative and high-quality products. This clearly shows the success of their efficient R&D team. With lots of good feedback on social media and music forums, the brand is getting more popular day by day thanks to its surprisingly outstanding products for meager prices. The China-based brand keeps surprising the musicians with their unique products from Asia, where most players see as the home of low-quality products.
Donner Circle Looper Pedal Specs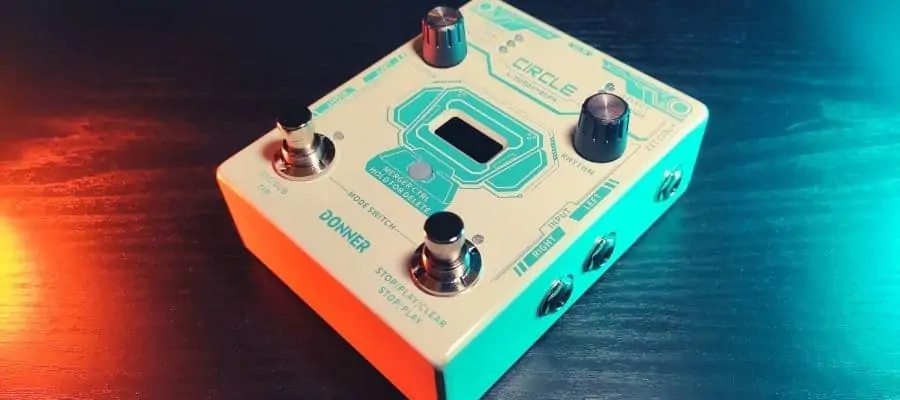 Let's look at what the Donner Circle Looper has to offer.
General
| | |
| --- | --- |
| Model | Circle Looper |
| Casing | Whole Aluminum |
| Color | White – Light Blue |
Dimensions
| | |
| --- | --- |
| Weight | 13.75 oz (390 g) |
| Width | 4.76" (12.1 cm) |
| Height | 2.22" (5.6 cm) |
| Depth | 3.9" (9.9 cm) |
Electronics
| | |
| --- | --- |
| Chip Model | |
| Input Impedance | 1 M Ohms |
| Output Impedance | 470 Ohms |
| Working Current | 300 mA |
| Led Indication | Yes |
Controls
| | |
| --- | --- |
| Knobs | Looper, Rhythm |
| Switches | None |
| Buttons | Merger Ctrl, Looper On/Off, Drum Machine On/Off |
Input/Output
| | |
| --- | --- |
| Input | 2 x ¼" Mono Audio Jack |
| Output | 2 x ¼" Mono Audio Jack |
| Power Jack | 9V DC adapter |
Donner Circle Looper features an elegant-looking whole aluminum alloy colored white and a lovely turquoise light blue. The stompbox feels pretty solid and durable, which will not let the users down. The build quality, especially the knobs and the switches, is much better than the pedals in the low-budget price range. The printed designs look of better quality, and the digital display is very nice. Plus, it is pretty easy to use.
It is a highly portable looper pedal that weighs around 0.86 Ibs (0.39 kg) and has measurements of 4.76" (12.1 cm), 2.22" (5.6 cm), and 3.9" (9.9 cm). It won't take much space on your pedalboard, which is a great plus for crowded pedal setups.
On the control panel, there are 2 knobs: one to adjust the looper features such as the memory, volume level, and fade-out time of the looper and the other one to adjust the rhythm parameters such as the volume level, pattern type, and bpm. There are LED indicators that help you on the way to a more effortless user experience.
There are two buttons which you can turn on the looper and the drum machine quickly. The middle button, Merger Cntrl, toggles the looper and drum machine to work independently or simultaneously.
This looper pedal also features a screen in the middle of the control panel, making every kind of adjustment, record, playback, selection, and removal much easier. Furthermore, you can connect Circle Looper to the computer with a USB to access the editor software control. With the editor application, you can import or export recordings or select different drum patterns to play with.
Another great feature of the pedal is that it has 2 x ¼" Mono Audio Jack as inputs and outputs making it compatible with stereo sound. Finally, it works with a 9V DC adapter, but it does not come in the box and is sold separately.
With the display showing the duration of the current recording cycle and loop mode (Rec/Overdub/Play), the pedal allows you to record up to 4 minutes for each track. It has 40 preset slots and 160 minutes of total recording capacity.
The drum machine features 100 different drum grooves selected from 10 music styles. Plus, there are 10 types of metronome settings and a tap tempo option to adjust the tempo of the drum beats or the metronome.
The Donner Circle Looper Pedal Manual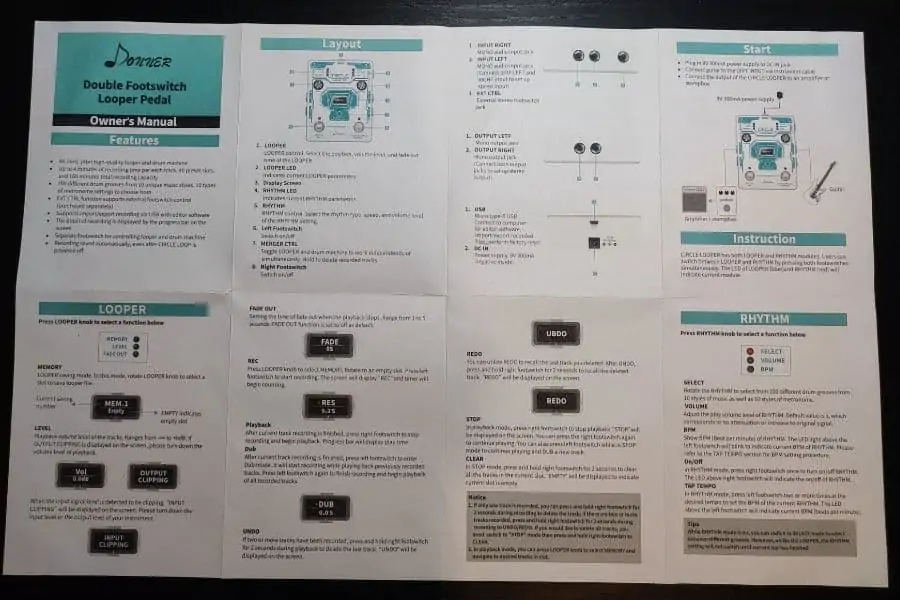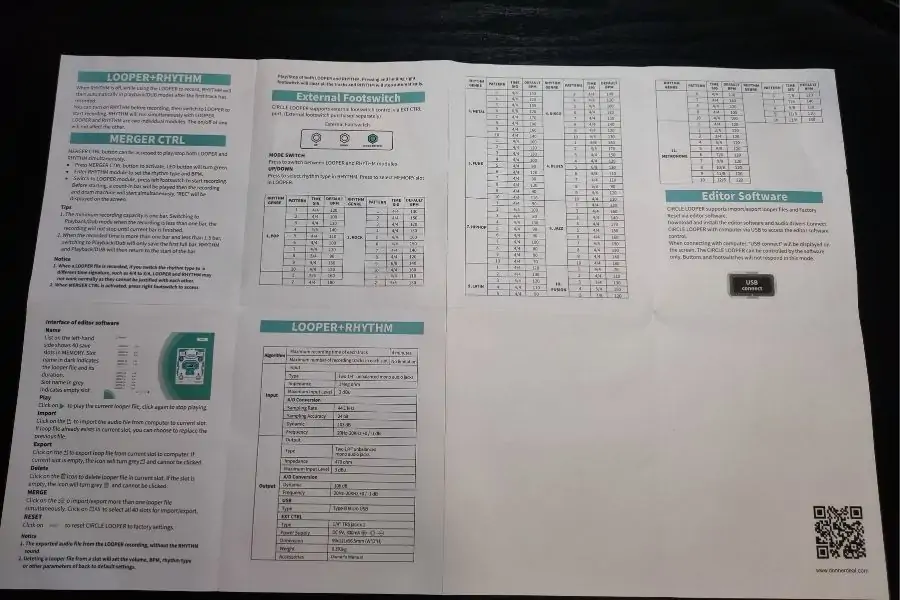 What Power Does Donner Circle Looper Require?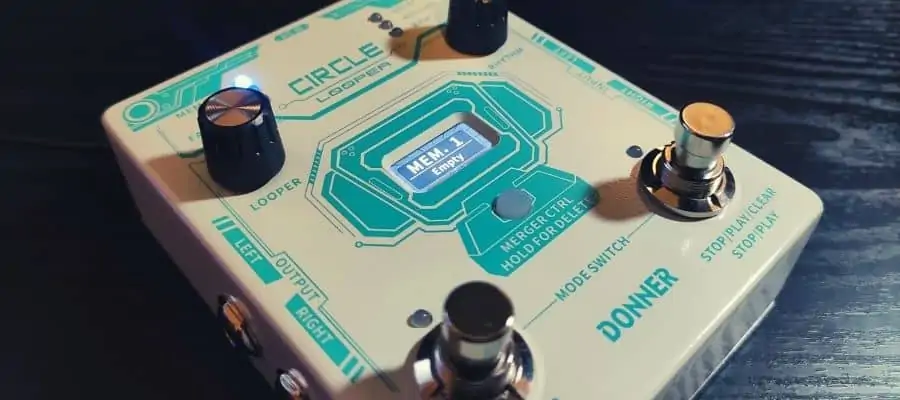 The Donner Circle Looper works with a 9V DC adapter with at least 300 mA. However, the adapter does not come with the package meaning that you will have to buy it separately.
Organizing the cables and adapters in a crowded pedal setup can be frustrating. That is why I recommend you to check out the Donner DP-1 guitar pedal power supply, which organizes the cables and adapters setup. It can power up to 10 different pedals and support 9V, 12V, and 18V pedals. With this power supply, you will save a lot of time and energy by making the process of setting up your pedalboard much easier.
The power supply will not make much sense without a pedalboard. But luckily, Donner offers an excellent and affordable pedalboard which is the Donner Guitar Pedal Board Case DB-3 Aluminium Pedalboard. With its measurements of 20" (50 cm) x 11.4" (29 cm) x 4" (10 cm), it can manage around 10 pedals and keeps your pedal setup organized.
The Donner Circle Looper Sound Quality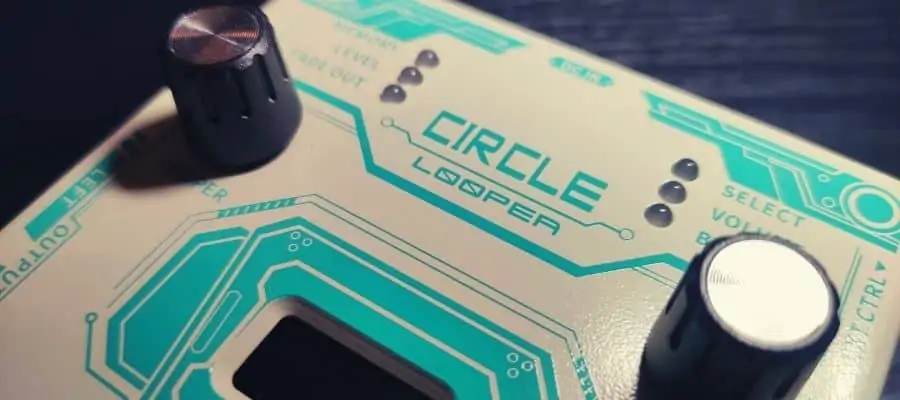 Donner Circle Looper not only has much versatility thanks to its drum machine feature, but it also sounds pretty great, especially for a looper pedal under the $100 mark. It features a 44.1 kHz 24-bit high-quality sounding looper and drum machine along with 100 different drum patterns from 10 music styles and 10 types of metronome settings.
The sound quality of the looper is pretty good; for a looper pedal below $100, it is fantastic. The sound is crystal clear without any hum or hiss noises. I did not notice any loss of sound quality, including with multiple effects running like reverb, delay, and chorus. Plus, with dual input and output jacks, the option to make the sound stereo is also excellent.
The drum machine also sounds organic and lively. Maybe they are not studio quality, but they get the job done brilliantly. As mentioned before, there are 100 different grooves making the pedal really versatile in terms of the drum machine.
The let-down about the drum machine is that even with the volume level turned down to the lowest degree; it sounds a bit loud with some amps. That is why you may struggle to mix your guitar signal with the drum sound. But, eventually, you will find a good balance. Another lousy aspect can be said about the metal drum grooves section as the kicks sound pretty shabby.
Overall, both the looper and the drum machine have more than satisfying sound quality. This pedal is truly a hidden gem when its price is taken into account. You can check the following video to hear the performance of the looper and the drum machine in different genres.
The Donner Circle Looper Compared To Other Pedals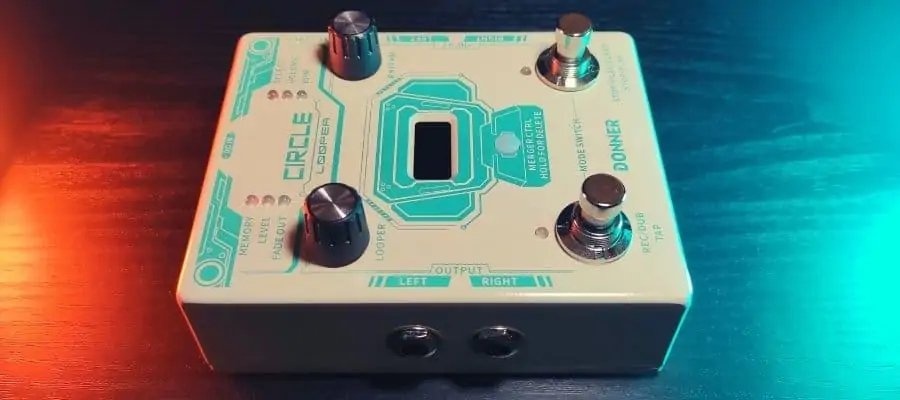 Donner Circle Looper Vs. Boss RC-5 Loop Station
When it comes to looper pedals, one of the first brands that come to mind is undoubtedly Boss. Their RC series of looper pedals have always been deservedly some of the most sold pedals since their release. They do a fantastic job of meeting the different needs of people using looper pedals.
The relatively new member of the series, RC-5, covers all the needs from a basic looper pedal. It features 57 different rhythm patterns, each pattern with 2 variations, making 114 different grooves in total, while the Donner Circle Looper features 100.
The RC-5 features 32-bit sound processing against the 24-bit processing of the Circle Looper, making the sound of the RC-5 relatively higher in quality. The RC-5 also offers 99 separate looping compositions with much more loop time, a whopping 13 hours for all memories, than the Donner Circle Looper with a 160-minute capacity.
Both pedals support stereo sound options with dual input and output jacks. They are both compact sized with Boss being slightly smaller. Furthermore, both pedals can be connected to a computer for importing and exporting record files.
Rc-5 is one of the most versatile and best-sounding looper pedals on the market. However, it costs double the price of the Donner Circle Looper.
Donner Circle Looper Vs. DigiTech Trio+ Band Creator and Looper Pedal
DigiTech Trio+ Band Creator and Looper Pedal is not only a loop station but truly a band in a box with its combined bass and drum rhythms for any chord progression you play into it. The pedal features a virtual band creator allowing you to select from 12 different genres. You can create up to 5 song parts and 12 songs in total.
Digitech Trio+ can be an overwhelmingly complex pedal for beginners, but it is an utterly rewarding stompbox when you get familiar with its system. It has features like unlimited overdubs, added bass lines, song creations with chord progressions which Donner Circle Looper does not have. The pedal lets the users experiment with any genre and style until they find a combination they are satisfied with. An added nice detail is that the rhythm patterns vary, with the drummer, especially getting into little fills and embellishments to keep things interesting.
The pedal also supports SD cards which you can upgrade to have more space for recording in the stompbox. It can also be connected to a computer like the Donner for importing and exporting recorded files.
Just like the Donner Circle Looper, the Trio+ also works with 24-bit processing, but I can indeed say the sound quality of the looper and the band creator is better than the Donner Circle Looper's quality. But the sound quality difference is not big and easily noticeable.
The Trio+ is really an impressive pedal that features utterly unique functions that would appeal to many guitarists, those who do solo gigs or need some backing to create ideas quickly while practicing in particular. This pedal lets you play and create without the hassle of getting a band together with fantastic sound quality and features. It is a much more versatile and better-sounding pedal compared to the Donner Circle Looper, but it costs four times the price of the Donner.
Donner Circle Looper Vs. Nux NDL-5 JTC Pro Drum & Loop
NUX JTC Pro Rhythm Looper has a basic concept: an affordable looper pedal with an expended rhythm section. It copies the Boss RC-10R, which is a superior pedal but much more expensive as well.
The Nux JTC pedal features 40 different drum grooves. The versatility of the rhythm section is much less compared to Donner Circle Looper. Plus, the drum patterns are pretty repetitive, making the play-along a little boring after some time. The good side of the Nux JTC drum section is that the sound quality is pretty exceptional, making you feel a real drummer is playing behind you.
The pedal features different stop options, including immediate stop, stop at the end of the loop or fade out like the Donner Circle Looper. Both of the pedals work with 24-bit processing and support stereo sound with double input-output jacks. In addition, both pedals can be connected to a computer for additional backing tracks and sound imports-exports.
With 6 hours of recording capacity and 256 loop slots, Nux JTC exceeds Donner Circle Looper in terms of memory. They have almost the same size meaning that both of the pedals are pretty compact. In terms of price, Nux JTC costs 1.5 times higher than Donner Circle Looper.
Donner Circle Looper Is Perfect For Whom?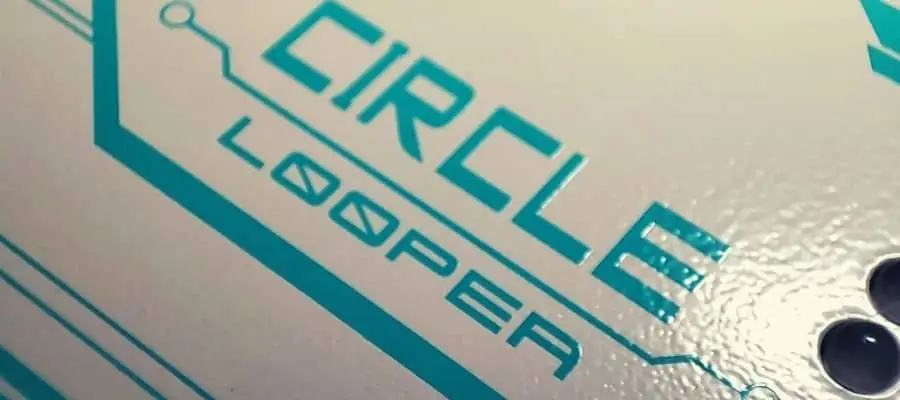 Donner Circle Looper is a perfect looper pedal for guitarists looking for a reliable and affordable looper pedal with good sound quality, high storage space, and versatile rhythm backing tracks to play with.
If you are a beginner or intermediate player and want to spice up your practice at home, Donner Circle will get the job done. Or, if you want to experiment with your composition ideas with some looping again, Donner Circle Looper is a great choice with its low price tag and great features. It sounds good, has enough capacity for recording, and has some great grooves to play along.
For small live performances, you can use the pedal's looper, but I would suggest looking for higher-end looper pedals for professional use as the looping sound quality is better on those ones. The same thing also goes for drum grooves. Although they sound amazing for home practice, amateur, and semi-professional settings, for professional settings, they may not satisfy the player.
Where To Place The Donner Circle Looper Pedal On The Pedal Board?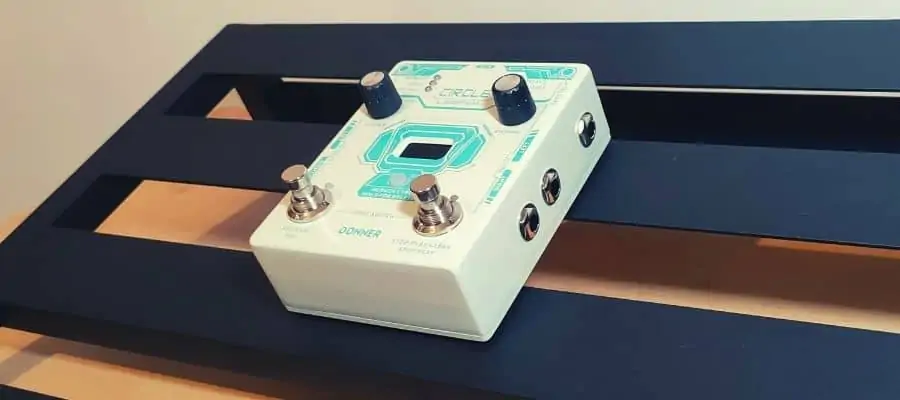 If you are familiar with pedal setups, you probably know that there is a standard order to follow while setting up a pedalboard. Guitar players found out the best setup order to have the highest sound and signal quality in order to use the full potential of every element on the pedalboard.
Compressors, volume pedals, filters, wah, pitch shifters should be used as the first step of the p signal chain. Overdrive and distortion pedals should be the second step, and the modulation effects such as chorus, phasers, flangers should be used as the third party of your pedal chain. The last step is the time-based effects like reverb and delays, as they must be the final effect pedals your instrument's signal should travel to.
Loopers are not effect-pedals; they are considered recorders. As the loopers record and playback any of your sounds, they must be placed at the very end of the signal chain.
This way, the looper pedals can hear and record the sound with all of the effects coming from your pedal combinations. So, the Donner Circle Looper pedal should be placed at the very end of your pedal setup. However, if your amp has the send and return inputs it should be connected via those inputs outside the pedalboard chain,
Other Donner Pedals Worth Mentioning
Donner One Looper
Donner One Looper makes looping very easy without any hassle. This looper pedal is boiled down to the fundamentals making the control simple with enough versatility. This way, you can concentrate more on playing and performing.
With unlimited overdubs, true bypass, undo/redo function, 10 minutes of looping, and its mini compact design, it will get your looping job done.
Donner Triple Looper
Donner Triple Looper Guitar Pedal, Loop Pedal with Screen, 3 Loops 30...
[Looper with Screen] The bright screen shows the current loop mode, time...
[3 saving slots] Donner Triple Looper has 3 slots for saving loop tracks...
[One Knob to Rule All] Record/Play/Overdub/Stop/Clear by one single foot...
[True bypass] With all electronics out of the signal path, you will have a...
Donner Triple Looper is a basic looper pedal with 3 slots for saving loop tracks. Each track can save up to 30 minutes of recording, making the pedal quite powerful at storing. It can have an unlimited amount of dub tracks.
With its straightforward design, it is extremely easy to control without any complications—the perfect looper pedal for guitarists who want to keep things simple yet solid.
Donner Beltway Looper Pedal
Donner Beltway Looper Pedal, 3 Playback Modes, USB Import/Export, 10...
[3 playback modes] Compact, intuitive looper with 3 playback modes :1/2...
[24-bit Recording and Playback] The Beltway looper offers you 24-bit high...
[Type-C USB] Use a USB cable to connect Beltway looper to your computer to...
[Undo/Redo and Overdubs] The Beltway looper supports unlimited overdubs....
Donner Beltway looper pedal is a compact and intuitive looper with 3 playback modes, including 1/2 speed playback, normal playback, and reverse playback modes. It features 24-bit high-quality recording and playback along with 32- bit signal processing that provides a loss-free sound.
It also supports computer connections for importing and exporting sound files. It is a mini compact looper pedal with basic yet fundamental features along with some unique ones which keep things interesting for players.
Alternatives To The Donner Circle Looper In Terms Of Look, Sound, Specs, And Price
Joyo R-06 O.M.B Looper/Drum Machine
JOYO Looper & Drum Machine Pedal (Looper Cycle Recording/Drum...
JOYO O.M.B Looper & Drum Machine Pedal, features LOOPER cycle recording,...
An auto-align function and features stick count-in for first recording. 40...
Whole new appearance and the iconic ambience lights bring out futuristic...
JOYO is over decade of brand reputation, provide worry-free after-sale...
JOYO R-06 O.M.B Looper and Drum Machine is a compact pedal that is like a one-man band in a box with its looper and drum beats. It supports up to 40 minutes of cycle recording and an independent drum machine along with a mode to combine both modes. Also, with unlimited overdub recordings, additional layers can be added, undone, or redone.
The drum machine has 7 genres of drum patterns with 7 different grooves in each style. Plus, there is a tap tempo option to adjust the bpm of the grooves. With independent volume knobs for looper mode and drum mode, you can adjust the mix pretty quickly.
Although it has fewer features, JOYO R-06 O.M.B costs almost the same as Donner Circle Looper.
Nux Loop Core Pedal Looper
Nux Loop Core is a compact looper pedal with built-in drum grooves for practicing and composing. With up to 6 hours of recording time and unlimited layers of overdubs, it has plenty of space for your recordings. With its essential features, it helps you get the job done with the ease of use.
The rhythm section features 40 different drum patterns. The patterns are decent with good sound quality. The looper's sound quality is quite satisfying for a beginner looper pedal with an affordable price tag. It is not a fancy pedal with fancy features but a basic one for your basic looping needs. It can be an excellent choice to keep things simple for your practice time at home.
Nux Loop Core Pedal costs slightly below the $100 mark, almost like Donner Circle Looper. When the versatility of the features and the sound quality are taken into account, I think Donner Circle Looper is a better option.
Mooer Groove Loop Drum Machine & Looper
The Mooer Groove Loop brings the micro looper together with the micro drummer in one micro pedal, forming the ultimate jamming companion. Like the rest of the mentioned pedals, both modes can be used simultaneously or independently.
The pedal features 8 drum grooves styles with 2 different variations on each one. The tap tempo button helps you to adjust the tempo of the grooves easily and quickly. The playback level knobs for both drums and looper lets the users mix the sound as they wish.
The looper automatically synchronizes itself to keep in time with the selected drum pattern when both modes are used simultaneously. The same feature can also be found in Donner Circle Looper.
Mooer Groove Loop has almost the same price tag as Donner Circle Looper. Once again, with the features and sound quality taken into account, Donner Circle Looper is the way to go, in my opinion.
Conclusion
With its built-in drum machine with around 100 different drum grooves, the capacity of up to 4 minutes of loop recording, 40 preset slots, and storage of 160 minutes in total recording, Donner Circle Looper is an outstanding looper pedal. It has everything, even more than you would expect from a looper pedal for a surprisingly low price.
Its sound quality is more than satisfying both for the looper and the drum machine. Plus, it supports stereo sound, which is not the case with the looper pedals of this price range. Furthermore, the option to connect it to a computer for importing-exporting audio files is impressive to keep things interesting for practice and live performances.
Of course, there are some letdowns, like there is no volume level adjustment for the looper, but these can be overcome with different solutions. For the price, you can not expect everything to be perfect.
I do not think there are any other looper pedals in this price range that can come close to the quality of Donner Circle Looper. It is genuinely an excellent looper pedal, truly a hidden treasure.
If you found this article useful, you may want to save this pin below to your Guitar board.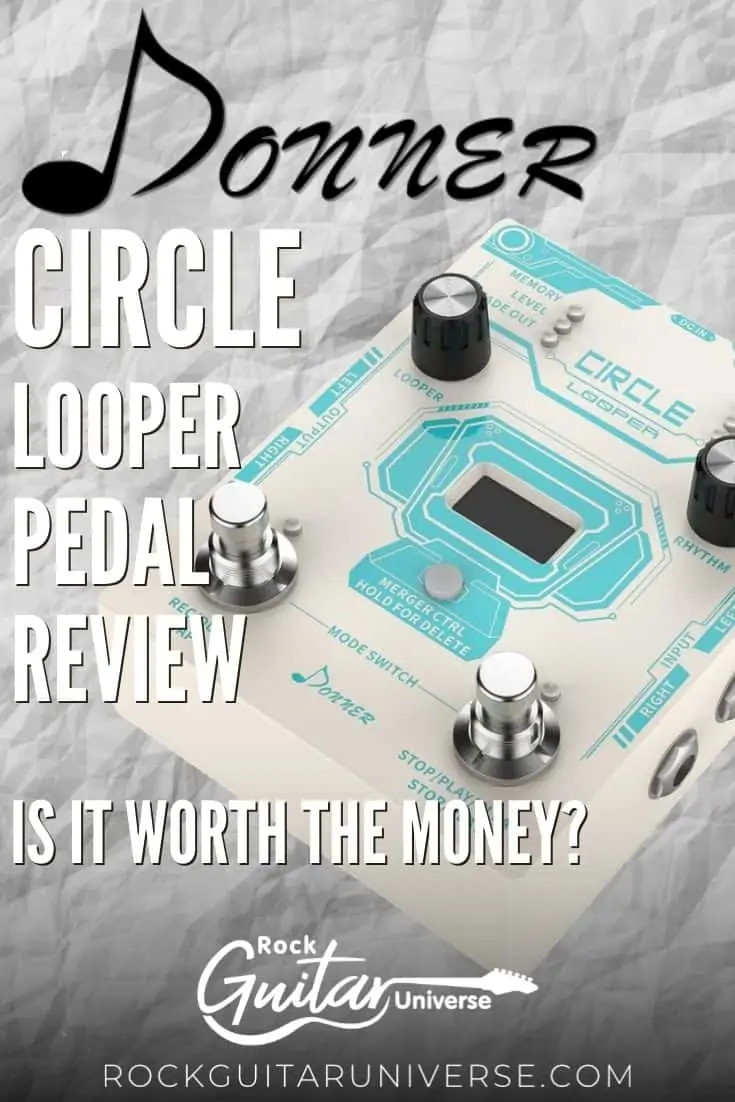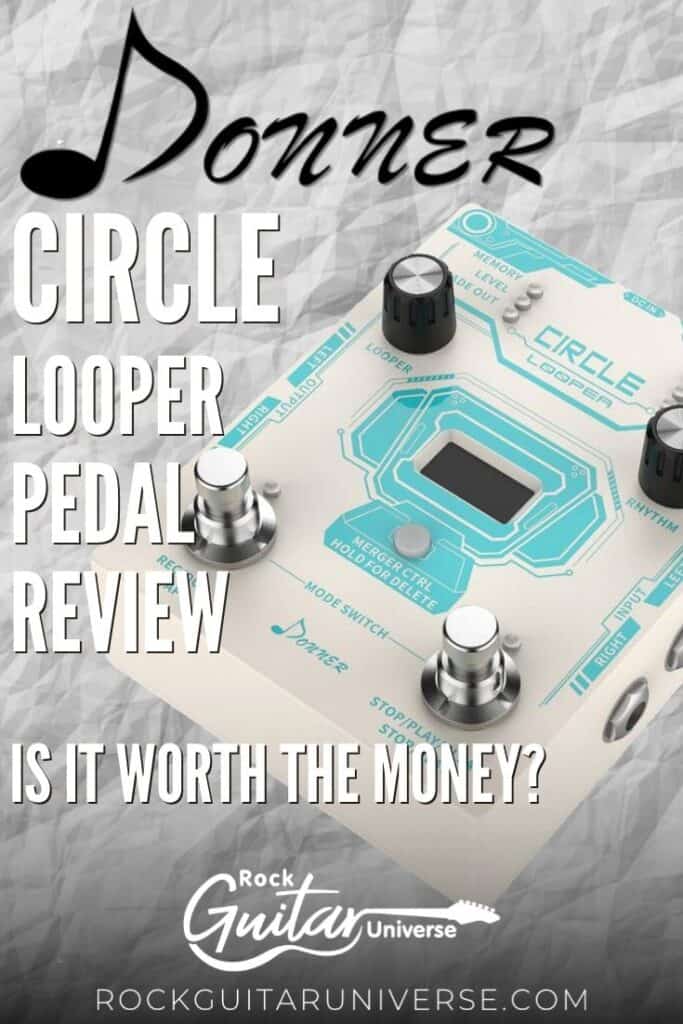 Last update on 2023-05-29 / Affiliate links / Images from Amazon Product Advertising API