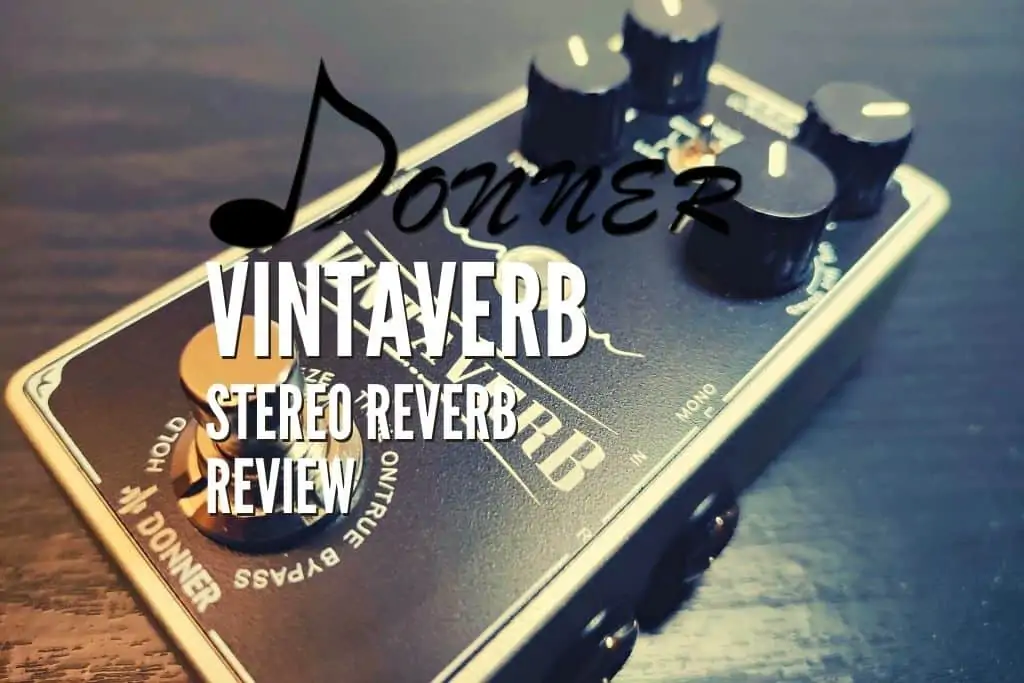 As one of the most used effects in the music world, Reverb can be used with many instruments like vocals, drums, keyboards, and guitars. It is considered the first effect for the electric guitar as you can find Spring Reverb on many old tube amps to make the guitar sound less dry and flat. And today, there are many reverb types like plate, hall, shimmer, and even more exotic reverbs.
Donner Reverb Guitar Pedal, Vintaverb Stereo Reverb 7 Effects Room,...
[7 Reverb Modes] Ranging from essential to ambient, including Room, Studio,...
[Stereo Reverb Pedal] Stereo inputs and outputs add flexibility to fit any...
[Versatility Reverb Pedal] Easy to setup your own reverb tone with MIX,...
[Explore More] Freeze function and switchable True Bypass Mode/Trail ON...
Recently, the Chinese brand Donner released a new affordable stereo multi-reverb pedal, Donner Vintaverb, which houses 7 different reverb effects in one stompbox. As always, with Donner pedals, it comes in a whole-aluminum sturdy stompbox. Besides the three adjustment knobs for customization, the pedal has nice extra features like the freeze function.
| | |
| --- | --- |
| Pros | Cons |
| Great value for the price | No adapter comes in the box |
| Versatile pedal with 7 different reverb modes | Not every reverb mode sounds great |
| Solid and good-looking stompbox | |
| Stereo inputs-outputs | |
Although I did not like some of the modes as they felt a bit unclear and lo-fi in terms of sound quality, this is a great muli-reverb pedal for the price. It is versatile with 7 different customizable modes and extra features with stereo sound. I would give it 4 stars out of 5, with its price in mind.
Donner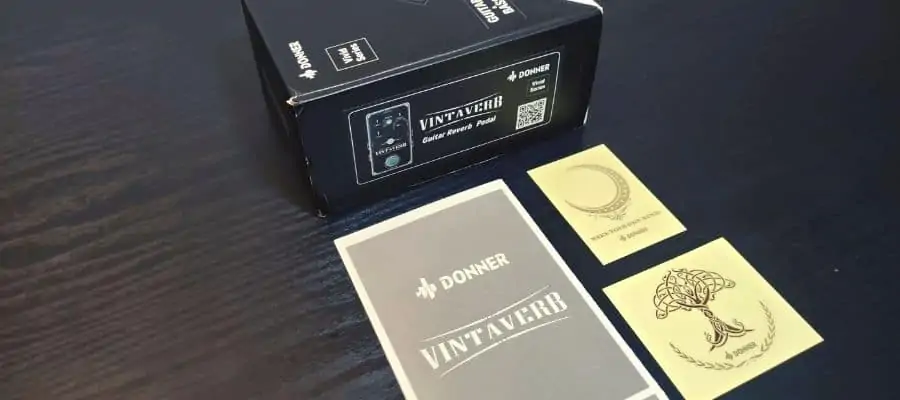 Donner is one of the younger companies in the music sector, as it was founded recently in 2012. The China-located brand made itself a name all over the internet with its affordable yet surprisingly high-quality products. Especially, Donner effect pedals are highly popular and appreciated among musicians.
Donner offers mini and regular-sized pedals, multi-effects processors, and pedal accessories, all impressive products for their prices. The brand is Chinese, but the warehouses are located in the U.S.A. and Canada. The company ships worldwide quickly and easily, so you can purchase without hesitation.
As clearly seen on the products, Donner has an excellent R&D team, and also the customer service is highly attentive and ready to solve any possible problem with their products. Overall, Donner products are definitely worth giving a shot.
Donner Vintaverb Reverb Pedal Specs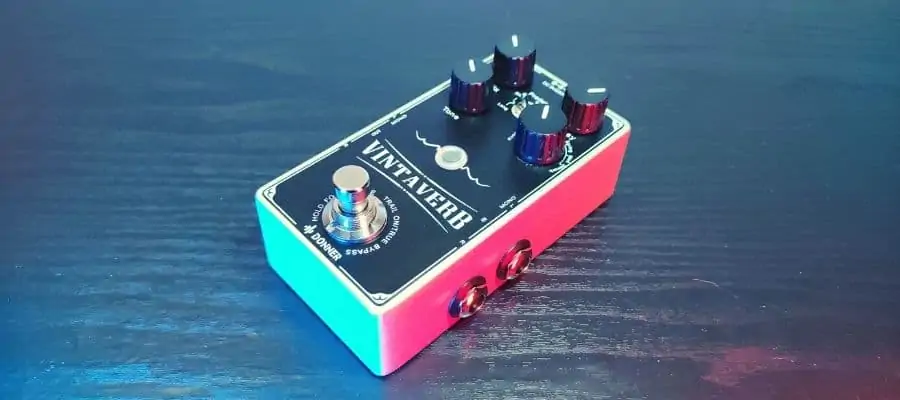 Let's look at the specs of Donner Vintaverb Reverb to see what it has to offer.
General
| | |
| --- | --- |
| Model | Vintaverb Reverb |
| Casing | Aluminum |
| Color | Black with White Letters |
Dimensions
| | |
| --- | --- |
| Weight | 9.17 oz (260 gr) |
| Width | 2.52" (64 mm) |
| Height | 2.07" (52.6 mm) |
| Depth | 4.47" (113.5 mm) |
Electronics
| | |
| --- | --- |
| Input Impedance | 1 M Ohms |
| Output Impedance | 100 Ohms |
| Current Draw | 150 mA |
| Led Indication | Yes |
Controls
| | |
| --- | --- |
| Knobs | Mix, Decay, Tone, Mode |
| Switches | Pre-delay Short – Long |
| Buttons | True Bypass – Trail On |
Input/Output
| | |
| --- | --- |
| Input | 2 x 1/4" Mono Audio Jack |
| Output | 2 x 1/4" Mono Audio Jack |
| Power Jack | 9V DC adapter, 200mA |
Donner Vintaverb Reverb comes in a classy black aluminum housing with silver letters and embellishments on top. The build quality is excellent compared to other affordable pedals, and the stompbox feels pretty sturdy and durable.
The control panel has four knobs, a toggle switch, and a footswitch. The adjustment knobs are for Mix to adjust dryness and wetness, Decay to control the reverb decay, Tone to filter the effect, and Mode to choose the parameter. The toggle switch adjusts the pre-delay between short and long options.
The featured modes are standard reverbs like Room, Studio, Hall, Plate, and Spring, as well as Modulation Reverb and Distortion Reverb.
The footswitch has two uses. If you press it short, it turns the pedal on or off, and if you press it long, it activates the freeze function.
The Vintaverb is a stereo reverb pedal with two 1/4" Mono Audio Jack inputs and outputs. It works with a standard 9V DC adapter which is sold separately.
Donner Vintaverb Reverb Pedal Manual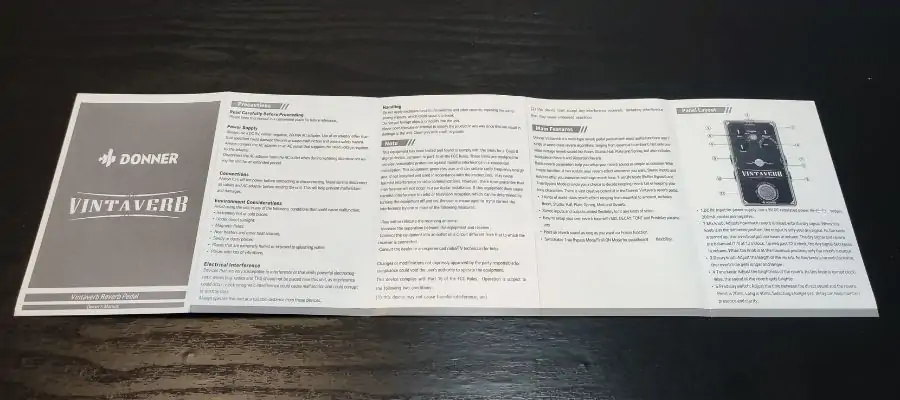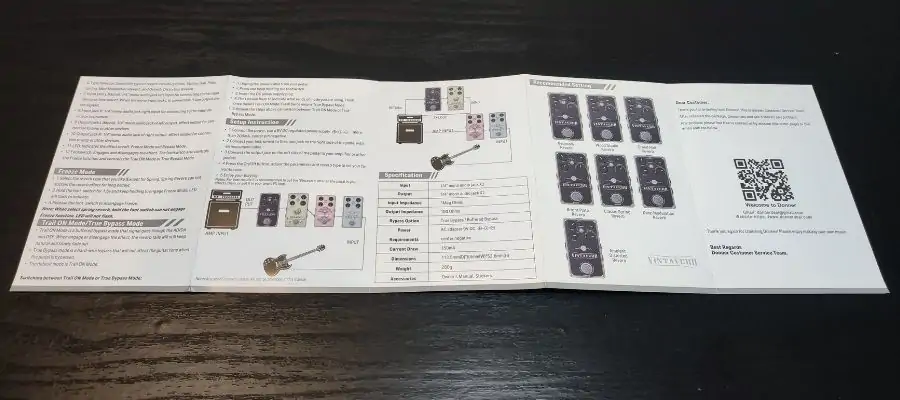 What Power Does Donner Vintaverb Reverb Require?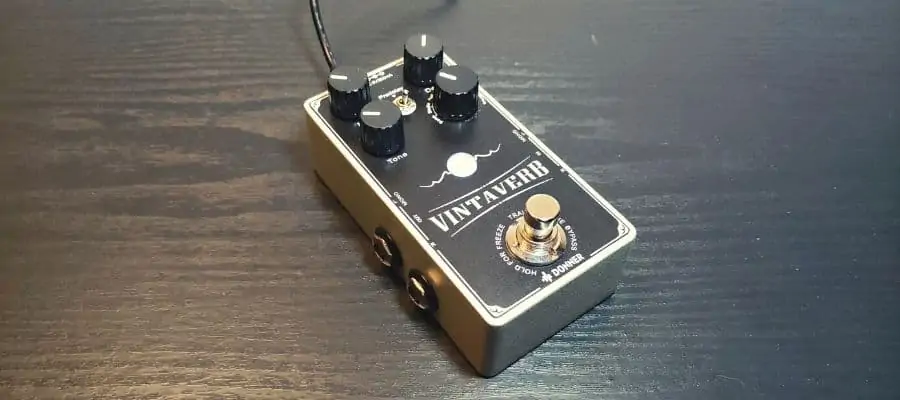 The Donner Vintaverb Reverb needs a 9V DC adapter with at least 200 mA to work. However, you will have to buy the adapter separately as it does not come in the box. Usually, you can find 300mA adapters so you better get one of those.
Suppose you have more pedals on your setup and find it hard to manage, organize and carry them. In that case, you might want to check out the Donner Guitar Case DB-3 Aluminium Pedalboard, which is a lightweight pedalboard to help you organize your setup. It is highly portable and sturdy with the dimensions 20" (50 cm) x 11.4" (29 cm) x 4" (10 cm), which is more than enough for around 10 pedals.
For more comfort, Donner also offers Donner DP-1, a multi-pedal supply for up to 10 different pedals. This is a great device to keep things simple and not struggle with the chaos of many cables and adapters on your pedalboard. You can use it with 9V, 12V, and 18V pedals, and it is a straightforward plug-and-use style power supply.
The Donner Vintaverb Reverb Pedal Sound Quality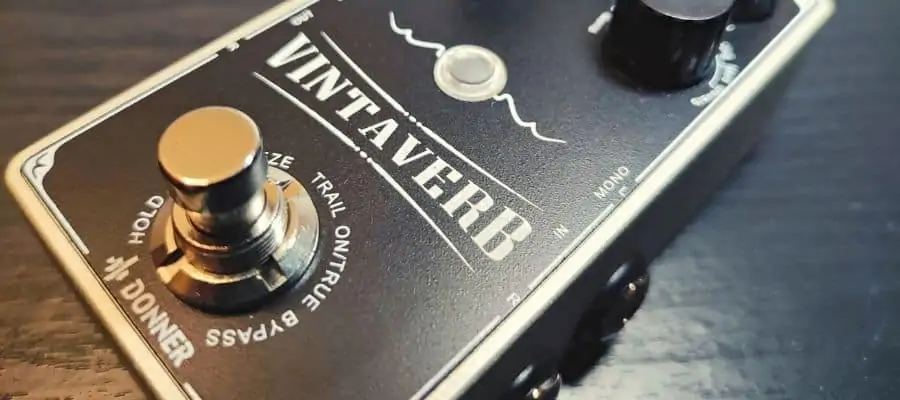 Overall, Donner Vintaverb has a decent sound quality. It is pretty versatile with 7 modes and a nice pre-delay switch touch. It is also one of the most affordable pedals that offer Freeze function and a stereo I/O system.
Although Donner labeled them as world-class, not all modes sound satisfying. I found the Room, Studio, Hall, and Plate modes fairly good. Mod and Distortion Reverb modes are okay but are not for everyone's taste. However, the Spring mode is very weak and sounds like a weak slapback delay. Spring reverb is tricky to replicate with digital models, but this one does not get even close.
The freeze function keeps an amazing stereo image, but you have to press the button too long to activate the mode, which makes it hard to manage. And also, the freeze mode is additive which means it adds the notes you play to the sound instead of freezing wherever it is activated.
Room
Room-type reverb replicates the sound of a small acoustic place, adding natural liveliness and color to the sound. Vintaverb's Room mode goes in the same way with a subtle reverb effect and a balanced character.
I found this mode to be working reasonably well with a clean tone. You can use a high level of decay and mix with this tone, as I found the effect to be a bit more subtle than I would have liked. With long pre-delay, it sounds a bit better.
Studio
Studio mode adds a warm and natural reverb effect to your tone. It sounds good with a bit of overdrive added. It is one of the best modes of the pedal, in my opinion. As it sounds natural and smooth, you can experiment with this tone, adjusting the decay, mix, and tone knobs as you like. Like the Room mode, this mode also sounds better with Pre-delay switched to Long.
Hall
With long decays, Hall mode replicates the sound of a big concert hall. It thickens up the sound and adds space to your tone. This mode sounds pretty good, but it can be a little too much for some guitarists. Try to keep the adjustment knobs on lower levels, so your tone does not get too muddy.
Plate
Plate mode replicates the old artificial reverb technique done by a magnetic driver initiating sound vibrations on a large sheet of metal. That is why this pedal mode has a 70's sounding reverb effect with a lot of character. It is an excellent and deep-sounding mode that goes well with clean tones.
Spring
This mode is the worst part of the pedal probably. Generally, the mode is inspired by the Fender amps' spring reverb, which is bright and clean, but it sounds too metallic and weak on this pedal. It is like a weak slapback delay that I did not like. Many of the users on the internet also share the same opinion.
Modulation
The Modulation mode provides a lush modulated sound, as the name suggests. The mode has a decent sound, but it is not for everybody. It sounds a bit too spacey and shimmery while sounding warmer than other modes.
Distortion Reverb
The last mode is the Distortion Reverb which is meant to be used with high-gain tones. It is not the best-sounding reverb but gets the job done somehow. It sounds like distortion comes from a distance, adding a bit of space to the sound. This mode's performance will also depend on your distortion settings.
Predelay Switch
One of the nicest touches on the pedal is this Long-Short Pre-delay Switch. It changes the time between the direct sound and the reverb. Both the Short and long settings are really accurate, located right where they should be.
In my view, most of the tones, except the Hall mode, sound better with Long pre-delay. But, each combination has different uses for different needs.
You can check the attached video to have a wider opinion about the different modes and the sound quality of the pedal.
Donner Vintaverb Reverb Pedal Compared To Other Pedals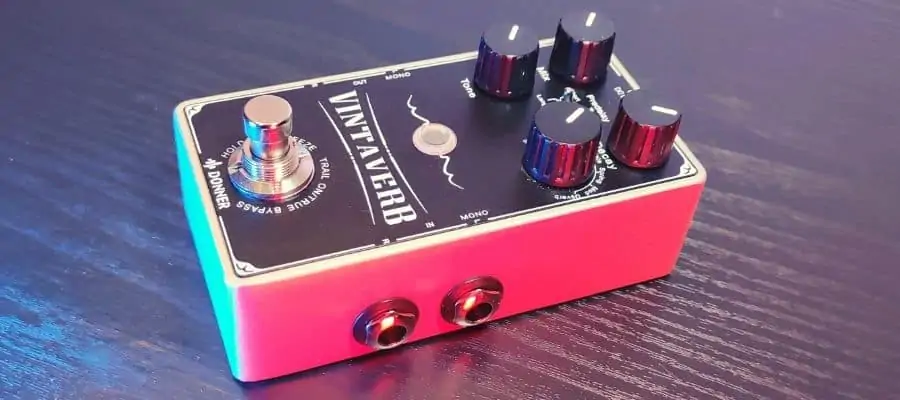 Donner Vintaverb vs. Source Audio Ventris
Source Audio Ventris is one of the highest-end digital multi-reverb pedals on the market. It has two completely independent 56-bit reverb processors, delivering a powerful dual-processing architecture for realistic and complex effects in stereo sound.
It has 14 different customizable reverb modes, which you can use two of them simultaneously. It has 6 adjustment knobs, including two expression controls. You can use the free Neuro Editor desktop or mobile app to save presets or attain different controls to expression knobs.
Compared to Donner Vintaverb, Source Audio Ventris has higher sound quality, more versatility with 14 modes, and more features like app control and using two reverb effects at once. But of course, this pedal is 5 times more expensive than Vintaverb.
Donner Vintaverb vs. Electro-Harmonix Oceans 12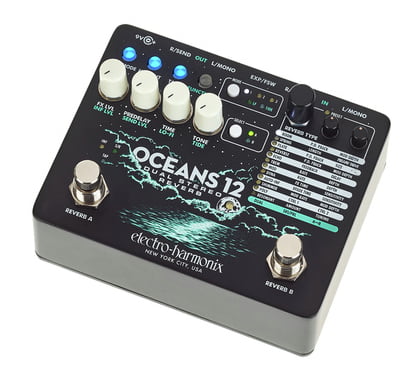 As one of the most versatile reverb pedals on the market, Electro-Harmonix Oceans 12 features two simultaneous and independent stereo reverb engines and a total of 28 reverb modes. It features a stereo I/O system along with four adjustment knobs to customize presets.
Compared to Donner VintaVerb, the mode amount and the sound quality is higher. Oceans 12 is clearly a more developed reverb pedal with more control overtones. It also has an input jack for the expression pedal or a footswitch.
As one of the best digital reverb pedals out there, Oceans 12 is bigger and heavier but provides better performance than Vintaverb. It also costs 3 times more than Vintaverb.
Donner Vintaverb vs. TC Electronic Hall of Fame 2 x4
TC Electronic Hall Of Fame 2 x4 Reverb Pedal
Famous reverb pedal with 4 pressure-sensitive footswitches for complete...
4 MASH footswitches let you toggle between reverb sounds instantly
New Shimmer reverb uses SUB 'N' UP OCTAVER algorithm for other-worldly...
Preset bank switch lets you easily access up to 8 stored reverb presets
TC Electronic Hall of Fame 2 x4 is a great multi-mode stereo reverb pedal with 10 reverb types with the TonePrint app support saves your custom-made presets. The shining pars are the four MASH footswitches to toggle between reverb sounds quickly. It also offers input for adding expression pedals or MIDIs in addition to the stereo I/O system.
Even though the reverb modes are limited compared to Vintaverb, Hall Of Fame 2 x4 has the option to create your own presets with the TonePrint app, which gives the pedal huge versatility.
It has 4 adjustment knobs like Vintaverb, but the app can easily make more adjustments.
TC Electronic Hall of Fame 2 x4 is a more expensive, versatile, and higher-performing pedal compared to Vintaverb.
Donner Vintaverb Reverb Pedal Is Perfect For Whom?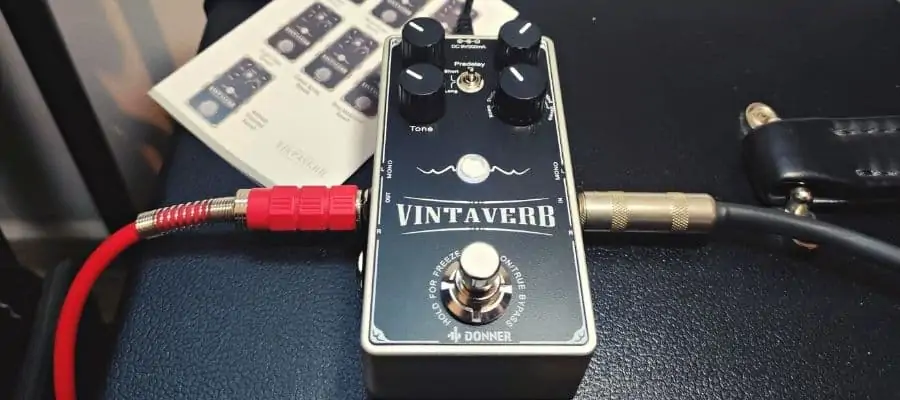 Although all of the pedals compared to Vintaverb in the section above seem to be better than Vintaverb, the important thing here is the value for the price ratio. Vintaverb exceeds all of them regarding what you get for the price. But if you have the budget and want a more professional-sounding reverb pedal, you should check the other pedals listed above.
That being said, any musician who wants a reliable reverb pedal with a good performance and an affordable price can go with Donner Vintaverb. It can be used with synths, keyboards, or vocals, but it performs better with guitars.
The pedal performs great with lo-fi, bit-crushed-like reverbs, while cleaner, more common reverb effects also sound decent. It is an interesting pedal to experiment with and use for different genres.
So for such an affordable pierce, I think Donner has a lot to offer with this pedal. Any guitarist looking for a simple and versatile reverb pedal can add this one to their setup and use it for practices, jam sessions, and small live performances. But as told before, you can't expect a professional device for the price, and guitarists who need a studio-quality reverb pedal have to go for higher-end models.
Where To Place Donner Vintaverb Reverb Pedal On The Pedal Board?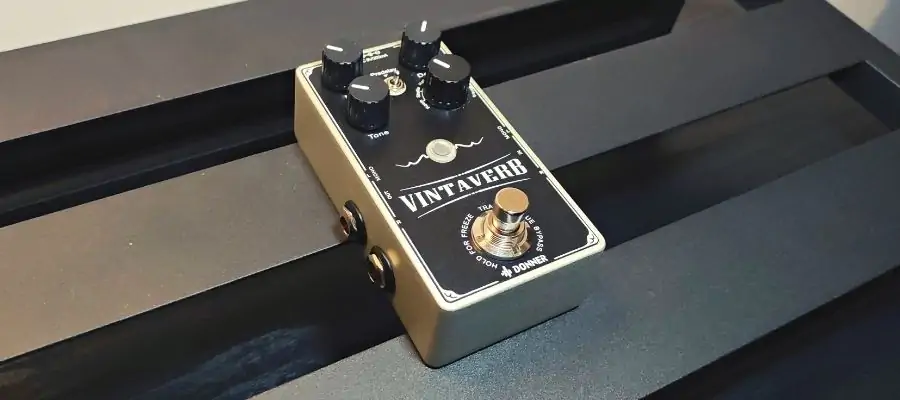 As you may know already, a specific signal chain order is to be followed when building up a pedal setup. This order is crucial to get the best tone and performance from your pedals.
The first step of your pedal chain should be the dynamic pedals like compressors, filters wah, pitch shifters, and volume pedals. The second step is for the distortion and overdrive pedals followed by the modulation effects such as chorus, flanger, and phaser effects.
The final step is where the time-based effects should be located. So, the reverb pedals like Donner Vintaverb Reverb and any delay pedals should be the final step of the chain. Time-based effects should always be the last step as they may otherwise mess with the signal chain.
Other Donner Pedals Worth Mentioning
Donner Digital Reverb
Donner Digital Reverb is a mini digital-circuit reverb pedal with 7 different reverb effects: Room, Hall, Church, Spring, Plate, Studio, and Mod. The whole aluminum stompbox has level, decay, tone, and mode knobs for tone adjustments, along with a True Bypass button.
Donner Verb Square Evolution
Donner Verb Square Evolution+ is a digital-circuit reverb pedal with 7 modes: Room, Hall, Church, Spring, Plate, Mod, and Darksea. It also has the button for Effect Trail and True Bypass functions. It is a versatile reverb pedal that can be used for any genre.
Donner Revecho
Donner Revecho is a portable twin pedal that functions both as a reverb and a delay pedal. It is a versatile pedal with 5 tone adjustment knobs and 2 footswitches for True Bypass, Tap Tempo, and Trail On functions.
Alternatives To The Donner Vintaverb Reverb Pedal In Terms Of Look, Sound, Specs, And Price
Joyo R-14 Atmosphere
JOYO R-14 Atmospheres Reverb Pedal Multi Mode Effects with...
The JOYO Advantages: over 14 years of brand history, strong technical...
Features 9 effects: spring reverb, church reverb, steel plate reverb, echo...
With MIX, DECAY, TONE adjustment and MOD depth control for the tone with...
With stylish ambience LED light.
Joyo R-14 is another affordable yet high-performing reverb pedal with 9 different customizable reverb modes. There are the mix, decay, type, knobs for tone customization, along with True-Bypass/Trail button.
It works with a 9V DC adapter, and the stompbox looks pretty elegant with the LED lights on top. The price tag is around the same with Donner Vintaverb.
Flamma FS02
Like Donner, Flamma is also a relatively new brand specializing in budget equipment. The FS02 model is a great reverb pedal with 7 different modes, which can be customized with five knobs: level, hi-cut, lo-cut, decay, pre-delay.
The customized presets are storable to use later, and the stereo I/O system provides high sound quality. It works with a standard 9V DC adapter, and the stompbox in white casing looks pretty elegant. The price is around the same as Vintaverb.
TC Electronic Hall Of Fame 2
TC Electronic Hall of Fame 2 Reverb Pedal
New MASH footswitch and shimmer effect
Tone print- instant access to custom pedal-tweaks made by your idols!
Stereo in & out - added flexibility to fit any set-up
True bypass - Zero loss of tone
TC Electronic Hall Of Fame 2 is the upgraded version of its previous model, Hall Of Fame. It is the mini version of the previous one with 8 built-in effects and 3 empty slots that you can customize and add your tones via the TonePrint app.
It also has a pressure-sensitive MASH footswitch that can be used as an expression pedal for more sonic creativity. This great pedal costs almost twice the price of Donner VintaVerb.
Conclusion
Donner VintaVerb is a great pedal for its price range with a much different reverb effect offering versatility and Stere I/O system along with Freeze function are great additions that you can not find in this price range.
Some modes sound pretty good, and some are not that usable like the Spring mode, in my opinion. But, it is a pedal that can be purchased without hesitation to experiment with. If you need some simple reverb effects for your setup, I recommend giving Donner VintaVerb a shot.
If you found this article useful you may want to save this pin below to your Guitar board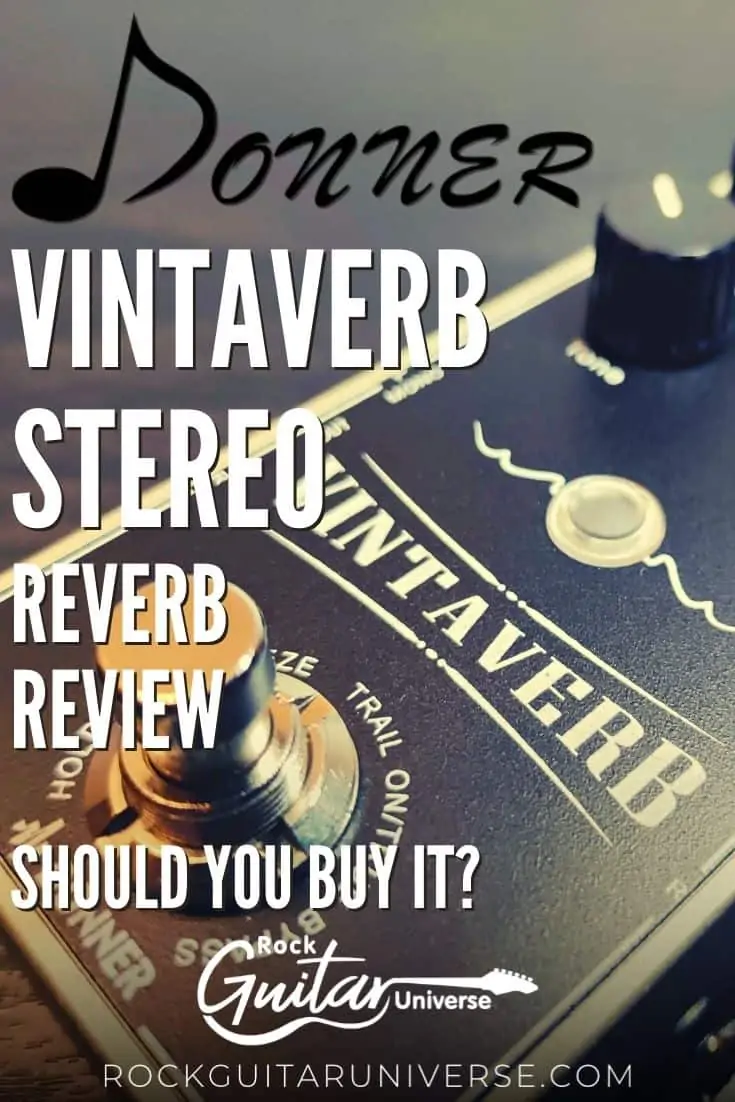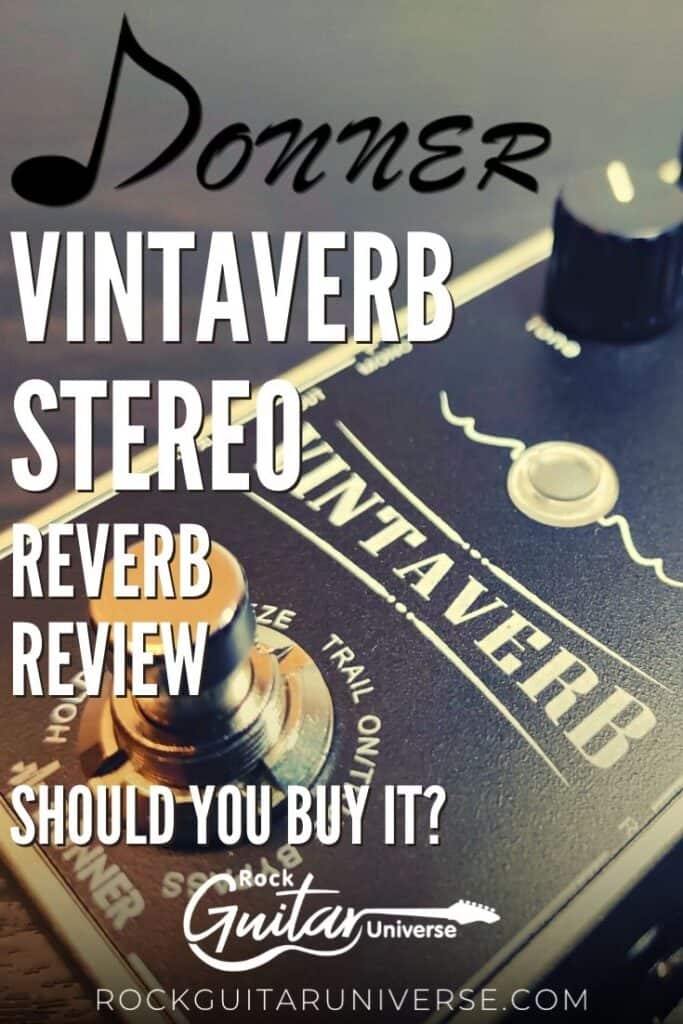 Last update on 2022-01-26 / Affiliate links / Images from Amazon Product Advertising API
Recent Content