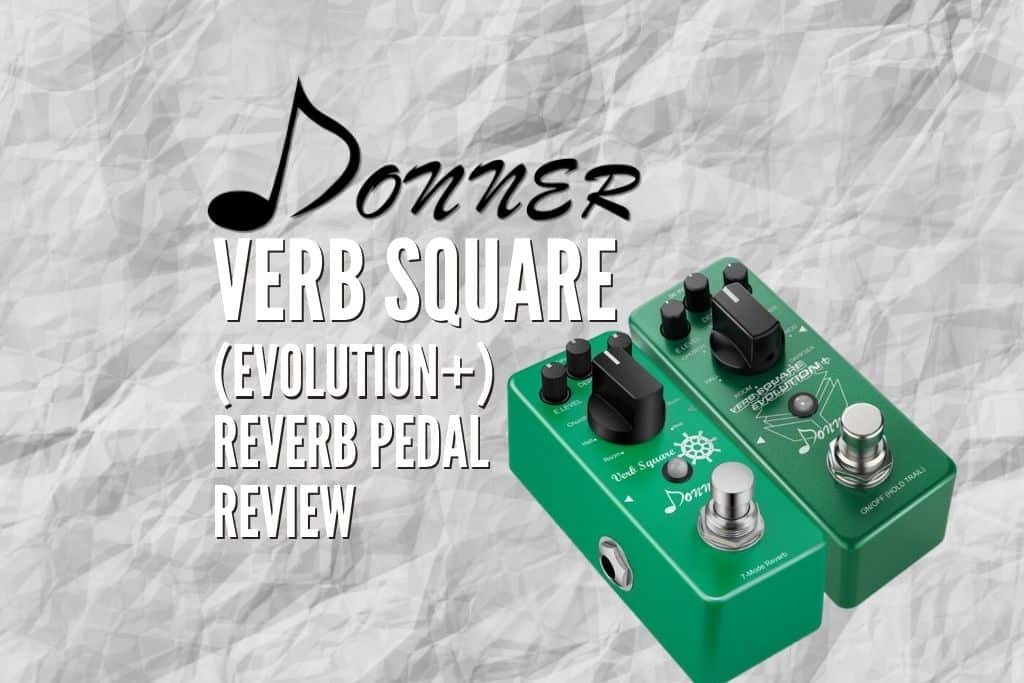 Even though analog pedal usage is decreasing since the multi-effect processors, as well as computer emulators and plug-ins, came into the scene, there are still several great offerings from various brands. The China-based brand Donner is undoubtedly one of the first ones that come to mind when talking about budget-friendly pedals and guitar accessories.
Donner offers series of mini pedals that are extremely affordable and high in quality. The reverb pedal of the series, Donner Verb Square is one of the best value for money reverb pedals on the market. It features 7 different modes including Room, Hall, Church, Spring, Plate, Studio, and Mod along with a portable yet elegant design.
The series also offers another excellent reverb pedal called Donner Verb Square Evolution+, and it has some minor differences from the standard Verb Square. The first nuance is that instead of the Studio mode, Evolution+ features the Darksea mode, which is a reverb mode with dark, gloomy decay. It sounds almost like a reverb with an octave pedal which is great to create some spacy sounds.
Another difference is with the Bypass option. While the Verb Square features a True Bypass option, the Evolution+ has a Buffer Bypass. Some players prefer one over the other, so it is up to you to decide which one suits you. The last change is that the Evolution+ has an Effect Tail function to keep the ambiance going on while changing the effect modes. The Evolution+ is only a few bucks more expensive than the standard Verb Square.
With their price tags below the $50 mark and their useful features, Donner Verb Square and Evolution+ shine among the reverb pedals on the market just like the new Donner "Square" mini-pedal series. They are all solid-built like tanks, they all perform fantastically and their prices are affordable literally for everyone.
| | |
| --- | --- |
| Pros | Cons |
| Great value for the price | No stereo input-output option |
| 7 great-sounding modes add to the versatility | Small knobs and control panel can be hard to manage for players with big hands |
| Compact mini design | Comes without the adapter |
Overall, I think this is an amazing reverb pedal. I would rate it easily 4.5 stars out of 5 and recommend it to any guitarist looking to catch this tone.
Donner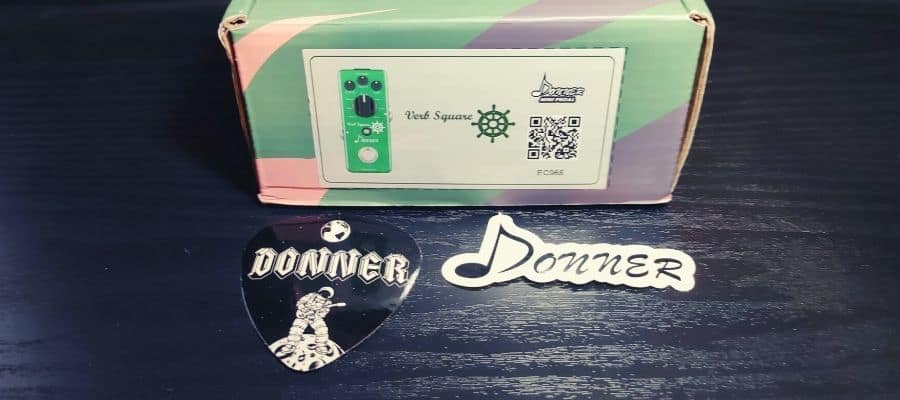 Donner is a pretty new musical instrument and accessories brand that was founded in 2012. The brand offers affordable and new experiences to musicians with a low budget. It is specialized in mini pedals, but they also offer various musical instruments as well as accessories.
As of 2021, the four related brands, namely Donner, Eastar, Moukey, and Reditmo, cover various products. Each brand line offers accessories and electronic devices for different instrument lines. The warehouses are in the USA and Canada, so that is where your product will be shipped from.
The brand is known for its innovative products and low price tags. They have a solid and efficient R&D team. It quickly became famous for its high-quality and affordable musical instruments and accessories—furthermore, the China-based brand manufactures excellent instruments for beginners.
Donner Verb Square Reverb Specs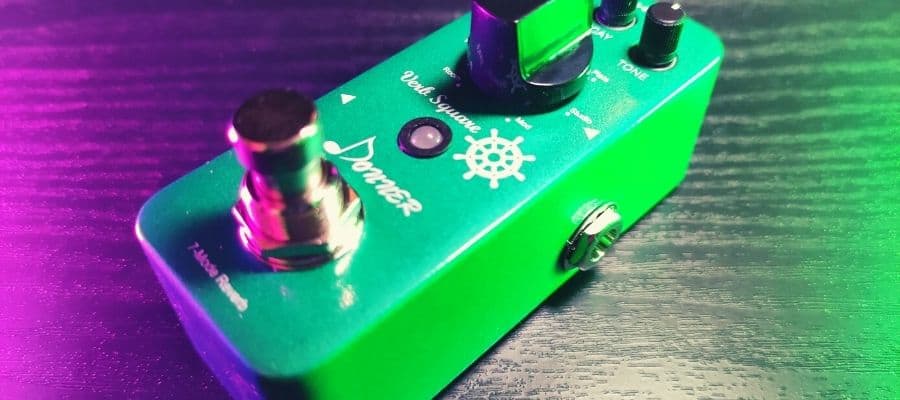 Let's look at what the Donner Verb Square has to offer.
General
| | |
| --- | --- |
| Model | Verb Square |
| Casing | Whole Aluminum |
| Color | Green |
Dimensions
| | |
| --- | --- |
| Weight | 8.12 oz (230 g) |
| Width | 1.6" (4.2 cm) |
| Height | 3.7" (9.35 cm) |
| Depth | 2" (5.2 cm) |
Electronics
| | |
| --- | --- |
| Chip Model | SOLO |
| Input Impedance | 1 M Ohms |
| Output Impedance | 95 Ohms |
| Working Current | 13 mA |
| Led Indication | Yes |
Controls
| | |
| --- | --- |
| Knobs | Level, Tone, Decay |
| Switches | 7-Way Tone Switch |
| Buttons | On/Off |
Input/Output
| | |
| --- | --- |
| Input | ¼" Mono Audio Jack |
| Output | ¼" Mono Audio Jack |
| Power Jack | 9V DC adapter |
The Donner Verb Square is a great-looking mini pedal with a whole aluminum solid and durable casing and a dark green color. The pedal looks pretty and elegant, along with its small size, which is perfect for crowded pedal sets.
The Verb Square weights around 0.7 lbs (0.33 kg) and measurements around 1.6" (4.2 cm), 3.7" (9.35 cm), 2" (5.2 cm), just like the rest of the Donner mini pedal series. It is highly portable, thanks to its innovative design.
There are three knobs to edit the selected tone on the pedal. The first one is the Level that literally controls the level of the effect. The second one is the Decay knob which controls the duration of the reverberation. Finally, the last one is the tone knob which controls the tone of the effect.
The pedal has a 7-way tone switch that lets you choose between 7 primary built-in tones, including room, hall, church, spring, plate, studio, and mod. The led indicator shows the working state while the true bypass button lets your guitar's signal pass through the pedal without intervention feeding your amp with a direct, unaltered signal from your instrument.
The pedal requires a standard 9V DC adapter to function while the input and output are standard ¼" Mono Audio Jacks.
The Donner Verb Square Manual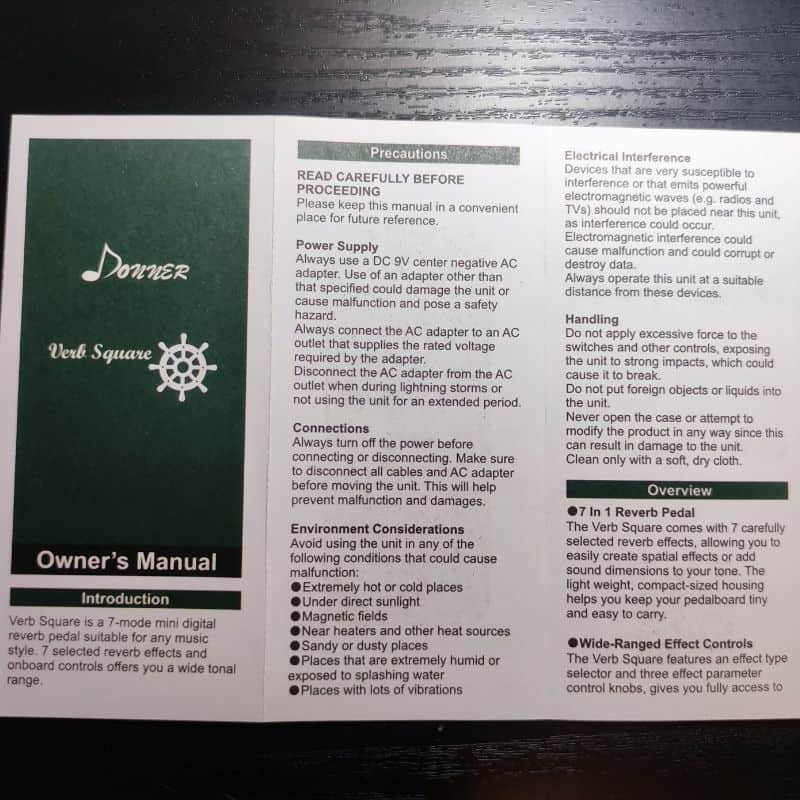 What Power Does Donner Verb Square Require?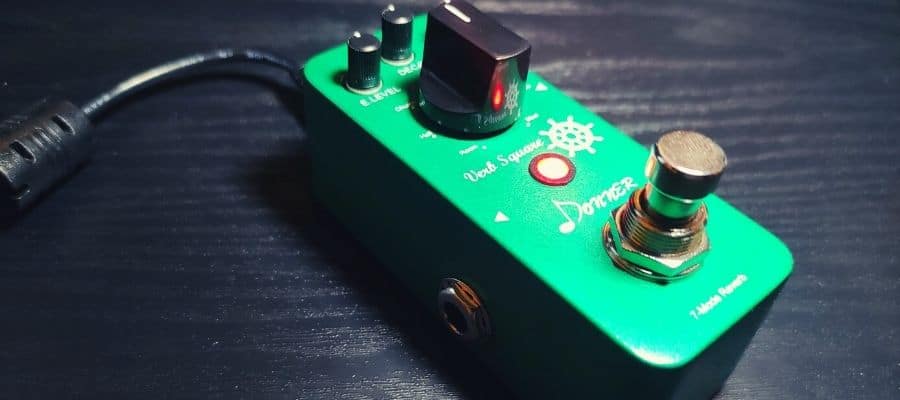 The Donner Verb Square requires a 9V DC adapter to work, which does not come along with the pedal itself. It is a pretty standard adapter that can be found anywhere for a low price.
If you are using many pedals, the individual adapter and cable organizations can be frustrating. To make things easier, Donner offers Donner DP-1, a guitar pedal power supply of up to 10 different pedals. Supporting 9V, 12V, and 18V pedals, this gadget is extremely handy and easy to use. Getting rid of the long process of plugging and unplugging many adapters will save your energy and time significantly.
Another great tool for guitarists with many pedals is the Donner Guitar Pedal Board Case DB-3 Aluminium Pedalboard. With the dimensions of 20" (50 cm) x 11.4" (29 cm) x 4" (10 cm), this pedalboard can take around 10 pedals which will help you get ready to play faster and move around with your pedal setup almost ready.
The Donner Verb Square Sound Quality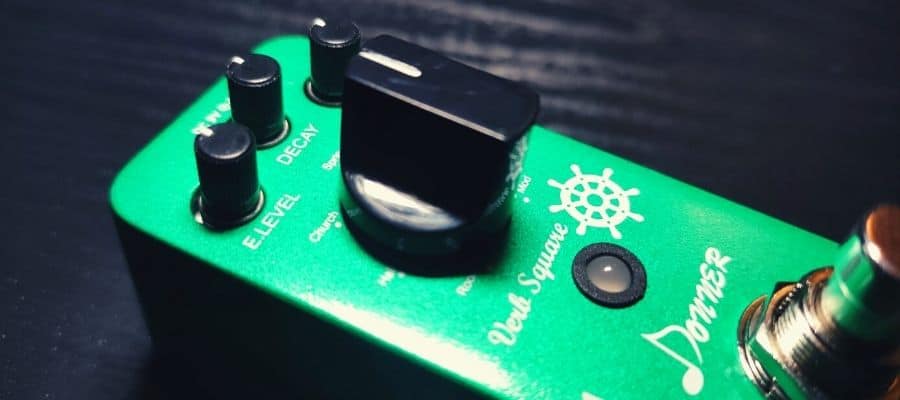 The Donner Verb Square provides 7 different reverb effect modes that sound pretty great, especially when its price is taken into account. Of course, the sound quality depends heavily on the instrument, amp and other pedals/plug-ins used. Still, with a decent instrument and amp, I can genuinely say the pedal sounds more than satisfying with high sound quality.
Room
Typically, the Room type of reverb is based on the sound of a small acoustic space. This type of reverb sounds almost like a standard ambiance people are used to hearing in the real world. Room reverb adds natural liveliness and color to the sound, making it more rock 'n roll sounding.
Donner Verb Square's Room mode does precisely the same. It has a balanced character without going to the extreme in any aspect. It adds a subtle reverb which is a nice spice to the tone, making it more natural and lively.
Hall
As the name suggests, Hall reverb replicates the sound of a gigantic concert hall. That is why the Hall reverb typically has a very long decay up to several seconds. It is mainly used for thickening up and adding space to the tone.
Donner Verb Square's Hall mode sounds deep, thick, and layered. When played in big halls, this mode can muddy up a mix if overused. It gives the best sound quality when used lightly or in moderation in small rooms or open air.
Church
The Church reverb imitates that you are playing in a big church with an excellent acoustic. The reverb of the Church mode is bigger and fuller compared to the Hall reverb, and sounds come from much deeper.
Donner Verb Square's Church mode is kind of muddy and can sound a bit unclear, especially with high volume levels. It sounds pretty good with a moderate level of volume, decay, and low level of tone. As this effect mode features high effect levels, it might need some adjustments to reach the desired tone.
Plate
As it does not replicate a real-world acoustic space, Plate reverb differs from other modes like hall, chamber, church, or room. It is one of the types of artificially created reverb effects. It is initially produced with a magnetic driver initiating sound vibrations on a large sheet of metal. It is often used at Abbey Road Studios in the 1960s; that is why you can hear it mainly in early Beatles and Pink Floyd songs.
Verb Square's plate mode provides a smooth sound yet with a lot of character. The overtones are truly flattering, making you feel like you are in a Spaghetti Western of Morricone. The pedal replicates 1960's reverb tones pretty well.
Spring
Spring reverb is probably the most popular form of reverb. This is mainly because of Fender's choice of implementing spring reverb in their amps starting in 1963. With this implement this reverb mode got immensely popular, creating a strong bond with guitar.
Like other spring reverb effects, Donner Verb Square also creates a clean, bright sound. It sounds surprising very close to Fender amplifiers' spring reverb effect, which is rarely the case for most reverb pedals. This mode is the star of the pedal, in my opinion. Especially with overdrive, the Spring reverb sound really bright and promising.
Studio
The Studio mode produces a warm and natural reverb effect. It is a perfect mode for players who like to have a little spice on their tone.
The Studio reverb effect sounds great with a low to moderate amount of overdrive as well as clean tones. This mode sounds very natural and smooth, so you can turn up the decay, level, and tone knobs freely.
Mod
The Modulation mode provides a reverb effect with a lush modulated sound. It sounds kind of twangy, just like a chorus effect. It is pretty lovely to play in clean tones with this effect mode. The tone sounds like you are playing a 12-string guitar, even if you are not.
It is better to play this mode with moderate decay and tone along with a nice clean tone.
You can watch this demo video to get a better idea of all the effect modes and the sound quality of the reverb pedal.
Donner Verb Square Compared To Other Pedals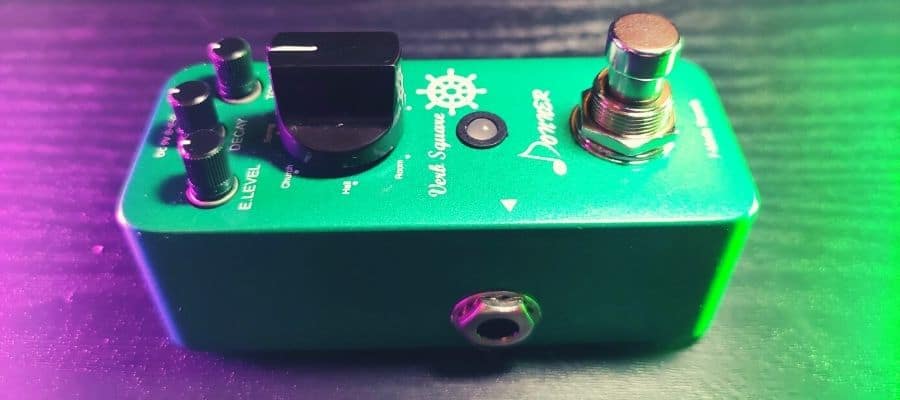 Donner Verb Square vs. Donner Verb Square Evolution+
Donner Verb Square Evolution is a little changed version of the Donner Verb Square. The two pedals are almost the same except for minor differences. Both pedals have an outstanding value for price ratio with their compact designs and high sound qualities, along with their highly versatile tone modes.
The whole aluminum solid green case, the three adjustment knobs along with 7 tone modes, and a True Bypass button are the similarities between the models. However, Evolution+ features a unique reverb effect mode called the Darksea mode instead of the Studio mode of the older Verb Square.
The Darksea mode produces a reverb tone with deep gloomy decay. It sounds like a reverb with an octave pedal. That is why it sounds better with the lower keys. The tone provides out-of-world spacy sounds. It is perfect for players who like to experiment with odd effect tones but may not be great for more conservative guitarists who like more classic tones.
Another change is the Effect Tail function. Users can hold the Bypass footswitch to turn on the effect tail when bypassed. The function helps to keep the ambiance going on when switching between effects. Also, the Evolution+ features a Buffer Bypass, while the Verb Square has a True Bypass option.
As you see, there is not much difference between the two pedals. The prices are also similar, with the new Evolution+ costing only a few bucks more.
Donner Verb Square vs. TC Electronic Hall of Fame 2 Mini
TC Electronic Hall of Fame 2 Mini is an outstanding compact reverb pedal for those who are short on pedalboard space and okay with computer-based editing. The compact mini pedal comes loaded with a lush hall setting by default. However, with the TonePrint smartphone app, you can choose from any of the full-sized Hall Of Fame settings, and artist-programmed effects can be added to the pedal.
The pedal's reverb effects are outstanding, and with the TonePrint app, there are limitless options available, from modulated verbs to short spring reverbs. However, it is not quick nor easy to change between effects, and it can be challenging to use the pedal if you want to use multiple reverb effects.
The biggest difference between Donner Verb Square and HOF 2 Mini is the smartphone control function and the price. HOF 2 Mini has many ore available reverb effects that you can choose via your smartphone. At the same time, Verb Square offers fewer effects but on-board adjustments and switches between different modes, which makes it easier to control, especially on stage. The adjustment knobs on the pedal are the same with level, decay, and tone knobs, along with the True Bypass button present on both.
The price of Hall Of Fame 2 Mini is double the Donner Verb Square. The sound quality is not that different. But, with high reverberation effects, HOF 2's analog dry-through ensures your guitar's natural tone shines through more than the Donner Verb Square does.
Donner Verb Square vs. MXR M300
The MXR M300 reverb pedal features the traditional reverb effects like plate, spring, room, and modulation along with two special ones: the Pad setting, which is similar to the Darksea effect of Donner Verb Square, and Epic, which sounds like a multi-tap delay with reverb added. While the Donner 7 different reverb effects, M300 features 6 different ones.
Another difference and a plus for MXR M300 comes with its available stereo mode. For many guitarists, a reverb pedal must accept stereo input and output, as reverb pedals are the last step in the signal chain. While the Verb Square does not have this feature, M300 does.
With M300, you can switch between reverb effect modes by pushing down the tone knob. So you do not have to bend down; you can just switch by pressing it with your foot. It may not be necessary as the reverb tone often does not change in a song, but it is good to have the option.
The sound quality and versatility of the M300 are pretty similar to the Donner Verb Square. Of course, M300 does a slightly better job with the sound and effect quality and its handy other features. But when the prices are taken into account, I am unsure if the difference is that much. MXR M300 has a price tag 4 times higher than the Donner Verb Square.
Donner Verb Square Is Perfect For Whom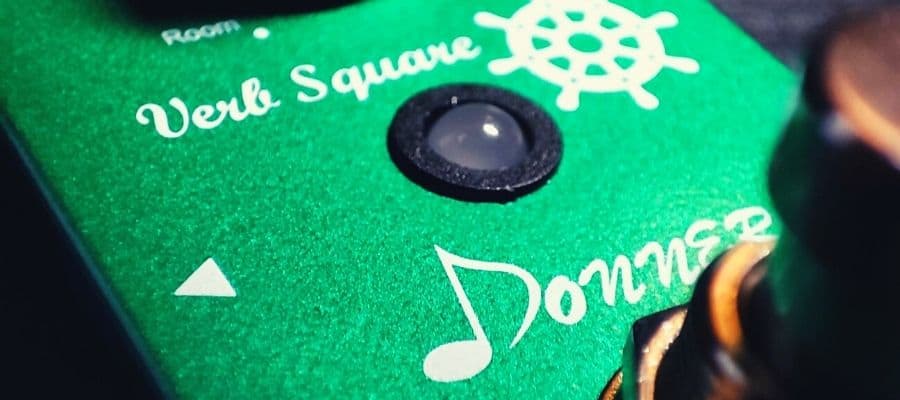 Donner Verb Square is an excellent choice for players who do not have a built-in reverb tank in their amplifiers. It can be used in the amp's FX loop or even into the amp's front end as a last resort. As I said before, the Spring reverb is very close to Fender Amp reverb tones, and with Reverb Square, you have more control over the reverb tone to shape it as you want.
The rest of the reverb modes are very reminiscent of what you can expect from a good reverb pedal which is fantastic when you take the price of the pedal into account. If you are on a budget, this is the ultimate reverb pedal for you. I do not think that you can find any reverb pedal close to this quality in its price range.
So, any guitar player who likes reverb effects should try this pedal. I am almost sure it will not disappoint. If you like individual effect pedals instead of muti effect processors or digital solutions like plug-ins, this is the reverb pedal for you.
One of the letdowns to consider is that this is an extremely small pedal with small knobs. It is good to travel around with, but the small control pots may be an issue if you have large hands. You might have a hard time trying to turn the knobs quickly, for example, on the stage. The middle decay pot is the most challenging one to adjust. This is not exactly a deal-breaker, but I think it is worth mentioning.
Where To Place Donner Verb Square On The Pedal Board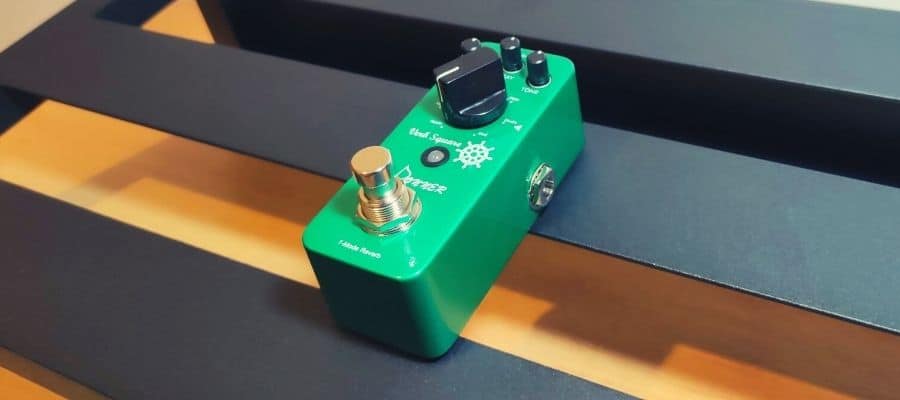 There is an order of the pedals that the signal of your instrument should travel to get the highest sound quality from your setup. Volume pedals, compressors, filters, wah, pitch shifters are often used as the first pedals that the instrument's signal reach. Gain effects such as overdrive and distortion pedals come next, while the modulation effects like chorus, phasers, and flangers are often used as the third step. The last step of the signal chain is the time-based effects like delays and reverbs.
So you should respect this order if you are not experienced with pedal setups and not looking for experimenting with unconventional setup designs. That means your Donner Verb Square will go to the last step of your signal chain on the pedalboard. The time-based effect pedals should always be the last step so take this information into account using the Donner Verb Square with any other pedal.
Other Donner Reverb Pedals Worth Mentioning
Donner Vintaverb Reverb
Donner Reverb Guitar Pedal, Vintaverb Stereo Reverb 7 Effects Room,...
[7 Reverb Modes] Ranging from essential to ambient, including Room, Studio,...
[Stereo Reverb Pedal] Stereo inputs and outputs add flexibility to fit any...
[Versatility Reverb Pedal] Easy to setup your own reverb tone with MIX,...
[Explore More] Freeze function and switchable True Bypass Mode/Trail ON...
Another great reverb pedal to check from Donner is Donner Vintaverb Reverb. IT is a multi-type reverb pedal with 7 types of reverb modes from essential to ambient. The pedal produces vintage reverb tones like Room, Hall, Studio, Plate, and Spring, as well as Modulation Reverb and Distortion Reverb.
Donner Revecho
Donner Revecho is a compact twin pedal that contains delay and reverb effects in one device. There is a Tap Tempo function which makes the delay control extremely easy. The pedal shines with its portable mini size, easy-to-use control panel, and stunning tones. It is ultimately a versatile pedal that you can use for any genre.
Donner Multi-Pad 100
The portable multi-effects processor, Donner Multi-Pad 100, catches the eye in the first look with its unique gamepad-like shape. It is loaded with amp, mode, cab, delay, reverb effects along with tuner and drum machine functions. The processor lets you combine any effect you like, creating your sound with separate knobs for each different effect module. The processor provides excellent sounding effects and tones and outshines other processors in its price range with its outstanding tones and versatility.
Alternatives To The Donner Verb Square In Terms Of Look, Sound, Specs, And Price
Tom'sline Reverb Pedal
Tom'sline Reverb Pedal - Digital Classic Guitar Effect Pedal 3 Modes...
Classic Sound - digital reverb effect pedal, aluminum alloy body true...
3 Modes Options - room ,spring and shimmer mix,tone and decay control.
Easy to Carry, Big Sound-has a classic mini size. Beautiful case design...
Easy Use - Compatible to any 9V, negative tip effect pedal power adapters....
Tom'sline Reverb Pedal is a classic digital reverb effect pedal with 3 built-in modes, an aluminum alloy body, and true bypass functions. The 3 modes include room, spring, and shimmer, while the tones can be adjusted with a mix, tone, and decay control knobs.
The pedal features a beautiful design with its light blue body and small, portable size. It has a Led light indicating the True Bypass function on it along with classic ¼" Mono Audio Jack input and output. You can use this pedal with a standard 9V negative type effect pedal power adapter. However, the adapter is not included in the price.
The best aspect of this reverb pedal is its extremely affordable price. It is even slightly cheaper than Donner Verb Square.
EX Mini Digital Reverb Pedal
EX Mini Digital Reverb Pedal
🎸 3 Different Reverb Settings: "Spring" mode is snappy and dark. This...
🎸 With the help of the function knobs, this reverb pedal can bring you...
🎸 Features - LED changes color depending on different reverb modes. Red...
🎸 Housed in a compact, die-cast box. 1/4 inch input and output jacks and...
EX Mini Digital Reverb Pedal is yet another tiny reverb pedal with 3 different reverb modes; Room, Spring, and Well. The easy-to-use control panel helps you adjust the tones as you like: The Dry/Wet knob controls the amount of reverb in the mix while the Time Knob adjusts decay time, and finally, the Level Knob controls the overall volume.
The pedal also features a True Bypass button and a Led indicator showing which reverb mode you are using. The die-cast box body has ¼" Mono Audio Jack input and output along with an AC adapter input on the top of the unit. It requires a standard 9V negative tip power supply or alkaline battery. It must be noted that the adapter is extra and does not come with the pedal.
EX Mini is the cheapest reverb pedal among the mentioned ones in this article.
Valeton Coral Verb II Digital Reverb Pedal
VALETON Coral Verb II Digital Reverb Guitar Effects Pedal
16 Carefully selected Reverb Algorithms in one Stompbox suits a variety of...
MIX, DECAY and TONE Knobs for Detailed Effect Control
Switchable Reverb Tail function for Cutting the Sound Instantly or...
Special Design Buffer Bypass Circuit Keeps the Sound Pristine
Valeton Coral Verb II is a highly versatile digital reverb pedal with 16 high-quality reverb effects ready for any music style. The effects can be adjusted with mix, decay, and tone knobs as usual. The shining feature of this pedal is its switchable reverb tail function which cuts the sound instantly or naturally leaves the decay when effects are switched off.
The device also has a specially designed buffer bypass circuit that keeps the sound pristine. It works with a standard 9V adapter which is not included in the price.
Valleton Coral Verb II has a little higher price than the Donner Verb Square.
Conclusion
With its 7 different reverb effects, easy-to-use panel, and highly affordable price Donner Verb Square has one of the highest value for price ratios on the market. If you are on a budget, this is a fantastic reverb pedal. It deserves one of the top places in low-end reverb pedals lists.
There is a reason this pedal always receives high ratings from users. It does not disappoint and gives a fantastic color to your guitar tone.
If you found this article useful you may want to save this pin below to your Guitar board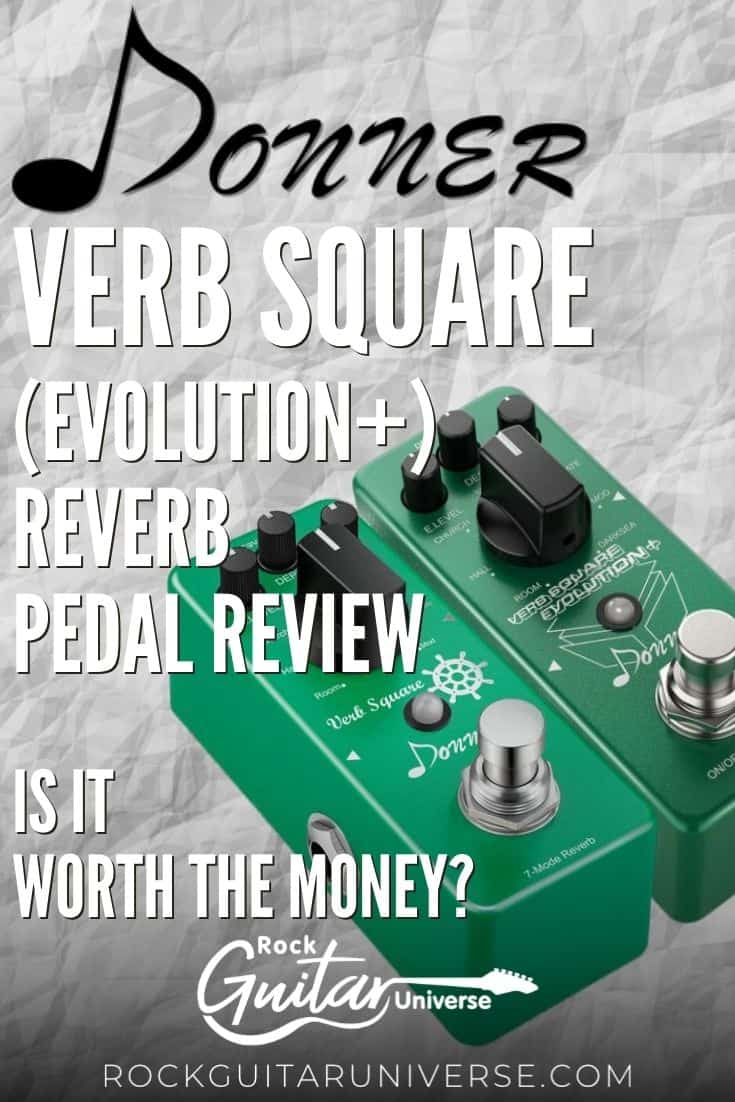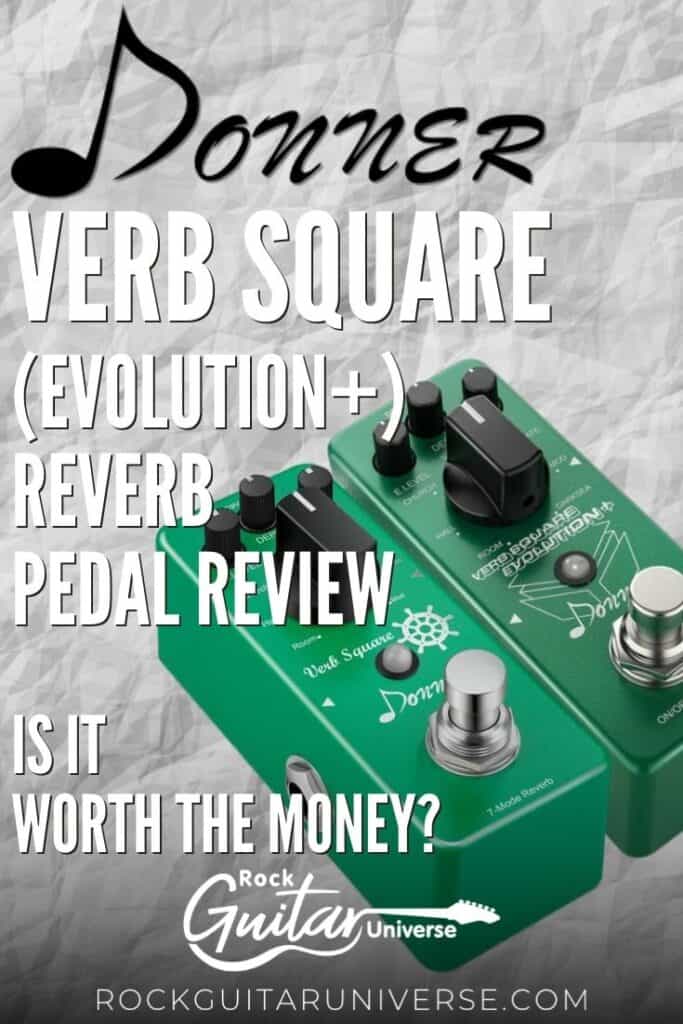 Last update on 2023-02-06 / Affiliate links / Images from Amazon Product Advertising API