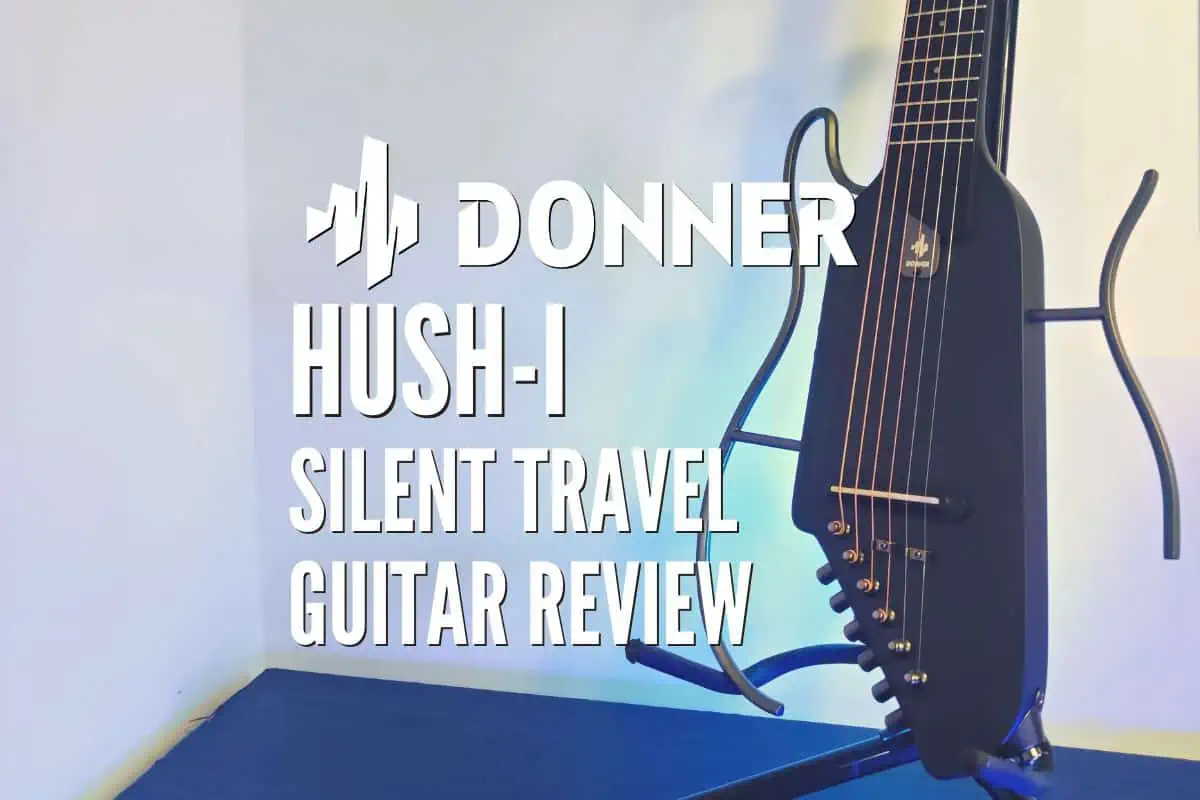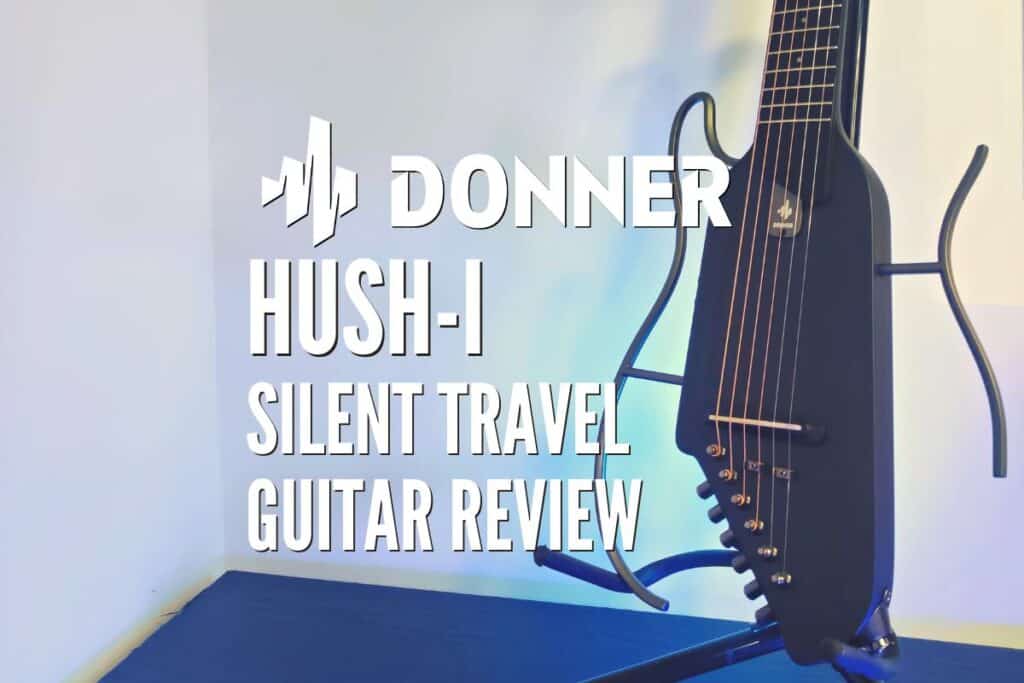 Donner has been around for a while, and it is one of the most popular budget brands. The quality of these guitars is surprisingly good, and there are plenty of different models you can find today.
And if you are interested in something a bit different, Donner HUSH-I is something worth checking out. This is a travel guitar with a unique design, and it is perfect for those looking for a simple way to carry their instrument around.
The model is not too expensive, and it comes with additional accessories. This includes the traveling bag, the guitar tuner, and in-ear monitors so you can practice in peace. And it is one of the best options you can find today.
Donner HUSH-I Guitar For Travel - Portable Ultra-Light and Quiet...
[Best Partner for Travel] - Donner HUSH portable guitar is as lightweight...
[Practice Anytime, Anywhere] - Ultra-quiet -30-45dB LEVEL pizzicato...
[Superior Sound Quality] - The ideal practice guitar is equipped with an...
[Make Practice More Comfortable] - The HUSH travel acoustic guitar has an...
You can also see that the design of this guitar is unlike any other model, including other traveling guitars you can buy. But one of the main questions people will have is whether this guitar is worth buying.
| Pros | Cons |
| --- | --- |
| Portable | It takes time to fully assemble/disassemble it |
| Great quality | Not the best option for using with a strap |
| Great design | The preamp doesn't have the on/off switch |
Needless to say, travel guitars are never on par with professional instruments. And it would be wrong to compare it with something like a Fender Stratocaster. But in its own category, Donner HUSH-I is one of the best options you can find.
Generally speaking, the Donner HUSH-I is worth checking out if you are in need of a travel guitar. It's great for both beginners and experienced players, and it is worth checking out. I would give it 4 out of 5 stars.
Donner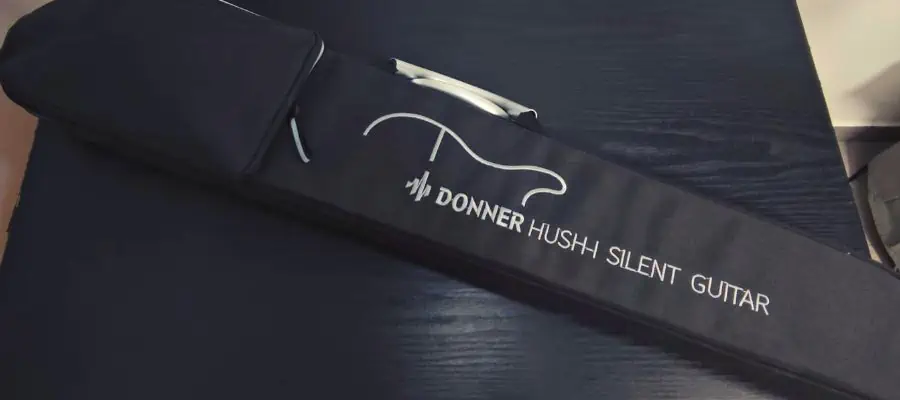 Donner is a company that started working in 2012, and the primary idea is to offer affordable instruments and gear. Initially, the focus of this company was on mini pedals, but it soon started growing and offering more versatile gear.
Only two years later, Donner introduced the ukulele and became one of the biggest brands thanks to the quality/price ratio. Over the years, Donner continued growing and offering services across the globe.
Donner continues to include new models and designs even today, and you can find cheaper versions of popular guitars such as Stratocaster and Les Paul, but also more unique models like HUSH-I.
Donner HUSH-I Specs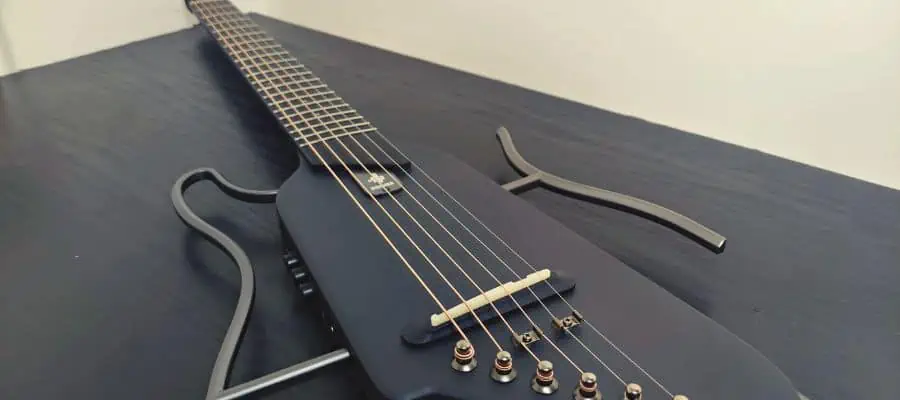 Now, if you are interested in learning more about this travel guitar, you should check out the specifications of the Donner HUSH-I model.
General
Series
HUSH-I
Number of Strings
6
Hand Orientation
Right
Colors
Natural, Black, and Sunburst
Weight
3.75 lbs (1.7 kg) with the metal sides
3.1 lbs (1.4 kg) without the metal sides
Body
| | |
| --- | --- |
| Body Shape | HUSH-I |
| Body Construction | Solid-body |
| Body Material | Mahogany or maple |
| Body Finish | Natural |
Neck
| | |
| --- | --- |
| Scale Length | 25.5 inches (648 mm) |
| Neck Construction | Set-through |
| Neck Material | Mahogany |
| Truss Rod | Adjustment at end of the neck |
| Truss Rod Type | Wrench |
| Fretboard Material | HPL |
| Fretboard Radius | 9.45 inches (240 mm) |
| Position Inlay | Dots |
| Number of Frets | 20 |
| Fret Size | Medium |
| Nut | Bone nut |
| Nut Width | 1.7 inches (43 mm) |
Electronics
| | |
| --- | --- |
| Pickups | Piezo |
| Controls | Anti-phase button, volume, 2-stage EQ |
| Switch | None |
| Pre-amp | Donner pre-amp system |
Hardware
| | |
| --- | --- |
| Tailpiece | HPL |
| Bridge Type | Fixed |
| Tuners | Bottom tuners with headless design |
| Pickguard | None |
The first thing you will notice is that the guitar has a unique design. The removable frames make it similar to the Fender Stratocaster, but you can adjust the size if you feel like it. The body of the instrument is made of either mahogany or maple, and the same thing applies to the neck.
As you can probably expect, Donner HUSH-I is highly compact. You can easily fit it nearly anywhere. And it is one of the best options for traveling. The package also includes the gig bag, and it is great.
When it comes to the gig bag, it's padded on the inside, and the outer layer is hard enough to protect the instrument. You won't need to worry about the potential damage, and it is surprisingly well-made. At the same time, the gig bag is designed specifically for this model so it will be a perfect fit.
The instrument has a set-through neck construction, and it is also made of mahogany. The fretboard is made of HPL, making it quite comfortable for playing. One thing worth mentioning is that all frets are round, there are no dead spots or buzz, and it has a really low action compared to standard acoustic guitars.
As you've probably seen on the list, the guitar comes with a pre-amp system and a piezo pickup, and the sound quality is great both using the in-ear monitor and with the amplifier. And thanks to the metal frames, Donner HUSH-I is well-balanced if you decide to play it while sitting.
The quality of in-ear monitors that are included in the package is good. But if you have better ones, the difference will be noticeable. This is not a deal-breaker, and it is not often that you encounter this quality in the budget category.
Finally, the EQ system is fairly standard, and it is something you'd expect on an acoustic guitar. There is a phase button, a volume knob, and a 2-band EQ for fine-tuning the sound.
The Sound, The Feel Of The Donner HUSH-I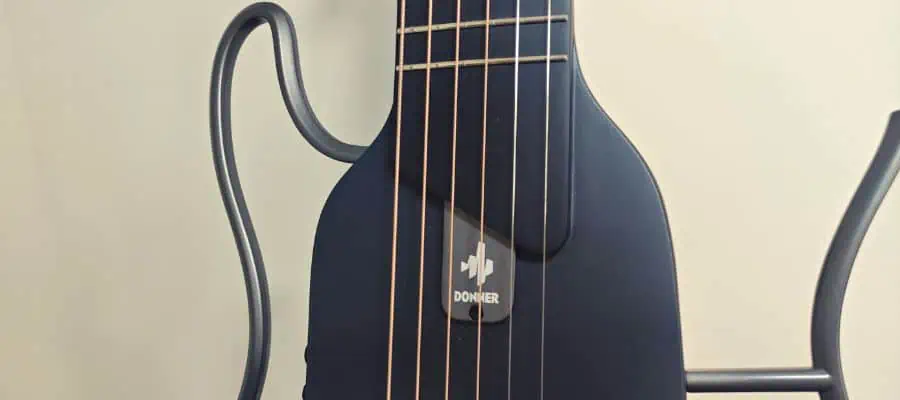 When it comes to sound, there are several important things worth mentioning. Firstly, your equipment will play an important role in the quality. If you have a great amp, the guitar will sound amazing. Especially if you push it through a few pedals.
But even without additional equipment and with the in-ear monitors you get in the package, the sound is good. As mentioned earlier, playing the guitar while sitting is quite comfortable. The removable frames are well-placed, and the instrument is balanced.
However, if you decide to play the instrument while standing, there might be a few issues. The strap buttons don't feel as secure as you'd want them to be, especially on the bottom part. Furthermore, there is a noticeable neck dive while using the strap.
The strap functions both as a strap for the guitar and for the gig bag. It comes with metal clips that attach to the back, and when you place it on the guitar it is possible to scratch the instrument, so you'd need to be careful when using it.
What is surprising about this model is that the fretwork is amazing. The only thing that might be an issue for some players is the neck profile, it is similar to asymmetrical D-shaped necks it reminded me abit of a classical guitar neck but a lot thinner. If you are someone who is used to playing on C-shaped necks like me, it will take you a bit to get used to it.
One of the biggest downsides of the guitar is that the pre-amp system doesn't have an on/off switch. And the only thing you can do to prevent the battery from draining out is to remove it every time you don't plan on using it.
The battery compartment is placed on the back of the guitar, it's accessible, and it fits the entire design of the guitar. As for the frames, they make playing more comfortable, but attaching (or removing) them can be quite a hassle. You will need to use screws to put them in place, and having the pop-in design might have been a better option.
Donner HUSH-I Is Perfect For Whom?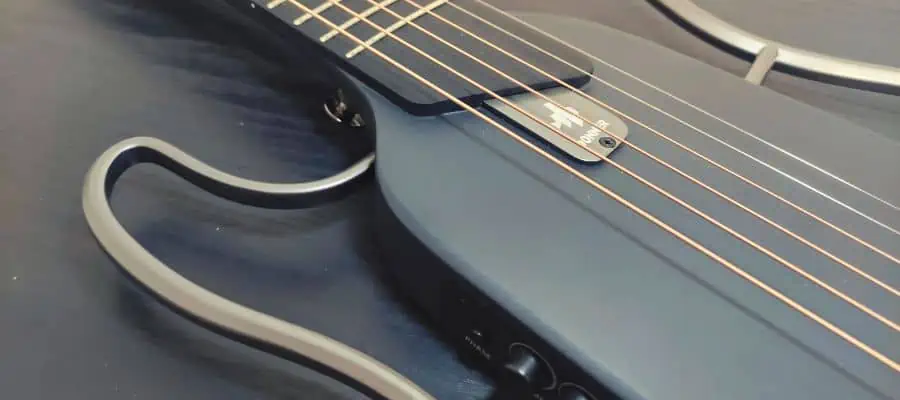 The guitar is not too expensive, it sounds great, and it's portable. This means that the guitar is excellent for those that travel a lot and want to carry their instrument with them. Especially if they don't plan on carrying too much stuff.
Traditional guitars can take up so much space. And sometimes, carrying one with you can be nearly impossible. Once you remove the frames from the Donner HUSH-I, placing it in the gig bag is quite simple. And it will leave you with a nice, small, and long gig bag you can place wherever you want.
Keep in mind that this model is not as cheap as some other travel guitars, but the difference in quality will make it worth the price tag. Especially if you consider that you won't need to carry an amplifier with you.
All things considered, Donner HUSH-I is a great option for anyone looking for a great travel guitar that still feels like a real instrument.
Other Donner Products Worth Checking Out
If you are a fan of Donner and are looking for other models, you should know that Donner makes a variety of different instruments you can check out.
Donner DLP-124
Donner DLP-124B Solid Body Full-Size 39 Inch LP Electric Guitar Kit...
[Humbucker Pickup] Two classic humbucker pickups offer a great range of...
[Okoume neck with "C"shaped profile] Laurel Wood fingerboard, Canadian...
[22 copper-nickel Frets] The electric guitar features a pick up selector...
【Dual power supply solution】 Donner M-3 Mini Electric Guitar Amplifier...
Donner DLP-124 is Donner's version of Les Paul. The guitar has a well-known shape, two humbuckers, and it is available as a starter kit. This means that the instrument comes with a gig bag, cables, amplifier, straps, and other useful accessories.
The model here has a black finish, two Donner 202S humbuckers, and a C-shaped maple neck. If you are interested in having an affordable guitar, this can be an excellent option. Needless to say, it is a full-size guitar, and it might not be the best option for traveling.
Donner DST-152
Donner DST-152R Electric Guitar, 39" Beginner Electric Guitar Kit, HSS...
[HSS Pickups] Korea-made Donner humbucking pickup provides just the right...
[Coil Split Function] Equipped with a PUSH-PULL switch circuit, the...
[C-Shaped Neck Profile & Built-in Neck Stiffener] Laurel Wood fingerboard,...
[Vintage Style Tuning Machine] Donner DST-152 electric guitar uses a...
The second option is Donner DST-152. This is a Stratocaster style of guitar, and it is also available with starter kits. These DST-152 usually come with an HSS pickup configuration, which only adds to the versatility of the instrument.
As for the rest of the guitar, it has everything you'd expect from a Strat-shaped guitar. There is a three-layer pickguard, a standard tremolo bridge, and a well-known design. The guitars are also available with beautiful maple necks, and there are several options for the color.
Donner DJP-1000
Donner Semi-Hollow Electric Guitar, DJP-1000 Jazz Guitar with H-H...
【A Classic Body that Sings the Blues】With its graceful jazz body and...
【Wonderful Versatility and Playability】Two closed Humbucker pickups...
【Advanced Neck-through Craftsmanship】The neck-through construction...
【Faithfully Reproduce the Sound of the 70s】The inner cavity of this...
While you can expect an affordable brand to offer solid-body guitars based on Les Paul and Stratocaster, it is not often you encounter semi-hollow guitars. But Donner offers just that. The DJP-1000 is Donner's version of the Gibson ES-335, and it is incredible.
Especially if you consider the price. The models are available with a beautiful sunburst finish, but also in other colors as well. It is worth mentioning that Donner DJP-1000 is one of the most expensive guitars Donner offers, but it is still in the affordable price range.
Is It Possible To Upgrade The Donner HUSH-I?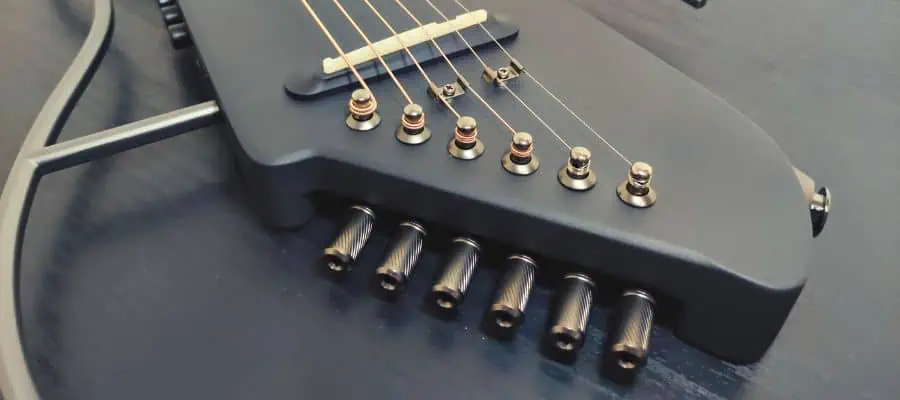 Since Donner HUSH-I is designed with a specific goal in mind, and it is a unique instrument, the options for upgrades will be quite limited. You won't be able to just buy better parts made by Fender or Gibson since none of these brands have similar guitars.
But this doesn't mean you are out of options. Upgrading your pickups is always possible, and you can easily find a better piezo pickup you can get. The same thing applies to in-ear monitors. However, replacing pickups is not as easy as with electric guitars, and the main question is whether it is worth the investment.
As for monitors, it is one of the simplest ways to improve the quality of the sound. By investing in a better set, you will significantly improve the quality, but you will also avoid the need for unnecessary woodwork.
Alternatives To The Donner HUSH-I – In Terms Of Look, Feel, Sound, Specs, And Price
There are many guitars that are designed for traveling and similar occasions, and you can find plenty of different options. And while there aren't many instruments with the same design as Donner HUSH-I, it is still possible to find alternatives.
Baby Taylor
Baby Taylor is a model designed by Taylor, and it is one of the most popular smaller guitars. There are no movable parts, and it is not as compact as Donner HUSH-I, but you can still easily carry it with you.
One of the main advantages of Baby Taylor is its quality. The model is exceptional, and it is among the best (if not the best) small-size guitars you can get today. The shape of the guitar is a dreadnought, but it is a ¾ scale. The body is made of solid Sitka spruce with a sapele back and sides.
Steinberger Spirit GT Pro Deluxe
Steinberger Spirit GT Pro Deluxe is an incredible instrument if you are looking for a portable guitar with a unique design. In fact, Steinberger is one of the first brands to introduce headless designs, and many professional musicians used this model.
And while you'd expect for the guitar to be well over $1,000, the price is rather affordable. The guitar is equipped with three Steinberger pickups in an HSS configuration. The only downside is that you will need to find a way to play it through the amp since it is an electric guitar.
Traveler Escape Mark III
The third iteration of the Escape model by Traveler is an interesting guitar. The body is shaped similarly to Les Paul, but it is more compact. It features a headless design, and tuning machines are located in the middle of the body.
At the same time, this is an acoustic guitar, and it is equipped with a piezo pickup located under the saddle. The length of the entire instrument is 30 inches or 762 millimeters, and it is a great option for traveling. The only downside is that the price is a bit higher compared to Donner HUSH-I, but if you can afford it, it is a great alternative.
Conclusion
Donner HUSH-I is an interesting guitar. It is designed for people who often travel, and want to carry their instrument with them. The guitar has a solid body with removable frames, making it easy to fit in a small gig bag.
Once you attach the frames, the shape is similar to a Fender Stratocaster, and it can be quite comfortable and well-balanced if you plan on playing it while sitting. At the same time, the package comes with a gig bag designed specifically for this model, in-ear monitors, and a guitar tuner.
This means that you will have all the necessary equipment to play your guitar wherever you go. The quality of the guitar and additional equipment is surprisingly good. Of course, you can always get better in-ear monitors which will improve the quality of the sound.
As for the rest of the guitar, there isn't as much space for improvements, unless you are willing to replace the piezo pickup that comes with it. All things considered, Donner HUSH-I is worth the price, and it is one of the best travel guitars you can find today.
If you found this article useful, you may want to save this pin below to your Guitar board.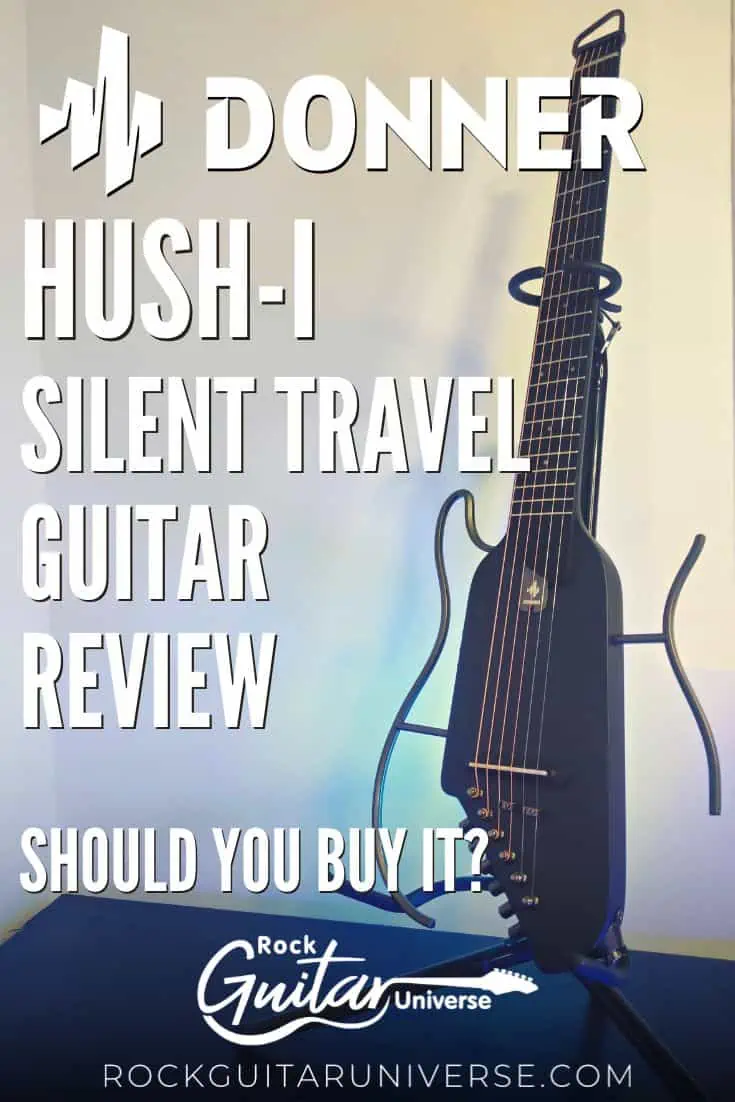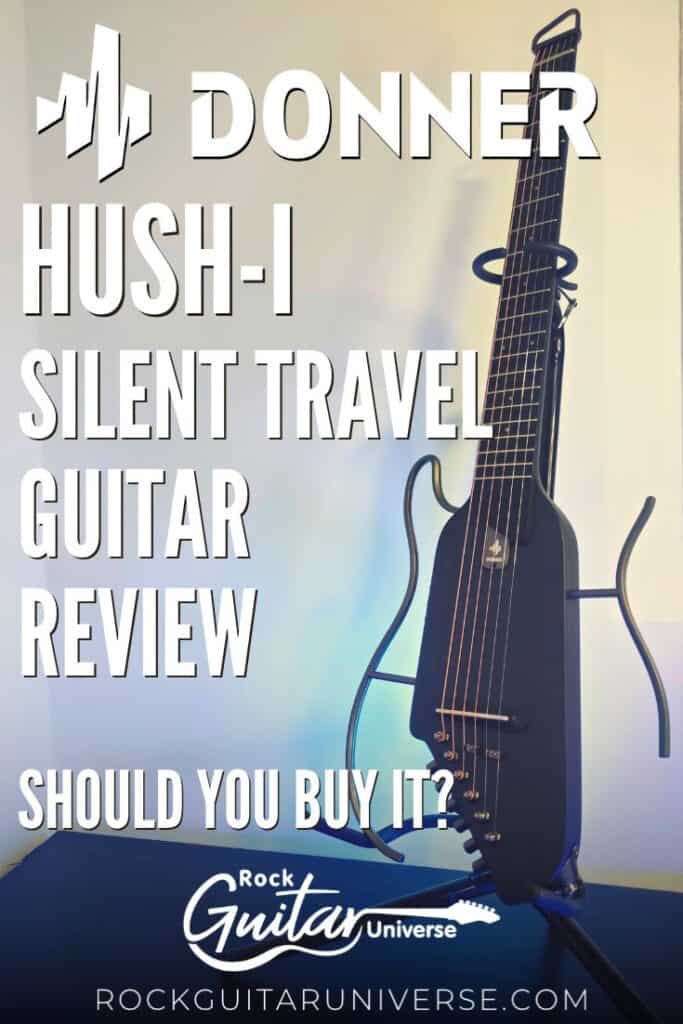 Last update on 2023-10-04 / Affiliate links / Images from Amazon Product Advertising API