With its cost-effective guitar models ideal for beginner guitarists, Donner quickly became a popular name in the low-cost guitars and gear world. In this case, the brand offers many great guitars in traditional shapes such as Les Paul, Telecaster, and Stratocaster. All these models feature great value for price ratios for entry-level guitarists.
One of the recent models of Donner is the Donner DST-152, an amazing Stratocaster style guitar that comes with a great accessory set, including a practice amp, to get anyone started immediately. The DST-152 is ideal for entry-level guitarists thanks to its cost-effective, comfortable, and lightweight design, great looks, and good pickups for the price.
Donner DST-152R Electric Guitar, 39" Beginner Electric Guitar Kit, HSS...
[HSS Pickups] Korea-made Donner humbucking pickup provides just the right...
[Coil Split Function] Equipped with a PUSH-PULL switch circuit, the...
[C-Shaped Neck Profile & Built-in Neck Stiffener] Laurel Wood fingerboard,...
[Vintage Style Tuning Machine] Donner DST-152 electric guitar uses a...
On the drawbacks side, I must say that the quality control of these models is not great as you can find some imperfections like the neck pocket crack in my case. So, it is up to chance if your guitar will be in perfect condition or will have some minor issues.
| | |
| --- | --- |
| Pros | Cons |
| Lightweight and comfortable, feels great | Quality control issues |
| Great value for the price | The slippery push-pull knob is hard to use |
| High-quality tuners | |
| Great looks, especially the color | |
| Good pickups for the price | |
| Comes with a great accessory bundle | |
Overall, I would rate Donner DST-152 4 stars out of 5 as it is a great guitar for the price with an elegant look, comfortable playing experience, and good-quality sound. The guitar loses the one star due to its improper quality control and the slippery push-pull knob, making it hard to control.
Donner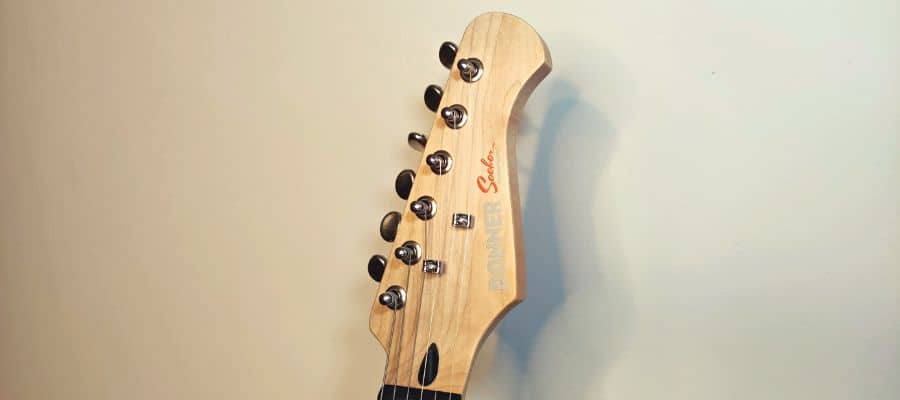 Donner has been the go-to brand for most beginner guitarists since the company was founded in 2012. With its cost-effective guitars, guitar accessories, and gear, such as effect pedals, Donner offers many products with great value-for-price ratios.
Although the company is not old compared to the big fish in the market, like Fender, Ibanez, Cort, Gibson, etc., Donner has made itself a pretty good name among the entry-level musicians. The surprisingly high-quality instruments for pretty low prices attracted music enthusiasts' attention, and the brand became popular in internet blogs, reviews, and seller platforms.
The brand's warehouses are located in the U.S and most of Europe, which are the countries where the orders are shipped from. The delivery times are pretty good, and shipping problems occur rarely. If you find any issue in your purchased good, you can always contact the Donner customer service, who are always ready to solve your problem accordingly.
Specs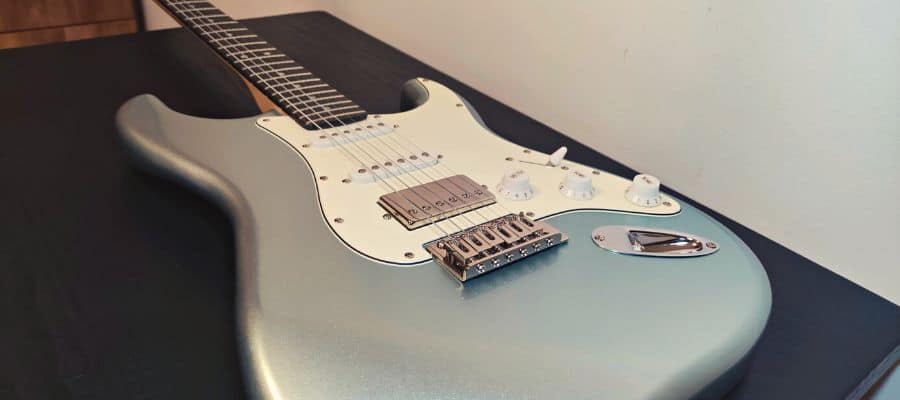 Let's come to the fun part and take a deeper look at the specs of the Donner DST-152 and what it has to offer.
General
| | |
| --- | --- |
| Series | DST |
| Number of Strings | 6 |
| Hand Orientation | Right |
| Colors | Ice Blue, Black, Sunburst, Polar White |
| Weight | 6.72 lbs (3.05 kg) |
Body
| | |
| --- | --- |
| Body Shape | Strat-style |
| Body Construction | Solidbody |
| Body Material | Poplar |
| Body Finish | Polyurethane |
Neck
| | |
| --- | --- |
| Neck Construction | Bolt-On |
| Neck Material | Maple |
| Neck Shape | C-shape |
| Scale Length | 25.5" (648mm) |
| Truss Rod | At the headstock |
| Truss Rod Type | Wrench |
| Fretboard Material | Indian Laurel Wood |
| Fretboard Radius | 12" |
| Fret Material | Nickel Silver |
| Position Inlays | Dots |
| Number of Frets | 22 |
| Nut | Plastic |
| Nut Width | 1.65" (42mm) |
| Pickup Configuration | HSS |
| Neck Pickup | Single-coil/Ceramic |
| Middle Pickup | Single-coil/Ceramic |
| Bridge Pickup | Humbucker/Ceramic |
| Controls | 1 x Volume, 2 x Tone |
| Switch | 5-Way Blade Pickup Switch, Coil-Split on The Bridge Humbucker |
Hardware
| | |
| --- | --- |
| Tailpiece | None |
| Bridge Type | 6-Saddle Synchronized Tremolo Bridge |
| Tuners | Vintage Styled Sealed Tuners |
| Pickguard | Yes |
Donner DST-152 is one of the recent models from the DST or Donner Seeker series guitars. The strat-style guitar has the traditional 6 strings layout and comes only in right-hand orientation. There are four color choices: Ice Blue, Black, Sunburst, and Polar White.
I have the Ice Blue color model, which looks pretty special as it is a blend of light blue and metallic colors. The color changes slightly with the light and appears gray or light blue depending on where you are.
One of the greatest aspects of the guitar I truly liked was its weight. The DST-152 weighs around 6.72 lbs (3.05 kg) which is pretty light for an electric guitar. It is highly comfortable to hold the guitar and feels balanced without neck dive issues.
As mentioned before, the body type of DST-152 is Strat-style. It is a solid-body guitar with a poplar body and polyurethane body finish. Poplar is a great material for cost-effective guitars as it is lightweight and performs well acoustically.
The guitar has a bolt-on neck made of maple along with an Indian Laurel fingerboard on top. The C-shaped neck is quite comfortable and resembles the neck of a Fender Stratocaster with its chunky form.
The scale length is traditional, measuring around 25.5" (648mm). So, there are 22 frets on the fretboard, and the frets are made of nickel silver found on most guitars. The position inlays are also classical dots.
The truss rod can be adjusted from the headstock with a wrench easily. Furthermore, the nut is plastic and measures around 1.65" (42mm).
Regarding the pickup configuration, the DST-152 features an HSS design with a ceramic humbucker in the bridge position and ceramic single-coil pickups in the middle and neck positions. The pickups are specially made in Korea and have a pretty good performance for the price, especially when you play cleans.
The tonal versatility is provided by the single volume and dual-tone knobs. Plus, the guitar has a 5-Way Blade Pickup Switch and a Coil-Split on The Bridge Humbucker. But the push-pull knob is quite slippery and hard to control, which I did not really like.
On the hardware side, the DST-152 has a 6-Saddle Synchronized Tremolo Bridge resembling the classic Fender Stratocaster bridges. Plus, it has Vintage Styled Sealed Tuners, which are some of the shining parts of the guitar. The tuners work great and hold the tuning solidly. The guitar also has classic strat pickguards in different colors depending on the color of the body.
Another great aspect of DST-152 is that it comes with an excellent accessory bundle. The bundle includes a gig bag, a Donner mini guitar amp, a USB charge cable for the amp, an AUX cable, a guitar cable, an extra string set, a capo, a guitar strap, a tuner, and two Hex keys' (Allen wrench), one for adjusting the saddle and one for adjusting the truss rod.
The Sound, The Feel Of The Donner DST-152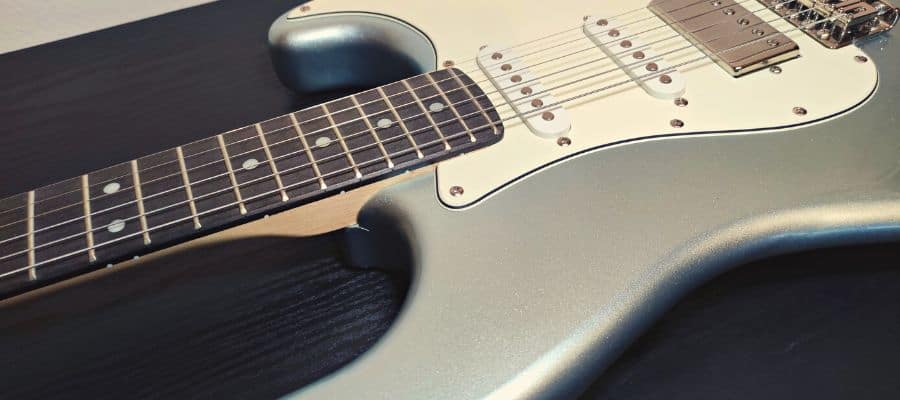 In terms of feel, Donner DST-152 is a highly comfortable guitar, thanks to its lightweight and balanced design. It weighs around 6.72 lbs (3.05 kg) which is great for many players with small bodies as well as younger guitarists. The guitar also is highly balanced and does not suffer from any neck dive.
The neck also feels okay with its classic C-shape form that most people are familiar with from Strat-style guitars. The neck feels smooth, and there are no sharp fret edges, at least in my case. The setup out of the box was not perfect but was not bad at all, as the guitar was pretty playable. It needed a small adjustment for my playing taste. Especially, the guitar performed better when I lowered the height of the bridge pickup slightly.
Speaking of the pickups, the guitar sounds pretty good when its price is considered. I liked the pickup performance, especially with clean tones. However, the guitar sounded a bit off with gain tones, which I fixed by lowering the bridge pickup's height slightly.
After the adjustment, the gain tones were also pretty decent. I think the bridge pickup is more suited towards classic rock tones rather than modern metal tones. If you want a more vintage overdrive tone than high-gain modern metal distortion tones, Donner DST-152 can give you what you need.
One major problem is with the push-pull knob, which decreases the comfortability of controls. The push and pull knob is hard to manage, especially in the 10th setting. This might take some time to get used to.
Of course, the sonic performance of the guitar must be judged with the price point in mind. As this is a low-cost entry-level guitar, you should not expect a professional sound or performance from the guitar. For the price point, it is a great-sounding first guitar or a great cost-effective backup guitar.
You can check the attached video to hear and see the guitar and decide for yourselves.
Donner DST-152 Is Perfect For Whom?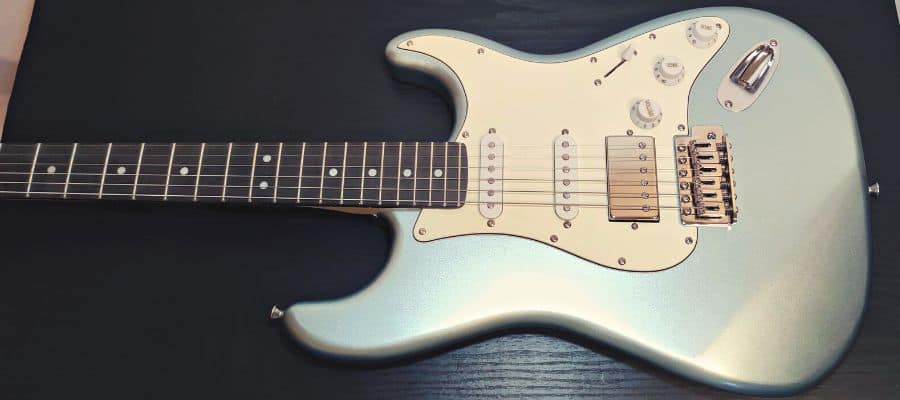 Donner DST-152 is suited for entry-level guitarists looking for their first guitar to learn and play. With its great looks, decent performance, and sound, as well as pretty excellent price point, Donner DST-152 is, without a doubt, a great first guitar.
Before anything, it comes with all you need to start playing, as it features a great accessory bundle. First-time players get a plug-and-play style set, avoiding any extra expense and struggle to complete the set.
The lightweight design makes the guitar perfect for younger players as it is highly balanced and light, preventing the player from having any issues with back pain or unbalanced guitar positions. The overall hardware, electronics, and sound are more than great for a first-time player to learn to play and progress with their techniques easily.
The neck feels good in the hand with its traditional chunky C-shape form. I would say it is a pretty comfortable guitar to play. Experienced players even can buy the guitar to upgrade some parts to have a customized, unique instrument.
Soundwise, the guitar performs well with classic rock, alternative rock, pop, funk, blues, and any genre that requires clean or slightly overdriven tones. I would not recommend DST-152 if playing heavy-gain tones for any kind of metal style.
So, Donner DST-152 is a great guitar for entry-level guitarists or experienced guitarists looking for a backup or practice guitar. If you have a tight budget and looking for the most cost-effective design guitar, this one might be a great candidate.
Other Donner Guitars Worth Mentioning
Donner DST-100R
Donner DST-100R 39 Inch Electric Guitar Beginner Kit Red Full Size...
[H-S-S pickups] Donner electric guitar has two classic Single-coil pickups...
[Canadian maple neck with "C"shaped profile] Donner DST-100 beginner...
[22 copper-nickel frets] The 39-inch electric guitar features a pick up...
[All-in-one beginner package] Donner electric guitar set comes with a...
Donner DST-100R is the starter model in the Donner Seeker series. The guitar has different configuration options, including a right and a left-hand model, as well as four different color choices. The strat-style guitar has an African Basswood body and does not have the push-pull coil switch the DST-152 has.
Donner DST-200
Another Donner Seeker series model is the Donner DST-200, which features the same Strat-style body but with different colors and wood combinations. DST-200 is pretty similar to the DST-152, but it has a Perilla fingerboard and a neck stiffener. The color finishes or also different, as the DST-200 has a black model with a red-aged flame pickguard and a pink finish option with a cream pickguard.
Donner DST-400
Donner DST-400 is the highest-end model in the Donner Seeker series. It has an alder body with the HSS pickup layout and is more suited for more experienced players than the other models in the series. The maple neck and the rosewood fingerboard are both highly comfortable, making the guitar a great Strat copy.
Is It Possible To Upgrade Donner DST-152?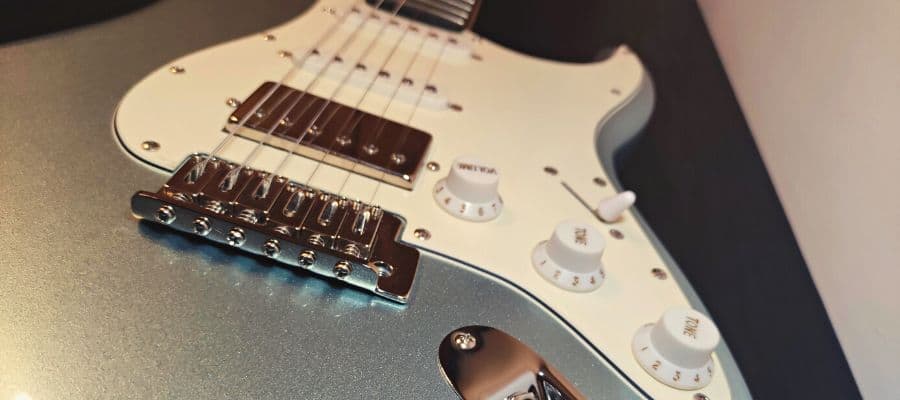 Like most electric guitars, you can easily upgrade the parts of Donner DST-152. The parts that I would definitely recommend you to upgrade are the knobs as they are hard to control. Later if you want a better-sounding and more durable guitar, you can upgrade the pickups and the nut.
Knobs
Especially, the push-pull knob is highly slippery on the DST-152 guitar. So, changing the set with a decent one can make things highly easier for you when you need to control the tone. There are many different options in the market, but I recommend you to check Fender knobs for their high-quality construction.
Pickups
The pickups on the DST-152 are pretty decent for entry-level musicians. However, if you want to upgrade your sound for better tonal performance with richer harmonics, you can upgrade the pickups. With better pickups, Donner DST-152 can even be decent live performance guitar.
Seymour Duncan and DiMarzio have great models that you can check to upgrade your pickups. The exact model can vary depending on your likes and the sound you are after.
Nut
The nut of Donner DST-152 is made of plastic which is the lowest-quality material possible. So, upgrading it to a bone or graph tech nut will increase the tuning stability and make your guitar more durable.
Alternatives To The Instrument In Terms Of Look, Feel, Sound, Specs, And Price
Squier Affinity Stratocaster
Squire Affinity Stratocaster is the high-quality entry-level model of Fender's side-branch Squier. It has the SSS pickup configuration with 3 great-sounding Fender pickups. Of course, they do not deliver the same performance as authentic Fender pickups, but they are great for the price.
The guitar has a Poplar body, maple neck, and a laurel fingerboard, along with an Affinity Strat has a tone and a volume knob, as well as the 5-way pickup switch. The pickups are ceramic single-coil pickups, and the guitar has a smooth neck, making it great in terms of sound and feel for the price.
Squier Affinity Stratocaster costs slightly higher than Donner DST-152.
Yamaha Pacifica Series PAC112J
Yamaha is famous for its great guitars for reasonable prices, and the Yamaha Pacifica Series PAC112J is no different. It is a popular beginner guitar model due to its quality construction and parts, simple design, decent sound, and, before all, great price.
The guitar is mainly preferred by younger guitarists thanks to its lightweight design. It is a highly comfortable guitar with an alder body, maple neck, and rosewood fingerboards. PAC112J features the HSS pickup configuration, performing well with great low ends and smooth high ends as well as a decent sustain.
When considering the value-for-price ratio, Yamaha Pacifica Series PAC112J is a great strat copy for beginners and younger musicians. It costs slightly higher than Donner DST-152.
Cort G-200DX
Cort G-200DX is another great Strat-copy with slightly higher quality construction and parts than other models mentioned in the review. The guitar has an Ash body, a Canadian hard maple neck, maple fretboard, and a classic 22-fret layout, as well as the HSS pickup configuration.
The guitar has a C-shaped neck, along with a lightweight and balanced body. In terms of sound and feel, Cort G-200DX is an impressive guitar that can be considered a high-quality beginner guitar. The sonic versatility is provided by the volume and tone knob along with the 5-way switch. Plus, the Powersound pickups are great with bright mids and excellent low-ends.
Cort G-200DX costs significantly higher than Donner DST-152.
Conclusion
Donner DST-152 is a good entry-level guitar for first-time players thanks to its lightweight design, a great accessory set to start playing the moment you receive the guitar, elegant looks, good pickups, and impressive price for the quality you get.
Of course, the drawbacks are there, as you would expect from a low-cost guitar. The main issue is the quality control because most guitars in the series have minor imperfections like sharp fret edges or small cracks on different guitar parts. Another issue exclusive to this model is the slippery plastic push-pull knob, which is hard to manage.
Overall, it is a good first-time guitar to learn some techniques and songs with a comfortable, decent-sounding instrument without breaking the bank.
If you found this article useful, you may want to save this pin below to your Guitar board.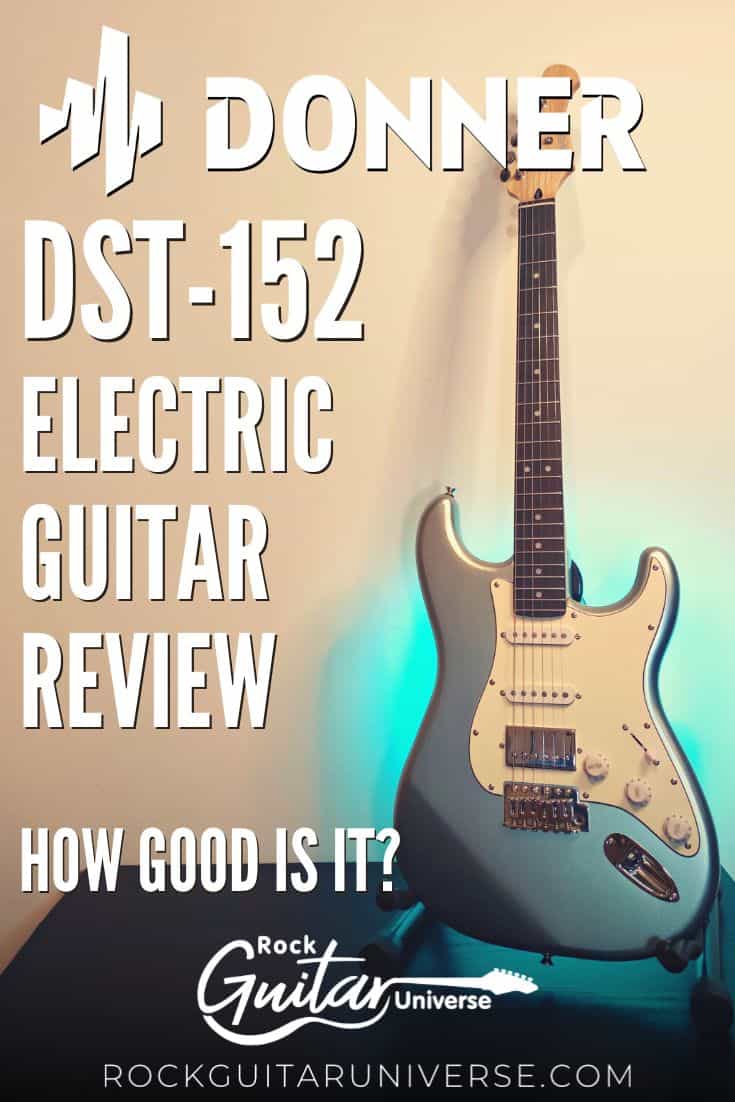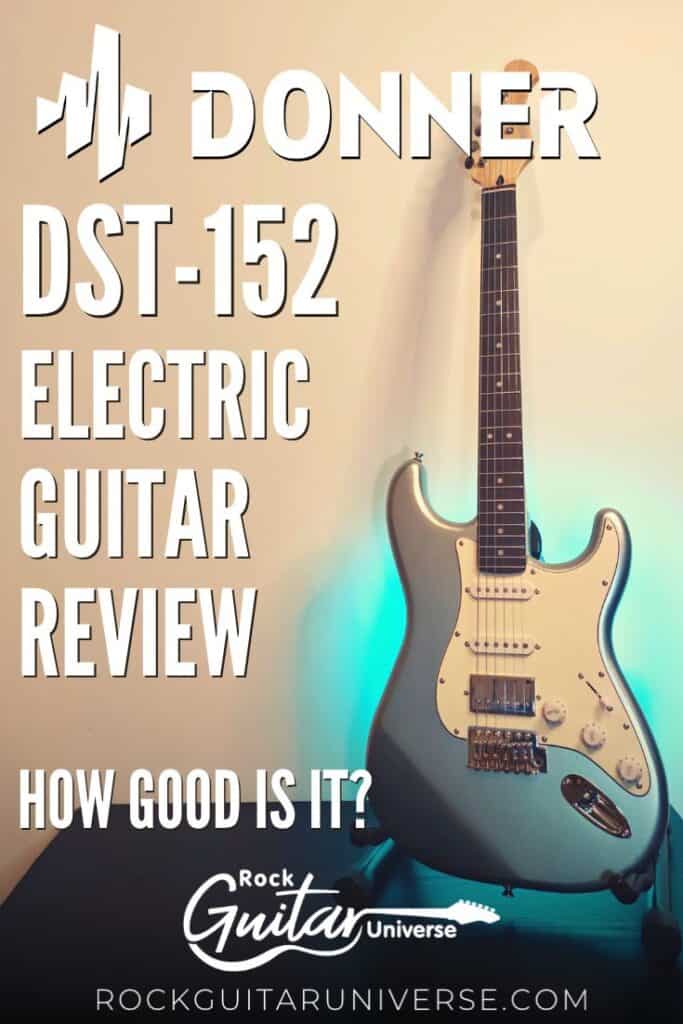 Last update on 2023-02-06 / Affiliate links / Images from Amazon Product Advertising API