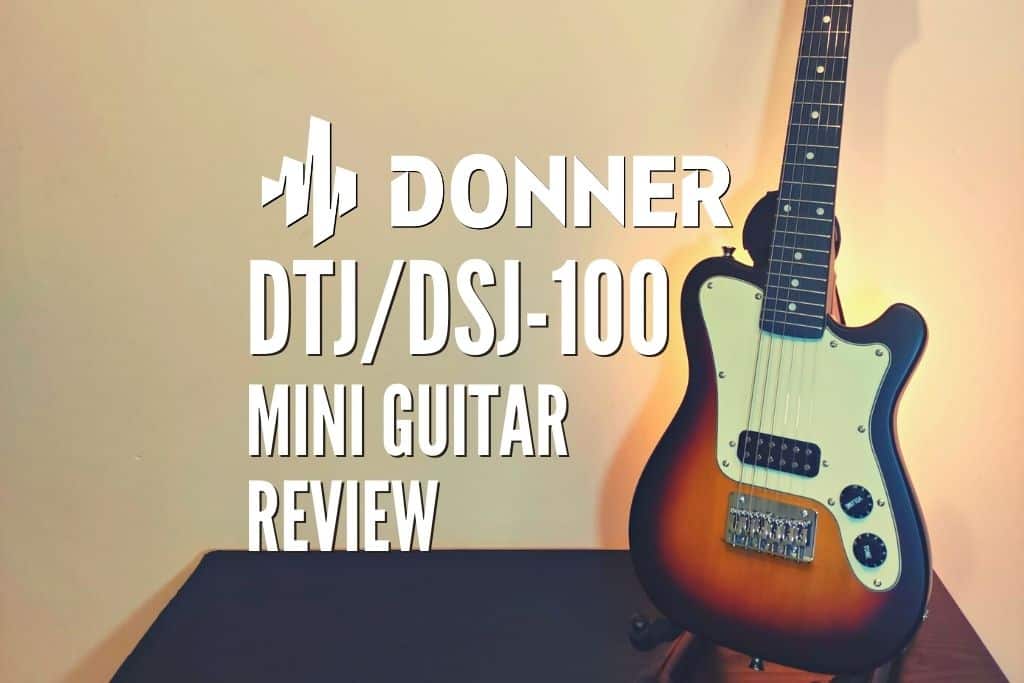 Many famous guitarists that we love and respect for their skills started playing guitar at a very young age. Starting early is a great way to progress as a musician as your instrument techniques and overall musical skills start to shape earlier and deeper, as well as a person as it improves academic and social skills, promotes discipline, and boosts self-esteem.
However, guitars are pretty large and heavy instruments for kids, making it harder for younger kids to practice and learn. This is why there are now mini-sized guitars, specially designed for kids to start playing guitar at very early ages. These guitars have all the features of a regular guitar, but in a mini size that can fit a kid's hands and a lightweight that is easier to manage for small bodies.
Donner 30 Inch Electric Guitar Beginner Kit for Kids TL Style Mini TC...
Suitable for Multiple Situations-For beginners, kids, performance, and...
Comfortable Fitting-The junior electric guitar's ergonomic design protects...
Miniature Size with Maximum Sound-Donner mini electric guitar with a sound...
Donner Mini Electric Guitar Beginner Kit Package-Complete configuration,...
Donner DTJ-100 Mini is a solid and well-built 30" mini guitar ideal for kids between 6 to 12 years old. It is a pretty light guitar, weighing around 4.63 lbs (2.1 kg), perfect for a small body. It has a simplistic design with a fixed bridge and a single pickup, and also it comes with everything you need to start playing including, a mini amp, guitar bag, tuner, picks, guitar strap, extra strings, jack cable, and allen wrench and a cleaning cloth.
| | |
| --- | --- |
| Pros | Cons |
| Solid and well-built mini guitar | Needs adjustments out of the box |
| Very smooth neck | Not the best pickup |
| Looks great and feels good | Low-quality amp |
| Simplistic design | |
| Affordable | |
Donner DTJ-100 Mini is a decent guitar for a kid with an affordable price, but it has some minor problems that need to be considered. First of all, the guitar needs some adjustments out of the box, like truss rod and intonation adjustments. Secondly, the single pickup is not the best, and finally, the amp is really low-quality. The gain is almost unusable, but you can get an okay, clean sound with some adjustments.
Overall, it is a decent bundle for a kid; as it is a mini-beginners guitar, I would give it 4 stars out of 5. As children will have a different perspective than me, because they did not play guitar before and they hear things differently, it is a good affordable instrument bundle to start and see if they like playing it. Even with the poor amp, the bundle is playable and good for a kid.
Donner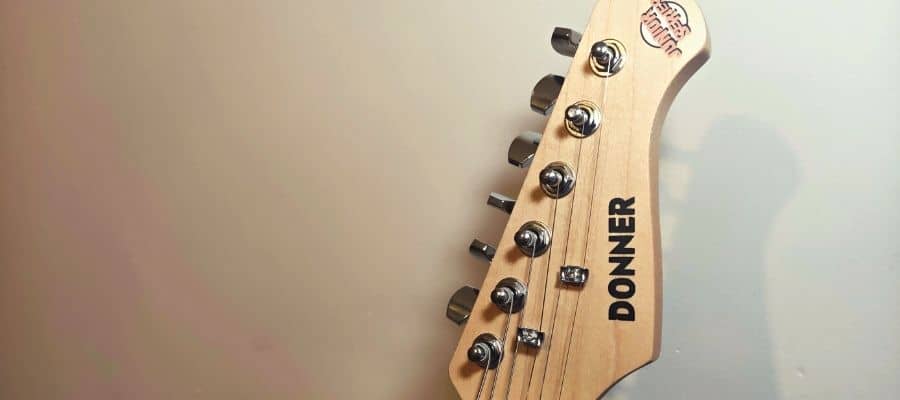 Based in China- Donner is a relatively young brand founded in 2012. The company produces many musical instruments, from wind instruments to keyboard, drums, and string instruments, but the main focus is on guitars and guitar gear such as effect pedals.
Donner is specialized in entry-level instruments, which feature amazing value for their price. That is the approach that made the brand quite famous among musicians. Donner is one of the most well-appreciated brands on the internet today, mainly thanks to its cost-effective instruments and accessories. Today, Donner is one of the first names to come to mind when talking about good quality and reliable entry-level instruments for extremely reasonable prices.
Donner's production is made in China, but the warehouses are located in the U.S and most of Europe. So, your orders will be shipped from these countries. You can purchase Donner products on Amazon as well as Donner's official website. The company ships worldwide without any issues or extra costs.
Donner's customer service is pretty responsive and often is ready to solve any potential problem that may occur. The quality control and the shipment procedures are quite good, so the problems rarely occur. In short, Donner is a highly reliable brand for purchasing cost-effective entry-level instruments and gear with great value-for-price ratios.
Donner DTJ-100 Specs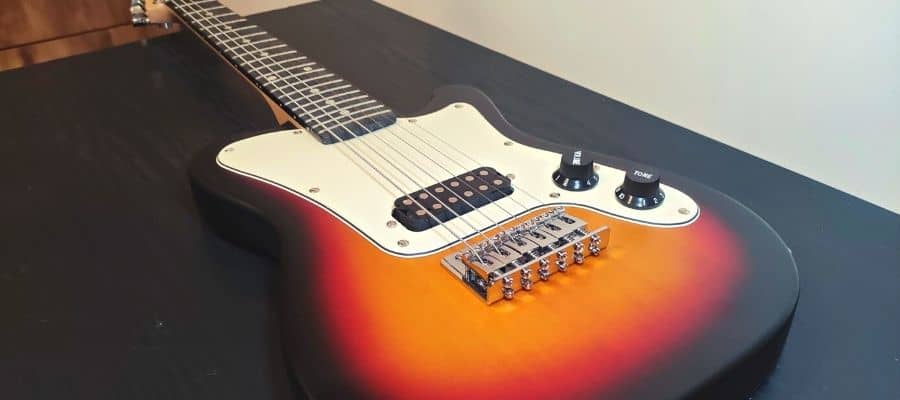 Let's take a look at the specs of Donner DTJ-100 to get to know the guitar further.
General
| | |
| --- | --- |
| Series | DTJ, DSJ |
| Number of Strings | 6 |
| Hand Orientation | Right |
| Colors | Sunburst, Black, Green, Red |
| Weight | 4.63 lbs (2.1 kg) |
Body
| | |
| --- | --- |
| Body Shape | Mini Tele-style, Mini Strat-style |
| Body Construction | Solidbody |
| Body Material | Alder |
| Finish | Matte |
Neck
| | |
| --- | --- |
| Scale Length | 19.68" (50 cm) |
| Neck Construction | Bolt-On |
| Neck Shape | C-shape |
| Neck Material | Maple |
| Truss Rod | At headstock |
| Truss Rod Type | Wrench |
| Fretboard Material | Tech Ebony |
| Fretboard Radius | 12″ |
| Position Inlays | Dots |
| Number of Frets | 20 |
| Fret Size | Medium |
| Nut | Plastic |
| Nut Width | 1.57″ (40mm) |
Electronics
| | |
| --- | --- |
| Pickup Configuration | H or S |
| Neck Pickup | None |
| Bridge Pickup | Donner Humbucker/Donner Single Coil |
| Controls | Volume and Tone Knobs |
| Switch | None |
Hardware
| | |
| --- | --- |
| Tailpiece | None |
| Bridge Type | Fixed Bridge |
| Tuners | Donner Standard Cast Sealed Tuner Machine |
| Finish | Chrome |
| Pickguard | White |
Donner DTJ-100 and Donner DTJ-100B are members of the Donner Kids series, which offer decent mini-sized electric guitars with simplistic designs for kids. The guitars are traditionally 6-string instruments and come only in right-hand orientation. The T-style guitars come in two different color options sunburst and black finish options.
The mini Telecaster style guitar has the mini Tele body made of an alder body with a matte finish. The solid-body guitar is pretty light, around 4.63 lbs (2.1 kg), which is perfect for a kid. Overall guitar dimensions are 30.7" to 9.45", which is great for kids around 6 to 12 years old.
The guitar has a pretty smooth maple neck with tech ebony fretboard. The mini C-shaped neck profile is quite comfortable, which makes the guitar great for beginners to learn to play. The scale length is 19.68" (50 cm) with 20 frets.
The truss rod adjustments can be made at the headstock with an allen wrench. Furthermore, the nut is plastic like on most low-end beginner guitars.
Coming to the electronics, the guitar has a simplistic approach with a single humbucker on the bridge position. The pickup is nothing special as it is an okay quality Donner humbucker. Plus, there is a volume and tone knob to customize your sound.
The simplistic design is also reflected in the simple fixed bridge. Additionally, the tuners are Donner Standard Cast Sealed Tuning Machines with chrome finishes. The pickguard is a white classic Tele-style pickguard.
The guitar comes with an accessory bundle which includes a mini amp, guitar bag, tuner, picks, guitar strap, extra strings, jack cable, allen wrench, and cleaning cloth. All the accessories are quite good except the mini amp, which is a pretty low-quality poor 3-watt amp.
There is another model for this guitar. The Donner DSJ-100 is the Strat-style version of Donner DTJ-100. All the specs are the same with the short scale length, lightweight and compact design, the accessory bundle, and the simplistic approach. However, Donner DSJ-100 features a single-coil pickup instead of the humbucker of Donner DTJ-100.
The Sound, The Feel Of Donner DTJ-100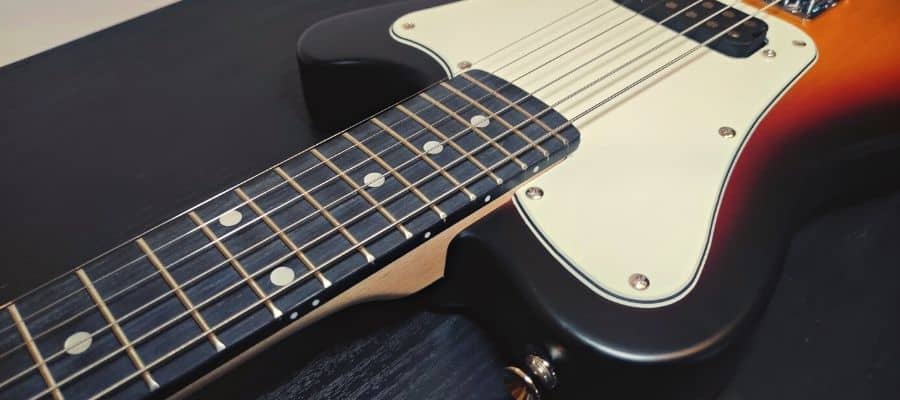 The first thing to say is that the Donner DTJ-100 mini guitar is a solid and well-built instrument. It is pretty light, around 4.63 lbs (2.1 kg), which is great for a kid. The neck is pretty smooth with the mini C-shape, and there are no sharp edges which is another plus for playability.
The guitar looks and feels pretty good in the hand, and the simplistic design with a fixed bridge and a single humbucker, make it easy to use and focus on your playing. I think overall, it is a great guitar to start playing as a kid and learn some techniques and figure out if you like the instrument or not.
However, there are some drawbacks to the guitar. Firstly, the guitar needs some adjustment out of the box as the action was a bit high, and the intonations were not perfect. So, the guitar needs a setup when it is newly purchased.
The other issues are regarding the sound of the guitar. The humbucker does not really feel like a humbucker but more like a P-90 pickup. It is an okay pickup, especially when it is considered that this guitar is made for kids to learn.
But, the mini amp that comes with the guitar is really poor. The overdrive is pretty useless. It creates fuzzing and buzzing noises when you put gain, but with some small tweaks such as lowering the gain and increasing the volume, you can get a decent clean sound, which is as good as it gets.
I would have liked to see the Donner DA-10 mini amp in the package, even if it means the package would cost a bit more. The DA-10 is by far better than this one in terms of sound and versatility.
I can see the reason why they did not put a better amp, as children get bored of things pretty quickly, and parents do not want to invest too much from the start, avoiding the risk of the kid using the guitar 2 times before not touching it ever again. If the child gets interested and wants to play more, there is always the chance of an upgrade later.
Overall, the guitar is a decent instrument for a kid to start playing and learn some techniques and figure out if he likes playing guitar or not. It feels good, which is the most important point. The sound is average with the clean tones but pretty poor with gain. With a better amp, the guitar can perform much better.
Donner DTJ-100 Is Perfect For Whom?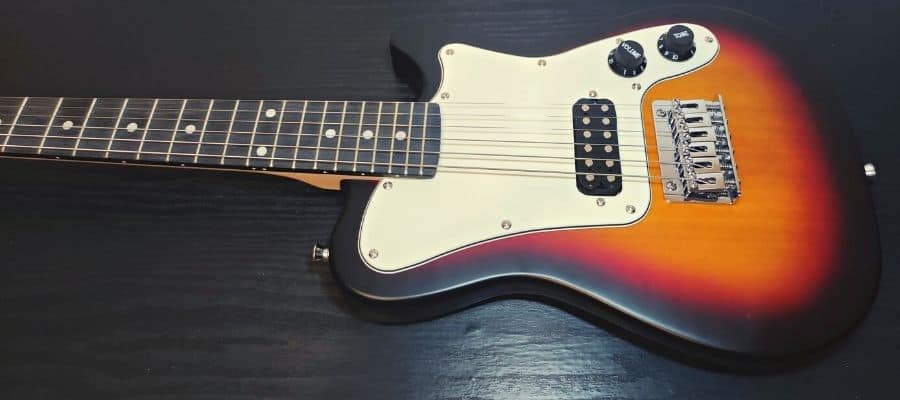 As it is a mini-sized guitar, of course, Donner DTJ-100 is suited for children. The guitar is pretty solid and well-built, with small dimensions and lightweight, making it a good kid-sized guitar.
I would recommend this guitar to kids from 6 to 12 years old who struggle with handling and playing a full-sized guitar. If the children are big enough to handle a full-size guitar, it is always the best choice to go with a full-sized guitar as they are the best way to learn and get used to playing the real instrument.
The guitar feels pretty smooth, and there are no sharp fret edges that can be dangerous for your kid's hand. It is a good guitar for a kid to start learning, even though it does not give the best sonic performance. But, with this guitar, playability, and comfort is far more important than the sound, as it will be the first guitar of a youngling.
Other Donner Guitars Worth Mentioning
Donner DAE-36M
Donner Acoustic Guitar Electric 36 Inch All Mahogany with DSS-mini...
Full Mahogany Body: Top, back and sides are made of mahogany wood. Full...
36 Inch Traveller Size: 3/4 scale small dreadnought body provides...
Dss-mini Mahogany Pickup: DAE-36M acoustic electric guitar package sets up...
Complete Acoustic Guitar Kit: Come with most of accessories you may need....
Another small-sized Donner guitar is Donner DAE-36M which has a 36-Inch 3/4 size design. The small acoustic guitar is great for younger players as well as players with small hands and bodies. The 3/4 size 36-inch dreadnought body is pretty comfortable to play with and sounds pretty good.
Is It Possible To Upgrade Donner DTJ-100?
As Donner DTJ-100 is a mini-sized kids guitar, I do not think there is much sense in upgrading the gear. When children get large enough to play a full-size guitar, the upgrades can be made to that instrument. Any upgrade on this guitar will ultimately be a waste as, at some point, your kid will play a regular-sized guitar or simply not continue playing the instrument if he-she does not like it.
Strings
However, as with any new guitar changing the strings is a must. Donner sends extra strings in the package, which can be used to change the strings. You can also go for a heavier gauge string if you want more sound and tuning stability from your guitar. But, lighter gauge strings are easier to play for kids.
Amp
Well, this is not exactly an upgrade for the guitar, but I recommend you to get another amp if you see your kid liking the instrument and playing it often. The mini amp that comes in the bundle with the Donner DTJ-100 is pretty low-quality and poor-sounding.
To get the maximum out of the instrument, a better amp is a great idea. You can check the DA-10 mini amp from Donner, which performs far better than the mini-amp of DTJ-100.
Alternatives To The Donner DTJ-100 In Terms Of Look, Feel, Sound, Specs, And Price
Squier Mini Strat Electric Guitar
Squier Mini Strat Electric Guitar is the kids' size Stratocaster from the side branch of Fender. The guitar features a hardwood body, maple neck, Indian laurel fretboard, 3 single-coil pickups, and a hardtail bridge.
The guitar looks and feels great, just like a traditional Fender Stratocaster. The scale length is 22.75," and there are 20 medium frets.
The guitar's 3/4-size and lightweight make it ideal for kids and small players. However, there is no accessory or even a bag included in the price, which makes it more expensive than the other beginner mini guitars.
Smartxchoices 30″ Kids Electric Guitar
Smartxchoices 30 Inch Electric Guitar, Starter Kit for Kids with...
Recommended for children 3 years and up, this mini electric guitar set has...
Made with a hardwood body and rosewood fretboard (22 frets); The strings...
Comes with a cable cord, convenient amp strap, guitar picks, and a mini amp...
Guitar length: 30" (L), Amp Dimensions: 5"(L) x 2.5"(W) x 5"(H), a nylon...
Recommended for children 3 years and up, Smartxchoices 30″ Kids Electric Guitar is a great kids guitar with a hardwood body, rosewood fingerboard, a single-coil pickup in the middle position, and many accessories to get your kid started.
The guitar is quite small and light, with 30" to 10.4" dimensions. The neck of the guitar feels pretty good and has 22 frets.
The instrument comes with attractive blue color and smooth finish, which looks pretty elegant. Plus, there are many accessories in the package, including a 5-watt amplifier, a 420D bag, a guitar strap, a guitar jack cable, an additional strings set, two picks, and an allen key.
The set comes for an extremely affordable price, under the 100$ mark, which makes it the most affordable guitar set on the list.
Ibanez GRGM21BKN 3/4 Size
Ibanez GRGM21BKN 3/4 Size is a great small-sized guitar designed for younger players and players with small bodies. The instrument features a solid body made of a basswood body, maple neck, jatoba fingerboard, and 2 humbucker pickups.
The guitar has a 22.2" long scale, perfect for smaller arms with 24 medium-sized frets on top. But the nut width is a bit thicker than the other guitars on the list, which means this one is more suited for younger players with relatively bigger hands.
The guitar costs slightly higher than the Donner DTJ-100, and it does not come with any extra accessories, even a bag.
Conclusion
Donner DTJ-100 is a decent guitar for kids from 6 to 12 years old with its small and lightweight design. Its simplistic approach and comfortable neck make it a great guitar to start and learn how to play guitar.
The included accessory pack has everything you need to get you started; however, the poor-quality amp is pretty disappointing. You can get relatively decent clean tones, but the gain is unusable.
Besides the amp, another drawback is that the guitar needs adjustment out of the box as it is not very comfortable to play without the truss rod and intonation adjustments.
These cons aside, I think Donner DTJ-100 is a good guitar for kids overall. It looks attractive and elegant, easy to play with, comfortable, and has the ideal weight and dimensions for kids.
If you found this article useful, you may want to save this pin below to your Guitar board.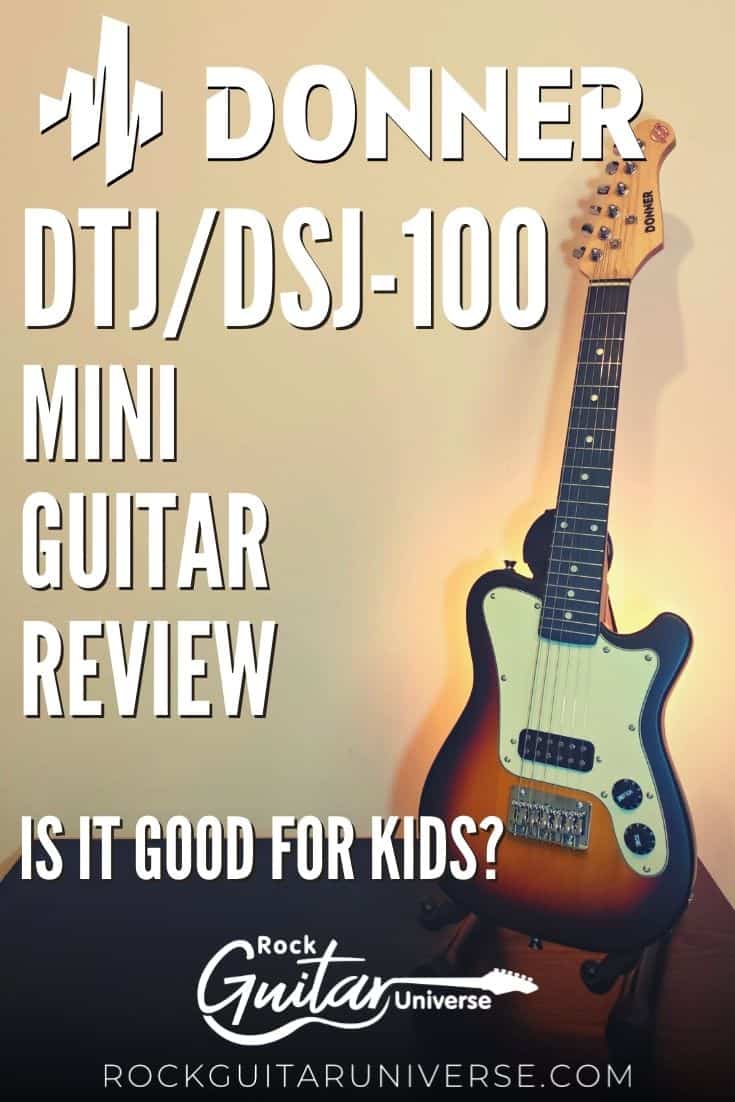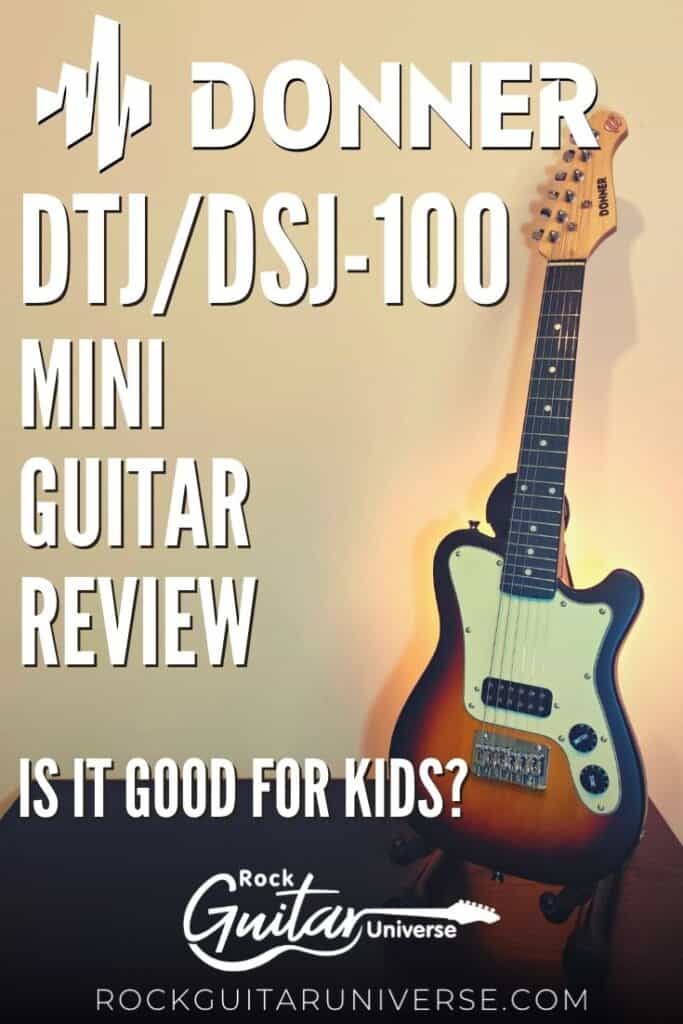 Last update on 2023-02-06 / Affiliate links / Images from Amazon Product Advertising API