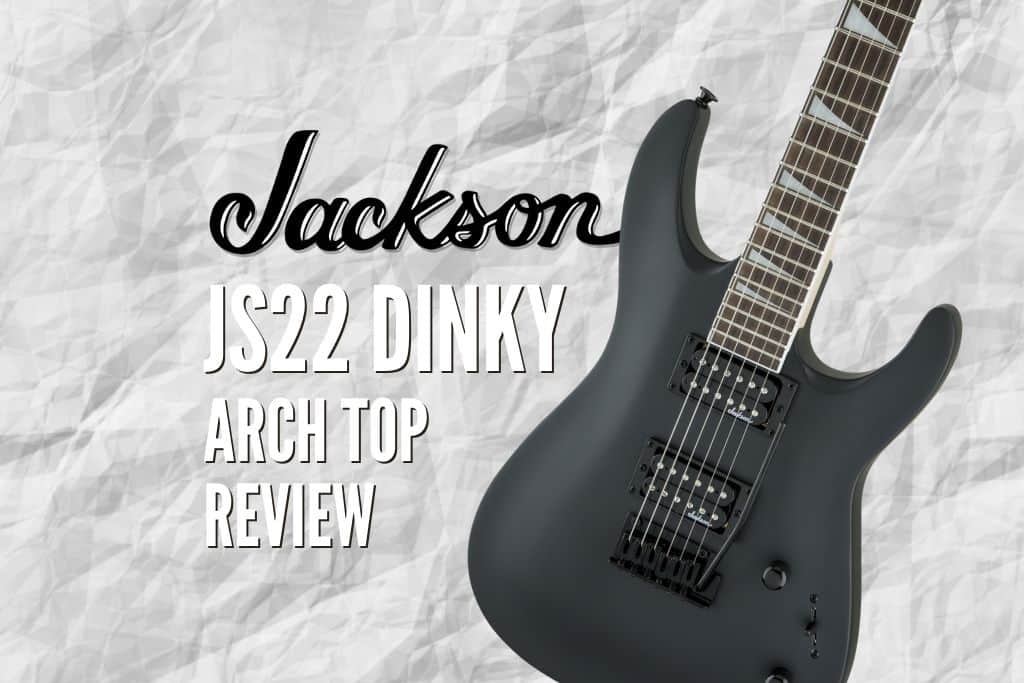 Jackson has been a go-to guitar for many players across the globe. Most commonly guitarists who are into heavier music like metal or hard rock will opt for Jackson since it is usually offering at least one humbucker.
Here, I will talk about Jackson Dinky, and why it might be a perfect choice for you. Naturally, picking the guitar for yourself is a tricky process, and each of us has our own preferences and tastes. It is not rare to see two players have completely opposite opinions on the same instrument.
But one thing that's almost certain is that every guitar player will know to recognize quality and if it is a well-crafted instrument. So, here, I will go through all the points that make Jackson JS22 special, and what its selling point is.
| Pros | Cons |
| --- | --- |
| The guitar has humbuckers (at least one), which means that the quality of the sound can be significantly better. Jackson JS22 has great pickups for the price. | The guitar is not really versatile, and it is mostly designed for heavier genres like hard rock or metal. |
| Faster neck with great access to higher notes, 24 frets, and thinner C profile. | Tremolo is not as great as you'd expect from a metal guitar. Not nearly as good as Floyd Rose. |
| Hardware is reliable, and it is one of the most popular guitar models for beginner/intermediate players. | Cheaper materials. |
If you are a beginner, Jackson is an excellent option. It is cheap, reliable, and you will be able to learn a lot from this model. For those with more experience, Jackson JS22 might not be the best choice. It is not the best guitar in the world, and if you are willing to spend more, you'll be able to find far better instruments.
But considering price/quality, you won't be wrong if you decide to try it out. On a scale of 0 to 5, Jackson JS22 is probably around 4, for its price range.
Jackson Guitars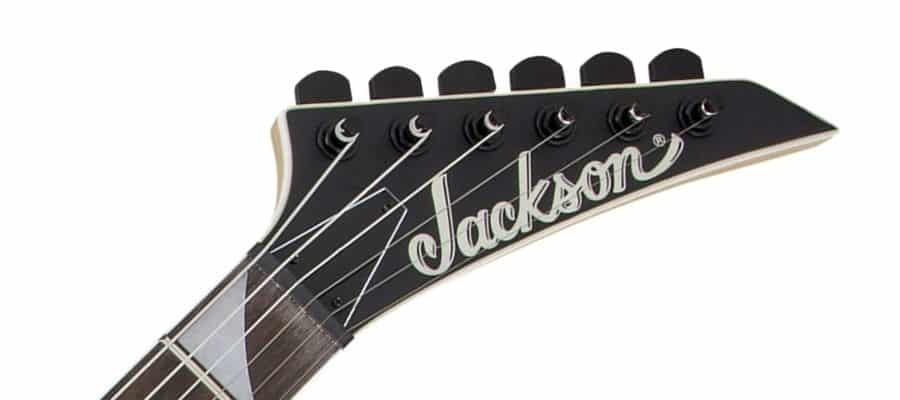 Jackson is by no means a new company. It was founded in 1980 by Grover Jackson, who was working as a luthier. Jackson started working in a similar manner as Charvel, and he even obtained part ownership of the company.
The first major gig for Jackson was when Randy Rhoads, Ozzy's guitarist at the moment, wanted to get a customized guitar. The end result was Randy's famous Flying V model, which was a significant change from the traditional Stratocasters they built.
Companies in the eighties like Jackson, Charvel, and Schecter, were in charge of modding Stratocasters. At the time, Fender didn't offer as many options as they do now, and people had to find a different way to change their Strats if they weren't satisfied with the stock model.
Thanks to Randy Rhoads, Jackson started becoming popular in the world of heavy metal. Through the nineties, Jackson still made all American guitars, but they also started offering cheaper models made in Asia. And this is one of the primary reasons for the popularity of this brand.
In 2002, Fender bought Jackson, and they continued delivering both expensive and cheaper models of guitars like Dinky, Kelly, King V, and so on. Moreover, Randy Rhodes wasn't the only famous guitar player to get his signature model, and probably the most popular Jackson model is Adrian Smith's San Dimas guitar.
The Specs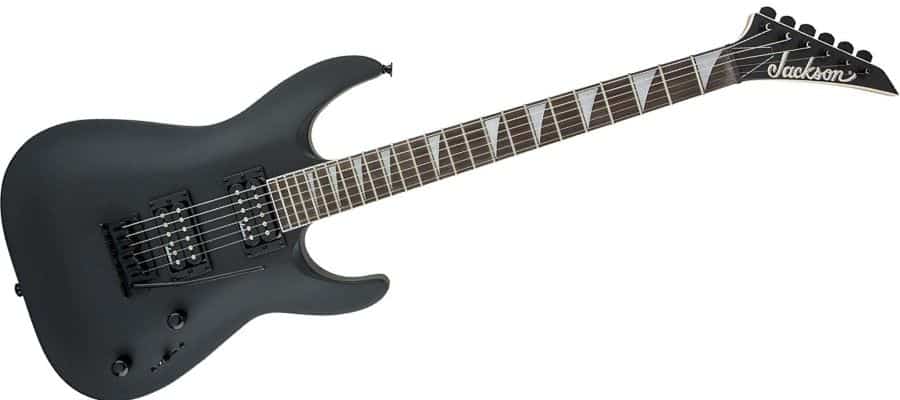 Let's take a deeper look at what Jackson JS22 has to offer.
General
| | |
| --- | --- |
| Series | JS |
| Number Of Strings | 6 |
| Hand Orientation | Right |
| Colors | Stain Black, Snow White, Natural Oil, Metalic Blue |
Body
| | |
| --- | --- |
| Body Shape | Soloist |
| Body Construction | Double Cutaway |
| Body Type | Solid |
| Body Material | Poplar |
| Top Material | Poplar |
| Top Type | Curved |
| Back Material | Poplar |
| Finish | Satin |
Neck
| | |
| --- | --- |
| Scale Length | 25.5″ (648 mm) |
| Neck Construction | One-Piece |
| Neck Material | Maple |
| Truss Rod | Adjustment at the nut |
| Truss Rod Type | Wrench |
| Fretboard Material | Amaranth |
| Fingerboard Radius | 12″-16″ Compound Radius (304.8 mm to 406.4 mm) |
| Position Inlays | Pearloid Sharkfin |
| Number of Frets | 24 |
| Fret Size | Jumbo |
| Nut | Plastic |
| Nut width | 1.6875″ (42.86 mm) |
Electronics
| | |
| --- | --- |
| Pickups Configurations | HH |
| Neck Pickup | Jackson High Output Humbucker |
| Bridge Pickup | Jackson High Output Humbucker |
| Controls | Volume and Tone |
| Switch | 3 Positions: Bridge only, Bridge and Neck, Neck Only |
Hardware
| | |
| --- | --- |
| Tailpiece | HT7 string-through-body Hardtail |
| Bridge Type | 2-Point Fulcrum Tremolo |
| Tuners | Jackson Sealed Die-Cast Tuners |
| Finish | Black |
| Pickguard | None |
Dinky has been around for quite a while, and it has a standard body shape that looks like a super Strat. This is the similar shape that you can see with many Ibanez guitars, Charvel, Schecter (older models), and such.
The body of the JS22 is made of poplar wood, and the same applies to both the top and back of the guitar. The finish of the guitar is satin, which is quite exciting if you are not into shiny finishes. Of course, the guitar looks incredible, has two cutaways, and a traditional Dinky shape.
The neck is made of maple, it's a bolt-on, with Graphite reinforcement. The connection between the body and neck is with bolts as with other Fender guitars, and it has binding. The scale length is 648 mm or 25.5 inches. When it comes to the radius, it has a compound one, where the radius changes based on the position.
It goes from 12" to 16" or 304.8 to 406.4 mm. The fretboard is Amaranth, with 24 jumbo frets. The design of the neck and fretboard is rather similar to other models, and you can see the traditional Pearloid Sharkfin inlays on the fretboard. The nut is made of black plastic, and it's 1.6875" or 42.86 mm.
When it comes to electronics, JS22 has two humbuckers, and both are Jackson High-Output Humbucking pickups. The color of the pickups is black, and the three-way switch allows you to control whether you'll use the neck, bridge, or both pickups.
The bridge is Jackson Sealed Die-Cast, with 2-point Fulcrum tremolo. The hardware is black, and it has a standard tremolo arm. Naturally, the stability of the tremolo is not as good as with expensive models or those that offer Floyd Rose instead of a two-point tremolo.
The Sound, The Feel Of The Instrument
The sound of the guitar is quite decent, especially considering the price range. Of course, the only important thing is what kind of amp you plan on using. The expensive amplifier, speaker, and equipment will make JS22 sound quite good.
When you consider how an electric guitar works, the most important parts are pickups and the amplifier or the speaker. JS22 humbuckers are quite decent, there won't be any buzz or hum due to the fact that humbuckers have two coils. The coils are wound in the opposite direction, and the process will eliminate the buzz.
If you are planning to buy a new amp and equipment, it will severely impact the sound coming out of the guitar.
When it comes to the overall feel of the instrument, the satin finish feels great, and the guitar weighs 8.82 pounds or 4 kilograms. This puts it in the heavier category, which is quite good. It is important to feel the guitar when you're playing and having an instrument that's too light will affect your playing.
The neck profile or composition is a great improvement from the previous models, and there are a lot of similar points with a Stratocaster, especially now that Fender is behind both guitars.
Of course, if you want, you can always check the video and hear what the JS series have to offer. There are many different colors, which means that you won't have trouble finding the one you'll enjoy.
Jackson JS22 Is Perfect For Whom?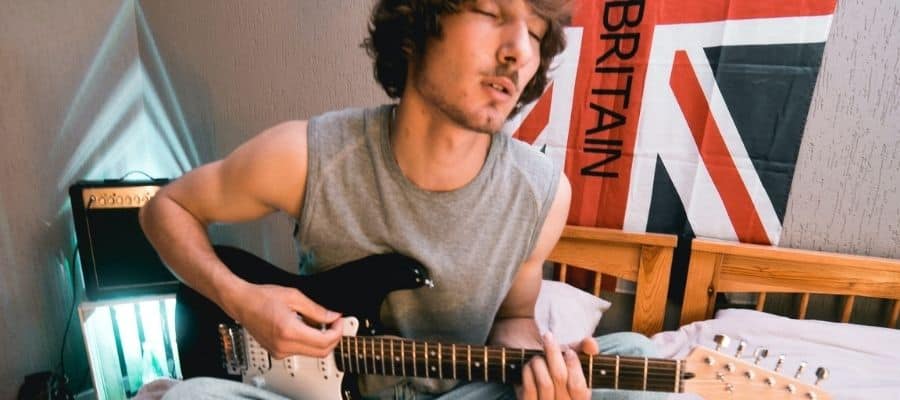 Who is the target audience for Jackson JS22 Dinky? Generally speaking, the target audience is beginner players. However, this doesn't mean that you can't buy this model if you are experienced, and already have a couple of guitars.
As I mentioned before, the primary quality of this guitar is its price. It is more than affordable, especially if you consider that the new Gibson or Fender can be well over a thousand dollars. So, it is more likely that inexperienced players will opt for the cheaper model, and look for an upgrade later during their musical journey.
Furthermore, since the configuration of Jackson JS22 is two humbuckers, it is more likely that you will use this model for heavy metal, hard rock, or anything else requiring overdrive or distortion.
Of course, this doesn't mean that you can't play other genres on JS22, you can play anything you like. But the truth is that something that requires humbuckers is a lot more suitable for this model. Needless to say, the price and modern design are selling points for JS22, and if you are looking for something like this, you'd be satisfied.
The primary reason why Dinky is one of the most popular guitars in the world is that you can find a cheaper metal guitar, and even if you did, Dinky is significantly better. So, considering the price and the quality you get for the money, Dinky is an excellent choice for anyone.
Is It Possible To Upgrade It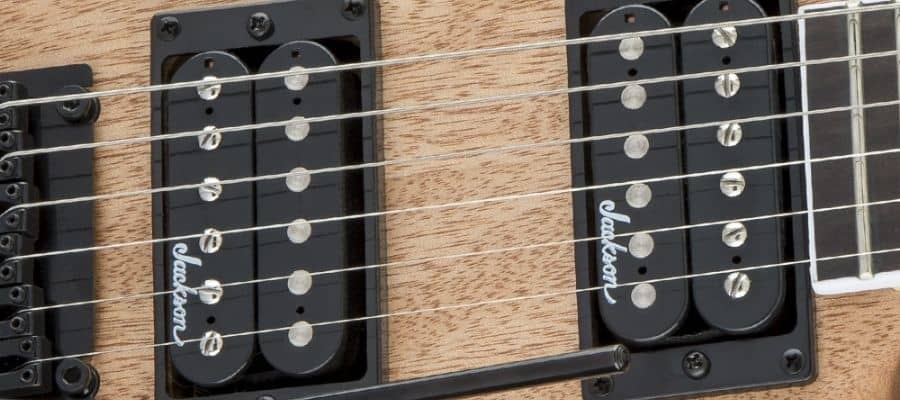 The short answer is yes. It is possible to upgrade Jackson JS22. As you could've seen before, Jackson is a part of the Fender company. Leo Fender was an engineer, and he liked the idea of removable and replaceable parts on his guitars.
Fender Stratocaster was different than anything you could've seen before, and the reason for it is that Leo wasn't a luthier. He was an inventor. Today, Jackson guitars are following a similar principle. If you don't like something, you can replace it.
For example, if your guitar has trouble staying in tune, you can replace tuning machines or the bridge in no time. And the same thing applies to almost every other part of the guitar. Of course, replacing all of them is pointless.
Here, I will go through some of the most common replacements or upgrades, and the common reason why you might want to do this. Needless to say, guitar strings are replaceable already, and I won't talk about changing the brand or gauge as a form of replacement.
Pickups – The most common replacement is pickups. The process is not difficult, and you can replace either one or all of them. The quality of sound will improve significantly, and you will feel like you bought a new guitar. Of course, some pickups can be quite expensive.
Tuning Machines – Tuning machines are one of the ways to improve the stability of tuning. Most cheaper guitars won't be able to stay in tune as long as you'd want, and this is a replacement you might want to consider.
The Bridge – Tuning machines are just one of the reasons for tuning instability. In general, every part of the guitar that touches strings can be a reason for tuning problems. Changing the bridge can help a lot if your strings are often breaking near the bridge, or if you want to upgrade your guitar.
Smaller parts – smaller parts of the guitar can also be replaced, but it won't help nearly as much as replacing your pickups. For example, getting a new nut might give you more sustain and improve tuning, and if you are already playing your guitar for a while, you might need to replace frets.
Every part of the guitar that is in contact with strings can affect the quality of the tone and stability of the tuning. To a smaller degree, string type and gauge, as well as the pick you're using can affect the sound coming out of the speaker as well.
Alternatives To The Instrument In Terms Of Look, Feel, Sound, Specs, And Price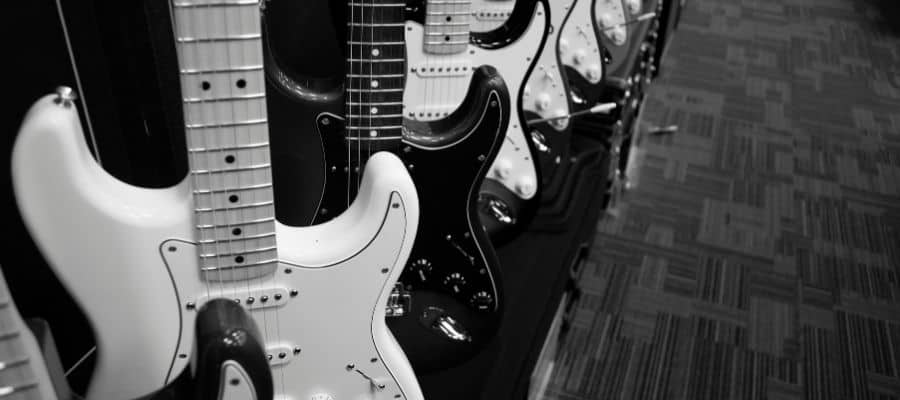 As with any other product on the market, you can find alternatives if you want. Some people might not be delighted with the design, sound, feel, or anything else that comes with Jackson JS22, so let's take a look at some of the other options you might want to consider.
Ibanez GRX70QA
In terms of sound and quality, the closest guitar you'll find is Ibanez from the RG series. Ibanez also offers super Strat guitars, and the RG series is one of the entry models. The price of the guitar is a bit over $200, which is close to what JS22 is.
There are several differences between Ibanez and Jackson. For example, Ibanez often has an HSH combination instead of HH that you can find with Jackson. Moreover, the neck might feel a bit thinner, and the sound will be unique as well.
Fender Squier
But if you are disliking some part of Jackson guitar, you can try out other models (or brands) in the same price range. One of the best entry model guitars is Squier which is a cheaper version of Fender. You will get a recognizable shape and sound for the fragment of the price.
The main difference with Squier guitars is that you will (most likely) find ones with an SSS combination, and if you want HSS or HH, you might need to look for more expensive versions. All things considered, both Squier and Ibanez offer great guitars, and it is up to you and your personal taste to see which one you'll pick.
Summary
Jackson is one of the most popular guitar brands and the reason for it is its price. For around $200, you can get a real electric guitar (not some knock off brand). JS22 or Dinky is among the most loved models by Jackson, and it is probably the first thing on everyone's mind when you mention this company.
The guitar has two humbuckers, a bolt-on neck, a three-way switch, and a two-point tremolo. It is an excellent instrument for beginners, but you can buy it regardless of your skill level.
While the guitar is not the best one you can find, it is an excellent choice in this price range. Usually, those who enjoy listening to heavy metal, hard rock, and heavier genres will love JS22. For those looking for something similar in the same price range, probably the only viable option is to go for Ibanez or Squier.
Other than that, Jackson JS22 Dinky is an incredible guitar you'll enjoy playing and learning more about music. The best thing is you can always replace any part of the guitar you dislike.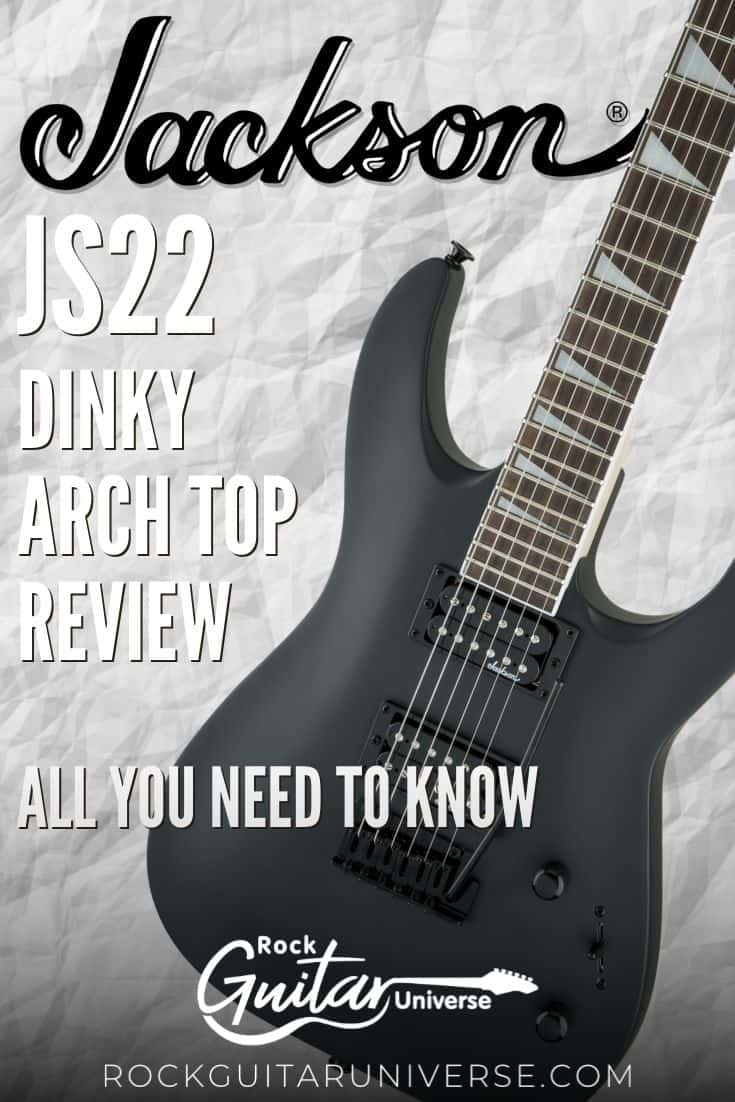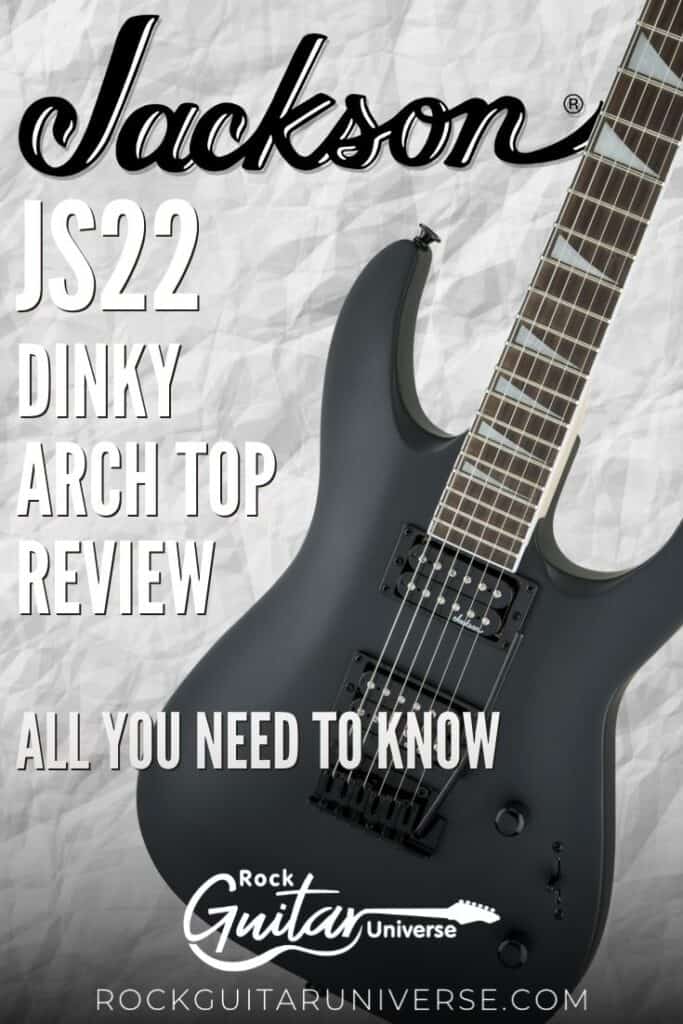 Last update on 2023-02-06 / Affiliate links / Images from Amazon Product Advertising API