Gibson has always been famous for making great-sounding guitars with great build quality. This is one of the main reasons why they have been in business for so long. The most famous models built by this company are the Les Paul and ES 335. Although, at first look, they may resemble each other in a nutshell, these are two completely different instruments.
The first and main difference between these guitars is the type of body. The ES 335 models have a semi-hollow body, while the Les Paul models have a solid body. This directly results in a different sound and sustain.
Les Paul model has a much better sustain compared to ES 335, which has a warmer and more resonant tone. Regarding versatility, Les Paul has a lead since it can be used for various genres. The ES 335 is most often used for softer genres such as jazz or blues.
The point where these guitars meet is with the type of pickups. Both guitars pack a set of humbucker pickups in an HH configuration. This is a great example of the impact of the guitar's body on its sound. The neck of these guitars is another meeting point where they are almost identical to each other.
Both of these models are prime examples of Gibson's quality and legendary status. Throughout history, these guitars have been used across the world by many different musicians. Ever since they have been first introduced, these two models have been in constant production.
| | | |
| --- | --- | --- |
| | ES 335 | Gibson Les Paul |
| Body Shape | Semi-Hollow | Les Paul Standard |
| Body Wood | Mape-poplar | Mahagony |
| Neck Shape | Rounded C | Rounded |
| Neck Wood | Mahagony | Mahagony |
| Neck Construction | Set Neck | Set Neck |
| Fretboard Material | Rosewood | Rosewood, Ebony |
| Scale Length | 24.75" | 24.75-inch |
| Number Of Frets | 22, Medium Jumbo | 22, Medium Jumbo |
| Frets Material | Nickel Silver | Nickel Silver |
| Type of Bridge | Tune-O-Matic with stop bar | ABR-1 Tune-O-Matic |
| Tuning Machines | Grover Rotomatics | Grover Rotomatics |
| Pickups | Calibrated T-Type humbuckers | BurstBucker™ 61R & 61T zebra, open-coil pickups |
| Pickup Selector | 3-way toggle switch | 3-way toggle switch |
| Controls | 2x master volume, 2x tone control | 2 x volume, 2 x tone |
| Weight | 8lbs (3.6.kg) | 9lbs(4.08 kg) |
Gibson Les Paul History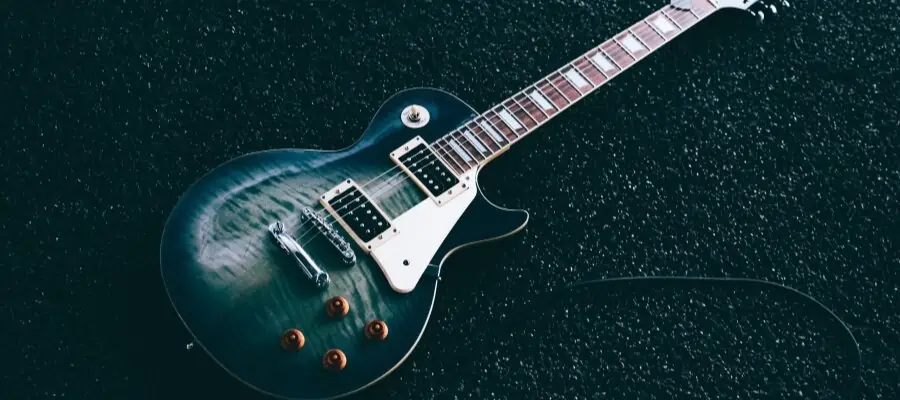 Gibson Les Paul is one of the most easily recognizable guitar models. Since its first introduction in 1952, it has been in constant production. This says a lot about the instrument's importance and quality.
The people behind the design of Les Paul are Les Paul himself, Ted McCarty, and John Huis. The origin of the name for this instrument is actually a marketing trick Gibson did. At the time, Les Paul was quite a famous guitar player, and in order to up the sales of products, they put his name on the headstock.
The first instance of this instrument was nothing like it looks today. Les Paul called the original prototype "The Log" because of the unfinished design. Over the many years of production, Gibson will introduce various different versions of the instrument, but in essence, it will remain the same and have the same iconic sound.
Gibson ES 335 History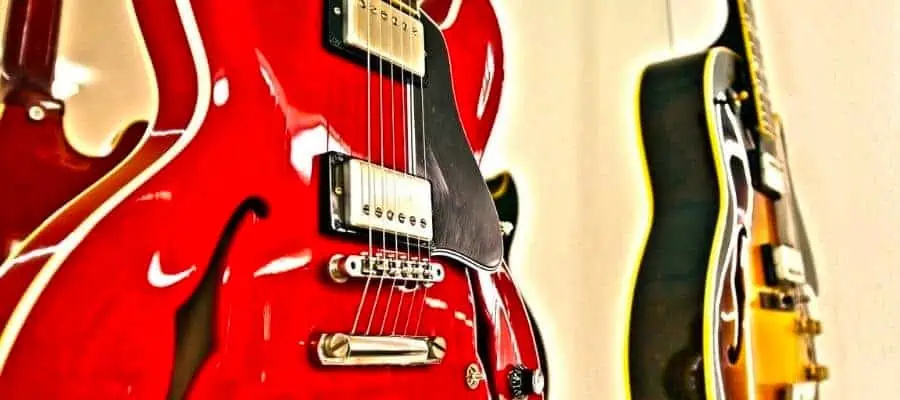 The Gibson ES 335 was first made available in 1958 as a part of the ES, the Electric Spanish series of guitars made by Gibson. This guitar helps bridge the gap between hollow and solid body models. This guitar will carry on as one of Gibson's most legendary models.
Before the introduction of this model, Gibson was mostly making hollow-body guitars which had problems with feedback during live situations. This was one of the reasons why they introduced the solid-body Les Paul. The ES 335 is the model which meets the best of both worlds. It is one of the most legendary semi-hollow body guitars.
Bodies Compared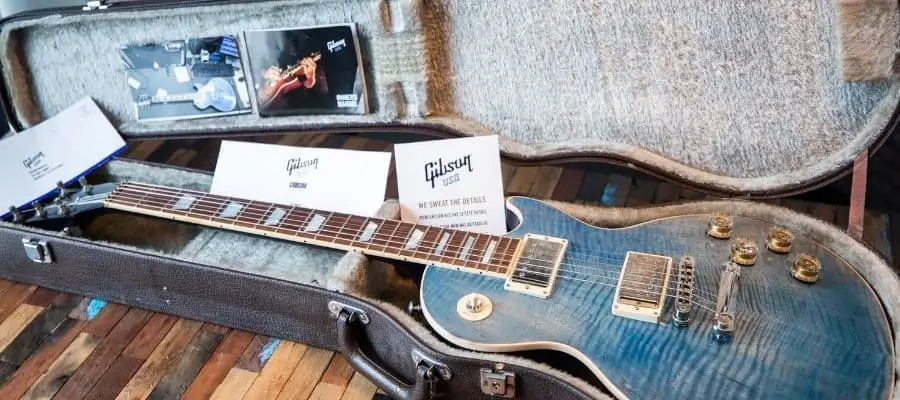 The body of these guitars is quite different. To start, the body type is completely different for each guitar. Les Paul is a solid-body guitar, while the ES 335 is a semi-hollow guitar. This will directly result in a different tone from each other.
A major part of the sound also sits with the type of wood used for the bodies of these models. For ES 335 models, the body is made out of Maple-poplar while the Les Paul models are usually seen with a Mahagony body which gives a rich tone to the guitar.
The point where these guitars are the same as in the body shape. Both models have a single cutaway design. Considering the ES 335 has a semi-hollow body, this directly reflects the weight. It weighs 8lbs (3.6kg), while Les Paul's overall weight is 9lbs (4.08kg).
Neck & Scale Length Compared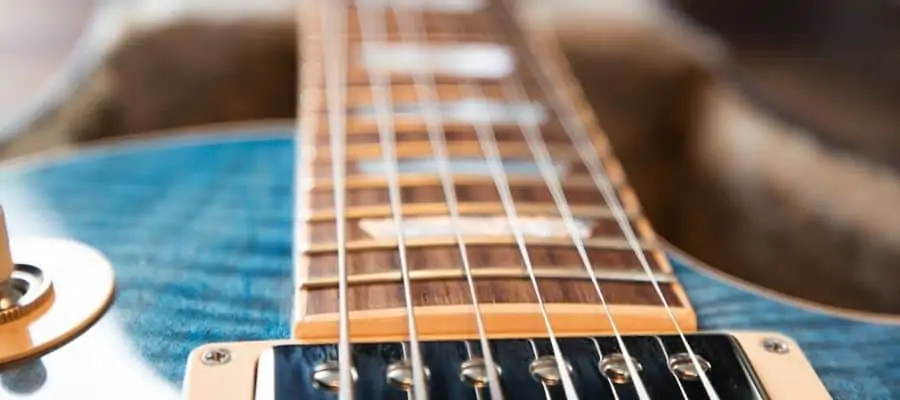 The neck of these models is one of the more comfortable ones on the market. Both models usually come with a Rounded C-neck shape and Set Neck construction. Depending on the model, Les Pauls will come with a neck made out of Mahagony. The same goes for the ES 335.
The only possible difference with the necks of these guitars is with the fretboard. Most ES 335 models come with a Rosewood fretboard. On the other hand, you can get Les Paul models with either Rosewood or Ebony fretboard. The neck scale of 24.75″ is the same for both guitars, 22 medium jumbo frets.
Hardware Compared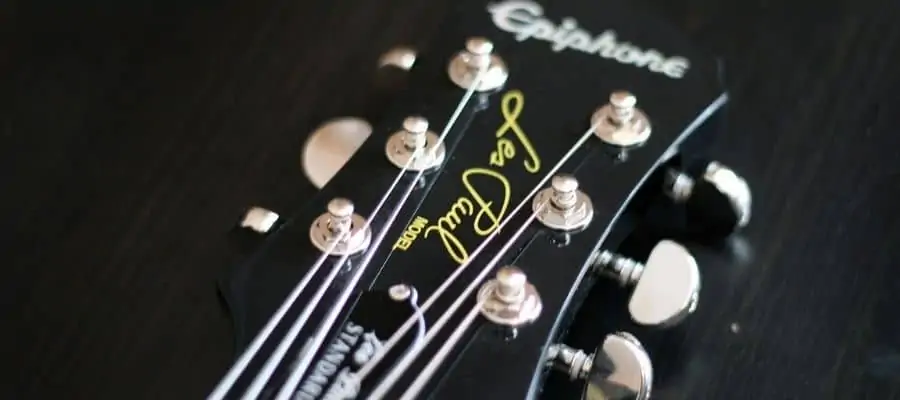 The hardware of these is somewhat similar. The key difference is in the type of bridge. ES 335 is usually seen with Tune-O-Matic with a stop bar bridge, while on the other hand, we have Les Paul with ABR-1 Tune-O-Matic bridge.
Both types of bridges add to the great sustain of these guitars as well as keeping them in tune for a long time. The point where these guitars share similarities are with the tuning machines. Both instruments have the same Grover Rotomatics tuners, which have been proven to hold the guitar in tune rather well.
Pickup Configuration Compared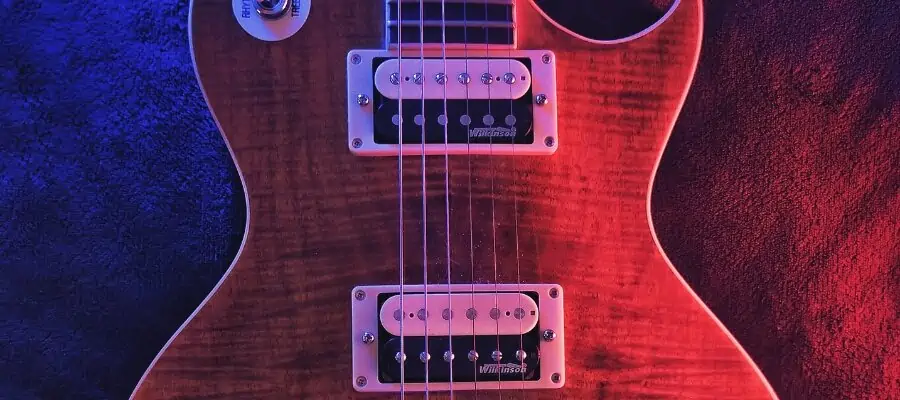 Having different pickups on your guitar will directly result in a different tone. Although both guitars have an HH pickup configuration, the type of pickups is different. ES 335 models usually come with Calibrated T-Type humbuckers, while the Les Paul models have BurstBucker™ 61R & 61T zebra, open-coil pickups.
In addition, with great pickups, you will have great control over your tone with 2x master volume and 2x tone control knobs. These knobs are located on the bottom butt-end part of the guitar for both guitars. ES 335 and Les Paul also come with a 3-way toggle switch but in different locations. On the Les Paul model, this switch is located on the top horn of the guitar, while on ES 335 is located next to the control knobs.
Gibson Les Paul Tone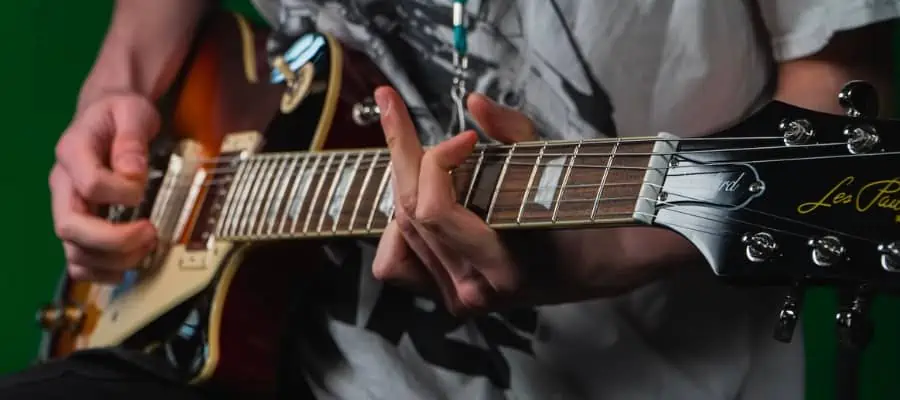 Les Paul is one of the most easily recognizable guitars when it comes to tone. This guitar has a thick, punchy tone that usually easily cuts through the mix. Playing this guitar will give you an odd sense of power.
The major part behind the tone of this guitar is its body weight, size, and shape. It is among more heavy guitars, which some people find as a drawback, but the tone is completely worth carrying it around.
Gibson ES 335 Tone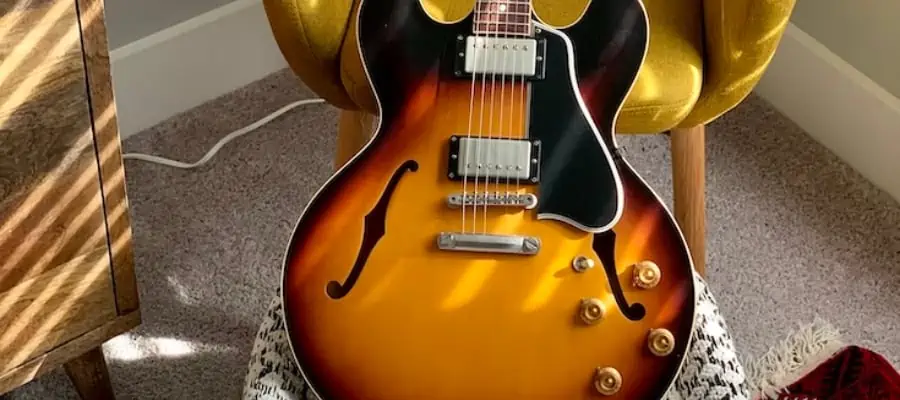 The ES 335 has a stunning appearance in combination with a wonderful tone that many guitarists will quickly recognize. You get the best of both worlds since it sits in the middle between hollow and solid bodies. This gives it a warm, round, and airy tone that many guitarists worldwide find soothing.
Gibson Les Paul Feel & Playability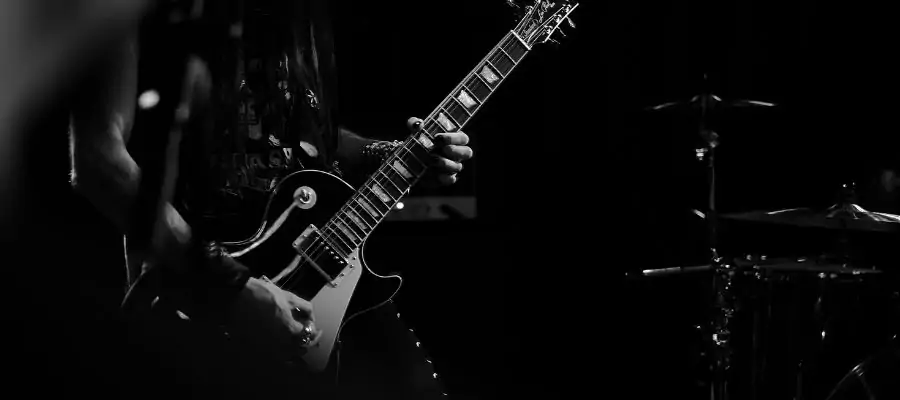 Along with a great look, this guitar will suit almost every guitarist. It is ranked pretty high in terms of feel and playability. Since Gibson had made quite a few of the Les Paul type of models, everyone was able to find a guitar that would suit their needs.
The only drawback with this guitar is its overall weight. Due to its fat body, it can get quite heavy, especially if you play standing up for a long time. The neck tends to tilt upwards, which is great when you are playing standing up, which makes it easier to see what you are playing.
Gibson ES 335 Feel & Playability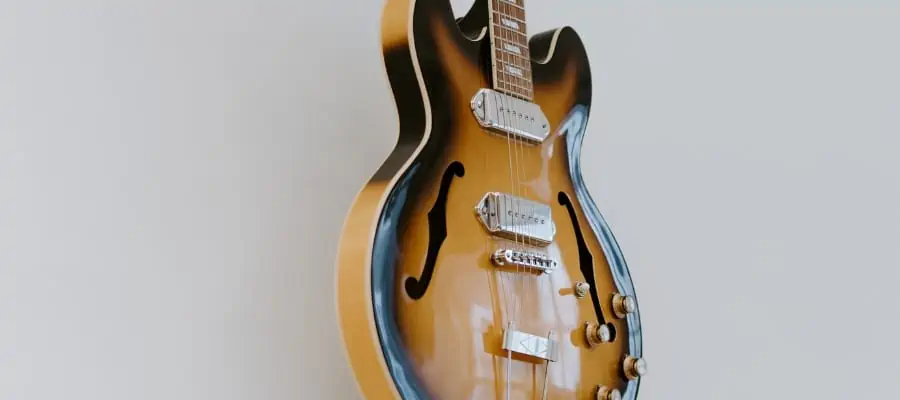 This guitar will feel great in everyone's hands. Ever since it was introduced, the ES 335 will experience very few changes in terms of design. The only instance that Gibson will change is the neck profile. They will add a C-neck shape to increase the playability of the instrument.
In terms of the size of the guitar, this is a rather big guitar, so fans of small-body guitars should avoid this guitar. This does not mean it is uncomfortable; on the contrary. It is quite comfortable to play and hold.
Gibson Les Paul Look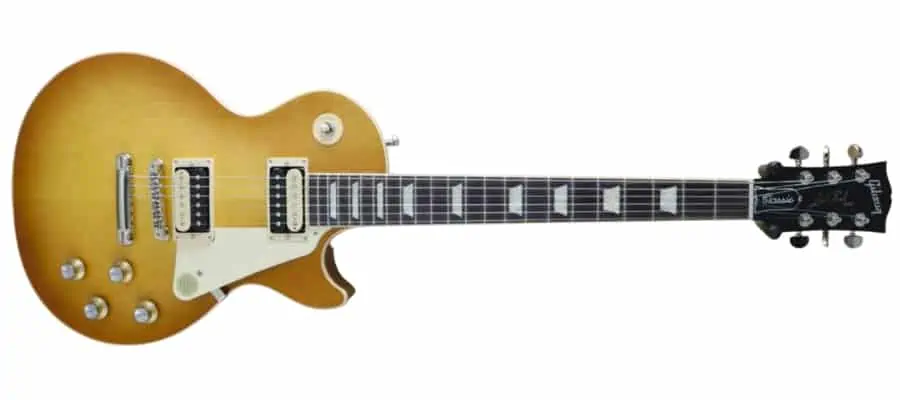 One of the key components of Les Paul is its looks. This is one of the key points behind its legendary status. It is truly a beautiful guitar to look at. You can get this guitar in almost every finish there is.
Gibson really made sure to create an instrument for everyone. When it comes to ranking electric guitars by design, Gibson Les Paul holds one of the top places for sure. With Les Paul, everyone can find a model with a finish that sits best for its eyes.
Gibson ES 335 Look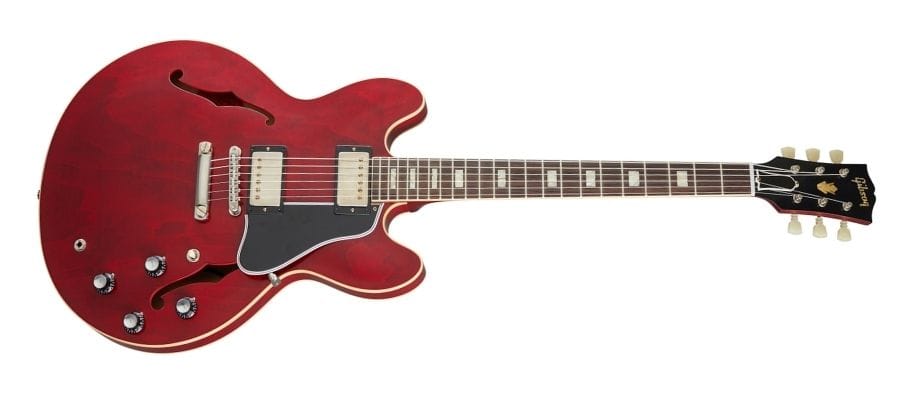 The ES 335 is among the most beautiful guitars ever made. It is truly unique, and everyone loves to see one being used on stage. The design hasn't changed since it was created. Every guitar player will aspire to buy one at some point in his career because it has a stunning design that is instantly identifiable.
This guitar has been part of one of the greatest eras of music as well as pop culture. You might be familiar with this design from the classic film Back to the Future, in which Morty sings Chuck Berry's Johhny be Good. Its stunning appearance is one of the factors that led to its selection for the film.
Famous Gibson Les Paul Players
Les Paul
At the time of the creation of Gibson Les Paul, this guitar player was one of the greatest players in the world. So, in order to up the sales and get on to the world stage, Gibson invited Les Paul to be one of the creators of this great guitar.
Luckily for the rest of the world, he accepted the invite and went on to create the Les Paul model with Gibson. It is a fact that his name had a major impact on the influence this guitar had when it was first introduced.
Slash
Slash is probably one of the most famous guitar players everywhere in the world. Nothing says rock and roll as Slash's styling, a top hat, sunglasses, and a Gibson Les Paul to top it all. He is almost never seen with different guitar apart from Les Paul.
Gibson should credit Slash for bringing the Les Paul models from the shadows back on the main stage in the mayhem of the single-coil pickups. He continues to tour the world with his trustworthy Gibson Les Paul, which is still fully stocked.
Randy Rhoads
Randy Rhoads was truly a unique guitar player whose guitar playing everyone fell in love with the first song they heard. His classical guitar background had a major impact on his style of playing, which to that point, was never seen before.
Although he was seen using a Jackson model fairly bit, nothing stuck to him as a white Gibson Les Paul Custom made in 1974. He had used this guitar in his recording sessions as well as the live situations.
Famous Gibson ES 335 Players
B.B. King
B.B King is without question the most influential blues guitar player. He will utilize the ES 335 model for the majority of his career. He is among the guitarists who have done the most to make this model popular among many others.
He may be one of the first guitarists to nickname his guitar. He had given his ES 335 nickname "Lucille," and both of them go a long way back. This name is because he rescued this guitar from a burning building and the fire started because of a woman named Lucille.
Alvin Lee
Ten Years After's lead guitarist and vocalist was Alvin Lee. His career was greatly aided by his appearance at the Woodstock festival when he introduced his special fast-playing method, and the rest is history.
He was most of the time seen using the ES 335 model to play his live shows. He later modified the guitar by adding additional single coil pickup, expanding the tonal variety of the instrument.
Dave Grohl
Dave Grohl is one of the people who are credited for keeping rock and roll music alive. Ever since he was a member of Nirvana, to this day, he has never stopped playing and touring. He will become the leader of the Foo Fighters, and you can see him using his signature model of ES 335 in almost every show.
Conclusion
Gibson has always made great quality instruments, and choosing the correct one out of their offer may be a daunting task for some people. Choosing the correct instrument for you always depends on the type of music you want to play.
The ES 335 models have been known for serving great for playing genres such as Blues and Jazz, but you can see them used in different genres as well. On the other hand, the Les Paul model is seen being used everywhere. It is one of the most versatile guitars out there.
The best advice someone can give you is to go to the local guitar store and try both of the models to see which one is for you. By playing a few simple chords or solos, 90% percent of the questions will be answered instantly.
If you found this article useful, you may want to save this pin below to your Guitar board.