Keeping your guitar in tune is one of the most essential parts of being a good guitarist. It is the ultimate favor you can do to yourself, your instrument, and your audience. Even if you have the most fantastic playing technique, nobody will enjoy your music with a guitar out of tune.
Guitar tuners vary in shapes, sizes, and functions. But one of the most convenient and cost-effective options out in the market is the clip-on tuners. The high-quality clip-on guitar tuners are incredibly accurate and fast, making them perfect for guitarists on the stage.
Clip-on tuners are pretty easy to use. You just have to attach the tuner to the headstock, play a note, check the frequency or the result on the screen, and adjust your string's tuning to the right note. In addition, the clip-on tuners generally measure the vibrations on the instrument; thus, they are not affected by the external noise.
There are many clip-on tuners on the market with different prices, quality, and systems. It may be hard to choose the best one since they all offer different valuable aspects. The crucial features of an excellent clip-on tuner are accuracy, speed, and, of course, price.
I have chosen the best clip-on tuners on the market with many hours of research, personal experience, expert consultation, popularity, and buyer reviews. These options are all fail-proof choices that performance, accuracy, speed, and excellent value for your money are guaranteed.
Snark ST-2 Super Tight
Modes: Chromatic
Calibration Range: A4 = 415Hz – 466Hz
Snark is a famous brand with its affordable and good-looking colorful clip-on guitar tuners with many different styles. In addition, all of the products of Snark have a bright screen that makes things easier, especially in dark places such as the stage.
The Super Tight model clamps tightly to the headstock. It has a chromatic tuner that
works in two different modes. The microphone mode is for tuning acoustic instruments, while the vibration mode uses a transducer to convert and interpret the strings' vibrations into a tuning reading.
The accuracy of the Snark Super Tight tuner is not shown on the official page. But its accuracy is more than enough for most of the players; however, it can not compete with more professional and expensive models such as Peterson or TC Electronic.
Especially for beginners, it is a perfect choice with its ease of use, quickness, and decent accuracy. There is also a tap-tempo metronome mod that is a nice feature to have, especially for the price.
It is a highly portable device that you can put into a gig bag or a pocket of your jeans or jacket.
It is one of the most sold and highly rated tuners on many famous websites such as Amazon and Sweetwater.
Peterson StroboClip HD
Modes: Strobe
Tuning Range: C0 – B6
Calibration Range: A4 = 390Hz – 490Hz
Accuracy: +/- 0.1 cents
Peterson StroboClip HD tuner shines with its high accuracy rate. It is one of the most accurate clip-on guitar tuners on the market, with its 0.1 cents accuracy. This tuner is a perfect choice for professional players with the most sensitive ear and preparing the guitar for live performances and recordings. It will get your guitar fully to the best tuning for special occasions.
The tuner has a giant HD screen, soft rubber jaws, settings for drop tuning, and capo with 50 of the brand's unique tunings. These tunings include some of the most popular makes and models of guitars.
Sweetened tunings take into account many aspects, such as a Telecaster with a three-saddle bridge's exceptional intonation. The guitar might wobble in tuning when you play a chord on higher notes on the fretboard, but the Stroboclip makes the necessary adjustments.
The sweetened tuning is not for every player, but when the tuning not fully sounds rights, it may be the solution. Of course, it is important to note that this can be confusing for beginner players with zero to little experience.
Snark SN-1X
Modes: Chromatic
Calibration Range: A4 = 415Hz – 466 Hz
The Snark SN-1 Guitar Tuner is a small-sized and affordable tuner that can be clipped into the headstock of any guitar, never to be lost or left behind. The device is so flexible that its face can be rotated 360 degrees, giving the player a pretty good view at all angles.
This is considered to be one of the best guitar tuners due to its ease of use and price. With its small and portable size, it is aesthetically outstanding and available in red and blue with little difference.
With its frequency range, this guitar tuner is particularly suited to guitar and bass. In addition to its built-in microphone, the tuner has a susceptible vibration sensor to instantly and accurately tune the instrument.
It also has a tap tap metronome and a reliable transpose feature if you needed it. The tone calibration feature makes this gadget the best guitar tuner for those not looking to spend more than a few dollars.
TC Electronic Polytune Clip
Modes: Polyphonic, Chromatic, Strobe
Tuning Range: A0-C8 (27.5Hz – 4186Hz)
Calibration Range: A4 = 435Hz – 445Hz
Accuracy: +/- 0.02 cent (strobe mode) 0.5 cents (chromatic mode)
TC Electronic Polytune Clip is perfect for players who are not looking for a fancy device with many features but a remarkable and straightforward performance. With chromatic, strobe, and polyphonic modes, Polytune Clip is an excellent option for players of all levels.
In chromatic mode, the tuner provides an accuracy of 0.5 cents, which is more than enough to tune your guitar correctly.
The strobe mode has a 0.02 cents accuracy, which equals one 5000th of a semitone, which can more than satisfy human ears.
The polytune mode, which allows you to play and tune all six strings simultaneously, makes the process extremely quick and easy. Although the device was released in 2016, the polytune mode is still impressive compared to the newly released tuners.
The device's screen is pretty bright and has a long battery life of around 18 hours.
Boss TU-10 Clip-On Tuner
Modes: Chromatic
Tuning Range: C0-C8 (16.3 – 4186Hz)
Calibration Range: A4 = 436Hz – 445Hz
Accuracy: +/- 1 cent
The Boss TU-10 is a solid chromatic clip-on tuner with +/- 1 cent accuracy, a compact, lightweight, and easy-to-use design. The accuracy is decent enough for many players of beginner to intermediate levels.
The tuner offers a flat tuning mode, where you can tune down up to 5 semitones, making drop and alternate tunings relatively easy. It is a great choice for those who use alternative tunings often and do not want to waste time changing the tunings.
The display is bright and great for any setting. Besides the guitar, you can use it for bass, ukulele, or mandolin. It is a well-designed, practical, user-friendly tuner at an affordable price—excellent value for money.
KLIQ UberTuner
Modes: Chromatic
Tuning Range: A0-C8 (27.5Hz – 4186Hz)
Calibration Range: A4 = 430Hz – 450Hz
Accuracy: +/- 1 cent
The KLIQ UberTuner has one of the best performance-value ratios in the market. Thanks to its enhanced microprocessor and the super-sensitive pickup, which consistently delivers accurate readings, the clip-on tuner gives fast and accurate results.
The device is also highly reliable with its durable design and solid components. It can serve you for years for sure.
The display is impressive. It is bright and extremely visible in the direct sunlight, as well as in dark settings. It is also pretty straightforward to use, and it picks up the vibrations well from the headstock.
The 125 degrees tilt and 360 degrees turn options provide a highly adjustable device that gives comfort to players. In addition, it is one of the lightest tuners, weighing around 0.017 lbs (8 grams), making it a very portable device when you take its small volume into account.
The UberTuner has dedicated modes for guitar, bass, violin, ukulele, and chromatic for all other instruments as well.
Overall, this tuner is at the top of the class in speed, accuracy, and convenience.
Fishman FT-2
Modes: Chromatic
Tuning Range: C0-C8 (16.3 – 4186Hz)
Calibration Range: A4 = 436Hz – 445Hz
Accuracy: +/- 1 cent
Fishman FT-2 is one of the cheapest tuners out there, with solid quality and high accuracy up to +/- 1 cent. It is a pretty straightforward tuner with no extra features but gets the job done for a more than affordable price.
It is a simple, compact tuner without a fancy HD display or anything luxurious. It switches itself off after few minutes of inactivity to save battery life.
The display is bright and easy to read as it turns red when the string is sharp, amber when flat, and green when it is in tune. It is that simple. It has a pretty decent calibration range between 436 Hz to 445 Hz, while its tuning range is from C0 to C8.
Fishman FT-2 has all the essentials you may need for a very low price. It is perfect for players on a tight budget and with simple needs.
D'Addario Planet Waves NS Micro Universal Clip-On Tuner
Modes: Chromatic
Calibration Range: A4 = 410 – 480Hz
Accuracy: +/- 2 cents
The NS Micro Universal is a very light clip-on tuner that discreetly fits into any headstock with the newly designed ratchet clip. To see the LCD screen easier as you play, it was designed with a 360-degree swivel adjustment and an extendable arm for better positioning.
With its lightweight, it does not hurt your guitar's headstock, even if you keep it there for a long time. There is also a metronome mode included in the device too. Besides electric guitar, it is also suitable for acoustic guitar, bass guitar, mandolin, banjo, and many other string instruments.
It is a small and compact device that is hardly noticed when it is clipped to the headstock. You can adjust the calibration between 410 to 480 Hz if you want to experiment with different pitches.
The NS Micro Universal is one of the cheaper model clip-on tuners on the market. But that does not mean it has less quality. On the contrary, it is one of the most solid and sold tuners with a high feedback rating. Therefore, it is recommended for every player who wants a decent tuner to keep things simple and affordable.
Fender Bullet Tuner
Modes: Chromatic
Tuning Range: A (27.5Hz) – C (4186.0Hz)
Calibration Range: A4 = 440Hz
Accuracy: +/- 1 cent
Fender Bullet Tuner is a solid chromatic tuner with an extremely lightweight of 0.29 Ibs (13.5 grams). Its appearance resembles a sniper scope with a circular display mounted on a barrel design. You can mount this tuner to the back or front of your guitar's headstock.
This excellent clip-on tuner is accurate to +/- 1 cent, which is a decent accuracy for most tuners. The display is easy to read, making the tuning process simple and quick.
The calibration range is limited to 440 Hz, which is a negative aspect of the tuner. You can't get out of this setting to experiment with different calibrations. But it is a decent tuner if you are going to stick with 440 Hz.
Fender Bullet Tuner has a minimalistic design and perfect for stage appearances.
Fender FT-1
Modes: Chromatic
Tuning Range: B0 – B7
Calibration Range: A4 = 440Hz
Accuracy: +/- 1 cent
Fender's multifunctional tuner model FT-1 is a compact, easy-to-use chromatic clip-on guitar tuner with an extremely affordable price. Moreover, it gets its job done even in noisy environments with ease, thanks to its built-in vibration sensor.
The straightforward display and the needle on the LCD screen indicate how close the pitch is to a note, and the screen backlight turns green once the note is in tune.
The FT-1's dual-hinge design allows you to mount the tuner on either side of the instrument head. The tuner is easy to use with just an on-off button and has a good display that can be seen in light or dark with a bright backlight and high contrast.
The device is portable and small, making it easy to keep in the guitar bag, so you can use it whenever you need a quick tuning.
The angle of the device can be adjusted anyhow once you've clipped it on so that you can see the display better.
Korg Pitchclip 2 Plus
Modes: Chromatic, half-strobe, strobe
Tuning Range: A0-C8 (27.5Hz – 4186Hz)
Calibration Range: A4 = 436Hz – 445 Hz
Accuracy: +/- 0.1 cent (half- and strobe modes)
Korg Pitchclip 2+ is the upgrade of Korg Pitchclip. The Pitchclip 2 is a great budget clip-on tuner with its accuracy to +/- 1 cent, while Pitchclip 2+ is accurate to +/- 0.1 cent with a better display and different modes like chromatic, half-strobe, and full strobe modes.
The modes improve the accuracy significantly, as shown in the numbers. Pitchclip 2+ also offers a brighter and more readable display than Pitchclip 2 and Pitchclip.
The tuner has a reversible head for left-handed and right-handed players to adjust it as they like. It can be used on bass guitars, too.
The battery life is consistent with 18 hours of lifetime. In addition, the device turns itself off after 3 minutes of idle time to preserve battery life.
It is a highly compact and portable tuner with its medium weight of under 0.44 Ibs (20 grams). Its price is also more on the cheaper side, making the device a great offer.
Korg AW2G
Modes: Chromatic
Tuning Range: A0-C8 (27.5Hz – 4186Hz)
Calibration Range: A4 = 410Hz – 480 Hz
Accuracy: +/- 1 cent
Korg AW2G is one of the most popular tuners on the market. This tuner is considered by many to be the best guitar tuner, as it provides versatile multi-angle positioning through its double ball joint and allows for better mobility for the screen section.
It contains an internal backlight for great visibility even in dark environments, and it also has a memory backup function as well. For optimal response, both the internal microphone and the piezoelectric sensor can be easily used.
The AW2G saves a considerable amount of battery life since it has an automatic shutdown feature. Furthermore, it can accommodate various concert steps, and finally, through its Meter Reverse function, the user can manage the tuning from the best viewing angle.
This is a very affordable clip-on guitar tuner that many love because of the overall stability and the extra features it has incorporated. It is available in various vivid colors, including orange, red, yellow, blue, green, pink, indigo, and purple.
It can be used for an electric guitar as well as other string instruments. It is an excellent tuner in terms of speed, accuracy, durability, and price.
Real Tuner
Modes: Chromatic
Tuning Range: E0 (41.20Hz) – B7 (3951Hz)
Calibration Range: A4 = 430-450HZ
Accuracy: +/- 1 cent
Real Tuner is an elegant and versatile chromatic clip-on guitar tuner with decent accuracy and essential features such as vibration detection and mic tuning. It is an accurate, precise, and sensitive tuner suitable for an electric guitar as well as acoustic guitar, 4-string bass, ukulele, banjo, violin, cello, flute, and other woodwind instruments.
It has a full-color display with clear information and excellent readability. The notes and string numbers are displayed on the screen pretty simply with all the buttons you need on the front panel. There are 2 swivel points, and the device can be adjusted with a full range, 360 degrees.
You can use the vibration detection option for loud environments and the internal mic option for sound detection in more quiet settings. The device also has an automatic power-off option to save battery life.
The tuning process is simple; the display shows what string you are tuning and tells you if you need to tune up or down. Then, when the needle hits the center, yer string is tuned.
Martisan NCT-20
Modes: Chromatic
Tuning Range: A0 (27.5Hz) – C8 (4186Hz)
Calibration Range: A4 = 430Hz – 450Hz
Accuracy: +/- 1 cents
The Martisan NCT-20 Clip-On Tuner offers all you need to keep any instrument properly tuned without complications. And, thanks to its multiple configurations, this device is suitable for tuning guitars and violins, and even ukuleles, depending on what you need.
The key to this model is its extensive working range and high precision. Ideal for each string to be at the precise tension. Something that is easy to check through the included screen, where you can see the tuning parameters clearly and in full color, even in the dark.
To top it off, the product features a high-quality clip, which holds the device in place while not damaging the wood. As effective as the screen's rotation system, to see everything clearly from any angle.
The tuner has an accuracy of plus or minus 1 cent, offering a very fast response and a wide tuning range. The screen is large enough to see everything clearly. In addition, it can be turned in the way that suits you best, to see everything clearly.
The retaining clip keeps the tuner in place no matter how much you move, but it is placed on without damaging the instrument's materials. However, some reviews about the product indicate that, occasionally, the device freezes; just turning it off and on to "reset" solves the problem.
With its low price, Martisan NCT-20 is a great choice for players on a tight budget.
Korg AW-OTG POLY
Modes: Chromatic, Strobe, Polyphonic
Tuning Range: A0 (27.5Hz) – C8 (4186 Hz)
Calibration Range: A4 = 436Hz – 445Hz
Accuracy: +/- 0.1 cents (strobe mode)
With 0.1 cent accuracy on strobe mode, Korg AW-OTG Clip-On Tuner is similar to Peterson Stroboclip HD. However, it is one of the clip-on tuners with the highest tuning accuracy.
This tuner does not have the sweetened tuning feature as Peterson has, but it has a different feature; the chord finder. It is a fun mode used for finding new chord voicings.
As the name suggests, this model also offers a polyphonic tuning option. Although the accuracy is not as high as the strobe mode, it is acceptable and gets the job done.
The device has an impressive and bright OLED screen display with a functional clip to switch the angle as you prefer. You can also choose from 11 different display types if you get bored with traditional tuning displays. The battery life is also outstanding, with 18 hours of a lifetime with an AAA battery.
Conclusion
As a musician, being in tune is probably the most crucial thing when you find yourself in front of an audience or just your ears. Luckily, you don't need an amazingly sensitive ear or a pitchfork to try to tune your instrument endlessly. Instead, clip-on tuners are here to make everything much more straightforward.
These tuners on the list are top-quality, reliable devices that will never leave you half the way. They will keep your guitar perfectly in tune. They are not only super accurate, but they also allow you to tune your guitar in hard environments with lots of noise and/or in the dark, as they have bright LED or LCD screens and work on vibrations of each string of the guitar.
All the brands, Snark, D'Addario, Korg, and Fender, produce top-quality products for all the budgets and player levels from beginner to professional. With a fast and accurate reaction time, large screens, and different pitch options, Snark products are my personal recommendation.
If you found this article useful you may want to save this pin below to your Guitar board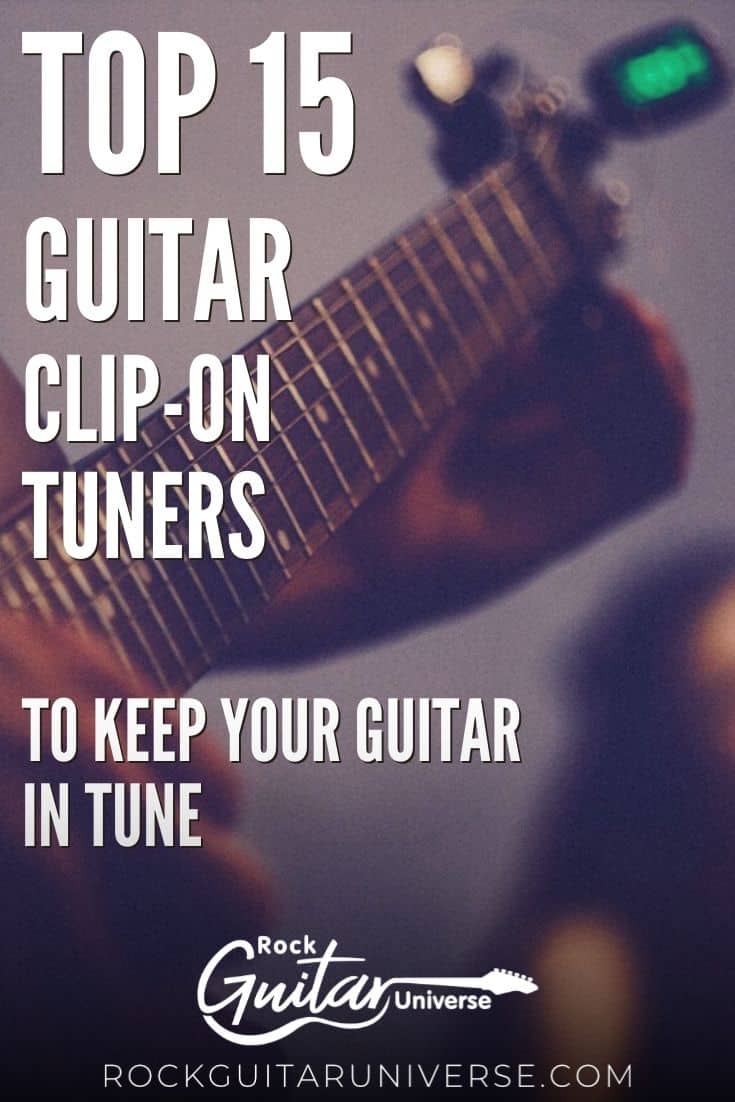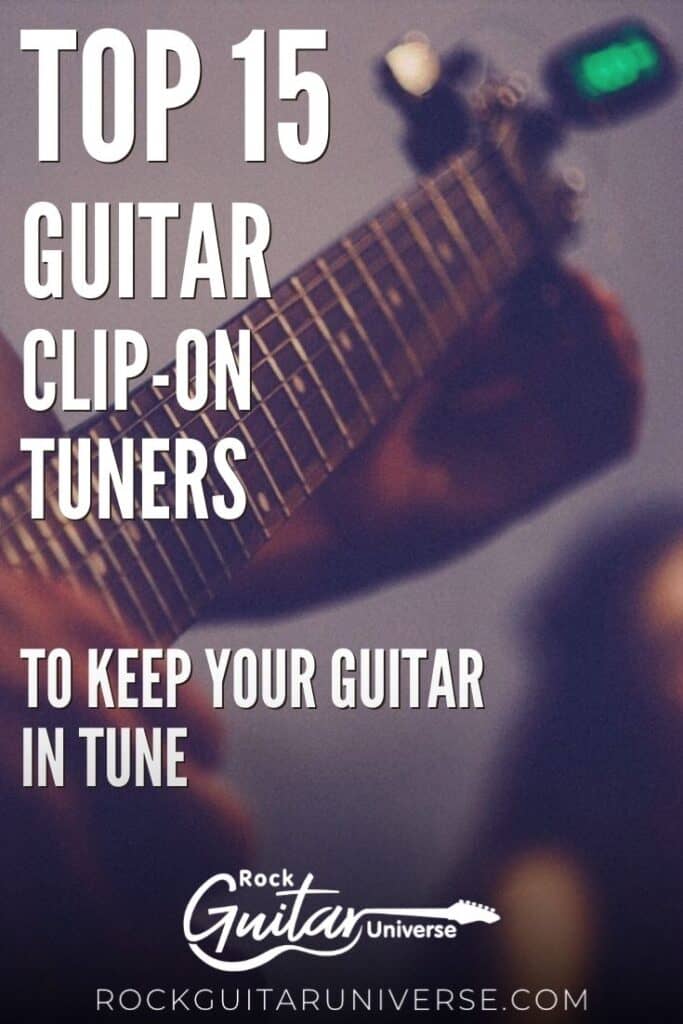 Last update on 2021-10-19 / Affiliate links / Images from Amazon Product Advertising API
Recent Posts