Buying a good guitar amp that caters to your needs can be a difficult process. The price of an amp will depend on what type it is, its wattage, and the overall specs of said amp.
Here, you will find everything you need to know about buying a guitar amp, what you need to be on the lookout for, the price range, and what affects the overall cost of each type of amp.
So, how much does a guitar amp cost?
Solid-State amplifiers have a high range and are between $70 and $1200 (depending on wattage)
For tube amps, the price is between $250 and $1500
Modeling amps are somewhere between $200 and $1000
Hybrid amplifiers are less common. Their price range is between $250 and $700
Acoustic Guitar amps can be found around $350 and $650
Depending on your playing level, your needs, and your budget, you can make a decision on which amp works best for you. You can always buy one of the high-tier amps, but it is not really necessary unless you are looking to go on tour or record a high-level record.
Electric Guitar Amps Cost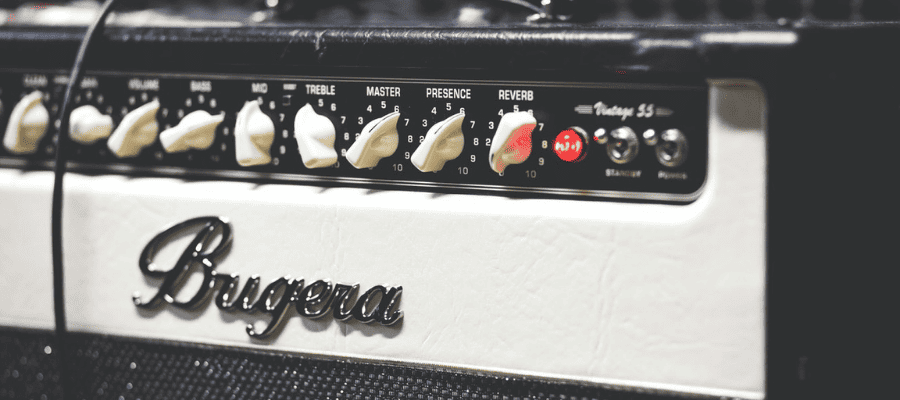 Solid-State Amplifiers
Solid-state amplifiers are best known for being able to give you clean tones that remain undistorted and non-overdriven when you increase your volume. In contrast to a tube amp, solid-state amps use electronic transistors for amplification, which allows you to control your volume output with more ease without risking overdrive.
You can usually find cheaper solid-state beginner amps than tube amps. The reason being amp tubes cost more because they give you a warmer, more analog-like sound.
Solid-state amps have the widest price range. This is mainly dependent on the amp's wattage. You can find beginner 5-20 watt amps for $70-$200, all the way to 120-watt amps at $1000.
From 5-20 Watts
Blackstar Fly 3
The Blackstar Fly 3 is the smallest amp on this list. A battery-powered 3-Watt amp with extreme simplicity, as it has only a gain knob, a volume knob, and an ISF (Infinite Shape Feature) knob to dial in your sound.
One of the most surprising specs on this amp is that even though it is a low-wattage amp, it has a very healthy output, especially when cranking up the gain knob.
This amp also has a built-in "tape" delay, which is an excellent addition and a good introduction for beginners to the delay effect. Its portability is also very well recognized.
Vox Pathfinder Combo
The cheapest, most effective way to get Vox's trademark sound, looks, and feel is to get the Vox Pathfinder Combo.
This 10-Watt amplifier has two channels, one for clean tones and the other one for Vox's authentic overdrive sound. Its simplicity can be refreshing, as it only has a volume knob, a gain knob, and a 2-band EQ.
By far, its main feature is its ability to hone in the legendary vox sound. There are a lot of small, low-wattage amps that are not able to retain their richness and fullness of sound. The Vox Pathfinder Combo does not have that issue.
Orange Crush 20RT
Orange amps have a reputation for being good-quality amps with excellent tones, especially when overdriven.
The Orange Crush 20RT is a 20Watt amp with a built-in tuner and reverb. This makes it ideal for a small, starter amp with all the primary features you need to get a top-notch tone.
Another great thing about this amp is that Orange designed it to maintain all fidelity when plugin in through headphones. This allows you to do silent practices and still enjoy the full experience of the Orange Crush 20RT.
It is slightly more expensive than other starter kits, but it is a great amp and a good investment for those who wish it.
From 20-50 Watts
Roland JC-22 Jazz Chorus
Roland JC-22's reputation holds on its own. This amp has been favored by some legendary guitarists such as Andy Summers, Jeff Buckley, Larry Coryell, and Albert King.
The reason for this is thanks to its super-rich and versatile clean tone, fitted for genres such as funk, gospel, even rock.
Another thing to consider in this 30Watt amplifier is its power. Even though it is a relatively small amp, it has proven to be quite loud and perfect for scenarios such as jam sessions or even big live gigs.
The Roland JC-22 also comes with a built-in chorus effect, as well as reverb.
Marshall MG50GFX
Once we start getting into the higher wattage family of amplifiers, it is impossible not to mention Marshall. One of Marshall's top picks is the MG50GFX.
With a custom 12-inch speaker, the Marshall MG50FX has four channels included: clean, crunch, OD1, and OD2. In addition, this amp comes with modern digital effects to add depth to your sound.
This amplifier was created to replicate the classic Marshall tones. Its analog circuitry helps you achieve a vintage sound with a modern touch to create great classic rock sounds.
Roland Blues Cube Artist
Even though you can consider this amp a modeling amplifier, the fact that Roland designed its Roland Blues Cube Artist to shine on only two channels makes it one of the best solid-state combo amps out there.
The Roland Blues Cube Artist focuses all of its DSP on the clean channel and the crunch channel, which, thanks to its tone capsules, emulate tube sounding amplifiers.
Another great advantage of this amp is its built-in power attenuator, which allows you to get the features of a cranked-up amp and, at the same time, regulate your volume and avoid super loud output.
From 100-200 Watts
Fender Tone Master Deluxe Reverb
The Fender Tone Master Master Deluxe Reverb is the solid-state replica of their samely named tube amplifier. Apart from the successful recreation of their vintage sound, feel, and look, this amp also comes with a built-in power attenuator to help you achieve great overdriven tones without exceeded volume.
In contrast to Fender's Mustang series, the Fender Tone Master Master Deluxe Reverb specialized on its two channels. Its main feature is the ability Fender had to create a tube-like sound without the weight, price and caring needed to have a tube amp.
The Fender Tone Master Master Deluxe Reverb also comes with built-in reverb and tremolo.
Roland JC-120 Jazz Chorus
Out of all the amps in Roland's JC series, the Roland JC-120 Jazz Chorus is the #1 amplifier in terms of quality and demand. Since its invention in 1975, this amplifier is one of the top solid-state amps in the market.
The main feature of the JC series is its clean channel. It is a very versatile clean channel that is suited perfectly for a pedal rig. This amp also comes with a built-in distortion, but by far, the clean channel is its main feature.
In addition, you get a 3-band EQ and built-in chorus, vibrato, and tremolo
Fender Tone Master Twin Reverb
This amp is another successful recreation of a Fender tube amp into a solid-state amp. The Fender Tone MasterTwin Reverb is a replica of the samely named tube amp with the addition of a power attenuator.
Same as the Fender Tone Master Deluxe Reverb, this amps main feature is its impeccable tube-like tone without the hassle of tube maintenance, overall weight, and price.
The Fender Tone MasterTwin Reverb showcases the same two channels (normal and vibrato), with a bright switch and a 3-band EQ per channel.
In addition, you also have built-in reverb and tremolo, along with speed and intensity controllers.
Tube Amplifiers
Tube amps are and have been, for a very long time, a guitar player's favorite tool. Tube amps use what are called valves (or tubes) to amplify its sound. These amps are very well-known for their high-power output, as well as the innate warmth that comes from cranking up the amp.
They are usually more expensive than solid-state amplifiers and require much more care, as the tubes do wear out over time. However, in general, they provide a nicer analog sound that almost all guitarists love and favor.
AS mentioned before, tube amps are more costly than solid-state amps and their types of tubes and wattage will directly affect their cost. You can find top-quality, low-wattage tube amps for $250. On the other side of the coin, the highest-quality tube amps will be around $1100.
Bugera V5 Infinium
Bugera is the affordable section of world-renowned music manufacturer Behringer. This branch's specific task is to create the best, most affordable tube amplifiers. The Bugera V5 Infinium is just that.
Don't let this small 5-Watt amp fool you; it a class-A amplifier that provides a warm and vintage sound thanks to its EL34 tube and 12AX7 preamp tube.
This amp's main intent is to create a friendly, high-gain at low-output practice amp that can deliver sweet-sounding tones. Its Infinium technology helps immensely in the care of both its tubes, giving them a longer life-span. One of the best options for practice tube amps.
Fender Blues Junior IV
The Fender Blues Junior IV is a 15Watt tube amplifier known to be an excellent practice, recording, and live scenario type of amp.
Even though it has a very small wattage, this amp can crank up really loud and get you the classic Fender tone. It is an ideal amp for blues and rock genres.
This amp comes with a 3-band EQ, a master knob, a volume knob (which overdrives nicely when cranked up), and built-in reverb.
Granted, it is high on price range, but it is definitely worth it for blues and rock lovers out there looking for a compact amp.
Vox AC30
If you are looking for a tube amp with classic rock and roll, 60s type of tone, this amp is your best option.
The Vox AC30 is a single-channel, clean-toned, high gain type of amp. Equipped with a top boost bottom for more high-end, a 3-band EQ, and a digital reverb that emulates a spring reverb, this amp is simple, yet elegant and top quality.
With its four EL84 tubes, the Vox AC30 overdrives quite nicely when cranked up. The fact that it is a 30Watt amp also helps you crank it without blasting the roof of your house.
PRS Sonzera 50
Voted as one of the best 50-Watt amplifiers in the market, the Paul Reed Smith Sonzera 50 is a combo amplifier with two independent channels. It favors Fender-type cleans and classic rock types of gain and drive.
A great thing about this amp is that both channels have their own independent 3-band EQs, spring reverbs, and volume/gain controllers. This allows you to hone both your sounds in with a lot of detail.
Finally, having a pair of EL34 tubes gives you a warm, analog sound that gives you all the punch and clarity you'll need.
Blackstar HT Stage 60 MkII
When speaking of the best tube amp for heavier genres out there, the Blackstar HT Stage 60 MkII has to come into the conversation.
This award-winning amplifier has 60Watts of power and incredible flexibility and versatility when it comes to clean, overdriven, and dirty channels. Its 2 x ECC83 and 2 x EL34 tubes give you a warm, very responsive tone that overdrives very nicely.
The amount of control you have over your tones is another reason why this amp is so popular. With a 2-band EQ for the clean channel, a 3-band EQ for the dirty channels, and a resonance and presence knob for the master volume, your tonal choices are endless.
Modeling Amplifiers
It is no secret that in the past decade technology has taken a massive leap and has the highest quality it has ever had. With the intention in mind of creating top-notch amplifiers that are versatile, easy to transport, and cheaper, several companies have spent a lot of their efforts on creating what are now called modeling amplifiers.
Modeling amplifiers look to replicate different types of classic amps and give you the option of having them all in one piece of gear. This has proven to be exceptional for home recording studios and traveling musicians.
Modeling amps are a little cheaper than tube amps since they don't have valves. The main component that affects their price is their DSP capabilities to replicate different types of amps. The number of effects and models will also affect their prices.
You can find a pretty solid modeling amp for around $220. Higher quality modeling amps will go up to $500 or more (depending on wattage).
Fender Champion 40
The Champion line from Fender is one of the most popular series of solid-state modeling amps. This is even truer for the Fender Champion 40, as it is one of the most sought intermediate amps.
The reason is its incredible versatility. This amplifier has multiple amp voicings that allow you to find tones for rock, blues, county, metal, jazz, etc…
In addition, the Fender Champion 40 has multiple effects for you to create more intricate, full-sounding tones and atmospheres.
The Fender Champion 40 comes in a 40Watt format, but you can also get the 20, 50, or 100Watt version.
Yamaha THR30II
The Yamaha THR30II was designed for independent, home studio guitarists. This amp is part of Yamaha's portable, desktop-friendly line that stands out for its great amp modeling tones.
This amp puts together a total of 15 different amps and 8 effects, which include: Chorus, Flanger, Phaser, Tremolo, Echo, Compressor, Noise Gate, and Reverb.
The Yamaha THR30II stands out for its software, which allows you to tweak your sounds and use multiple digital mic techniques to get any professional sounding vibe you are looking for. It is very portable, yet durable, and is a top choice in the amp modeling world.
BOSS Katana – 50 MKii
In essence, any amplifier from BOSS' Katana series is an excellent choice to purchase. In this case, we have the 50 MKii, a 50Watt amplifier with all of the specs and quality you would expect from BOSS.
The great thing about this modeling guitar amp is the number of choices you have. You have a plethora of guitar amp models at your disposal, as well as an endless choice for effects and combinations.
All of these choices can be further tinkered with through its USB system into your computer, giving you all the control and experimentation you can hope for.
Fender Mustang GTX
The Fender Mustang GTX has been voted several times as the best solid-state modeling amp Fender hast to offer. This hold even trues as its price is just below the $500 (which is expensive, yes, but doesn't reflect the great value this amp has)
This amplifier comes with 40 amp models, over 70 different effects, and 200 presets that you can adjust to fit your needs. Add to this its immense power of 100Watts, and you have everything that you need from an amplifier.
In terms of sound flexibility and overall versatility, it is hard to beat the Fender Mustang GTX. It is one of my top choices for amp modeling amplifiers.
Marshall Code 50H
Marshall CODE series is known for its excellent amp modeling design. The Marshall Code 50H is one of their top-quality, bestsellers, and for good reason. With 14 Preamps, 4 Poweramps, and 8 Speaker Cabs, you virtually have all of the versatility you can look for.
The great thing about this amp is that you already have 100 different presets to help you either begin your search for new sounds or a finished product, ready to be recorded or used in a live gig.
The Marshall Code 50H can easily be considered the best modeling amp head and is a great option for versatile, top-notch amps.
The Ultimate Guitar Modeling Amp – Kemper Profiler
The Kemper Profiler is the best, most known, high-end multi-effects processor for guitar and bass. It is a modeling amplifier with a built-in pre-amp and optional power amp, making it extremely accessible for any situation.
Kemper designed a unique technology called PROFILING, which enables this amp to model any amplifier out there. With 1000 different banks for saving your sounds, you literally have thousands of options.
Every bank has all of the things you need to find that sound you are looking for (amp head, cabinets, EQ, pedals, etc…). The great thing about it too is that it is fairly intuitive and user-friendly.
Naturally, you can expect the Kemper Profiler to be quite expensive. Priced at $2,976.90 I would not recommend it to a beginner, intermediate, or hobby-type of a guitar player.
However, for anyone looking to have an infinite amount of sounds to professionally record, this is probably the best option out there (technology is still evolving, so den;t be surprised there are other great options out there as well).
Hybrid Amplifiers
Hybrid amplifiers are a combination of modeling amplifiers and tube amplifiers. In essence, a hybrid amp uses tube-like technology to enhance the overall sound of the replicas modeled by the manufacturer.
The result is a very high-quality amp with incredible versatility and features that allow you to control every single aspect of your tone. These amps are not as common, so you might find it hard to find a lot of variety.
Hybrid amplifiers are not that common and a bit harder to find. However, good hybrids amps will range somewhere between $250-$550.
VOX VT40X
One of the top choices for hybrid amplifiers in the market is the Vox VT40X. Combining a 12AX7 preamp tube and built-in DSP amp modeling technology, this amp has the best of both worlds.
The Vox VT40X has a lot of flexibility and versatility thanks to its 11 preloaded amp models (which you can extend to 20 via its software). By adding the preamp tube, you give your sound a little bit of analog warmth and vintage color, making this amp exceptional.
A perfect combination of versatility and tube-like sounds, the Vox VT40X is worth its price.
Vox MVX150C1
The Vox MVX150C1 is not your conventional hybrid amplifier. Instead of it being a tube modeling amp, it uses a new technology called Nutube. Nutube allows you to have all the power, color, and punch of regular tube amps while conserving energy, thus giving them a longer lifespan.
This amplifier is equipped with two channels that vary from clean to high-gain sounds. Each channel has its own independent EQ system, as well as volume, gain, and a master knob.
Acoustic Guitar Amps Cost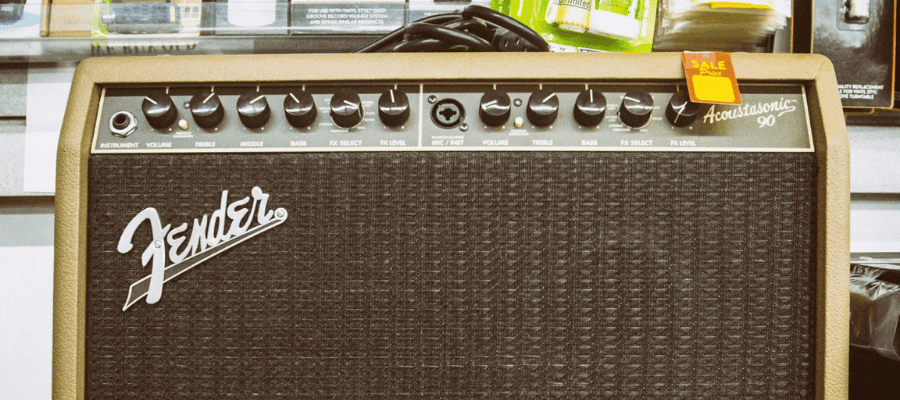 While an electric guitar amp's main purpose is to amplify its electric signal and allow it to have more volume, gain (for distortion), and color, an acoustic amplifier is designed to simply amplify the clean and transparent signal of an acoustic guitar.
Most acoustic amplifiers also come with the option of plugging in microphones to create a hybrid signal of direct guitar and a mic'd guitar. Singer-songwriters can also use the microphone to sing, having the ultimate tool for songwriting sessions and coffeehouse gigs.
There are two types of acoustic guitar amps: solid-state and tube-based. However, all top choices for acoustic amps are solid-state and it is not recommended to use a tube amp on acoustic guitars.
The main reason for this is that tubes have a tendency to give your sound color. That is the main reason why there are many different types of tubes, to achieve specific tones. With acoustic guitars, your main goal should be to get the purest, cleanest amplification of the instrument. Tubes will not provide a clean, untampered sound.
Great-quality acoustic guitar amps can be found somewhere around $350-$650.
Marshall AS50D
As you may know, Marshall's reputation caters specifically to rock lovers and metalheads. However, this amplifier is one of their stand-alone acts, as it is designed to give life to your acoustic performances.
The Marshall AS50D is a 50Watt acoustic guitar amplifier with two channels and an XLR input to plug in microphones as well (in case you want your guitar mic'd).
This amp offers plenty of volumes, a very well-rounded tone, and crystal hights to enhance all the right features of an acoustic guitar. It also comes with a built-in chorus and reverb, as well as a D.I output.
Fishman Loudbox Artist BT
The Fishman Loudbox Artist BT is a 120-Watt amplifier with two channels, each with independent 3-Band EQs, Anti-Feedback, and a phase button to correct output issues with the microphone.
Both channels on this amp have a dual input for either direct guitar or microphones. Its 24V phantom power lets you use condenser microphones, which work really well with acoustic guitar, giving you all the options you need to get the best sounding acoustic tones.
Lastly, the Fishman Loudbox Artist BT comes with multiple built-in effects, including different types of reverb and delay, chorus, and flanger.
Fender Acoustic 100
The Fender Acoustic 100 is a top-quality, vintage-aesthetic acoustic amp with two channels, one for the guitar and another for a microphone. This way, you can combine your guitar's output with a recording microphone.
As a matter of fact, many singers have also praised the responsiveness of the amp to their vocals, making it a perfect option for singer-songwriters and coffeehouse gigs.
Finally, the Fender Acoustic 100 comes with multiple built-in effects that include several types of Reverb, Chorus, Delay, Tape Echo, and Vibratone. A great-sounding amplifier with sleek looks.
Conclusion
In this day and age, the amount of amplifier options is immense. There are a lot of different categories of wattage, types of amps, types of tubes, and digital choices.
The important thing is not to be overwhelmed by all the options available to you. Figure out what type of amp suits you best and what accommodates best your budget. You'll most certainly find something out there for you.
If you found this article useful you may want to save this pin below to your Guitar board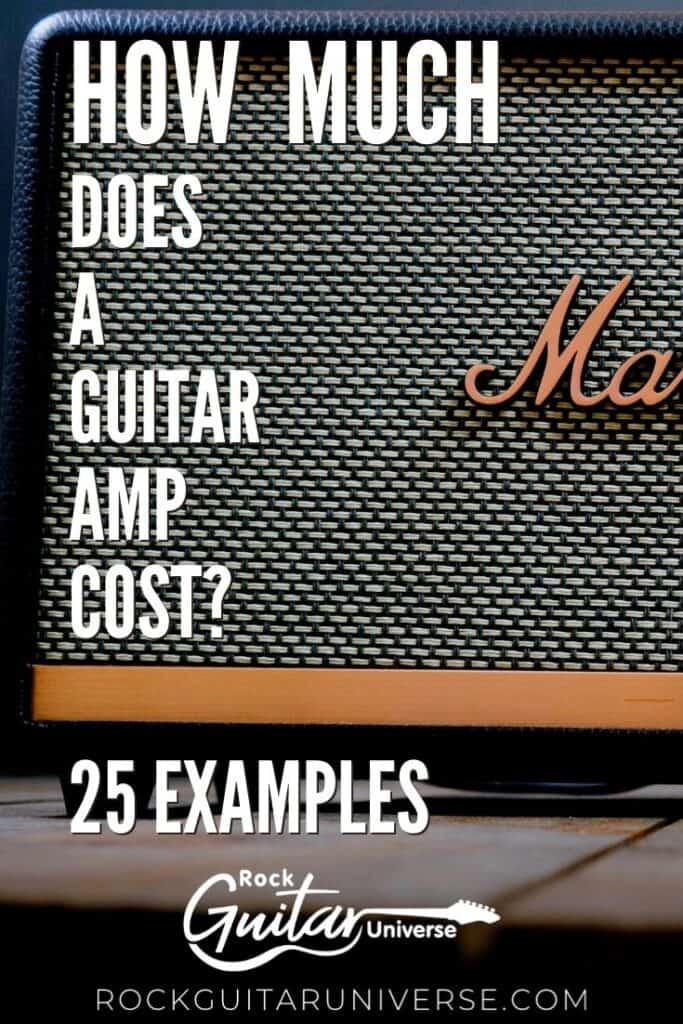 Last update on 2021-04-11 / Affiliate links / Images from Amazon Product Advertising API