Many guitar players would argue that pick is essential for playing an electric guitar. While there are guitarists that prefer playing without one, it is more common to use it. But, before you go to the local guitar store, you should know that there are so many different types of guitar picks. While most use plastic, there are other materials as well.
The question is are wood and metal guitar picks good? The short answer is it depends. There are many players who would never use metal or wooden picks, and there are others who prefer using them. Both can get expensive, uncomfortable, and might decrease your strings' lifespan. And the only way to know for sure is to try yourself.
However, both have advantages and disadvantages as well, so depending on your preferences and style you might opt to use one of these.
Wooden Guitar Picks
Even though wood is not the first thing you'll think of when you say guitar pick, these plectrums have been around for a while. The main difference between plastic and wooden guitar pick is the thickness. Guitar picks made from wood won't be flexible at all. Naturally, the sound will be different as well.
Since many guitarists prefer at least some level of flexibility, wooden picks are not as popular and common as plastic ones. Furthermore, Using them might even prove difficult. This means that if you are a beginner player, sticking to plastic picks might be the best choice for you.
When it comes to sound, it is quite different compared to other types. These picks will give a sound that is a bit richer and vibrant, which can sound more than beautiful. Thanks to this slight change in the tone, wood picks remained popular to some level, and experimenting with them can always be fun.
Another major downside of wood picks is that the price can get a bit too high. The price for a single pick can be around $5, and it is not rare to go even higher. It can be a bit problematic that you can almost buy a pack of regular picks for the price of one wood.
As a result, the players would simply keep with the proven method and continue using the plastic ones. The picks will last approximately the same amount of play hours as the plastic one. Furthermore, these wooden picks won't do significant damage to the strings nor to the finish of the guitar. At least if you are careful. 
However, if you are still interested in buying one of these, you'll be delighted to know that there is a quite large variety of shapes and wood types. You can find picks made from cocobolo, teak, rosewood, celluloid, wedge, maple, and many others.
Metal Guitar Picks
The second type of guitar picks is made out of metal. As you can probably expect, they aren't flexible either. Furthermore, the price is also higher than the plastic guitar picks. You can find a single guitar pick for around $5, but you can also find dozen picks for a price of around $20 which will make a single pick cost just above one dollar. Depending on the material, brand, and type, the price can vary.
Typically, the sound you'll get using this pick is much more aggressive. However, you should consider the fact that metal is quite sturdier than plastic, and as a result, might damage your guitar. Since you will use metal to pick strings, the strings will wear out faster as well.
It is up to you to determine whether you fancy the unique sound than the strings itself. If you opt to use them, you will undoubtedly need to change strings more often. The metal pick will last for quite a long time. You won't have the need to replace it as often as you do plastic ones.
Naturally, it mostly depends on your playstyle and how hard and aggressive you puck strings. In either case, the pick will last a lot longer than the plastic plectrums.
Furthermore, you will need to be extra careful not to damage the finish of your guitar as well. While regular pick might not make damage at all or it will appear over years of playing, with a metal pick you can scratch your finish with just one wrong stroke.
Of course, if you don't care about the guitar finish, and if you were hoping to get that vintage look, then you might want to try metal picks.
Additionally, whenever you play the guitar, tiny pieces of metal will crumble from both the pick and the strings, and they might end up on the magnetic poles of your pickup.
This applies especially for all the Stratocaster players where poles are exposed. While it won't really damage the pickup, it might get tricky trying to clean the guitar and pickups. 
Naturally, there are many players who still opt to use pickups made out of metal anyway. For example, Brian May uses a sixpence coin, and Billy F. Gibbons from ZZ Top plays with the silver peso. However, you should understand that neither will have any problems replacing strings more often. 
Materials used for creating metal picks are stainless steel, nickel and silver, aluminum, and others. Playing, on the other hand, is more in line with the plastic ones, but the pick is still non-flexible. Furthermore, the thickness is also similar to the regular picks, and the player won't have to struggle with thicker picks if that's not what they are used to.
The Best Wooden Guitar Picks
If you are still interested in getting a wooden pick one of the best ones you can find is a Clayton Custom Guitar Picks. This pick will provide the warmest tone possible, and it is especially noticeable while playing an acoustic guitar.
Clayton also offers several exotic types of wood, so you can pick the one that suits you the most. Furthermore, the pick has a carved dimple that is smooth and allows an enhanced and better grip.
Finally, the pick looks lovely, and grain is both beautiful and adds to the overall tone that the pick will produce. 
The Best Metal Pick
Metal picks also come in various shapes and sizes, and if you are not in the mood to play with a regular coin, you might want to try one of the best.
Clayton is offering metallic picks in various colors and materials. The tone coming from this pick will be sharp and aggressive, and the player can choose between brass, copper, and stainless steel.
Summary
While the sound that these picks create can be unique and different, the price for using them is sometimes too high. Both metal and wood picks are much more expensive than the plastic ones, and they can reduce the life of your string set.
Furthermore, the picks can be rather uncomfortable for beginner players, and they can damage the finish of the guitar if the player is not careful. 
All in all, there is a reason why people stick with plastic strings, and why plastic ones are the most popular and most common. However, this doesn't mean that you shouldn't experiment with your picks and that you shouldn't try something new.
There are many players out there that prefer using alternatives to plastic plectrums.
If you found this article useful, you may want to save this pin below to your Guitar board.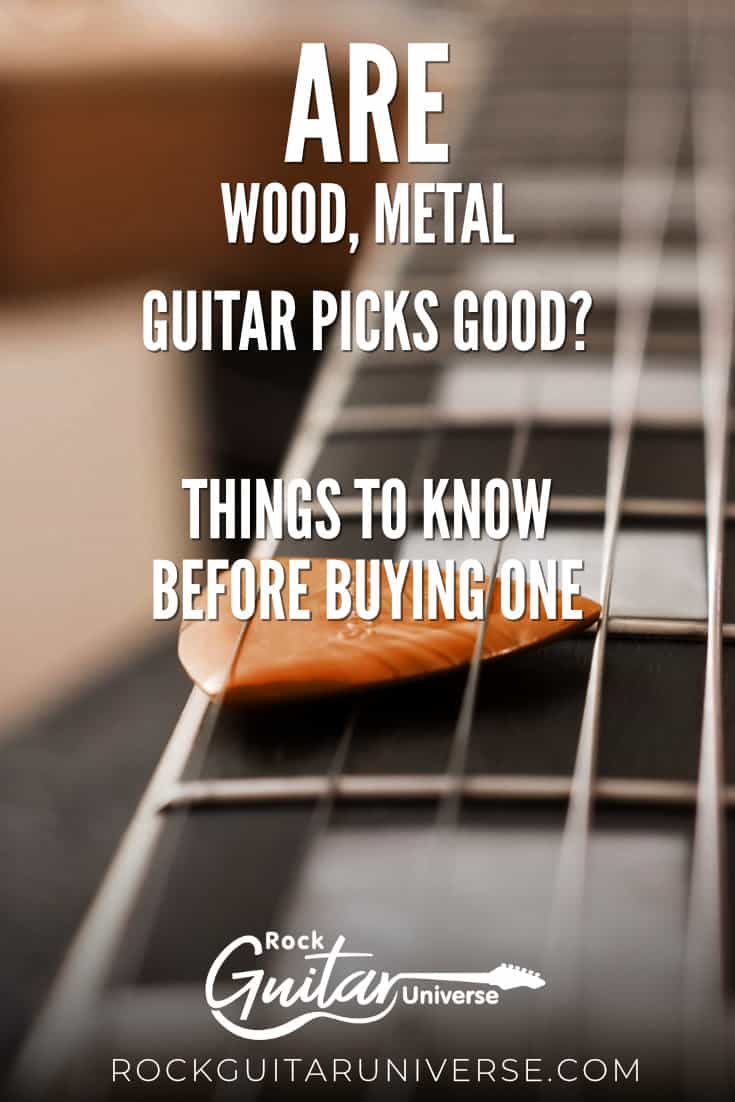 Last update on 2023-02-06 / Affiliate links / Images from Amazon Product Advertising API