When people are just starting out learning to play the guitar, as beginners, they tend to overlook picks as something important for the tone and playability. However, it is a vital aspect of your progression as a guitarist. And techniques of using one is important, as, you know, they don't last long.
So how long do guitar picks? Most of the common plastic picks can last between one and two months, depending on the time you put into your playing. Some picks can last even years and some less than a month.
Of course, not all picks last the same—some picks you can use for months or even years without any significant wear. Will break down in this article, what are the differences between them. What to look for when choosing one, and how you can prolong their lifespan.
What Materials Are Most Being Used For Picks?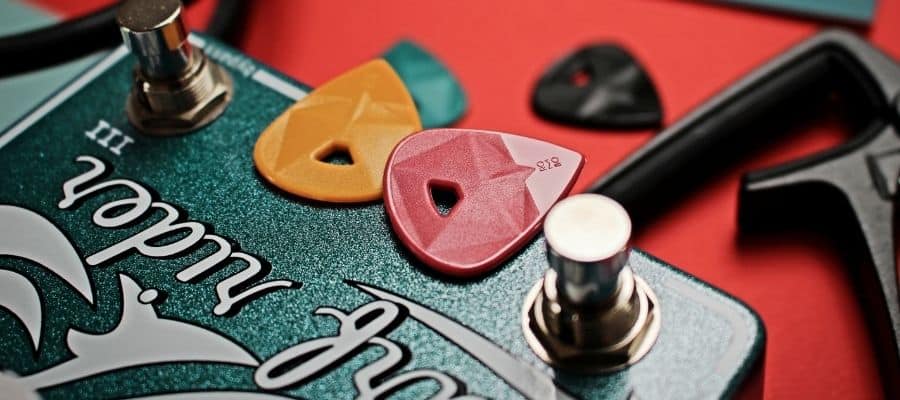 Today possibilities are endless. Lots of companies are using all sorts of materials to make guitar picks. Wood, stone, metal, glass, and more. All of them have their own impact on guitar tone and playability.
But the majority of picks used regularly daily are based on synthetic materials. Such as celluloid, nylon, acrylic, and Delrin.
Nylon
Nylon is one of the most-used materials when it comes to picks, but it is also famous for its short lifespan. It quickly wears out around the edges, and it happens especially with thinner picks. Nylon is not the best material for durability, but it is cheap and provides a comfortable playing experience for many.
As nylon is a highly flexible material, the choice of nylon pick gives the players an effective way to have a bright and thin tone when strumming. So nylon picks are ideal for acoustic guitar.
The nylon is highly glossy and slippery, which is not suitable for the players, especially if they sweat a lot. There are some with textured grooves to prevent this issue when strumming, which are good choices.
Tortex
Tortex is a versatile material that is commonly used with picks. There are many different shape options for different strumming and shredding techniques which you can try and see what suits you the best. Tortex picks are considered the staple plectrum of choice for different playing styles and players of all levels.
Tortex picks have a grainy feeling between the fingertips, providing a good grip for sustained plucking techniques. The worldwide famous picks, Dunlop's Tortex range of picks, are considered some of the best all-around picks.
In the thinner version, it's great for acoustic strumming. Going up in gauge range, as the thick pick is very sturdy, great for electric guitar soloing.
Ultex
Ultex picks are very strong and durable picks. They are famous for the smooth and mellow tones they provide, which balance out the nuances when contacting the strings. These picks are made from a kind of synthetic plastic, and they have high resistance against wear, tear, and damage, which makes them ideal for players who are more aggressive with the strings.
Ultex picks are a cheap option for experimenting because they come in different shapes and thickness sizes.
Delrin
Delrin is even more resistant to wear than Tortex, but not as much as Ultex picks. It is commonly used for plectrums, but the issue is that they feature a smoother surface than Tortex, which can lead to a more slippery grip.
Delrin picks produce a warmer tone which is great for electric guitar use. Delrin picks are often preferred in thicker gauges.
Celluloid
Celluloid picks are designed to have the qualities of a tortoiseshell. They are not the most durable or longest-lasting picks in terms of tear and wear resistance. They do not last long but were used commonly during the early days of the electric guitar.
Celluloid picks are the cheapest and the first synthetic material used with picks. So, they are vintage-style picks ideal for players who like the vintage sound.
Are Different Pick Shapes Matter?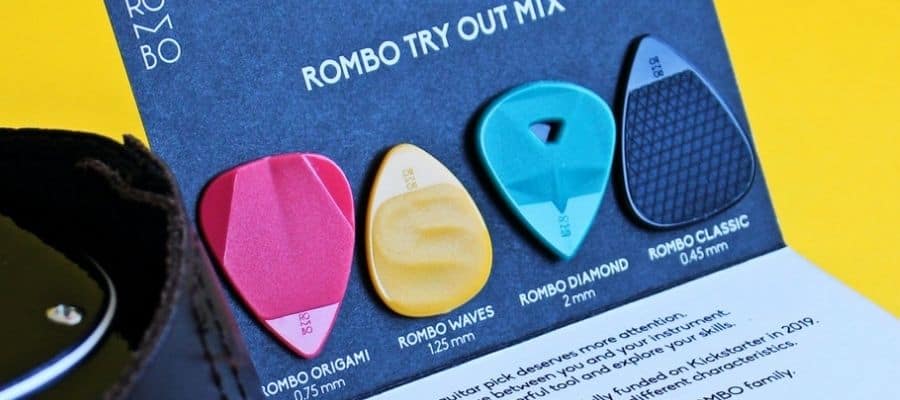 Yes, they come in many different shapes, and all of them have a different feel when griped. We have small shapes, larger ones, pointy or rounded. They all affect playability and tone.
How to know what shape is for you. Well, you just have to try as much as is available to you.
Most of the pick shapes you will try, you'll probably hate. But in this experimentation, you might find just the right one for you. And it can change your guitar playing for the better.
There are some for every type of guitar player in this vast array of choices about plectrum shape. Smaller picks are often praised as they provide more precision when picking.
Guitarists who like to have a looser feel prefer bigger ones. Larger picks are often more straightforward to grasp and pick or strum the chords with better accuracy.
The most crucial part of the shape of a pick is the tip where you pick strings. As the tip contacts the strings, it is the most important part with its shape and texture affecting the technique and the sound.
If the tip is sharper, it can deliver a strong attack, which gives you more precision and dexterity when playing. Electric guitar players who mostly play complex shredding guitar solos or alternate fast picking techniques often prefer sharp edges for the strong attack feel and sound.
Players who prefer rounder tips want less accuracy and softer attack from their picks. Guitarists with a loose playing style, mostly acoustic guitar players, prefer rounder-tipped picks as they work great for strumming chords.
Guitarists like Joe Bonamassa, John Petrucci, and Eric Johnson, who are virtuosos, prefer sharp-tipped picks, Dunlop Jazz III plectrum in this case. All the players have different types of picks with different shapes, but the tips are all sharp. The small footprints and sharp edge deliver great dexterity for the alternate picking technique, arpeggios, and string skipping.
Round-shaped picks with more giant footprints are ideal for acoustic guitar players whose main goal is to strum chords while singing along with the song. The big size gives the guitarist an excellent grip on the pick and a stable holding. The round point also increases the accuracy, giving the guitarist one more minor point to worry about.
So, in conclusion, the shape of the pick matters. Choosing the right pick shape that suits your guitar playing might be a great asset for your future development.
Why Can't A Pick Last Forever?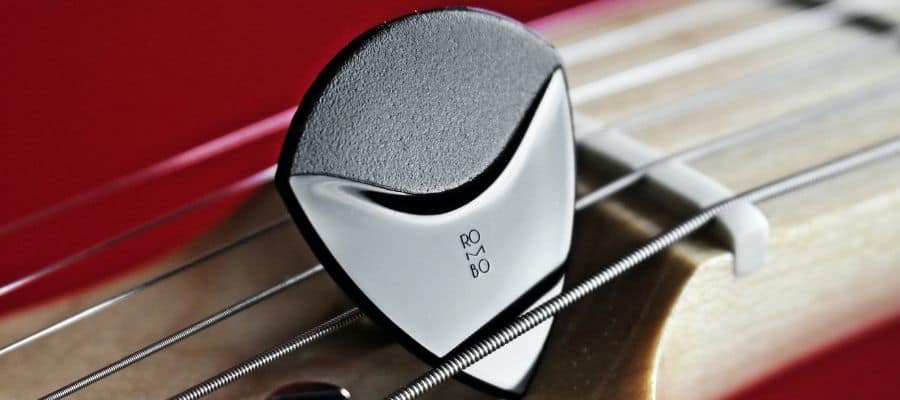 They can't because they are made of some kind of synthetic plastic material. The strings are mainly made from a mix of nickel, brass, steel, and bronze. That is why they can not last forever, as the friction between the strings and picks results in guitar picks wearing down.
This is easily noticed on the thicker guitar strings as they feature spiral wires wrapped around them. It acts as a sanding file on the pick. So that way, picks are expendable. Sure, if you make a pick, let's say out of titanium alloy material, it might last forever. But it would be horrible for your string.
What Affects The Durability Of A Pick?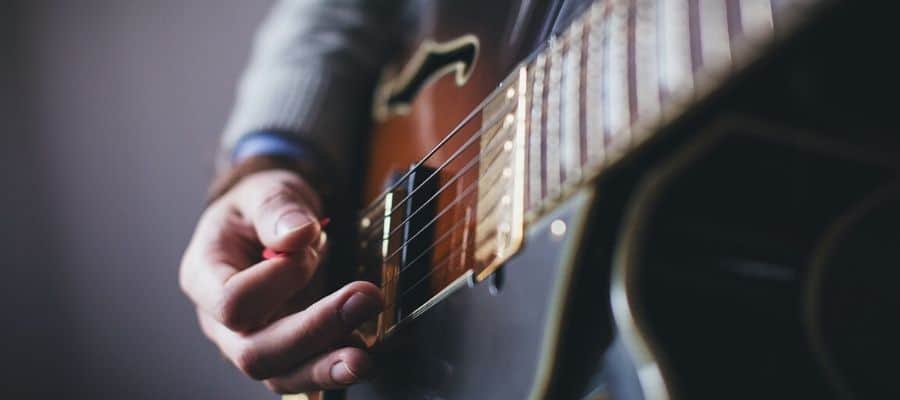 The things that directly define the durability of a guitar pick are; the material, thickness, texture, and shape of an individual pick.
Harder materials wear down slower and are more durable. That is why many researchers focus on finding suitable materials for guitar picks. Producers are searching for new hard materials with a good feel, sound, and durability balance. The ideal pick should be wear-resistant but still, keep the tonal characteristics all the guitarists seek while providing a great grip and attack.
The thickness is crucial when it comes to tear and wear. Thinner picks wear down very fast and are almost non-durable if you use heavy pick techniques.
The shape also played a big role in durability, and pointed guitar tips tend to wear down faster as there is less material on the tip.
The final aspect is the tip texture. The polished tip on the pick causes less friction between the plectrum and strings.
All these things above will directly affect the pick's durability.
But other than that, some external factors will also have an effect: your playing style and used techniques. Aggressive playing styles, such as fast palm muting, or pick slides, wear out the picks rapidly.
The playing time also plays a big role when it comes to durability. If you practice more hours, your pickles will wear out faster. The string gauge also has things to say as thicker guitar strings increase the wearing process's speed.
What Can Wear Out A Pick The Most?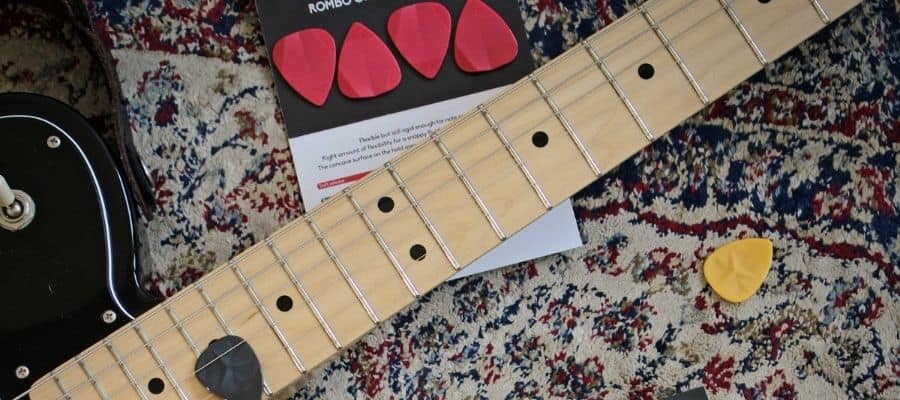 A technique called "pick slides" is considered the fastest way you could alter and degrade the shape of your guitar pick. This playing technique makes the picks wear down pretty fast and make them useless in a short time.
Although it does not directly affect the control and tone, this technique puts dents on the edges and sides of the pick. The pick will be damaged whether you use it on the downstroke or the upstroke.
Why Do We Even Use Picks?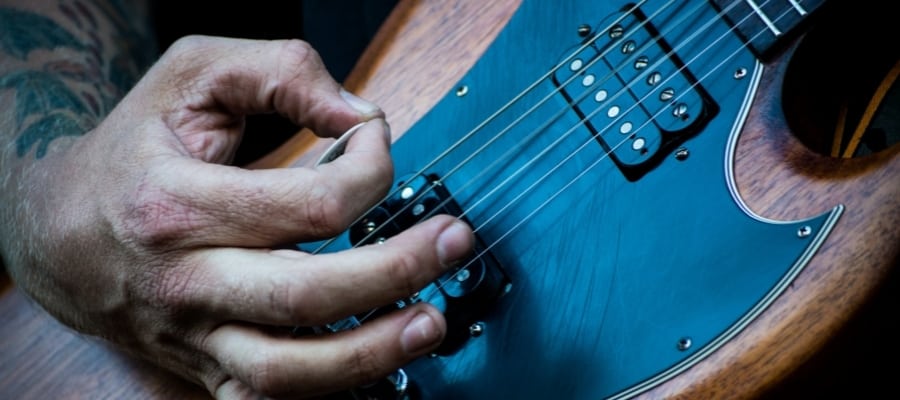 Guitarists prefer plectrums to have more control over the instrument and the chords and melodies they play. Picks provide great playing techniques that you can not do without one. There's only one Mark Knopfler in the world.
The picks provide amazing control over the strings, but classical guitarists would certainly argue against this argument. However, their techniques and education are highly different from electric and acoustic guitar players' techniques. It would be hard to imagine playing speed or death metal without using a guitar pick.
And the other way around, trying to play classical music with a pick would be sterile or lifeless. It's because the guitar pick sounds very different than the fingers. And you can argue the pick are not necessary, and it's a common thing that some things are just easier to play with a pick than without one.
There are many music genres and playing styles that welcome playing without a pick. But for many, a pick is necessary. Pick is a must if you're learning modern and complicated fusion music. Without one, you'll just be limiting yourself and will not know what you, as a player, could be capable of.
How To Know If The Pick Is Durable?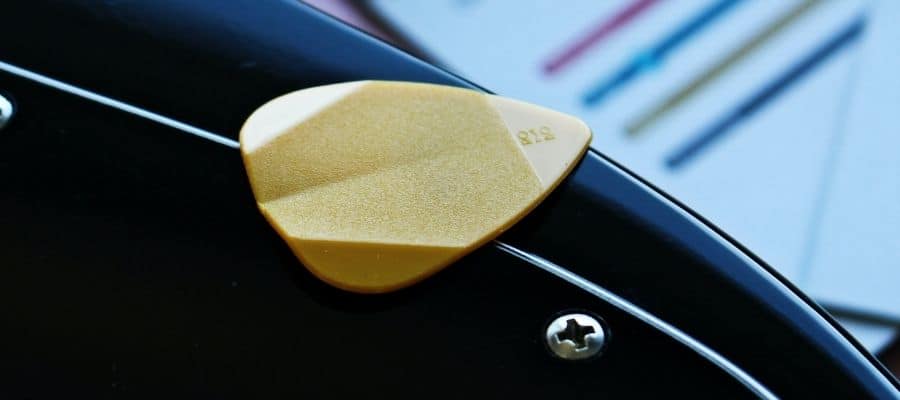 There is only one way to find out. You have to test them and see for yourself how it behaves.
Yes, of course, you can take a piece of advice from professional players who went through a lot of picks.
And to some extent, they can help you, but their playing style is different from yours, so that that info won't help you as much. Many of your guitar heroes from the ads are old school. They probably use the same pick from years ago. And the technology of materials has been moving very fast in the last decade.
So they're probably missing out on many new materials and cool new picks. Listening to their advice can cause you to miss out too.
So the best way to know the durability of the individual picks is to inform yourself through an article like this and try as many picks as you can.
Boutique And Exotic Picks, Are They Worth It?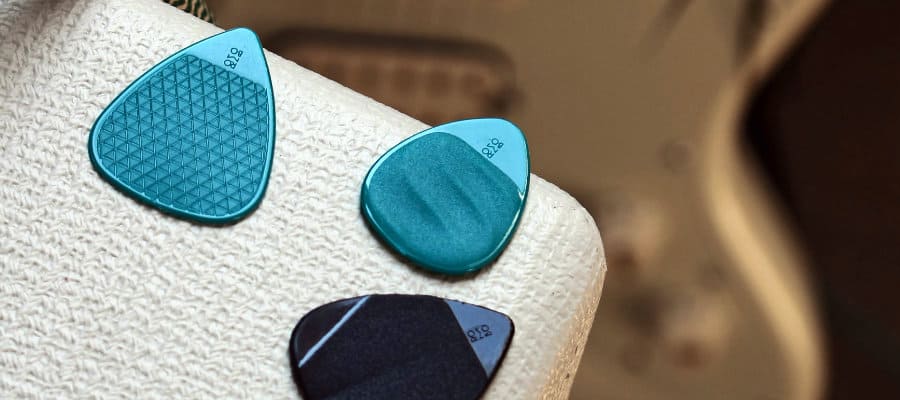 Arguments over this subject have been raging over the internet forums for years. We can say it's similar to discussions over whether to use more expensive coated guitar strings or cheaper normal ones. Most normal plastic guitar picks can cost less than 1$. But you have to pick something costing 10-40$ and in some cases even more. So is it smart to invest that kind of money in your guitar pick?
In my opinion, yes. A good boutique guitar pick can last you a lot, and I mean a lot longer. Sometimes it could last you for years. A cheap nylon pick can last you, on average, a month or two. So when you take into account how many cheap ones you have to buy in the time period that the better one will last you, we can say that buying a boutique one is actually cheaper in the long run.
And this is not the only factor. They have a better sound and superior ergonomics. They are handmade, and you notice the difference in the feel.
One more thing is that most of them are highly customizable. When buying one, you can choose the color, size, thickness, beveled edge, and many more options that will best suit you.
Here are a few companies that make great boutiques pick;
I encourage you to gift yourself with one or a few of these; you won't regret it, even if just to feed the curiosity within you. Maybe it won't do the trick for you. But if you don't try it, you'll never know.
What Can You Do To Prolong Their Lifespan?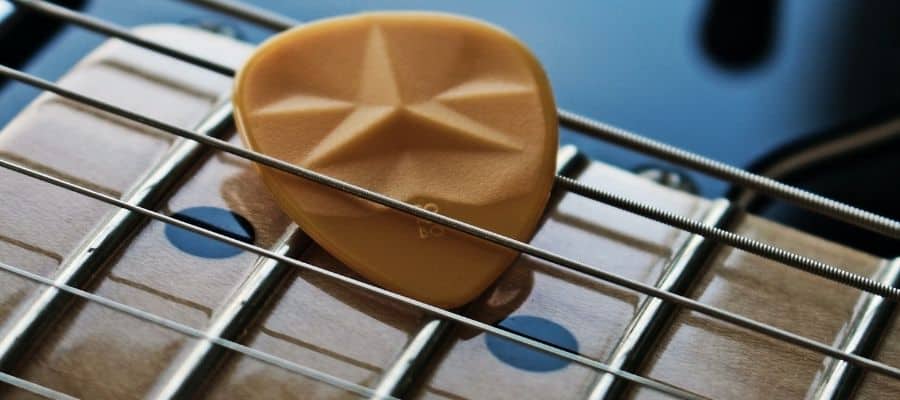 As I wrote, there aren't many things to do about that because they are expendable.
But if your picks wear out quicker than expected, you can probably do you using too soft material.
When buying, try to avoid celluloid and nylon picks. They tend to wear out the quickest. Try to find some Ultex or Tortex picks that suit you. Or maybe some boutique ones. And if it's possible, try to avoid thinner picks, 0.73 and below, as the thicker ones will last you longer.
Conclusion.
Guitar picks are not meant to last a long time. They are cheap, and replacing them is no issue. Don't be discouraged if you went through them quickly. It means you play a lot, and that's great.
Today there are so many choices of picks and companies that make them. Discovering and trying them out can be a fun and joyful experience. Ok, it sometimes can be frustrating, but eventually, you'll find your perfect match. As they say, it's the journey that matters, not the destination.
If you found this article useful, you may want to save this pin below to your Guitar board.