Today you really can buy great guitars made in Japan, Germany, Canada, and Korea. etc. Yes, there are some great guitars well made with top materials. But the legacy that American-made guitars have is hard to beat. From the early designs to their modern counterparts the USA-made guitars just stand at top of them all. Here is the intriguing list of some of the best new production American-made guitars you can buy.
Top 20 Electric Guitars Made In Usa In All Price Ranges
Gibson Les Paul Standard '60s Electric Guitar – Iced Tea
AA flamed maple
Mahagony body
Mahagony neck
Rosewood fingerboard
Vintage looks
22 frets
Burstbucker 61T and Burstbucker 61R pickups
Nitro finish lacquer
2 x Volume and tone controls
Gibson is one of the best-known guitar brands on the planet. This guitar represents the history, and legacy of a legendary Les Paul guitar. The guitar is hand-built in Nashville. Over the last decade, Gibson had some issues with the design of their guitars. But it all came to an end when they relaunched this model. It's everything that a good Les Paul should be.
They listened to what the customers wanted, and that is no modern appointments, they have those on different models. This is a regular vintage-inspired Standard model, that heavily relies on the features of a classic Gibson from their golden era of the late '50 and early '60. If you want a great humbucker guitar with no modern frills, just a pure rock n' roll machine this is a guitar for you.
Fender American Original '50s Telecaster – Butterscotch Blonde
Ash body
Maple Neck
Nitro finish lacquer
Pure Vintage '52 pickups
Bone nut
String-through-body for better sustain
3-saddle bridge with brass barrel saddles
Kluson-style vintage tuning machines
1-ply phenolic pickguard
Fender is one of the pioneer companies in the history of electric guitar. And the Telecaster model was one of the first electric guitars ever. Introduced in 1952, a little has changed in his design to this day. This particular model is essentially a replica of the first Telecaster made.
It's vintage-inspired at its purest. If you want the sound and looks of the originals, but you don't have the money for the real one, or an expensive Custom shop version, this is a guitar for you. A great quality product at a reasonable price for an American-made instrument.
Suhr Modern Plus HSH
Flamed maple top
Roasted maple neck
Pao Ferro fingerboard
Suhr SSH, Suhr SSV and Suhr V60LP pickups
Compound fretboard radius 10″ – 14″
Stainless steel jumbo frets
Natural wood binding
Suhr locking machine heads
Graph Tech tusq nut
Suhr guitars are basically custom shops but with capabilities of the production line. The instruments are a piece of art and Modern is no exception. The guitar is a flashy modern design with components that really sets them apart from the possible competition.
It has three pickups and a 5-way selector switch, and it is capable of all sorts of sounds. It can cover blues and fusion music. But it's best for modern hard rock, and metal sounds. The outstanding flame or quilt maple tops gloriously stained, make this guitar a showcase to look at. And with compound radius and roasted maple neck, make this guitar a joy to play fast and effortlessly.
Paul Reed Smith McCarty 594 10 Top
Mahogany Body
10 Top quilted maple
Mahagony Neck
Rosewood fingerboard
Birds fingerboard inlays
Scale length 24.594″
22 Frets
2 PRS 58/15 LT humbucker pickups
PRS Stoptail bridge
PRS locking tuners
PRS guitars are one of the premier manufacturers of guitars in the world today. 594 model is their take on the famous '59 burst guitars. The guitar features suggest that. This model is a vintage-inspired guitar with modern twists on the design, made by Smith. With these improvements the playability of the neck is flawless. Specialty to this guitar among other PRS guitars is the neck length of 24.594" after which this model was named after.
The right combination of modern and vintage. Every time you see a PRS guitar you know it's a PRS. No mistake there. Violin-carved flamed maple tops really stand out. These guitars are maybe costly for most of us but don't forget that every single one is handmade in Maryland. Attention to detail on these guitars is outstanding. Do yourself a favor and try one.
Music Man John Petrucci Majesty
Light Okoume body
Flamed maple top
Ebony fretboard
24 Stainless steel jumbo frets
DiMarzio Dreamcatcher and Rainmaker pickups
Fishman Piezo System with adjustable EQ
Momentary switch for mono or stereo jack
Music Man Piezo Floating Tremolo
Schaller locking machine heads
Collaboration between John Petrucci and Music Man goes on for a very long time. Few models were produced before this one. This is the latest, and we can say the best one yet. It's a modern prog-rock and metal machine. The unique body style utilizes a neck-through design to give you a better sustain and great tone.
The guitar is made with high-quality woods and pickups of Dimarzio with a built-in piezo option. With components like that guitar is ready to be played and enjoyed on rock stages worldwide. But no matter the features and look, this is a real player workhorse. Like all previous Petrucci models, the emphasis is on playability, and this guitar continues that legacy.
Fender American Professional II Stratocaster
Alder body
Bolt-on neck maple neck
Rosewood fretboard
Fretboard radius 9.5″
22 Narrow Tall frets
3 V-Mod II single coils pickups
2-Point synchronized tremolo
Pop-In tremolo arm
Fender Stratocaster is the most famous and well-known guitar on the planet. The long history of the guitar since 1954. when this guitar was first introduced is one of a kind. This guitar continues this legacy. It's a modern take on a classic.
It has modern features, but this is a real Fender Strat. The design of the guitar didn't change in the last 6 decades, and probably won't in the next 50 years. It was a hole one, from day one. On this guitar, you can play country, reggae, or hard rock and metal. It's that one guitar that every guitar player should have in their arsenal, if not the only.
Jackson RR1 Randy Rhoads
Alder body
Neck-through maple neck
Ebony fretboard
22 jumbo frets
Pearl shark fin fretboard inlays
Seymour Duncan® JB TB4 and Jazz SH2N pickups
3-Way toggle switch
CTS potentiometers and Switchcraft switch
Floyd Rose®'s original double-locking 2-point tremolo
Diecast machine heads
This guitar is a tribute to Randy Rhoads too early gone guitar giant. With its pointy shape, it's not for everyone, but that's not the point. V shape guitars anyway primarily use metalheads, and others alike. You certainly won't be unnoticed with this V monster guitar.
Floyd Rose, S. Duncan pickups, and other premium components confirm its place among some of the best metal guitars in the world today. All USA-made Jacksons are one-of-a-kind guitars. Basically, you are not a real metalhead, if you haven't at least one in life had a V shape guitar. This one is a premium example.
G&L Fullerton Deluxe Legacy
Alder body
Gloss Polyurethane finish
Hard Rock Maple neck
Bolt-on neck construction with a 9.5" radius
Caribbean Rosewood fingerboard
22 medium jumbo frets
3 CLF-100 single-coil pickups
Bone nut
This company was founded by Leo Fender and Gorge Fullerton in 1979. Previously Leo founded Fender and Music Man companies, and this was his third company because he felt like he had some unfinished business in guitar production. This guitar is a prime example of Leo's chase for improvement of a guitar in every possible way.
If you're into single-coil pickups, G&L guitars are a must-try. Still manufactured one by one, in small batches. Some of the guys making the instruments are there, from the time Leo was still alive. For an instrument of this caliber, the price is amazing. You get a lot more of the guitar than you have paid for, and you'll provide that legacy to continue.
ESP USA Eclipse
Mahogany body
Quilted maple top
3-piece mahogany neck
Set-through neck with 12" radius
Ebony fingerboard
Fingerboard inlay-ESP Flags
22 extra-jumbo frets
Bone nut
Tonepros Locking Tune-O-Matic bridge, and tailpiece
Tuners Sperzel Locking
Seymour Duncan Alnico II Pro pickups
ESP Guitars is one of the most well-known and ideal guitar producers for genres such as rock and metal. Most known for its guitars made in Japan. But in 2014, ESP opened its first US-based production factory. In this factory they produce guitars by hand one by one, using only the best materials available from all parts of the globe.  This guitar is no exception.
The beautifully quilted maple top is a real show-stopper. It comes with a chambered fully thick body and a lightweight. This is something today's guitar players are accustomed to. If you want a modern take on an LP-style guitar, with extraordinary built quality, and you are willing to pay the price, look no further, this is a guitar for you.
EVH Wolfgang USA Signature – Stealth Black
Basswood body
Big Leaf Maple top
Satin Polyurethane finish in Stealth black
Maple neck
Bolt-on neck construction
Neck 12″-16″ compound radius
Ebony fretboard
22 vintage Stainless Steel frets
EVH branded Floyd Rose Tremolo with a D-Tuna bridge
Tuners EVH
Wolfgang Alnico 3 Humbucker and Wolfgang Alnico 2 Humbucker pickups
Red button kill switch
The guitar became popular during the 80s when the virtuoso Eddie Van Halen, used it to have a more stable tuning after its heavy tremolo arm use. The Floyd Rose Tremolo helped significantly keep the guitar in tune with the locking design. The guitar stays in tune even when the whammy bar is forced all the way down to the guitar's body for making a dive-bombing effect.  This guitar is all about that, and some more.
This is a no-nonsense rock guitar machine. No fancy flame tops, or fancy neck materials. The USA Wolfgang Signature guitars are really like no other guitar from the factory. It's a guitarist's guitar at its best. Flawless playability and staying in tune is what is this guitar all about. It's a little pricy but the name on the headstock guaranty its quality.
Charvel USA Select So-Cal Style 1 HSS
Alder body
Satin body finish
Quartersawn maple neck
Speed neck
Bolt-on neck construction with 12″-16″ compound radius
Rosewood Fingerboard
22 Jumbo frets
Floyd Rose 2-Point Tremolo bridge
Charvel Tuners
2x DiMarzio HS-2 DP116 Single-coil and DiMarzio DP100 Humbucker pickups
Charvel is another brand that has a huge part in the '80 rock metal scene. Those were their prime years. Flamboyant color combinations, Floyd Rose bridges, and high output pickups. This was a combination back then, but for some, it still remains. This is that type of guitar. This is by no means as crazy as its Charvel siblings can be, but rather a pure no flashy looks rock machine, capable of producing great distorted tones with its bridge pickup.
But also a great guitar for clean tones with a pair of DiMarzio HS-2 DP116 Single-coil pickups. This guitar can do it all, and with a price that won't put you out of your shoes. If you want that '80 beast that's inside of you to put out, this is the guitar for it.
Schecter USA Custom PT
Swamp ash body
Quilted Maple top
High Gloss finish
Bolt-on maple neck
14″ neck radius
Rosewood Fingerboard
22 frets
Tusq nut material
Schecter PT-H bridge
Schecter Hipshot Locking tuners
2x Schecter Pasadena Humbucker pickups
The PT is one of Schecter's most famous and recognizable models. This model gained its popularity in the hands of Pete Townshend. It's a real modern rocker of a guitar on a vintage platform. Whether you play chords or lead this guitar can do it all, and will always be a joy to play ultra-comfortable neck.
The Schecter USA PT Custom is a great quality guitar with premium components. It can sound great playing clean sounds, but it thrives in distortion. Put your amp on 11, and plug this monster in. It will immediately dial you into the world of rockstars. Great no-nonsense guitar for someone who likes the guitars with modern components and a vintage look.
Fender Custom Shop Eric Clapton Signature – Mercedes Blue
Alder body
AA Flame maple neck
Bolt-on neck construction with V shape
Neck radius 9.5″
22 Vintage-style frets
Synthetic bone nut
Blocked Synchronized Tremolo bridge
Fender Vintage-style tuners
3x Vintage Noiseless Single-coil
The Custom Shop at Fender has been building top-notch guitars for nearly 30 years. This guitar is no exception, based on a popular Eric Clapton Signature model, but with Custom shop materials and attention to detail. It's built to the exact spec Eric wanted. It's the same guitar that he plays. So if you're a fan that certainly plays the part. And as an investment, this is a no-brainer.
Fender Custom shop guitar barely loses value, more likely its value will only go up as time passes. From the Custom shop, you can always see and expect some crazy finishes and wood selections. But not on this one. Not something Eric would want. This guitar is all about the legacy of the first Strats, and some improvements to make it more desirable to a modern player.
Gibson SG ´61 Standard Maestro VC
Mahogany body
Gloss Nitrocellulose lacquer
Mahogany Slim taper neck
12" radius
Rosewood fingerboard
Fingerboard Inlay -Acrylic Trapezoids
22 Medium jumbo frets
GraphTech nut
ABR-1 Tune-O-Matic with Maestro Vibrola bridge
Vintage Deluxe tuners
Burstbucker 61R Humbucker and Burstbucker 61T Humbucker pickups
Gibson's Nashville-made SG Standard '61 has the components of the first year of the SG design. It has a small pickguard, cherry color finish, and other things associated with the first year of SG production. The guitar's slim and lightweight body makes it a great guitar for playing those long late-night gigs, minimizing the pain in your back, some heavier guitars can cause.
Guitars have a pair of Gibson BurstBucker pickups fast, and fast SlimTaper neck. The guitar's rosewood fretboard is bound, and frets are finished with Plek technology for effortless playability. It's a piece of rock n' roll history played by the greats such as Carlos Santana, Pete Townsend, Angus Young, and Derek Trucks to name a few. Buy one, maybe someday your name will be up there with the greats.
Heritage Custom Core H-150
Mahogany Body
Flame maple top
Set Neck design with a 12" radius
Rosewood fingerboard
Fingerboard Inlay- Acrylic Trapezoids
22 Medium jumbo frets
Bone Nut
Aluminum Stopbar Tailpiece
Heritage branded tuners
2XHeritage Custom 225 Classic Humbucker pickups
Classic 2 x volume, 2 x tone controls
Heritage guitars were founded in the old Gibson factory in Kalamazoo, Michigan by former Gibson employees when Gibson left Kalamazoo in 1984 and moved its headquarters and production to Nashville. The former employees that stayed there began to produce guitars under the Heritage name, with the same machines that were used for the Gibson guitars before.
If you like that vintage style '59 burst guitars, then you want your guitars to be as original as they can get to a real '59 Burst Gibson guitar. Heritage custom H-150 can get you there as close as possible. You just have to require a great quality amp, plug the guitar, and be assured the guitar will deliver. This is a fantastic recreation of the famous 50's guitars and if vintage is your thing, you just can't go wrong with this guitar.
Friedman Vintage-T with Classic 90s
Alder body
Gloss Nitrocellulose Lacquer
Maple neck
Bolt-on construction with a 9.5″-12″ compound radius
22 Jescar branded frets
Bone nut
6-Saddle hardtail bridge
Gotoh vintage locking tuners
Classic P-90 Single-coil pickups
Dave Friedman was first in the business modding amps and other equipment for guitar greats Steve Stevens, Jerry Cantrell, and Eddie Van Halen, for many years in the past. The Friedman Vintage-T is a mix of modern components, that today's guitar players want, and the vintage looks. It's a real workhorse of a guitar.
Alder wood is a choice for a Tele-style guitar for many years. It's a foundation for a pallet of tones that come out from the P-90 pickups delivering punchy clear sound and lots of sustain on top. Guitar has a bolt-on maple neck with a vintage taper profile on the back, that feels great in your hands, and it's really for every type of guitar player.
The guitar also sports a maple fingerboard with a 9.5–12-inch compound radius. This makes it ideal for chording in the upper frets, as well for solo work across the entire fretboard. Vintage T is a great player's guitar.
Washburn Nuno Bettencourt 4N USA
Alder body
Satin body finish
Birdseye maple neck
5-way Bolt-on neck construction with a 14" radius
Ebony fingerboard
22 frets
Kahler locking nut
Floyd Rose Original tremolo bridge
Grover tuners
Seymour Duncan '59N Humbucker and Bill Lawrence L-500 Humbucker pickups
Nowadays Washburn is much more known for his import series guitars. But they still produce great American-made instruments as well. This guitar is a great example of that. Built-in collaboration with guitar hero Nuno Bettencourt to his specifications, you can say the Washburn 4N USA is a real shred machine, with fast playing in the focus.
In this guitar, Nuno did much more than put his name on Washburn's N series.
Nono did a lot more in this guitar than just putting his name to the series. He used his extensive experience to help create a beautiful, high-performance instrument, and the 4N USA is the final product. Guitar has a speedy bird's-eye maple neck and on top is an ebony fingerboard. If you want a fast-playing, interestingly-looking instrument, you should definitely consider this one.
PRS Custom 24
Mahogany body
Figured maple top
Gloss Nitrocellulose Lacquer
Color Fire Red Burst
Mahogany Pattern Thin neck
Set-Neck construction with a 10" radius
Rosewood fretboard
PRS Birds inlays
24 Medium jumbo frets
Synthetic/Bronze powder blend nut
PRS Gen III Tremolo bridge
PRS Phase III Locking tuners
2x PRS TCI-tuned 85/15 Humbucker pickups.
Custom 24 was the first production guitar for Paul and the then small growing company in 1985. The model went through some improvements over the years. But fundamentals didn't change. Some consider Custom 24 to be up there with the greats such as Les Paul and Strat, more so, a perfect combination of both. PRS Custom 24 is a guitar that just calls you to play it.
PRS enjoys a well-deserved reputation for combining flashy maple tops with effortless playability from great carved necks. 10 top versions of their maple tops cost a little extra, but they a quite a show stoppers. Mahogany's body which is pretty lightweight makes this guitar great to play, as they are a pretty piece of art to look at. Be sure, if you try one of these guitars, it's very likely you'll buy one in near future.
Suhr Pete Thorn Signature
Mahogany body
Maple top
Bolt-on mahogany neck
Rosewood fretboard
Compound radius 10"- 14"
22 Stainless steel jumbo frets
Graph Tech TUSQ nut
Natural body binding
Suhr Thornbucker pickups
Wilkinson tremolo bridge
Suhr locking tuners
Pete Thorn is a known guitar master, that worked with major names in the music bussines. Together with Suhr guitars, they created this model, and it's a great guitar, everyone should a least try it. Guitar has a solid finish, and the body is a classic well-established double-cut design. The guitar is an instant classic. Unusually paired with 2 humbuckers, rather than three single-coils. But this combination gives her a lot of sound combinations.
Modern guitar, nothing vintage about it. So if you are a vintage-oriented guitar player looking for vintage originality, this is not the guitar for you. But if you're, well anybody else this just might be your next favorite guitar. If you are ever in a shop that is a Suhr dealer, you should definitely give this model a try.
Top 10 Acoustic Guitars Made In Usa In All Price Ranges
Martin D-28
Gloss finish
Solid Sitka spruce top
Solid Rosewood back and sides
Forward shifted X bracing
Antique white binding
Select a hardwood neck with a 16" radius
Ebony fingerboard
Nickel open-gear tuners
Ebony bridge
Bone nut and saddle
Martin D-28 is for acoustic guitars, what the Fender strat is for electrics. It's probably the most recognizable acoustic guitar on the planet. Aside from its looks, the guitar has a great pallet of tones on hand, whether you strum it or play it with fingers, it resonates really well. The guitar is made with premium components such as a solid Sitka spruce top, and solid rosewood back and sides. Those woods are premier choices of wood for the acoustic guitar from the early 20th century to this day.
In 2017. Martin has reimagined the model D-28. Incorporating its newest innovations in its design such as an aged toner top. Guitar also has that vintage look with a faux tortoise pickguard. The modern profile neck makes it a real player's guitar assuring flawless playability for today's demanding players. This guitar is a standard for acoustics, which other manufacturers look up to, designing their own guitars.
Taylor 614ce
Gloss 4.5 finish
Solid Sitka Spruce Top
Solid Maple back and sides
V-Class with Relief Rout body bracing
West African Ebony fingerboard and binding
Tropical Mahogany neck
Grained Ivoroid Wings inlays
Taylor Nickel 17:1 gear ratio tuners
Ebony bridge
Black Graphite/Micarta nut and saddle
Taylor is one of the most famous acoustic guitar brands in the world. Their guitar range is from Mexican-made affordable instruments to this American-made guitar top example. This Taylor's 600 Series guitars are among today's most popular acoustics.
The 614ce acoustic-electric Grand Auditorium has revolutionary V-Class bracing. With this type of bracing guitar's sustain is increased, and natural intention is improved, allowing the volume to be spread evenly across the whole tonal spectrum. The onboard ES2 pickup provides strong, clear, and powerful sound. A great guitar to consider.
Gibson Hummingbird Original
Gloss Nitro finish
Sitka Spruce top
Mahogany back and sides
Scalloped X-bracing
Multi-ply top/back binding
Mahogany neck
12" radius
Rosewood fingerboard
Fingerboard Inlay- Mother-of-Pearl Parallelograms
Gotoh Keystone tuners
Rosewood bridge
Bone nut and saddle
Gibson electric guitar is the pinnacle of guitar production, their acoustic department located in Montana is no exception. The model was Gibson's first dreadnought-style guitar. It has an extra-wide upper bout, which is also known as the "square-shouldered" body shape. One of the best-looking acoustic guitars ever made.
Gibson Acoustic Hummingbird Original acoustic-electric is an all-solid-wood dreadnought guitar. It has premium mahogany back and sides and a Sitka spruce top with a hand-rubbed nitro finish. If you want to get noticed among other players, you definitely will be with this beautiful sunburst guitar with a custom hummingbird pickguard. Certainly one of the most recognizable acoustic guitars in history.
Ovation Adamas GT Cutaway
Satin Finish
Ultra-thin Carbon Fiber Top
Hand-laid Advanced Composite back and sides
Adamas X-bracing
Carved Glass-filled Composite binding
American Black Walnut neck with a 10" radius
Walnut fingerboard
Schaller with Gold buttons tuners
Carved Walnut bridge
Bone/ABS nut and saddle
Ovation guitars are founded by Charles Kaman in 1965. They become known for producing instruments with composite synthetic bowls, as opposed to wood backs and sides, which are the standard in the acoustic guitar industry. Charles was working as an aeronautical engineer, and he saw that the traditional construction of the acoustic guitar, wasn't exactly the best, so he decided to make improvements.
Building helicopters with composite materials, he learned he could incorporate this material in guitar design, to control the guitar vibrations. Ovation guitars are the product of these innovations. This might be a fun guitar to try if you're not traditional thinking. If you are this might not be for you. Either way interesting concept, that has a huge following.
Breedlove Oregon Concerto Jeff Bridges Signature
High Gloss finish
Figured Myrtlewood top
Figured Myrtlewood back and sides
Forward-shifted Sitka Spruce X-bracing
Eastern Hard Rock Maple neck with 16" radius
African Ebony fingerboard
Fingerboard Inlay- Mother-of-Pearl "All in This Together"
Breedlove Gold Satin 18:1 ratio tuners
Ebony bridge
Bone nut and saddle
This guitar is a result of the corporation of Breedlove and the actor and musician Jeff Bridges. Each component in this guitar was sustainably picked through individual harvesting or salvaging windthrown logs, so no new wood would have to be used. Guitar has figured Myrtlewood top, back, and sides. This wood is sort of a blend in the sound between rosewood and maple.
Guitar also has a maple neck and ebony fingerboard with Jeff's signature "All in this Together" inlay, and his signature featured on the back of the nack's headstock. With its eco-conscious commitment, buying a Breedlove is much more than purchasing a great guitar. Buying a Breedlove is buying a guitar that you'll feel good about.
Guild M-25E California Burst
Gloss Nitrocellulose lacquer finish
Solid Mahogany top
Solid Mahogany back and sides
Adirondack Spruce Scalloped X-bracing
White ABS binding
Mahogany neck with a 12" radius
Indian Rosewood fingerboard
Guild Deluxe vintage tuners
Rosewood bridge
Bone nut and saddle
In recent years Guild is more known for its import great value for the money guitars. But this American-made one is similar in thinking. You get a lot of guitar for the money invested.
This little guitar plays great and knows how to cut through a mix. Its classic all-mahogany construction produces a warm, clear tone with punchy midrange and surprising projection that can fill a room.
Gibson J-45 Standard
Gloss Nitrocellulose lacquer finish
Sitka Spruce top
Mahogany back and sides
Mahogany neck
12" radius
Indian Rosewood fingerboard
Grover Rotomatics tuners
Rosewood Reverse Belly bridge
Tusq nut and saddle
Guitar most favored by a huge amount of country music greats and it earned the nickname "The Workhorse" in 1942, a little after its release. It's a great round-shoulder dreadnought acoustic guitar. Guitar has balanced expression, warm bass, and great projection. 
The J-45 Standard has a solid Sitka spruce top and premium mahogany back and sides. It features other premium qualities such as multi-ply top and single-ply back body binding.  The design features a compound dovetail neck joint along with a traditional hand-made X-brace system inside. Try it for yourself and find out why so many country music guitarists just love this model.
Taylor 914ce
Gloss finish
Sitka Spruce top
V-Class bracing
Tropical Mahogany neck with a 15" radius
Ebony fingerboard
Fingerboard Inlay- Ascension
Gotoh tuners
West African Ebony bridge
Graphite/Micarta nut and saddle
One of the top guitars in Taylor's production line. 914ce is one of the most loved acoustic guitars among players who put excitement and adoration on their playing. You just can't put in the words the look and feel of this guitar. 
This is a guitar masterpiece. If you have money to spend this is a no-brainer. It's a great investment, and while you keep your investment you can play off one of the most gorgeous acoustic on the planet. Really one of the best models Taylor ever produced.
Martin OMJM John Mayer
Gloss finish
Englemann spruce top
Rosewood back and sides
Spanish cedar neck
Nickel Gotoh open-geared tuners
African ebony fingerboard
Ebony bridge
TUSQ nut and saddle
Collaboration between Martin and John Mayer resulted in this guitar masterpiece. Whether you like John or not, you can't deny his influence on guitar playing in general. This guitar is on the top side of what a 000-style guitar can offer. The guitar features an unusual Spanish cedar neck with a diamond volute that is carved specifically with playing comfort in mind.
It has a low profile shape for easy fretting and effortless playability. The East Indian rosewood headstock veneer has Martin's Old Style decal in silver as opposed to the standard one that is in gold. It has a black African ebony fingerboard with mother-of-pearl John Mayer's signature inlaid in pearl between the 19th and 20th frets. A true instrument masterpiece.
Guild F55E Maple
Gloss finish
Solid Sitka Spruce top
Maple arched back and figured maple sides
Scalloped red spruce bracing
White fingerboard and body binding
3-pc mahogany/maple/mahogany neck with a 12" radius
Ebony fingerboard
Fingerboard Inlay- Mother-of-Pear and Abalone block inlays
Gotoh SE700-05M Vintage-Style tuners
Bone nut and saddle
Guild F-55E has a jumbo body and arched back. With this design, the guitar has amazing volume and projection, and a wide dynamic range for more expressive performances. Solid Sitka spruce top and maple back and sides provide this guitar with a rich, loud, and bold tone.
The pure acoustic volume that this guitar is producing is nothing short of amazing. It's because of its unusual design with the jumbo-size body with an arched back. That means the F-55 sound remains clear and focused. It's a very loud instrument but also a looker. A great guitar to consider.
Conclusion
The American-made guitar just got something that is hard to put in words. The tradition, the values they hold, everything is just different from the guitar made in other parts of the world. While today there are some great guitars made all over the world there's just some sense of pride when on you're guitar is stamped "Made In USA".
If you found this article useful you may want to save this pin below to your Guitar board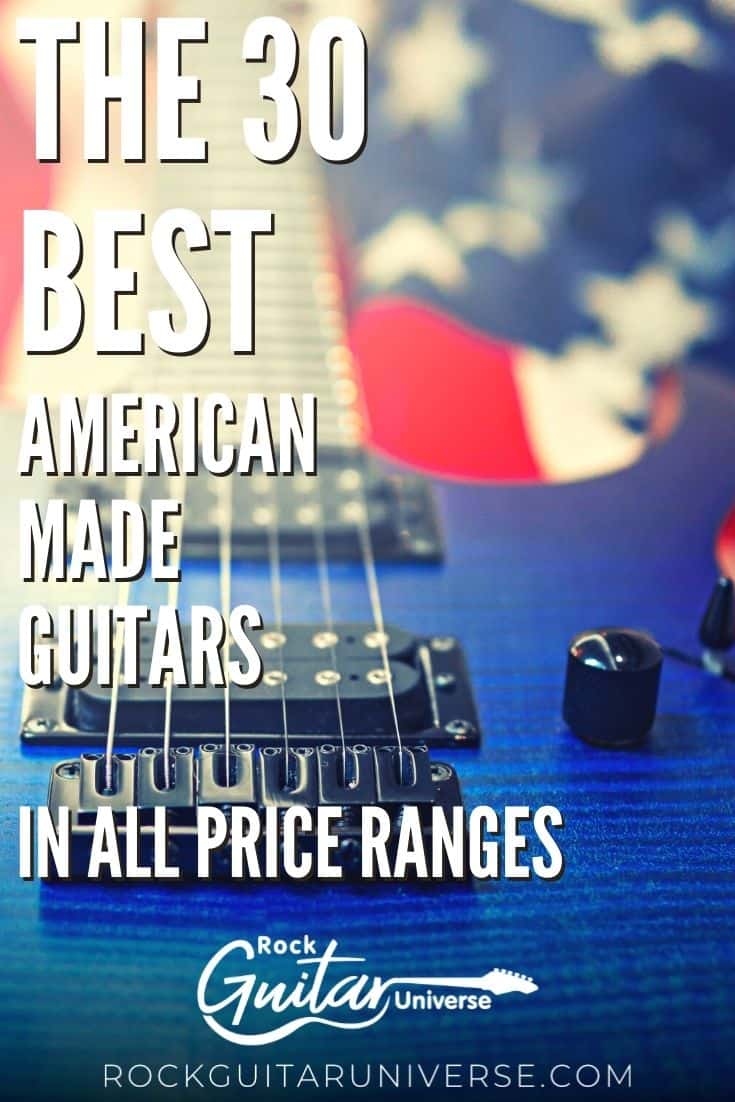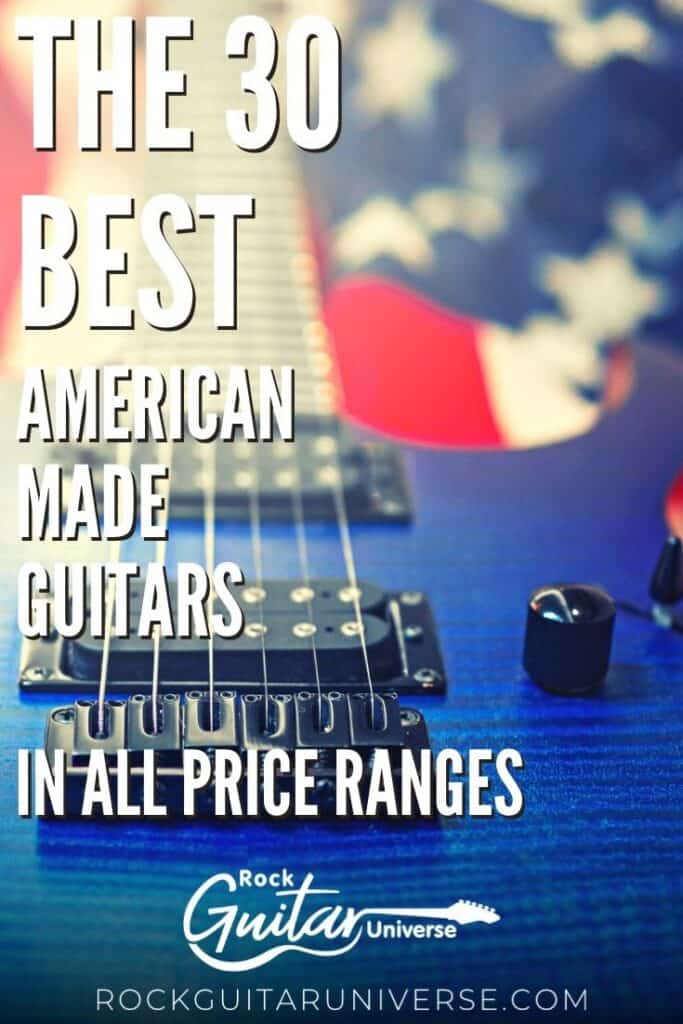 Last update on 2023-02-06 / Affiliate links / Images from Amazon Product Advertising API