Due to the fact that the terms "acoustic" and "unplugged" music have been used interchangeably, it has created the belief that they both refer to the same style of music and more importantly that they consist of the same elements. And yes, while they both rely on acoustic instruments to compose and deliver haunting performances, they both have precise features that make them different.
So, what is acoustic music? What is unplugged music? And more importantly, what is the difference between them? The answer is acoustic music consists of songs created to be featured by acoustic instruments, whilst unplugged music are arrangements of songs composed with electric instruments, which are then stripped down and transformed into acoustic versions.
Following this definition, all unplugged music is considered acoustic music but acoustic music does not necessarily fall in the category of unplugged music. Take for example Classical music.
Classical music is based on a series of acoustic instruments such as violins, violas or cellos. These instruments are by nature acoustic instruments since they are not constructed to function by being amplified. Therefore all classical music falls into the category of acoustic music, but not unplugged music.
For us to understand in a more detailed manner, let us submerge into the definitions of acoustic and unplugged music.
What Is Acoustic Music?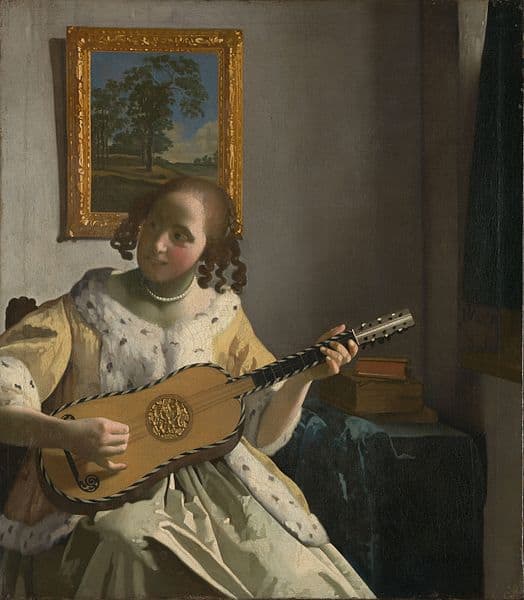 Acoustic music is defined as music that is mainly or solely produced by instruments that produce sounds through acoustic means, rather than electric means such as amplifiers or complex electronics. Therefore it must be considered that acoustic music has been a crucial aspect of most of mankind's artistic and cultural lifespan.
While the human voice would be considered by default the first acoustic instrument, we can date back to around 43,000 – 42,000 years ago and find what researchers describe as the first known constructed musical instruments in the history of mankind, flutes made from mammoth ivory and bird bones. We have come a long way since then, passing through the 8th century AD, when the Moors brought the oud to Western society during their occupation of Spain and going all the way to the Renaissance era and the massive construction of all kinds of string instruments such as violins, lutes, cellos and so many more. It was at the beginning of the 1700s that the creation and popularization of the instrument we now know as guitar emerged.
Interestingly enough, the term "acoustic" did not become a necessity until the creation of electronic instruments. Electricity first became a component in the design of musical instruments in 1761, with the creation of the first electric harpsichord. The dawn of electronic technology came in the 1900s with the invention of technology that allowed us to design circuits that would produce repetitive waveforms through oscillation and amplification of sound. It was at this point that everything that we know as electric music began.
What Is Unplugged Music?
As mentioned before, unplugged music refers to music that was composed and would normally be played with electric instruments such as electric guitars or synthesizers, but is re-arranged in a way that it is performed with acoustic instruments. Even though "unplugged" performances can date back to the 1960s and 1970s with albums such as Beach Boys' Party! by The Beach Boys or documented jams by The Beatles in their film Let It Be, the term "unplugged" was popularized until 1989, when MTV launched its iconic show MTV Unplugged. This show consisted of showcasing successful "electric" musicians who performed acoustic renditions of their material. The show became a worldwide success and has featured renowned artists such as Aerosmith, Elton John, The Cure, Paul McCartney, and many others.
MTV Unplugged History?
It is because MTV Unplugged became a massive success that in today's culture we use the term "unplugged". Therefore we deemed it necessary to mention some important milestones that helped the show gain its popularity.
In 1987, MTV features their first "unplugged" performance. British rock band, Jethro Tull performed a portion of their songs "Serenade to a Cuckoo" and "Skating Away (On the Thin Ice of the New Day)" as an acoustic trio. Even though since the beginning of the 1980s the phenomenon of rock artists acoustically re-arranging their hit songs was well established, this was the first step towards the global popularization of unplugged performances.
On November 26, 1989, MTV releases its first series of MTV Unplugged aired. It consisted of 13 episodes, which were hosted by American singer-songwriter Jules Shear and featured bands like Aerosmith, Elton John, Joe Satriani, and Stevie Ray Vaughan.
In 1991, Paul McCartney records and releases his "Unplugged (The Official Bootleg)" album. Show producer Alex Coletti affirms that without this release, MTV's concept would not have gained the cult status it achieved.
In 1992, Mariah Carey performs a cover version of The Jackson 5's hit "I'll Be There". Released as a single, this performance becomes the first MTV Unplugged song to go to No.1 on the Billboard Hot 100.
That same year, British rock guitarist Eric Clapton records his Unplugged album at Bray Studios in London. His album went on to become the best selling unplugged album in the United States and earned him six Grammy Awards, including Record of the Year, Album of the Year and Song of The Year ("Tears in Heaven").
In 1993, Nirvana Unplugged in New York was recorded and became one of the last televised performances by Kurt Cobain, as well as becoming one of the most popular MTV unplugged performances of all time.
In September 1994, Los Fabulosos Cadillacs performed the first-ever Latin/Spanish Unplugged show. The sow was recorded at MTV Miami studios.
In 1995, Chilean band Los Tres released their "Unplugged" performance. MTV technicians this has been the only truly unplugged concert performed without any aid from electric amplification, besides dynamic microphones.
In 1999, Colombian singer Shakira became the first episode of the program to be broadcast entirely in another language – Spanish. Her Unplugged was the first Latin album to chart at number one in the Billboard Latin Charts as well as being the first Latin Unplugged album to win a Grammy Award.
From the years 2000 to 2009, the show aired less frequently and was re-named "MTV Unplugged No. 2.0." During these time artists like Lauryn Hill, Jay-Z, Alicia Keys and Adele were featured.
Is MTV Unplugged still on?
Even though since 2009 MTV Unplugged aired with even considerably less frequency and sometimes online-only, very much so! From 2009 to 2015 the show brought many successful artists such as Adam Lambert, Thirty Seconds to Mars, Los Tigres del Norte (which were the first Regional Mexican band to perform). In 2017, after a two-year hiatus, MTV re-launched the program featuring pop sensation Shawn Mendes. Since then, the most notable performances have been Norwegian band A-ha (2017), Liam Gallagher from Oasis (2019) and Mexican band Café Tacuba, who became the first band in MTV history to feature in two MTV Unplugged (1995, 2019)
MTV Unplugged Top 3 Performances
There have been so many incredible performances that it is quite difficult to narrow it down to three without honoring grand performances such as Alice In Chains Unplugged (1996), Soda Stereo's Unplugged: Comfort y Música Para Volar (1996) or Incubus Unplugged: From the Morning View Sessions (2001)
We have decided on these Top 3 performances based on an overall consensus and also due to the impact that these performances had in their careers:
#3 Eric Clapton (Released August 18th, 1992)
It is no surprise that we would feature guitar master Eric Clapton. His rendition of "Tears In Heaven", a song he wrote in mourning of the death of his four-year-old son Conor, not only re-sparked interest in his career but it also helped him achieve multiple awards, including six Grammys. But this is not the only reason his performance earned him a spot in our Top 3. The masterful execution of his acoustic guitar and the detailed re-arrangements of electric songs such as "Layla" consolidated his performance as the bestselling live album of all time and him as a masterful musician that will be remembered in music history.
#2 Pearl Jam (Recorded May 13th, 1992 but released 2009)
Grunge band Pearl Jam was just beginning to gain a name for themselves when they performed on MTV Unplugged. They'd just wrapped a quite successful European tour, leaving them with little time to prepare. "We literally got off the plane from Europe, spent all day in a cavernous sound studio in New York, and did the show that night," said bassist Jeff Ament. By no means did this diminish the powerhouse that Pearl Jam had become, especially in live performances. Eddie Vedder's vocal delivery is considered one of the most powerful performances of the decade and enabled them to continue to gain worldwide success and become the massive force they became.
#1 Nirvana (Released November 1st, 1994)
Even though MTV Unplugged in New York is not the last live performance by iconic grunge band Nirvana (they resumed their In Utero American tour shortly afterward), it is considered by many as the last statement delivered by Kurt Cobain before his untimely death. Kurt Cobain insisted that the stage was filled with lilies and black candles, to which the show's producer asked: "You mean like a funeral?" And that is exactly what Kurt Cobain wanted. The dark vibe created on the stage, along with a haunting performance of the entire show, which was recorded in one take, has made this Unplugged the most iconic in all of its history and one of the most unforgettable live performances in history.
Summary
Acoustic and Unplugged music can be considered relatives since they are very similar and are both based on the use of non-electric equipment. But now we are surely able to tell the slight, yet punctual differences that define these two styles of music performances. So next time you see a concert of Classical music, or an intimate performance of your favorite band, make sure to tell your friends how they differ from each other!
If you found this article useful you may want to save this pin below to your Guitar board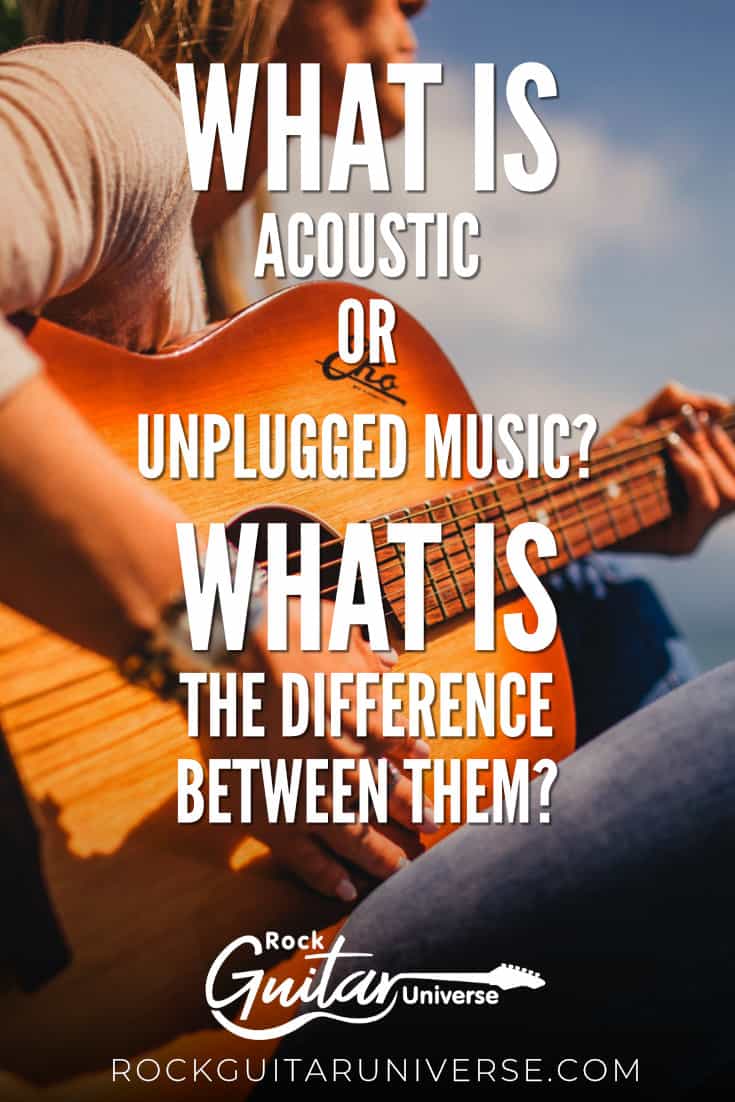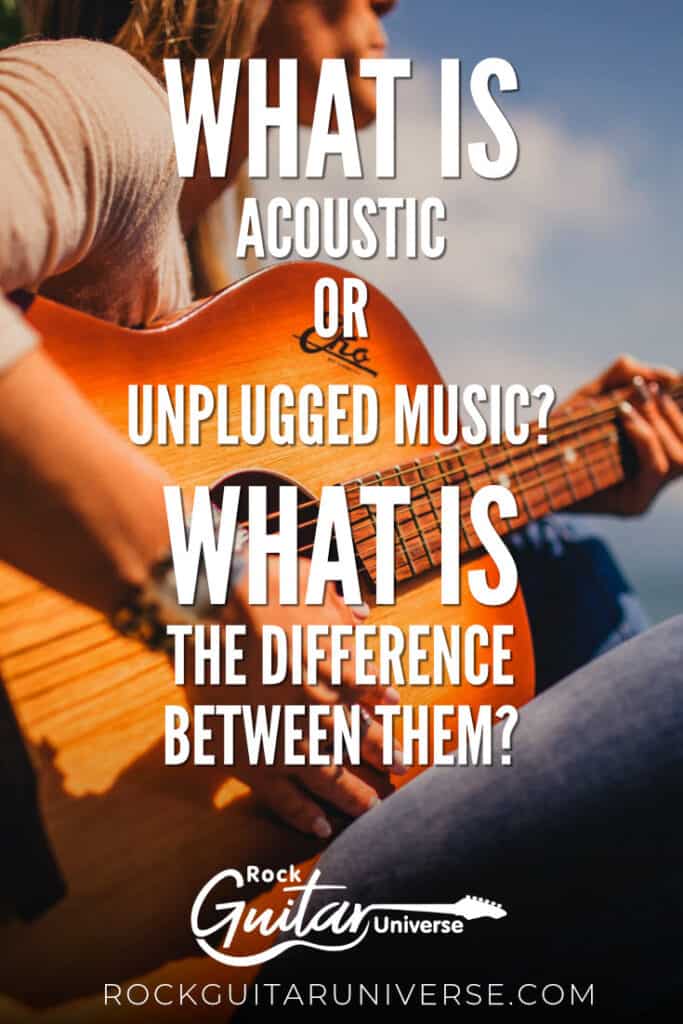 Recent Posts