If you are learning how to play an acoustic or electric guitar, you might have encountered songs that require you to use a capodaster. These can be quite handy, and they will allow you to experiment further with different tunings and tonalities.
But if you don't have a capo yet, you might want to find one that will work for your guitar. Naturally, this is not as complex as it might sound, but you still want to find one that will keep your guitar in tune without damaging the neck.
Most great capos look quite similar, but there are others that will give you a chance to experiment further with your guitar and tunings.
Donner DC-2 Capo
Lightweight
Zinc (aircraft grade metal)
Easy to use and move
Silicone pads
High performance
Black
1.83 ounces (52 grams)
4.33 x 0.79 x 3.94 inches (11 x 2 x 10.14 centimeters)
Donner has been around for quite a while. It is an excellent company designing a variety of tools and gadgets for instruments, and you can find nearly anything you want. One of the reasons for the popularity of the company is due to the price range – quality ratio.
You can find a great capo, for example, and you won't need to spend a fortune to get it. Donner designed the DC-2 capo, which is great for anyone playing either electric or acoustic guitar. Using it is quite easy, and you can place it or remove it from the neck in just a few seconds.
The design of the capo is traditional capo design, and it has a spring system for capping frets. Moreover, you can place the capo on the headstock of the guitar when you're not using it. The most important thing, the clasp is strong, and it will keep your guitar in tune, and the silicone pads will protect the wood from scratches.
Dunlop Trigger Capo 83CB
Classic design
For both 6 and 12 strings
Aircraft quality aluminum
Padded handle
Spring action clamp
Made in the USA
2.31 ounces (65.49 grams)
3 x 3 x 1 inches (7.62 x 7.62 x 2.54 centimeters)
Dunlop is one of the biggest names in the music industry, especially if you are talking about guitar equipment. You can find anything from strings to pedals, and if you want excellent quality, Dunlop is always a perfect choice.
Furthermore, besides designing the legendary Cry Baby pedal, Dunlop is also known for designing the first capo. At least, in a form we know today. Many players had a problem with capodasters before, and Jim Dunlop created something that is today known as the 1100 Series.
Here, I will mention the traditional trigger capo, and it is incredible. You can use it on both acoustic and electric guitars, and it is easy to use. All you need to do is press (or squeeze) the capo and remove it from the neck.
Needless to say, this capo won't damage your neck, and it will help you keep your instrument in tune regardless of the position of the capo.
D'Addario NS Tri-Action Capo
For 6-string guitars
Acoustic and electric
Micrometer tension adjustment
Tri-action geometry
Easy to use (single-hand)
Aircraft-grade aluminum
Integrated pick holder
0.288 ounces (8.16 grams)
5.9 x 0.4 x 7 inches (14.99 x 1.02 x 17.78 centimeters)
Now, let's take a look at something a bit different. D'Addario is known for experimenting with traditional designs, and here, you will get something that looks like a regular capo, with a couple of improvements.
NS Tri-Action capo is designed for six-string guitars only, and it will keep your guitar in tune on any fret. But the main difference here is that the D'Addario capo offers a micrometer for tension adjustment.
It also uses new technology to allow guitarists to use less force when opening and closing the capo while applying even tension across the fretboard regardless of the neck profile type or shape.
You can place (or remove) the capo on the neck using only one hand, and you can leave it on the headstock if you don't plan on using it.
Ernie Ball Axis Dual Radius Capo
Easy to use
Modern design
Fits both flat and curved fretboards
Lightweight aluminum
Buzz-free pressure
Dual-radius design
3.52 ounces (99.79 grams)
4.75 x 0.75 x 7.75 inches (12.07 x 1.91 x 19.69 centimeters)
Ernie Ball started selling strings during the sixties, and he always knew what everyone needed. It all started with an "unwound" third string and ended up with the second most popular strings brand in the world.
Everyone heard of Ernie Ball, and there are many players who prefer using his products, especially Music Man guitars. Here, you can see one of the incredible capos Ernie Ball has to offer.
It has a unique design, that's rather similar to the traditional capos, but with a modern stylish look. A dual-radius on this capo can work great regardless if you have a flat or curved fretboard. It will also ensure that there is no buzzing, and it works great on both six and seven-string guitars.
G7th Capo
Adaptive radius technology
Great tuning stability
Unique tension control
Easy to use
Versatile
Modern
Free lifetime warranty
2.22 ounces (62.94 grams)
2.5 x 2.75 x 0.59 inches (6.35 x 6.985 x 1.499 centimeters)
The G7th Performance 3 capo is a product, or more like the culmination of years and years of careful planning and design. It offers an ART or Adaptive Radius Technology, which will keep your tunning stabile no matter what.
All performance series capo also have unique tension control, and this model is the flagship for the company. You can easily place the capo on the neck, or remove it in just a few seconds. The G7th Performance has silicone rubber protectors to ensure that the neck remains intact.
The ART technology will also ensure that you can use the capo on nearly any guitar, and that includes all neck profiles and fretboard radiuses. The capo looks quite futuristic and it will do a great job fretting your guitar.
Spider Capo By Creative Tunings
Unique design
Fine-tuning of each string
Various different tunings
Can be used for all music genres
Leather protection for the neck
Works for all guitars (six strings)
0.16 ounces (4.54 grams)
6.6 x 4 x 1.2 inches (16.76 x 10.16 x 3.05 centimeters)
The first thing you can do with spider capo is to use it as any other capodaster in the world. Just place it anywhere on the neck, and it will fret it allowing you to play chords easier. But this is just the tip of the iceberg for spider capo.
The most exciting part of it is that you can fret each individual string, and try out different tunings and combinations. The options are nearly limitless, and you can try out hundreds of different combinations and styles.
This means that you can also choose to leave the string unfretted, or create open tuning without having to re-tune your instrument each time you want to change it. It is a unique and rather fun take on the standard capodasters, and if you are willing to try out something new, you should check it out.
Dunlop Toggle Capo
Easy to use
Small
6 or 12 string guitar
Nickel-plated steel
Adjustable tension
0.64 ounces (18.14 grams)
5 x 3.6 x 0.7 inches (12.7 x 9.14 x 1.78 centimeters)
Another great capo from Dunlop is the toggle capo. It's easy to use, takes a lot less space, and you can adjust it to fit your instrument. Of course, this capo is not the best option you can find, but it will still do a great job fretting your guitar.
On the front side, there is a nickel-plated steel bar that's used to cover the fretboard. Naturally, the front side of the capo is padded to avoid scratching the neck or damaging the strings. The capo is held against the neck using the strap, and you can adjust it to better fit your instrument.
This means that the neck profile, size, type of guitar, or anything else is not important. The capo works great, but you will need to adjust it each time you switch the guitar. While the process of adjustment is not complex, it might take you a couple of minutes to make it work.
Shark Capo
High-grade zinc alloy
Unique design
Spring mechanism
Works on 6 or 12 strings guitars
No buzzing
Flawless finish
3.2 ounces (90.72 grams)
4.25 x 0.5 x 3.99 inches (10.795 x 1.27 x 10.135 centimeters)
If you are looking for something different, you will adore shark capos. Shark capos follow the same principle as any other capo, but this time, the device is shaped like a shark. It offers something unique, and they look great once you place them on the neck.
The capo has a standard spring mechanism, and the neck will go into the "jaws" of the capo. Furthermore, it works great regardless of the type of guitar you have, which means that you can use it on both six and twelve-string guitars, as well as mandolins, banjos, and other string instruments.
Shark capo is fun, exciting, and most importantly, it will do the job. It's made of high-quality grade zinc, and you can choose between a couple of different colors and designs.
Guitto GGC-02 Capo
Modern "U" silica gel pad git
High-quality olive-shaped spring
High-end zinc
Silver color
Guitar pick holder
Can be used for all guitars and bass
4.23 ounces (120 grams)
3.42 x 3.17 x 0.53 inches (97 x 90 x 15 centimeters)
GGC-02 or "revolver" model is a new capo with several innovative functions. The capo is shaped like a revolver, and you can easily adjust every part of it. This means that you can change the dynamics you will use to press the strings.
To achieve this all you need to do is rotate the wheel to adjust the pressure on the strings. You can easily achieve optimal elasticity and provide perfect pressure on the strings. Guitto GGC-02 also has a hidden slot you can use to store your pick, and the capo will keep it safe.
Moreover, you can use it on any type of guitar, including bass. As with other models, you can place it on the headstock when you're not using it, and it can serve as a nice pick holder.
Fender Phoenix
Lightweight aluminium
One-hand application
Versatile
Fits any neck shape
Sleek, modern design
One year warranty
0.774 ounces (21.94 grams)
6 x 4 x 1.25 inches (15.24 x 10.16 x 3.175 centimeters)
The final entry on the list is reserved for Fender. Fender has been one of the biggest companies in the guitar world, and they provide all kinds of guitar equipment. It is no surprise that you can find an incredible capo designed by this brand.
Fender Phoenix has a sleek, modern design, and you can easily place it on the neck. Needless to say, the capo works great even if you don't own a Fender guitar, and you can use it regardless of the neck size.
The capo is made of aluminum, and it's lightweight. This means that you won't even feel it once you place it on the neck, and you won't need to worry about balance issues. More importantly, it has great tuning stability and you can easily place it on the neck using just one hand.
How A Capo Works And How To Use It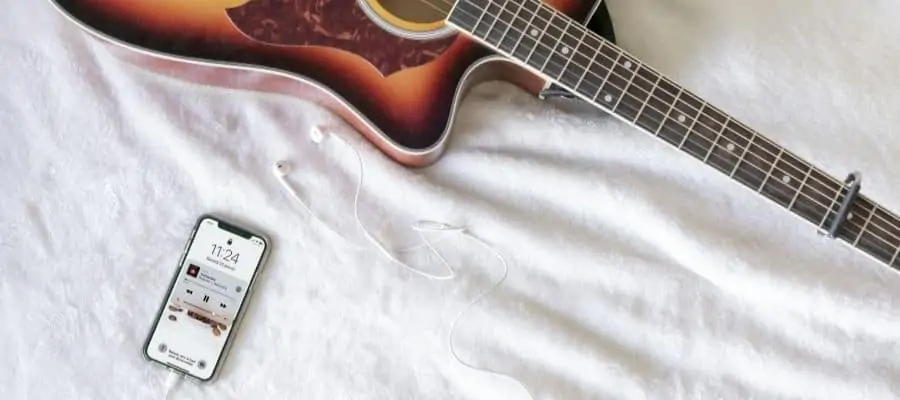 The basic principle behind capodasters is quite easy. If you imagine any barre chord, you will use your index finger to cover the entire fret of the guitar, while the rest of your fingers will form a chord.
In essence, the guitar shape like the open A minor (for example) is identical to barre D minor. The only difference between these two shapes is that you won't need to fret the open chord since the open strings will do that for you.
Now imagine if you could play open chords (shapes) anywhere on the neck. This is where capos come to light. If you place the capo on the fourth fret, it will be identical as if you played barre chords on the fourth fret.
However, this time, you can play open chords instead. So, to play G# major, you will use the E major shape or open E chord in the fourth position. The capo will do the replace your index finger in the barre chord position, and you will have an easier time playing songs since the only thing you'll need are open chords.
When it comes to using the capodaster, it will mostly depend on its type. For example, all capos with a spring will work in the same manner. All you need to do is place it on the neck near the fret you want.
It might take you a couple of tries to find a position where there won't be any buzzing or changes in the pitch. Usually, the capo should go near the fret, but without touching it.
What Is The Purpose Of A Guitar Capo?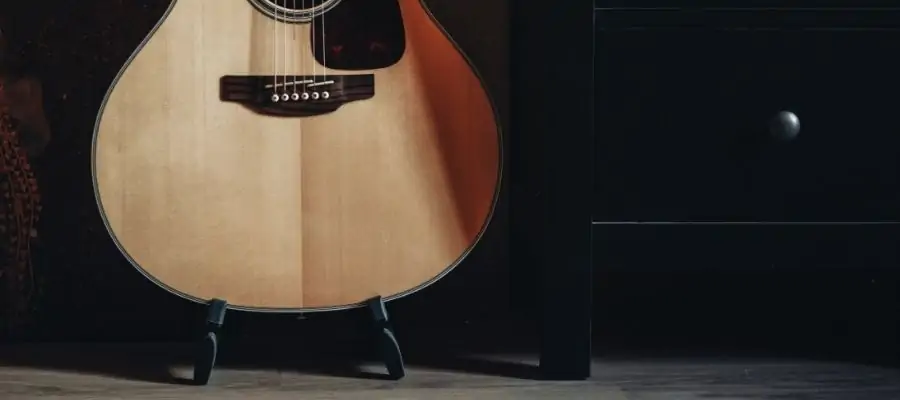 The main purpose of the capo is to make playing easier. If you need barre chords exclusively to play a certain song, it can get a bit tiring for your wrist to keep it in the same position for the duration of the song.
But if you use a capo, you will be switching between open chords and barre chords, which will make it a lot easier for you to play. Even if you "remove" just a few barre chords from the song, that simple change will mean a lot for your wrist.
Furthermore, some songs are written in a specific key. Singing in that particular key might be great for the original singer, but for others, it might be too low or too high. The first option is to keep practicing and forcing yourself to hit those notes, or to simply change the key.
Sometimes, changing the key can be quite easy, but in other cases, it might require complex chords that can be challenging for some players. Moreover, placing a capo could solve all of your problems. You will eliminate the need for complex chords, and make the song easier for the singer.
You can use a capo regardless of the type of guitar you have, but it's more common on acoustics. Placing it on the neck will shorten the length of the string raising the pitch. So, if you want to play the song in F, all you need to do is place the capo on the first fret.
Is There A Difference Between Acoustic And Electric Capo?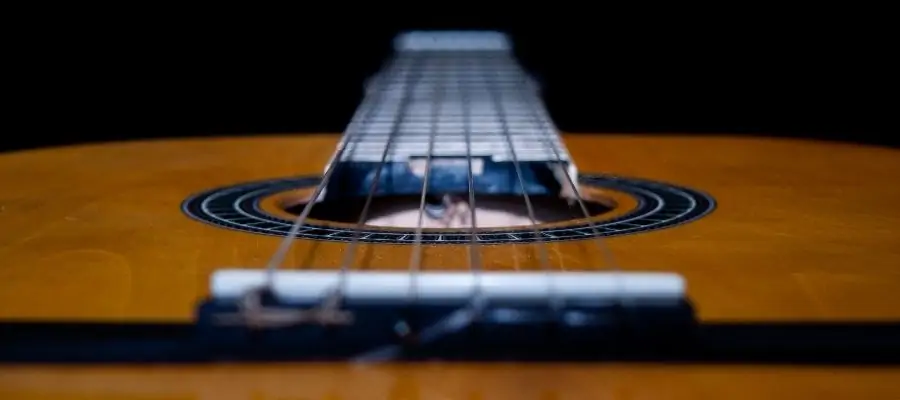 No. While it is possible to encounter a capo that won't work on a certain guitar, it is not something that will happen quite often. Acoustic and electric guitars work in the same way, and the capos should be able to fit both instruments.
Needless to say, this applies to six-stringed instruments only. Electric guitars with seven, eight, or nine strings might have larger necks that aren't suitable for regular capodasters. Similarly, there are acoustic guitars with twelve strings that might face the same problem.
If you have a guitar that's not a standard six-string instrument, you should try to find a capo that can work on it. I already mentioned a couple of capos that can work on twelve-string acoustic guitars, so you should check them out.
Can Capo Damage The Guitar?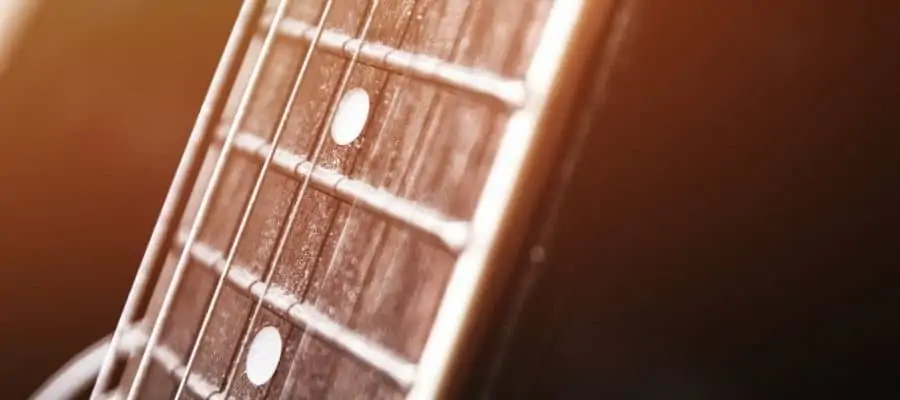 The short answer is yes. Using the wrong type of capo (or cheap one) can damage the guitar. While the damage is not something that will make your instrument unplayable, it can still cause some problems to it.
Firstly, some cheaper capos have bad design. This means that they don't have extra padding that will protect the neck, and as a result, pressing it on the neck can damage or ruin the finish. This is especially important for guitars with maple necks.
If there is lacquer on your guitar, be careful when buying a capo. Try to find something that has rubber protection to it, to ensure that the capo won't damage the finish. Furthermore, the front part of the capo will cover the fretboard, and you should be smooth and without any parts that might damage the fretboard.
Since you shouldn't put the capo on the frets, you don't need to worry about potential damage on it. Rosewood fretboards are a lot sturdier and heavier than the maple ones, and you won't need to worry as much.
Moreover, you should remove the capo when you're not using it. Most guitarists suggest that you remove the capo once you're done with playing. So, try to avoid leaving it overnight, since the capo can press the strings onto the fretboard and damage it.
The safest option is to remove the capo once you're done playing the guitar and try to find the model that won't damage the finish on the neck.
Is Capo Necessary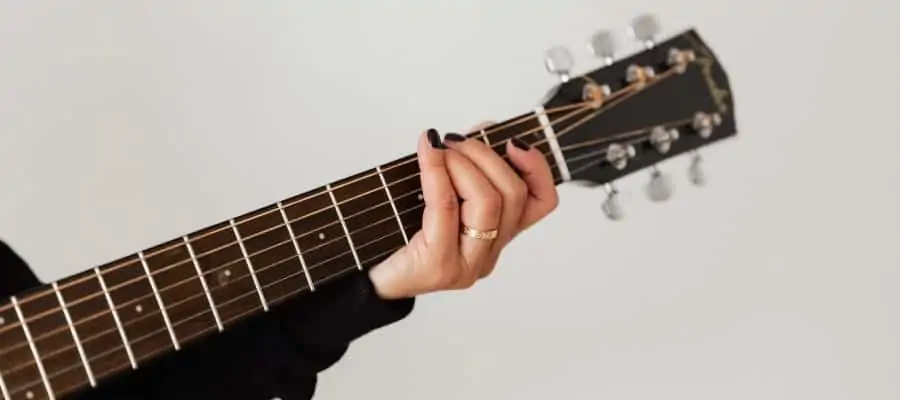 You might have wondered if the capo is necessary. If all it does is change the pitch of the strings, does that mean that you can play those chords anyway? The answer is yes. You could play the same chord without the capo.
Since it only shortens the neck, that means that you can still play any chord on the guitar. However, sometimes that means that you will need to compromise. Some open chords that are easy to play with a capo can be challenging otherwise, and the tone might slightly change.
Using the capo can be necessary if you want the song to sound dead right, and for each note to be in its place. It mostly depends on the song and your willingness to experiment.
But if you learned to play a song, and you want to play it in a different pitch, capo will make it easier for you. You won't need to "re-learn" the song again, and you can play it the same way without worrying about anything.
Some songs are in different tunings and played with a capo, and many players might suggest transferring the song to standard tuning. But the sound will never be the same, and many players would love to keep elements and the sound of the original recording.
So, in some cases, capo might be necessary. At least for everyone who wants to keep it simple and avoid having to translate the song to other pitches, tunings, and similar.
Summary
Playing the guitar can be so much fun. But sometimes, you might need to use additional equipment. Additional tools for guitar might be slides, capodasters, effects, and so on. Using a capo is easy, and you will need a couple of seconds to place it on the neck.
It can significantly make your playing easier, and save you a lot of time. Moreover, you won't need to relearn to play parts of the song and worry about translating it to different pitches.
When it comes to buying a capo, there are numerous companies designing all kinds of capos. You can find standard ones with a spring, or unique models that will allow you to fret each individual string.
Regardless of the model you pick, you will need to ensure that the capo won't damage your instrument, and cause problems with your guitar. If it has silicone or rubber cover to protect the finish of your guitar, you can stop worrying about anything, and just enjoy playing your guitar.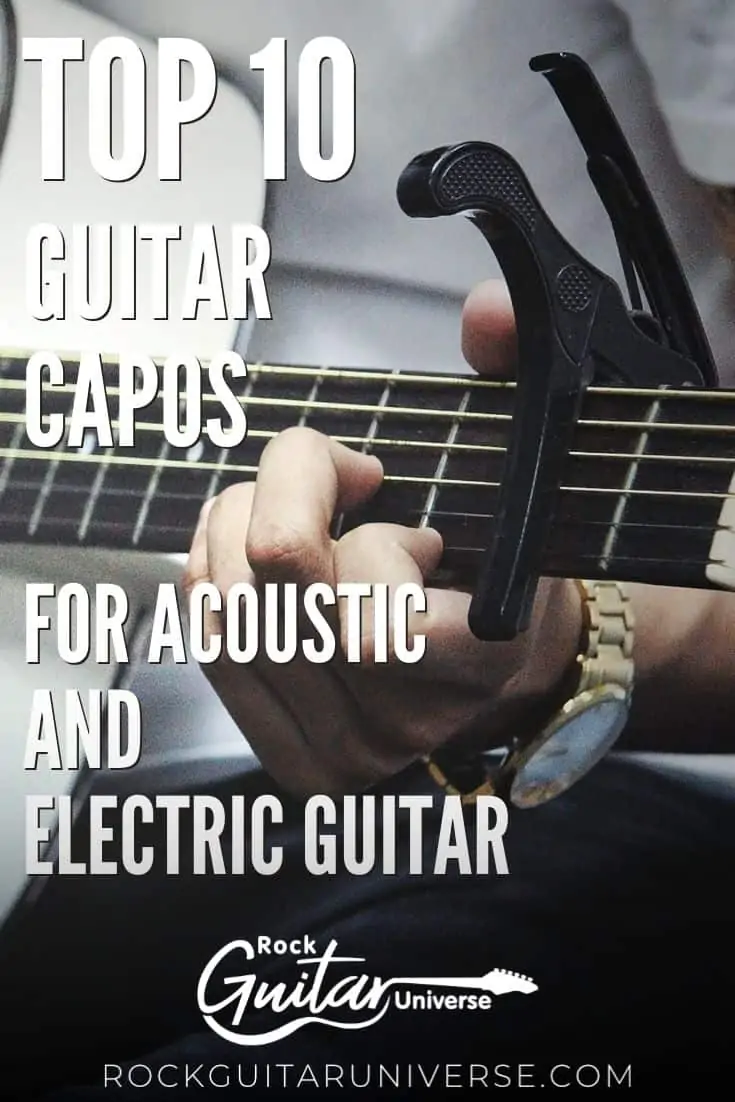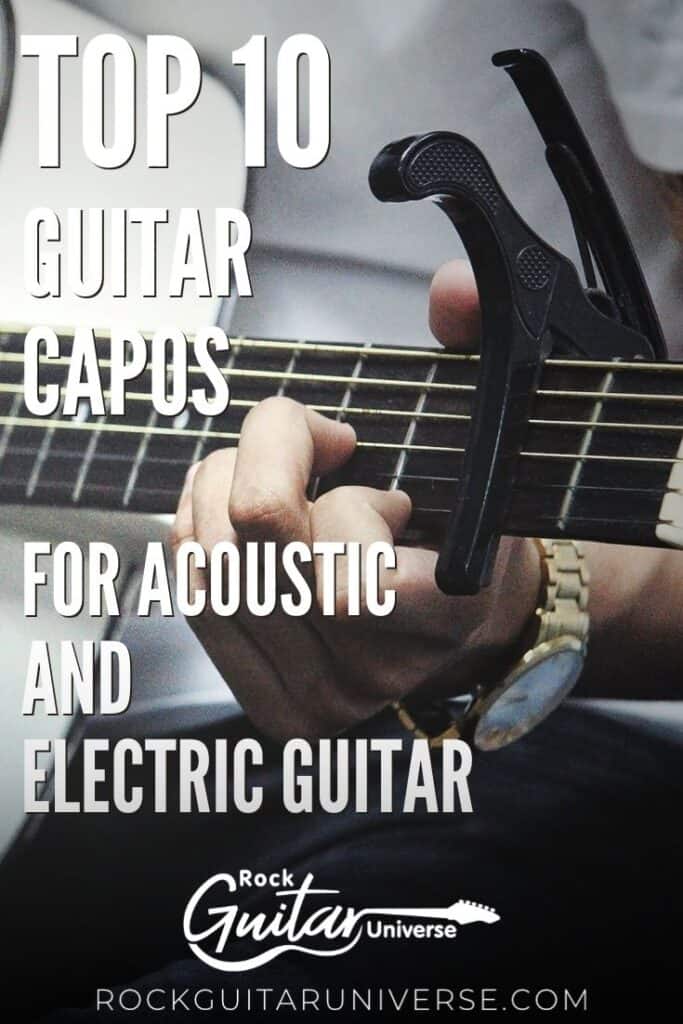 Last update on 2022-01-26 / Affiliate links / Images from Amazon Product Advertising API
Recent Posts