When it comes to electric guitars, few names carry the same level of prestige as Fender and Gretsch. These two iconic brands have been producing guitars for decades, and their models have been played by some of the most legendary musicians in history. It is important to note that there are many instances of these models out there, but most of them share the same essential features.
Construction-wise, the Telecaster has a solid body made of ash or alder, whereas the Gretsch usually has a hollow body made of maple or other laminated woods. The Telecaster typically has a single coil pickup configuration, while the Gretsch often has humbucker pickups, which gives it a fuller, warmer tone.
Telecaster has a simpler design with fewer controls, often just two pickups, a volume knob, and a tone knob. The Gretsch, on the other hand, has more complex hardware with more controls, often featuring a Bigsby vibrato tailpiece for added range of pitch and expression.
The Gretsch, with its larger body and longer scale length, can be a bit more challenging to play for those with smaller hands or shorter fingers while on the other hand Telecaster has a sleeker, more streamlined design that allows for easy access to all the frets.
| | | |
| --- | --- | --- |
| | Fender Telecaster | Gretsch |
| Body Shape | Tele-style | Single/Double-cutaway semi-hollow/hollow/solid body |
| Body Wood | Alder | Laminated maple |
| Neck Shape | Deep C | Slim "U" shape |
| Neck Wood | Maple | Nato |
| Neck Construction | Bolt-on | Bolt-on |
| Fretboard Material | Maple | Laurel |
| Scale Length | 25.5″ | 24.75" |
| Number Of Frets | 22, Narrow Tall | 22, Medium Jumbo |
| Frets Material | Nickel Silver | Nickel silver |
| Type of Bridge | 2-Point Synchronized Tremolo with Cold-rolled Steel Block | Anchored Adjusto-Matic with secured rosewood base |
| Tuning Machines | Fender Standard Die-cast | Die-cast |
| Pickups | 3 x Fender V-Mod II Single-coil | Broad'Tron BT-2S humbucking pickups |
| Pickup Selector | 5-way blade pickup switch | 3-way toggle switch |
| Controls | 1 x master volume, 2 x tone (push/push add neck) | Volume 1. (Neck Pickup), Volume 2. (Bridge Pickup), Master Volume, Master Tone |
| Weight | 8.5 lbs (3.85 kg) | 7.5 lbs (3.4 kg) |
When it comes to choosing the perfect guitar, there are a lot of factors to consider – from your playing style to your preferred tone, and everything in between. Two popular guitar models that often come up in this discussion are the Telecaster and the Gretsch. While both guitars have their own unique sound and style, they also have some key differences that set them apart.
Construction & Hardware Compared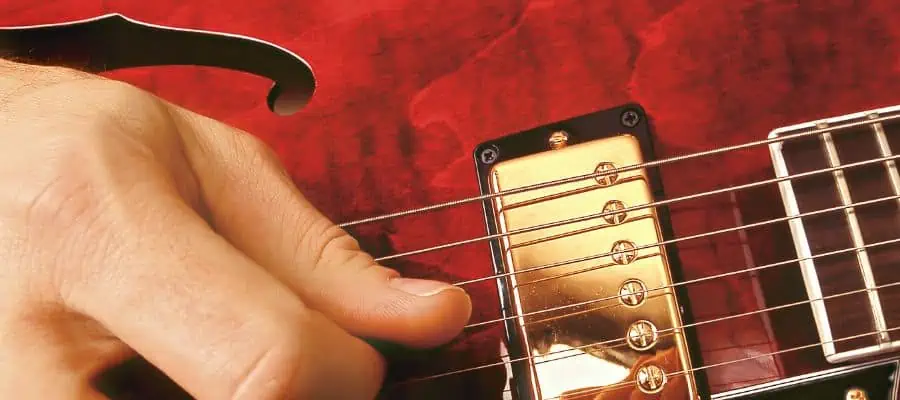 The Telecaster, which is often referred to as the "Tele," is a guitar that is widely recognized for its simple yet highly functional design. Typically constructed with a solid wood body, it boasts two single-coil pickups, a bridge with three saddles, and a bolt-on neck. This stripped-down construction not only makes the guitar easy to use but also lends it an understated, timeless appeal.
In contrast, the Gretsch is a guitar that is renowned for its elaborate and ornate design. Its body is often constructed with a hollow or semi-hollow construction, contributing to its unique tonal qualities. The guitar also frequently features two humbucker pickups, a Bigsby tremolo, and a set neck. With its eye-catching design, the Gretsch is often associated with rockabilly, country, and other vintage genres.
The Telecaster's hardware is known for its straightforward design, which makes it easy to maintain and customize. For instance, its bridge is easy to adjust for intonation and action. The Gretsch, on the other hand, has more intricate hardware that can be more challenging to adjust or modify.
Tone Compared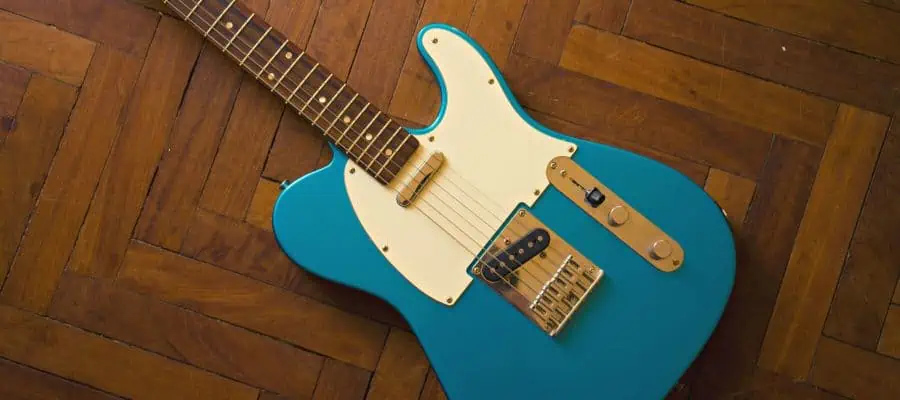 When it comes to music in general, tone is arguably the most important aspect of any instrument. The way that a guitar sounds can be the difference between an average performance and a truly exceptional one.
The Telecaster is a guitar that is known for its bright and twangy sound, which has made it a popular choice among country, rock, and blues musicians. This tone is largely due to the guitar's single-coil pickups, which produce a sharp and articulate sound that cuts through the mix with ease. The bridge pickup, in particular, is a standout feature of the Telecaster's tone, producing a biting and crisp sound that is perfect for lead playing and soloing. The guitar's simplicity also contributes to its tonal versatility, allowing it to sound great whether it's played clean or with overdrive.
The Gretsch, on the other hand, has a warmer and more complex sound that is often associated with jazz, rockabilly, and other vintage styles of music. This sound is largely due to the guitar's humbucker pickups, which produce a thicker and more rounded tone that is perfect for chord work and lead playing.
The neck pickup, in particular, is a standout feature of the Gretsch's tone, producing a warm and mellow sound that is perfect for jazz and blues playing. The guitar's semi-hollow or hollow body construction also contributes to its unique sound, giving it a natural resonance that enhances its warmth and depth.
Feel & Playability Compared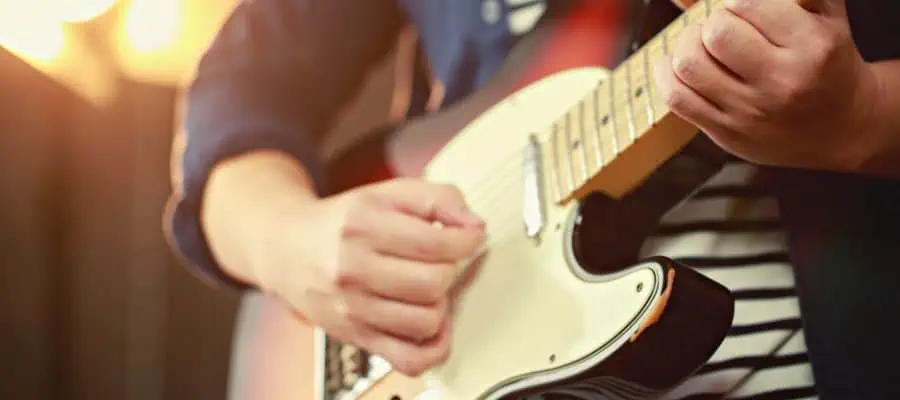 While construction and tone are undoubtedly important factors in choosing a guitar, feel and playability is just as crucial. After all, if a guitar doesn't feel comfortable in your hands or respond well to your playing, it's unlikely that you'll want to play it very often.
The Telecaster has a relatively slim and lightweight body that makes it easy to play for extended periods. Its neck is typically thin and easy to navigate, making it ideal for players with smaller hands. The Gretsch, however, has a larger and more substantial body that can take some getting used to. Its neck is also thicker and wider, which may not be as comfortable for some players.
Looks Compared
Apart from their distinct features in terms of hardware and tone, the Telecaster and the Gretsch differ greatly in their appearance. While the Telecaster is known for its simple and classic design that has remained largely unchanged over the years, the Gretsch boasts a more elaborate and eye-catching look.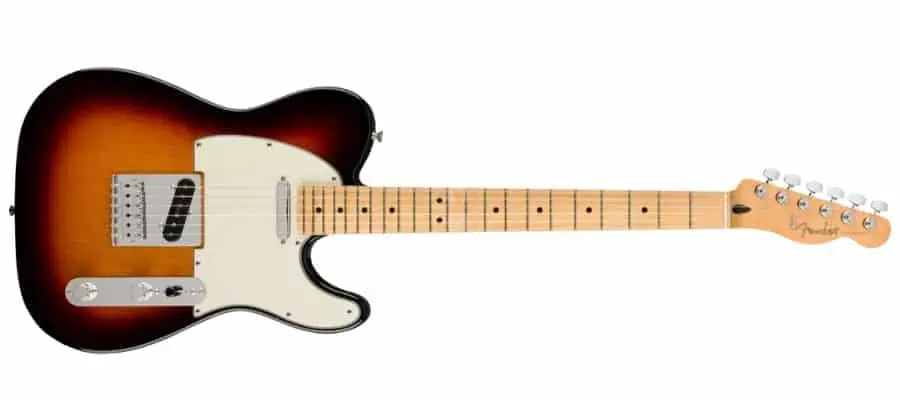 Its hollow or semi-hollow body is often adorned with the signature "f-hole" design, giving it a distinct appearance. The Gretsch is also available in a wider range of finishes, including natural wood, sunburst, and bold colors like orange or green, making it a more visually striking instrument than the Telecaster.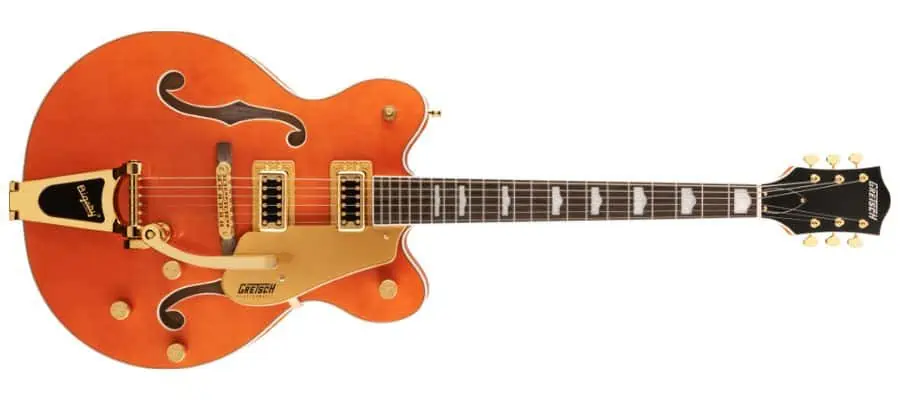 The Telecaster, on the other hand, is typically finished in a solid color, such as black, white, or sunburst, which adds to its understated, classic appeal.
Conclusion
Both the Telecaster and the Gretsch are iconic and unique guitars, each with their own set of strengths and characteristics. The Telecaster has a versatile and straightforward design that can accommodate a wide range of playing styles and musical genres. In contrast, the Gretsch is a more specialized guitar that offers a distinctive warm and complex tone, perfect for genres such as jazz, rockabilly, and other vintage styles.
Choosing between these two guitars ultimately depends on individual preferences and playing style. If you prefer a guitar with a simple and classic design that can excel in many genres, the Telecaster may be the better choice. If you're after a more specialized guitar with a unique tone and vintage appeal, the Gretsch could be a perfect fit. Regardless of your choice, both guitars are reliable and well-crafted instruments that will serve you well for years to come
If you found this article useful, you may want to save this pin below to your Guitar board.