In terms of acoustic guitar craftsmanship, there Taylor brand is particularly popular and known for its high-quality instruments. You can see them played all over the world by some of the greatest musicians that ever lived.
Although they had made many models over the years, the Taylor Gs Mini and Academy 12 are one of the more popular models by them. These models do share some similarities, but in essence, these are two completely different instruments. One of the key differences is in the material and the shape of the body. The Taylor Gs Mini has a Grand Symphony body made out of Layered Sapele with a Mahogany top. On the other hand, we have Academy 12 with a Grand Concert shape, the same body material but a Sitka Spruce top.
This directly results in a different tone and feel of these instruments. The Academy 12 is brighter and has a louder volume compared to the Taylor GS Mini which has a smaller body with lower volume but is warmer in terms of tone. Taylor GS Mini also has a shorter scale with a 23-½" scale and 20 frets and the Academy 12 has a 24.8" scale length with the same number of frets.
Ever since Taylor was founded, they have been on the course of creating one of the greatest acoustic guitars ever. The quality of these guitars is outstanding. Sure, you will need to pay slightly more, but in the end, it is completely worth it. One thing is for sure, with Taylor you cannot go wrong.
| | | |
| --- | --- | --- |
| | Taylor Gs Mini | Taylor Academy 12 |
| Body Shape | Grand Symphony | Grand Concert |
| Body Wood | Layered Sapele, Mahogany top | Layered Sapele, Sitka Spruce top |
| Neck Shape | Slender Taylor neck | Slim |
| Neck Wood | Sapele | Hard Rock Maple |
| Neck Construction | Bolt-on | Bolt-on |
| Fretboard Material | Ebony | Ebony |
| Scale Length | 23-1/2″ | 24.8″ |
| Number Of Frets | 20 | 20 |
| Frets Material | Nickel silver | Nickel silver |
| Type of Bridge | Fixed bridge | Fixed bridge |
| Tuning Machines | Taylor | Taylor |
| Weight | 4.4lbs | 3.1lbs |
Construction & Hardware Compared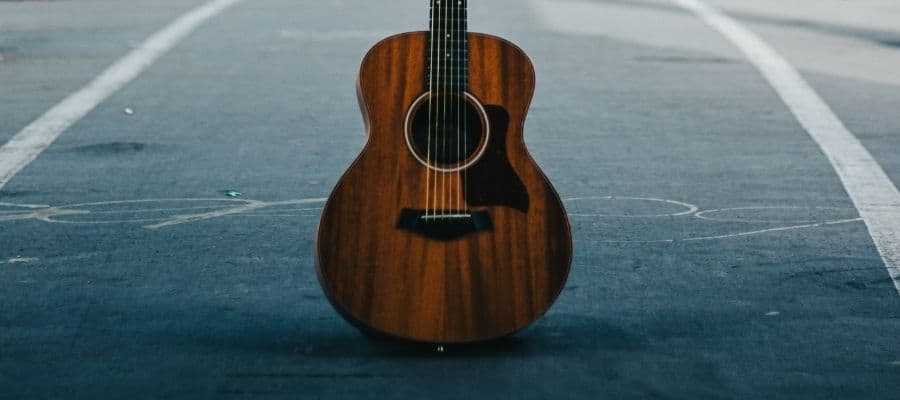 The body of these guitars is almost completely different. Taylor GS Mini has a Grand Symphony body shape while the Academy 12 has a Grand Concert body shape. The meeting point of these guitars is the body material which is Layered Sapele, but there is a difference in the material used for the top.
Taylor Gs has a mahogany top and the Academy 12 has a Sitka Spruce top. These guitars also share the same type of neck construction and number of frets. The difference is with the scale length with Taylor Gs having a 23-½" scale and Academy 12 having a 12.8" scale length.
The material used for the neck is different. Taylor GS Mini has a Sapele neck with an Ebony fretboard and the Academy 12 has a Hard Rock Maple neck with Ebony fretboard material as well. For both guitars, the neck is bolted onto the body giving both of these guitars great sustain.
Both guitars have the same fixed bridge type as you have already seen on many different acoustic guitars. The tuning machines are made by Taylor and there is a slight difference in weight. The Taylor GS mini is slightly heavier at 4.4 lbs and Academy 12 has 3.1 lbs.
Tone Compared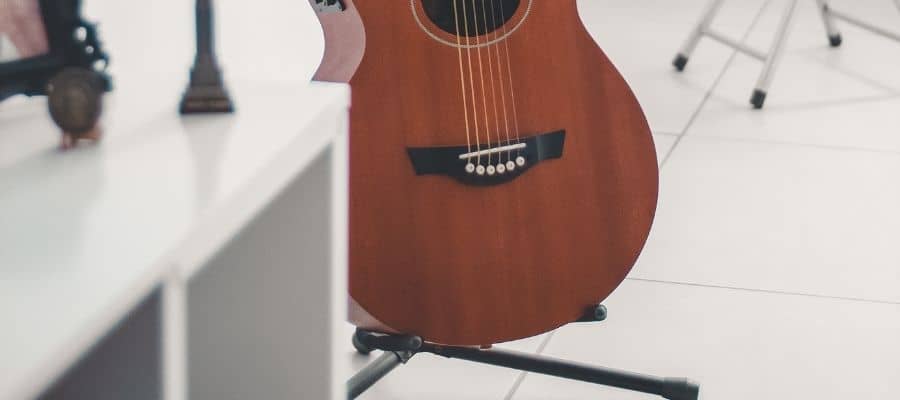 Both of these guitars are among the higher range of guitars. This means that they both have a great tone that many players will fall in love with. These guitars do sound great but have a different tone from each other. 
Considering that the top of Academy 12 is made out of Solid Spruce wood and combined with the Sapele sides, this guitar has quite an interesting and soothing to-the-ear sound. The tone dominates the high end but with great warmth to complete its tone. In terms of volume, it is in just the right spot. Not too loud and not too silent.
The Taylor GS Mini is like Academy 12 great sounding guitar. Taking into consideration that this guitar comes with a Mahogany top, it combines great high-end sound with the warmth of the Mahogany top. Considering that this guitar is a smaller version of the older brother Taylor GS the result is slightly lower volume. It is perfect for playing in your room but may not be perfect for playing in the open where there is outside noise.
Feel & Playability Compared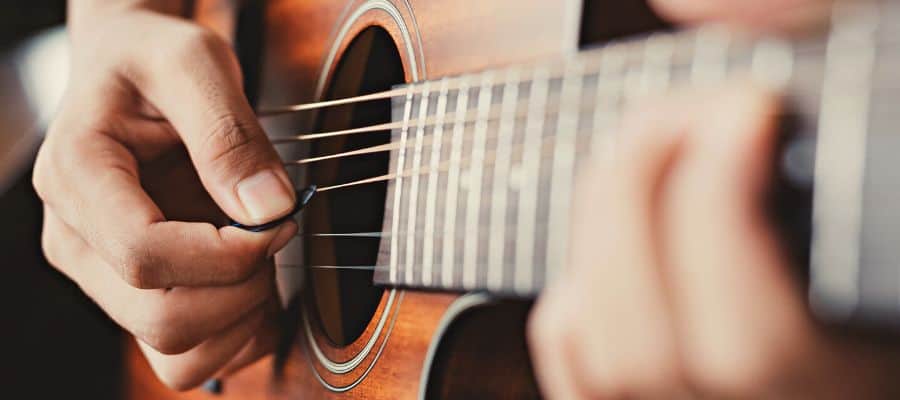 Taylor is known for combining great sound with great feel and playability. You will find this with both of these models. Both of the models will respond differently from each other.
Taylor Academy 12 is a great guitar that will fit almost everyone's needs and requirements in terms of feel and playability. Like many expensive models of Taylor guitar, the Academy 12 also comes with an armrest which is perfect for players who like to have their hand directly on the guitar. In terms of feeling it is great. The neck is built beautifully and will feel great for everyone, especially beginners.
Taylor Gs Mini with its small body is a great guitar that you can take everywhere with you. This guitar feels great in your hands and the neck is just wide enough so it does not feel like you are playing a guitar made for children. The frets are cut perfectly and moving up and down the frets feel perfect and smooth. Although it is considered to be a travel guitar, it is a great choice for bedside players. 
Looks Compared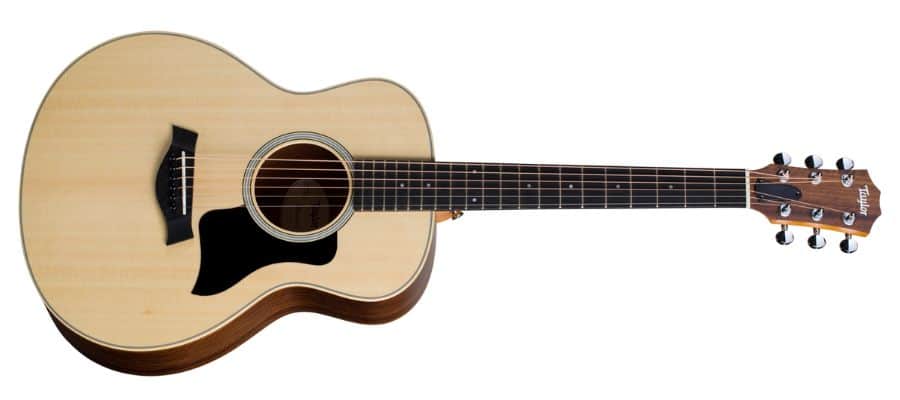 Taylor has always been famous for making beautiful-looking guitars where every model feels like it was carefully handmade. Sure, most of their models look simple but on first look, they do stand out in terms of the build and look quality.
Both of the guitars do share some similarities in terms of the look. Both models can be ordered in different finishes, but many would agree that nothing beats the classic Natural finish with a black pickguard. Having a different shape of the body results in a different look and design of the guitars.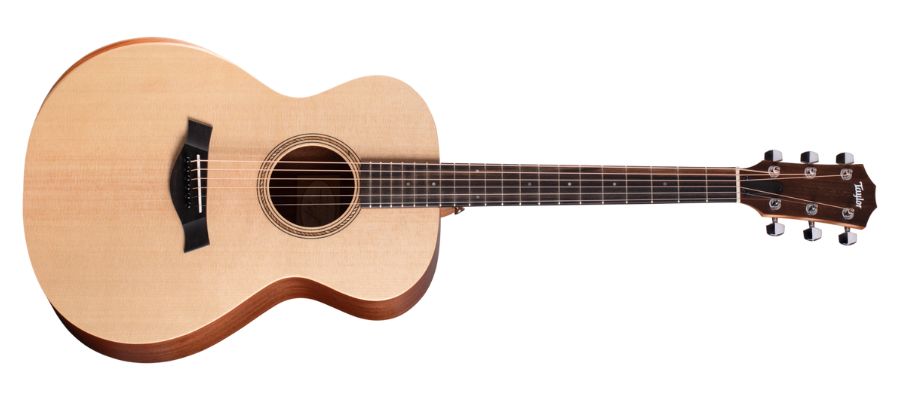 The Academy 12 is slightly bigger than the Taylor GS Mini but both guitars will look in almost everyone's hands. These guitars are a sight to see on stage live, especially for guitarists in the audience. Both models have the same iconic Taylor headstock with a beautiful neck connecting the headstock with the body.
Taylor one of the more popular acoustic guitar brands had made sure to have its models in many different finishes and sizes so they can satisfy every guitarist's needs. 
Conclusion
Taylor had always made great-sounding acoustic guitars. Sure, they tend to require a higher budget but considering the quality and sound you will get, it is totally worth it. The same goes for the Taylor GS Mini and the Academy 12. Both guitars are great and choosing the correct one is a difficult task. The fastest way of finding out which one is better for you is by simply trying out both of the models.
If you found this article useful, you may want to save this pin below to your Guitar board.