When it comes to high-end acoustic guitars, Taylor is a brand that is widely respected and admired by guitar enthusiasts and professionals alike. The Taylor 714 and 814 are two of the most popular models from the brand, and for a good reason.
These guitars do have many things in common. Both guitars offer exceptional quality, craftsmanship, and sound, but they do have their differences. They both feature Taylor's signature Grand Auditorium body shape, which offers a balanced and versatile tone. The wood used for the top is the same for both of the guitars as well as the back and sides. One of the key roles in terms of the difference in the sound of these guitars sits with the different bracing used.
The Taylor 814 has a higher price tag than the Taylor 714, which reflects the use of more premium materials and construction. The Sitka spruce top produces a bright and focused tone, while the Indian rosewood back and sides add warmth and depth. Although the wood is similar, the 814 has a slightly warmer tone.
Taylor has always been known for creating amazing instruments that are being used by many professional and amateur players. And that is for a reason. In this article, we will explore the differences between the Taylor 714 and 814 and help you determine which one is the right choice for you
| | | |
| --- | --- | --- |
| | Taylor 714 | Taylor 814 |
| Body Shape | Grand Auditorium | Grand Auditorium |
| Body Wood | Sitka Spruce, Indian Rosewood | Sitka Spruce, Indian Rosewood |
| Neck Shape | Standard Taylor Profile | Standard Taylor Profile |
| Neck Wood | Tropical Mahogany | Tropical Mahogany |
| Neck Construction | Taylor NT Neck | Taylor NT Neck |
| Fretboard Material | Ebony | Ebony |
| Scale Length | 25.5" | 25.5" |
| Number Of Frets | 20 | 20 |
| Frets Material | Nickel | Nickel |
| Type of Bridge | Fixed | Fixed |
| Tuning Machines | Taylor Nickel Tuner | Taylor Nickel Tuner |
| Weight | 4.6lbs(2.1kg) | 4.5lbs(2.0kg) |
Construction & Hardware Compared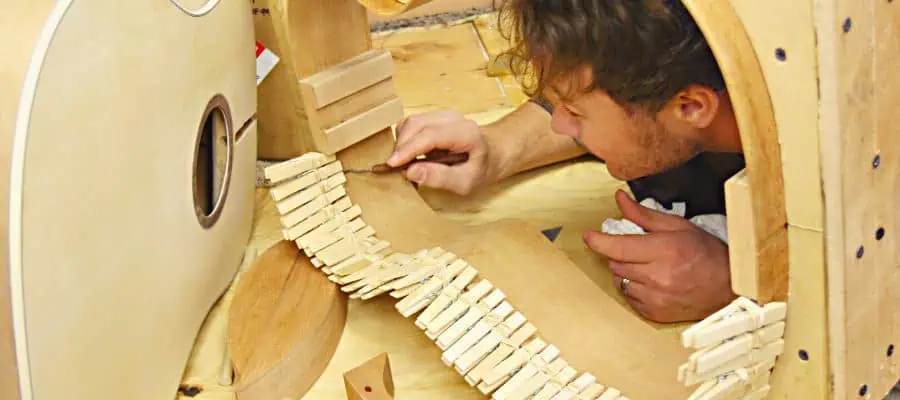 The construction and hardware of the Taylor 714 and 814 are quite similar, as both guitars are crafted with high-quality materials and attention to detail. Both models feature a solid Sitka spruce top and solid Indian rosewood back and sides, which provide a rich and balanced tone with plenty of projection.
One difference between the two models is the neck design. The Taylor 714 has a slightly slimmer neck profile. On the other hand, the Taylor 814 has a slightly wider neck profile. This will result in a different feel of the instrument while playing the guitars. The bridge and saddle are also made of ebony, which provides a solid connection between the strings and the body of the guitar.
In terms of hardware, both guitars come with Taylor's Expression System 2 electronics, which provide a clear and natural sound when plugged in. The 814 has a more advanced bracing pattern called the "Advanced Performance" bracing, which enhances the guitar's resonance and sustain. The 714 has a more traditional X-bracing pattern.
Tone Compared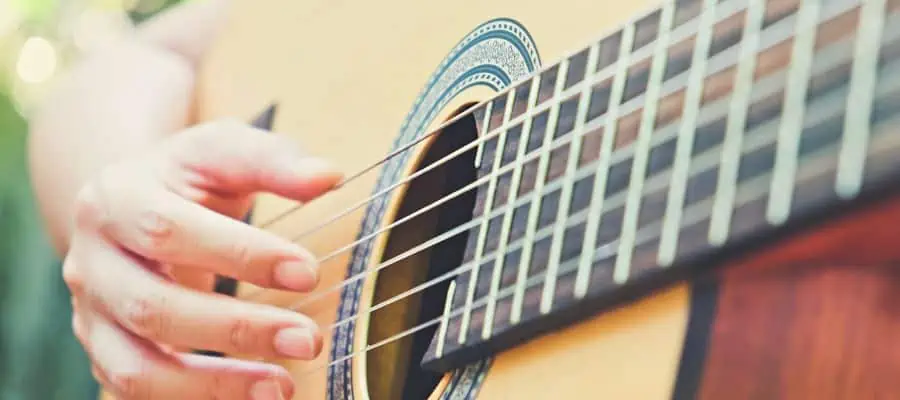 When it comes to sound, there are some similarities and differences between the Taylor 714 and 814. Both guitars are known for their balanced and resonant sound, with a strong projection that can fill a room. The Grand Auditorium body shape of both models offers a versatile and well-rounded tone that is suitable for various playing styles.
However, there are some noticeable distinctions between the two models. The Taylor 714 produces a slightly warmer and mellower sound with a focused midrange and a gentle attack. In contrast, the Taylor 814 has a brighter and more focused sound with a pronounced high-end and a crisper attack. This is a good option for players who desire a more assertive and dynamic sound, particularly for strumming and aggressive playing styles.
In summary, the Taylor 714 and 814 have different tonal characteristics that may suit different players based on their playing styles and preferences. The 714 offers a warmer and mellow sound, while the 814 produces a brighter and more focused sound.
Feel & Playability Compared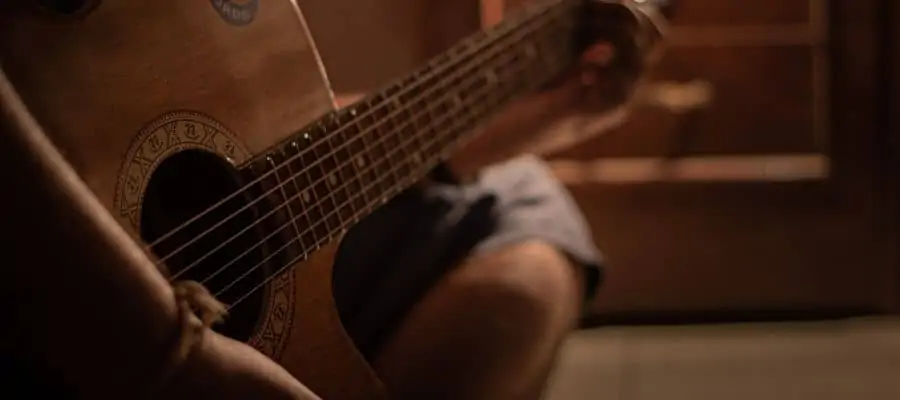 Compared to the 814, the Taylor 714 features a neck profile that is slimmer, making it more suitable for players with smaller hands or those who desire a more nimble feel. This aspect makes it an ideal choice for fingerstyle players who need to navigate intricate chord shapes and fingerings with ease.
On the other hand, the Taylor 814's neck profile is slightly wider, which offers a more substantial feel. This attribute can be advantageous for players who prefer a more robust grip on the neck, enabling them to have better control over the fretboard. Additionally, the wider neck profile can aid in playing barre chords, which necessitate a lot of hand strength.
Both guitars have a fretboard that is smooth and comfortable to play, allowing for swift and accurate playing. The size of the Grand Auditorium body on both models makes them more comfortable to play for extended periods, and they are great options for players who prefer more compact guitars. The ebony fretboard on both models is sleek and responsive under the fingers, enabling effortless movement up and down the neck.
Looks Compared
The Taylor 714 and 814 have their own unique aesthetics that can appeal to different guitar players. The 714 has a classic and elegant appearance with a simple yet stylish design that accentuates the natural beauty of the tonewoods. Its satin finish provides a more natural and unobtrusive appearance with minimal glare, making it an excellent option for those who prefer a more subdued and modest look.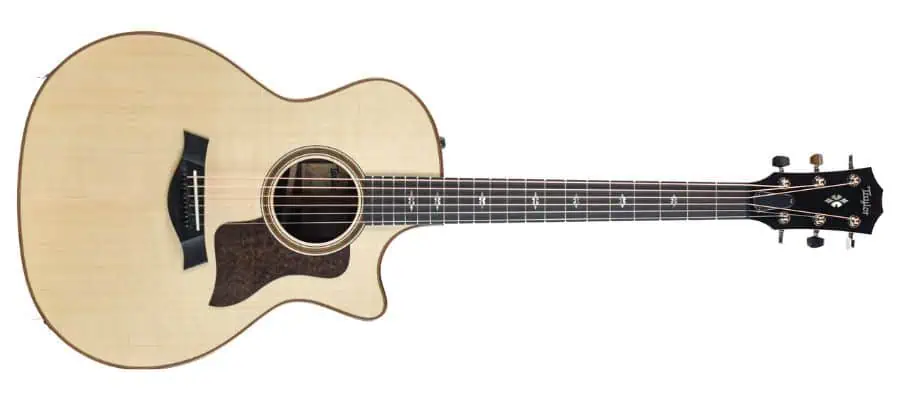 In contrast, the Taylor 814 has a more elaborate appearance, featuring intricate inlay work and a glossy finish that gives it a high-end appearance. The gloss finish creates more shine and reflection, making it more eye-catching and noticeable. The ornate inlay work adds an extra element of visual appeal and intricacy, making it a perfect choice for those who want a guitar that stands out.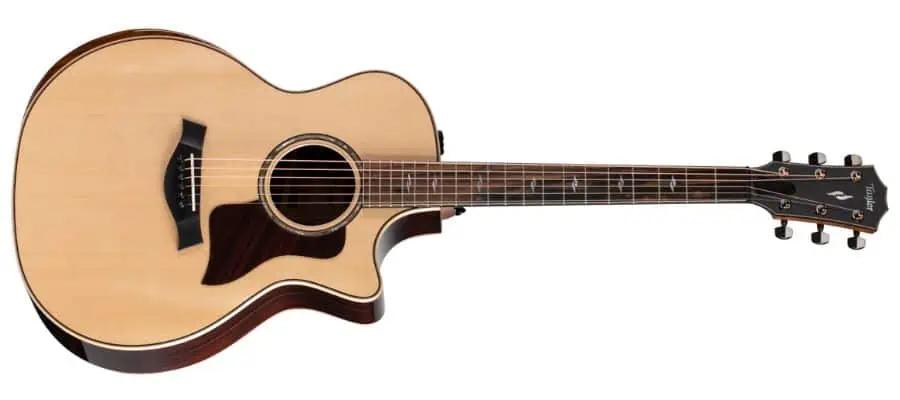 Ultimately, the Taylor 714 and 814 have different aesthetics that cater to different tastes and styles. The 714 has a more natural and understated look, while the 814 has a more luxurious and visually impressive appearance.
Conclusion
In conclusion, the Taylor 714 and 814 are both exceptional guitars that offer outstanding tone, playability, and craftsmanship. The choice between these two models ultimately comes down to personal preference and budget.
If you're looking for a slightly more affordable option with a bright and articulate sound, the 714 is an excellent choice. However, if you want a more premium guitar with a complex and nuanced sound and a more luxurious appearance, the 814 is worth the extra investment. Either way, you can't go wrong with a Taylor guitar, and both the 714 and 814 are sure to satisfy the most discerning guitar players.
If you found this article useful, you may want to save this pin below to your Guitar board.