Taylor and Seagull are among the more well known acoustic guitar manufacturing companies that are renowned for creating great quality prices that are on a professional level. One of the more influential guitar models by these companies is the Talyor 114 and Seagull S6.
Although these guitars are on the same level of quality, they share very few similarities in terms of materials used for the build, which directly reflected different tones and playability.
To start, the body shape of these guitars is completely different. The Seagull S6 has a dreadnought body, but the Taylor 114 has a Grand Auditorium body. Also, the Seagull S6 has a Solid Cedar top and Laminated Wild Cherry sides, while the Taylor 115 has a Sitka Spruce top with Walnut sides.
Considering that the body shape and the wood used to make it is completely different, these guitars are tonally completely different animals, and each of them speaks for itself.
Finding a perfect acoustic guitar is not an easy task to do, and the truth is that you will have to do it by trial and error. Great examples of quality guitars are the Seagull S6 and Taylor 114. But what to choose out of the two? I will do my best to go through some key differences between these models to help you reach the final verdict.
| | | |
| --- | --- | --- |
| | Taylor 114 | Seagull S6 |
| Body Shape | Grand Auditorium | Dreadnought |
| Body Wood | Sitka Spruce, Walnut | Solid Cedar, Laminated Wild Cherry |
| Neck Shape | Slender Taylor neck | C Chunky |
| Neck Wood | Forward-Maple | Silver Leaf Maple |
| Neck Construction | Forward-shifted | Set Neck |
| Fretboard Material | Ebony | Rosewood |
| Scale Length | 25.5″ | 25.5″ |
| Number Of Frets | 20 | 21 |
| Frets Material | Nickel silver | Nickel Silver |
| Type of Bridge | Fixed | Fixed |
| Tuning Machines | Die-cast Chrome | Closed Gear |
| Weight | 4.1 lbs | 4.6 lbs |
Construction & Hardware Compared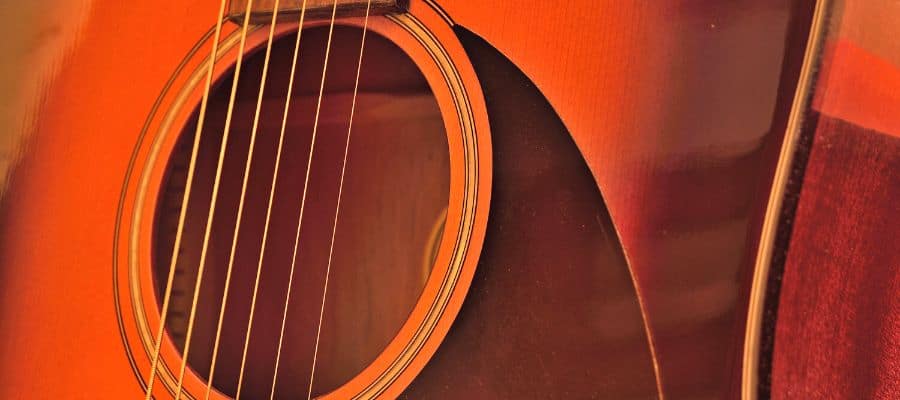 One of the key differences between these guitars is the construction and hardware used to build these instruments. The different features of these guitars directly affect the tone these guitar models can deliver. 
The Taylor 114 body has a Grand Auditorium shape and is made out of Walnut with a Sitka Spruce top. The Seagull S6, on the other hand, has a more common Dreadnought body shape made out of Laminated Wild Cherry with a Solid Cedar top. Both of these guitars have a great combination of wood and shape for a great projection of the tone.
The closest point where these two guitars meet is the type of wood used for the neck. The neck of the Taylor 114 is made out of Forward maple, and the neck of the Seagull S6 is made out of Silver Leaf Maple. The wood is quite similar, but the shape of the neck is different, which directly affects the feel and playability.
The scale length is the same. Both guitars have a 25.5" neck scale length, but there is a difference in the number of frets. Seagull has 21 frets as opposed to Taylor's 20 frets. Both have fixed bridges manufactured by the companies themselves. The tuners on the Taylor 114 are Die-cast Chrome, and the Seagull 6 tuners are Closed Gear.
Tone Compared
The tone of the Taylor 114 guitar model is quite good, considering that it is among the more budget-friendly price range. The tone lands home and captures the feel of western and country guitar songs. It does not have a pickup. However, it is amazing, and by combining it with a decent microphone, you can achieve amazing results.
The Seagull S6 tone, when compared to Taylor 114, sounds a little fuller and more dominant in the low end. This is most likely due to the Dreadnought body shape of the guitar. This does not mean that there is very little high-end. On the contrary, it has an amazing projection with any picking or strumming technique you use.
Both guitars are among the best in this price range. There are not too many models that can provide quality sound without breaking your budget. Maybe one of the inconveniences is not having integrated pickup, but investing in good quality mic is always an option.
Feel & Playability Compared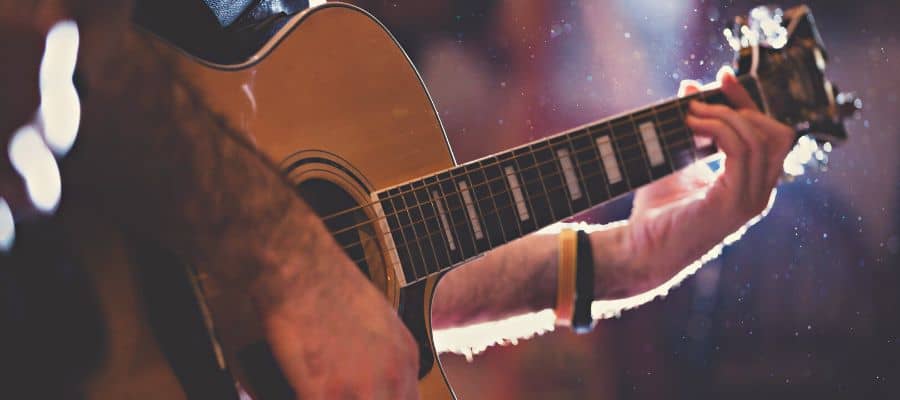 What Taylor and Seagull always took into consideration when creating an instrument is to make sure that it will work with any player's hands. Both guitars are, without question, amazing instruments to hold and play. The neck and string height is just perfect. 
However, the feel of these guitars is completely different. Choosing between the two based on the feel and playability is subjective, and everyone will gravitate to the one that suits him the best. The key role holds the neck shape.
Apart from being built from different kinds of wood, the shape is different. The Seagull S6 has a slightly bigger neck and will fit players who prefer a chunkier neck feel, and the Taylor 114 has a smaller neck which may be perfect for people who go from electric to acoustic more frequently.
There is also a difference in the number of frets on the neck. Seagull S6 has 21 frets, while the Taylor 114 has 20 frets. This may not be important for most players but for it may be deciding point between these two guitars. The scale neck length is the same at 25.5".
Looks Compared
Guitars made by Taylor and Seagull are easily recognizable in the guitar community. Both companies are aware of the fact that looks grab attention, and the quality keeps it. They have made sure to implement this fact with their guitars.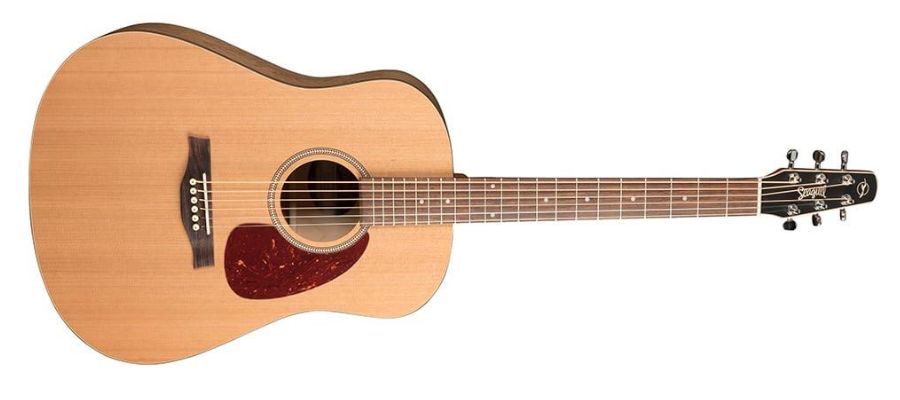 It is important to note that the looks of the guitar are entirely dependent from person to person. Seagull S6 has a unique look with its small headstock, which grabs anyone's attention. It kind of works in a good way with the Dreadnought body, which looks quite massive and fat.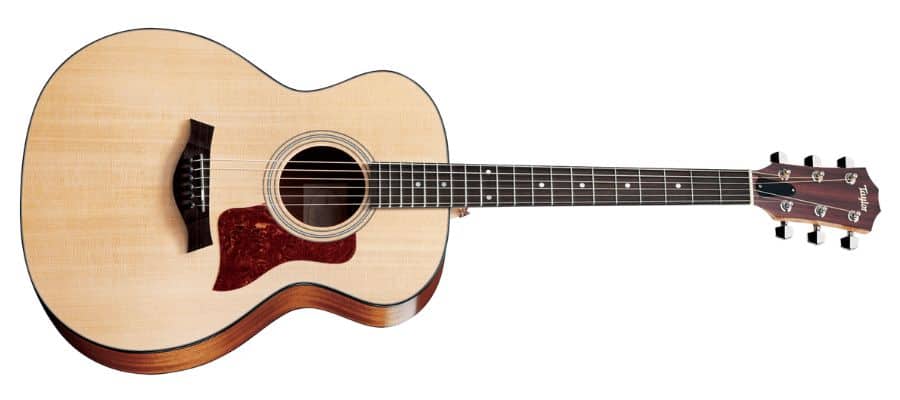 On the other hand, we have the beautiful Taylor-designed guitar. The Taylor 114 has that unique hourglass body shape that in some way resembles a woman's body. Most of the models come with a natural finish which many people love and is the go-to option when it comes to color.
Conclusion
Taylor and Seagull are well-renowned companies known for good quality instruments with a wide range of prices. Over the years, they have made many different models that are globally used and are famous for being of great quality. 
Among those great guitar models by these companies are the Taylor 114 and Seagull S6. These two guitars share very little in terms of the tone and materials used to build these models. This makes deciding between the two even more difficult. The fact is that you will be getting a great quality instrument for an amazing price, and you cannot go wrong with choosing either one.
If you found this article useful, you may want to save this pin below to your Guitar board.