If you are looking to buy a new guitar, you might have thought of Schecter. But is the company good? Are their models worth the money? Specifically, is C-6 a decent guitar in its price range? There are a couple of questions you might ask, and getting a new instrument is never easy.
Today, you can find numerous brands and models on the market and you will pick one based on your budget, skill level, music genre, preferences, and so on.
One of the options you might want to consider is Schecter 430 C-6 Deluxe. It is the first entry-level guitar that bears the Diamond name, and it is a great guitar.
There is no doubt that this isn't the cheapest guitar you can buy. The price is between the beginner and intermediate level, and it is quite good. Naturally, you won't get a professional instrument for the price, but it will serve you quite well regardless of your skill level.
| Pros | Cons |
| --- | --- |
| The price is decent. It's not too high, and there is a significant difference compared to cheaper brands. This way, you will get a great guitar that is suitable for all skill levels. | The guitar isn't as versatile as some other models, and it is mostly designed for heavier genres. If you are not into it, you might not like the C-6. |
| The shape of the guitar is something all of us are familiar with. The company is one of the first to start modding Stratocasters, and C-6 is heavily inspired by this guitar. | No tremolo. While some players might like string-through design, it is not suitable for every player. |
| It's perfect for those who love heavier genres since the HH combination will allow them to use a plethora of pedals. | Obviously cheaper guitar compared to other Schecter models. |
For anyone looking for a beginner guitar, Schecter C-6 is an excellent choice. The guitar is well-made, sounds great, and it allows you to play around with effects and pedals. There really isn't a downside to it, other than the player's taste.
So, the only thing you need to ask yourself is whether you like how the guitar looks and if the HH combination is something suitable for your play style or genre you want to play.
Considering both pros and cons, Schecter C-6 is an incredible guitar. It's not too expensive, and it will serve you well. I would give it four and a half, maybe even five stars. The only thing that might be a downside is the design since there is no tremolo and the combination of pickups is HH. However, if you are into this, you won't regret buying the Schecter.
Schecter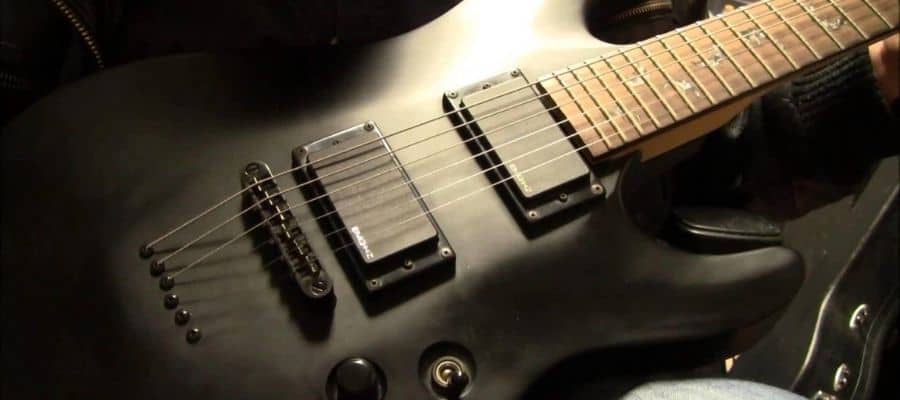 The company was founded in 1976 by David Schecter. He opened a repair shop in California, at that time he offered replacements for necks, bodies, and any other part of the guitar. As you might know, Fender or Gibson weren't as customer-friendly as they are today. So, ever were in the need of any type of change or upgrade, you'd have to either do it yourself or find someone to do it for you.
There were no customizable Fender or Gibson guitars at the moment. So, David took it upon himself to provide any upgrade or change to these guitars. While many believed that he provided parts for these two companies, it's not true.
As his business grew, he started assembling his own guitars based on Fender design. In 1979, his first model became available, and many guitar players were interested in buying this modded Fender.
One of the most popular (and famous) models from this era is Dream Machine played by Mark Knopfler, and he used it for the great part of his Dire Straits career. Other guitarists that started using Schecter are Prince, Pete Townshend, Yngwie Malmsteen, Ritchie Blackmoore, Steve Lukather, and others.
The company went through a couple of rough patches in the next few years, due to several lawsuits. Eventually, it was acquired by Hisatake Shibuya who also owns ESP. However, even today, ESP and Schecter remained two separate entities.
In 2000, the company introduced C-1, and they continued creating incredible new models ever since.
Schecter 430 c-6 Deluxe Specs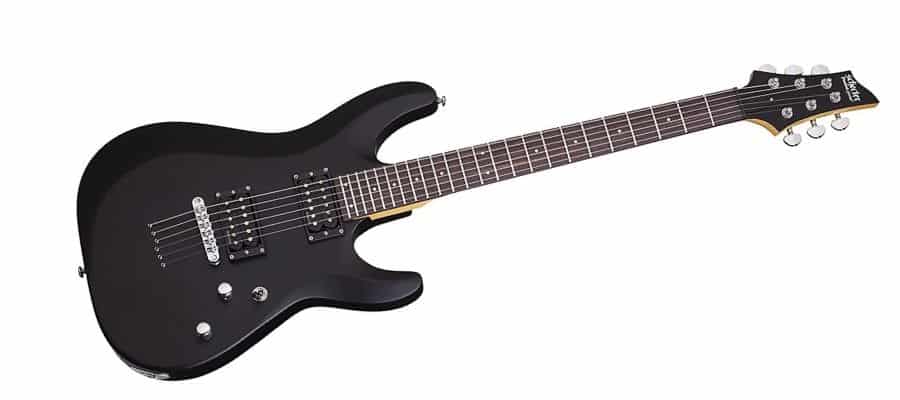 As with any other guitar, the most important things are characteristics, and what it has to offer. This includes materials, hardware, shape, and anything else that might be relevant to the player. Let's take a look at what Schecter C-6 Deluxe has to offer.
General
| | |
| --- | --- |
| Series | C-6 |
| Number of Strings | 6 |
| Hand Orientation | Right |
| Colors | Aqua, Purple, White, Black, and others. |
Body
| | |
| --- | --- |
| Body Shape | Soloist |
| Body Construction | Double Cutaway |
| Body Type | Solid |
| Body Material | Basswood |
| Top Material | Ebony |
| Top Type | Flat Top With Bevel Edge |
| Back Material | Ebony |
| Finish | Satin |
Neck
| | |
| --- | --- |
| Scale Length | 25.5" (648mm) |
| Neck Construction | One-Piece, Bolt-on |
| Neck Material | Maple |
| Truss Rod | 2-Way Adjustable Rod w/ 5/32" (4mm) |
| Truss Rod Type | Allen Nut |
| Fretboard Material | Rosewood |
| Fretboard Radius | 14" (355mm) |
| Position Inlays | Dots |
| Number of Frets | 24 |
| Fret Size | Narrow X-Jumbo |
| Nut | Graphite |
Electronics
| | |
| --- | --- |
| Pickup Configuration | HH |
| Neck Pickup | Schecter Diamond Plus |
| Bridge Pickup | Schecter Diamond Plus |
| Controls | Volume and Tone |
| Switch | 3-Way Switch: Neck, Both, and Bridge |
Hardware
| | |
| --- | --- |
| Tailpiece | String-through |
| Bridge Type | Tune-O-Matic |
| Turners | Schecter |
| Finish | Chrome |
| Pickguard | None |
As you can see from the specifications, Schecter C-6 Deluxe uses quite decent materials, and considering the price, it is an excellent opportunity for every guitar player out there. The shape of the guitar is a traditional, double-cutaway, Stratocaster-type of guitar, and it has two humbuckers.
Naturally, this might not be a perfect choice for any person, and there are those who'd dislike the HH combination. The quality of the pickups is decent, and both are designed by Schecter. One of the major differences between this model and the more expensive ones is that here, you will get a bolt-on neck.
Needless to say, the guitar works incredible for heavier music, and 24 frets will give you more freedom for shredding. When it comes to colors, you will have a couple of options at hand, and there are also a few versions of this guitar. When it comes to 430, you can choose between aqua and black. Both instruments come with a satin finish.
The price of the guitar is a bit higher considering it is an entry-level instrument, but it is still not too high, and it is well worth the investment. With C-6, there is a chance that you won't even need an upgrade in the next couple of years, and you just might want to stick with it for a while.
So, when it comes to the final decision, Schecter C-6 Deluxe is 100% worth the money. It is a great instrument, and if you are into heavier genres, you will love it.
The Sound, The Feel Of The Instrument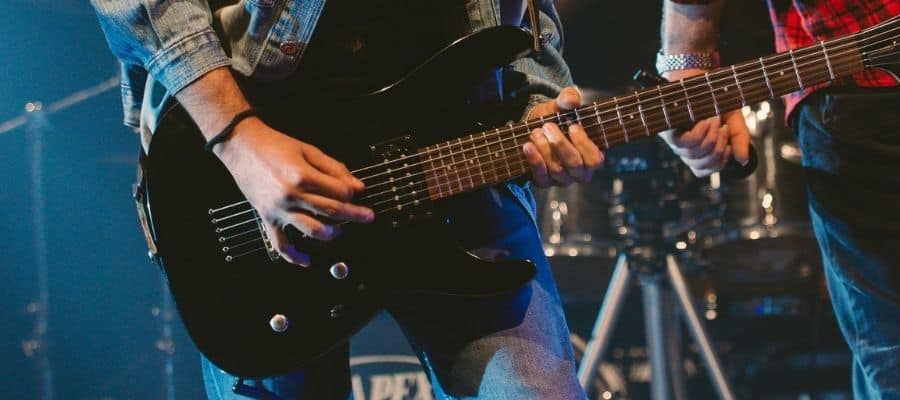 For a long period of time, the majority of electric guitars had glossy finishes. This is why getting a guitar with a satin finish might feel really good. Needless to say, it is up to personal preference to say which type of finish is better.
So, how does it feel to play this Schecter? It's really great. The finish is incredible, and every part of the guitar is well-made. The profile of the neck is thin C, which allows players to easily shred.
Since you have two humbuckers with this model, it is highly unlikely that you will play it on a clean channel. This means that the most important aspect for the sound would be the amplifier you plan on using, as well as pedals and effects in the chain.
The very nature of humbuckers allows a plethora of pedals and effects, and it will significantly improve (or alter) the sound.
Of course, the sound on the clean channel won't be bad, but if you are interested in playing with low gain or on clean, you might be better with a Squier or something similar.
With a more expensive amp, the guitar will sound like a dream, and it acts really well on high gain and overdrive. The only thing that might be weaker with this instrument are pickups, but they can be easily replaced.
Schecter C-6 Deluxe Is Perfect For Whom?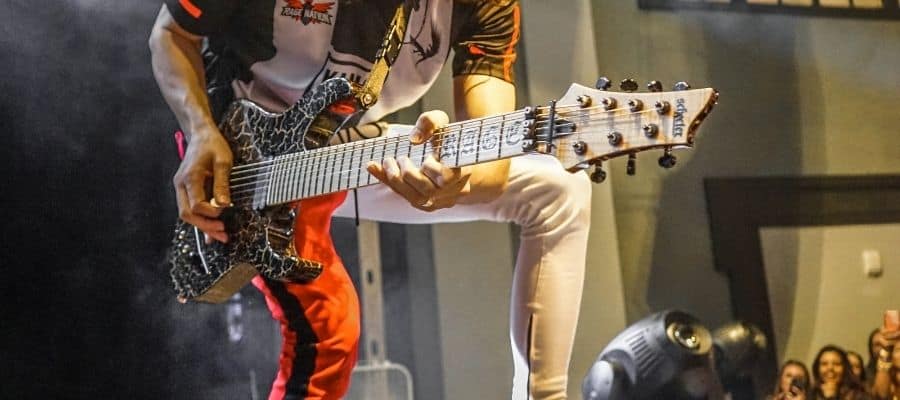 The price range of the guitar shows that the target audiences are beginners and those with a bit more experience. While the instrument will work perfectly well for intermediate players, they might be needing a couple of upgrades or improvements.
Moreover, it is more likely for someone who knows what they want and how to play the guitar to opt for one of the more expensive models by Schecter. The other important thing is humbuckers.
As I already mentioned, humbuckers are designed to provide higher output and to be played with overdrive or distortion. This means that the guitar is more suitable for people who love heavy metal (or metal in general), hard rock, progressive, djent, and many others.
The selling point of C-6 is its price, and how affordable it can be. For many beginner players, this is an excellent option, and they'll be able to learn so much. Furthermore, they won't feel the pressing need to buy a new guitar as soon as possible, since the old one is barely enough.
Naturally, I should mention that anyone can play any guitar and that there are no requirements in terms of skill or music genre for specific models. Clapton and Albert King used to play blues on Flying V, which just shows that you can play whatever you want on any guitar. The only important thing to consider is your budget, and how interested you are in learning how to play the instrument.
Is It Possible To Upgrade Schecter C-6 Deluxe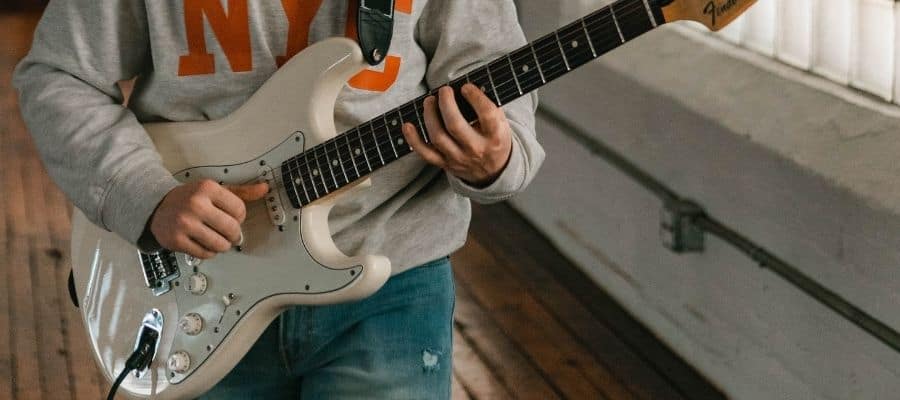 The short answer is yes. You can upgrade Schecter C-6 Deluxe. The only question is what are you looking to achieve. One of the first options, which is also the most popular one, is replacing the pickups.
Now, you have plenty of options if you opt for this route, and the new pickups will significantly improve the sound of your guitar. The obvious choice here would be to go for EMGs, Seymour Duncan, DiMarzio, or something similar.
Usually, guitarists will replace the bridge pickup on guitars like this, since the majority of the time, that's the pickup they will be using. Naturally, you can replace both of them at the same time, but the cheaper option would be to go one at a time.
The price of new pickups can be quite high based on what you're looking for, and in the end, it might cost you more than you paid for the guitar, which is why you should consider if it is a good investment.
Schecter C-6 has decent tuning machines, but you can always go for the locking ones. It will improve the tuning stability, and make it easier for you to replace the strings. Other than that, the options are rather limited. The guitar doesn't have a tremolo or Floyd Rose you can replace, and string-through construction is something you won't be able to change.
So, when it comes to upgrading, the only reasonable part to change are pickups and tuners.
Alternatives To The Instrument In Terms Of Look, Feel, Sound, Specs, And Price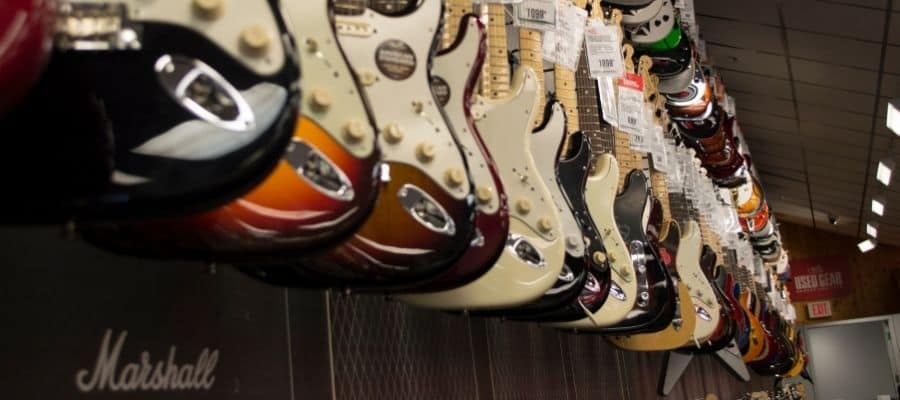 If you like the price range or the design of the instrument but are still looking for something different, there are a couple of options for you to consider.
Jackson Dinky
Jackson JS32 Dinky DKA Electric Guitar Pavo Purple
Body Body shape: Double cutaway Body type: Solid body Body material: Solid...
Swift, deadly and affordable, Jackson JS Series guitars take an epic leap...
Upgraded features such as arched tops, new high-output ceramic-magnet...
The JS32 Dinky Arch Top has an elegantly arch-topped basswood body, bolt-on...
There are several versions of the Dinky guitar, and it has been one of the most popular models for quite a while. Unlike the cheaper models of Dinky, this one has Floyd Rose, and improved hardware.
It costs about the same amount of money as Schecter, it is also a SuperStrat, but it is a bit different due to the fact that it was made by Jackson and not Schecter. The guitar is great, and it might just be the difference you were looking for.
Dean
In terms of shape, the guitar is more in line with PRS models. The similarity is that both Dean and Schecter offer double humbuckers with a heavy sound. If you dislike the Strat shape of the guitar, Dean might be something you should check out.
Squier Stratocaster
For those that dislike the HH combination, but still want to keep the shape and design, they shouldn't look further than Squier.
Fender owns the company and they design cheaper versions of Fender guitars. But don't let this fool you, you can find incredible Squiers that are so much cheaper than Fenders.
One of the things I'd recommend you avoid is the Bullet series since it can be quite bad. The model you can check here is from the Affinity series, and it is even cheaper than Schecter or Dean.
Of course, if money is not an issue, you might want to check out the Classic Vibe series since it is one of the best guitars in this price range.
There are many other models you can check out, but these are just some of the examples. What is important is that Schecter makes a couple of variations to the C-6 series, which means that you might be able to find something more suitable for your taste on the Schecter website.
Summary
Schecter C-6 Deluxe is an incredible guitar designed for beginner and intermediate players. It is also the only entry-level instrument that has Diamond Series. When it comes to the design, the guitar is a SuperStrat with two humbuckers.
There is a traditional double cutaway, three-way switch, and two potentiometers (one for volume and one for tone). C-6 is perfect for anyone who is into heavier genres, and they will have so much fun playing this guitar. It is well-made, affordable, and looks incredible.
For anyone looking to give it a slight push, they can always replace the tuning machines and pickups, but the price of the replacement might cost them more than they paid for the guitar.
All things considered, Schecter C-6 Deluxe is a great guitar, that is undoubtedly worth the money. So, if you were having doubts about buying this model, this might help you decide.
If you found this article useful you may want to save this pin below to your Guitar board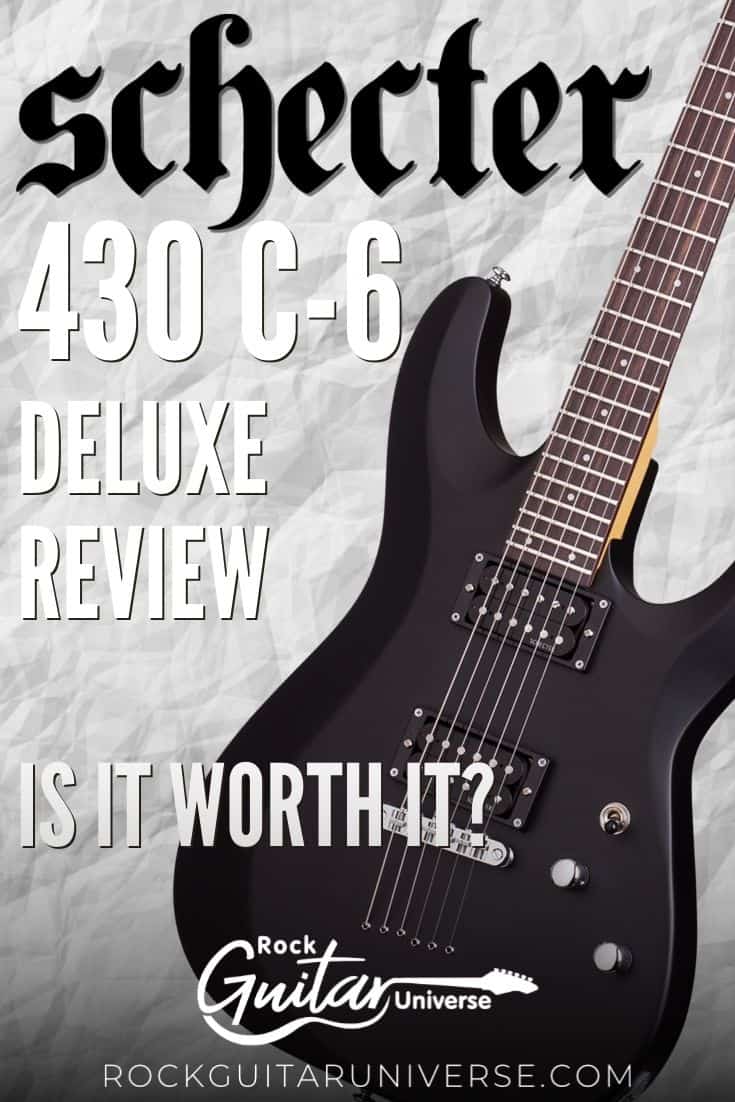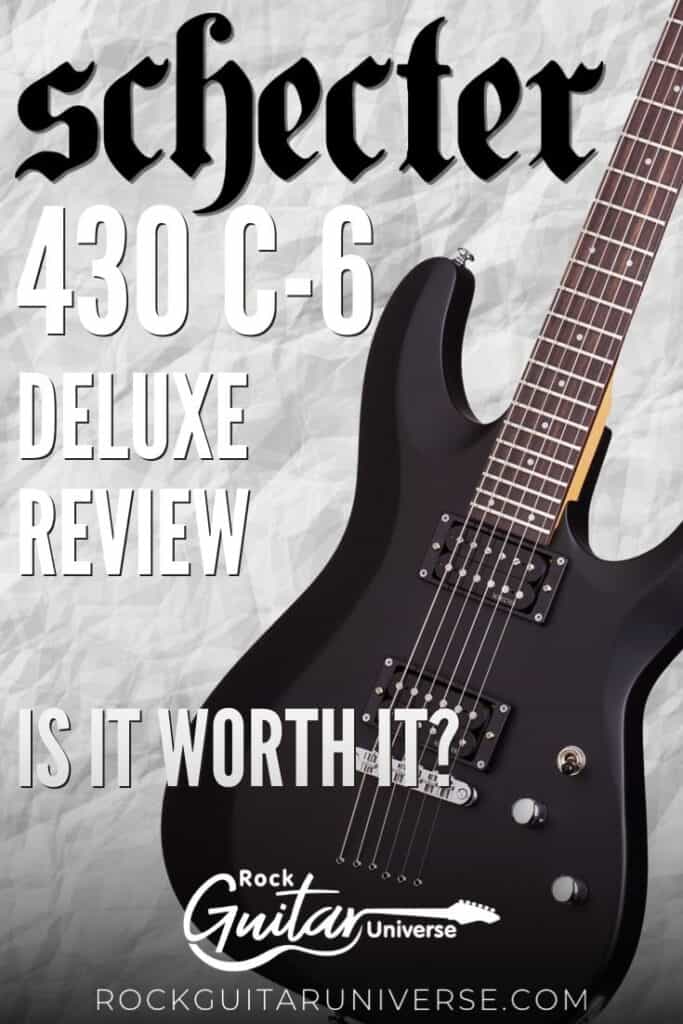 Last update on 2021-10-20 / Affiliate links / Images from Amazon Product Advertising API
Recent Content