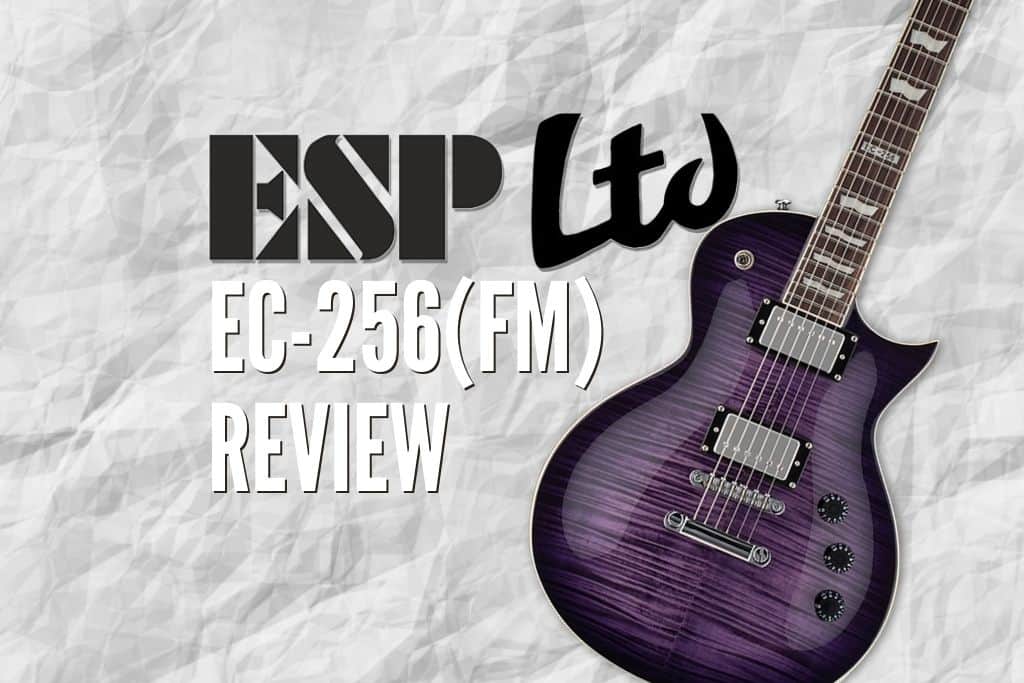 Buying a guitar is never an easy task. There are so many things you need to consider, and we all know that the budget will play a significant role in the decision. But one of the things you should know, especially if you are a beginner player, is that every guitar is different.
Just saying that a guitar is good doesn't mean that it is suitable for all genres and that every guitarist will love it. Each guitar has its own purpose and player base. This means that if I say the guitar is an excellent choice for beginner or intermediate players, it means that it is a great choice for those looking for something similar to that guitar.
With this in mind, let's take a look at ESP LTD EC-256. 
ESP LTD EC-256FM Electric Guitar, See Thru Purple Sunburst
An affordable and popular guitar with many similarites to some of the most...
Features a comfortable Mahogany body and 3 pc. neck, as well as roasted...
Also features covered passive pickups, set-neck construction, and 22XJ...
At home on blues, classic rock, hard rock, progressive rock, fusion, and...
ESP is an excellent brand, and it is usually targeting heavier genres. While this doesn't mean that you can't play blues or jazz on it, it undoubtedly shines when you add distortion or overdrive.
| Pros | Cons |
| --- | --- |
| Two humbucker pickups give a lot of options when it comes to effects and sounds you can make using this guitar. | Might be out of the price range for beginners, and it is targeting more advanced players. |
| The traditional shape is similar to Les Paul. With a modified body for more comfortable playing. | While two humbuckers sound really good, the quality is not on par with something like EMG, and the clean can sound quite weak. |
| The quality and materials used for the guitar are great, and it looks amazing. There are additional options when it comes to colors. | Not a lot of versatility for the model, and it is mostly targeting heavier genres. |
Taking into account ESP's price range, it is a great guitar for intermediate or advanced players. Naturally, if you can afford it, it is an excellent guitar that anyone can use. It is always better to start learning on a better guitar since the entire process will be so much easier and even more satisfying.
For those that love the shape of the guitar, ESP might be a better choice than the alternative since Gibson Les Paul can cost a fortune. So, what is the verdict? ESP LTD EC-256 is a great guitar, and I would give it 4 out of 5 stars, but for some people, it might be even higher. All things considered, LTD EC-256 is worth the money, and you won't be disappointed if you decide to get this guitar for yourself.
ESP LTD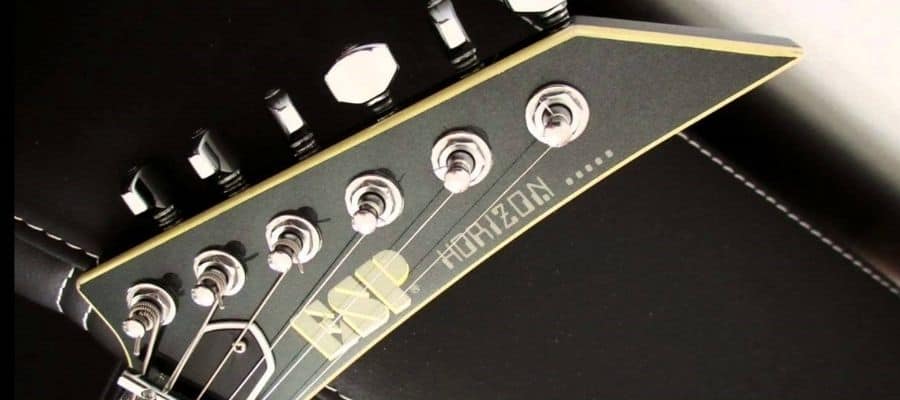 ESP is a guitar manufacturer from Japan, and recently, the company gained a lot of popularity thanks to alternative guitar players. Compared to some of the giants in the industry, ESP is rather young. The company was founded in 1975 in Tokyo, but it wasn't popular until the eighties.
Today, the company is based both in LA and Tokyo, and there are two distinctive production lines for each of the markets. ESP focuses on designing bass and electric guitars mostly. As with the majority of companies in the seventies, ESP also provided replacement parts for electric guitars before they started making their own models.
The company's major success was when they started making custom models for famous players like Ronnie Wood from The Rolling Stones. Soon, ESP began making necks and bodies for Kramer guitars, and other companies like Schecter and DiMarzio started using ESP as their OEM.
Over the years, more and more musicians became interested in ESP's custom models, and their models got recognition across the world. Today, many players use ESP models like James Hetfield from Metallica, Jeff Hanneman, Dave Mustaine, Alexi Laiho, Roppe Latvala, and many others.
Now, you might have noticed that the letters on the headstock spell LTD instead of ESP. ESP and LTD are the same company, but LTD guitars are more affordable. Think of it as the difference between Squier and Fender. They both make Stratocasters, they are the same company, but the former one uses cheaper materials to make the guitar more affordable. The same thing applies to ESP and LTD. LTD was founded in 1995, with the idea of making high-quality guitars at a reasonable price.
The Specs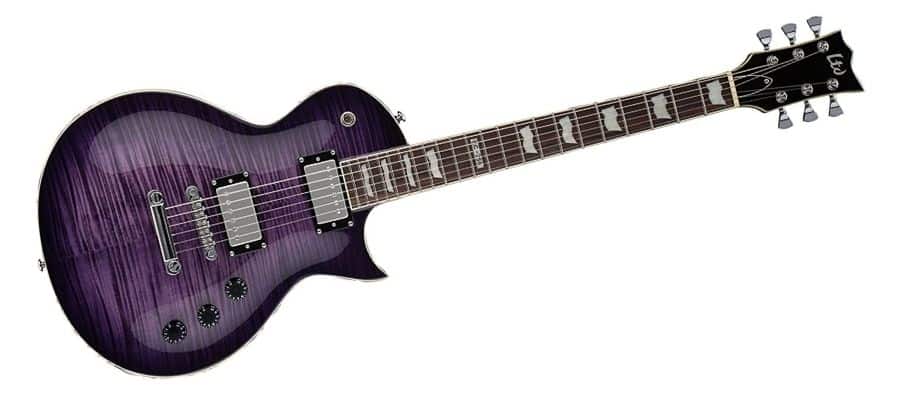 Now is the time to look at LTD EC-256, and check out what it has under the hood. 
General
| | |
| --- | --- |
| Series | EC |
| Number of Strings | 6 |
| Hand Orientation | Right |
| Colors | Cobalt Blue, Dark Brown Sunburst, Lemon Drop, and See Thru Purple Sunburst |
Body
| | |
| --- | --- |
| Body Shape | LP (Les Paul) |
| Body Construction | Single Cutaway |
| Body Type | Solid |
| Body Material | Mahogany |
| Top Material | None (Maple Top) |
| Top Type | Curved |
| Back Material | None |
| Finish | Cobalt Blue |
Neck
| | |
| --- | --- |
| Scale Length | 24.75" (628 mm) |
| Neck Construction | Three-Piece (Thin U-shape) |
| Neck Material | Mahogany (Set-in) |
| Truss Rod | Adjustment at the nut |
| Truss Rod Type | Wrench |
| Fretboard Material | Roasted Jatoba |
| Fretboard Radius | 13.78" (350mm) |
| Position Inlays | Flag Inlays |
| Number of Frets | 22 Frets |
| Fret Size | XJ |
| Nut | Molded |
| Nut Width | 1.6535" (42 mm) |
Electronics
| | |
| --- | --- |
| Pickup Configuration | HH |
| Neck Pickup | ESP Designed LH-150N |
| Bridge Pickup | ESP Designed LH-150B |
| Controls | Volume, Volume, Tone (Push/Pull) |
| Switch | Toggle, 3 Positions: Neck, Both, and Middle |
Hardware
| | |
| --- | --- |
| Tailpiece | TOM & Tailpiece |
| Bridge Type | Two-point, fixed bridge |
| Tuners | LTD |
| Finish | Chrome |
| Pickguard | None |
As you can see from the start, the combination of two humbuckers makes LTD EC–256 perfect for heavier genres. It has a standard switch toggle that allows it to select between the neck and the bridge pickup. The first position is for the bridge, the second one activates both pickups, and the third position is for the neck only.
This guitar is a huge step compared to some of the entry-level guitars, which is why it costs so much more. But the price will also get you a lot of high-quality materials like mahogany. Every piece of the guitar looks incredible, and the finish is spotless.
While at first glance LTD looks a lot like standard Les Paul, but it can be so much different. The primary difference is that the LTD has high output pickups and it's more suitable for metal or any other heavier genre.
The other parts of the guitar are fairly standard. You get a set-in neck made of mahogany, a fixed bridge, and a single cutaway. The neck shape is a thin U profile, which is something that stands out of the crowd since the majority of necks have a C-shaped profile.
Needless to say, you won't get the same quality compared to the LP since Gibson is two or three times more expensive. But there is no doubt that LTD is worth the money if you are into guitars like this. It is a mid-range guitar that looks incredible and sounds even better.
There is also another version of the guitar called LTD EC-256 Black, which doesn't have a maple top. Instead, it has a smooth, black top that looks great. 
The Sound, The Feel Of The Instrument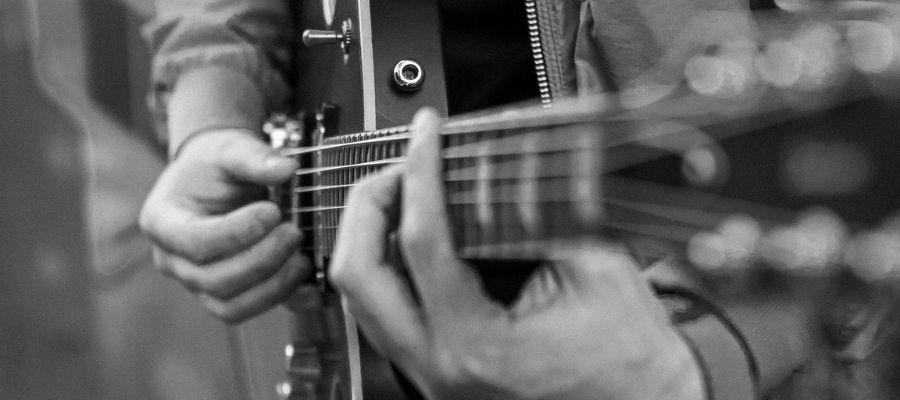 We all know that looks are important. But what makes all the difference in the world is how the instrument feels when you play it. This is one of the primary differences between the medium-range and low-end guitars.
With cheaper guitars, it's not rare to find imperfections in the material, and surfaces that are not smooth to touch. Moreover, the companies don't spend as much time perfecting every bit of the instrument since you will pay $100 or $200 in the end.
With LTD, none of this will be a problem. Since the guitar is a bit more expensive, you can expect a certain level of quality. The finish is really good, and the guitar really feels like $500 worth.
When it comes to the sound, it mostly depends on the equipment you're using. On a cheap amp, the guitar won't sound as good as you might expect, but that's the case for any instrument in the world.

Since you might be buying a mid-priced guitar, it might be worth getting a decent amplifier and a couple of pedals that will make your guitar shine. Of course, if you already have a high-end amp, the guitar will sound like a dream, and you'll be rather satisfied with your purchase.
To get a better idea of what this guitar is capable of, you can check out the link and hear how it sounds on a standard, inexpensive amplifier. This is an excellent review since the video doesn't show you the guitar with an insanely expensive amp which will make any guitar sound incredible.
LTD EC256 Is Perfect For Whom?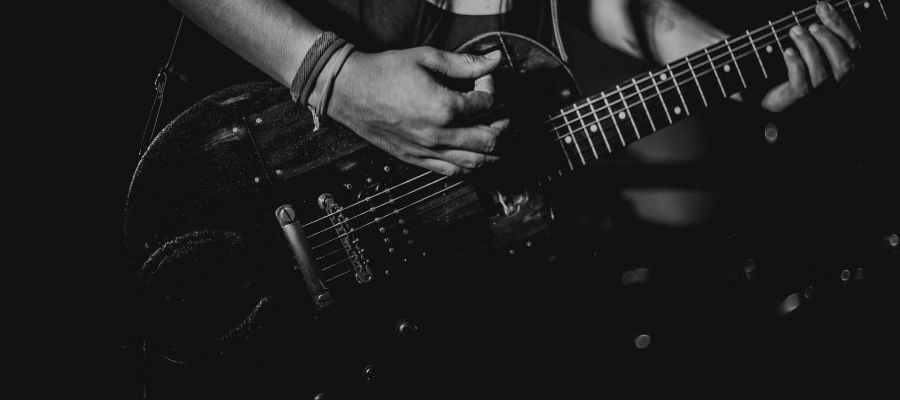 Since the guitar has two humbuckers, the perfect choice is anyone who is into metal, heavy metal, hard rock, progressive, and anything that includes overdrive and distortion. However, I wouldn't suggest getting this model if you are into djent since eight-string guitar would have been a better choice.
A similar thing can apply to jazz, blues, soul, funk, and other similar genres (similar in terms of guitar sound). While the guitar itself won't sound bad if you play it clean, it can never compare to a Strat or Tele which were designed for this type of music.
It is always better to play to the guitar's advantage and use the opportunity to get an incredible, heavy sound.
The guitar is targeting more experienced players in the advanced/intermediate category. Needless to say, anyone can buy it if they like it. It is an excellent guitar even for beginners, but they more often opt for something cheaper.
In essence, LTD EC-256 is a heavy-sounding instrument, and since it is a part of the ESP company, you can always check out Metallica or Children of Bodom to hear what it can do. 
Is It Possible To Upgrade LTD EC-256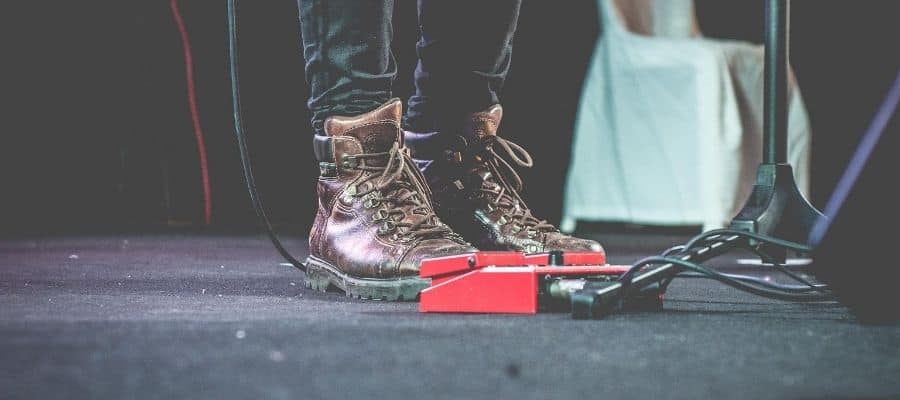 Yes. Every guitar allows at least some level of upgrades. In theory, you can replace every single part of the guitar, but that's not something you'll see often since you might need a master crafter to make it look good in the end.
Let's take a look at some of the options you'll have if you want to upgrade the guitar. Here, I will highlight options that make sense, and that might be a good investment.
Pickups
Pickups are one of the most important parts of the guitar. They are in charge of the sound, and changing the pickups will significantly alter what you'll hear from the speaker.
One of the things you should consider is that metal guitars are usually played on the bridge pickup, and this is the one that players are most likely to replace.
There are numerous companies that create humbuckers like Seymour Duncan, DiMarzio, EMG, and others. And there is no wrong choice. It is up to you to find whichever suits your taste.
Tuning Machines
The next item on the list you might want to replace are tuning machines. The most common option here is to go for the locking tuners, but you can get any type you like.
It is an excellent way to improve tuning stability. Unlike cheaper guitars, there is a high chance you won't need to worry about tuners. As you go up the price range, the quality of each part is improving, and LTD tuners are quite good. But some players just prefer locking ones.
Bridge
Changing the bridge won't make a world of difference unless there is something wrong with the existing bridge. The only option you'll have is to replace it with the same-looking one, but with higher quality.
You won't be able to install Floyd Rose or any other tremolo without having to do some woodworking. I wouldn't suggest you drill holes and try to fit something that shouldn't be there in the first place. Without someone with years of experience (like a master crafter), the end result will most likely look like a disaster.
And that's it. While there is an option to replace other parts, it won't change the guitar in any meaningful way. Yes, you can replace the nut, frets, and switch, but you should do that only in case there is something wrong with the ones that are already in the guitar.
Alternatives To The Instrument In Terms Of Look, Feel, Sound, Specs, And Price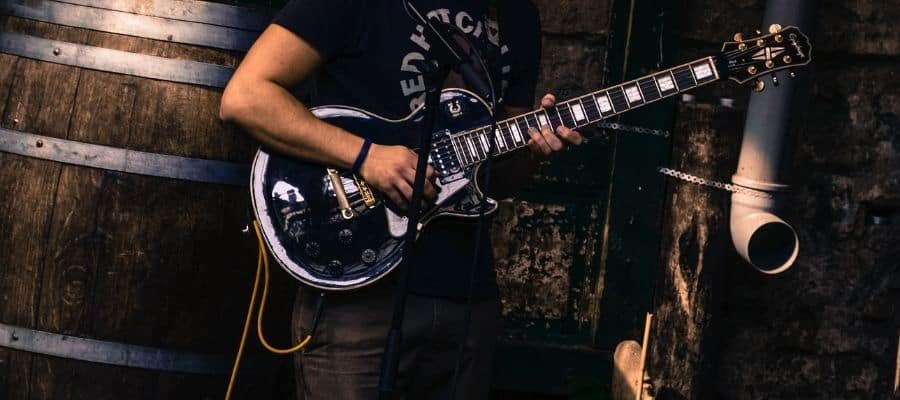 If LTD EC-256 seems good enough, but not ideal, there are few alternatives you might want to check out.
Epiphone Les Paul
The first one is an obvious choice since it is another version of Les Paul. This time, we have an Epiphone Les Paul.
If you like Les Paul the way it is, Epiphone is an excellent choice. It is in the same price range as LTD, and you get every advantage and disadvantage of LP.
Schecter Omen-6
Another great option in terms of sound is to go for Schecter. The guitar has a Strat-like shape, but it can be a lot heavier. One of the versions that are in the same price range as LTD is Omen-6.
Ibanez GRX70QA
And if you like Strat-shaped guitars, you can always check out Ibanez that offers similar specs as LTD.
There are so many choices you can check out from each of the mentioned brands, and it all comes down to what you are looking for.
Summary
LTD EC-256 is a great guitar. It is targeting advanced players or those with a bit more experience. The guitar has two humbuckers, and it works perfectly for heavier genres that require more drive. 
The guitar is more expensive than beginner guitars, but it is a lot cheaper than the pro instruments. LTD is an excellent option for anyone looking to buy a cheaper version of ESP, which is one of the most popular brands in the metal genre.
And even if you are not satisfied with the sound of the guitar or want to upgrade it, replacing pickups is quite easy. All you need to do is find the pickups you like, and take your guitar to the local shop if you are not willing to replace the pickups by yourself.
If you found this article useful, you may want to save this pin below to your Guitar board.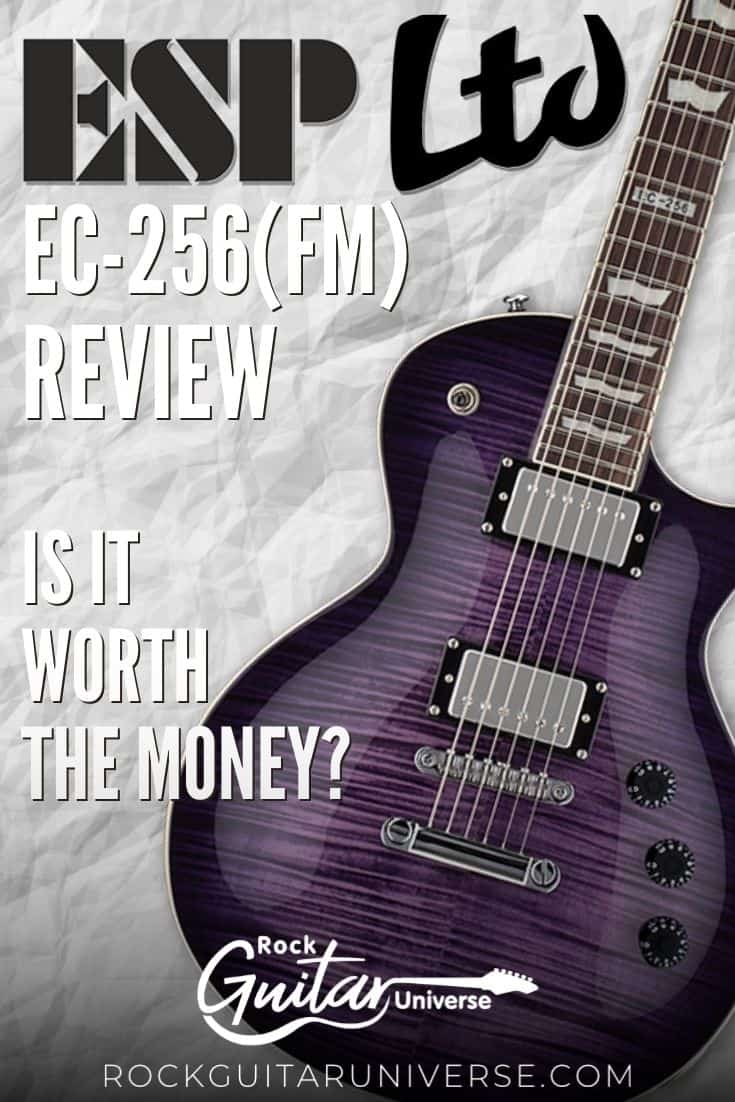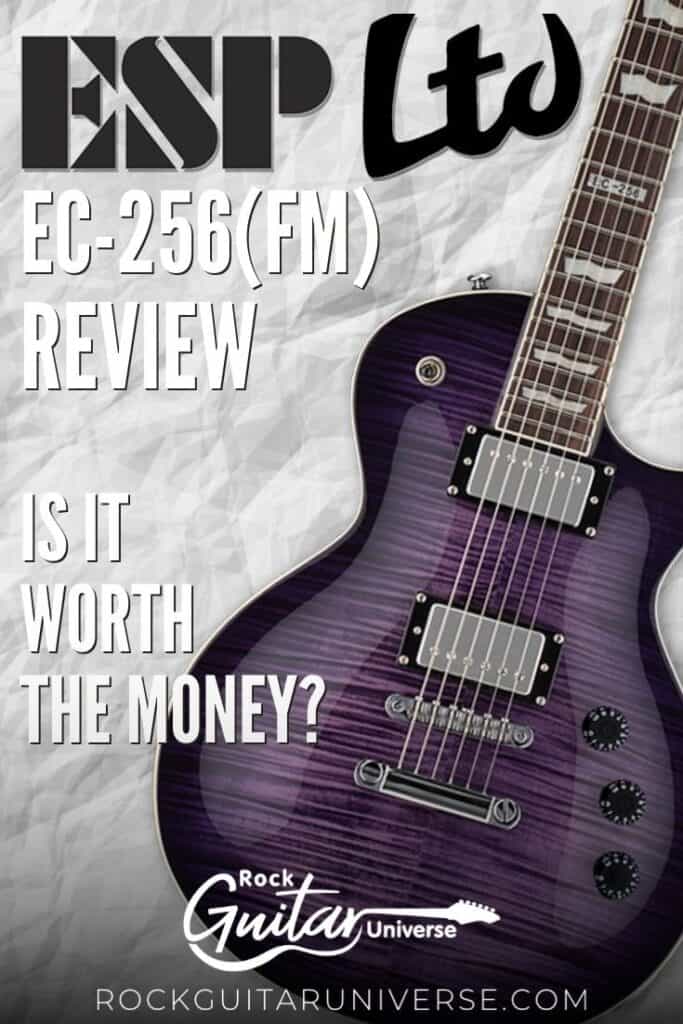 Last update on 2023-02-06 / Affiliate links / Images from Amazon Product Advertising API