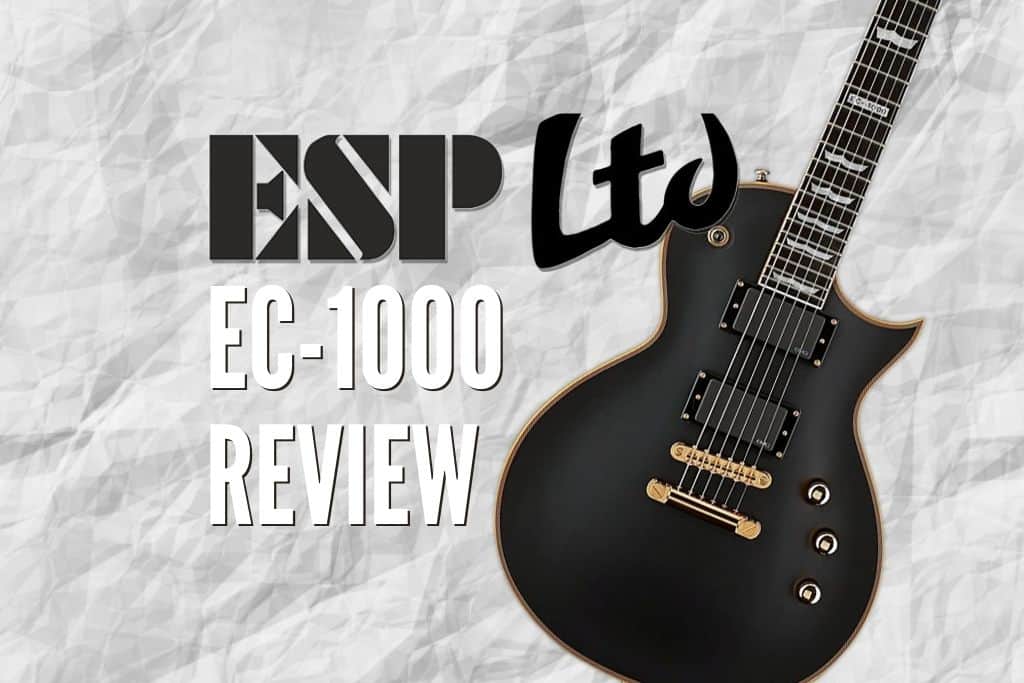 You might be aware of the existence of ESP guitars and how they evolved over time. Here, we will take a closer look at the EC-1000. Some people claim that this model is the best value single-cut guitar you can find.
Is this true? Is getting ESP LTD EC-1000 worth it? Or is it just another Les Paul-type guitar? The short answer is yes, it's worth it. ESP did an incredible job in the past couple of years, and the models you can find are quite good.
As you probably know, the prices are not focusing on beginners, and ESP guitars can be a bit pricey but the LTD guitars are a lot cheaper. The EC-1000 is an excellent choice for more experienced players or even professional ones.
ESP LTD Deluxe EC-1000VB Electric Guitar, Vintage Black
Designed to offer the tone, feel, looks, and quality that professional...
Consistently one of ESP's most popular guitars due to its combination of...
Offers a vintage looking body/neck/headstock binding and gold hardware and...
Includes LTD locking tuners, Tonepros locking TOM bridge and tailpiece, and...
Even though the guitar looks like Les Paul, there are many differences between these two models. Firstly, the body of EC-1000 is a bit different, and it is quite comfortable to play even if you are sitting.
Of course, this doesn't mean that it is a perfect instrument for every player on the planet, and there are many who will dislike what it has to offer.
| Pros | Cons |
| --- | --- |
| Two EMG humbuckers for an excellent heavier tone. | The guitar is expensive. Might not be ideal for beginners. |
| Great materials and comfortable design. | Not as versatile as other models. |
| Incredible quality and performance. | Batteries |
If you can afford it, and you like the heavier sound of two humbuckers, EC-1000 is a perfect choice. The guitar is cheaper than other high-end single-cut guitars, and it sounds amazing. There is little to no space for improvements, since you will be getting a great instrument from the start.
When it comes to rating, I would go with 5 out of 5 stars. There is almost no need to upgrade it since you will already get incredible parts. For those that enjoy this type of shape, EC-1000 might be the way to go. Les Paul can be double the price of ESP, but the quality and design are not as far as you might expect. All things considered, EC-1000 is one good electric guitar.
ESP Guitars/LTD Guitars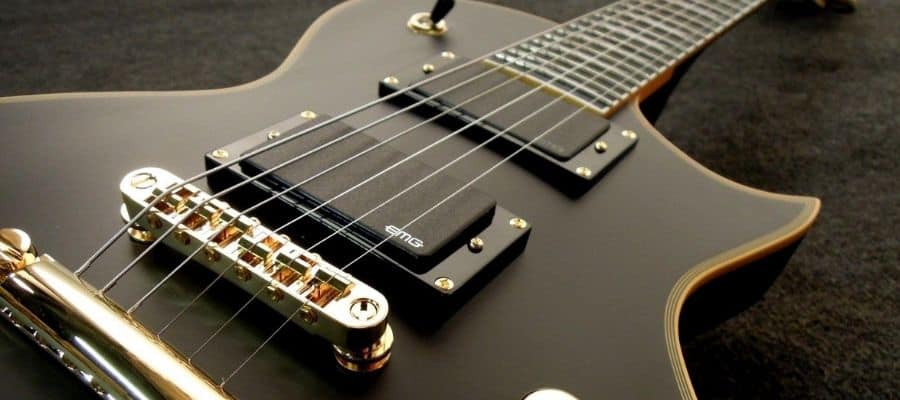 ESP company started working in 1975 in Japan. Their primary focus was electric guitars and basses. ESP was one of many companies that offered replacement parts for guitars in the seventies.
Over the years, the company expanded, and they soon started making their own versions of well-known models. In 1983, ESP started designing custom models since getting a custom Gibson or Fender was nearly impossible at the time.
The popularity of the brand skyrocketed, and many players wanted their own version of the guitar. In the mid-eighties, ESP launched its first series named 400, and it was based on Fender Stratocaster.
Players soon started to realize that ESP offered not only spare parts for guitars, but was also able to design a guitar from scratch based on the players' wishes. During the nineties, ESP introduced LTD which was a sub-brand that offered similar guitars for a fraction of the price.
Their budget models are similar to what we can see from Squier and Epiphone today. Today, ESP is one of the most popular brands for heavier genres, and the majority of expensive models have EMG pickups.
This means that you will still get a high-quality instrument, but you won't need to adjust it to your needs if you love the sound of EMGs. While ESP started as a company modding Strats, it soon became its own entity designing unique and incredible guitars.
Today, ESP is one of the most popular brands for heavy metal, rock, and similar genres. The company offers numerous signature models, and so many famous players use ESP guitars. The most popular musicians using ESP instruments are James Hetfield, Kirk Hammet, Ron Wood from the Rolling Stones, Alexi Laiho, Gus G, and many others.
The Specs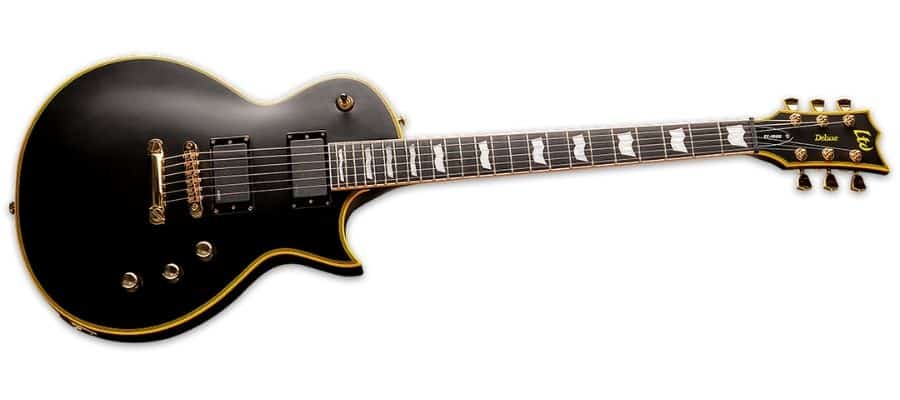 Here, I will go through the most important features EC-1000 has to offer.
General
| | |
| --- | --- |
| Series | EC-1000 |
| Number of Strings | 6 |
| Hand Orientation | Right |
| Colors | Tobacco Sunburst, Vintage Black, Black Cherry, Honey Burst, Tiger Eye, White, and others |
| Weight | 6.8 lbs (3.08) some of them 7.6 lbs (3.4kg) 8.3 lbs (3.7kg) |
Body
| | |
| --- | --- |
| Body Shape | Eclipse\Les Paul |
| Body Construction | Single-Cutaway |
| Body Type | Solid |
| Body Material | Mahogany |
| Top Material | Mahogany |
| Top Type | Arched |
| Back Material | Mahogany |
| Finish | Vintage Burst, Satin, Matte, and others |
Neck
| | |
| --- | --- |
| Scale Length | 24.75″ (628 mm) |
| Neck Shape | Thin U |
| Neck Construction | Neck-through |
| Neck Material | Three-Piece, Mahogany |
| Truss Rod | Adjustment at the nut |
| Truss Rod Type | Wrench |
| Fretboard Material | Macassar Ebony |
| Fingerboard Radius | 13.779" (350 mm) |
| Position Inlays | Abalone Flag |
| Number of Frets | 24 |
| Fret Size | Extra Jumbo |
| Nut | Molded |
| Nut Width | 1.6535" (42 mm) |
Electronics
| | |
| --- | --- |
| Pickup Configuration | HH |
| Neck Pickup | EMG 60 |
| Bridge Pickup | EMG 81 |
| Controls | Volume, Volume, and Tone |
| Switch | 3 Positions: Bridge only, Bridge and Neck, Neck Only |
Hardware
| | |
| --- | --- |
| Tailpiece | Tonepros Locking TOM & Tailpiece |
| Bridge Type | Fixed Bridge |
| Tuners | LTD Locking Tuners |
| Finish | Gold |
| Pickguard | None |
ESP has shown us how great their guitars are, and EC-1000 is just another example. The sound coming out of it is amazing thanks to double EMG pickups, and it is the same combination James Hetfield uses.
Each part of the guitar is well-made, and it's probably one of the best guitars you can find in this price range. It is significantly cheaper than Les Paul, but the quality is almost identical. The body of the guitar is made of mahogany, and the same thing applies to the neck.
With a single cutaway and set-thru neck, this is an instrument that many players will adore. There are three potentiometers on the guitar, where two will control the volume, while the last one is for the tone.
This means that you will get a volume control for each of the pickups, which will allow you to easily switch between two different volume settings without any pedals. All things considered, this is an excellent opportunity for those who enjoy heavier genres. Of course, the main problem (probably the only one) with this guitar is its price, since it is far from the budget category.
Finally, I should mention that these EMG pickups are active, which means that they require an energy source. You will need to buy batteries and keep in mind that they might run out. The guitar uses a single 9V battery, and it will last you for a while. You won't need to change it often.
Another thing I should mention about active pickups is that you won't be able to control the dynamic of your notes as easily as you can on passive pickups (especially on single coils). While this is not a problem for some players, others might need a bit of time to adjust to the sound and dynamics of active humbuckers.
Variations of EC-1000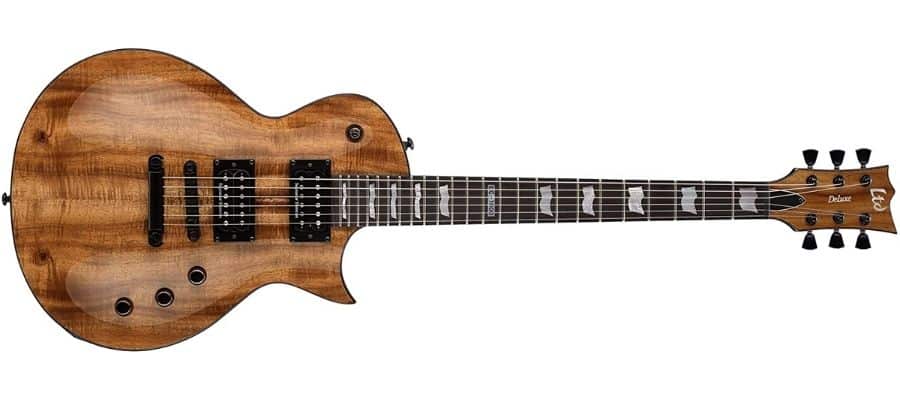 I probably mentioned already that EC-1000 is one of the most popular ESP models. What I didn't say before is that there are a couple of versions you can find. Firstly, there are different options when it comes to the bridge.
The model I mentioned here has a traditional fixed bridge, but you can also find ones with tremolo, Evertune, fixed tremolo, and so on. Each of the models that have something unique on them will have additional letters in the name.
For example, FR models are ones with Floyd Rose, QM have a quilt maple top, and if you see Evertune in the name, that is another version of EC-1000 with a different bridge. For those unaware, Evertune allows you to keep your guitar in tune no matter what.
You can turn on the tuners, bend as much as you want, and your guitar will keep the tune regardless of what you do.
Other options are mostly related to pickups, and you can find EC-1000 with piezo pickups, Fishman Fluence, or some other combination.
T – EC-1000T guitars have a flame maple top instead of mahogany with Fishman Fluence Open Core Classic pickups.
FR – EC-1000FR guitars have Floyd Rose instead of the traditional fixed bridge.
QM – EC-1000 QM guitars are similar to the T series, except ESP used a quilt maple top but with EMG pickups.
S – EC-1000S guitars have different pickups, and here you will find Fishman Fluence humbuckers.
Piezo – Guitars with piezo pickup on the bridge, in addition to the two Seymour Duncan pickups.
Evertune – Evertune bridge instead of standard fixed bridge.
In addition to these versions, you can also find left-handed models for nearly every combination on the list. Furthermore, some guitars in the series come with Seymour Duncan humbuckers, and you can find them with push-pull potentiometers as well.
The Sound, The Feel Of The Instrument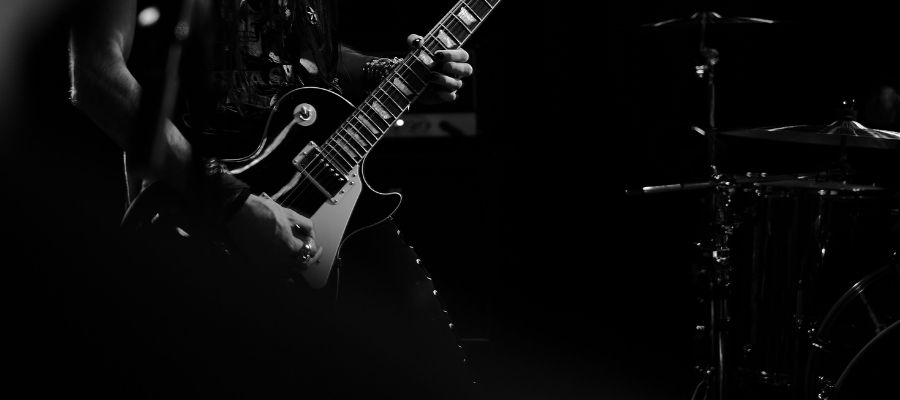 The sound of the guitar is amazing thanks to the combination of pickups, and EMGs are one of the best options you can find if you are into humbuckers and heavier sound. You can easily change the sound using pedals, especially if you have an expensive amp.
Needless to say, on a cheap amp, the guitar won't sound nearly as good. Considering the price of the instrument, there is a high chance you already own a decent amp, so you won't need to worry about anything.
One of the best things about EC-1000 is that there are so many different options. If you like Floyd Rose, you can get a guitar with one. There are plenty of choices, and you will undoubtedly find something you'll enjoy.
Regardless of the version of the guitar you pick, each model will feel amazing once you start playing it. Naturally, there are different options when it comes to finish, and you should try and find the one that suits you the most.
The neck profile on EC-1000 is thin U, which means that you might need to adjust to it if you never played something similar. Of course, the guitar comes with D'Addario XL .010, but you can replace those with whatever brand you're using.
I should mention that EMGs are great for any genre. While the majority of players are into heavy metal, progressive, or anything else that requires a lot of overdrive, this doesn't mean that you can't play blues on it. With the right type of pedals, you can use EC-1000 for any music genre you can imagine.
ESP EC-1000 Is Perfect For Whom?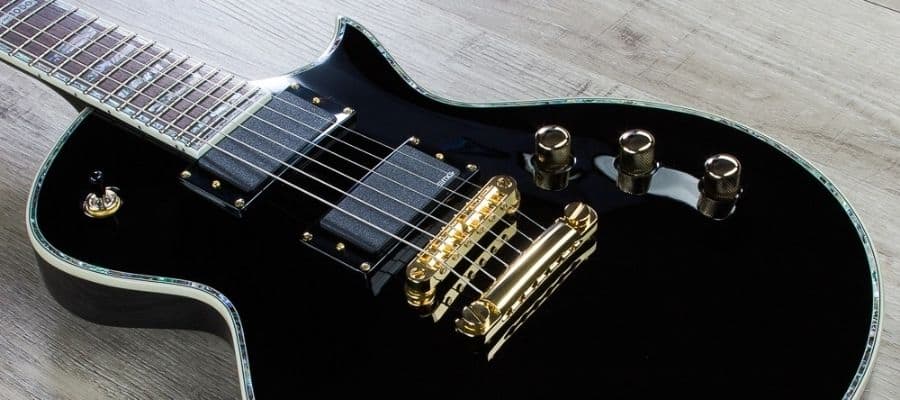 So, how do you know if you are someone who should play EC-1000? What is the target audience? Who can play it? The short answer is anyone. There are no limitations or rules when it comes to electric guitars, and you can pick any model you like.
Keep in mind that Eric Clapton played blues on Gibson Explorer, and you can do the same. Don't let anything hold you back. If you want to play reggae on EC-1000, you should do it. Now that I covered that, there are still a couple of things to mention.
Firstly, the guitar is not really targeting beginner players. While there is nothing wrong with buying this as your first guitar, the majority of beginners will not be willing to invest as much in "testing the waters." Usually, beginners will go for something inexpensive (or as close to it as possible).
And even those with more experience might not want to spend a thousand dollars on an electric guitar. The model is expensive, and it's quite close to being a professional guitar. The pickups are one of the best you can find on the market, and the overall quality is quite impressive.
With that in mind, I should also say that EMGs are usually used by those who are into heavier genres. Especially when we talk about humbuckers. They work great with pedals, and you can easily find the tone you like.
Is It Possible To Upgrade It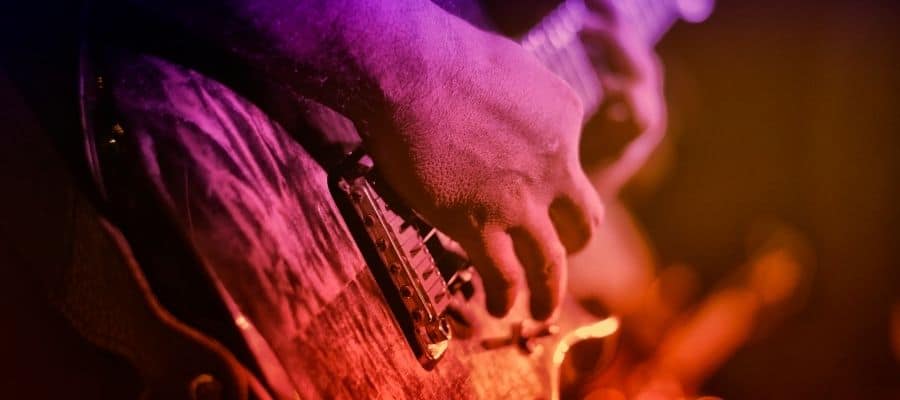 Is it possible to upgrade EC-1000? In theory, the answer is yes. But I don't think there's a point in upgrading such a great guitar. Yes, as with any other guitar, you can replace pickups, bridge, tuning machines, potentiometers, and anything else that's screwed to the instrument.
But why would you? You already have EMGs/Fishman/Seymour Duncan in your guitar, and you will have a challenging time finding something better. Needless to say, it comes to a personal preference and what kind of sound you're looking for.
Even if you replace EMGs with Seymour Duncan pickups or something similar, will it be an upgrade? Each of these brands is top-tier when it comes to pickups, and saying that one is better than the other is just a matter of taste.
Moreover, it is always easier to find a guitar from the EC-1000 series that already has Seymour Duncans. You will save yourself a lot of time and money, and you won't need to upgrade or replace anything. A similar thing applies to the rest of the guitar as well. You already have plenty of options when it comes to bridges, so why not go for the one you like?
The one thing that I could think about replacing is the nut. As in all the models it is made of plastic or molded plastic, which also found on Fender and Gibson guitars. So, I would recommend replacing it with a graph tech nut, which isn't that expansive.
To summarize, yes, it is possible to replace parts on EC-1000, but besides the nut I don't think there is anything you can upgrade.
Alternatives To The Instrument In Terms Of Look, Feel, Sound, Specs, And Price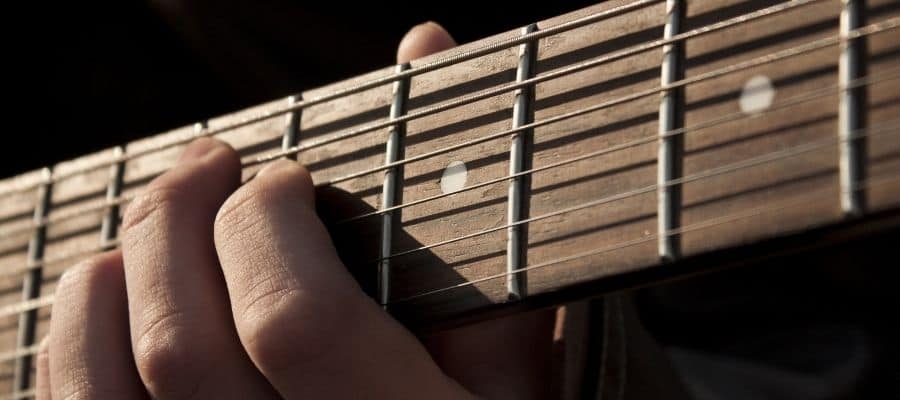 If you are looking for alternatives, the obvious choice would be to check out some of the existing versions of ESP EC-1000. You can already see so many different changes, and find anything from different pickups to Floyd Rose.
However, if you are still looking for something a bit different, there are a couple of models you should check out. Each of these guitars offers a similar feel, look, or quality, and it is a worthy alternative to this incredible instrument.
Gibson Les Paul Tribute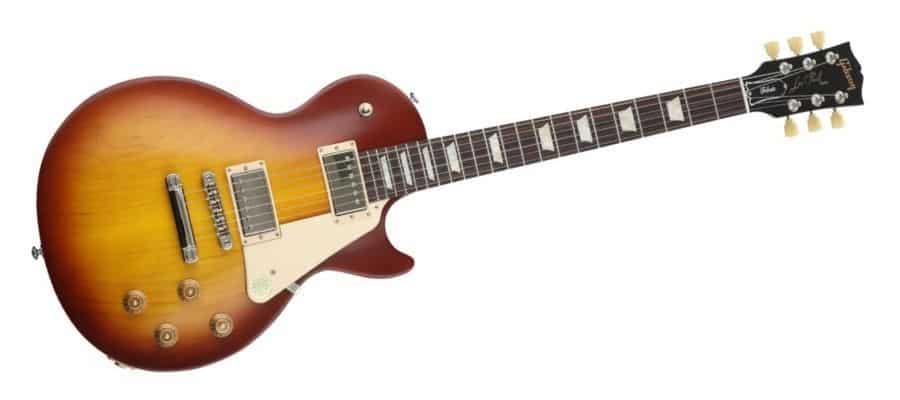 If you are looking for a guitar that has a similar design to Les Paul, why not simply go for Les Paul? The main problem people have with Gibson Les Paul guitars is that they can be quite expensive.
However, Gibson Les Paul Tribute has a similar price to ESP. Needless to say, the guitar has a similar shape, and it's also made of mahogany. The main difference, of course, is in pickups and the overall design of the instrument.
This is an excellent opportunity for every Gibson lover out there, since you will have a hard time finding an original model for a lower price. Gibson Les Paul tribute looks great, and the sound is amazing. You will get the traditional Gibson sound without spending the fortune on it.
PRS SE 245 Standard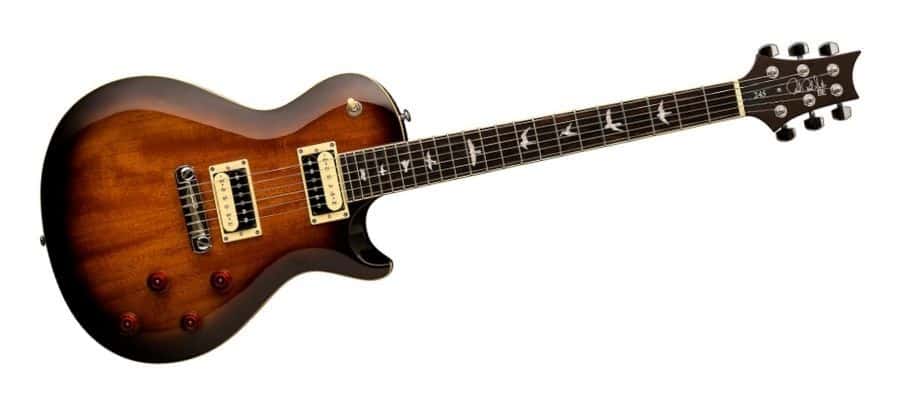 When Paul Reed Smith introduced his first guitar, no one could have imagined how popular it will become. Over the years, Standard 24 has become one of the most popular models you can find, but it isn't the only shape or type of guitar PRS offers.
PRS SE 245 Standard looks rather similar to Les Paul. It has a single cutaway, 22 frets, and the body and neck are made of mahogany. It also has birds inlays, which is a tradition for PRS guitars. The guitar is an excellent choice for everyone looking for Les Paul that's a bit different, and it sounds really good.
You can still play heavier genres on this guitar, or anything else you might enjoy. PRS guitars are quite versatile, so you won't need to worry about whether PRS SE 245 will be able to pull it off.
Dean
One of the options you can check out is Dean. The guitar has a single cutaway, interesting colors, and beautiful sound. The neck and body are also made of mahogany, but the pickups are Seymour Duncans.
The HH combination and the shape will give you a similar sound and feeling, but it will not be the exact same situation as with ESP. For those who are looking for something a bit different, Dean might be a perfect choice.
As with ESP, the price is a bit higher, but you will get an incredible instrument if you decide to buy it.
Summary
If you are looking for a great rock or metal guitar, you might want to consider ESP. The company has been around for quite a while, and in time, it proved to be a worthy choice when it comes to electric guitars.
Here, I talked about the EC-1000 which is a single-cut guitar that looks rather similar to Les Paul with a few important differences. Firstly, the body of the EC-1000 is a lot more comfortable, the guitar has a U-shaped neck profile, and it has a set of EMG pickups.
The combination of pickups is identical to the one that James Hetfield uses, which can give you a good idea of how the guitar can sound. Of course, you can play any type of music on it without any problems.
One of the main things about EC-1000 is that it comes in so many different options. You can choose the model with Floyd Rose, Evertune, or a fixed bridge. A similar thing applies to pickups as well. If you are not a fan of EMG pickups, you can find an EC-1000 with piezo pickups, Seymour Duncan, or other types as well.
This is one of the most versatile guitars you can find since it comes in so many variations and options.
Even though the price might seem too high, keep in mind that Les Paul can cost two or three times more, so this might be the best single-cut guitar you can find. At least when it comes to value.
If you found this article useful you may want to save this pin below to your Guitar board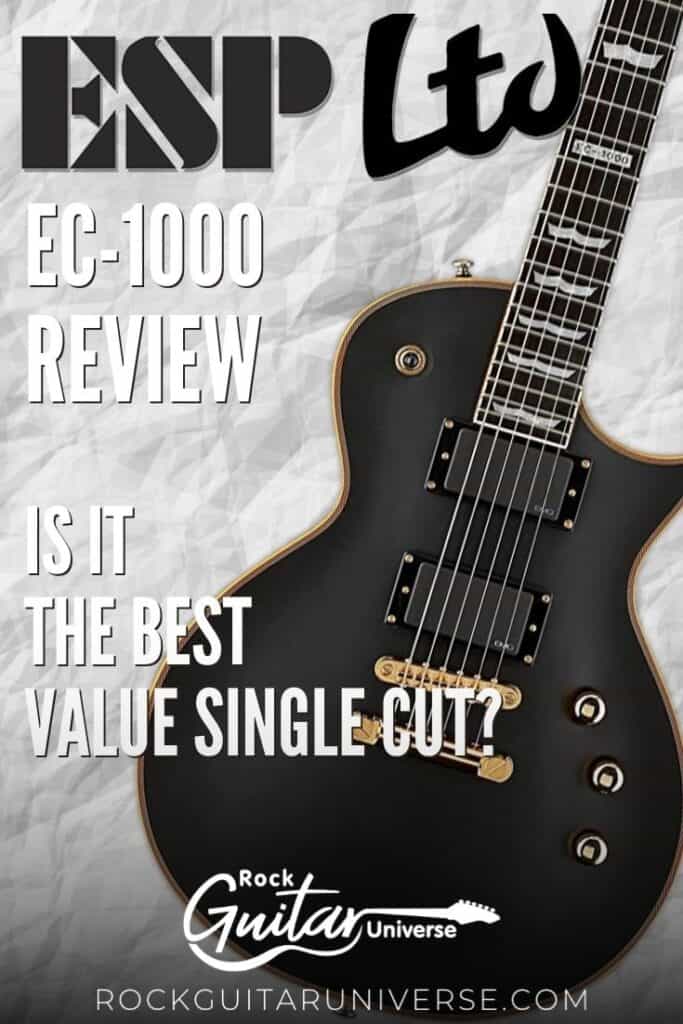 Last update on 2021-10-20 / Affiliate links / Images from Amazon Product Advertising API
Recent Content