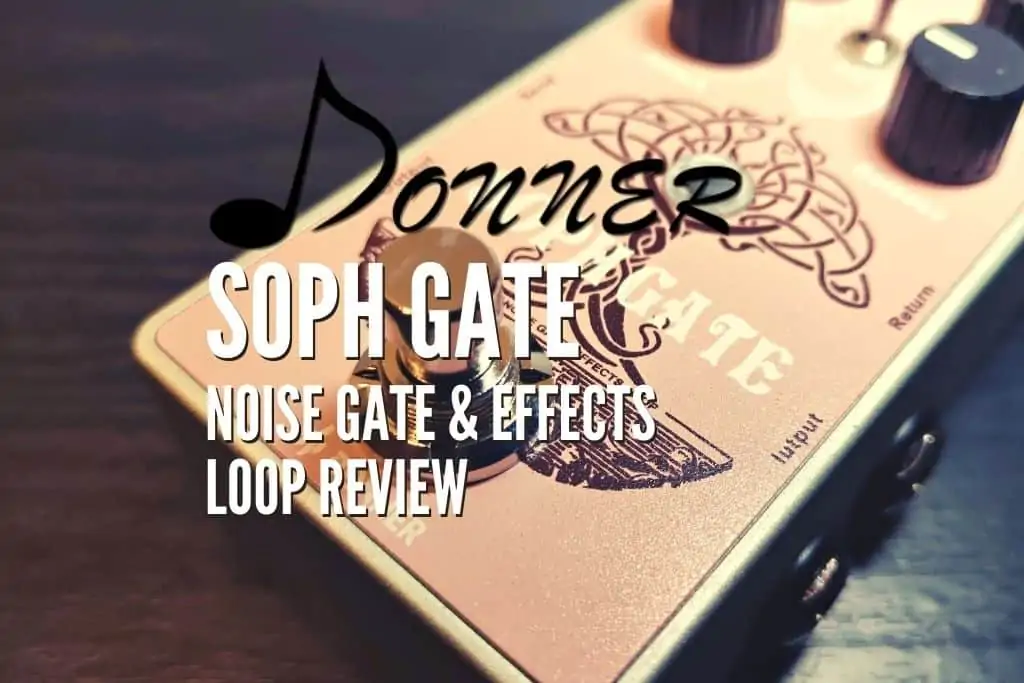 Noise Gate Pedals are often overlooked yet pretty crucial elements of a pedal setup. As unwanted noises affect the original tone and feel of your playing greatly, noise gate pedals are a necessity for many guitarists.
The noise gate pedals cancel the undesired noises such as hiss, hum, or feedback by eliminating audio signaşs when they are below a certain level. That is why they are very important for rock and metal players, as these genres require high amounts of gain. Actually, they are important for any guitarist using a lot of pedals with a noisy signal path.
Donner Soph Gate is one of the affordable options on the market with a great price to value ratio like many other Donner products. It is called the intelligent noise gate pedal because it can read your guitar's dry input signal and allow you to use a lower Threshold setting. This leads to a better reflection of playing dynamics.
Donner Soph Gate also features an effects loop option to creatively sidechain in other audio signals or to patch noisy pedals and amps through. This is realized by Send and Return, output, and inputs.
Donner Noise Gate Pedal, Soph Gate Intelligent Noise Gate Noise...
[Intelligent Noise Gate Pedal] Intelligent noise gate algorithm provides a...
[Effects Loop] Effect loop for patching noisy pedals or amplifier through...
[Versatile Noise Gate] Threshold, Attack, Release, Hold and Return...
[Smart Noise Gate Pedal] Send and return FX loop for patching noisy...
| | |
| --- | --- |
| Pros | Cons |
| Great value for the price | No adapter comes in the box |
| Very Responsive | |
| Solid and good-looking stompbox | |
Overall, there is not much to say about this pedal. It is affordable, gets the job done successfully, it is highly responsive, which is great for a noise gate pedal. I would rate it 4.5 stars out of 5.
Donner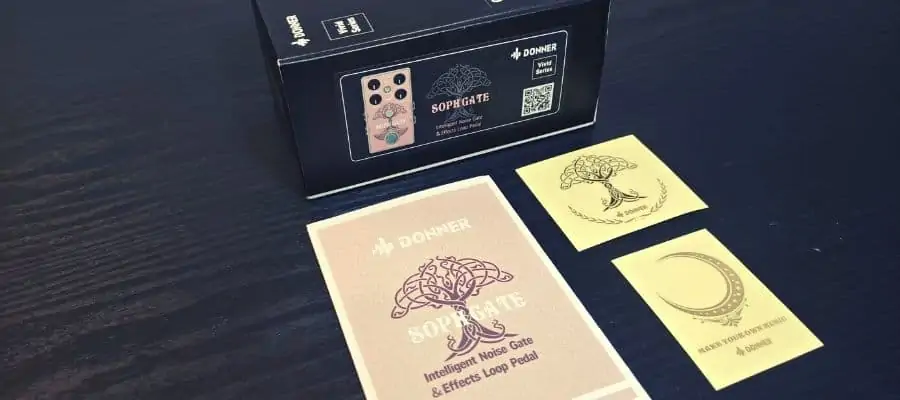 Founded in 2012, Donner is a young musical instrument and accessories company. The brand specializes in producing high-quality music instruments and gear for affordable prices. They made a name for themselves globally with much appreciation from musicians with a low budget.
Donner's top-star products are the effect pedals and processors. They offer many different effect pedals highly liked by guitarists all over. By the way, all of the warehouses are located in the U.S.A. and Canada but the company ships worldwide.
Thanks to its brilliant R&D team and fantastic customer service, Donner became a well-known and reliable brand with its low-priced and innovative musical products.
Donner Soph Gate Specs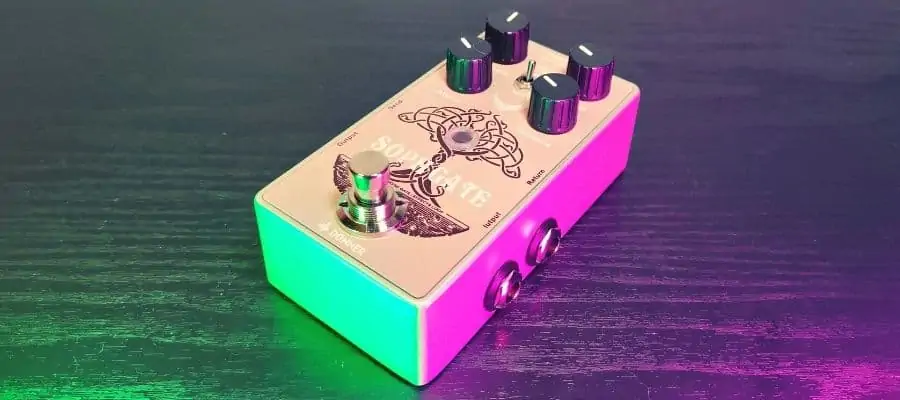 Let's see what the Donner Soph Gate has to offer
General
| | |
| --- | --- |
| Model | Donner Soph Gate Noise Gate Pedal |
| Casing | Aluminum |
| Color | Cream-Pink |
Dimensions
| | |
| --- | --- |
| Weight | 9.17 oz (260 g) |
| Width | 2.52" (64 mm) |
| Height | 2.07" (52.6 mm) |
| Depth | 4.47" (113.5 mm) |
Electronics
| | |
| --- | --- |
| Input Impedance | 1 M Ohms |
| Output Impedance | 100 Ohms |
| Current Draw | 150 mA |
| Led Indication | Yes |
Controls
| | |
| --- | --- |
| Knobs | Threshold, Return, Attack, Release |
| Switches | Hold Quick-Slow |
| Buttons | True Bypass |
Input/Output
| | |
| --- | --- |
| Input | 2 x 1/4" Mono Audio Jack |
| Output | 2 x 1/4" Mono Audio Jack |
| Power Jack | 9V DC adapter, 200mA |
Just like other Donner effect pedals, Donner Soph Gate is a compact and portable noise gate pedal. It is considered a mini-pedal as its dimensions are 2.52" (64 mm), 2.07" (52.6 mm), 4.47" (113.5 mm). Furthermore, it is a lightweight pedal, 9.17 oz (260 g). As it is a tiny pedal, it leaves you more than enough space to fill your pedalboard.
The pedal is made of whole aluminum alloy and feels quite sturdy and reliable. With its creamy color on the sides and pink cover on top with some nice pattern designs, the pedal looks quite elegant.
The control panel is quite intuitive with 4 adjustment knobs for Threshold, Return, Attack and Release. There is also a mode-switch option that lets you choose between Quick and Slow Hold time.
Everything on the control panel seems to work fine without any issues. Suppose you receive a defective product, do not hesitate to contact Donner as their attentive customer support service can solve the problem for you.
The pedal works with a 9V DC adapter, but the adapter does not come in the box, which means you will have to buy it separately. As it is a cheap and easy-to-find adapter, this is not a deal-breaker.
Another great feature is the double ¼" Mono Audio Jack inputs and outputs as send-returns. The send and return options are for the Effects Loop feature of the pedals which allows you to sidechain noisy pedals or amps.
Besides all these, the pedal has standard features: a true bypass button and LEDs to help you navigate through the control panel.
Donner Soph Gate Noise Gate Looper Manual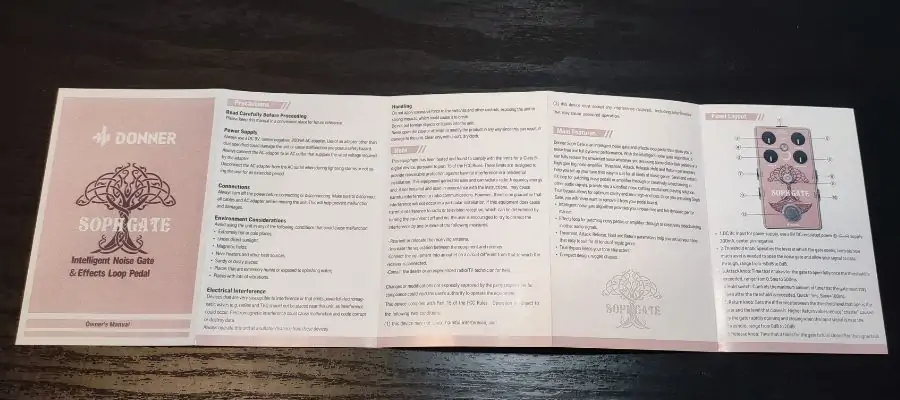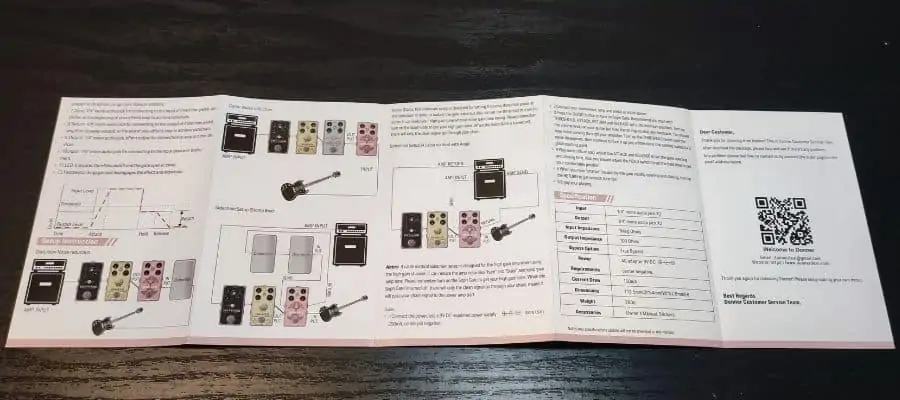 What Power Does Soph Gate Noise Gate Looper Require?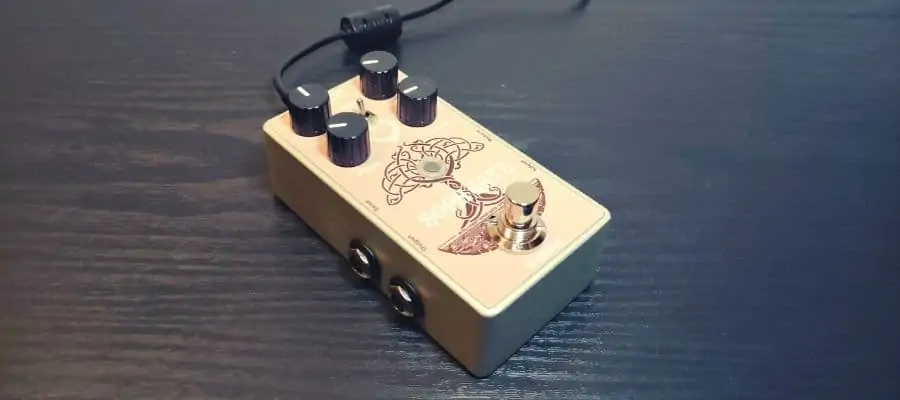 Donner Soph Gate works with a 9V DC adapter with at least 200mA. However, the adapter is not included in the package, so you will have to buy one separately. Usually, you can find 300mA adapters so you better get one of those.
Donner also offers Donner DP-1, the guitar pedal power supply for up to 10 different pedals, for guitarists who want to keep things organized and save a lot of time and energy. It works with 9V, 12V, and 18V pedals and is a plug-and-use style device. If you are struggling with the chaos of your pedals and cables, this product might be a life-saver.
If you are also looking for a pedalboard to organize your pedals, Donner offers Donner Guitar Case DB-3 Aluminium Pedalboard. The pedalboard has the dimensions 20" (50 cm) x 11.4" (29 cm) x 4" (10 cm) and is more than enough for 10 pedals.
The Donner Soph Gate Noise Gate Looper Sound Quality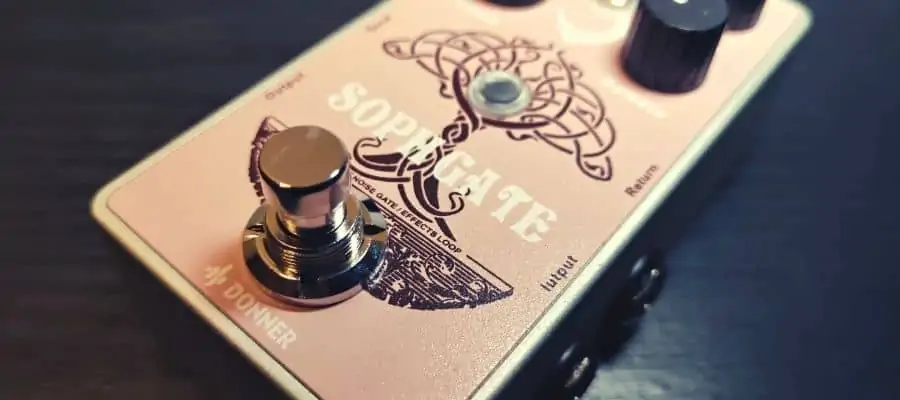 Donner Soph Gate is a so-called intelligent noise gate pedal as it uses a noise gate algorithm, which can identify the sounds that you wish to remove from your output depending on the settings you choose. This feature is a great addition as it lets you reduce the unwanted noise coming from another pedal without weakening the overall tone.
So, Soph Gate lets you preserve your tone significantly while killing the unwanted noise from the signal chain. Furthermore, thanks to its extensive selection of adjustable parameters, the Soph Gate is highly flexible.
Threshold control is pretty straightforward, and it creates the limit where the noise should be cut. Attack control adjusts the time it takes for the pedal to open up. It lets your guitar sound be let in smoothly instead of dramatically cutting it down. Return control allows you to do the same thing when closing the gate; smoothly fade out sound or snap shut. Finally, release control is the Threshold for closing the gate.
With all of these control options, you get the chance to find the perfect setting for different setups. The pedal is highly responsive, which is great and makes the playing more enjoyable. All of the dynamics of my playing are clearly reflected, which is a crucial aspect of a noise gate pedal.
Another great feature of Soph Gate is the Effects Loop. With Send and Return jacks you can connect your noisy pedals to an FX loop and create a sidechain. This is great if you have noisy overdrive and distortion pedals as you can patch them through or sidechain them getting rid of the undesired noise.
You can check this video and sound demo to hear the pedal yourself to build a better opinion about it.
Donner Soph Gate Noise Gate Looper Compared To Other Pedals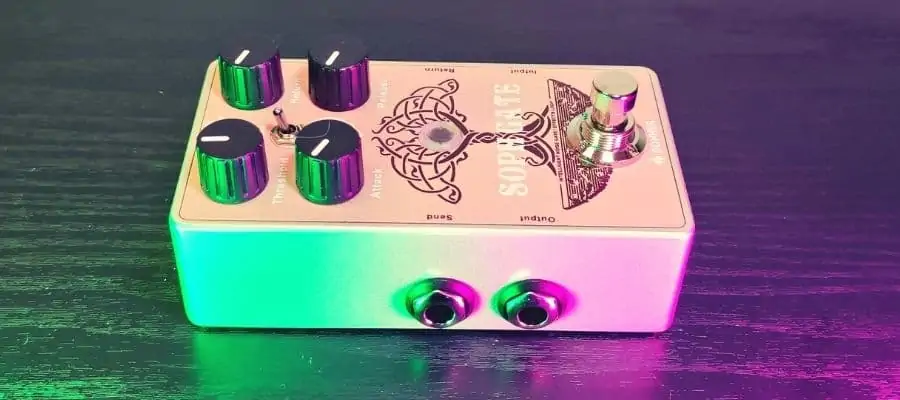 Soph Gate Noise Gate Looper vs. Boss NS-2 Noise Suppressor Pedal
BOSS NS-2 Noise Suppressor/Power Supply Pedal
Compact noise suppression pedal for eliminating noise and hum in guitar and...
Unique noise detection circuit preserves the natural attack and envelope of...
Threshold and Decay knobs allow for shaping the elimination/suppression as...
One of the most popular noise gate pedals on the market today is the Boss NS-2 Noise Suppressor pedal which is a compact pedal with studio-level sensitivity and signal transparency.
The control panel of the pedal features 3 adjustment knobs: Threshold, decay, and mute/reduction knobs. While the Threshold controls the limit of the noise reduction, the decay control adjusts how long the pedal allows a note to sound before it is suppressed.
Like the Soph Gate, NS-2 features dual inputs and outputs along with the True Bypass switch.
Of course, in terms of performance, Boss NS-2 surpasses Donner Soph Gate and provides excellent noise reduction. However, NS-2 has a much higher price tag.
Soph Gate Noise Gate Looper vs. MXR M135 Smart Gate Pedal
MXR M135 Smart Gate® Noise Gate
Three selectable noise reduction ranges
Reacts gradually to long, sustained notes and quickly to short, syncopated...
Fast attack time reserves picking transients and harmonic overtones
Features a hardwire bypass, precise threshold trigger, and amazingly clean...
MXR M135 is yet another popular noise gate pedal, especially among guitarists playing gain-heavy genres.
It features only one knob for Trigger Level, the Threshold in standard pedals. The pedal has 3 modes full, mid, and hiss, as well as the true bypass button. In terms of versatility, Donner Soph Gate is far better compared to MXR.
But for gain-heavy tones, MXR M-135 provides a great performance. It clearly shows the slight nuances of your playing, which means its dynamic response is amazing. It also does not sound as aggressive as other high-gain focused noise gate pedals.
There are only single input and output options on MXR, while there are double options in Soph Gate. MXR M-135 costs more than double of Donner Soph Gate.
Soph Gate Noise Gate Looper vs. TC Electronic Sentry Noise Gate Pedal
TC Electronic EQ Effects Pedal, Regular (Sentry Noise GATE)
State-of-the-art Multiband or Hard noise gate modes for instant noise...
Send/Return for cleaning up noisy pedals or for creative side chaining
Tone Print enabled - for a world of signature and customizable effects
Tone Print enabled - for a world of signature and customizable effects
TC Electronic Sentry Noise Gate Pedal is a digital noise gate pedal with cutting-edge multiband technology provided by the System 6000 algorithms. This technology provides authentic, smooth, and responsive noise reduction.
The control panel features 3 knobs: Threshold, Decay, and Damp, along with a mode switch between Gate Toneprint and Hiss. The different modes are suitable for different level gain tones. With a specialized Send/Return loop, this pedal deals with other noisy pedals successfully.
You can also connect this pedal to the Toneprint Editor App to reach presets and further customize the options. Sentry Noise Gate costs more than double the Soph Gate.
Soph Gate Noise Gate Looper Is Perfect For Whom?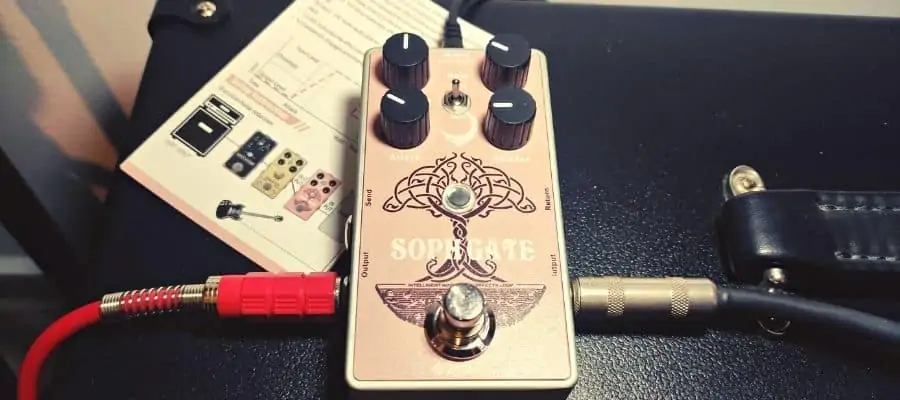 Donner Soph Gate is a great first Noise Gate pedal for entry-level guitarists as well as intermediate-level players who need a noise gate pedal in their setup.
As it is a versatile pedal, you can use it for different genres, high-gain tones as well as low-gain tones. The pedal reflects your playing dynamics greatly, which every guitarist would want. It provides a high sound quality without tone coloration, which is crucial for pedal setups.
But if you want a special noise gate pedal that thrives with high-gain tones, there are many pedals specialized for that. Or, if you want a professional pedal with studio-quality or big concert performance, you should look for higher-end models.
Where To Place Soph Gate Noise Gate Looper On The Pedal Board?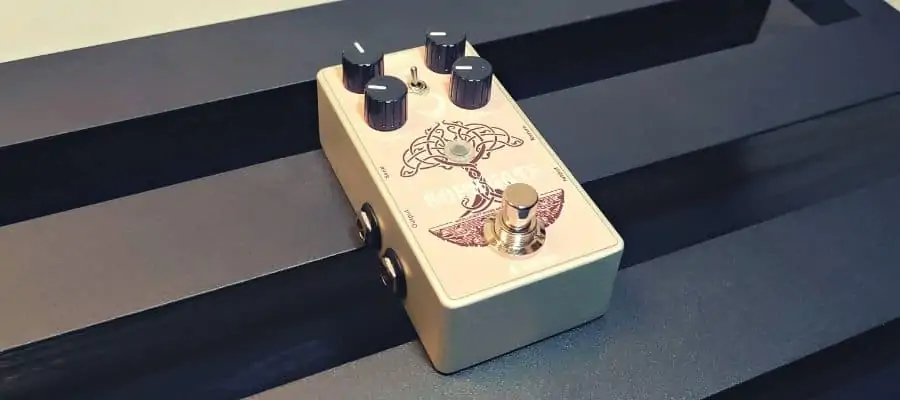 To get the best performance from effect pedals, there is signal-chain order to be followed by guitarists. It is very important to use the pedals in the right order for a great tone.
The first pedals the signal should travel to are the Dynamics (compressors), filters (wah), pitch shifters, and Volume pedals. So your noise gate pedal should be one of the first pedals on your setup. Distortion and overdrive pedals come as the next step. The third step is modulation effects like flangers, chorus, and phasers. Finally, the last step is the time-based effects like delay and reverb pedals.
So, if you take this order into account, you should put the Donner Soph Gate as the first step in the signal chain. The dynamics and compressor pedals should come before any other effect pedals that color the tone.
Other Donner Pedals Worth Mentioning
Donner Noise Killer Noise Gate Guitar Effect Pedal
Donner Noise Killer is an affordable mini noise gate pedal with two different noise reduction modes. The fast noise detection and smooth attack/release features get the job done with everything silenced with minimum tone coloration.
Donner Ultimate Comp Compressor Guitar Effect Pedal
The Ultimate Comp is an analog circuit compressor pedal with a warm, studio-like optical compression sound. It has 2 way-tone switches to adjust the compression intensity making the pedal quite versatile. The sound quality is also amazing, especially when the price tag is taken into account.
Alternatives To The Soph Gate Noise Gate Looper In Terms Of Look, Sound, Specs, And Price
Koogo Noise Gate
Koogo Guitar Noise Gate Pedal Noiser Killer Pedals For Electric...
【NOISE GATE PEDAL】Reduces the noise from input signal without lowering...
【2 MODES】Hard Mode: Provide hard effect of noise reduction, Soft Mode:...
【SOLID CONSTRUCTION】Made of high-quality zinc alloy, durable and...
【TRUE BYPASS】True bypass provide transparent tone.Mini size, easy to...
Koogo Noise Gate is one of the most affordable pedals on the market today. Although it is a low-end, mini pedal it delivers a performance that you would not expect from its price.
With two modes, the pedal is versatile and can provide hard or soft gating, depending on your needs. The control panel also features the main knob, which is used to control the Threshold.
It has ¼" Mono Audio Jack input and output options but no effects loop feature.
The pedal is made from high-quality zinc alloy and allows you to reduce noise by up to 10dB. It is a highly easy-to-use pedal and ideal for guitarists who want a simple solution to hiss, hum, or feedback.
VSN Noise Killer
Another analog circuit noise gate pedal with a great price to value ratio is VSN Noise Killer. It is an affordable and simple solution for guitarists who need a noise gate pedal in their setup.
There are two different modes on the pedal: hard and soft gating options. There is also one knob that controls the Threshold. The pedal reduces noise from the signal without harming the natural tone and is very easy to use.
It has standard ¼" Mono Audio Jack input and output options. There are better-performing noise gate pedals on the market, but for the price range, VSN Noise Killer is a decent choice.
MXR M195
MXR is one of the most reliable effect pedal producers today, and M195 does not disappoint. MXR M195 is an affordable, simplistic noise gate pedal that performs to a high standard.
The pedal has its own effects loop and is designed to keep hiss, hum, and buzz to an absolute minimum. The pedal is capable of reducing noise by an impressive 26dB level and is perfect for guitarists who are using high-gain tones often.
The control panel only features a Trigger knob, so you do not have many adjustment options, but the pedal performs pretty amazingly.
MXR M195 costs slightly higher than Donner Soph Gate.
Conclusion
Noise gate pedals are a necessity if you are using many pedals or high-gain tones. It does not matter if you are playing electric guitar, keyboard, bass, or any other amplified instrument; it is unavoidable that you will experience unwanted noise from your amp. Noise gate pedals will help you solve the problem.
If you are looking for an affordable noise gate pedal to get rid of the undesired noise, Donner Soph Gate Noise Gate pedal is the ideal choice. With 4 knobs and different modes, it is a pretty versatile pedal, and the dynamic response it provides is impressive. Every nuance that you have in your playing is clearly reflected without any tone coloration.
It also comes with many great features like the FX Loop which allows you to create an extra chain to isolate and creatively sidechain the pedals you desire. This feature makes the are the usage of the pedal more versatile and gives you more control over your pedal setup.
If you found this article useful you may want to save this pin below to your Guitar board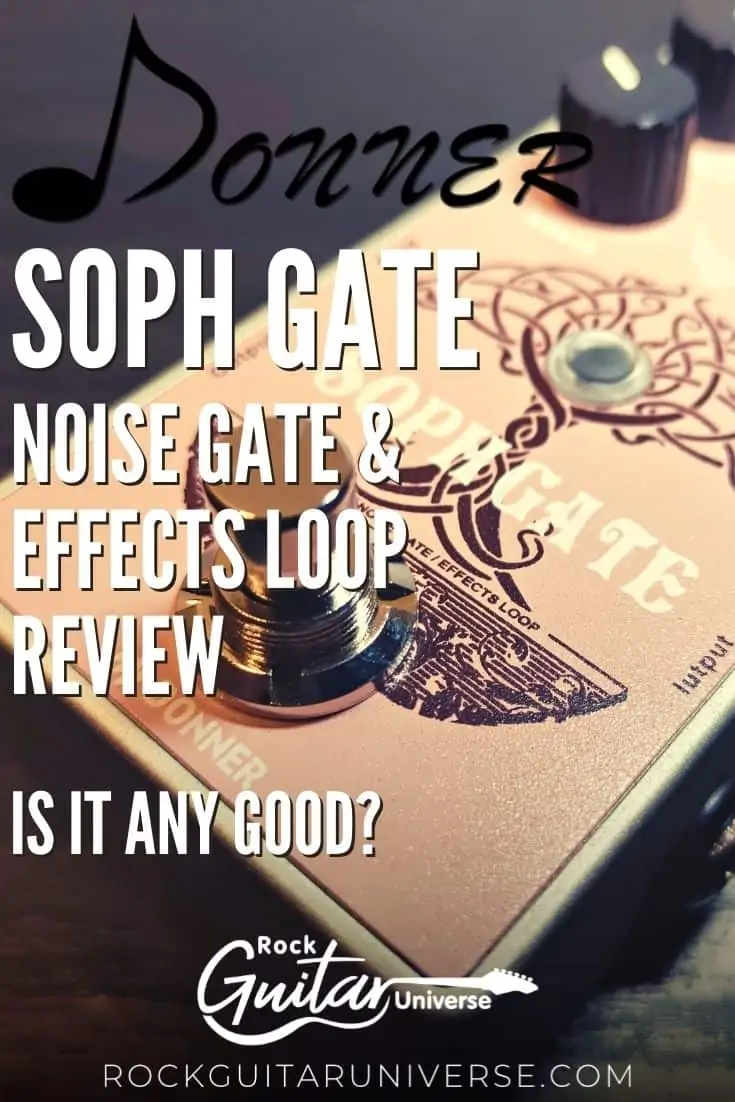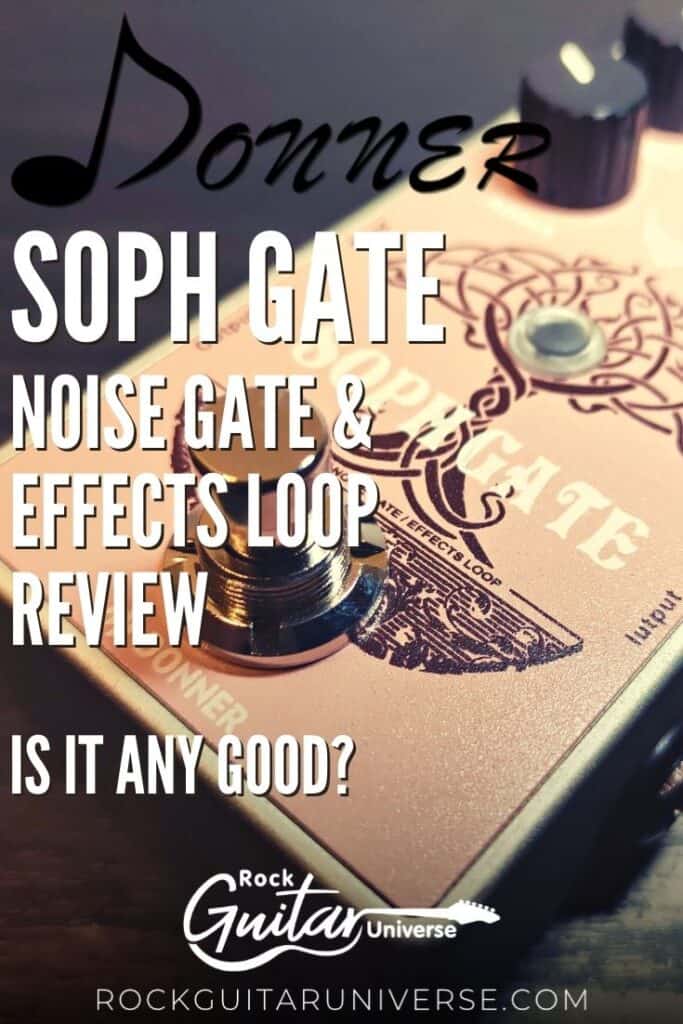 Last update on 2022-01-26 / Affiliate links / Images from Amazon Product Advertising API
Recent Content