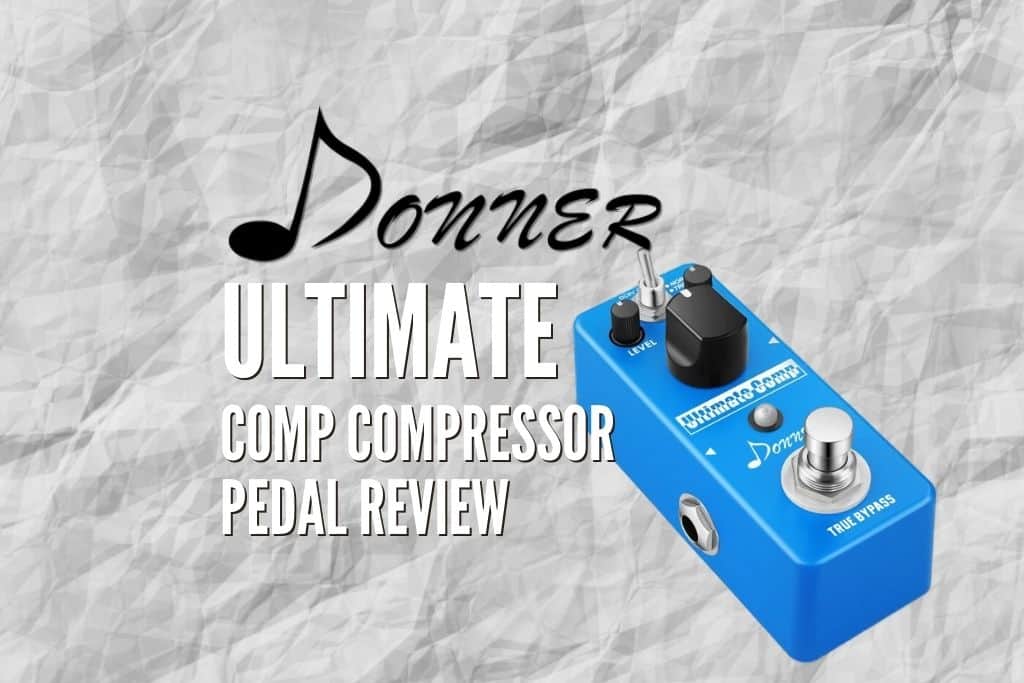 When it comes to building up a good effect pedal setup, compressor pedals are one of the crucial elements. It is mainly used by many guitarists for getting a consistent dynamic range in their playing for a better sounding mix with the other accompanying instruments. As the dynamics are essential to help the sound stay on a volume where your instrument is heard without overwhelming the other instruments, having a comp pedal is an excellent idea to mix your sound with the band.
What the compressor pedal does is softening a note when it is played louder and boosting it when it is played softer than the desired volume. That is how your instrument's sound always stays in the desired range.
As technology has advanced, the effect pedal manufacturers found ways to develop great stompboxes at highly affordable prices. One of these brands, as you probably know, is Donner. The Donner Ultimate Comp is an excellent compressor pedal for guitarists on a tight budget. Although there are better higher-end compressor pedals on the market with more fantastic effects on the instrument, it provides outstanding performance for its price.
| | |
| --- | --- |
| Pros | Cons |
| Great value for the price | No attack-release adjustment knob |
| 2 way-tone switch to adjust the compression intensity makes the pedal quite versatile | Small knobs and control panel can be hard to manage for players with big hands |
| Compact mini design | Comes without the adapter |
| Great compression effects like high-end products | |
Overall, I think this is an amazing compressor pedal. I would rate it easily 4.5 stars out of 5 and recommend it to any guitarist looking to catch this tone.
Donner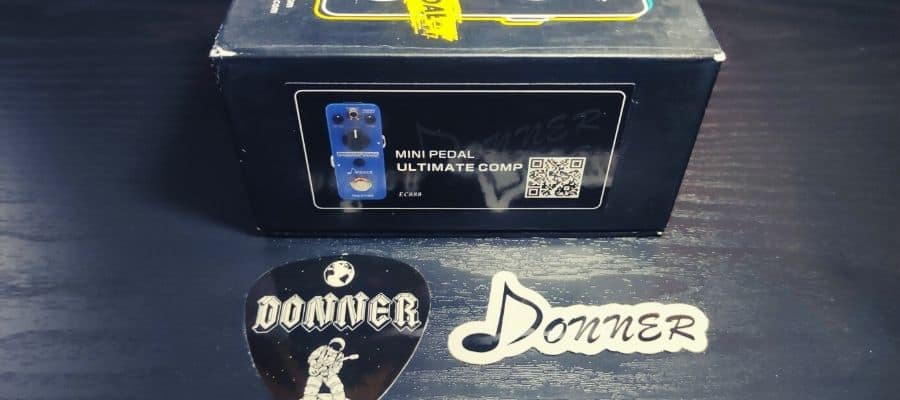 As a relatively new musical instrument and accessories brand that got on the market around 2012, Donner offers highly affordable musical products and new innovative designs. The brand specializes in mini pedals and processors. However, they also offer different musical instruments and accessories with high quality and low price tags.
The four brother brands, Donner, Eastar, Moukey, and Reditmo, all offer various musical products for different instrument families, including electronic devices, accessories, and instruments themselves. They have warehouses in the USA and Canada, so those are the places where your products will be shipped if you decide to buy one.
Donner is a well-known brand for its innovative products and low price tags, as mentioned before. They have a pretty solid and successful R&D team, which quickly got famous among musicians on a budget. They offer high-quality and affordable musical products that are well appreciated, as seen in Amazon and music forums. The brand is based in China, with their factories producing great products, especially for beginner musicians. In short, you can trust the brand without hesitation. You will get more than what you pay for.
Donner Ultimate Comp Compressor Pedal Specs
Let's look at what the Donner Ultimate Comp has to offer.
General
| | |
| --- | --- |
| Model | Ultimate Comp |
| Casing | Whole Aluminum |
| Color | Blue |
Dimensions
| | |
| --- | --- |
| Weight | 8.12 oz (230 g) |
| Width | 1.6" (4.2 cm) |
| Height | 3.7" (9.35 cm) |
| Depth | 2" (5.2 cm) |
Electronics
| | |
| --- | --- |
| Chip Model | SOLO |
| Input Impedance | 1 M Ohms |
| Output Impedance | 95 Ohms |
| Working Current | 10 mA |
| Led Indication | Yes |
Controls
| | |
| --- | --- |
| Knobs | Level, Tone, Comp |
| Switches | 2-Way Tone Switch |
| Buttons | On/Off |
Input/Output
| | |
| --- | --- |
| Input | ¼" Mono Audio Jack |
| Output | ¼" Mono Audio Jack |
| Power Jack | 9V DC adapter |
As the rest of the Donner mini pedal series, Donner Ultimate Comp is a good-looking mini pedal that comes with a whole aluminum blue casing. The casing is very solid and durable as well as elegant with its portable size.
The Ultimate Comp weighs around 8.12 oz (230 g) with dimensions of 1.6" (4.2 cm), 3.7" (9.35 cm), 2" (5.2 cm), just like the rest of the Donner mini pedal series. It is highly portable, which is good if you have a crowded pedal setup.
The pedal features three adjustment knobs for level, tone, and compressor, along with a 2-way tone switch which you can switch between normal and treble modes. Furthermore, there is a True Bypass button that lets you turn on and off the compressing effect. Finally, there is a LED indicator that shows you if the pedal is engaged or not.
The level knob lets you adjust the output volume, while the tone knob is for adjusting the brightness of the tone. Fİnally, the biggest knob on the control panel, the comp knob, is used to adjust the compression effect intensity. Each knob gives you a wide range of adjustment possibilities.
As the rest of the Donner mini pedal series, this one also requires a standard 9V DC adapter to function while the input and output are standard ¼" Mono Audio Jacks.
The Donner Ultimate Comp Compressor Pedal Manual
What Power Does Donner Ultimate Comp Require?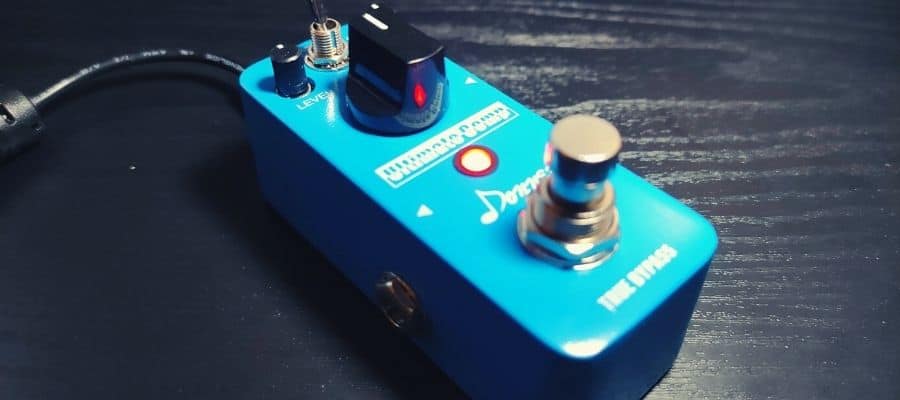 Donner Ultimate Comp works with a 9V DC adapter. However, the adapter is sold separately and does not come with the pedal's package.
As I know organizing the cables and adapters in a crowded pedal setup can be challenging, I recommend you to check out the Donner DP-1 guitar pedal power supply, which makes things on the pedalboard a lot easier. It can power up to 10 different pedals and support 9V, 12V, and 18V pedals. This gadget will let you save a lot of time and energy by easing the process of setting up your pedalboard.
Of course, the power supply does not make any sense if you do not own a pedalboard already. But luckily, Donner offers a great, affordable pedalboard called Donner Guitar Pedal Board Case DB-3 Aluminium Pedalboard. With its measurements of 20" (50 cm) x 11.4" (29 cm) x 4" (10 cm), it can take around 10 pedals and help you have an organized pedal setup, making everything easier and faster about your pedals.
The Donner Ultimate Comp Sound Quality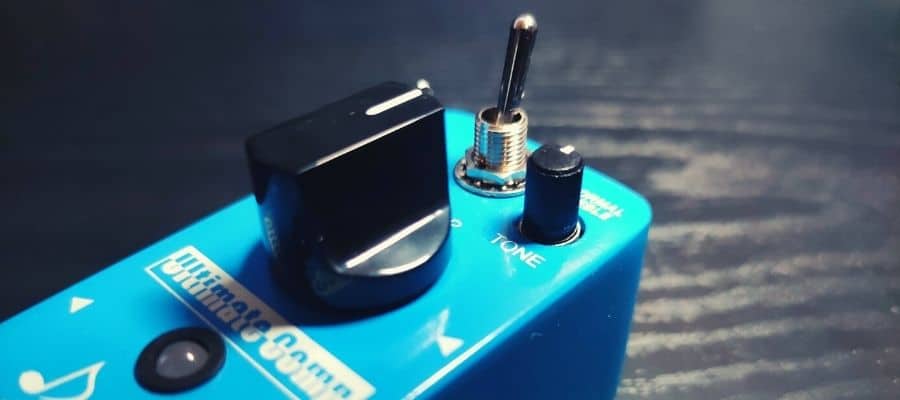 Although it costs much less than the higher-end famous compressor pedals, Donner Ultimate Comp's sound quality is not any less than the more expensive and higher-end alternatives. Surprisingly, it gets the job done pretty well and satisfies the users greatly; however, it does not have the features of higher-end comp pedals such as attack and release adjustment knobs.
The compression effect of the pedal is excellent and sounds really natural. This means that it will not flatten the dynamics of your playing entirely but balances it properly with boosting or softening the notes wherever necessary. It also gives the user a wide range of control with its adjustment knobs to find the sweet spot for any setting. Without a doubt, the users get more than what they pay for in terms of versatility, ease of use, and sound quality.
In terms of sound quality, the 2-way toggle switch is pretty essential. They both have different characteristics, which give way to different effects. As you may know, there is a debate going on whether the compressor pedal should color the guitar tone or not. For this, Donner came with the solution of this 2-way switch.
Normal Mode
As the name suggests, the Normal Mode provides a more traditional compression effect. It functions as a neutral optical compressor sound with warmth. This mode is for players who do not like the compressor pedals, heavily affecting the tones of their instruments. It sounds pretty natural and only works with the dynamics, not touching the tone itself.
Treble Mode
The Treble mode provides a treble-heavy effect on your signal by providing a brighter optical compressor sound with more bite. It adds more focus on the high end of the sound. This mode is excellent for funky tones and players who like their compressor pedals coloring their guitar tone.
Of course, it must be added that the quality of the sound will heavily depend on the instrument and the amp used. But, with any setup, Donner Ultimate Comp delivers a pretty satisfying job. With the tone knob adjusted to a high degree and the 2-way switch on the treble mode, you get an exceptionally bright, funky sound, while with a low level and the normal mode, you get a darker, heavier tone. Both ends sound pretty great, in my opinion.
To get a better idea of the features and the sound performance of Donner Ultimate Comp, you can check the video demo to listen to it yourself.
The Donner Ultimate Comp Compared To Other Pedals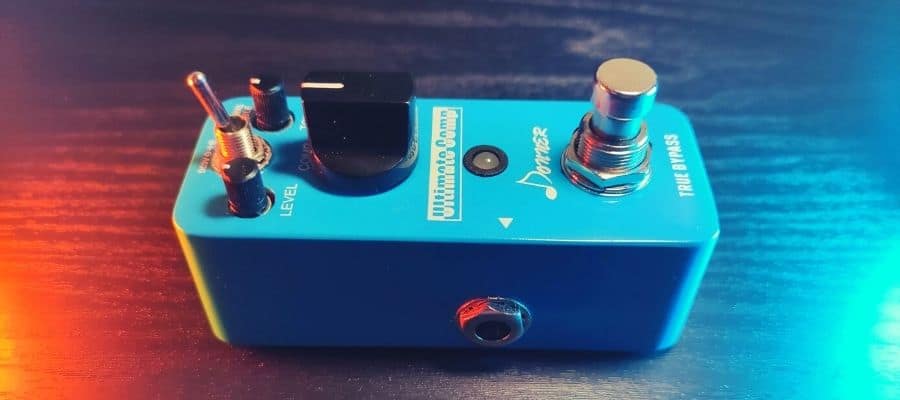 Donner Ultimate Comp Vs. Mooer MCS2 Yellow Comp
Just like Donner Ultimate Comp, The Mooer MCS2 Yello Comp has the distinctive feature of being an optical compressor contrary to other compressor pedals in this price range. Compressor pedals below the $50 mark are generally OTA compressor pedals. Although optical compressors are not better than OTA compressors or vice-versa, it is easier to experiment and get new tones with optical compressors.
The MCS2 is also a mini pedal with no battery option and three knobs to adjust your tone: the volume, the compression level, and the equalization. Here we have the equalization control knob instead of the tone knob of the Donner. Also, the Mooer does not feature the 2-way switch that the Donner has, which adds versatility to the compressor pedals.
The MCS2 sounds pretty smooth and natural with slow release times. The sound it provides is similar to the Normal mode of Donner Ultimate Comp. Also, with MCS2, you can not adjust the attack and release times which is a letdown for both the Ultimate Comp and MCS2.
The Mooer MCS2 is almost double the price of Donner Ultimate Comp.
Donner Ultimate Comp Vs. Kokko Compressor
Kokko Mini Compressor pedal is a basic mini pedal that is probably the cheapest one on the market. It is an excellent choice if you are on a tight budget and want a compression pedal to get the job done.
It has 3 adjustment knobs like the Donner Ultimate Comp, but the one and only same knob with the Donner is the level knob. The other 2 knobs are to adjust sustain and attack, which Donner does not feature. Having an attack and sustain adjustment possibility is a great plus for the Kokko. Furthermore, like the Donner Ultimate Comp, the Kokko compressor pedal also features a solid whole aluminum alloy.
Although Kokko is not as versatile as the Ultimate Comp, which features 2 different modes, it is surprisingly versatile with its classic sound and entirely analogical circuit. This way, it gives a lot of control and flexibility to its users. The sound is pleasant and warm in clean and sounds decent with gain.
Even though the Kokko compressor pedal produces a noise when the knobs are turned past up, it is still an excellent investment that sounds outstanding with knobs on lower levels. Besides, the tone control lets the muted warm tones balance your sharp cuts pretty nicely. But, I think the Donner Ultimate Comp does a better job in sound quality overall and also has much more versatility, as mentioned before.
In short, if you do not want to spend more than $20 on a compressor pedal, the Kokko compressor is the way to go without hesitation.
Donner Ultimate Comp Vs. Xotic SP Compressor Mini
The Xotic SP Compressor mini pedal is an analog compressor based on the Ross circuit, which enhances the subtle notes and discreetly smooths the peaks. It is one of the higher-end compressor pedals with a natural, warm sound.
This pedal features a pretty different control panel layout than the Donner Ultimate Comp. It has two adjustment knobs, a blend control, and volume knobs. The blend control is one of the most appreciated features of the pedal, which is a clean signal mix that can preserve the tone and attack of the instrument while it also provides great sustain and enhancements. On the other hand, the volume knob can boost the volume up to +15 dB.
Furthermore, this pedal features a 3-way switch to adjust the intensity of the balancing. You can choose from subtle to intense squash with Hi, Mid, and Lo options.
Thanks to its 3-way intensity switch and blend control knob, the Xotic SP Compressor outruns the Donner Ultimate Comp in terms of versatility. Its performance is also better than the Donner pedal and blends the enhancements to your tone much better.
Plus, more adjustments can be made with internal DIP switches, which can not be done with the Donner pedal. These adjustments include two attack-release switches to change the aggressiveness, a hi-cut filter to control high frequencies, an input pad switch to shape the tone and make it compatible with higher output pickups, lastly an adjustment to make Xotic compatible with higher voltage levels.
With this many features, Xotic Sp is an excellent compressor pedal with fantastic versatility, performance, and sound quality. But of course, this is why it is a higher-end compressor pedal that costs triple the Donner Ultimate Compressor pedal's price.
The Donner Ultimate Comp Is Perfect For Whom?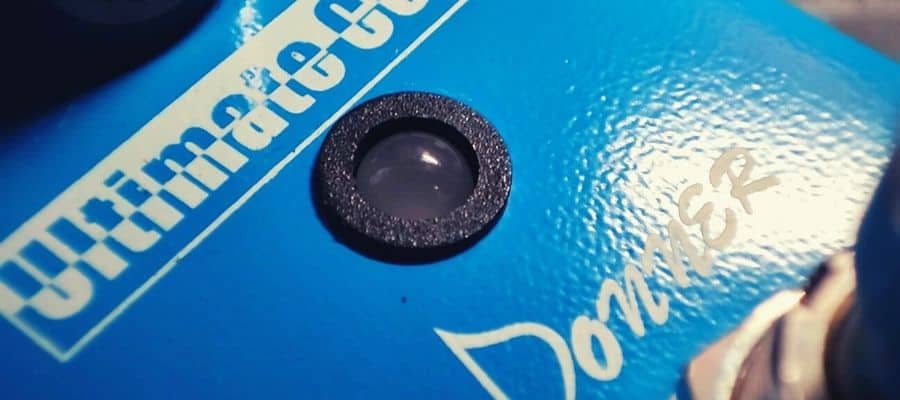 Guitarists on a tight budget looking for a decent compressor pedal with great versatility and a more than satisfying sound quality can prefer the Donner Ultimate Comp pedal without hesitation. You can use the money you save with this pedal for other parts of your rig. The Donner Ultimate Comp is highly affordable and gives an excellent compression effect leveling out your dynamics in live performances.
You will need a compression pedal, especially if you are a regular performer, as the compression pedal is more than necessary when playing with other people. The 2-way switch is also great for guitarists as you can choose between a standard no-color tone by the pedal and a bright tone that lightly affects the instrument tone. So the Donner offers a satisfying compressor pedal for any guitarist no matter which side they support on that debate.
Where To Place The Donner Ultimate Comp On The Pedal Board?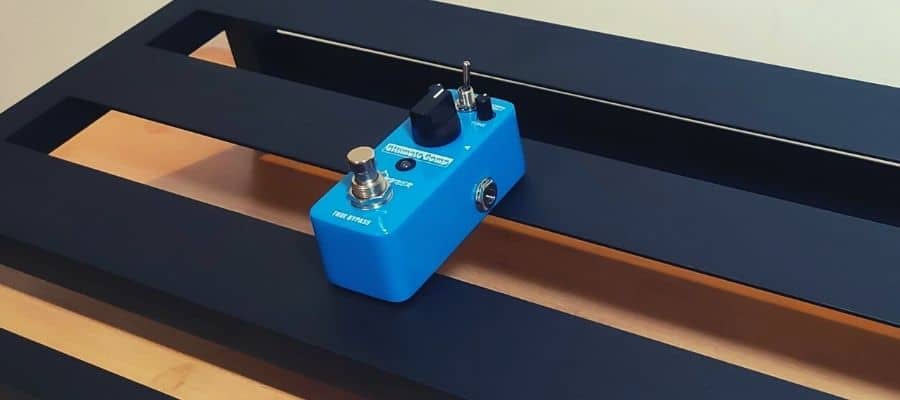 As you may already know, there is a specific order to follow while you set up a pedalboard. With experience and the trial-error method, guitarists found the best order in which your instrument's signal should travel. This way, you will get the highest sound quality and performance from your setup.
Compressors, volume pedals, filters, wah, pitch shifters are the regular first step of a proper pedal setup. Overdrive and distortion pedals come the second, and the modulation effects such as chorus, phasers, flangers are the third party your guitar's signal travel through. Finally comes the time-based effects like reverb and delays as the last step of the signal chain.
Of course, you can experiment and try different, unconventional orders, but this is the standard chain the guitar's signal should travel. This order taken into account, the Donner Ultimate Comp pedal should be one of the first pedals on your pedalboard setup. You can place it anywhere along with your volume, filters, wah, pitch shifter pedals which come before the overdrive or distortion pedals.
Other Donner Compressor Pedals Worth Mentioning
Donner EQ Seeker Ten Band Equalization
Donner EQ Seeker Ten Band Equalization Guitar Effect Pedal True Bypass
【Unique design】Convenient compact size,Suitable for any music style.The...
【True Bypass】True Bypass,LED indicator shows working state.The solid...
【Ten Band EQ】Fully functional 10-band graphic equalizer suitable for...
【15dB boost/cut range】Sliders for output level/EQ level control ,±15...
As a compact analog 10-band graphic equalizer, the Donner EQ Seeker is a great pedal suitable for various instruments. With 10 selected frequency bands, you can precisely edit your tone by adjusting the sliders on the pedal.
Donner Noise Killer Guitar Effect Pedal
Donner Noise Gate Pedal, Noise Killer Guitar Pedal Noise Suppressor...
【Noise Killer】The Noise Killer features smart, fast noise detection and...
【Whole aluminium-alloy】Whole aluminium-alloy classic, stable and strong
【True bypass】True bypass provide transparent tone.Featuring a pure...
【Easy, flexible controls】The Noise Killer is a super easy-to-use smart...
The Donner Noise Killer is a reliable noise gate mini pedal with a compact design that takes the minimum space on your pedalboard. It features 2 working modes, a hard and a soft mode. The first one provides a hard effect of noise reduction while the soft mode works more subtly, as the name suggests. With a true bypass button on it and its entire metal casing, along with its affordable price, it is a great choice for a whole pedalboard.
Donner Mini Auto Wah Pedal
Donner Mini Auto Wah Pedal Dynamic Wah Guitar Effect Pedal Envelope...
【Auto Wah】Fully controllable envelope filter with unique decay control,...
【Four function knobs】SENS is used to control the sensitivity. RES is...
【LED Indicator】LED indicator shows the working state. Analog circuit...
【Durable & Compact】Whole Aluminium-alloy classic, stable and strong.
The Donner Auto Wah pedal is an analog circuit and a dynamic wah pedal. With its solid whole aluminum casing and compact design, it is a wonderful pedal that provides a fantastic wah effect. It features a fully controllable envelope filter and a decay control which are highly accurate and very fast-tracking.
Alternatives To The Donner Ultimate Comp In Terms Of Look, Sound, Specs, And Price
TC Electronic HyperGravity Compressor
The TC Electronic HyperGravity is a highly versatile compressor pedal thanks to its innovative features and algorithm that shines among its competitors. Just like the rest of the TC Electronic pedals, it allows you to download some presets from the official web to help you create a great tone. The TonePrint editor application lets you create your own effects and share them with the world.
The pedal features three different compressor modes: Spectra, TonePrint, and Vintage. The first one is the default compression mode. The second one is to use the presets from the application and the final one, the Vintage mode, lets you enjoy old-school compression tones. With this mode, you can have all of the squash and squeeze of the classical stompbox compression pedals. The mode performs especially outstanding with funk and country as well as Gilmour-like sustained tones.
This digital compressor uses a multiband compression algorithm to separate the incoming signal into 3 different frequency bands and give each one a different amount of compression. With these features, you get a brilliant sounding tone and whole new possibilities to explore.
It is an excellent compression pedal with its superb quality, incredible dynamic control, and most important of all, its affordable price. Although it costs double the price of the Donner Ultimate Comp, it is still a great bargain when all of these features are taken into account.
Joyo JF-10 Dyna
JOYO JF-10 Dynamic Compressor Guitar Effect Pedal - True Bypass, DC 9V...
Dynamic compressor features a re-creation of the classic ross compressor,...
Adjustment knobs, sustain, attack and level. the attack adjustment is...
Even use it as a solo boost at the very end of your chain by setting the...
Excellent tone electric guitar effect pedal with true bypass provide...
The Joyo JF-10 Dyna is an excellent replica of the classic Ross Compressor pedal, which costs more than $200. This pedal has one of the highest positive feedback ratings on Amazon from pro guitarists as well as amateur ones.
It has a durable whole aluminum case, three knobs for tone adjustment, including level, sustain, and attack-release knobs, a true bypass button, and the option to use a battery as the power supply.
Overall, it is a great compressor pedal at a highly affordable price. It gets the job done with its basic features with a minimum amount of complications. The pedal is slightly cheaper than the Donner Ultimate Comp.
MXR M102 Dyna Comp
MXR Dyna Comp Guitar Effects Pedal (M102)
In-line compressor "evens out" the signal to your amplifier
Useful for increased sustain with stable dynamics
Nashville studio standard
Power: Dunlop ECB003 AC Adapter or Single 9 volt battery
The MXR Dyna Comp is one of the most popular compressor pedals among guitarists, along with the Boss CS-3. It is a very old model that hit the markets around the '70s and shaped the world of compressor pedals with its great sound, performance, and versatility. So this shows that it is one of the greatest compressor pedals; otherwise, it would not be able to survive that many years on the modern market.
Providing an easy way to balance the volume and create chunky, clicky clean guitar tones, the MXR Dyna Comp is used by many famous guitarists, from Joe Perry to Johnny Garcia. It has a very easy-to-navigate control panel with only 2 adjustment knobs, output, and sensitivity to determine the output volume and the engagement level. It can be used with a 9V battery or an adapter as you like.
It is not a versatile compressor pedal like the modern alternatives, but it sounds great.
Of course, there are many modern compressor pedals with different valuable features. So I recommend you explore the other ones before deciding on going with the MXR M102 Dyna Comp. But if you are looking for an old-school high-performing compressor pedal, this one is a no-risk option that you will significantly get back what you pay for.
Conclusion
Overall, Donner Ultimate Comp is a compressor pedal that gives you more than you pay for. Of course, there are more versatile and better-performing compressor pedals out there, but they cost much more than the Donner alternative. If you are looking for a compression effect without hitting the bank account heavily, give each one you can go with Donner Ultimate Comp without hesitation.
If you found this article useful you may want to save this pin below to your Guitar board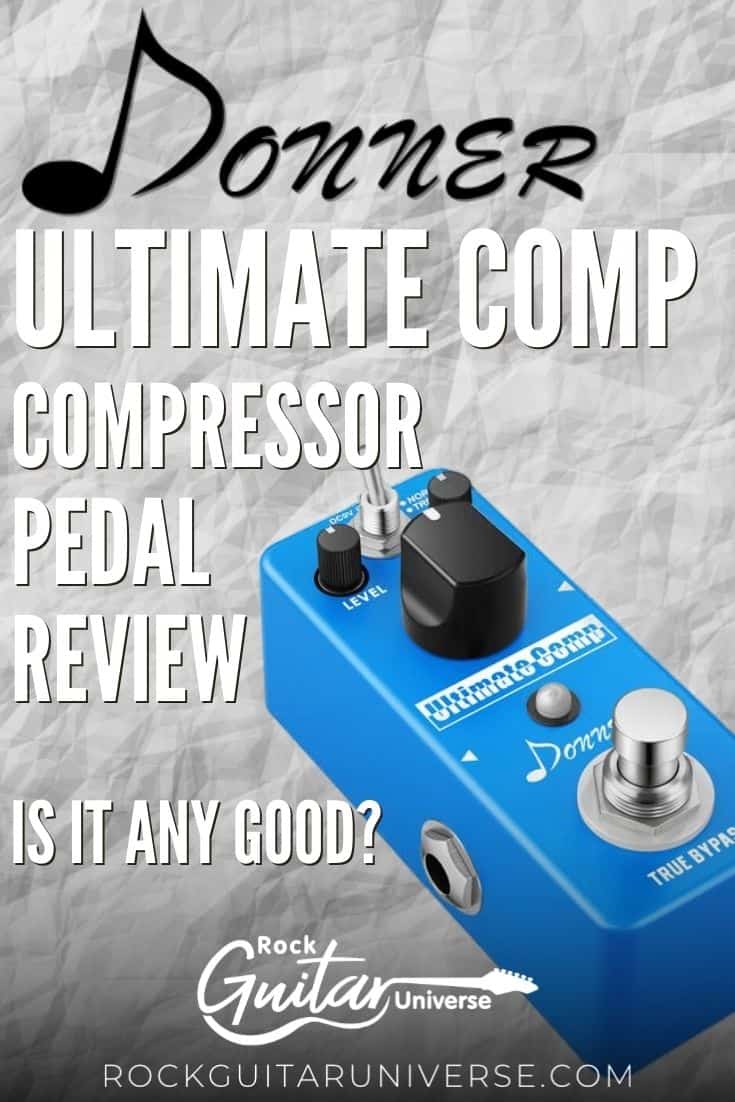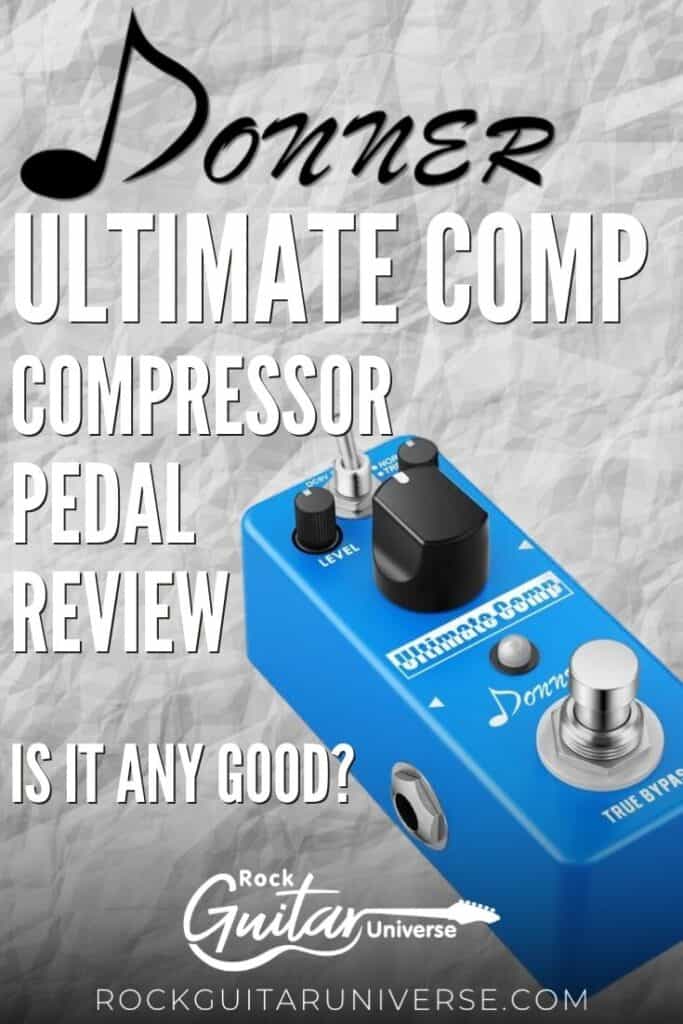 Last update on 2021-09-28 / Affiliate links / Images from Amazon Product Advertising API
Recent Content