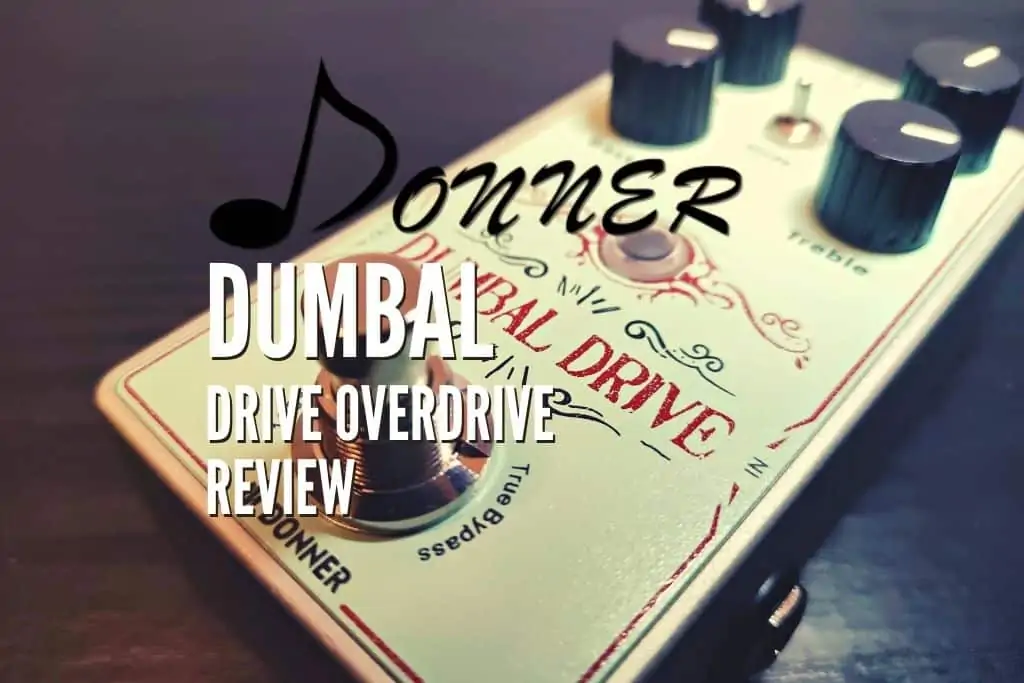 Overdrive pedals are one of the most important gear in a pedal setup. But, often, they are quite a headache as many guitar players try different variations of tube screamers, clones, or blues breakers to get the best tone they can get. There are many different overdrive pedals for different budgets and tones, which makes it hard to choose one.
Nowadays, there are many affordable overdrive pedal options for you to try and get the tone you desire. Donner Dumbal Drive is one of those great budget-friendly overdrive pedals which is inspired by the beloved tone of Dumble Amps, which are often used by famous guitarists such as Stevie Ray Vaughn and John Mayer. As Dumbal produces only 2 or 3 of these amps per year, only for special artists, it is nearly impossible to get one for us ordinary guitarists.
That is where Donner steps in and provides a solution. With its own take on the overdriven tube amp circuit, Donner Dumbal Drive features 3 clipping modes and a dedicated bass control giving the pedal a big tonal versatility. It has a smooth compression and a transparent overdrive tone. It is a successful pedal to replicate the classic Dumble sound.
| | |
| --- | --- |
| Pros | Cons |
| Great value for the price | No adapter comes in the box |
| Boosted clean tones, nice crunchy overdrive | |
| Solid and durable stompbox | |
I would rate Donner Dumball Drive 4.5 out of 5 as it is a great affordable Dumble-style overdrive pedal with a smooth and clear tone. The Donner-quality solid and durable stompbox, along with its tonal flexibility from great clean to overdriven sounds, this pedal provides performance much more than what you pay for. The only letdown is that it does not come with an adapter, but that is not a deal-breaker.
Donner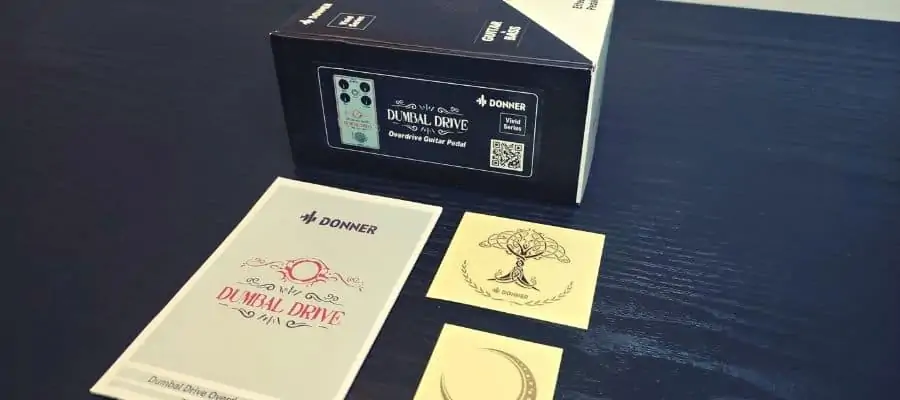 Born in 2012, Donner is a relatively recent musical instrument and accessories company. The brand specializes in producing high-quality music instruments and gear for affordable prices. They became globally appreciated by musicians on a low budget.
Donner's favorite products are the effect pedals and processors. The variety of effect pedals they offer is highly liked by guitarists all over. All of their warehouses are located in the U.S.A. and Canada, but the company ships worldwide.
Thanks to its brilliant R&D team and fantastic customer service, Donner became a well-known and reliable brand with its low-priced and innovative musical products.
Donner Dumbal Drive Overdrive Specs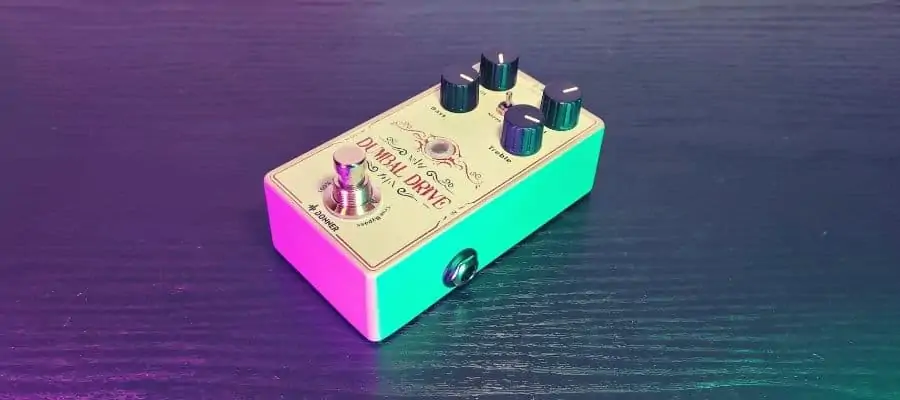 Let's see what the Donner Dumbal Drive has to offer
General
| | |
| --- | --- |
| Model | Dumbal Drive |
| Casing | Aluminum |
| Color | Mint Green |
Dimensions
| | |
| --- | --- |
| Weight | 9.17 oz (260 g) |
| Width | 2.52" (64 mm) |
| Height | 2.07" (52.6 mm) |
| Depth | 4.47" (113.5 mm) |
Electronics
| | |
| --- | --- |
| Input Impedance | 1 M Ohms |
| Output Impedance | 50 Ohms |
| Current Draw | 5 mA |
| Led Indication | Yes |
Controls
| | |
| --- | --- |
| Knobs | Treble, Bass, Gain, Volume |
| Switches | 3 Modes Switch |
| Buttons | True Bypass |
Input/Output
| | |
| --- | --- |
| Input | ¼" Mono Audio Jack |
| Output | ¼" Mono Audio Jack |
| Power Jack | 9V DC adapter, 100 mA |
The Dumbal Drive is a true analog circuit overdrive pedal based on the legendary D-style amplifier that comes in a mint-green elegant and portable stompbox. The whole Aluminum casing is quite sturdy yet lightweight, making it a great companion in the long term.
The pedal is quite tiny, with dimensions of 2.52" (64 mm), 2.07" (52.6 mm), 4.47" (113.5 mm). It is also a lightweight pedal that weighs around 9.17 oz (260 g). So you can easily carry it around, and it would not take much space on your pedalboard.
The control panel features four knobs for controlling treble, bass, gain, and volume. The 3-band equalizer provides adjustments for your tone, adding to the versatility with the 3-mode switch. The 3 modes provide different tonal possibilities emphasizing different frequencies from high to low. The pedal also features a True-Bypass button, which is indicated with a LED light when on.
The knobs switch and the button works pretty well in my case, but some reviews are saying that in some cases, they do not work properly with gaps when turning the knobs. So, do not forget to check out yours when buying, and do not hesitate to contact Donner in any case.
Besides these, the pedal features a standard a ¼" Mono Audio Jack input and an output along with a 9V DC adapter power jack input. Be aware that the adapter is not included in the box and is sold separately.
The Donner Dumbal Drive Overdrive Pedal Manual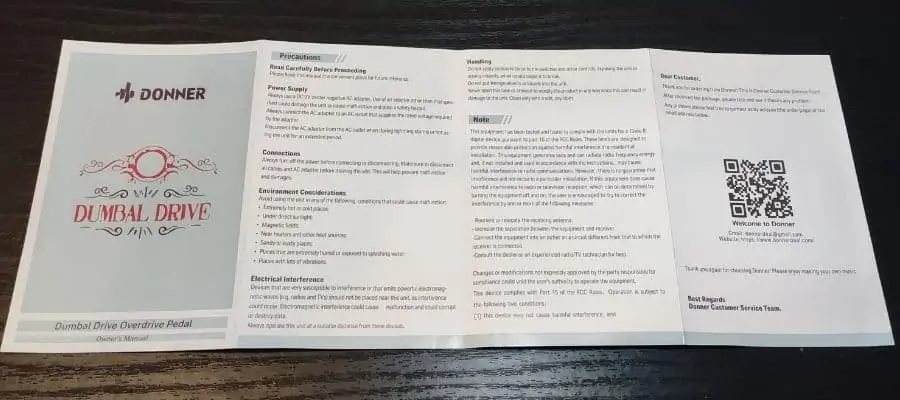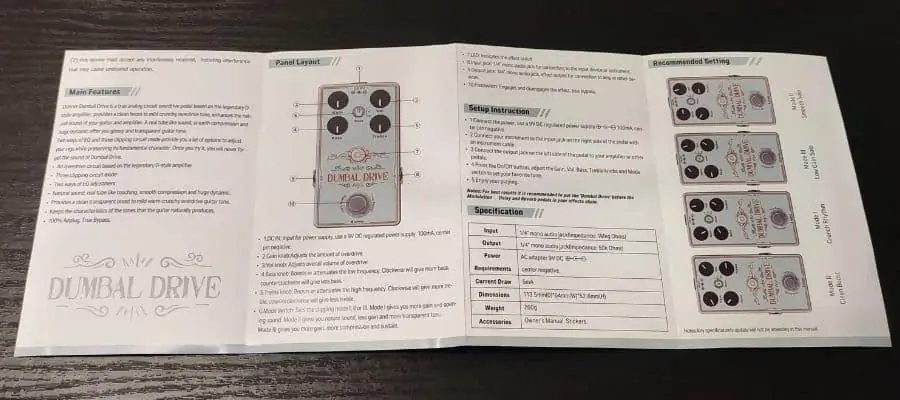 What Power Does Donner Dumbal Drive Pedal Require?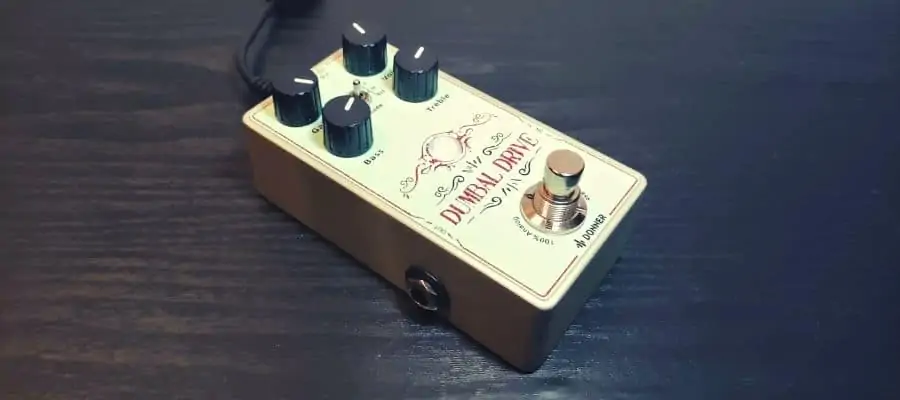 To work properly, Dumbal Drive needs a 9V DC 100 mA adapter. Unfortunately, the adapter is not included in the price and you will have to pay extra and buy it individually.
On the other hand, Donner also offers Donner DP-1 pedal power supply which can power up to 10 different pedals. If you have many pedals on your setup and do not want to waste time and energy connecting all of them to power sources one by one, you might want to purchase this affordable yet high-quality power supply. It supports 9V, 12V, and 18V pedals and is a straightforward device to use.
Furthermore, if you are in search of a smart way to organize your pedals, Donner offers Donner Guitar Case DB-3 Aluminium Pedalboard. It is a sturdy yet lightweight pedalboard that is great to organize your setup and carry it around. Its dimensions are 20" (50 cm) x 11.4" (29 cm) x 4" (10 cm) and can house around 10 pedals.
The Donner Dumbal Drive Overdrive Pedal Sound Quality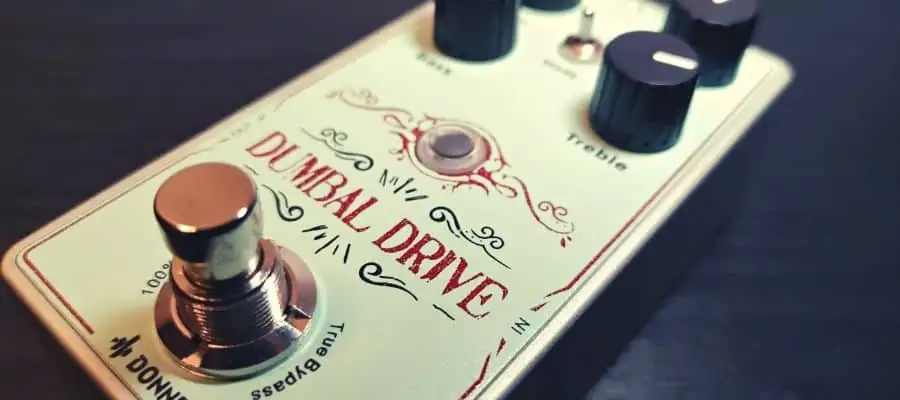 Donner Dumbal Drive is a great overdrive pedal that mimics the legendary D-style amplifiers. It has 3 clipping circuit modes, which shapes the sound by emphasizing different frequencies. The pedal has a pretty natural, authentic tube-like sound with a good dynamic response and smooth compression options controlled by the mode switch.
The pedal sounds pretty good and clear, in my opinion. I would label it as a mild OD pedal as it amazingly boosts the clean tones and has a lovely crunchy overdrive. I can say that it provides a really nice sound of a tube amp breaking up.
The drive tone the pedal provides is good, gritty, and thick. It is a highly transparent pedal with low gain goodness. It does not add many colorations to your sound. It is an amp-like pedal, especially in terms of how the controls work. It is a tiny amp in a box in this perspective.
There are 3 different modes, giving the pedal great tonal flexibility. Each mode uses different compression ranges and emphasizes different ranges of frequencies.
Mode I
The first mode emphasizes the higher frequencies and makes the sound head larger. It also adds a bit of compression to your tone. The bass-ends are more squashed and pushed down slightly.
You can use this mode to make you sound brighter for soloing for example.
Mode II
Mode II emphasizes both ends, creating a more balanced tone. It adds less compression than the other modes. This is the most open sounding mode which symmetrically clips all the frequencies. This mode features a tube-screamer-like tone and sounds highly balanced. It is my favorite mode on this pedal.
Mode III
The last mode is about the lower frequencies, as you may guess. The lower frequencies are highly emphasized, and the compression is the strongest on this mode.
You can use this mode with Strat-style guitars as the Strat-style pickups are quite bright and do not have much low-end. With this mode you can balance that successfully.
Overall, Dumbal Drive is a great affordable overdrive pedal that mimics the well-known Dumble amps. You can check the attached video to hear it yourselves and get a better opinion about it.
Donner Dumbal Drive Overdrive Pedal Compared To Other Pedals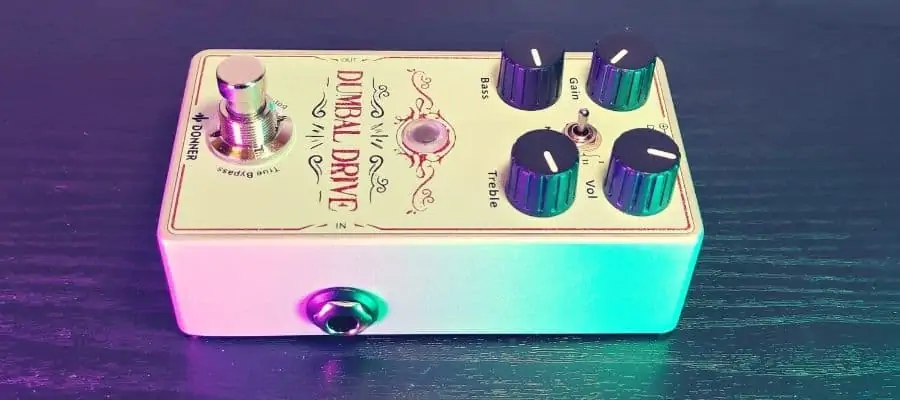 Donner Dumbal Drive VS. Wampler Euphoria
Wampler Euphoria V2 Natural Transparent Overdrive Guitar Effects Pedal
A pedal known for its versatility and that old boutique catch phrase...
Goes from clean tones to extremely fat tones while adding a bit of warmth,...
Dynamic, with a great choice of tones (from gritty to smooth), yet able to...
Features pre-gain bass control that gives the tone a warmth and sustain, as...
Wampler Euphorie, formerly known as Ecstasy, is one of the most famous Dumble Box pedals, mimicking the D-style amplifiers. Just like the Dumbal Drive, Euphoria is a highly versatile overdrive pedal that can be used for clean tones with sparkle to gritty overdrive tones or creamy lead-guitar distortion.
Wampler Euphoria features 4 knobs bass, gain, volume knobs are the same with Dumbal Drive, but the last knob is a tone knob instead of Donner's treble. Both pedals have a 3-way mode switch with different names, but the functions are the same, emphasizing different frequencies for tonal flexibility.
When the sound quality is compared, Dumbal Drive mimics the D-style amps better, in my opinion. The clean-shaven OD tone of a Dumble-style amp sounds better and fuller with the Dumbal. But with higher-gain modes, Euphoria shines and provides a real Triple Rectifier-style dynamite distortion with drive and great sustain.
Wampler Euphoria costs more than the triple of Donner Dumbal Drive. However, it seems to me that this price gap is not reflected in the quality comparison.
Donner Dumbal Drive vs. Hermida Zendrive
Hermida Zendrive is an affordable replicate of the original Zendrive, which was a legendary boutique overdrive pedal with a unique tone and an extremely high price tag. It has highly sensitive dynamics along with smooth liquid tones used by many famous guitarists.
Like the Donner Dumbal Drive, Zendrive has 4 controls, volume, gain, tone, and voice. Instead of 2-way EQ in Dumbal Drive, Zendrive features tone and voice adjustment knobs. The voice knob is used for limiting or increasing the amount of total gain available from the gain knob, and it increases the low end as you turn it down.
Zendrive works best with low to mid-gain tones. It sounds natural and organic with plenty of harmonic grooves with an excellent string separation. You can also boost cleans significantly by lowering the gain knob down.
With highly crunchy tones, Dumbal Drive performs better, but Zendrive is hard to beat when it comes to low to mid-gain blues, country, jazz, or fusion tones. The sensitivity and the harmonic possibilities are greater in Zendrive, as you would expect. Both pedals are quite versatile and can be combined with other overdrive pedals.
Zendrive is a high-end overdrive pedal with its price 5 times more than the Dumbal Drive.
Donner Dumbal Drive vs. J. Rockett The Dude Boost/Overdrive Pedal
J. Rockett The Dude is yet another excellent D-style overdrive pedal that shines with its sensitivity and rich harmonic content. It mimics the D-flavour greatly in this sense.
It features 4 adjustment knobs named level, ratio, deep and treble. Although the names are different, the functions of the knobs are the same as Dumbal's. The level knob controls the volume, the ratio knob controls the gain, the treble knob controls the treble, and the deep knob controls the bass emphasis.
The Dude works best as a clean booster or a mild overdrive provider. It is a truly versatile pedal that can be used for many different tones and genres. If you like lyrical lead playing with plenty of fat sustain, this pedal is for you.
When compared to the Dumbal Drive, the versatility is similar, yet the harmonic content and the dynamic sensitivity are better in the Dude. But this is quite expectable as the Dude costs much more than Dumbal Drive.
Donner Dumbal Drive Overdrive Pedal Is Perfect For Whom?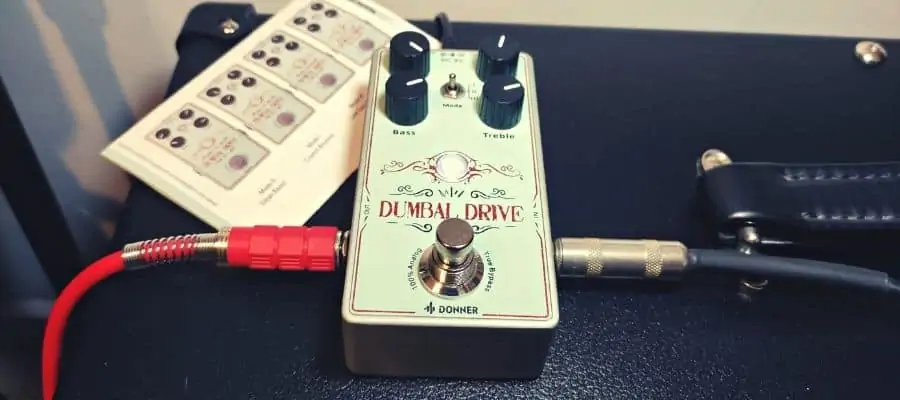 Donner Dumbal Drive is perfect for guitarists who are looking for a budget-friendly overdrive pedal to replicate the Dumble amp tones. It is a true analog circuit overdrive pedal based on the D-style amplifiers.
Guitarists looking for an overdrive pedal that shines with low-to-mid gain tones can go with the Donner Dumbal Drive. You can use it to boost your cleans or have a crunchy, warm overdrive tone. If you are not after modern metal high-gain tones, this pedal can work for you.
The pedal is great for blues, classic rock, jazz, fusion, or punk tones. It is quite versatile so that you can use it as a solo overdrive pedal, or you can also combine it with different distortion pedals.
Beginner to mid-level guitarists would like this pedal as it performs great and it does not leave a heavy mark on your budget. But if you want a high-gain pedal or more modern sounding distortion tones, this pedal is not for you. And, of course, this is a low-budget pedal, so you should not expect a professional recording or live gig performance from it.
Where To Place Dumbal Drive On The Pedal Board?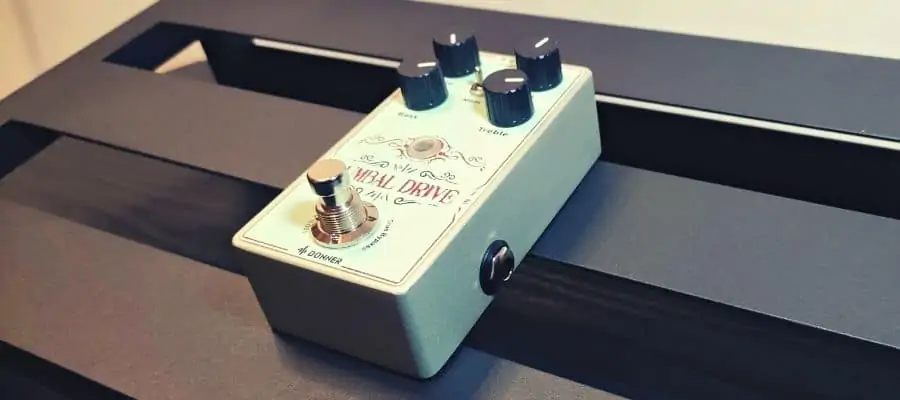 There is a specific pedal order to be followed when building up a pedalboard. If you are not an experimentalist or a pedal master, you should follow this order to get the best out of your setup. The signal chain is very important if you want to have a proper guitar tone and the best performance possible.
The first step the signal travels to should be the compressors, filters, wah, pitch shifters, and volume pedals. If you have any of these pedals, plug your guitar directly into one of them before anything. Distortion and overdrive pedals are the second steps which is the step of Donner Dumbal Drive if you decide to add it to your setup.
The third step is for modulation effects like chorus, flangers, and phasers, while the final step consists of time-based effect pedals such as delays and reverbs.
So, if you take this order into account, you should locate the Dumbal Drive as the second step in the signal chain. The gain pedals should come before modulation and after compressors, wah, or pitch shifters.
Other Donner Pedals Worth Mentioning
Donner Blues Drive
Donner Overdrive Guitar Pedal, Blues Drive Vintage Overdrive Effect...
🎸[2 overdrive modes] Warm: The classic TS overdrive sound replica. Hot:...
🎸[Style-type] Combining iconic vintage tube overdrive sound with wide...
🎸[Easy to use]Flexible knobs for tone control: LEVEL (output volume),...
🎸[True bypass guitar pedal] True bypass provides transparent tone....
Combining iconic vintage tube overdrive sound, wide dynamic range, and flexible controls, the Blues Drive takes inspiration in the legendary TS-Drive Overdrive reproducing its sound with warm, smooth mids and incredible dynamic response. It provides a two-way tone switch that allows you to choose between HOT for a more powerful tone and WARM for a smooth, sweeter sound.
Donner Morpher Distortion Pedal
A great Suhr Riot clone for guitarists looking for an affordable 80's style metal distortion pedal, the Donner Morpher Distortion Peda is a high-gain distortion pedal great for glam and metal. It is a mini-pedal, highly portable, and features 3 different distortion modes: natural, tight, and classic for different tastes.
Donner Extreme Driver Analog Distortion Pedal
Donner Distortion Guitar Pedal, Extreme Driver Analog Turbo Distortion...
Iconic classic rock distortion. powerful, rich distorted sound with...
3 Working Modes: TUBE/ULTRA/NORMAL .TUBE: Smooth, tube-like "E-mod"...
DC 9V Jack:For power supply, use a 9-volt DC regulated by AC adapter, (plug...
True bypass provide transparent tone,LED indicator shows the working state.
The Extreme Driver is yet another excellent distortion pedal by Donner. It replicates the classic 80's rock sound with three modes, tube, ultra, and normal, for different style drive options. The two knobs for tone and level allow you to control brightness and output volume, while you can also adjust the gain level with the big knob. Overall, it is a great affordable effect pedal to catch 80's hard rock tones.
Alternatives To The Donner Dumbal Drive Overdrive Pedal In Terms Of Look, Sound, Specs, And Price
Mooer Rumble Drive
Mooer Hustle Drive, drive micro pedal
Ultra wide dynamic range and extraordinary open tube-like drive sound
2 Working Modes: HP/LP
High peak mode (HP) boosts up the bottom end. When increasing the...
Low peak mode (LP) colors the original sound very little but works well for...
Mooer Hustle Drive is a compact overdrive pedal that mimics the tube amp style tones. It is an affordable alternative for guitarists who like to have the iconic tube amp overdrive tone.
The pedal features a three-knob control panel with controls for volume, tone, and drive. The pedal is quite versatile, but it shines with mid-gain bluestones. It has a great dynamic response which provides a different character depending on how hard you play the strings. The overdrive is also quite transparent, making the dynamic nuances more apparent.
Besides that, it sounds pretty round and smooth. It is similar to the Zendrive, but of course, this one is a budget-friendly, more limited option. You can also use it by combining it with different overdrive pedals.
Joyo R-02 Taichi Overdrive
JOYO Tai Chi R-02 R Series Low Gain Overdrive Pedal of Smooth...
JOYO Tai Chi low gain overdrive pedal, the unique "VOICE" knob controls...
Whole new appearance and the iconic R series ambience LED light bring out...
Before you test the pedal or before playing, make sure the guitar is fully...
R series effect pedals deliver way more comprehensive tones and functions...
Joyo R-02 Taichi Overdrive is yet another overdrive pedal that replicates the tube amp style overdrive tones. It provides smooth blues, jazz, fusion tones successfully.
The pedal comes with four adjustment knobs to control the volume, gain, tone, and voicing of the pedal. It also has a LED light indicating if the True Bypass switch is on or off. The stompbox is quite light and portable.
The sound the pedal delivers features slight compression along with a strong sustain. At lower settings, the pedal breaks the clean tones greatly with a light overdrive sounding smooth and warm. With higher settings, Taichi gets stronger and provides a tone full of gain and sustain, but it keeps the warmth.
The dynamic response is pretty satisfying with a combination of saturated tones while retaining open harmonics of your playing. It is a good affordable overdrive pedal if you like tube amp style overdrive tones.
Harley Benton Vintage Overdrive
Harley Benton Vintage Overdrive is a budget-friendly mini overdrive pedal that works as a tube amp style distortion tone provider. The pedal shines with its price tag-performance ratio, which is expected by Harley Benton associated with the famous Thomann Music company.
The pedal comes in a durable and sturdy stompbox with decent knobs and hardware. There are three knobs on the control pane drive, tone, and volume, along with the True Bypass switch. It is not a highly versatile pedal, but it performs greatly with rock n' roll, the '60s, 70's classic rock tones.
It may not be the best tube amp overdrive pedal, but it has one of the highest price-value ratios. The overdrive effect compresses the sound a bit, leaving space for nice dynamics. It performs great with a bit of gain to break the clean tones a little, as well as using it for distorted hard rock tones. For grunge, punk rock, rock n' roll, hard rock, the pedal provides excellent tones.
There are, of course, better pedals on the market with better performances. However, for this price range, Harley Benton Vintage Overdrive is a great choice for guitarists looking for some vintage overdriven tones.
Conclusion
In short, Donner Dumbal Drive is one of the best overdrive pedals that mimics the D-style amps in its price range. With its 3 different modes providing different tones, it delivers a natural, real-tube-amp-like sound with outstanding dynamic response and smooth compression.
The stompbox is quite sturdy and durable and looks elegant with its mint green color. The weight and dimensions are also great to carry it around or find a place in your pedalboard.
If you are looking for a tube-amp style overdrive pedal to create low-to-mid-gain tones, or if you want to boost your clean tones a bit, you can go with Donner Dumbal Drive. It will not let you down, and it will not break your bank account.
If you found this article useful you may want to save this pin below to your Guitar board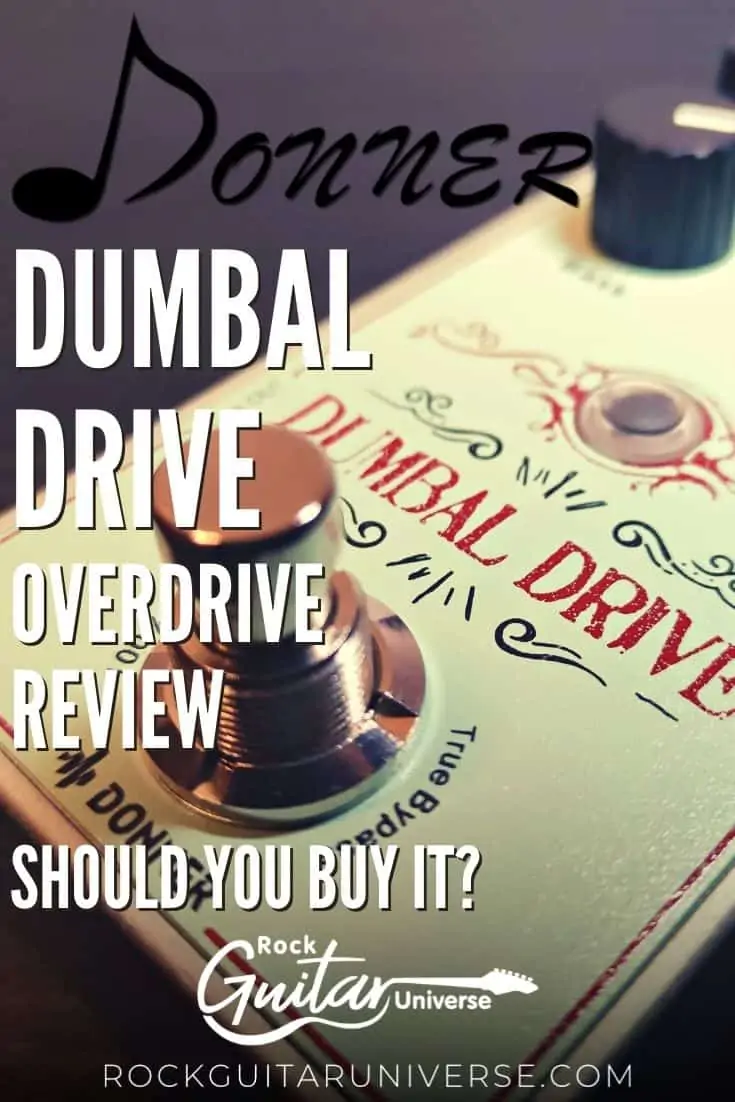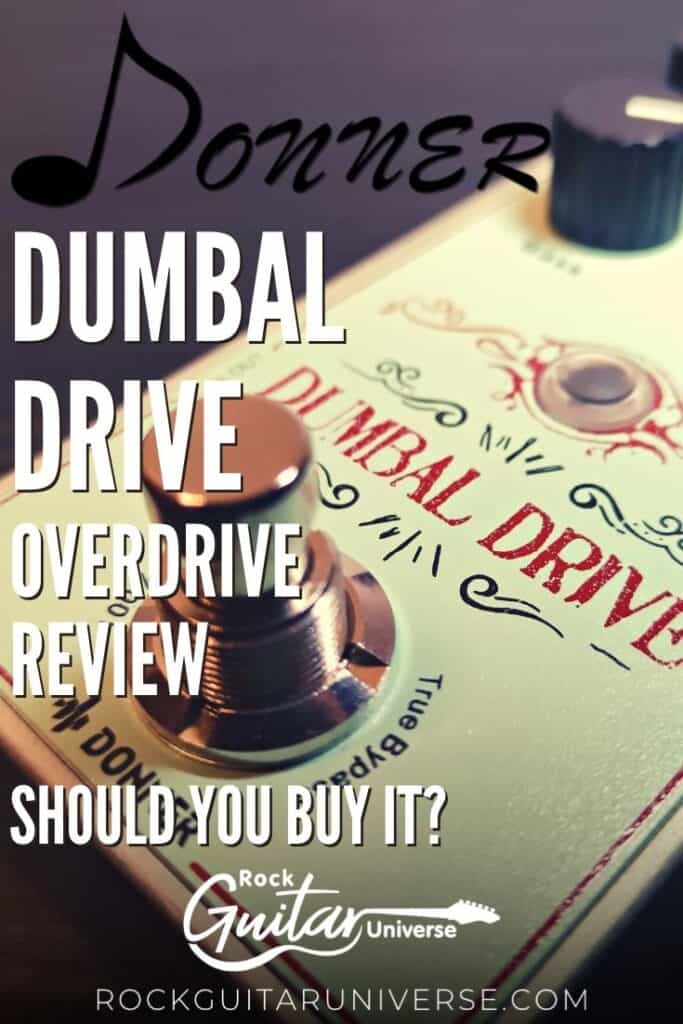 Last update on 2022-01-26 / Affiliate links / Images from Amazon Product Advertising API
Recent Content