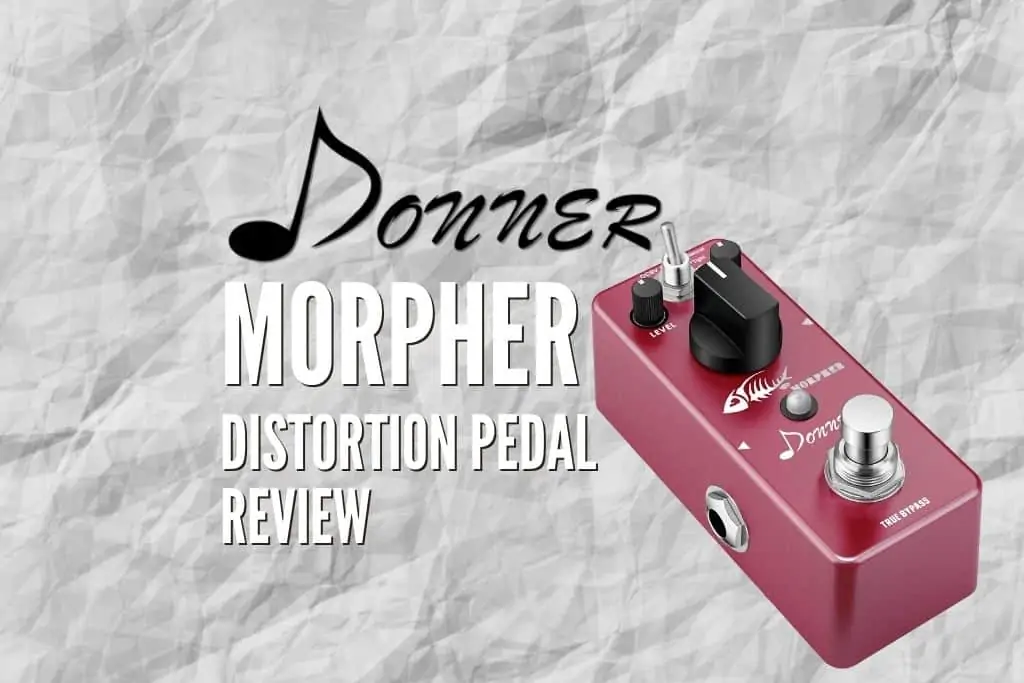 As the way it is, the sounds, trends, and gear come and go in the music world. But the wheels keep turning. The music genres of the past never truly disappear. The new generation of audiences rediscover the genre, the sound and elevates it as a trend again. So in order to produce the same kind of music, these rock fans return to the nostalgic gear or remakes of those gear.
The guitarists who are fans of 80's metal, glam rock sound, and bands such as Guns N' Roses, Def Leppard, Poison, and Motley Crue, might want to examine the Donner Morpher Distortion Pedal. As it is a remake of the famous Suhr Riot, it has very similar specifications and sound tone. It is a classical 80's style metal distortion pedal.
The pedal features an excellent aluminum-alloy construction and a simple but extensive control panel, along with its mini dimensions, which save a lot of space in the pedalboard. On the negative side, it is a Suhr Riot clone which some people may not like concept since clones are pretty controversial in the guitar world. Another downside is that it does not support battery power.
| | |
| --- | --- |
| Pros | Cons |
| Excellent 80's metal sound | No battery power |
| Outstanding value for the price | "Clone" pedal |
| Portable and tiny | |
Overall, I think this is an amazing 80's metal distortion pedal. I would rate it easily 4.5 stars out of 5 and recommend it to any guitarist looking to catch this tone.
Donner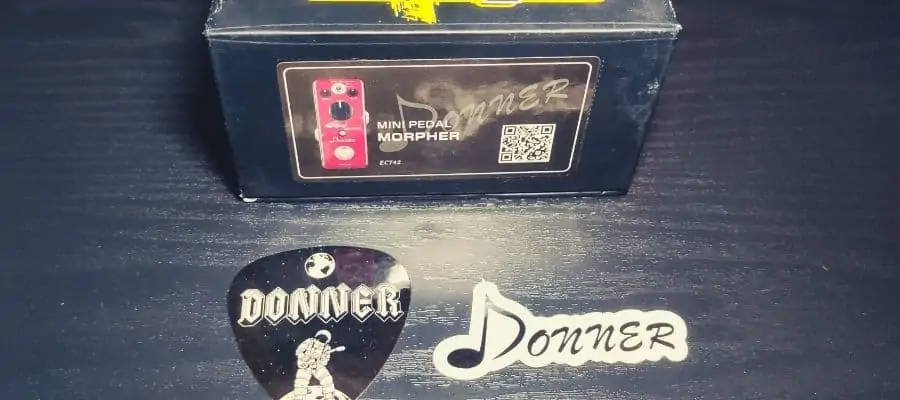 Founded in 2012, Donner is a relatively new musical instrument and accessories brand that has been offering new experiences to musicians on a budget. The brand is specialized in producing mini pedals, but they also offer many musical instruments along with accessories.
Donner is famous for its innovative products and low price tags. The brand has a solid and efficient R&D team, and it quickly became famous for its high-quality and affordable musical instruments and accessories. Their goal is to make every customer happy therefore they offer a 30-day return on their products.
Donner Morpher Specs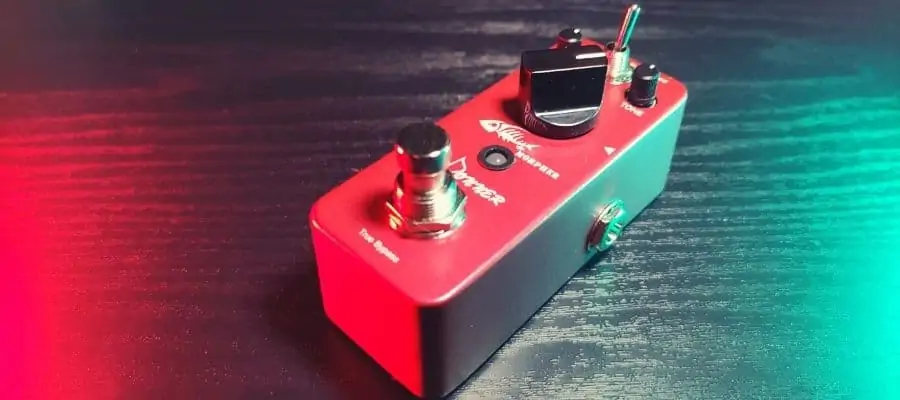 Let's look at what the Donner Morpher has to offer.
General
| | |
| --- | --- |
| Model | Morpher |
| Casing | Whole Aluminum |
| Color | Cherry |
Dimensions
| | |
| --- | --- |
| Weight | 8.16 ounces (230 g) – mine is 7.84 ounces (222 g) |
| Width | 1.6" (4.2 cm) |
| Height | 3.7" (9.35 cm) |
| Depth | 2" (5.2 cm) |
Electronics
| | |
| --- | --- |
| Chip Model | JRC4558D |
| Input Impedance | 1 M Ohms |
| Output Impedance | 95 Ohms |
| Current Consumption | 20 mA |
| Led Indication | Yes |
Controls
| | |
| --- | --- |
| Knobs | Level, Tone, Gain |
| Switches | 3-Way Tone Switch |
| Buttons | True Bypass |
Input/Output
| | |
| --- | --- |
| Input | 1/4" Mono Audio Jack |
| Output | 1/4" Mono Audio Jack |
| Power Jack | 9V AC adapter |
Donner Morpher is ultimately a compact pedal that is labeled as a mini-pedal with its dimensions of 1.6" (4.2 cm), 3.7" (9.35 cm), and 2" (5.2 cm). It takes up a small place on the pedalboard, which is great for guitarists with many pedals.
The control panel is straightforward to use. The controls offer a basic set of knobs for sound customization. It features a toggle switch that provides 3 different modes: Natural, Tight, and Classic. After switching to the mode, you can make some further adjustments in the mod itself via Gain, Level, and Tone knobs.
All of the knobs, switches, and buttons work pretty well; however, I felt like the gain knob moves too easily. It isn't like it is broken, but even with the slightest force, it moves around a lot, so if you have some settings that you like to save and put the pedal in a bag or a case, it is likely that this knob will move.
The Donner Morpher works with a 9V DC adapter, so don't forget to put an adapter as part of your purchase since it isn't included and there's no option to use batteries instead. It must also be noticed; even though it is a budget pedal, it is made of quality aluminum alloy.
The rest of the specs are pretty standard: there is a 1/4" Mono Audio Jack input and an output. There is a button for the True Bypass and a LED to indicate if the true bypass is on or off.
Donner Morpher Manual
If you are interested to know a bit more information about the Donner Morpher you can take a closer look at the manual. You can click on the image to view them at full size.
What Power Requires The Donner Morpher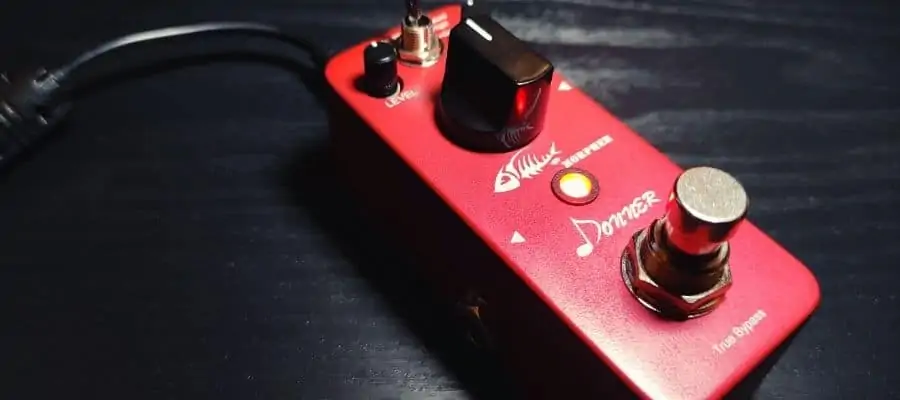 The Donner Morpher requires a 9V DC adapter with at least 20mA. Usually, most of the 9V DC power supplies will work just fine for this pedal and many others. As mentioned again, the power supply isn't included in the purchase.
But if you have many pedals and do not want to lose time with each individual cable, Donner offers the Donner DP-1, a guitar pedal power supply of up to 10 different pedals. The power supply supports 9V, 12V, and 18V pedals and is extremely easy to use. It will save you energy and time if you have many pedals and don't like dealing with many different adapters and cables.
If you also consider a pedalboard to tidy your pedals, the brand has Donner Guitar Pedal Board Case DB-3 Aluminium Pedalboard. The pedalboard has the dimensions 20" (50 cm) x 11.4" (29 cm) x 4" (10 cm) and is more than enough for 10 pedals.
Donner Morpher Sound Quality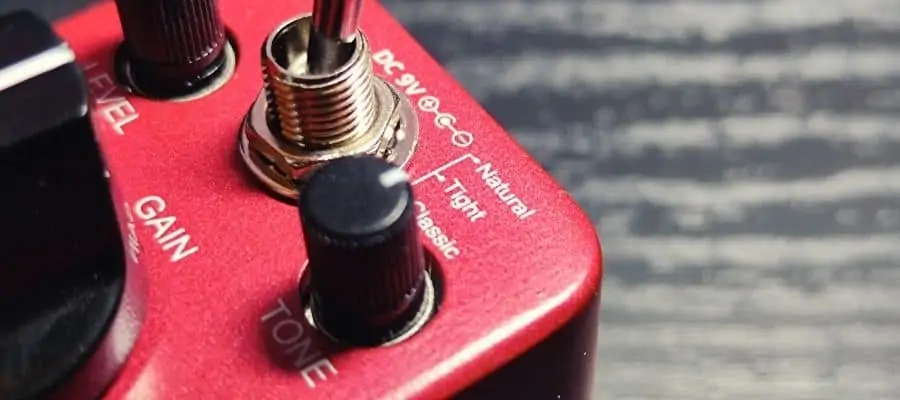 Obviously, the sound quality is highly dependent on the amp, but Donner Morpher handles any kind of amp thanks to its high-fidelity interface that can offer a perfect tune. In my opinion, it rocks best with a nice clean tube amp.
The tones are versatile as the pedal can provide a thick distorted sound as well as a righteous wail at the high end. The tones are distinctly perfect for 1980s metal. If you are in the mood for playing some Van Halen or Quiet Riot, this is the pedal for you. If you want a more modern, grungy sound, you will have to look elsewhere.
Donner Morpher provides the player with 3 different custom options: Classic, Tight, and Natural mode. These modes all sound different and are also open for further adjustments through knobs.
Natural
The natural mode of the pedal is a thick-sounding overdrive tone. It delivers an organic, natural overdrive tone which can be great for classic rock, glam metal, hair metal. It is the more balanced choice of the three modes.
Tight
The Tight mode offers a more modern-sounding distorted tone. It brings the "chug" to the tone, which had positive feedback from players. This setting catches the ear with its enhanced low-ends and high-ends, creating a more aggressive sound. It can be ideal for aggressive riffing or soloing.
Classic
My personal favorite mode, the Classic, is a UK-style gain response setting ideal for classic rock and glam metal. It has the tone of the '80s with attention on the mid frequencies. It is excellent for riffing or playing a soft solo as the bright sound perfectly shines.
In order to hear all the differences between the 3 different modes, you can check the video below.
Donner Morpher Compared To Other Pedals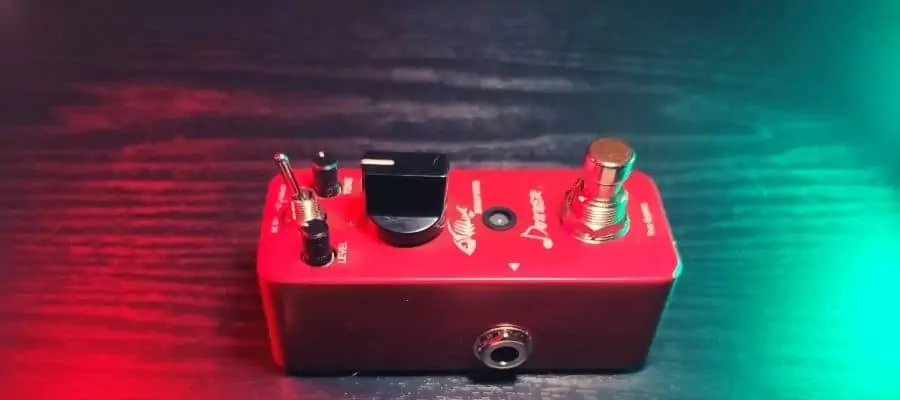 Donner Morpher VS Suhr Riot
Suhr Riot is the famous modern high gain distortion pedal with great dynamic range and clarity. It is one of the most expensive pedals, and it is one of the most clones distortion pedals of all time. The pedal is highly stable during solos and has a strong expression with dynamic echo sound. It is the perfect pedal for playing 80's metal tones.
Just like Donner Morpher, Suhr Riot is also made of aluminum alloy. It has the LED indicator and True Bypass button on top, along with distortion, level, and tone knobs.
In the sound quality sense, Donner has a low-end cut and more mid-range compared to Suhr Riot. Other than that, the sound is very similar.
With its almost 200$ price tag, Suhr Riot is 6 times more expensive than Donner Morpher. Even though there is a slight difference in sound quality, I think the difference is too low that it is far from justifying the price difference.
Donner Morpher VS Mooer Solo
Mooer Solo is an articulate hi-gain distortion pedal with a bright and aggressive character. In addition, it features enough gain to use with a clean amp or to turn an amp set to crunch into a fire-breathing dragon.
In terms of controls, just like the Donner Morpher, there's a level, a tone, and a gain knob along with a three-way toggle switch. The control structure and the results are extremely similar to Donner Morpher.
The pedal shines with its strong articulation; no matter how much gain is used, it never falls into that fizzy mess. Some other pedals do not handle it well and create a wooly, messy tone.
The most significant difference of the unit compared to Donner Morpher is maybe it has a more full low-end, making it a bit more suitable for modern rock tones. It can be said that Mooer Solo is an excellent device for guitarists looking for aggressive, modern distortion.
In terms of price, Mooer Solo is twice the cost of Donner Morpher.
Donner Morpher VS Dark Mouse
Dark Mouse is the RAT clone overdrive pedal of Donner. It provides a warm, powerful distorted tone along with a dual-mode switch option, providing a flexible sound character.
The pedal itself feels really sturdy and solid, as well as all of the controls and power jack. It features two modes to switch between and two knobs to control level and filter. The classic mode is just like it is written on the package; it's a more fuzz-type distortion, while the hyper mode is a stronger, brighter type distortion.
The sound ranges from a medium-heavy crunch to a deep dark, almost fuzz, with some fabulous 90s alternative rock distortion in the middle. I wouldn't call it a modern metal pedal, but compared to Donner Morpher, it is much closer to modern metal-rock sounds. The versatility of Dark Mouse truly exceeds Morpher's, as you can easily reach 70's, 80's, or modern 90's metal-rock tones.
The prices of Dark Mouse and Donner Morpher are very close to each other, and they are both extremely cheap pedals with unbelievable quality for the cost.
The Donner Morpher Is Perfect For Whom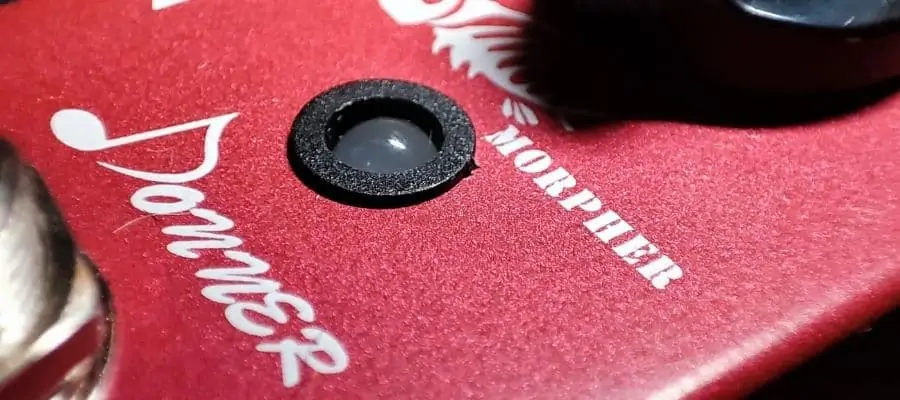 As said before, The Donner Morpher pedal is an old-school '80 style metal high-gain pedal. So, I would not recommend the Morpher to players who want more modern, grungy tones. So it is not the best idea for a guitarist who likes the tones of Dream Theater to have the Morpher.
As the pedal is more mid-range focused, it is great for hair metal, glam metal, classic rock, and 80s rock-metal sounds in general. In addition, the bright mid-range assures the resulting tone is of utmost articulate and notes blend in the mix perfectly. So if you are playing in an 80's metal cover band, Morpher is perfect for you.
It can be preferred by beginner guitarists as it is very cheap, easy to use, and offers great distorted tones. It can also be used by experienced guitarists, especially those on a budget, as it is very cheap; you can just save it for occasional use if you don't like the glam metal tone or add it to your pedalboard for some experimentation.
Where To Place The Donner Morpher On The Pedal Board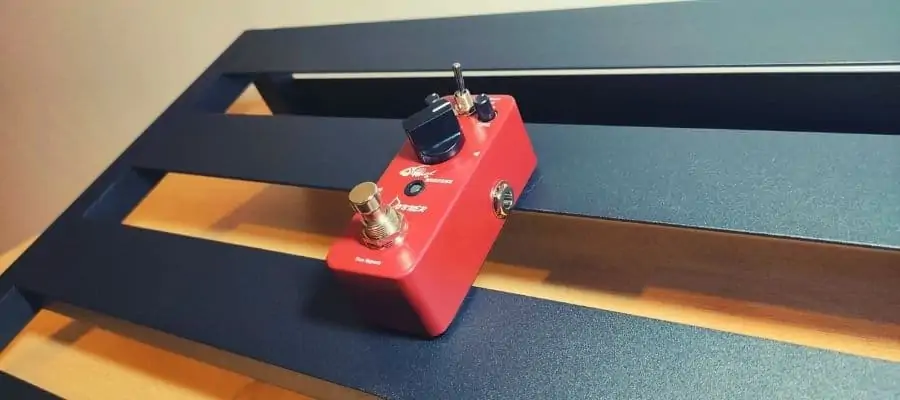 To get the best out of your pedal setup, you should respect the order of the pedals that the sound of your instruments travels before reaching the amp and coming out.
Dynamics (compressors), filters (wah), pitch shifters, and Volume pedals are the typical first choices for the start of the signal chain. Gain effects such as distortion pedals come after. The third step is for the modulation effects like chorus, flangers, and phasers. The next ones in the chain are time-based effects like delays and reverbs; they work best as the last step of the chain.
So, you can use this order to set up your pedalboard and put the Donner Morpher to the second step after your compressors, volume pedal, or wah. If you do not have this kind of pedal, then your Morpher will be your first step on your pedalboard.
Other Donner Overdrive/Distortion Pedals Worth Mentioning
Donner Blues Drive
Donner Overdrive Guitar Pedal, Blues Drive Vintage Overdrive Effect...
🎸[2 overdrive modes] Warm: The classic TS overdrive sound replica. Hot:...
🎸[Style-type] Combining iconic vintage tube overdrive sound with wide...
🎸[Easy to use]Flexible knobs for tone control: LEVEL (output volume),...
🎸[True bypass guitar pedal] True bypass provides transparent tone....
The Donner Blues Drive is a clone of the legendary TS-style overdrive pedal and its famous mods. The pedal combines iconic vintage tube overdrive tone with a wide dynamic range. The pedal offers flexible control on a straightforward control panel, allowing you to choose from a wide tonal range from smooth whispers to screaming solos.
Donner Dark Mouse
Donner Distortion Pedal, Dark Mouse Distortion 2 Modes Classic Hyper...
[Inspired by Classics and More] Dark Mouse distortion pedal is made to...
[2 Modes] Classic: Produce a classic, warm distortion sound with some fuzz...
[Durable Guitar Distortion Pedal] Aluminum-alloy classic, stable and...
[True bypass Guitar Pedal] True bypass provides transparent tone. LED...
Donner Dark Mouse is a RAT clone distortion pedal. It provides a classic, warm, powerful distortion while the dual-mode distortion provides a flexible sound character. The pedal offers two modes Hyper and Classic, a more powerful distortion tone and a warm distortion tone with a fuzz feel, respectively.
Donner Dumbal Drive
Donner Dumbal Drive is an analog circuit overdrive pedal inspired by the legendary D-style amplifier. The pedal offers a clean boost to soft crunchy overdrive tones, enhancing the natural tone of your guitar and amp. It provides a genuine tube-like tone, good compression, and great dynamics, which lead to a transparent guitar sound.
Alternatives To The Donner Morpher In Terms Of Look, Sound, Specs, And Price
Joyo US Dream
Another successful Suhr Riot Clone is US Dream by Joyo. It is again a high gain distortion pedal with a delicious sound. It provides a rich distortion that emulates a 100 Watt stack cranked up.
It has a straightforward control panel with volume, tone, and distortion knobs along with an aluminum casing. In addition, it has the True Bypass button like Donner Morpher. The unit creates a high amount of gain and volume, perfect for 80's metal and rock tones with fat and saturated sound.
All in all, Joyo US Dream is attractively priced, a little more than Donner Morpher, good sounding distortion pedal that's definitely worth a shot.
Mooer Solo
MOOER Solo Distortion Pedal
All-sided high-gain distortion with excellent dynamic response and...
Natural: Natural, organic distortion sound with nice dynamic response.
Tight: High gain distortion sound with powerful midrange and tight bottom...
Classic: Vintage high gain distortion with plenty of sound details.
As an articulate hi-gain distortion pedal with a bright and aggressive character, Mooer Solo is a great alternative to Donner Morpher. The pedal has a powerful chip that provides enough gain to turn a clean amplifier into a distorted monster.
The pedal's control panel consists of a level, a tone, and a gain knob along with a three-way toggle switch. As mentioned before, it is a solid pedal that never loses its articulation. Even with ultra-high gain levels, it never falls into that fizzy, wooly, messy tone.
Mooer Solo is muchly compared to Donner Morpher, and players find the two pedals very similar. Some prefer Mooer because of the brand reliability, but some others prefer Donner because it is half the price of Mooer.
Tone City Wildfire
Tone City Wildfire is yet another budget pedal inspired by Suhr Riot. It is an aggressive little pedal that sounds great in mid to high-gain territory.
The unit clearly sounds much bigger than it actually is. It is not to be played with clean tones, but the pedal sounds pretty satisfying when it is played with mid-gain. But the specialization of this pedal is the high gain area like the other Suhr Riot Clones. With a simple 3-knob control setup, including fundamentals like gain, volume, and tone, this pedal can take you from British hot-rodded Plexi tones to crushing American-style metal distortion.
The price of the Tone City Wildfire is a little higher than the price of Donner Morpher.
Conclusion
Donner Morpher is the most budget-friendly, highest quality high-gain distortion pedal that gets the distortion job done with perfection. Even if it specializes in one specific tone, it does it with brilliance.
It is easy-to-use, budget-friendly, and provides the high-gain tone that the 80's rock-metal fans crave. I think it is a deal not to be missed for any guitar player.
What's great about the pedal is that you buy a lot with so little investment. It's very affordable, and it takes just a little space. With all these benefits, along with the unique character of the unit, I don't see any reason not to go for it. It can help you make your covers of Guns N Roses or simply help you experiment with your own tone.
If you found this article useful you may want to save this pin below to your Guitar board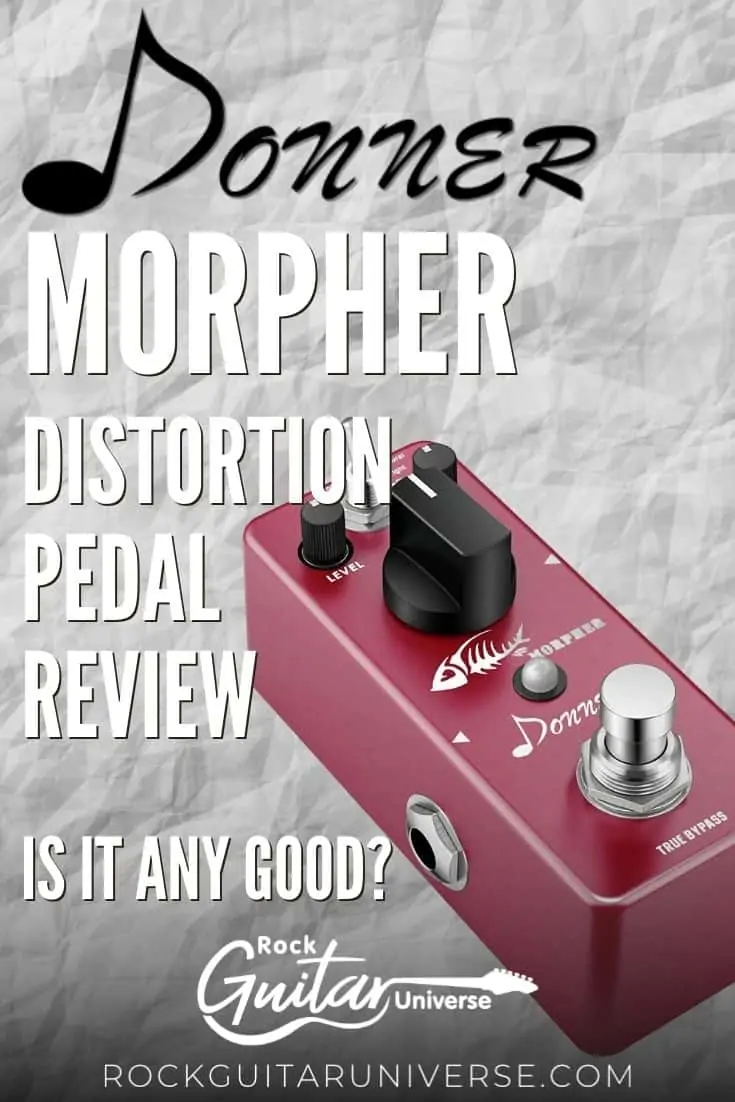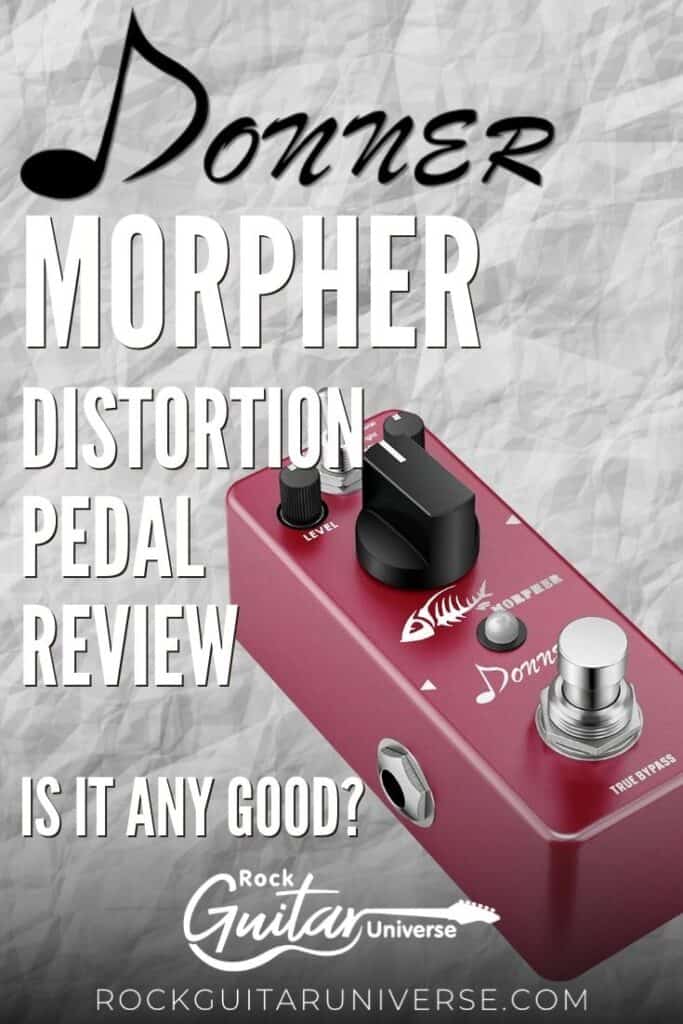 Last update on 2022-01-26 / Affiliate links / Images from Amazon Product Advertising API
Recent Content