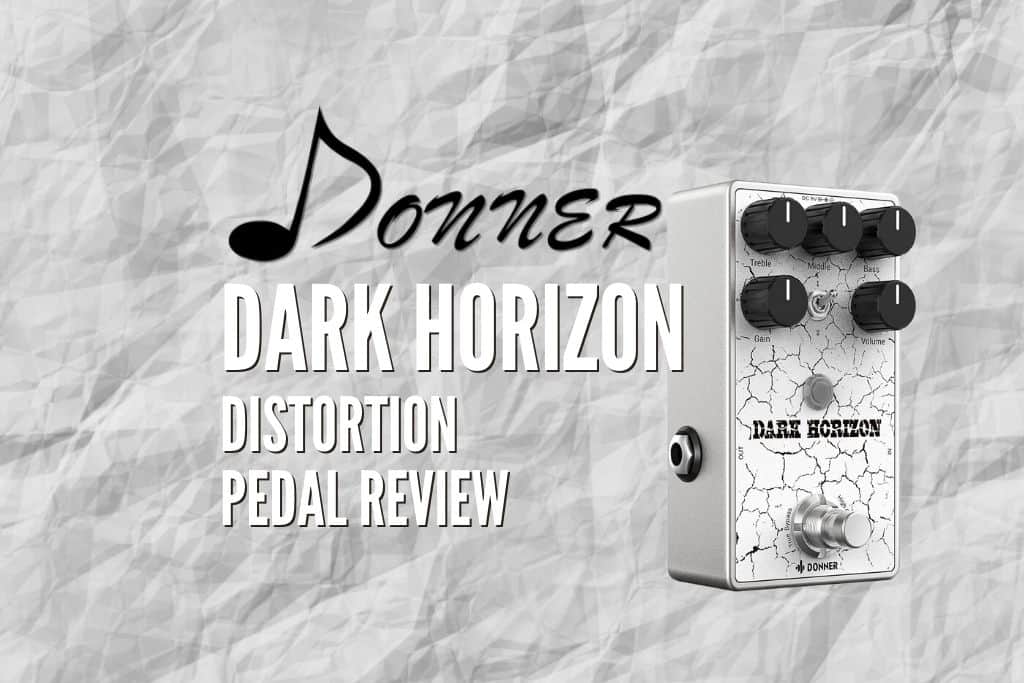 Almost every guitarist dreams of having that crunchy, warm vintage distortion tone that the iconic artists used with their tube amps in the '70s. However, tube amps are extremely high-end products, and they are not easy to maintain. But, nowadays, thanks to advanced technology, we can have that tone without breaking the bank.
For many years, several brands have offered distortion pedals that mimic the vintage tube amp distortion tones, but as with many new innovative products, it is hard to satisfy musicians. Thankfully, some pedals got the job done and allowed musicians with tight budgets to achieve as close as it can be to that vintage tube amp distortion tone.
Donner Guitar Distortion Pedal, Dark Horizon Crunch Distortion Classic...
[Crunch Distortion] A crunch distortion circuit mimicked the performance of...
[2 Modes] Two clipping circuit modes provide the more detailed mid gain...
[3-Band EQ] A powerful three-band EQ adjustments. A lightning fast, top end...
[Wide Applicability] Suited for most kinds of distortion tone, from vintage...
One of those pedals with the highest value for price ratio is Donner Dark Horizon. The portable mini-pedal is quite versatile, thriving both with low gain and high gain tones. It has a high sound quality with a warm feel and high dynamic response. It comes in a whole aluminum sturdy stompbox; however, the package does not include an adapter which is the only con, in my opinion.
| | |
| --- | --- |
| Pros | Cons |
| Great value for the price | No adapter comes in the box |
| Versatile, good low to high gain distortion tones | |
| Solid and durable stompbox | |
Honestly, I would rate this pedal 4.5 out of 5. Maybe it is not a pro-level product, but for other occasions, it is a budget-friendly, reliable distortion pedal that replicates the 80's tube amp distortion tones quite well with an excellent dynamic response.
Donner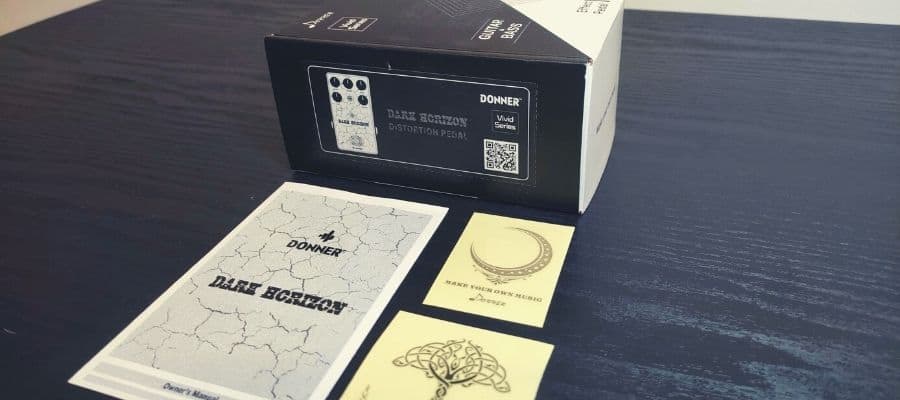 Founded in 2012, Donner is a young musical instrument and accessories company. The brand specializes in producing high-quality music instruments and gear for affordable prices. They made a name for themselves globally with much appreciation from musicians with a low budget.
Donner's top-star products are the effect pedals and processors. They offer many different effect pedals highly liked by guitarists all over. By the way, all of the warehouses are located in the U.S.A. and Canada but the company ships worldwide.
Thanks to its brilliant R&D team and fantastic customer service, Donner became a well-known and reliable brand with its low-priced and innovative musical products. 
Donner Dark Horizon Sepcs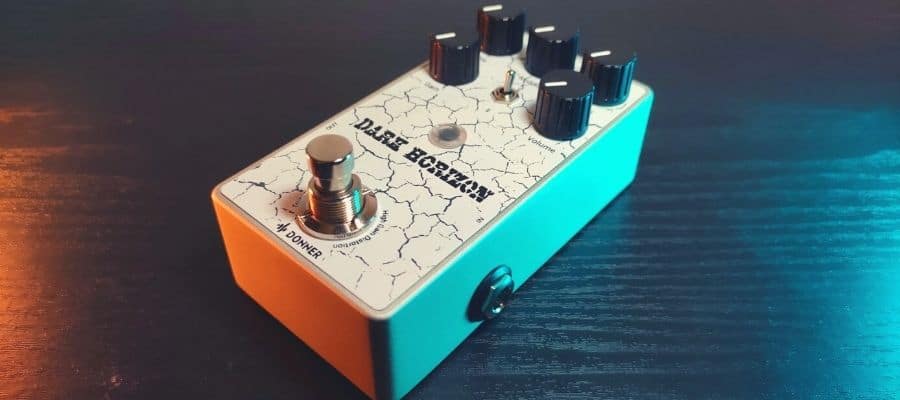 Let's take a closer look at the Donner Dark Horizon Specs:
General
| | |
| --- | --- |
| Model | Dark Horizon Distortion |
| Casing | Aluminum |
| Color | White |
Dimensions
| | |
| --- | --- |
| Weight | 9.17 oz (260g) |
| Width | 4.45" (11.3 cm) |
| Height | 2.52" (6.4 cm) |
| Depth | 2.09" (5.3 cm) |
Electronics
| | |
| --- | --- |
| Chip Model | |
| Input Impedance | 1 M Ohms |
| Output Impedance | 100 Ohms |
| Working Current | 140 mA |
| Led Indication | Yes |
Controls
| | |
| --- | --- |
| Knobs | Treble, Mid, Bass, Gain, Volume |
| Switches | High Gain – Mid Gain Mode Switch |
| Buttons | True Bypass |
Input/Output
| | |
| --- | --- |
| Input | ¼" Mono Audio Jack |
| Output | ¼" Mono Audio Jack |
| Power Jack | 9V DC adapter |
Donner Dark Horizon is a compact and portable distortion pedal. It is considered a mini-pedal as its dimensions are 4.45" (11.3 cm), 2.52" (6.4 cm), and 2.09" (5.3 cm). Plus,  it is quite light, 9.17 oz (260 grams), and it occupies a small place on the pedalboard which is great, especially for crowded setups.
The whole aluminum stomp-box is quite sturdy and feels durable. It is not made of cheap-alloy that most of the Chinese brands use. It also looks pretty good with its white box with black patterns on top.
It has an utterly user-friendly control panel for adjustments, and the basic set of knobs for tone customization consists of Treble, Mid, Bass, Gain, Volume knobs along with the High-Gain Mid-Gain mode switch.
The knobs, switches, and the True Bypass footswitch work pretty well without skips or pots when turning the knob. But, there are reports on the internet with hard knobs, so be sure to check out yours and do not hesitate to ask for a new product. As Donner's customer service is pretty attentive, they will solve your issue quickly.
The pedal comes with a manual that has several recommended settings for some well-known genres. This is super useful especially for beginners that don't have a lot of knowledge or experience with pedals.
The pedal works with a 9V DC adapter, but the adapter does not come in the box, which means you will have to buy it separately. As it is a cheap and easy-to-find adapter, this is not a deal-breaker.
Besides all these, the pedal has standard features: a ¼" Mono Audio Jack input and output, a true bypass button, and LEDs to help you navigate through the control panel.
Donner Dark Horizon Distortion Pedal Manual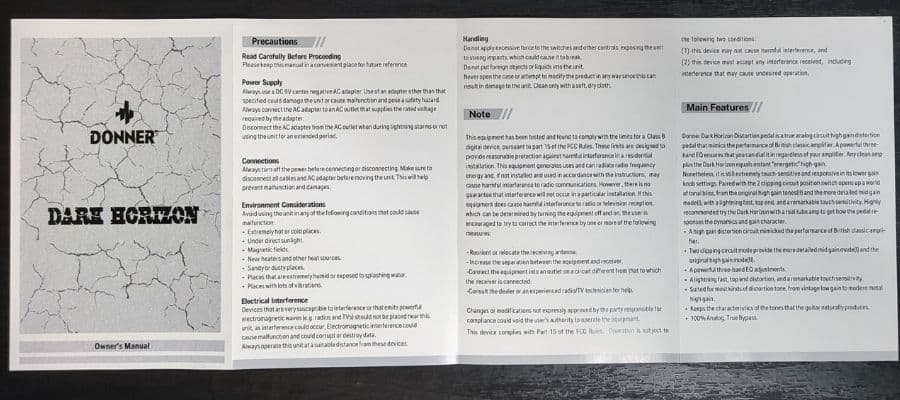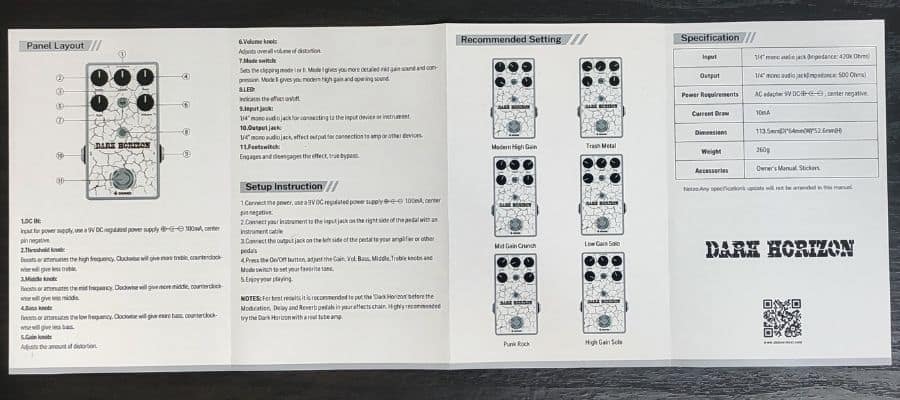 What Power Does Donner Dark Horizon Distortion Pedal Require?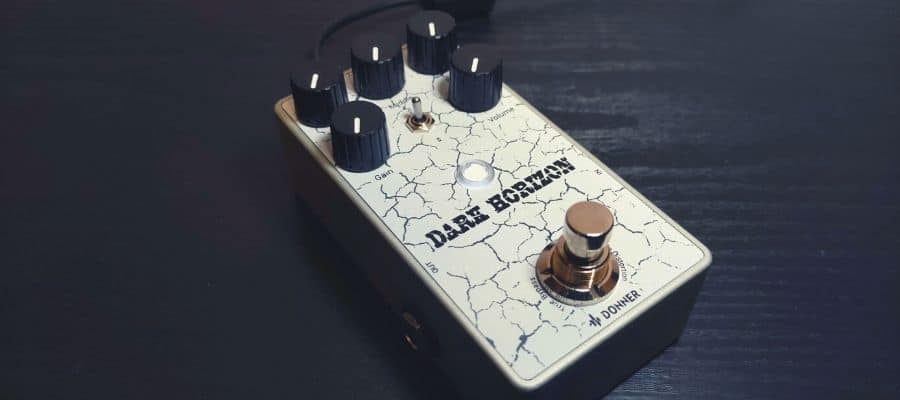 Dark Horizon only works with a 9V DC adapter, which does not come in the box. So, you will have to buy an adapter separately.
If you do not want to struggle with many adapters and the chaos of cables on your pedalboard, Donner offers the Donner DP-1, a guitar pedal power supply for up to 10 different pedals. It works with 9V, 12V, and 18V pedals and is a plug-and-use style device. It might save much energy and time if you have a crowded pedalboard.
If you are also looking for a pedalboard to organize your pedals, Donner offers Donner Guitar Case DB-3 Aluminium Pedalboard. The pedalboard has the dimensions 20" (50 cm) x 11.4" (29 cm) x 4" (10 cm) and is more than enough for 10 pedals.
The Donner Dark Horizon Distortion Pedal Sound Quality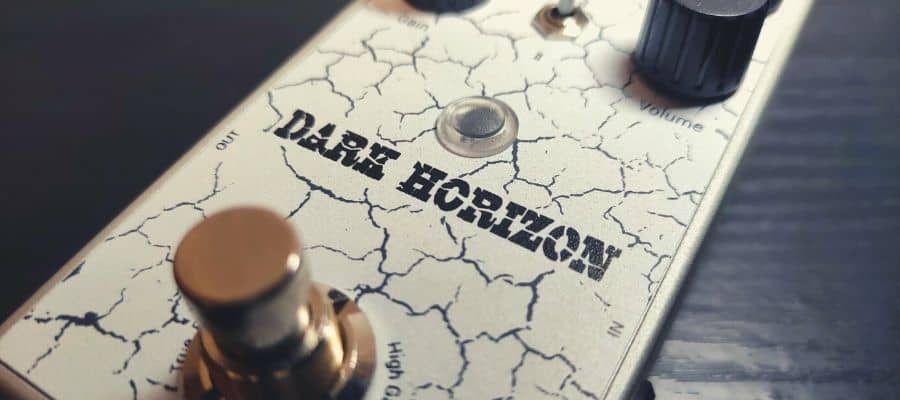 The name Dark Horizon gives the impression that the pedal has a dark and heavy tone. But in truth, it sounds well both with low gain tones as well as high gain heavier tones. It mimics the iconic vintage tube amp type distortion which you get from iconic amps like Marshall. 
It is essentially a high-gain pedal, but it also has a mid-gain mode which you can use to have slightly overdriven tones. Plus, I really liked the dynamic response of the pedal, as the pedal reflected my playing quite well.
The three-band EQ, volume, and gain knobs are very responsive, allowing you to adjust the tone as you like. This makes it a versatile distortion pedal that you can use for high-gain dark tones or break your clean tone a bit.
High Gain
Donner Dark Horizon is labeled as a high-gain pedal and works well with high-gain tones. The mode provides a vintage tube-amp style distortion with enough sharpness and brightness. 
The quality of sound is good enough, especially when you take the price tag into account. You can also use this pedal with other overdrive pedals as a secondary distortion pedal to have a more aggressive distortion tone.
Mid Gain
The mid-gain mode is great for vintage blues-like slightly overdriven as well as dirty rock tones. You can use it with clean to break it up a bit. The pedal responds amazingly to dynamics, and with slightly overdriven tones. This means that when you play softer, the tone is clean and clear while playing more aggressively creates a dirtier sound. It is great to have these nuances to emphasize different notes when you are playing.
You can check the following video to hear the pedal yourself to have a better opinion. It is a great video because the guitarist plays the pedal in different gain levels and with different pickup configurations.
Donner Dark Horizon Distortion Pedal Compared To Other Pedals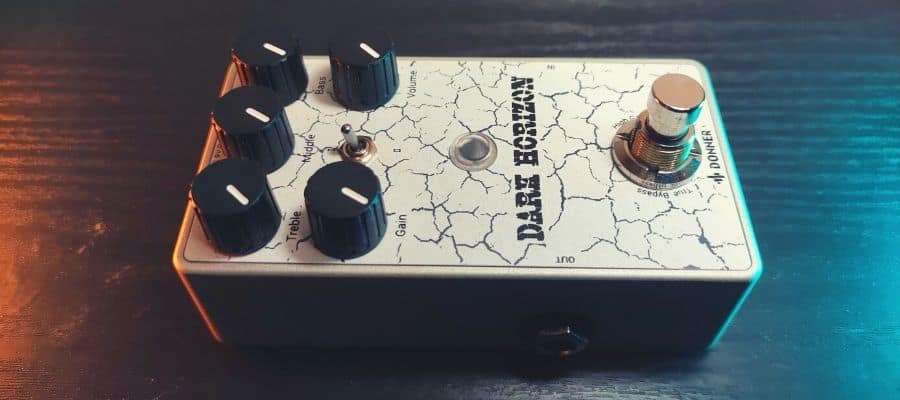 Donner Dark Horizon vs. Ibanez TS-9
Ibanez TS9 Tube Screamer - Classic
Classic tone Tone, drive, and level controls
Tone, drive, and level controls give you access to warm, amp-like overdrive...
The Ibanez TS9 Tube Screamer is a reissue that's just like the original in...
Same factory, same components, same housing, same famous seasick-green...
Ibanez TS-9 is one of the most iconic overdrive pedals in history. From the late 70's Tube Screamer pedals model-line was used by many famous artists and became an industry standard.
Ibanez Tube Screamer excels in complementing your guitar tone rather than reinventing it like most of the overdrive pedals. It offers a warm and natural overdrive that is not saturated in gain. So, this pedal is not for high-gain lovers; instead, it is for light to moderate overdrive tones. Although TS-9 tone is heavily dependent on your other pedals, amp, and instrument, I can say it sounds less dark than the Dark Horizon.
With only 3 controls, Drive, Tone, and Level, the TS9 is a simple pedal like the Donner Dark Horizon. Dark Horizon has a 3-band eq and a mod switch added, making it a bit more versatile than the TS-9.
The sound quality of TS-9 is, of course, far better compared to the Donner Dark Horizon. TS-9 is spot-on for rock, hard rock, blues, and country music, while Dark Horizon covers a more tonal range.
Ibanez TS-9 costs more than double the Dark Horizon's price.
Donner Dark Horizon vs. Suhr Riot
Suhr Riot Distortion
Riot features an easy to tweak layout which includes Gain, Level, Tone and...
Adjusts the amount of gain added to your tone, taking you from classic...
Adjusts the output of the pedal. Riot provides enough level to push the...
Shapes the overall tonal response of the pedal, from smooth and warm to...
Suhr Riot is yet another industry-standard distortion pedal that has been cloned many times by other brands. It is a powerful distortion pedal with a warm and clear sound and high versatility providing you with great tonal possibilities for many genres from blues to metal.
The Suhr Riot has 3 knobs for distortion, tone, and volume, along with a 3-way switch that lets you choose which range to emphasize. The Dynamic, Natural, and Organic modes give you quite a versatility to color your tone. The Dark Horizon features a 2-way switch for high-gain or mid-gain, but Riot is more versatile.
With a low gain, Riot performs well like a Tube Screamer, while it can become a modern distortion monster with high gain. It is highly tweakable and rich in harmonics and tone. I can say that Dark Horizon provides a more vintage tube amp-like tone while Riot covers all the genres but performs best with high gain.
Suhr Riot is one of the top-notch guitar pedals with a large versatility. But of course, it costs 5 times more than the Donner Dark Horizon.
Donner Dark Horizon vs. Fulltone OCD
Fulltone OCD is one of the best-seller overdrive pedals on the market. It is a highly versatile overdrive pedal that you can softly maintain a non-overdriven sound with clean, and then get that warm, punchy, overdriven tone when you crank up the gain. It is one of those pedals that is hard to get a bad tone.
When compared to Dark Horizon, the OCD has a punchier and warmer overdrive effect while the sounds are thicker and the overtones are richer.
It features a drive knob, volume knob, tone knob, and an HP/LP switch, while Dark Horizon has an added 3-band eq and a 2-way switch between high and mid-gain instead of an HP/LP switch.
The HP model emphasizes bottom ends with increased overdriven sounds, more volume, and a bit more upper mids. This provides you tones like Marshall or Vox, which Dark Horizon aims at. The LP mode sounds closer to the original sound of your guitar and amp tone with less coloration.
Although Dark Horizon competes successfully with the OCD in terms of British-style overdrive tones, the Fulltone OCD has a better sound quality and more versatility than Dark Horizon. But this quality reflects on the price as the OCD has triple the price tag of the Dark Horizon.
Donner Dark Horizon Distortion Pedal Is Perfect For Whom?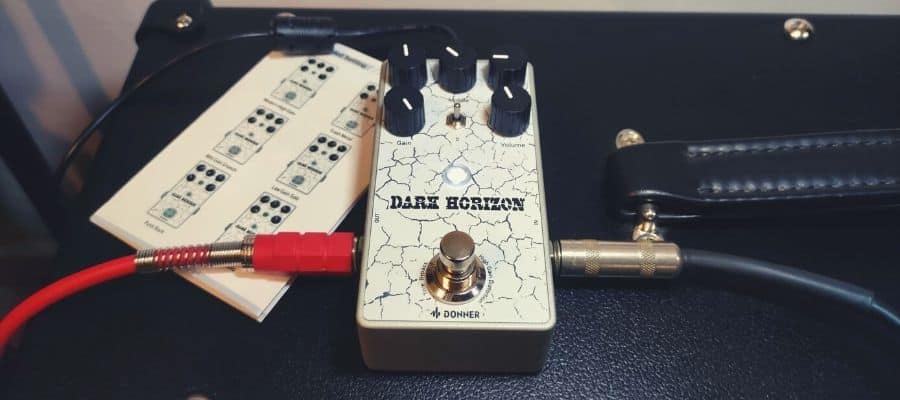 Donner Dark Horizon is an old-school pedal that offers vintage British-style classic crunchy tones. It is a true analog circuit crunch distortion pedal that mimics the performance of a classic British amplifier.
So, if you like classic British amp tones, this pedal is perfect for you. If you want to achieve a tone close to guitarists like Jimi Hendrix, Eddie Van Halen, or Jimmy Page, you can go for this one.
It is a versatile pedal and is quite affordable. So, for anyone who wants a distortion pedal for low-gain to high-gain tones and does not want to break the bank, Dark Horizon is for you. You can add it to your setup and combine it with other overdrive pedals to add more variety to your dirty tone.
Amateur and semi-pro guitarists can try Dark Horizon without hesitation. It is one of the best pedals in its price range. It can be a budget-friendly solution to have something close to the sound of a cranked tube amp. But the pedal would barely satisfy pro guitarists who are looking for top-notch sounding tube-amp sound.
Where To Place Dark Horizon Distortion On The Pedal Board?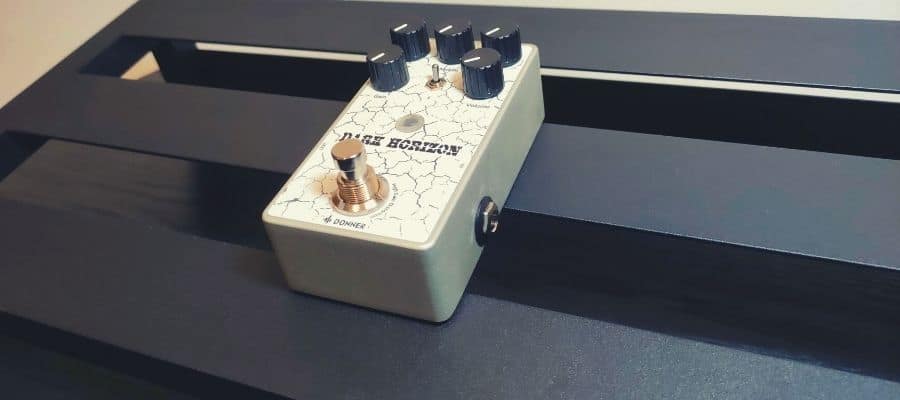 Most guitarists follow a specific pedal order when building up their pedalboard. The signal chain is quite essential if you want to get the best performance from your pedals and create a friendly tone.
According to the standard pedal order, Dynamics (compressors), filters (wah), pitch shifters, and Volume pedals are the typical first choices the signal travels before everything. Distortion and overdrive pedals come as the next step, 2nd one, so this is where you can place the Donner Dark Horizon. The third step is modulation effects like flangers, chorus, and phasers. Finally, the last step is the time-based effects like delay and reverb pedals.
So, if you take this order into account, you should locate the Donner Dark Horizon as the second step in the signal chain. The gain pedals should come before modulation and after compressors, wah, or pitch shifters.
Other Donner Pedals Worth Mentioning
Donner Blues Drive
Donner Overdrive Guitar Pedal, Blues Drive Vintage Overdrive Effect...
🎸[2 overdrive modes] Warm: The classic TS overdrive sound replica. Hot:...
🎸[Style-type] Combining iconic vintage tube overdrive sound with wide...
🎸[Easy to use]Flexible knobs for tone control: LEVEL (output volume),...
🎸[True bypass guitar pedal] True bypass provides transparent tone....
The Donner Blues Drive is an overdrive pedal that replicates the TS-style pedals and their famous tones. Providing the iconic vintage tube overdrive tone with an extensive dynamic range, the pedal thrives with smooth whispers as well as screaming solos. It offers straightforward controls on its mini-board and is highly portable with its lightweight.
Donner Morpher Distortion Pedal
Donner Morpher Distortion pedal is a great Suhr Riot clone for guitarists looking for an affordable 80's style metal distortion pedal. It is a mini-pedal, highly portable, and features 3 different distortion modes: natural, tight, and classic for different tastes.
Donner Dark Mouse
Donner Distortion Pedal, Dark Mouse Distortion 2 Modes Classic Hyper...
[Inspired by Classics and More] Dark Mouse distortion pedal is made to...
[2 Modes] Classic: Produce a classic, warm distortion sound with some fuzz...
[Durable Guitar Distortion Pedal] Aluminum-alloy classic, stable and...
[True bypass Guitar Pedal] True bypass provides transparent tone. LED...
Dark Mouse is another great distortion pedal by Donner. It is a RAT clone and provides a classic, warm and powerful distortion. It has two different modes Hyper and Classic. Hyper offers powerful distortion, while Classic has a warm distortion with a fuzz feel.
Alternatives To The Donner Dark Horizon Distortion Pedal In Terms Of Look, Sound, Specs, And Price
JOYO JF-13
Based on the AC-30 tube amplifier, the Joyo JF-13 AC Tone guitar effect pedal was created to mimic vintage British-style crunchy tones. The company aimed to bring the missing subtle to aggressive warmth and a natural sound back to the modern tones.
While the sound is natural and warm, 6 knobs on the control panel offer you further adjustments. You can use the pedal for sparkling up your clean tones with a thick mid-range or add more top-end frequencies for a brighter sound.
It is an affordable yet sturdy and highly versatile stompbox that mimics the legendary VOX AC-30 tones. This pedal costs almost the same as the Donner Dark Horizon.
Harley Benton Vintage Overdrive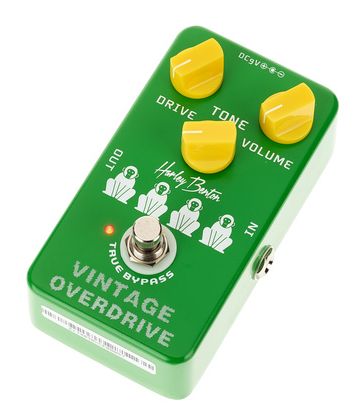 Harley Benton Vintage Overdrive is a great affordable mini pedal that mimics the tube amp distortion tones. It was made by Harley Benton, which is actually owned by Thomann Music.
The overdrive pedal feels quite durable, and the knobs feel pretty decent even though they are plastic. The knobs on the control panel are drive, tone, and volume, along with the True Bypass footswitch.
You can use this pedal for anything from Classic Rock n Roll tones to 60s and 70s Classic Rock tones. It performs well with slightly overdriven tones as well as high-gain tones.
There are technically better pedals on the market with better chips and performances. Still, for its price, Harley Benton Vintage Overdrive is a great choice for guitarists looking for some vintage overdriven tones.
Clefly British Distortion Mini Guitar Pedal
Clefly British Distortion is a mini and portable guitar pedal created for guitarists who love Retro British amplifier distortion tones. The pedal creates a tone with strong mid-frequency and outstanding dynamic response. It has an old-school, full voice, rich tone.
On its control panel, there are 3 knobs for controlling level, gain, and tone with which you can customize your tone. It has a True Bypass switch and a LED indicator to see if it is on or off.
It is a pretty affordable stompbox with its price tag lower than the Donner Dark Horizon.
Conclusion
In short, Donner Dark Horizon is a budget-friendly solution to achieve the sound of a cranked tube amp. For the price, it performs exceptionally well in terms of sound quality and versatility.
It provides a warm and natural distortion tone, perfectly suitable for light to moderately overdriven tones for blues or classic rock as well as high-gain sharp tones for hard rock or heavy metal. Furthermore, the dynamic response is amazing, reflecting the playing nuances clearly and accurately. The only letdown is the adapter, but it is not a deal-breaker.
If you found this article useful you may want to save this pin below to your Guitar board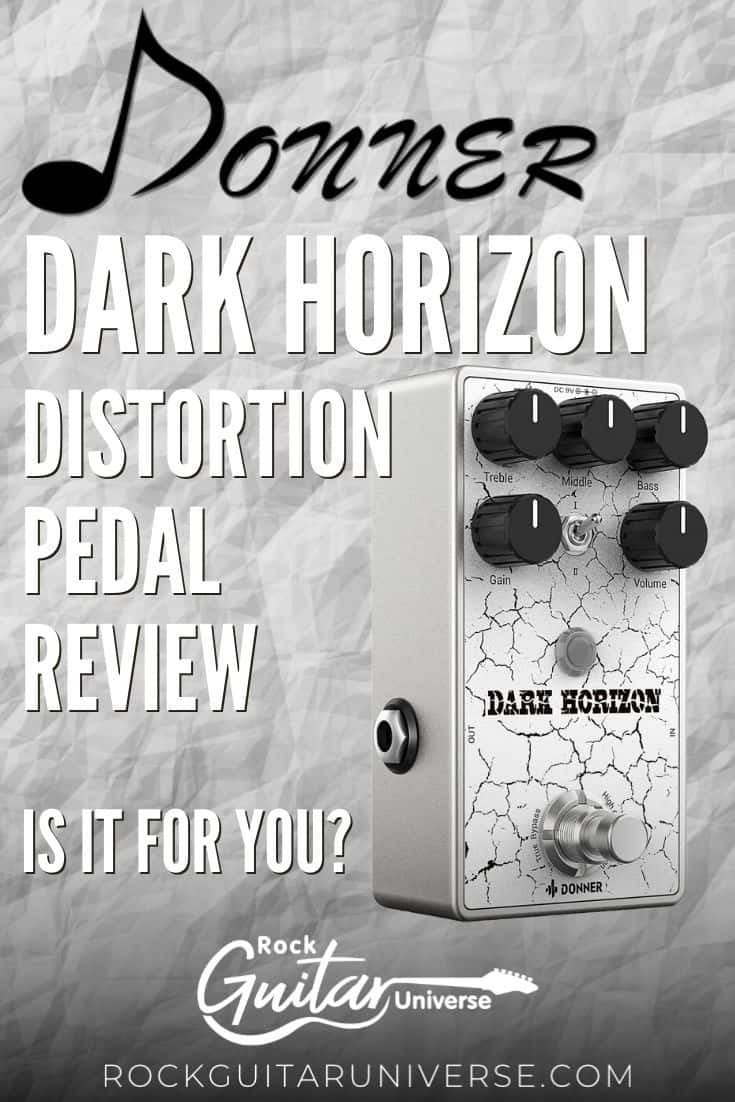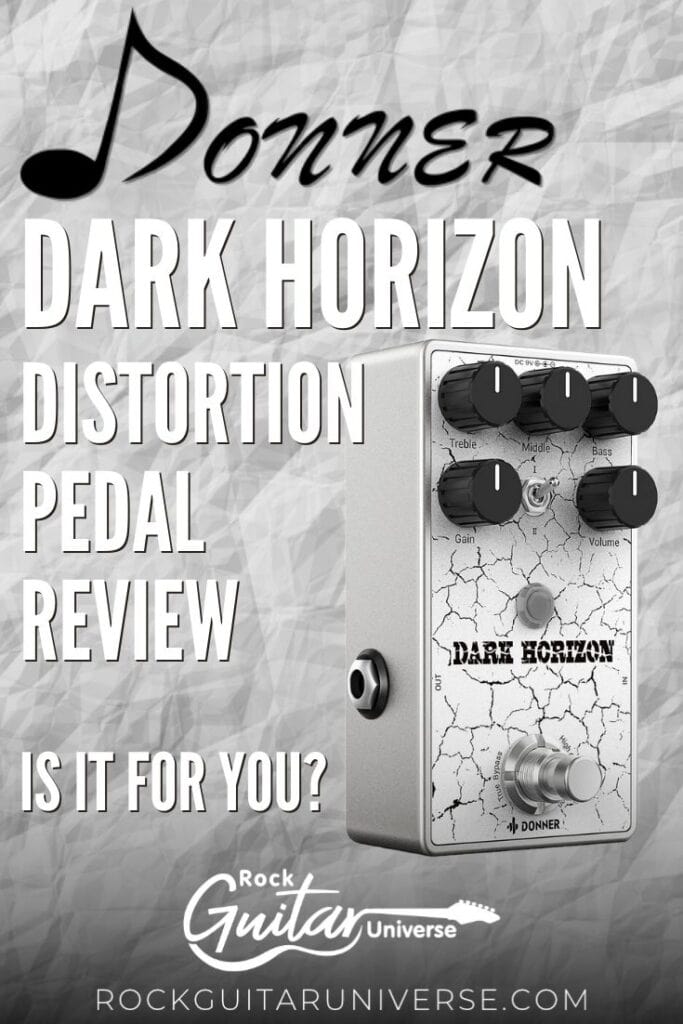 Last update on 2021-12-07 / Affiliate links / Images from Amazon Product Advertising API
Recent Content