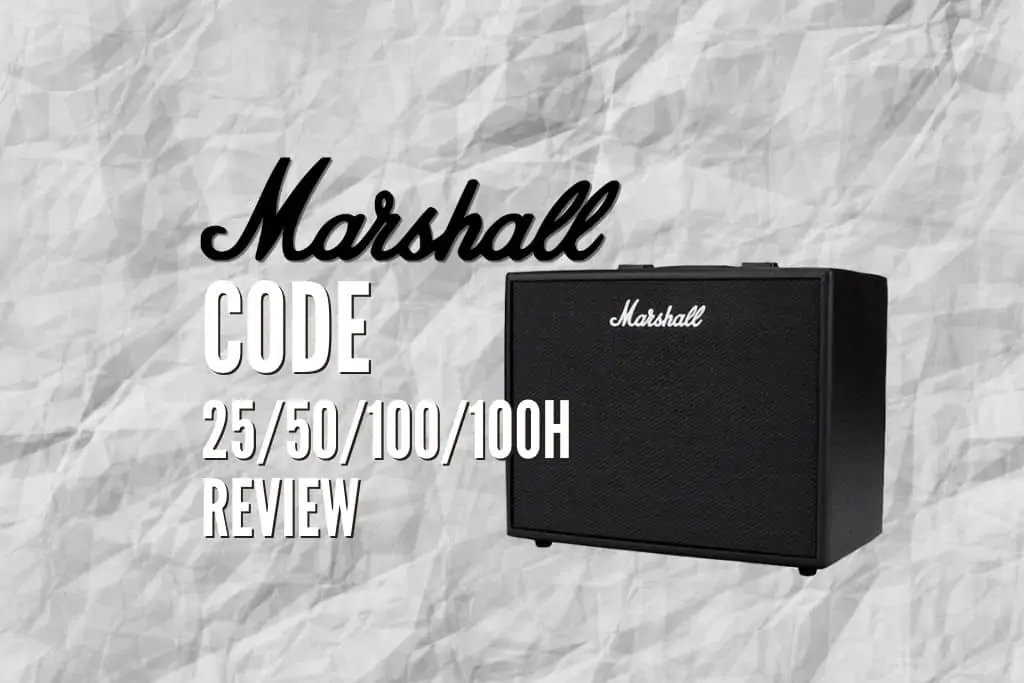 Marshall is undoubtedly one of the most famous amplifier brands worldwide. Their classic "British crunch" tone served many legendary guitarists to discover their signature sound. Because of the company's long legacy, many generations of bands used Marshall's iconic sound to create their famous recordings.
Over the two decades with the developed technologies, many amplifier brands started producing digital modeling models. But with a wise move, Marshall waited to develop their first digital modeling amp.
This way, since the technology has improved significantly over recent years, Marshall had the opportunity to build a product with many features and ease of use that easily pleases both tech-heads and traditionalists at the same time.
This model is named The Code Series. The Code is packed with great tone. It's competitively priced, looks good, sounds extremely versatile, and it's really easy to use, even for a complete beginner.
| | |
| --- | --- |
| Pros | Cons |
| High build and design quality | The sound is close but not the same as the iconic Marshall amp tones |
| Lots of quality effects | The footswitch is sold separately |
| Legendary Marshall sound and heritage | The BlueTooth may have issues from time to time |
Either for home use or live performances, the Marshall Code Series gets the job done with its set of features and versatility. I would rate this digital modeling amp 4.5 stars out of 5 due to its great tone, quality effects, high production quality, and, of course, Marshall's reliability. 
On the other side, the amp is not perfect and has some issues; firstly, the Bluetooth connectivity. Secondly, since it is a digital model, it does not fully catch the actual tone of iconic Marshall amps. Lastly, the footswitch is also crucial, especially for live performances, but being sold separately, which adds to the price.
Marshall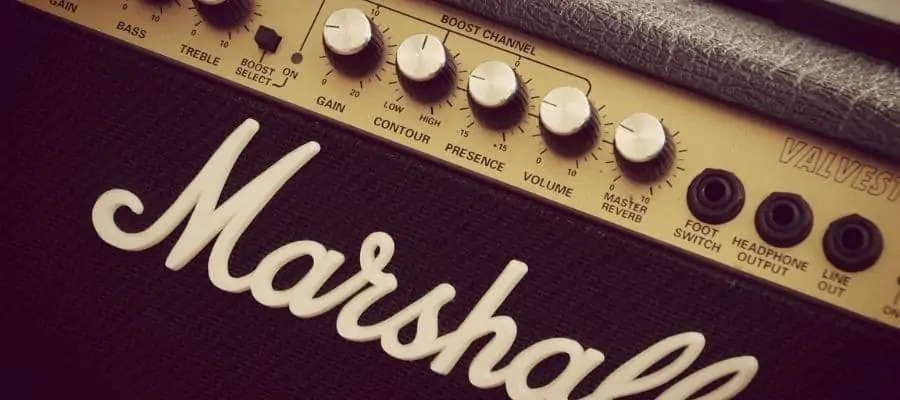 How can it be explained that a drum teacher, who uses bass amplifiers, became a living symbol of the amplification of electric guitars? Of course, the answer is related to the genius of Jim Marshall and his capacity for innovation that revolutionized the history of rock and roll.
The insistence of Pete Townshend and some other guitarists who complained about the too-clear sound of the Fender amps convinced Jim Marshall to start producing high-quality, innovative amps for guitars. These amps were incredibly typical amps, with a heavy, rough sound.
The story of Jim Marshall began in England, in the small town of Hanwell, where he sold batteries and accessories. The business soon evolved, and Jim started selling guitars and amplifiers, especially the models of Fender. His store got very famous among the young rock musicians.
The problem was that Fender amps were expensive, and Jim Marshall quickly understood that he could make similar quality amps for a much more affordable price. So, in 1962, he started his own amp brand, Marshall, reducing the costs by using British suppliers.
As a result, the brand was launched worldwide and shortly after got widely famous. When the legend Jimi Hendrix tested the amps, he immediately started using them regularly. And the rest is rock and roll history.
With almost 60 years of producing some of the highest quality amps in the music market, Marshall is an iconic amp brand used by many great musicians such as Eric Clapton, Slash, Oasis, Muse, Gorillaz, Bring Me The Horizon, and many more. Marshall, undoubtedly, is a symbol in rock history.
The Specs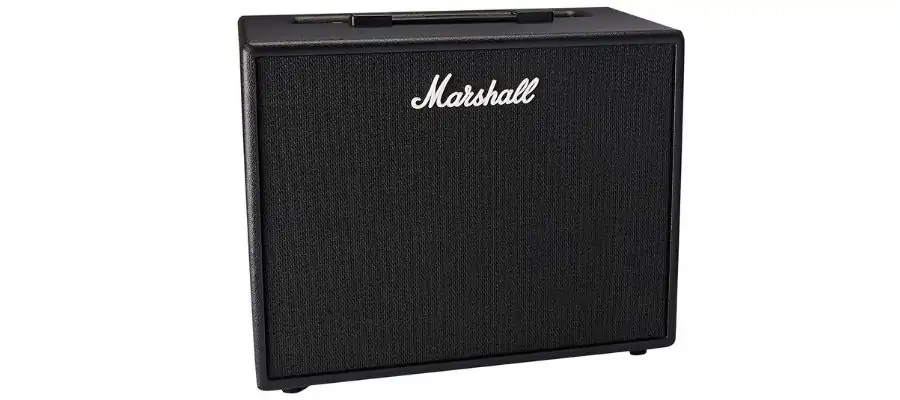 Let's take a look at what the Marshall Code amps has to offer.
General
| | |
| --- | --- |
| Series | Code |
| Model available In The Series | 25 / 50 / 100 / 100H |
| Types Of Amp | Solid State With Digital Modeling |
| Technology | Digital |
Dimensions
Marshall Code 25
| | |
| --- | --- |
| Weight | 13 lbs (6.1 kg) |
| Width | 13.8″ (350 mm) |
| Height | 13.4″ (340 mm) |
| Depth | 8.5″ (215 mm) |
Marshall Code 50
| | |
| --- | --- |
| Weight | 29 lbs (13 kg) |
| Width | 20.9″ (530 mm) |
| Height | 17.3″ (440 mm) |
| Depth | 8.7″ (220 mm) |
Marshall Code 100
| | |
| --- | --- |
| Weight | 53 lbs (24 kg) |
| Width | 27.4″ (695 mm) |
| Height | 18.9″ (480 mm) |
| Depth | 10.8″ (275 mm) |
Marshall Code 100H
| | |
| --- | --- |
| Weight | 20 lbs (8.9 kg) |
| Width | 20.7″ (525 mm) |
| Height | 7.9″ (200 mm) |
| Depth | 8.7″ (220 mm) |
Electronics
| | |
| --- | --- |
| Output wattage | 25W / 50W / 100W / 100W |
| Power Requirements | Standard IEC AC cable |
| Control Panel Location | 25, 50, 100 – Top, 100H – Front |
| Display | In Control Panel |
Controls
| | |
| --- | --- |
| Knobs | Gain, Bass, Mid, Tre, Vol, Mas, Preset, Edit |
| Switches | On/Off |
| Buttons | Pre Fx, Amp, Mod, Del, Rev, Power, Cab, Exit/Store, Tuner, Tap Tempo, Bluetooth |
Speaker
Speaker configuration
Code 25 – 1×10″
Code 50 – 1×12″
Code 100 – 2×12″
Code 100H – None
Speaker model
Code 25 – Custom (4Ω, 25w)
Code 50 -Custom (4Ω, 50w)
Code 100 – Custom (4Ω, 50w)
Code 100H – None
Unit impedance
Code 25 – 4Ω
Code 50 – 4Ω
Code 100 – 8Ω
Code 100H – None
Input/Output
Instrument jack
1 x 1/4″
Aux In
1 x Aux-In (3.5mm jack)
Headphones out
1 x 3.5mm Jack Headphone Out
Speaker Out
Code 25 – None
Code 50 – None
Code 100 – 1/4″ jack speaker out (8Ω load minimum)
Code 100H – 1/4″ jack speaker out (8Ω load minimum)
Effects Loop
Code 25 – None
Code 50 – None
Code 100 – Yes, Send-Return
Code 100H – Yes, Send-Return
Line Out
No
Foot Control
PEDL-91009 – PEDL-91010
USB
Yes – Used For Control
Bluetooth
Yes
Firstly, I go through the technical aspects. The Marshall Code series comes with 25W, 50W, and 100W power output models. Code series offer amps to play in houses, small gigs, or big live performances.
The amplifier has three inputs on the panel, one for the instrument, one for the floor controller, auxiliary input, and a headphone output across all the amps. The Code 100 and 100H also offer Input and output for a looper.
The design is elegant, modern and features a classic Marshall touch due to the classic colors used. In addition, the layout of the controls and the screen is totally user-friendly as it is located at the top and is very easy to control.
This amplifier is divided into modules, so you have one to select the amplifier, modulation effect, delay, reverb, type of power amp, and type of cabin. Basically, it allows us to configure the amplifier with hundreds of different settings to achieve endless tones. Additionally, it brings the traditional controls for a Marshall amp; gain, volume, and EQ controls.
The Marshall Code is a digital amplifier that offers many sound possibilities through emulation. Unlike other brands such as Line 6, which seek to emulate sounds from other brands, Marshall is focused on emulating the sound of its own older and iconic models. I can say that they are as close as a digital modeling amp can get.
At the level of effects, it has the basics, a phaser, a chorus, and a flanger in the modulation area, and each one of them sounds decent. It also provides timed effects such as delay with a tap tempo and a couple of reverb effects.
An important feature that the Marshall Code has is connectivity. It is possible to download a free app, which allows the users to connect via Bluetooth to the amplifier and configure the different sounds. This is something really useful since the amplifier screen, as usually happens with these kinds of amplifiers, is not very comfortable to control.
There are reports that the Bluetooth connection experiences connectivity problems, so it is better to use the smartphone close to the amp to avoid them.
Other clever features include a USB interface used to update firmware and use as an audio interface. There's also a built-in tuner, mp3 player input, and 3.5mm headphones socket.
The Sound Of The Amp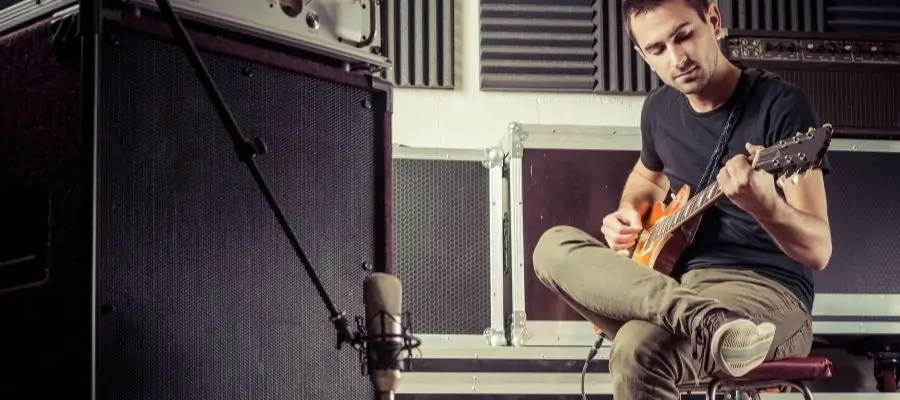 Regarding the sound, it should be borne in mind that the Marshall Code does not have its own voice; it offers you 100 different tones from the outset. Although this clearly depends on the taste of each person, for me, not all of them were good.
Each tone is configurable and adjustable, but there is no option to start creating sounds from scratch. However, the tone versatility and quality that can be achieved with the adjustments are outstanding.
All that said, in terms of tones with gain, you have many varieties, and the amp sounds more than great. The clean tones are smooth and bright. Thus, the amp offers a broad range of tones, making it suitable for various genres such as rock, punk, jazz-rock, reggae.
It should be remembered that with any given guitar amp, the sound will depend on the guitar plugged into it. Some preset on the amp may sound great with a Strat but may not sound that great with a Les Paul or the other way around. The effects of the pickups on the sound can not be ignored.
There are some nasty comments about the sound of the amp on the internet, but I suppose those people just do not put enough time adapting the setting to their own guitar. Especially with a digital modeling amp with tons of presets and adjustments, putting enough time into finding the desired tone makes all the difference.
Taking into account Marshall amps accurately modeled in the Code series, there is a satisfying tone for everyone for sure. In any case, the sound of the amp is sometimes a bit shrilly, so you can tweak a few settings and adapt the sound for your guitar. You can play with the equalizer settings and save your tone with just a button.
Marshall Code Is Perfect For Whom?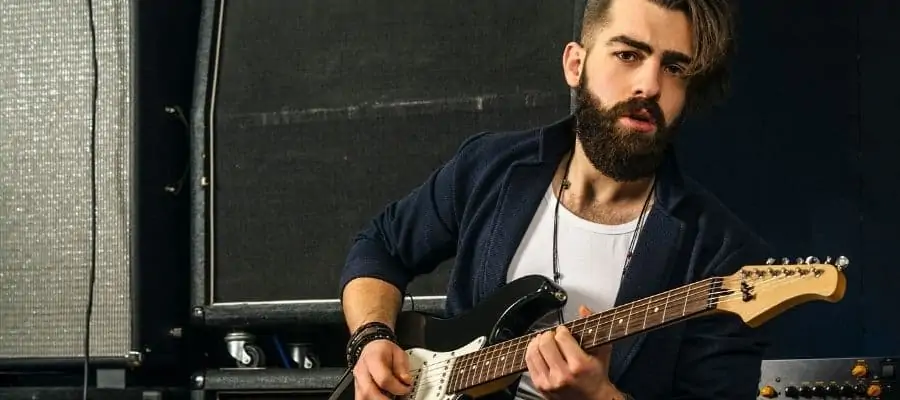 For players looking for sound versatility, this amplifier is a dream come true. It gives you many options for the tone of this brand and is backed by its quality, and it is a piece of excellent equipment, ideal for people looking for variety when playing.
But players looking for the characteristic Marshall sound can be disappointed. Since it is a digital modeling amp, the sound is not the same as the iconic tube amps of Marshall.
The presets that the amp comes with are not the best and do not represent the potential and quality of the Code series. Therefore, in order to get the best sounds, you have to play with the settings or download some of the already created presets from the internet.
So I would say it is not the best model for beginners because it needs a bit of experience to adjust the settings for the best sound. But if you want to explore and learn about the tones and adjustments, it can be a great amp to start with, thanks to its easy-to-use feature of connectivity to smartphones.
Even the 25-watt model is very loud, making practicing a bit hard for most of us with regular apartments. But the amp sounds great with headphones as a solution. The 50-watt model is great for small gigs, and studio sessions and the 100-watt model can be preferred for big events or open-air concerts.
More experienced guitarists looking for a versatile digital modeling amp for live performances or studio sessions can prefer Marshall Code without a doubt. It is a great amp to explore and get deep in tons of well-modeled Marshall amps.
The Differences Between The Marshall Code Models


The main difference between the models in the Marshall Code series is the power output. There are models with 25 watts, 50 watts, and 100 watts to use in different settings.
Players who want to use the amp for practicing and for studio jam sessions can prefer the 25-watt and 50-watt versions, respectively, but players who want to use the amp for live performances should go with the 100-watt version the required power output. However, even the 50-watt version can be satisfying for live gigs in smaller places.
Of course, the higher output power leads to more significant amp measurements. The 25-watt model is portable and light with 13 lbs, perfect for traveling. However, 50-watt and 100-watt models are heavy and hard to move with their weight of 26 lbs and 52 lbs, respectively.
The 25-watt and 50-watt models have a unit impedance of 4Ω while the 100-watt model features 8Ω.
Another difference is that 25 and 50 watts models don't feature any effect loop option, but the 100-watt model has a send-return. Also, the 100-watt models have a speaker output, while the lower versions do not have that.
The 25 watt Code model features a Custom (4Ω, 25w) built-in speaker and the 50-watt model comes with a Custom (4Ω, 50w) built-in speaker while the 100-watt model has 2 of the 50w speakers.
Marshall Code 100H model differs from the before mentioned ones since it is only an amp head. It does not feature any speakers, and the size is, of course, smaller, similar to the 25-watt model. But you will need a good cabinet to use this amp head to its full potential.
The effects and other features are all the same on all models.
Marshall Code Footswitch
There are two-foot switches that you can use with the Marshall Code Series. The models are Marshall PEDL-91009 and PEDL-91010, and they are both sold separately.
PEDL-91009
PEDL-91009 is a 4-way momentary footswitch for Marshall Code amps. Switches one to three allow you to recall stored presets and switch four scrolls through all the available presets. In addition, this footswitch has indicator lights so that you can easily see which set you are working with.
PEDL-91010
The 2-way momentary footswitch PEDL-91010 is perfectly created for Marshall Code amps. Switch 1 is used for scrolling up through the presets, while switch two is used for scrolling down. The built-in indicator lights help you guide through which control is used at the moment.
Alternatives To The Amp In Terms Of Look, Sound, Specs, And Price
With technology advancing each day, many digital modeling amps on the market today can be alternatives to the Marshall Code series. The two models shining with their price-performance ratio are Boss Katana Series and Vox VTX Series.
Boss Katana Series
The Boss Katana series was presented for the first time in 2016 and consisted of several models of different powers and performance levels, as mentioned before. In 2019 the Boss renewed the series and released a new variety of models called Katana MKII.
Boss Katana offers 7 watts, 50 watts, and 100 watts power amplifiers with or without built-in speakers. In addition, all the amps are equipped with five types of amp simulations (Clean, Crunch, Lead, Brown, and Acoustic) and built-in effects.
The models offer a digital memory system to save your favorite settings and also the possibility of editing these settings from the amp itself or from external editors on a computer or mobile device. In these editors, a more detailed level of adjustment can be achieved.
The Power Control feature optimizes sound at low volumes and offers various types of speaker emulation output for silent recording. In addition, it can act as a USB interface to record directly through this connection.
There is also a 7-watt battery-powered model that is great for traveling, busking, or practicing in your room.
The prices of the Katana series are significantly lower than the Code series.
VOX VTX Series
VOX VT100X Digital Modeling Amp, 100W
100 Watts; 1 x 12" Speaker
VET (Virtual Elements Technology) delivers stunning sound quality
Valvetronix preamp uses a vacuum tube multi-stage amplification circuit
11 realistic amp models; 13 high quality on-board effects; 33 preset...
The VOX VTX Series represents an evolutionary step in VOX's Valvetronix Series. These amps combine an entirely new sophisticated modeling technology with a multi-stage tube preamp circuit that reproduces the unique distortion, sensitivity, and response that is characteristic of classic tube amps.
The series offer 20-watt, 40-watt, and 100-watt options; all come with VET (Virtual Elements Technology), which provides impressive sound quality.
The new modeling algorithm recreates the analog circuitry of the most sought-after tube amplifiers. It allows users to adjust the gain structure, switch operation between Class A and Class AB, and adjust the amplifier bias in real-time. The VTX amps also offer 13 classic effects based on some of the most iconic pedals of all time that sound amazing when paired with any of 11 realistic amp models.
VTX series shine with their affordable prices, which is around half of the Marshall Code series.
Summary
Overall, The Marshall Code Series is an affordable amp series that combines a great level of versatility and performance. These amps are great choices to be used both at home for practice or for gigging. It can easily be the best friend of a musician. 
The 25-watt version is great for home use, the 50-watt version suitable for small gigs, and the 100-watt model is great for any live performance.
The sounds and effects you can create using the Marshall Code are almost limitless. It may be one of the most fun amps in the market to play around with to explore and experiment with new tones for hours.
With all of the features of the amp considered, it is a dream come true for experimental guitar players. You can play along with all of your favorite guitarists' tones right in the amp, or you can try some of the iconic models of Marshall to explore new sounds. In addition, the amp gives you complete control over the sound and tone you are playing with.
This is not necessarily a beginner's amp, but the price tag is good enough to be worth it for a beginner's use. With many adjustable settings, it can be an educative amp for beginner players. There are many things you can learn using the amp.
Of course, it should be noted it may not be the best amp for some experienced players who are looking for specific Marshall tube amp tones or players who like more authentic tones. Since this is a digital modeling amp, the Code series can not satisfy these needs.
Another negative aspect is that you have to play with settings for a while to create decent tones since the built-in presets are not the best. It is also a letdown that the footswitch is sold separately, and the connection issues with Bluetooth can be disturbing.
It is not easy to find a digital modeling amp that sounds good, is fun and easy to play with, and gives you an endless degree of possibilities. It's great for live musicians, studio recorders, and casual players. This amp is sturdy, versatile, and a wicked amount of fun. On top of that, it looks great with a slick and minimalist design.
If you found this article useful, you may want to save this pin below to your Guitar board.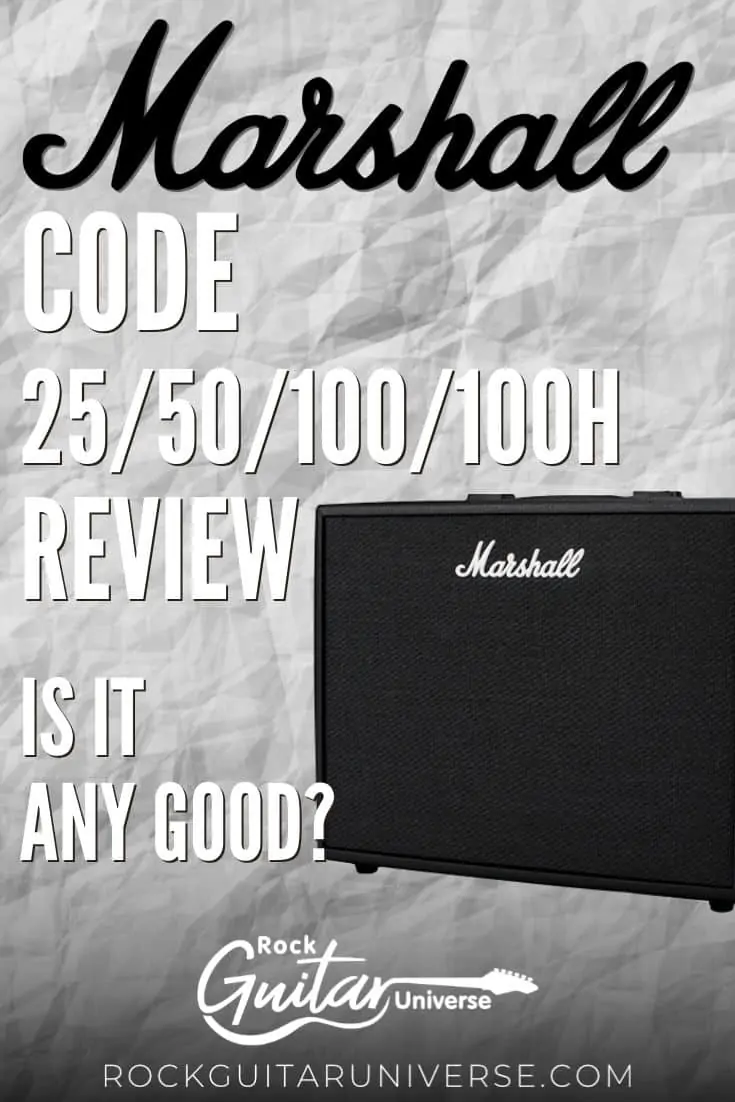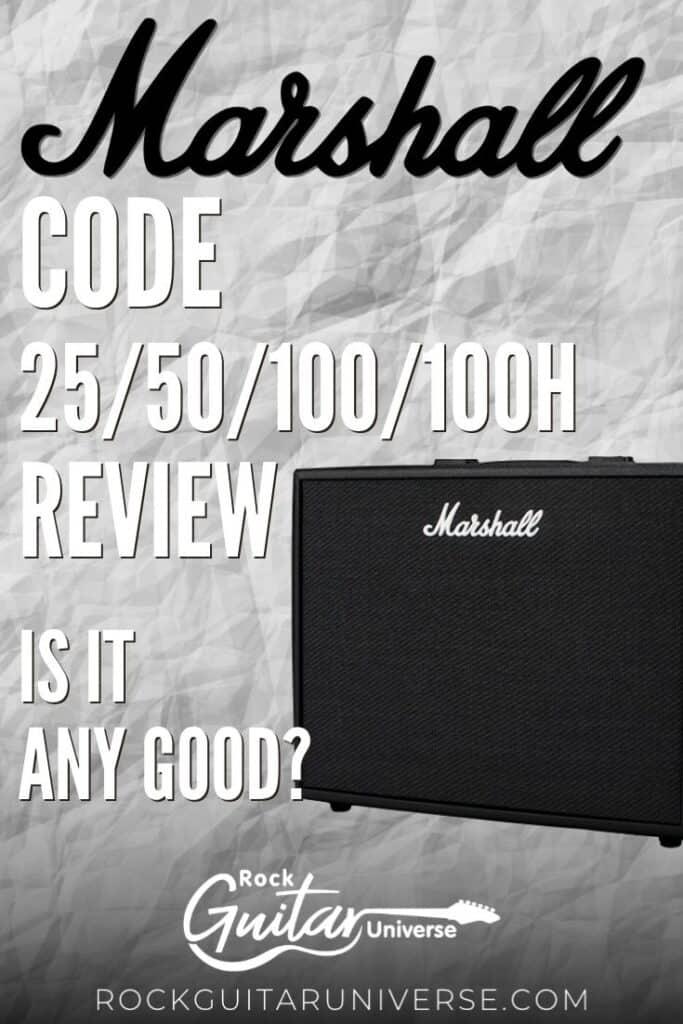 Last update on 2023-11-30 / Affiliate links / Images from Amazon Product Advertising API