Thanks to technology, new gadgets, and mobile devices allow us to create our music wherever we are. For guitarists on the go who want to quickly record some awesome guitar riff they just came up with or just jam when they don't have an amp handy, there are numerous ways to use smartphones as a guitar amp simulator.
Either on vacation, or at a party with friends, or in the subway, or in those endless waits at the airport in which the hours sometimes pass slower than they should, you can simply plug your instrument into your phone and create your music. Gone are those years when you had to drag your heavy amp for a simple rehearsal at home or messy cable structures to put music with friends.
Whether it's to create a direct digital recording via a handheld device or to take full advantage of the more advanced applications on offer, the smartphone-compatible interfaces are quickly becoming more and more popular among musicians.
For a long time, the power of any current mobile phone has allowed you to make it an effects processor, a perfect multitrack, even sound as if you were plugged into a large amplifier with all its power. The first thing you have to do is to connect the guitar to the mobile.
How To Connect An Electric Guitar To Your Smartphone (iPhone/Android)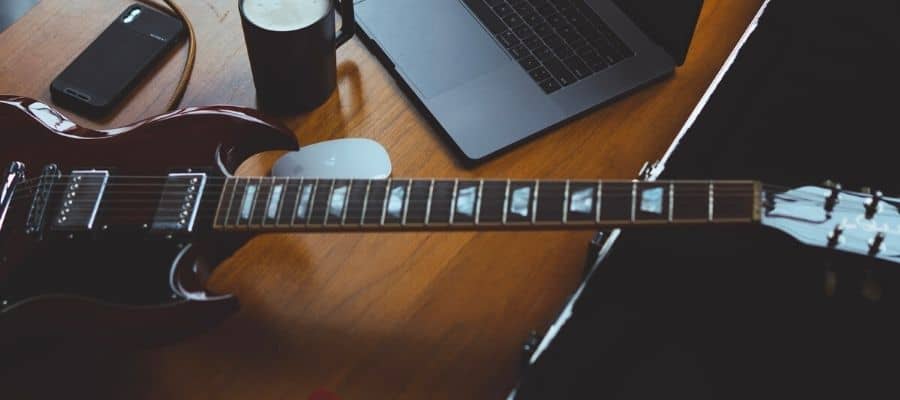 There are some steps you have to follow for the connection between the guitar and the smartphone.
First, you will need a middle-man, "the interface," between the guitar and the smartphone. Besides that, you will need some special cables and adapters according to the interface you are using. Finally, to have a better quality sound, you will need software on your smartphone to enhance the sound with some effects or adjust some levels. And you will need other software to make recordings or play with specially designed apps.
Requirements:
iPhone/iPad/Android Device
Guitar To Smartphone Interface Device
Adapters to convert between USB and OTG (For regular PC audio interfaces)
External speakers or headphones (Not ultimately necessary but a must for better sound quality)
Aux cable (If the interface does not include any)
Guitar amplifier simulation application
There are 3 main methods to achieve the connection. All have their different price and quality offers. Let's take a closer look at all the methods and examine the hardware you will need to create your own portable studio.
Digital Interfaces: Interface With A Lightning Connector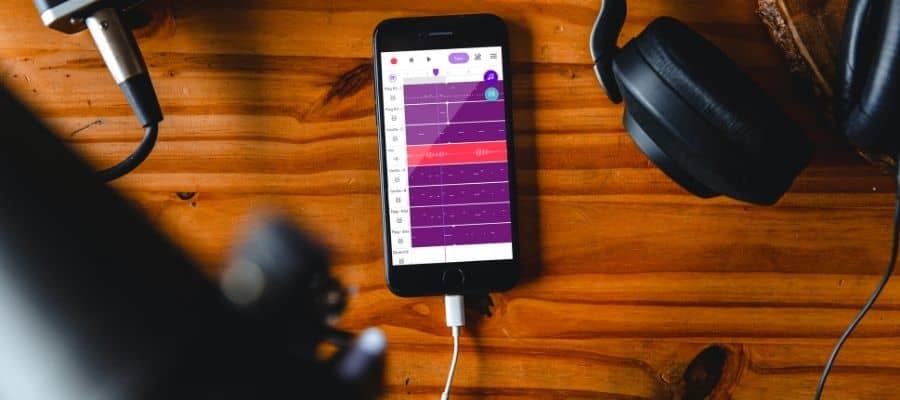 The first option is to use an interface that connects to your smartphone's charging port. This option is the most straightforward and preferred option to play guitar through smartphones. With a good USB interface, your sound quality will be extremely high.
In the last decade, the only option for the guitar to smartphone connection was to use analog guitar interfaces, but in the last couple of years, another option with digital models came out. These interfaces offer better sound quality than the previous analog models because they transform the guitar signal into digital audio, keeping it in the digital domain as it transfers into your device. On the other hand, analog interfaces take the signal in through the analog headphone port, and it doesn't get digitized until it gets into your smartphone.
With their 24-bit audio resolution, the digital interfaces match the exact resolution used in most professional computer recording hardware and software. This system allows your instruments to sound the same as the instrument's sound goes into the mobile device and comes out without any added noise.
The only negative aspect of digital interfaces is their cost, which typically ranges between $80 to $120, depending on the product.
Some of the best-known interfaces of this type are mentioned in detail in the following sections.
iRig 2 HD
IK Multimedia iRig HD 2 guitar audio interface for iPhone, iPad, Mac,...
PLUG AND PLAY SIMPLICITY ON EVERY DEVICE: High-definition digital guitar...
CONNECT TO AMPLIFIER WITHOUT ADDITIONAL ACCESSORIES: 1/4" Amp Out jack with...
DISTORTION FREE AMPLIFIER: iRig HD 2 is renowned for its 96kHz sampling...
ROCK WITH iRig HD 2: The Interface for recording music lets you adjust your...
The IK Multimedia iRig HD 2 is the second version of IK's quintessential digital adapter. One of the most popular, if not the most popular. It features a ¼" high impedance input, a preamp system in which we can adjust the gain, 32-bit 96 KHz A / DD / A converters, and an additional quarter-inch output in case if we want to plug it into an amplifier, for example. All this comes in contained dimensions of 1.5" x 3.9" x 8.3" (39 x 99 x 21 mm), making it a highly portable device.
It is powered by USB, for which it includes a Lightning to micro-USB cable. In addition to iPhone and iPad, it is also compatible with Mac and PC, for which it includes a USB to micro-USB cable.
The iRig HD 2 has a very attractive extra; It includes the full version of AmpliTube 4 emulation software for computers. The application for iOS is completely free, although some of the models of amps, effects, microphones, etc. Yes, they are paid.
APOGEE JAM 96K
Another heavy hitter on the market is the Apogee Jam 96k. It has a 96 kHz 24-bit analog to digital and digital to analog converter. It boasts an input specifically designed for bass and guitar, with signal noise suppression technology called PureDIGITAL. Its preamplifier offers professional quality and provides an adjustable gain of up to 40 dB.
Apogee claims to have designed this accessory with Garage Band and Logic Pro in mind. It is powered through the connection cable itself and a USB cable to connect it to a Mac, and the Lightning for iOS devices is included in the package. So, this option is more suitable for Mac, iPhone, and iPad users.
In this case, the connection to the Apogee Jam 96k is device-specific. If a replacement is needed for it, you will have to go through a brand product, which entails a higher outlay.
The measurements, of course, are suitable for all pockets: 1.2" x 0.8" x 3.8" (30 x 22 x 96 mm).
Analog Interfaces: Interface With 1/8″ (3.5mm) Connector
The second option is to use an analog interface that connects your guitar to the earphone port of your smartphone. This option is the cheapest and has relatively more minor sound quality.
Analog instrument interfaces offer a more affordable alternative to digital interfaces. Although analog audio isn't as clean and pristine as digital audio, the difference won't be particularly noticeable for many applications.
These interfaces use a kind of connector called TRRS, a particular type of mini-plug that connects to the smartphone or tablet's headphone jack. This mini-plug allows audio to travel both ways between the interface and the smart device. This two-way signaling is crucial because it allows you to hear your guitar and any background track or other music you're playing while the guitar's signal goes into the smart device simultaneously.
Analog guitar interface prices mostly range around $40. You can save quite a bit of money if you can live with unwanted noise from time to time. These imperfections occur due to too many signals coming in and out of the port.
Since the interface is connected to the headphone jack, you might be wondering where you can plug your headphones into. The answer is pretty simple. All of the analog interfaces come with their own built-in headphone jack. This way, you can listen to the audio coming out of your device while simultaneously your instrument's signal goes in through the smartphone's headphone jack.
IK MULTIMEDIA IRIG 2
IK Multimedia iRig 2 Portable Guitar Audio Interface, Lightweight...
PLUG AND PLAY SIMPLICITY ON EVERY DEVICE: Adjustable gain dial, which works...
CONNECT TO AMPLIFIER WITHOUT ADDITIONAL ACCESSORIES: iRig 2's new 1/4"...
CONNECT TO ANY APPLE DEVICE: Compatible with new generation Apple iPhone...
ROCK WITH iRig 2: Paired with AmpliTube CS (free) for iOS, IK's powerful...
The most affordable adapter to turn your mobile or tablet into an amplifier is iRig2. It represents the evolution of the most popular analog connector of those who have stepped on the market: the IK Multimedia iRig 2. It is perfect for those models that still enjoy the, for many missed, TRS connector 3.5 mm.
It has a 1/4" input for guitar, bass, or whatever we can think of; an external amplifier output, also 1/4"; another headphone output; and the cable mentioned above with a 1/8″ (3.5 mm) connector to connect it to the smartphone.
It is one of the lightest and most compact interfaces on the market, with the size of 2.8" x 1,5" x 0,8" (72 x 39 x 21 mm) and a weight of 1.51oz (43g).
The negative part of this interface is that this option is the most susceptible to interference and contact noises. Although this is impractical if we need to record a clean entrance without artifacts, the quality offered is more than enough to save ideas or prepare small mock-ups. It is also perfect for rehearsing or playing in front of our friends, of course.
Regular PC Interface With An Adapter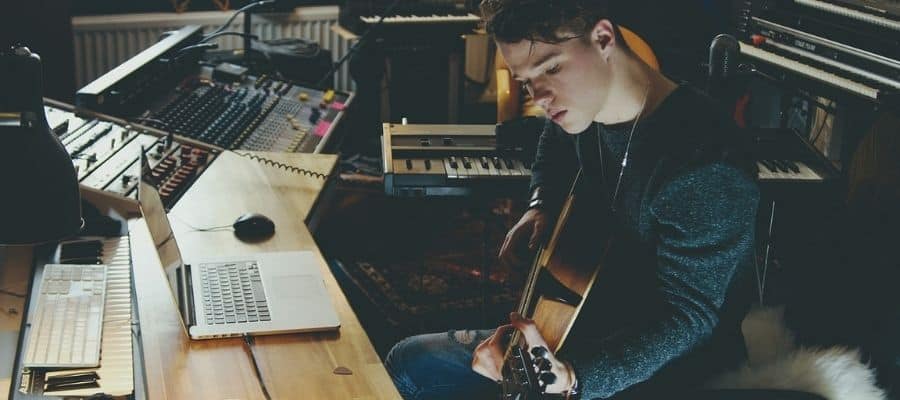 The final option is to use a standard PC interface with an adapter that adjusts the interface for the smartphone. If you already have a soundcard, you can quickly turn it into a smartphone interface with a basic adapter.
Not all of the soundcards work with mobile devices, or even if they do, they might harm your mobile device's hardware. So, do your research well before applying this method.
I have listed two of the most affordable yet high-quality soundcards that you can easily use with an adapter to play through your mobile device.
Focusrite Scarlett Solo 3rd Gen
Focusrite Scarlett Solo USB Audio Interface (3rd Gen) with Deco Gear...
The simplest model in the range, the third-generation Scarlett Solo...
The best mic preamps the Scarlett range has ever seen, now with switchable...
One high-headroom instrument input to plug in your guitar or bass....
IN THE BOX: Scarlett Solo 3rd Gen. | 1 x USB cable (Type C-A) | Ableton...
One of the most cost-efficient options as a standard guitar-PC interface is Focusrite Scarlett Solo. The interface has a single XLR alongside a quarter-inch jack. This way, you can plug your electric guitar directly into the DAW to use the virtual amps and pedals or mic up an amp or cabinet to make recordings.
As the name suggests, Focusrite Solo 3rd gen is the best affordable choice for solo musicians looking to record multiple things at a time. The independent gain knobs for different inputs allow you to create a balanced and straightforward mix without even touching anything in your DAW.
With a basic adapter that lets you connect the soundcard to your smart device, it is pretty straightforward to use this interface for mobile devices. Just as plugging it into your pc, you use the interface for your smartphone.
The video basically shows how you can connect the Focusrite Scarlett PC interface to a mobile phone with a basic USB to OTG adapter. The only difference is that you are going to plug in your guitar instead of a microphone into the interface.
If you are an Apple user, instead of a USB to OTG adapter you will use a USB to lightning adapter for the connection. Although the video is made with Focusrite Scarlett, this is the basic outline to connect any regular PC interface to mobile devices.
Focusrite Scarlett Solo Generation 3 is one of the cheaper yet solid-quality soundcards on the market.
PreSonus AudioBox USB 96 2×2
PreSonus AudioBox USB 96 2x2 USB Audio Interface for Windows & Mac...
OFFERS A HIGH-QUALITY, EASY-TO-USE AUDIO INTERFACE - The Presonus Audiobox...
PROVIDES A VERSATILE RECORDING INTERFACE - The unit features 5-Pin DIN...
CAN ACCOMMODATE CONDENSER MICROPHONES - The Audiobox USB 96 provides +48V...
COMES WITH STUDIO ONE ARTIST DAW - Register your AudioBox USB 96 at...
The PreSonus Audiobox USB 96 is one of the best audio interfaces for players on a budget. This great portable USB audio interface provides incredible studio-quality recording in up to 24-bit, 96 kHz audio.
It is perfect for home studio owners, musicians, and singer-songwriters who need something to record with that won't break the bank.
I think this is one of the best cheap audio interfaces as you have 2 combo XLR and quarter-inch Jack Inputs, 2 balanced quarter-inch main line outputs, a headphone output for near-zero latency monitoring, MIDI in-out, and a USB port for mobile device connections. It is also compatible with most DAW recording software on every device including mobile devices.
The good thing about Presonus Audiobox is that it has a USB port that you can directly connect to your mobile device. You simply connect the soundcard to the mobile device through the USB port, the soundcard to electricity and you plug in your headphones or speakers and you are good to go.
Adapters To Connect PC Interfaces To Smartphones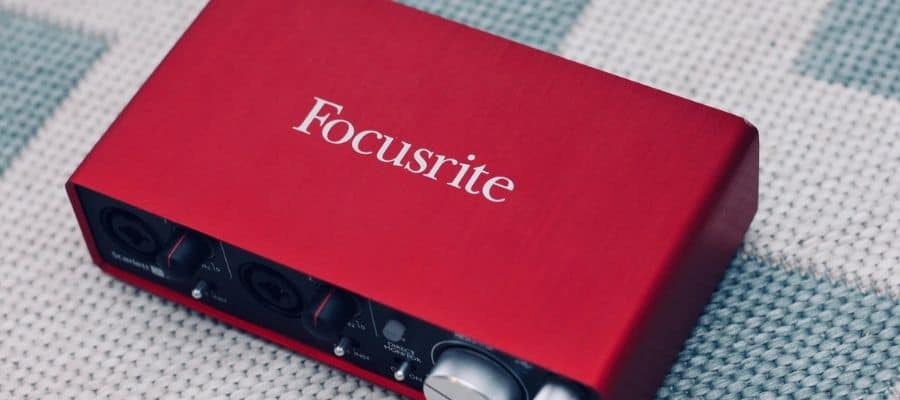 To connect the standard PC interfaces to smartphones, you need to use an adapter that will convert between USB sockets and ends suitable to your mobile devices' ports. These are basic converters that are cheap and easy to use.
Lightning to USB 3 Adapters
Apple Lightning to USB Camera Adapter
With the Lightning to USB Camera Adapter, it's easy to download photos and...
After you connect the Lightning to USB Camera Adapter, your iPad or iPhone...
When you sync iPad or iPhone to your PC or Mac, the photos and videos on...
The Lightning to USB Camera Adapter supports standard photo formats,...
These adapters are used to connect iPhones and iPads to USB interfaces. There are various quality converters with different prices on the market; if you want to have a stable and high-quality connection, I recommend buying the official Apple product.
OTG Cable
AINOPE USB C to USB Adapter [2 Pack], OTG Cable Type C Male to USB 3.0...
FAST & STABLE DATA SYNCING: Our usb c to usb adapter is 10X faster than...
SUPPORT ON THE GO: Plug in and use computer peripherals, such as flash...
10X DURABLE MATERIAL: Reinforced usb c to usb adapter with special SR joint...
WIDER COMPATIBILITY:  This USB C to USB adapter is compatible with ANY...
OTG Cables are used to connect Android devices and USB interfaces. They consist of a female USB 3.0 port and a male USB C-type end. There are many varieties on the market, from low-quality cheap adapters to high-quality, more expensive options. The ones with a reasonable price and a solid performance are listed here as the ones that I recommend.
Setting Up Your iPhone/iPad/Android As A Guitar Amp Simulator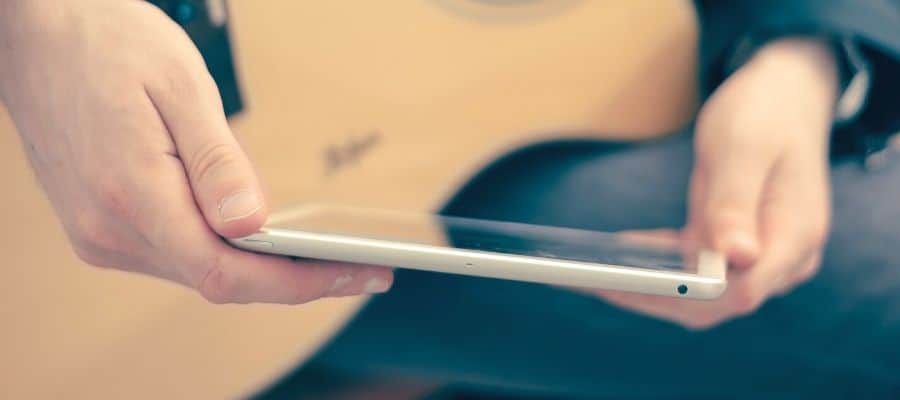 After you connected your guitar to your smart device, now it is time to find decent software to achieve good tones with an amp and effects emulation. Luckily, nowadays, the options for both Android and Apple devices are plenty.
Many applications are released in recent years to get the best from your smart device as an amp simulator. The technology level of these simulators increased so much that you will not miss any PC software.
Many of these applications are free, but you need to pay a subscription fee to use all of the features they offer. Let's look at 3 of the best applications you can use in your iPhone/iPad or Android devices.
AmpliTube 5 Ios/Android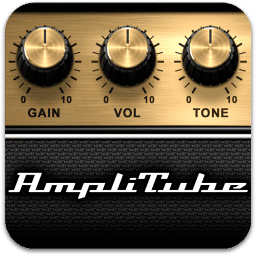 Many guitarists use their computer as an amplifier and effect pedal setup for their guitar. Now you can use your Android as an amplifier for your guitar thanks to an application called AmpliTube UA, in order to be able to play your amplified guitar anywhere.
You can install AmpliTube UA and immediately have a digital guitar or bass amplifier in which you can simulate a pedalboard and add various effects. Some effects are free, but you will have to pay for others.
The application has a custom shop that works with a credit system. You have to buy credits to shop in the huge custom shop that offers tons of effect pedals and amp setups. The costs start from $25 for a single effect pedal.
There are also discounted packages such as affordable guitar amp & FX modeling software with 77 essential gear models package cost $100 and industry-leading guitar amp & FX modeling software with 177 iconic gear models package cost $200.
AmpliTube UA can be downloaded for free from the Google Play store; however, the Android latency is still not perfect. With a decent quality interface device such as iRig UA, you can decrease the latency to zero. So when you touch a string, the sound will be played without lag on your mobile.
Deplike Audio Ios/Android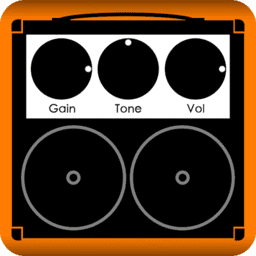 Deplike is an amp and effects emulation application created to give guitarists complete mobility without sacrificing any sound quality and features. It is one of the best digital alternatives to analog equipment you can find on the market.
It provides high-quality, realistic audio and real-time audio processing, which competes with more expensive amps and effect pedals. In addition to that, Deplike Audio is designed after some of the most iconic music gear to sound like your favorite amps and effect pedals.
The app has 21 guitar pedals and 15 guitar amps that can be obtained with an in-app purchase. If you do not want to pay, you can use the free version with 4 amps and 2 pedals.
Deplike is also loaded with many useful features such as a tuner, metronome, backing tracks, and a virtual guitarist, allowing players to hear and sample presets. You can save your favorite presets, share them on social media and use any of the presets that have been created by the Deplike community.
A monthly subscription costs $7.99 a month, while an annual subscription costs $36 a year. There is also a one-time payment to unlock all features with no time restrictions.
AmpKit Ios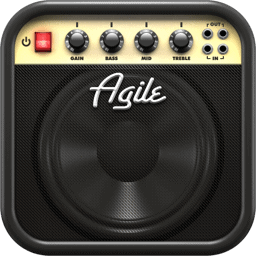 [when editing put links to the app store and google play via buttons, there is a reusable block]
AmpKit is an effortless and practical amp simulator application for Apple devices. You can easily and quickly apply different amps and effects with a decent and brilliant sound.
AmpKit transforms your iPad or iPhone into a powerful studio with a guitar amp and special effects. You just plug in your electric guitar using a mobile or tablet interface, and off you go.
The free version of AmpKit offers excellent sound and comes with a Peavey ValveKing 2-channel amplifier, 2 ValveKing cabinets (4×12 and 1×12), noise gate, overdrive pedal, and 2 microphones.
The in-app "Hardware Store" lets you browse and purchase an incredible selection of additional gear; a total of 50 channels of amplification on 29 separate amps, 30 pedals, 25 cabinets, and 8 microphones.
The Implement Store offers discounted packages to help you expand your implement library very inexpensively. With its vast attachment selection and the quality of its content, AmpKit is one of the best amp simulators out in the market.
Conclusion
Connecting the guitar to your smart device is very useful to make recordings anywhere or to be able to carry your own portable amplifier in your pocket. And these days, it is easier than ever to build a portable studio.
Using one of the before-mentioned interfaces with your smartphone, you can achieve this goal quickly. Although the interfaces and software are more developed for PC systems, mobile device interfaces and applications are getting better every day so quickly that it is harder nowadays to tell the difference.
The comfort and the ease of having a portable studio and an electric guitar setup just in a small device is truly a game-changer. The times are changing and making everything easier for guitarists.
If you found this article useful, you may want to save this pin below to your Guitar board.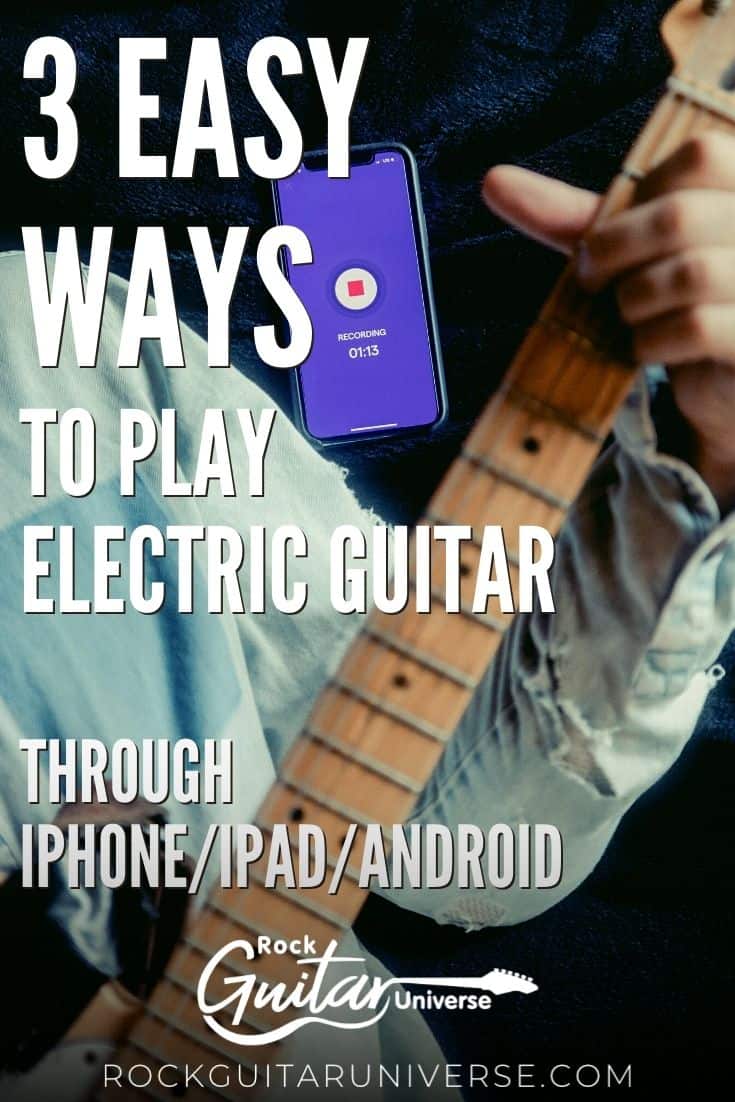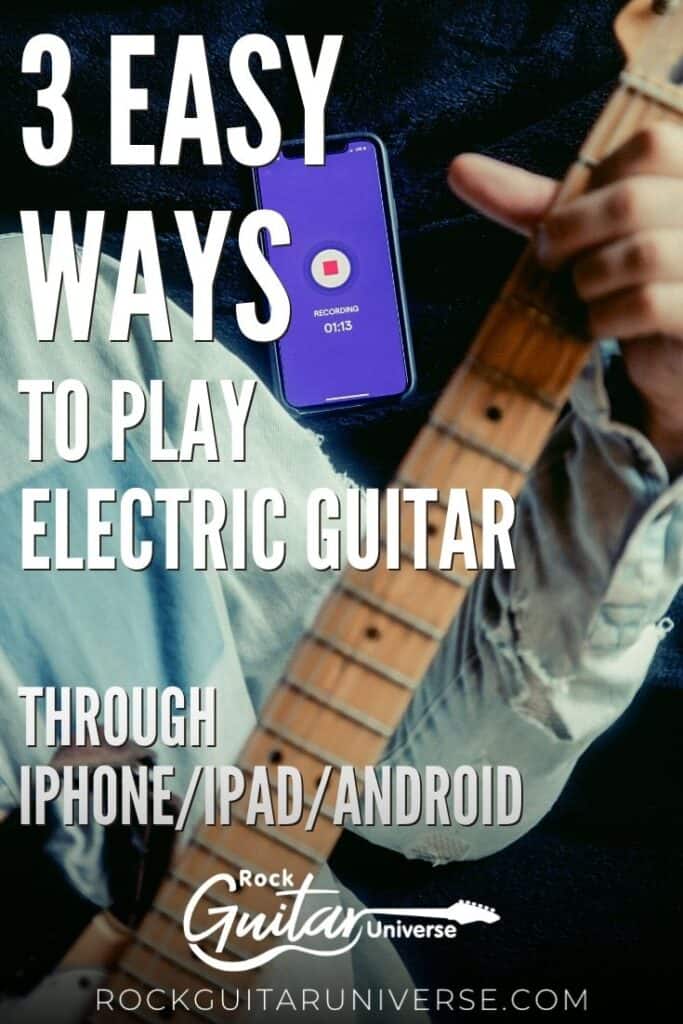 Last update on 2023-02-06 / Affiliate links / Images from Amazon Product Advertising API