There are numerous reasons why you might decide to sell your guitar equipment. Sometimes, it is to buy a better one, or simply, because you are not using it at all. But opting to sell your gear is just the first step of the process. The real problem comes when you try to find a buyer.
Today, there are countless websites and stores that will be more than happy to help you with this, but not all of them are good. You need to know which store (or website) is reliable, and which ones will get you a good deal.
Of course, there is a chance that you have an old multi-effect pedal you don't plan on using, and you'd be happy to get any amount of money for it. But more commonly, you'd want to find a place that will give you a good price, and that will make it worth it in the end.
Here, I will go through some of the best places to sell your music gear, as well as those you might want to avoid.
Places Where You Should Sell
The first category are stores that you should check out. They might offer a good deal, low fees, or have a high number of users. Whatever the reason may be, these stores and websites are an excellent choice for someone looking to sell their gear.
Craigslist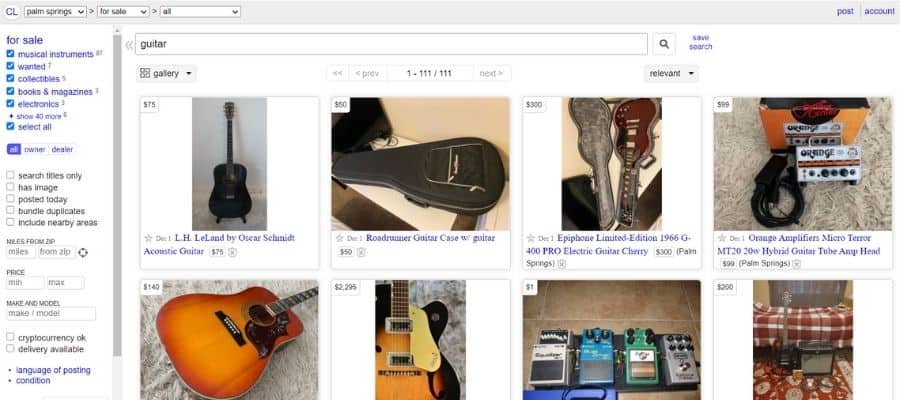 Craigslist was founded in 1995, and it can help you find nearly anything. From jobs and housing to items and services. Naturally, this also means that you can find music gear and equipment as well.
Since we are talking about selling here, what makes Craigslist so special? The answer is simple – there are no seller fees. As a result, you will be able to keep all the money from selling your gear, and you won't even need to worry about shipping in most cases.
Usually, buyers on Craigslist will come to you (or any agreed location) and buy something directly from you. In this case, Craigslist works as an ad for your equipment, and a person that's interested will visit you and buy it if they are satisfied.
Another excellent reason why everyone loves this store is that it is easy to use. There are no complex options, settings, and everything is pretty much straight-forward.
Reverb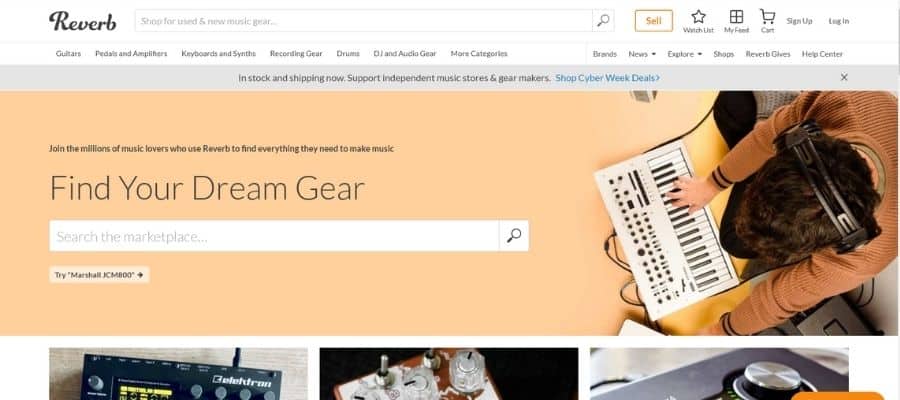 Reverb is a website that was designed for selling music equipment, and there are hundreds of thousands of users each month. The main quality of Reverb is that the website is specifically for musicians. Unlike Craigslist, where you can sell anything, it is more focused and more likely that the potential buyer will find you.
Another important difference is that Reverb is an online platform, which means that there are seller fees you'll need to consider. There are several reasons why so many musicians love Reverb.
Firstly, the entire website is designed for them, and it is the safest and easiest way to buy or sell gear. All visitors are musicians, and there are no non-music categories like on Craigslist. But more importantly, the fees are quite low. At least compared to other platforms.
On Reverb, it will cost you 5% of the total price of the item you are selling. The minimum is $0.50 while the maximum is $500. The last thing you should consider is the potential additional fees that are based on the payment method. If you are using PayPal, for example, you will need to pay another 2.9% plus $0.30.
While it might seem a lot, bear in mind that Reverb is still the platform with the lowest fees.
Facebook Marketplace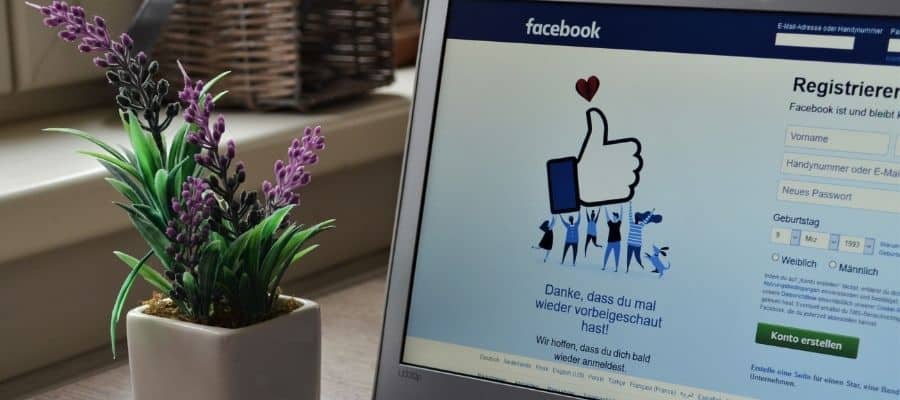 The next option you can check out is Facebook Marketplace. The only thing you'll need for this is your Facebook account, and you'll be ready to go. The idea is to sell your gear locally.
As with the other two examples, there are no additional fees you'll need to pay, and you will get to keep all the money from the transaction. The only problem with all three platforms is the same, which is finding the right customer.
Some people might be concerned about their safety (since you will need to meet with the buyer) or that they will have to deal with low ballers. A low baller is a person that will offer significantly less money than you asked for, and they will try to drop down the price like you are walking Black Friday.
But if you learn how to ignore people who aren't serious about buying and stay safe, Facebook, OfferUp, and Craigslist are an excellent choice due to the fact that you won't need to pay any additional fees.
OfferUp (Letgo)
OfferUp and Letgo were two companies that had the idea of competing with Craigslist. OfferUp was founded in 2011, and it soon became rather popular. The main quality of the website was that it offered mobile support, and people could buy from other people, rate them, and so on.
In 2020, OfferUp acquired its rival Letgo, and they merged into one company. There is no denying that the app works on a similar principle as Craigslist, and it is mostly designed for local sales. With this in mind, you should know that there are no additional fees if you are selling a piece of equipment locally.
However, if you opt for a shipping option, the fee is 12.9% of the total value. This does not include shipping, since that is something that the buyer will pay for. OfferUp is an excellent option for selling, as long as you are doing it in your city. If you plan on sending it somewhere across the country (or world), then Reverb might be a better option due to lower fees.
eBay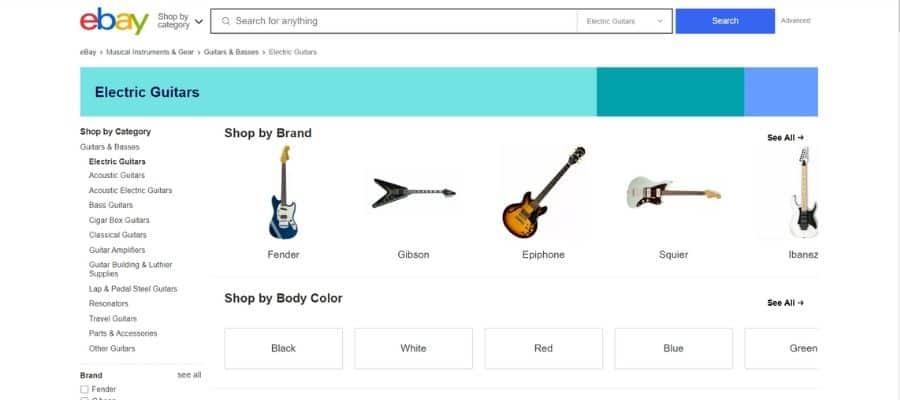 eBay is among the most popular ecommerce websites. It offers a lot of safety, accepts PayPal, and there are numerous users on it every day. This means that it is more likely for you to find a buyer for your gear since there are so many people browsing the website.
eBay in short is great only if you intended to sell guitars, basses and guitar accessories (e.g., amps, pedals). Because on that category the fees are 3.5%. However if you intend to sell that doesn't fall in that category the store will charge 10% of each transaction, including shipping fees and transaction fees. And these can be quite high.
As for PayPal transaction fees are the same as with any other store like Reverb, but you will need to pay the percentage based on the total sum including shipping. Even though sellers are not the ones paying for shipping, the ten percent you'll pay are for the price + shipping fees, which is ridiculous.
Just like Cartelist, Facebook marketplace, OfferUp the users are general which means not every user is a musician.
So if you don't intended to sell a guitar or a bass or something in that category of 3.5% you better consider Reverb as a better option for you if you plan on selling anywhere other than your city. If you plan on selling locally, stick to Craigslist, Facebook marketplace or OfferUp.
Related Post
If you want to learn more about the difference between eBay and Reverb, you can check an in-depth guide
Reverb Vs eBay
Places Where You Shouldn't Sell
Now that we've covered some of the best options for selling your music equipment, let's talk about places you should avoid. Naturally, this doesn't mean that you will get scammed, or that you will have a bad time. It is just that some of the following options are not ideal.
Especially when you have places like Reverb or any other of the websites we mentioned. So, it might be in your best interest to avoid these places, unless you are in desperate need of money.
Guitar Center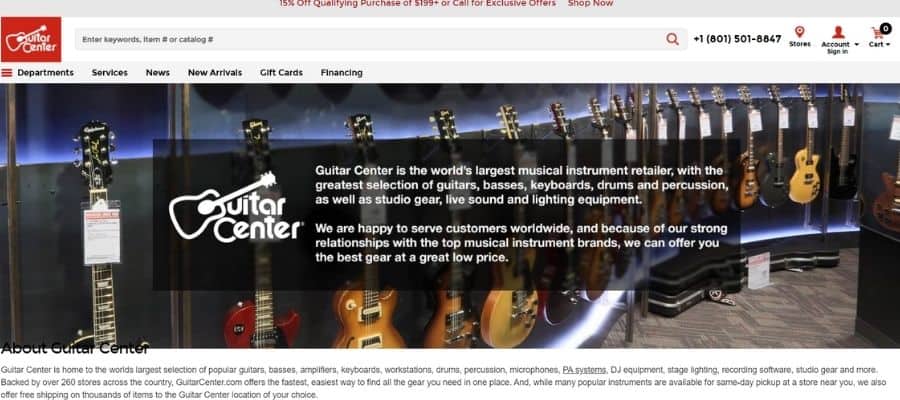 You would think that a store named Guitar Center is an excellent option, but you'd be wrong. Not saying that the platform is bad or that is unsafe, it's just that there are better options if you are looking to sell something.
Guitar Center is an exceptional store for those looking to buy gear or guitars, but that's not the topic here. The primary reason for this is the price. Assuming that you are looking for the highest possible price for your gear and that you are not feeling like a Santa, you probably won't be satisfied with their business model.
The very idea behind Guitar Center is to buy a piece of equipment from you at the lowest possible price, and then sell it on their own store for profit. Since they are acting as an intermediary, this means that the chances of you getting a real value for your guitar are rather slim.
The most common case is that you will get half a price for your gear, which is not nearly enough. Especially if you are selling something that has sentimental value. Of course, if you are in dire need of money, then this is an excellent option. Guitar Center will be more than happy to give you 50% of the price for your equipment.
Mercari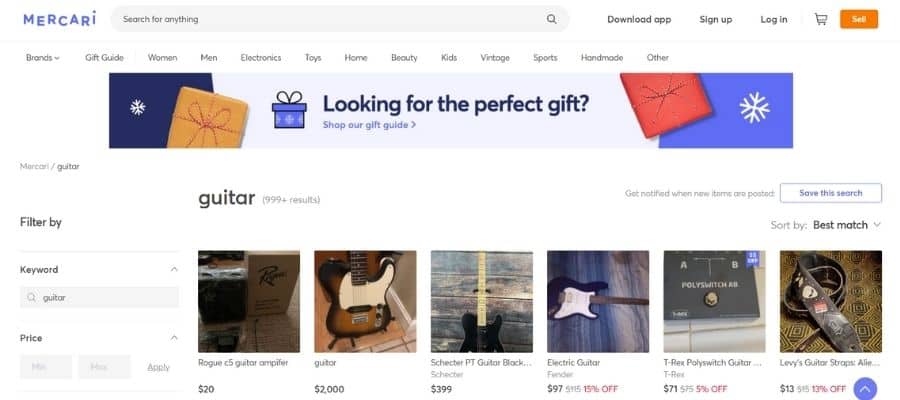 Mercari is a website that is quite similar to eBay. The users can list their gear online, and other potential buyers can check it out. As with other entries, adding an item on the website is completely free, but the seller will need to pay fees if they find a buyer.
And this is where the problem hides. The seller will need to pay ten percent of the total price. Additionally, there is also a transaction fee based on the payment method, which is 2.9% + $0.30 for PayPal.
Not only that the fees are too high compared to other stores, but you also have no reason to do it here. Even if you don't mind losing a lot of money during the transaction, eBay is a better option. There are more users there, which means that you will have higher chances of selling your gear.
And the best thing is that the fees are the same as on eBay. So, why would you go for the option with fewer users when the price is the same. It will only take you longer to find a buyer, which means that you should go for the options in the previous category.
5miles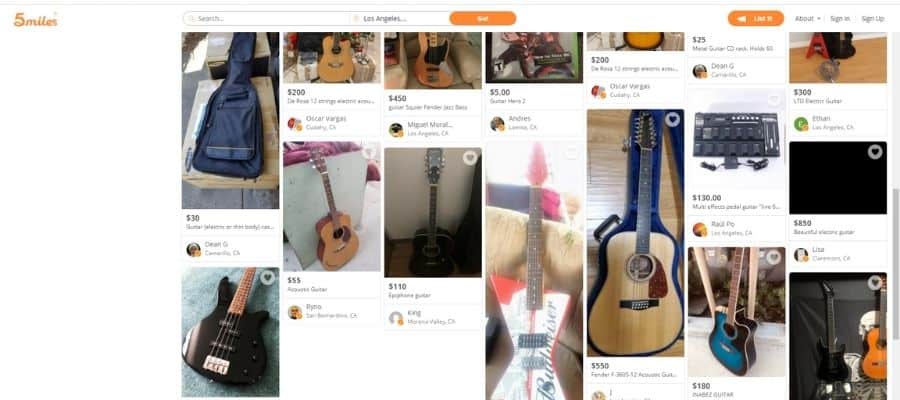 If you are not familiar with 5miles, the website is similar to Facebook Marketplace or Craigslist. Its main focus is local sales, and it won't cost you a dime to post your gear on it. But the main problem with 5miles is that the website is not nearly as popular as others mentioned here.
There aren't many people who are using 5miles, which means that you might experience difficulties trying to find a buyer. As a result, it might take you a while to sell something here. Of course, since it is free, it costs you nothing (literally) to post here, and you can always do it "just in case."
But you shouldn't place a lot of hope here, and if you are looking for a free website for selling gear, there are other better options.
Music Go Round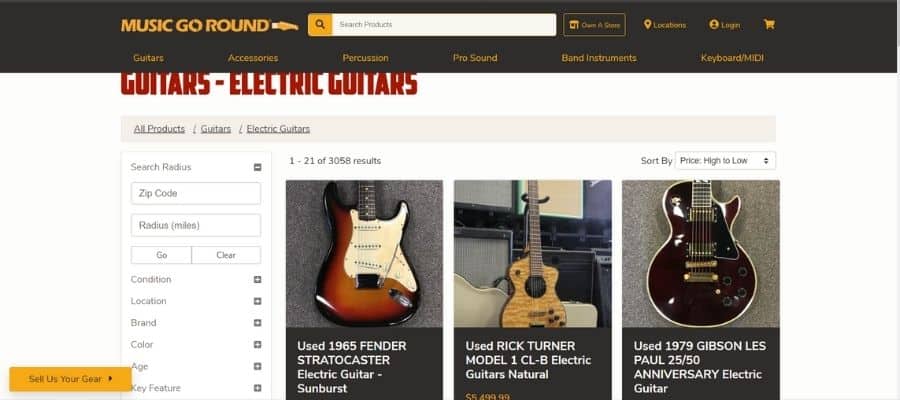 Music Go Round is a website focused on selling used instruments. Here, you can find anything from guitars, drums, basses, to used gear like pedals or amplifiers. The store has been around for quite a while, and they have more than thirty years of experience.
It is a great store, but only if you are looking to buy used gear, which is not the case here. The main problem with Music Go Round is similar to other brick-and-mortar stores and that is the price.
Here, you can hope to get between forty and sixty percent of the price for your instrument, since they plan on reselling it for the full price. I already mentioned that eBay has quite higher fees, and here, you will find even higher ones.
Music Go Round might be a great choice for someone who doesn't care about money, and they are looking to sell equipment as fast as possible. For every other case, this is a place to avoid.
Sam Ash Music Store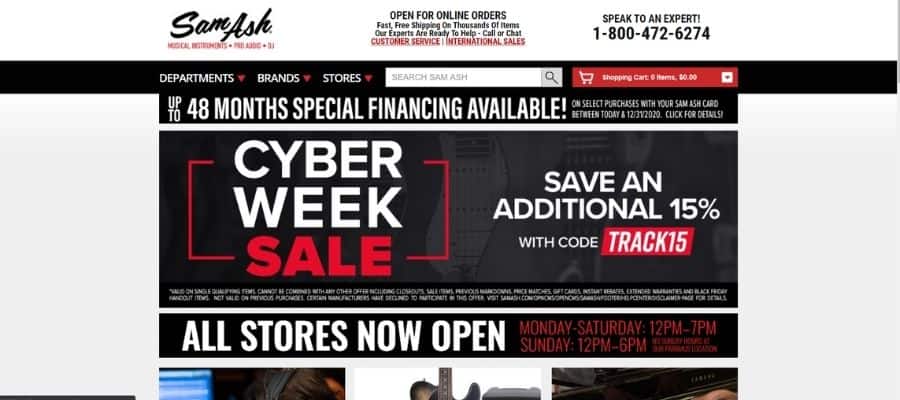 Sam Ash Music Store is another place where you can sell your music gear, and they accept nearly any type of equipment. You can sell pedals, guitars, basses, drums, keyboards, cymbals, and whatever else you might not need.
The company's motto is if your equipment is working, they will buy it. While all of this might sound good, there are a couple of problems. Firstly, you need to visit a store near you to get an estimate on the price. You can also contact them via phone to discuss your offer, but you will still need to visit them physically.
And the main problem is the price. Similar to other brick-and-mortar stores, Sam Ash is willing to buy from you only to sell it in its own store. Which means that you will get a fraction of the price. Once they estimate how much it will sell, you will get maybe fifty percent of the price, which is bad.
Rogue Music Store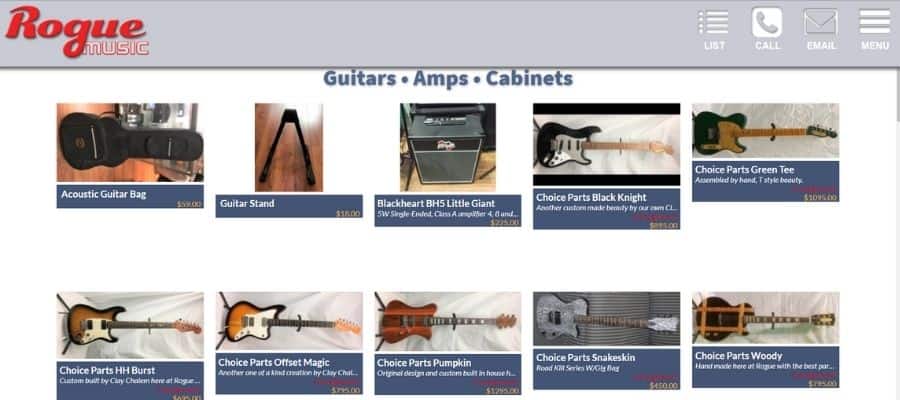 Rogue Music Store is located in New York, and it is for people living in this city only. As with other brick-and-mortar stores, you can buy, sell, or trade equipment, and you can choose whether you want to get cash or a reduction of price for a new item.
As you can probably expect, Rogue Music Store is not an ideal place to sell your gear. Similar to Sam Ash or Music Go Round, you will get cash for your gear, but only a fraction of it. The exact price varies from store to store, but you should consider yourself lucky if you get more than fifty percent.
The reason why websites like Reverb became so popular is due to the fact that you will be selling your gear, and there will be no intermediate. The only cost you will pay is that percentage I mentioned to the website. And if this is too much for you, Craigslist and similar websites take no fee at all.
There is no reason for you to visit any of the mentioned stores unless you are in need of money.
Rivington Guitars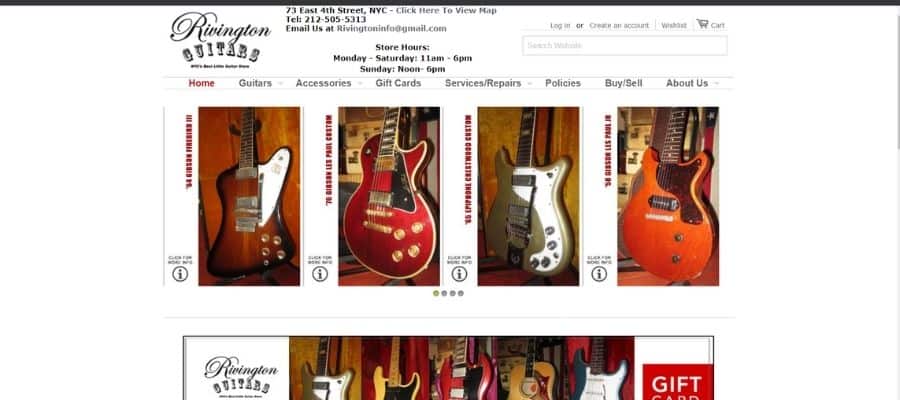 Rivington Guitars is another guitar store located in New York City, and it has been around for twenty-five years. It is a great store to buy guitars (or equipment), but it's not an ideal place to sell one.
The same rules apply here as well. The store will try to resell your instrument, and they need to profit. This means that you will get a fraction of the price, and that's far from perfect.
If you are still interested in this option, you'd be delighted to know that you don't have to be in New York to use their services. You can send them a couple of photos of your instrument or gear, and they will contact you with the offer.
The Music Zoo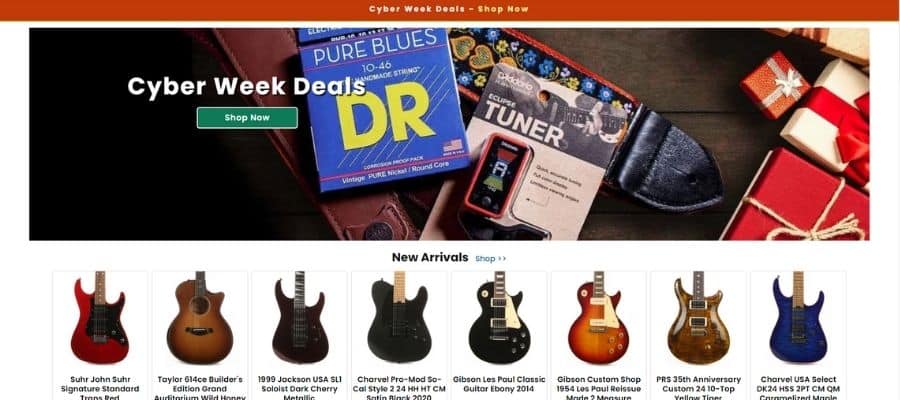 The Music Zoo is an online store focusing on guitars, but you can find other equipment as well. Here, you will have an option to trade, consign, sell, or buy guitars, and if you live in Long Island, you can visit them in person to get a quote for your instrument.
But even if you are not from New York, you can still ship your instrument to the store, and you will get cash or a discount for your next purchase. If you are not in a hurry to sell an instrument, I would recommend trying different options.
To be fair, the Music Zoo is a highly professional website, and you will enjoy working with them. However, the same rules apply here as with previous examples, and you will probably get a better price elsewhere.
Local Music Stores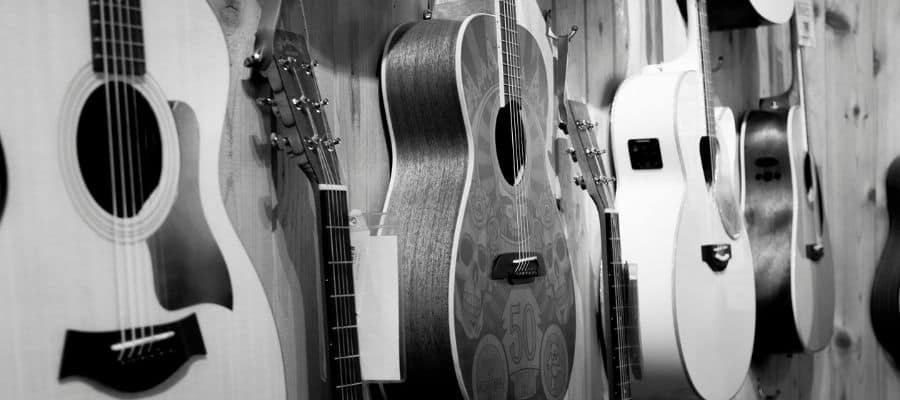 To avoid having to mention each individual music store in the U.S. I should just say that all of them fall into the "avoid" category. The reason why I mentioned a couple of stores is that these are the most popular ones with decades of experience. And they all work on the same principle.
You will get cash for your instrument or gear, which is comfortable and great. But they will need to consider reselling it in their store. Furthermore, they can't guarantee that someone will buy that guitar anytime soon, and they can't spend a fortune on each individual instrument or they will go bankrupt.
The same thing applies to pawnshops. You probably saw that show where a person will bring an item worth a thousand dollars, and the owner will say: "Nah, the best I can do is two hundred." They have their own business to run, and you need to pay for the service. In this case, the service is selling your equipment in the blink of an eye.
But if you want to get a good value, and keep the majority of the money, the best option is to avoid pawn shops, music stores, and anyone else that plans on reselling the gear.
Yard Sale or Garage Sale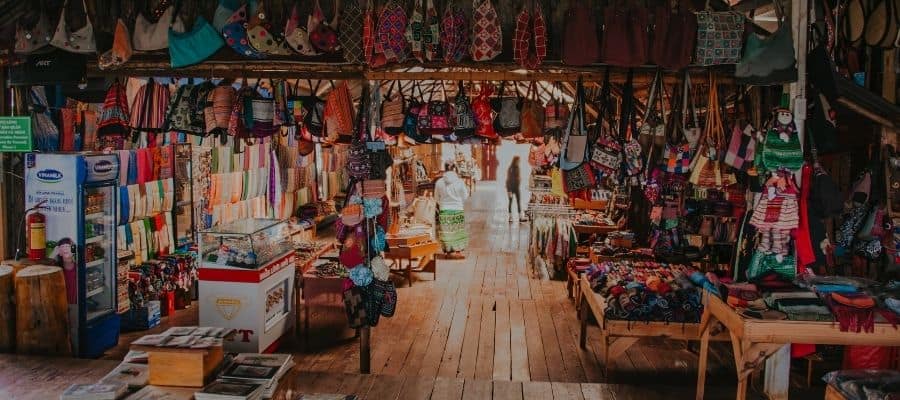 People love garage or yard sales, and it is a great way to get rid of the things you don't need while earning money in the process. If you have tons of equipment or other items you don't need, set up a yard sale (or garage sale), and hopefully, someone in your neighborhood will be interested in it.
Of course, the main problem with this is that not everyone has a garage full of unused items or equipment. This idea is faulty for everyone looking to sell a single instrument or a pedal, and it will be completely pointless to try a garage sale with a single item.
Moreover, people often expect ridiculous prices during these sales, and there is a high chance that no one will be interested in the original Fender Stratocaster, Tube Screamer, or something similar. If you already have a musician in your neighborhood, then you should speak to them directly. If they aren't interested in buying your gear, then there is a high chance that no one else will be.
Summary
For all of you interested in selling used instruments or gear, there are a couple of options you should consider. The first thing you need to ask yourself is how urgent this is. If you are in no hurry, then you can always use websites like Craigslist, Facebook Market, or OfferUp.
There are no additional fees you need to worry about, and you won't need to think about shipping. These three websites are designed for local trades, and if someone near you is interested in buying from you, you can agree where to meet. The best thing is that you will keep all the money.
The second option is websites like Reverb, where you can sell your gear anywhere in the world. You will need to pay a percentage of the sale to the website, but the buyer will pay for shipping based on their location. The primary reason why Reverb is a better option compared to eBay, Mercari, and other similar sites is due to the fact that it offers lower fees.
Finally, there is an option to visit a local pawn shop or a music store, but this is probably the worst option in terms of price since you will get approximately fifty percent of the total value. If you are in no hurry, just stick to Reverb or Craigslist, since other options aren't nearly as profitable.