Martin has always been known as a company that makes top-end quality acoustic guitars and instruments. Ever since they were established, they made several amazing acoustic guitar instruments which can be seen played by some of the most influential acoustic guitar players. Among these guitars, models are the Martin D-28 and Martin Om-28.
Both of these guitar models are in the higher price range as well as quality, and both share some similarities in terms of build and quality. The key factor where these guitars split ways is the body shape. Although both guitars have a body made out of the spruce top and East Indian Rosewood sides, the Martin D-28 has a dreadnought shape to it, while the Martin Om-28 has an Orchestra shape. 
This directly results in a different tone for both of the guitars. Another thing different with these models is the type of neck construction used. Martin D-28 has Forward Shifter X Brace construction, and the Martin Om-28 has a Scalloped X-bracing. This will directly affect the sustainability of these guitars. 
Both instruments are at the top of the league, and through this article, I will do my best to help you decide and reach the final decision on which one to buy. 
| | | |
| --- | --- | --- |
| | Martin D-28 | Martin Om-28 |
| Body Shape | Dreadnought | Orchestra |
| Body Wood | Spruce, East Indian Rosewood | Spruce, East Indian Rosewood |
| Neck Shape | Modified Low Oval, High Performance Taper | Modified Low Oval, High Performance Taper |
| Neck Wood | Select Hardwood | Select Hardwood |
| Neck Construction | Forward Shifted X brace | Scalloped X-bracing |
| Fretboard Material | Ebony | Ebony |
| Scale Length | 25.4" | 25.4″ |
| Number Of Frets | 20 | 20 |
| Frets Material | Nickel Silver | Nickel Silver |
| Type of Bridge | Fixed | Fixed |
| Tuning Machines | Nickel open gear | Nickel Open Gear |
| Weight | 4.8lbs | 4.6 lbs |
Construction & Hardware Compared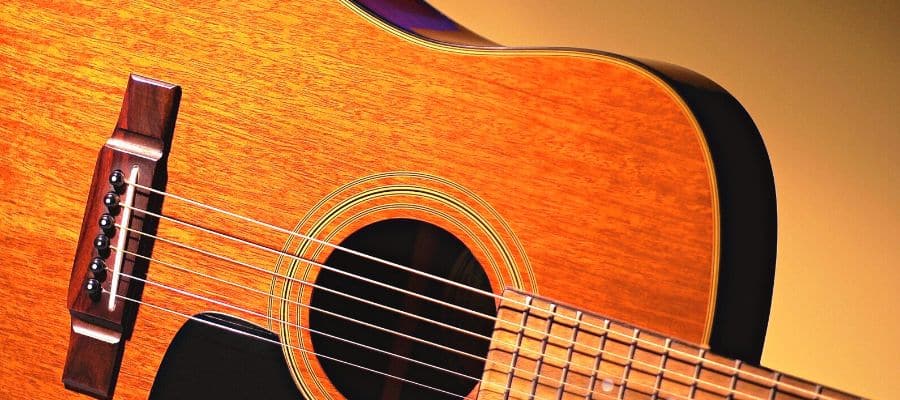 Taking into consideration that both guitars are made by one of the greatest acoustic guitar manufacturing companies, it is expected that the guitar to have great construction as well as hardware.
The body of both guitars is made out of the same combination of wood. The top of the guitar body is made out of spruce, and the sides and bottom are made out of Spruce, East Indian Rosewood. Although the wood is the same, these guitars come in different shapes. 
The D-28 model has a well know Dreadnought body which is without a question one of the most common go-to options for many guitarists due to its rich tone. On the other side, we have the Om-28, which has an Orchestra body shape that also is commonly used and one of the prettier guitar body shapes out there. 
As well as the wood used for the body of these guitars, the neck wood for both models is also the same. Martin uses Select Hardwood to produce the neck for these guitars. Combining this with an ebony fretboard, you end up with a great guitar neck. The neck construction is different, with the D-28 having a Forward Shifted X brace and the Om-28 having a Scalloped X-bracing neck construction.
Both guitars share the same scale length at 24.5" and have 20 nickel silver frets. These guitars have fixed bridges that the companies themselves have built, and the tuning machines are also Martin-built, the Nickel open gear tuners.
Tone Compared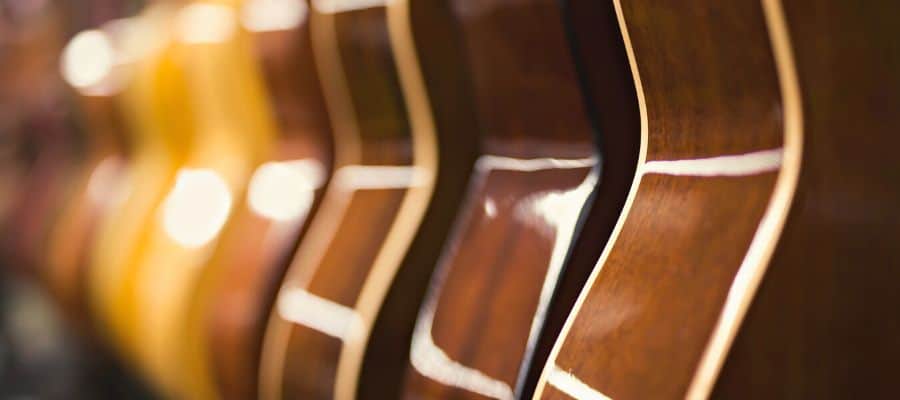 The Martin D28 is a superb rhythm guitar with a midrange and treble emphasis. It has less bass than other high-end guitars, but overall it still emphasizes an excellent, well-balanced tone. Additionally, it creates a sound that is sharp and clear, which is excellent for fingerstyle. In addition, its dynamics, sustain, and overtones are really incredible.
Like the D-28, the Om-28 also has a high-performance taper. Astonishingly, the model was first "imagined" just a decade after World War I. When compared to the D-28, the tone of the Om-28 is more focused, with a slightly reduced bottom end but more pronounced mids giving the OM projection and real cut-through – exactly what it was designed to do in the orchestras of the day.
Feel & Playability Compared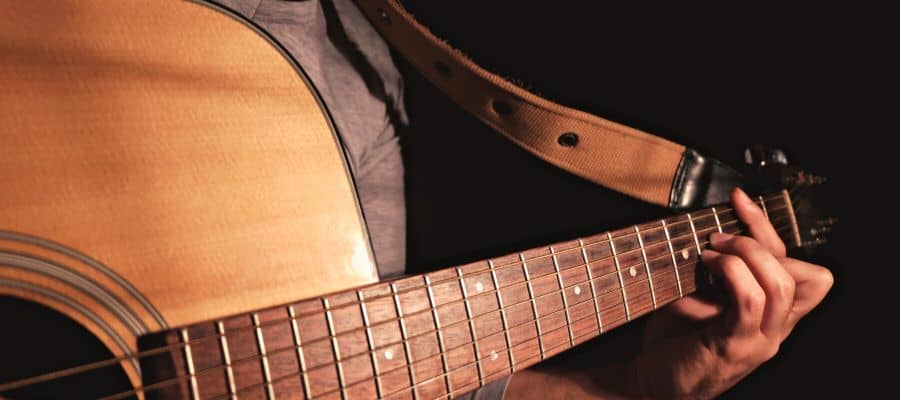 These two models feature exceptional feel and playability, just like the majority of Martin guitars. There is a very slight, almost insignificant difference in feel and playability, and it would all come down to personal preference in the end. 
The D-28 has a high-performance taper and a modified low oval. Both of them fit the majority of playing styles perfectly. Not to add that it feels comfy no matter where in the neck you are. It also has a satin finish on the neck, speaking of which. As a result, switching between frets will be simpler, especially for hands that are sweaty.
Like the D-28, the Om-28 has a very similar feel and playability, considering that it has the same neck structure and wood used to build it. One key difference is the body shape. The D-28 may feel a little bigger and somewhat chunkier in hands when compared to Om–28, which has an orchestra body shape. 
Looks Compared
Martin Guitars is renowned for its fine craftsmanship. Yes, we live in a technology age when some industry occupations are already being replaced by robots. However, handcrafted guitars are preferable.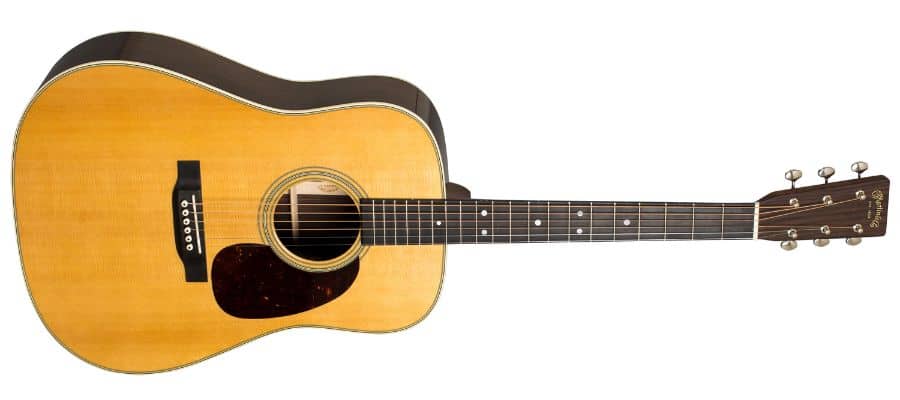 Both of these guitars are one of the more easily recognizable models out there. And this is one of the best compliments acoustic guitar can get since not too many people can recognize acoustic guitar models since many lookalikes each other. When it comes to D-28 and Om-28, it all comes down to personal preference.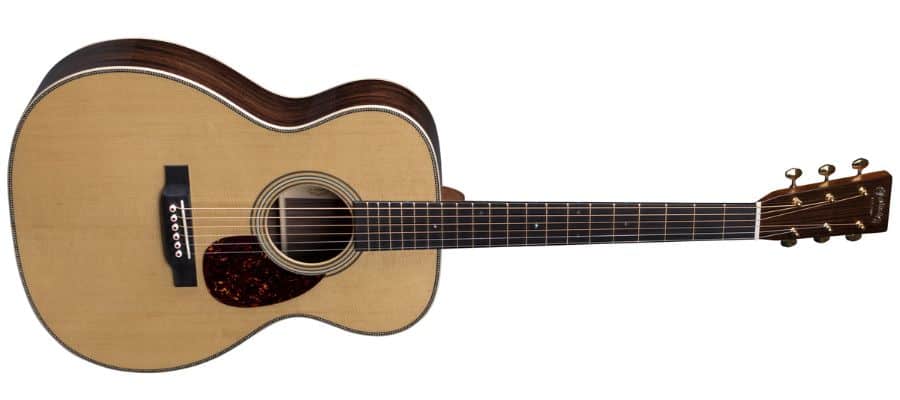 For people who like bigger guitars with dreadnought body shapes, the D-28 is a go-to option as opposed to the Om-28, which has a more hourglass design with the orchestra body shape. This may be a better option for guitarists who like a more slim-shaped design that fits nicely in a lap.
Conclusion
Martin, among very few other companies, holds the top of the line acoustic guitars. What is interesting about this company is that almost every one of their models is handmade, which makes sure that there are almost no errors in terms of the build quality.
Both of these models are prime examples of great-quality instruments by Martin. The price of these instruments speaks for itself. Buying either one of these guitars is an investment that requires a careful thought process when deciding which one to buy. Either way, you will end up with the top of a line acoustic instrument.
If you found this article useful, you may want to save this pin below to your Guitar board.