In 1833, C.F. Martin & Company was established in New York, and they have been manufacturing the best possible American acoustic guitars ever since. These two models are the most known dreadnought acoustics that we all know from the history of folk, rock, and pop music.
Although these two have very similar specifications at first sight, D-28 is an evolved and innovative version of the D-18. It is not up to me to say which is the best acoustic guitar, but take this comparison as a guide to find which one is better for you.
As you see, dreadnought was the choice for both models' body shapes, and spruce was the body wood. They both have modified low oval mahogany necks. And the body and the neck were constructed with a dovetail style.
Both models have 20 frets with a 25.4" scale length and have modern belly bridges. As a famous choice among guitar manufacturers, ebony is used for both models' fretboard material.  
The major difference between D18 and D28 is the back and side material. The D18's back and side are assembled with genuine mahogany. The D28s, on the other hand, have east Indian rosewood on them. And D18 weighs 4 lbs, while D28 is 4.6 lbs.
Also, the two models differ in bracing methods. Both have forward-shifted X-bracing patterns. However, the D18 has scalloped bracing while the D28 has non-scalloped. Their different back and side materials and the bracings alone affect their tone significantly.
| | | |
| --- | --- | --- |
| | Martin D18 | Martin D28 |
| Body Shape | Dreadnought | Dreadnought |
| Body Wood | Spruce | Spruce |
| Neck Shape | Modified Low Oval | Modified Low Oval |
| Neck Wood | Mahogany | Mahogany |
| Neck Construction | Dovetail | Dovetail |
| Fretboard Material | Ebony | Ebony |
| Scale Length | 25.4" | 25.4" |
| Number Of Frets | 20 | 20 |
| Frets Material | Nickel Silver | Nickel Silver |
| Type of Bridge | Modern Belly – Drop in Saddle | Modern Belly – Drop in Saddle |
| Tuning Machines | Nickel Open GearTuners with Butterbean Knobs | Nickel Open GearTuners with Butterbean Knobs |
| Weight | 4lbs | 4.6lbs |
Construction & Hardware Compared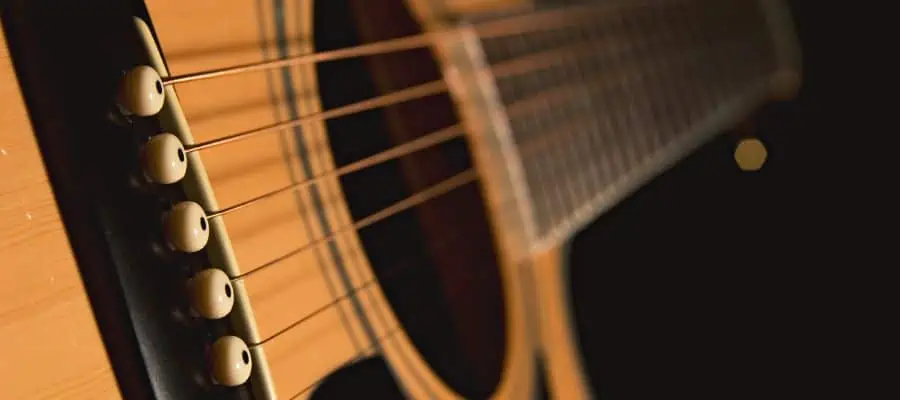 Both of these guitars here are guaranteed by the company and assembled with top-quality materials. Neither one is a "bad" guitar and shouldn't be undervalued.
A D18 and a D28 are both dreadnoughts and have Sitka spruce tops. Their mahogany necks have dovetail construction. They both have ebony fretboards with 20 frets. They are both manufactured in high-quality workshops of C.F. Martin & Company guitars.
The key difference between a D28 and a D18 is they have different back and side materials. D18 has genuine mahogany back and side, while the choice for D28s is east Indian rosewood. 
They also have similar tuning machines, and both guitars offer optional electronics. Nickel Open Gear Tuners with Butterbean Knobs were used on Martin D18s and D28s as well.
Two of these acoustic guitars also have forward-shifted X-brace patterns. But the D28s have non-scalloped brace shapes, and the D18s have scalloped bracings. Compensated bone saddles are used for the bridges of the two models, which have modern belly designs.
Tone Compared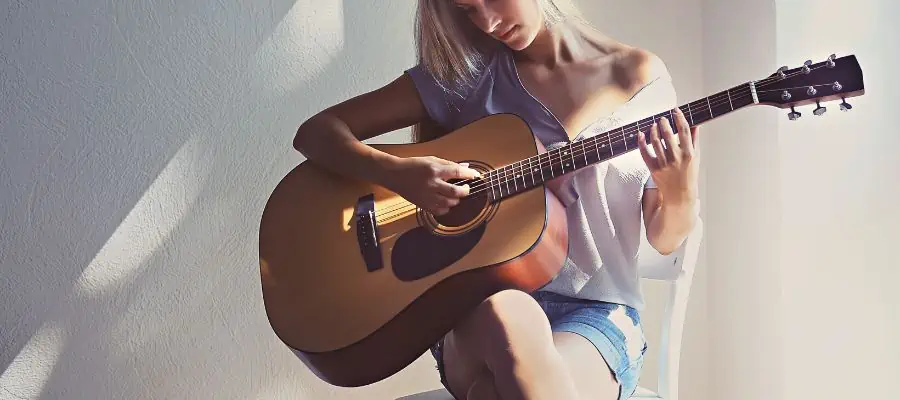 The Martin D18 and the D28 can provide beautiful sounds and are great amazing acoustic guitars. They have different and authentic capabilities in tone, and musicians tend to use the one they fall in love with the most or regarding the setting they have.
However, technical differences between D18 and D28 affect their tonality. The choices of different woods on the back and sides and different bracing make a significant gap between the tones of these models.
First, both models offer a very present bass, an important side of Martin acoustics in guitar history. The D18 has a more crisp and open sound due to its mahogany back and side in general. The mahogany is also popular for its almost fuzzy and darker tonality.  
Martin D18 is ideal for recording settings and sounds perfect, balanced, and not so echoey in front of a microphone. Whether you record or perform, D18 is a good companion that wouldn't mask your vocals, and you can strum comfortably with it. Its bass is more dry and woody.
On the other hand, the D28, with a rosewood back and side, provides a rich and deeper tone with more articulation. It offers a more powerful and defined bass. It is a preference for many fingerstyle guitar players due to its sharp and clear tone. 
Feel & Playability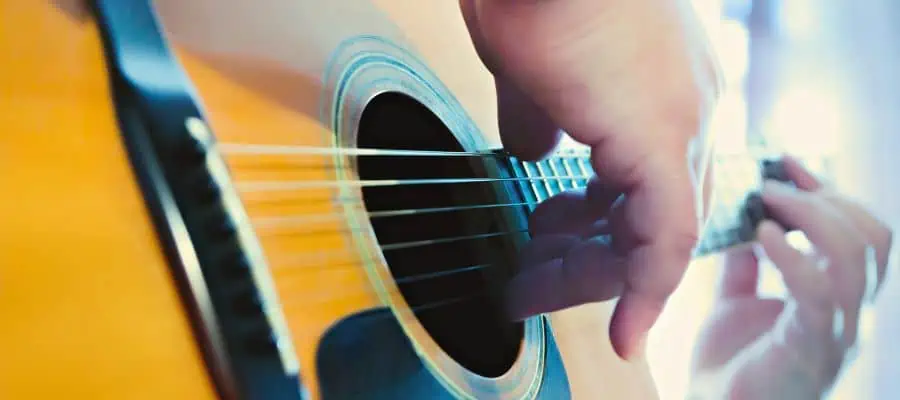 The design of the two models' neck profiles is one of the most comfortable necks in the acoustic guitar universe. Most of the vintage acoustics we know have thicker neck profiles, affecting playability negatively. That is different for these two models.
Both guitars are the number one choice for many guitarists, and they can't compare their playability with any other acoustic guitar. The D18's and the D28's necks are finished with satin, which positively affects the ability of your fingers to move on the guitar. It is an extra feature you see on Martin guitars.
Looks Compared
These guitars have the iconic dreadnought American acoustic guitar appearance you see everywhere in history. They look similar at first sight, but they have various features in terms of visuality.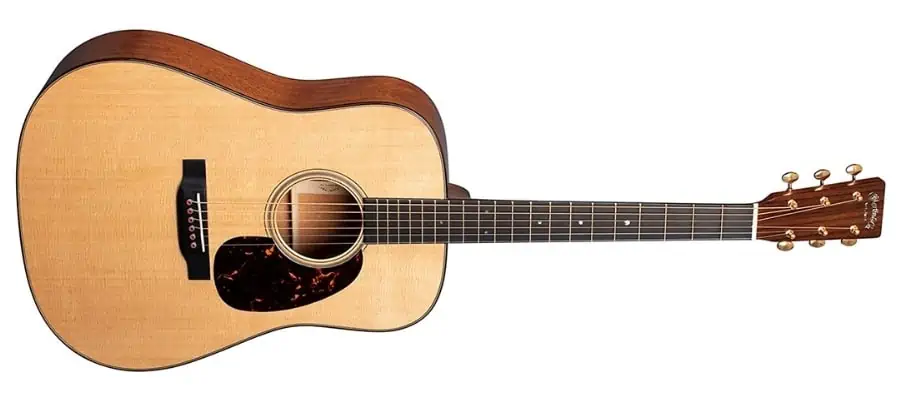 D18 has Old Style 18, Abalone fingerboard inlays, while D28 has Mother-of-Pearl inlays called Style 28. The rosette of the D18 has a multi-stripe with the old 18 styles, and the D28 has a standard multi-stripe which looks a little different.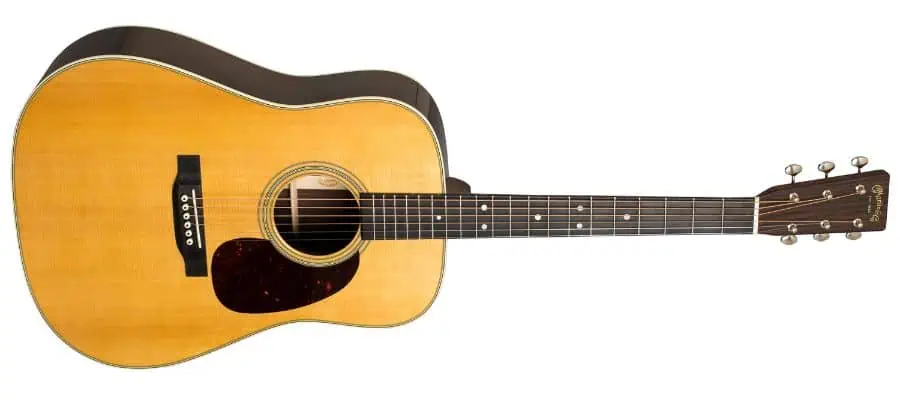 The D18 has a classical plain-back finish. The D28 has multi-stripe inlays on the back, and you can see beautiful white lines on the end pieces. The headstocks of both models are solid with square taper. Only the headstock design of D28s has slightly different "diamond" features.
Both guitars have a gloss finish and come with natural color. Also, their pickguards have tortoise patterns. They both look beautiful, and it is just a personal taste that makes you choose one over the other.
Conclusion
Martin D18 and D28 are like the Swiss Army Knives of the acoustic guitar world. These are the most imitated guitar models in the market. They shaped the whole evolution of acoustic guitar designs dramatically.
Many music legends from the 50s, 60s, and 70s used D-28, like The Beatles, Neil Young, Bob Dylan, and Hank Williams. And D-18 has a very rich history even before those times and is still a preference for modern musicians.
From traditional musicians to modern players, we always see these two Martin acoustic models. Their choices depend on personal stories and requirements to perform the best in them.
Both models are suitable for advanced and intermediate players. If you are getting better at playing your acoustic guitar, these models can be a good step up to sound amazing. You won't regret it if you invest either in a D18 or D28.
Finally, budget-wise the D18 would be a convenient choice if you don't want to spend so much on a new guitar. Besides that, try both guitars at your local guitar shops and think of which one would be a better choice for you and your setting when you decide.
Don't forget to listen to the guitar players who use D18s or D28s to initiate your ears to the sound of these iconic guitars. Good luck!
If you found this article useful, you may want to save this pin below to your Guitar board.